Discover French children's favorite dessert! The school-famous "gâteau au yaourt" (yogurt cake) is a super simple no-measure cake to prepare for any occasion.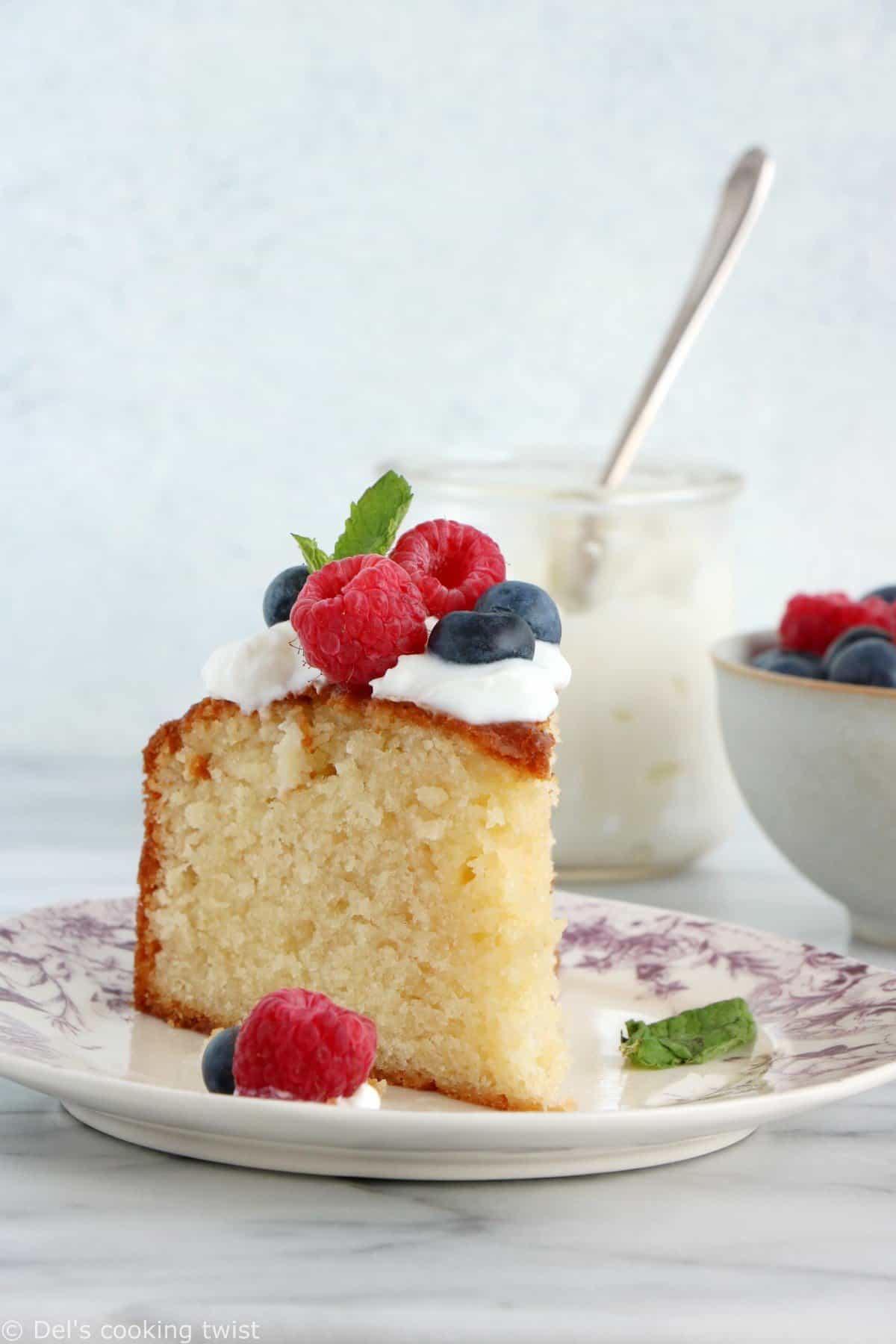 In six years blogging, it was about time I shared with you this French classic. Gâteau au yaourt is a simple plain cake that we prepare for any occasion, a little bit like a coffee cake. It's also the first dessert we learn how to bake as a kid in France, the cake we bring to birthday's parties, the cake we prepare on a lazy day or at the last minute (no need to grab a scale or a measuring cup). In a word, it's the perfect basic cake recipe that never fails and never disappoints.
The recipe is so easy that most French people actually know it by heart. I, myself, learned it in day care (or was it primary school?) and never forgot about it. I made it countless of times ever since, for my friends, sisters, cousins, as a kid, a teen or an adult. There is always a good reason for a yogurt cake.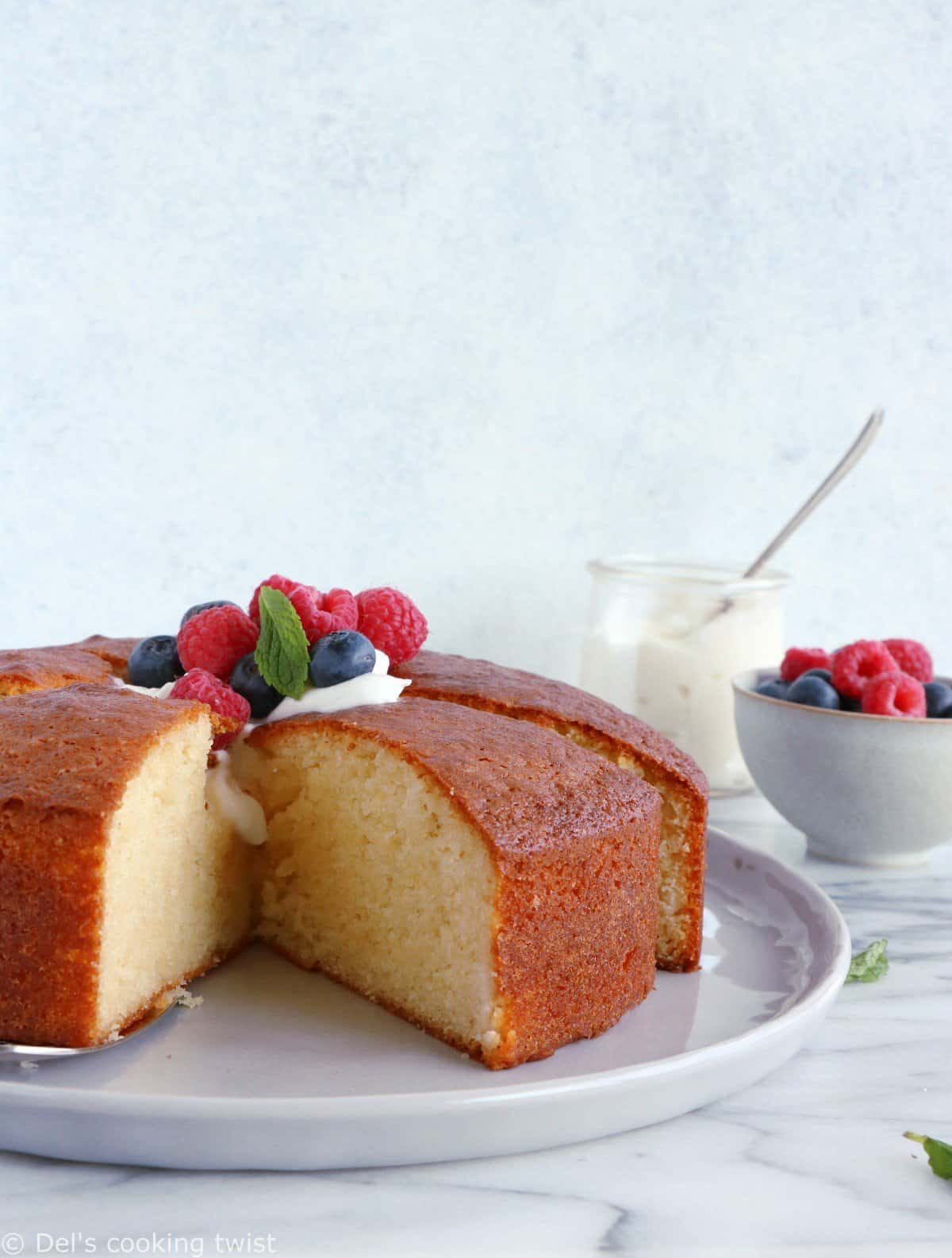 As everyone knows the recipe in France, I never thought of sharing it on the blog before. Until I figured that the cake was actually known in France only and even there, it seems everyone has its own way of preparing it. It's a little bit like a crepes recipe, extremely basic yet pretty different from one version to another.
So here I am today, happy to share the yogurt cake recipe with the world. This is my favorite version of the recipe, the one I like for its incredible moistness. The cake is also light and airy.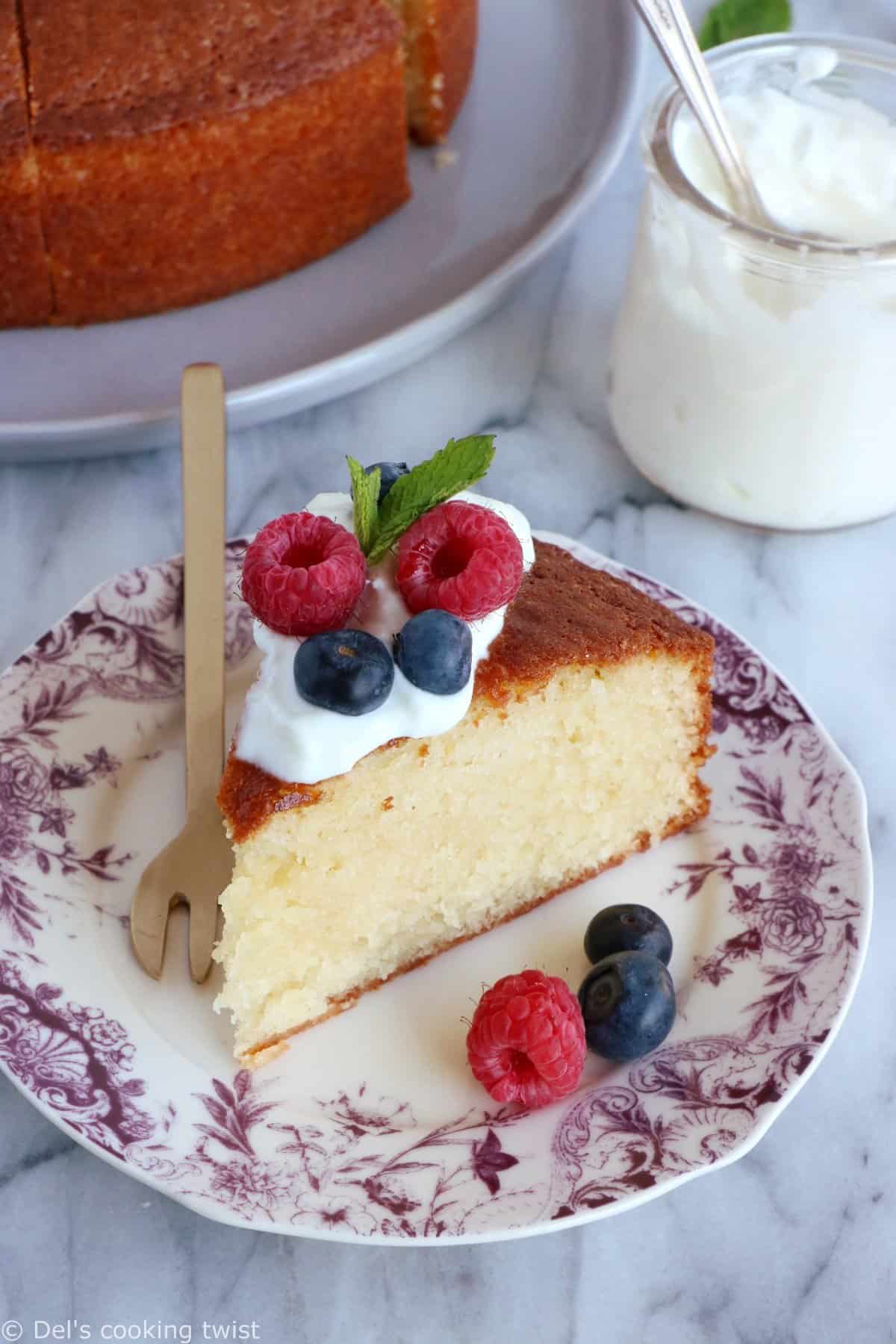 How do you prepare a no-measure cake?
Again, no need to use a scale or measuring cups for this recipe. Instead, we use a yogurt container for measuring all the ingredients. And whatever the size of the container, the ratio remains the same. Only the size of your spring form might change.
Here's how to: pour one plain yogurt in a large mixing bowl. Then wash and dry the yogurt container so you can use it again for measuring the other ingredients. I always use it for all the dry ingredients first to avoid cleaning it one more time in the middle of the process. It's a lazy trick but it works. Use it at last for the vegetable oil add the eggs and mix well. There is no specific order to make the recipe. You could start with the dry ingredients or the wet ingredients or even mix them all together, the result will be the same. Just try to combine the baking powder with a little bit of flour.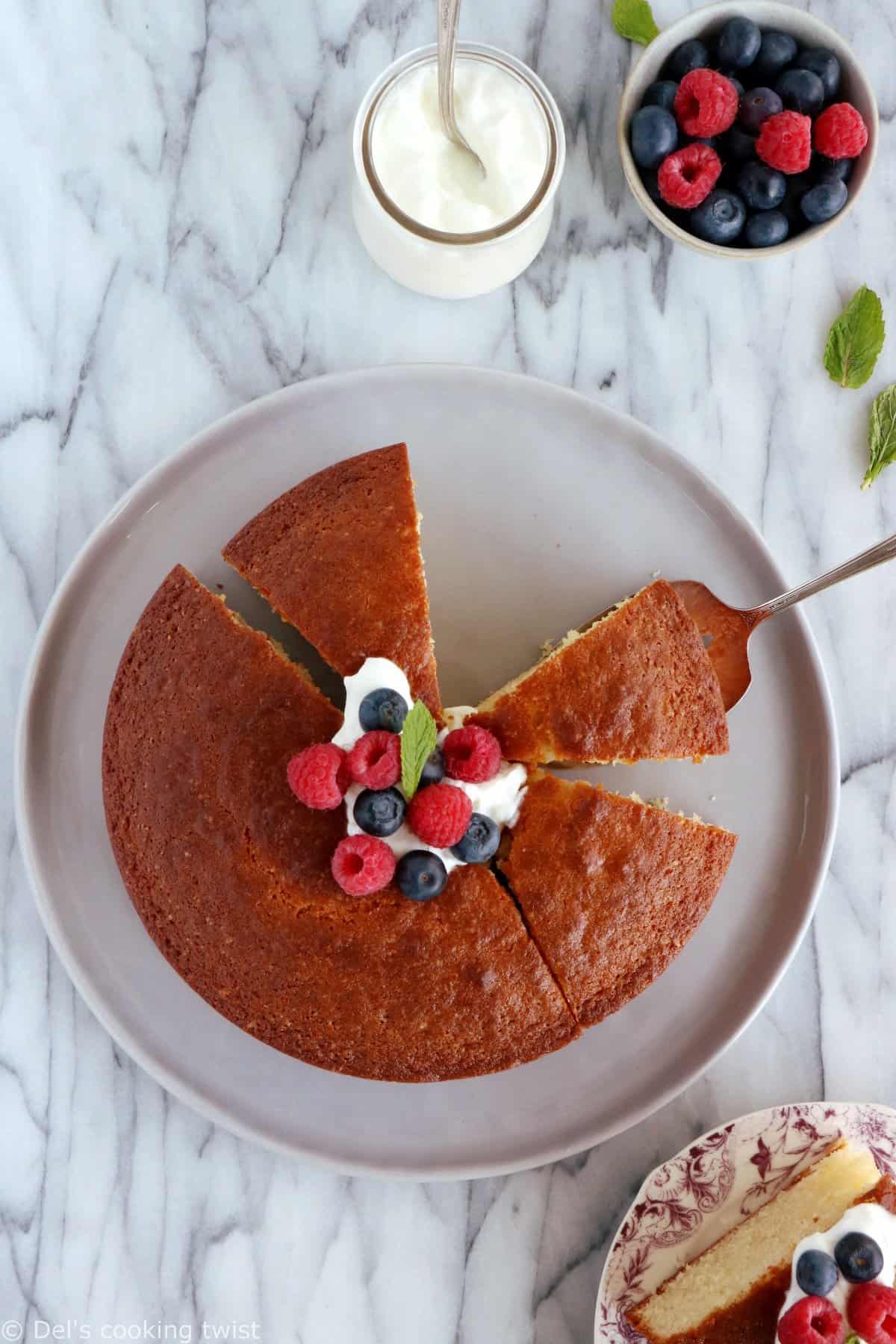 Learn the recipe by heart: here's how to
These last years, I admit I didn't bake this yogurt cake as often as I used to do in the past. However, I still remember the recipe by heart as if I had made it this morning last time. I might be a genius, but the truth is that there is a simple way to help you remember the recipe forever. Here's how to:
1 container of yogurt
2 containers of sugar
3 containers of all-purpose flour
1 container of vegetable oil
3 eggs
1 Tablespoon baking powder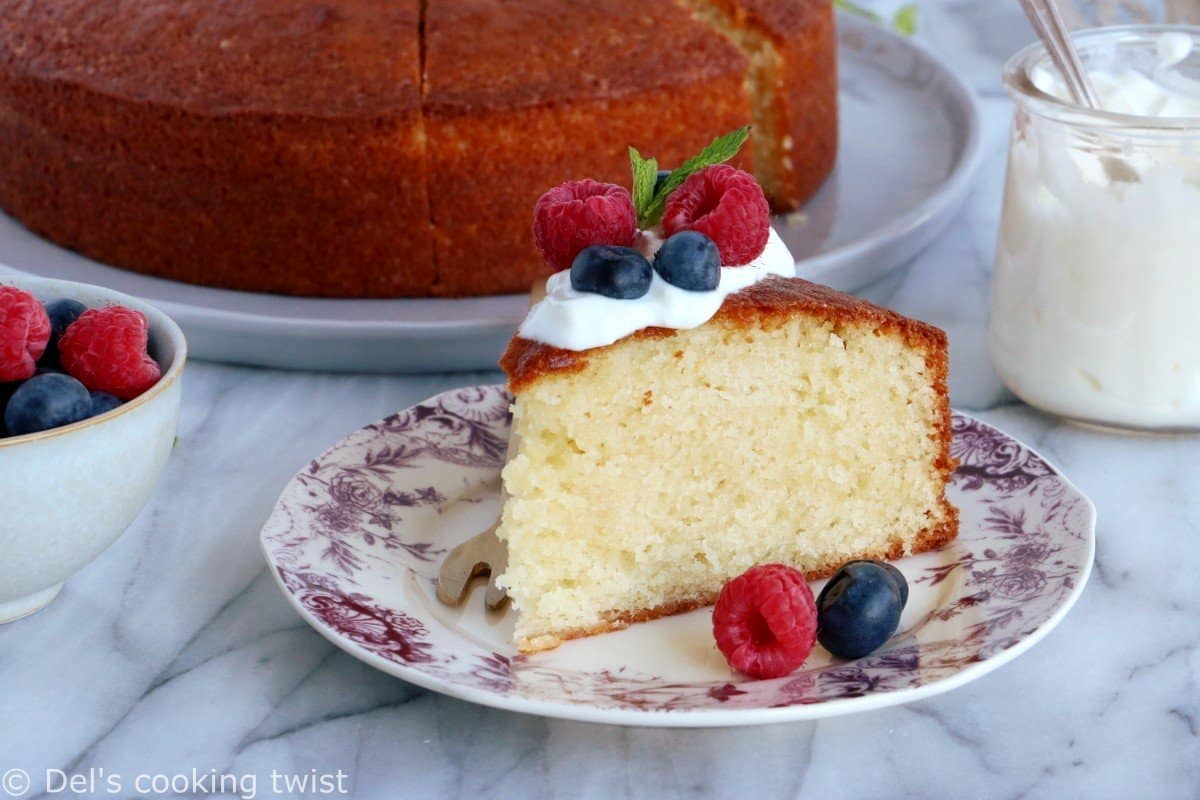 Recipe variations
We usually recommend the use of vegetable oil, neutral in taste, for the recipe (rapeseed or sunflower for instance). If you don't mind that your cake tastes a little bit different, you could also use melted coconut oil or even olive oil in the same proportions. For best results, I recommend 1 whole container vegetable oil. That being said, it's also possibe to use 1/2 container of oil only for a perfectly ok texture too.
Same with sugar; the recipe calls for 2 containers of sugar but feel free to adapt the recipe if you try to avoid sugar, using 1 1/2 container of sugar or even 1 container if you prefer.
Then feel free to add your personal twist to the recipe, flavoring the cake batter with some vanilla extract, lemon or orange zest. You could also add some mini chocolate chips or ice it with chocolate (or both!). My favorite way to enjoy the cake is to serve it plain, with strawberry or apricot jam or just a few berries.
If you like moist easy delicious cake you can also check out these recipes :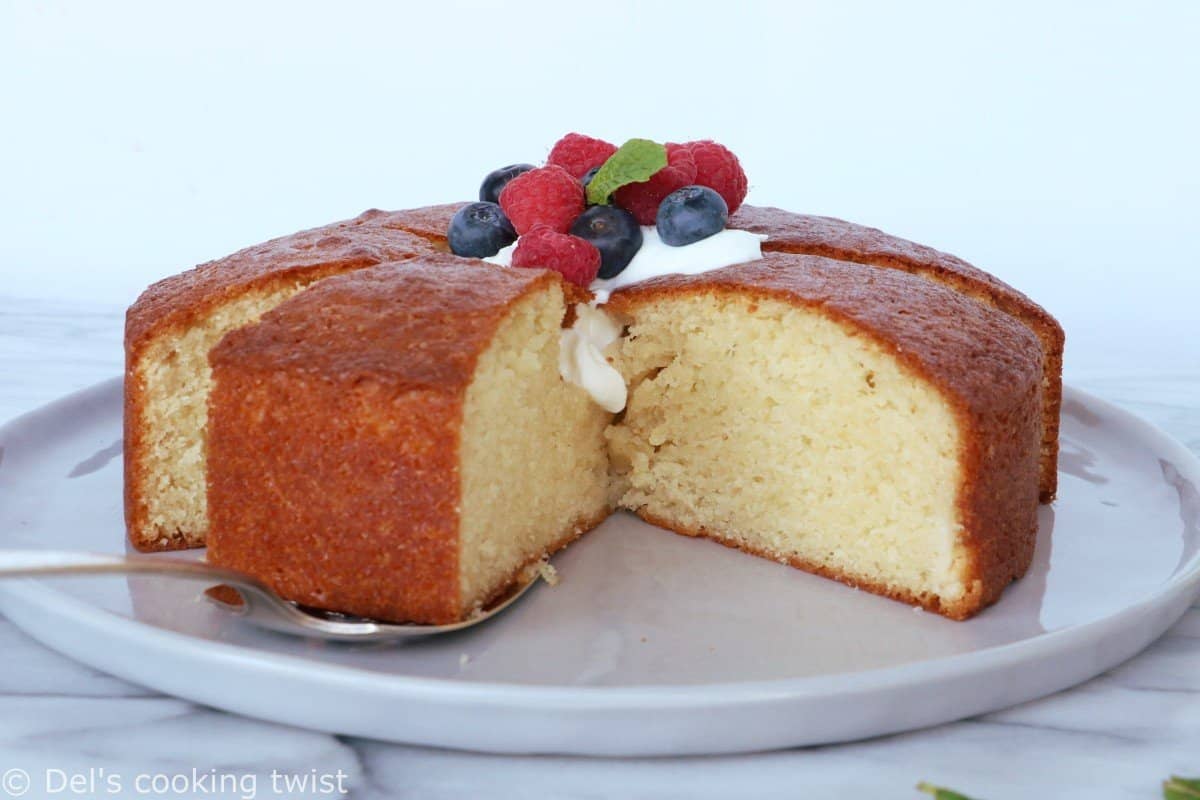 How long will it keep?
The cake will keep for a few days and often tastes even better on day 2. You can choose to cover it with cling film (better than foil of you want to keep its moistness) and leave it at room temperature or you can slice it and transfer to an air-tight container placed in the refrigerator. This last option is in my opinion the best way to keep it fresh and moist for several days. Now it's your turn to shine!
Lastly, if you make this French gâteau au yaourt, be sure to leave a comment and/or give this recipe a rating, letting me know how you liked it. And of course, don't forget to tag me on Instagram! Thank you 
Print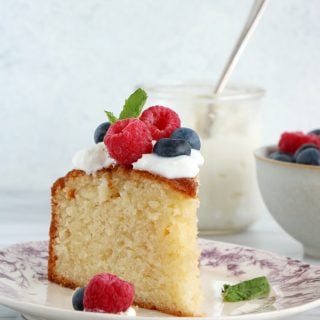 French "Gâteau au yaourt" (A No-Measure Cake)
Author:

Prep Time:

10 mins

Cook Time:

35 mins

Total Time:

45 minutes

Yield:

8

servings

1

x

Category:

Cakes and pies

Cuisine:

French
---
Description
Discover French children's favorite dessert! The school-famous "gâteau au yaourt" (yogurt cake) is a super simple no-measure cake to prepare for any occasion.
---
1

container plain yogurt

2

containers sugar

3

containers all-purpose flour

1 Tablespoon

baking powder

1

container vegetable oil, neutral in taste

3

large eggs

1 teaspoon

vanilla extract or lemon zest (optional)
---
Instructions
Preheat the oven to 350°F (180°C) and grease a 9-inch (23 cm) spring form.
In a large mixing bowl, pour the plain yogurt.
Add the eggs, sugar, vanilla extract and oil. Whisk until combined.
Wash the yogurt container and dry it.
Add all-purpose flour, baking powder, and mix well.*
Pour into the prepared pan and bake for 35 minutes or until a toothpick inserted in the center comes out clean. Allow to cool before serving. The cake will keep in an airtight container for up to 5 days.
Notes
* You can also pour all the ingredients at once as listed above, and mix in the end. Proceed this order: 1 container yogurt, wash and dry, x2 containers sugar, x3 containers flour, 1 Tablespoon baking powder, x1 containers oil, 3 eggs, vanilla. It will take a little bit more of effort to mix but it's a great way to learn the recipe by heart in the beginnings.
Keywords: gâteau au yaourt