Easy Chocolate Marble Yogurt Cake has become a basic recipe in my house. It's light, fluffy, moist, delicious, and ready in no time. The perfect coffee cake to share with your family and kids around breakfast, coffee break or dessert. This beautiful marble cake recipe will never fail you.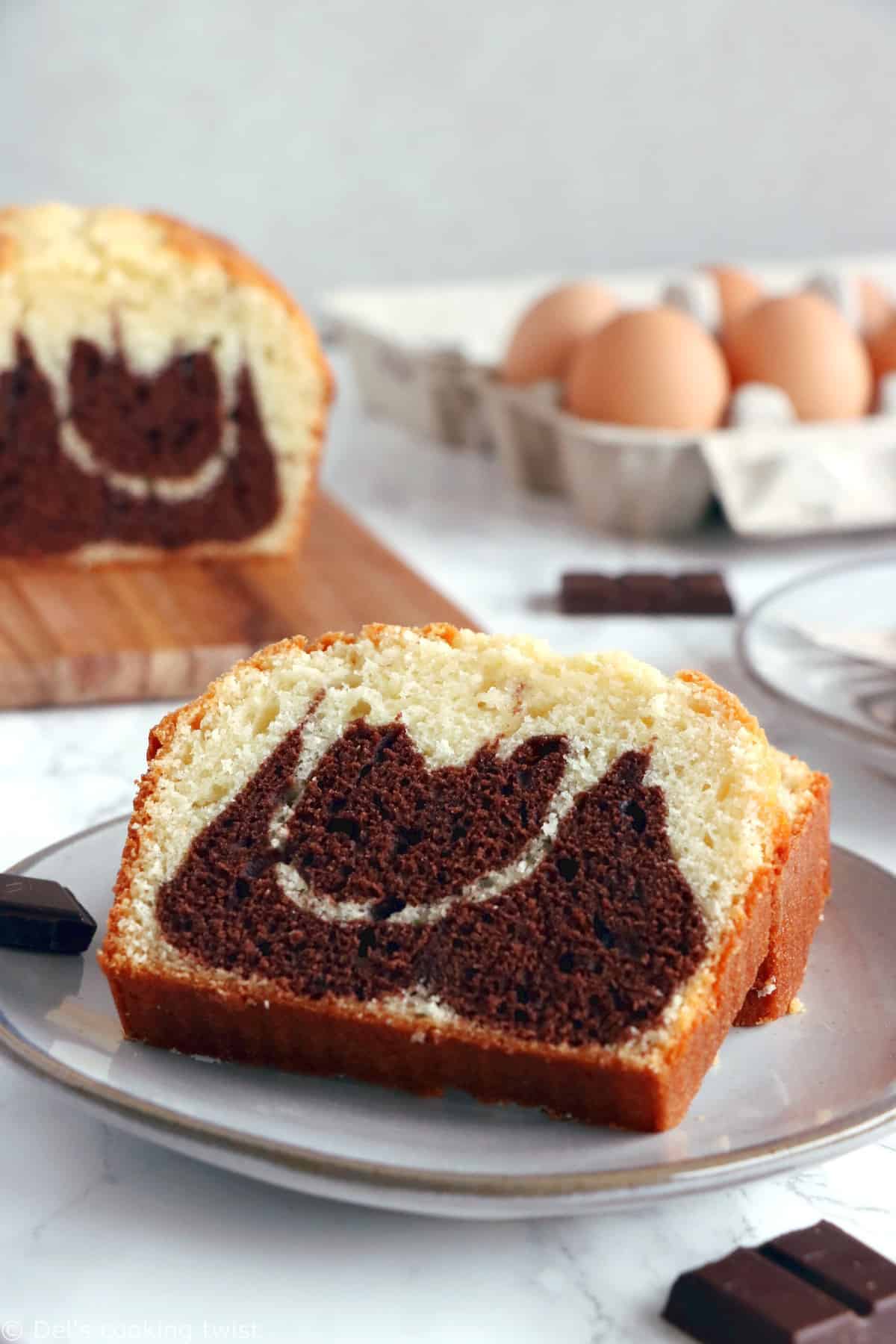 I like all things yogurt cake. Wait, whaaat? Let me explain. In France, the typical coffee cake is a plain yogurt cake, usually prepared with 1 yogurt container as a measurement unit reference for all of the ingredients. To me, it's the easiest cake recipe you can possibly find, and there's a reason why most French kids learn how to bake it from the youngest age. I shared the recipe of this yogurt cake (the so-called "Gâteau au yaourt") last year, and I'm back with a new version today.
Because the yogurt cake uses a plain batter, it's indeed very easy to adapt the recipe in so many different ways, adding fruits or chocolate chips to the batter for instance, but it goes far beyond these two simple ideas. Today I turned the classic yogurt cake into a marble cake – it's actually a recipe I've been making over and over again and it always turns out perfect so I figured I absolutely needed to share it with you.
A marble yogurt cake
Without any further ado, let's start with an obvious statement here: this recipe is not your regular chocolate marble cake. The classic version is rich, very buttery, a little bit on the heavy side (but don't get me wrong here, still very very good!).
With the addition of one single ingredient, a plain yogurt, the marble cake turns out completely different with a light, fluffy and super moist texture. Note that you can use Greek or non-Greek yogurt, and vanilla-flavored yogurt (instead of plain) is fine too.
For the rest, the recipe is resembling to the classic yogurt cake with 2 exceptions:
The use of unsweetened cocoa powder to make the marble swirls in the cake. I add it to one third of the cake batter, but it doesn't need to be exact, and you could instead mix it with one half of the batter if you wish. Also, feel free to add more unsweetened cocoa powder, but not more than one Tablespoon at a time.
The use of melted unsalted butter instead of vegetable oil in a classic yogurt cake. This enables the cake to hold its shape when slicing and adds some rich buttery flavors, without being on the heavy side thanks to the yogurt. To me it's just the right balance of everything in terms of texture. That being said, you could totally substitute melted butter with vegetable oil; just be aware that the texture will be slightly different.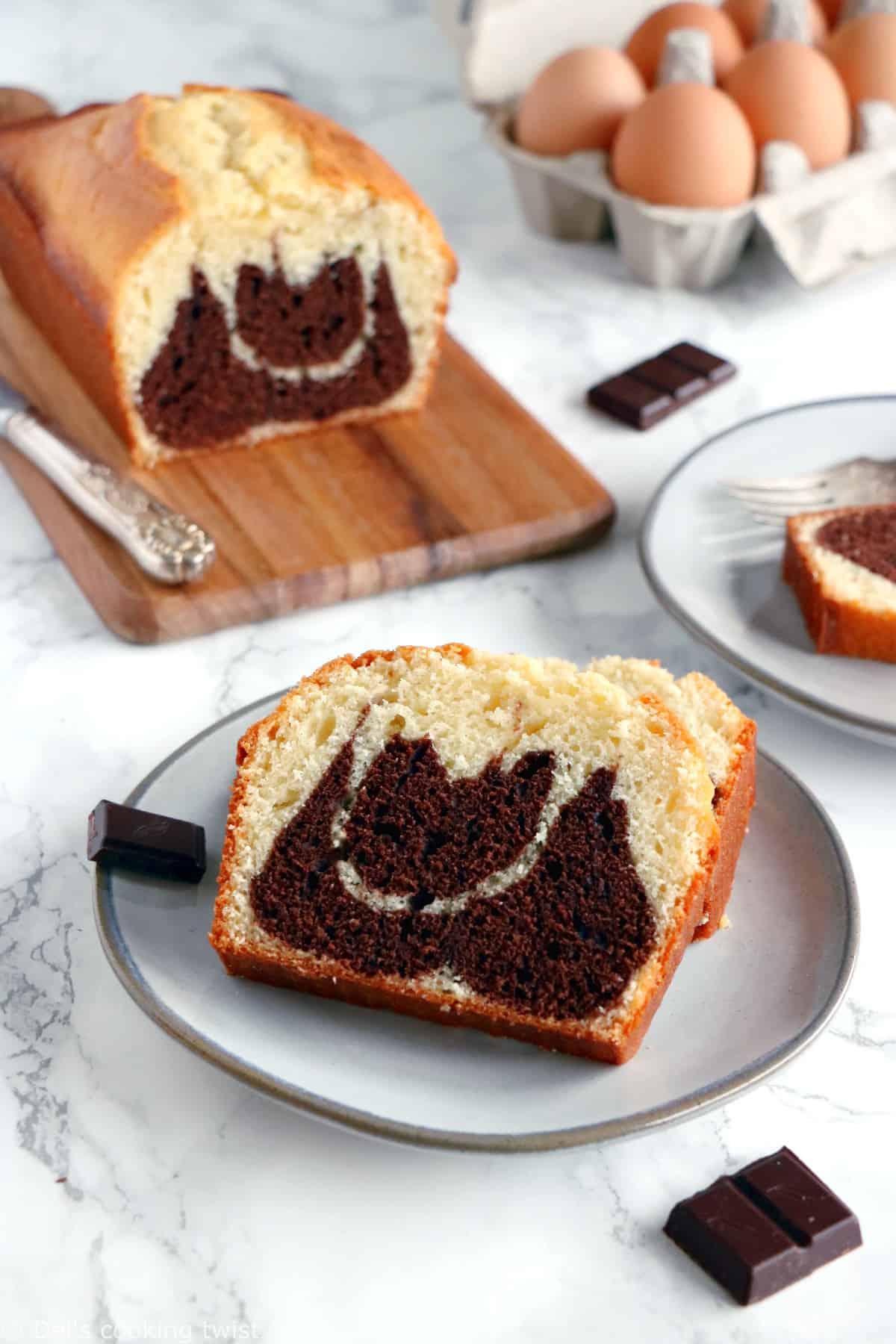 How to marble a cake?
Now the fun part (or is it fun, really?): how to marble a cake? For some of you, it might seem challenging and a little too advanced. But it doesn't have to be. While you'll find many tutorials guiding you through the different steps (from scooping one or two Tablespoons of the vanilla batter, then of the chocolate one, then use a skewer to do the marble), my version of marbling a cake is easy and straight-forward:
Start with pouring one layer of the vanilla cake batter in the bottom of the loaf pan.
Pour roughly half of the chocolate cake batter on top, without being too careful about how it looks like.
Then add the remaining vanilla and chocolate cake batter in alternate layers.
I insist: it's ok if it looks imperfect, that's how we like it, so don't stress too much about it. You'll have a different result every single time, and sometimes the fun surprise to see some lovely shapes inside the cake.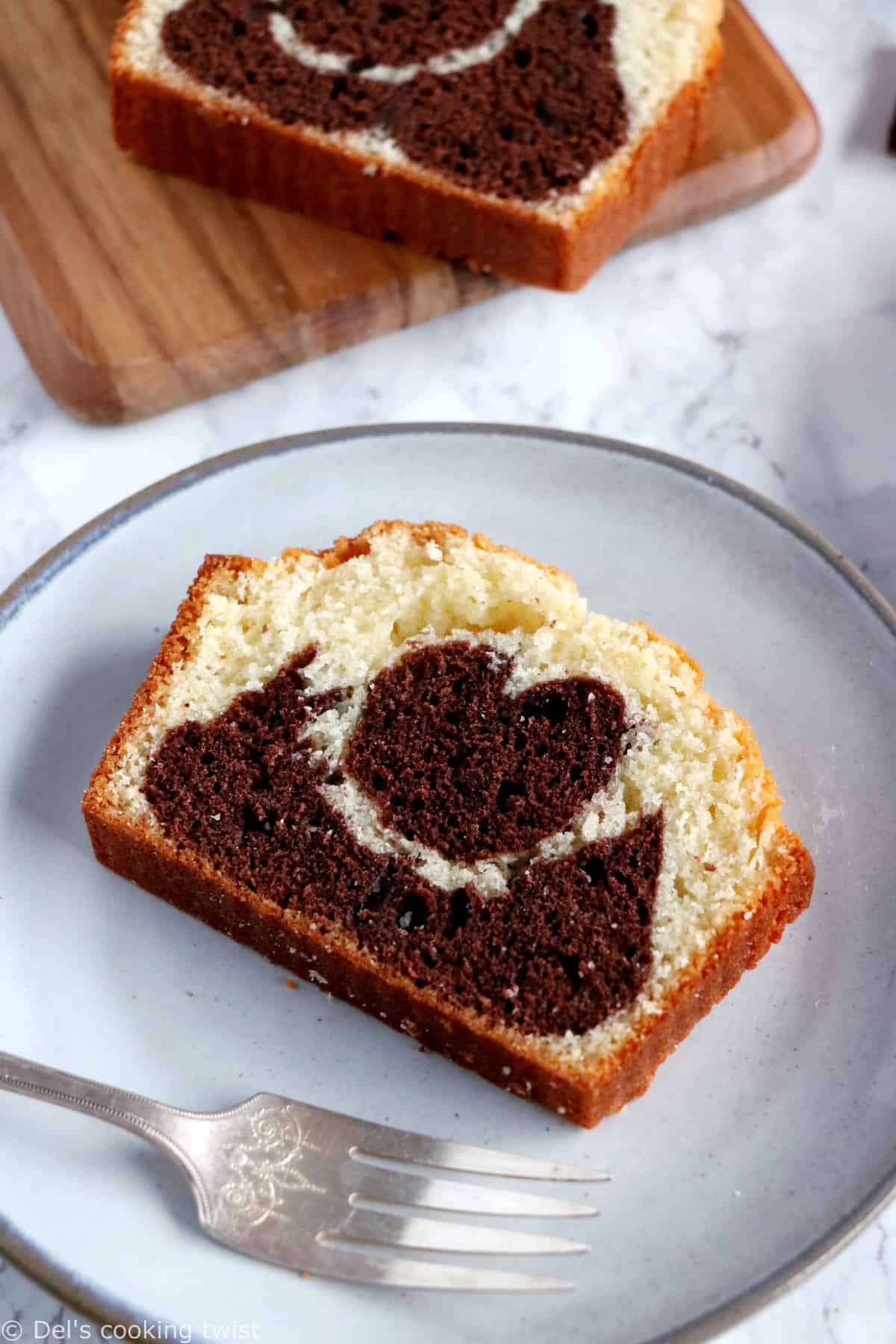 Can I make it in a springform pan?
Absolutely! I love making this marble yogurt cake in a loaf pan as it enables the cake to bake evenly. When using a springform, the center can remain slightly gooey if you don't pay attention to it. Another reason why I usually go for a loaf pan over a springform: it's easier to slice and serve.
Whatever you decide, make sure you choose the right dimensions for your pan. I recommend a 9×5-inch (23×13 cm) loaf pan or a 9-inch (23 cm) spring form. If your pan is a little bigger, you may need to adjust the recipe proportions accordingly.
Favorite basic recipes in a loaf pan:
To go the extra mile, check out my Easy Baking Recipes (with minimal ingredients – and effort!), in which you'll find my go-to cake and baking recipes when I have very little time ahead and still want to create this wow among my guests.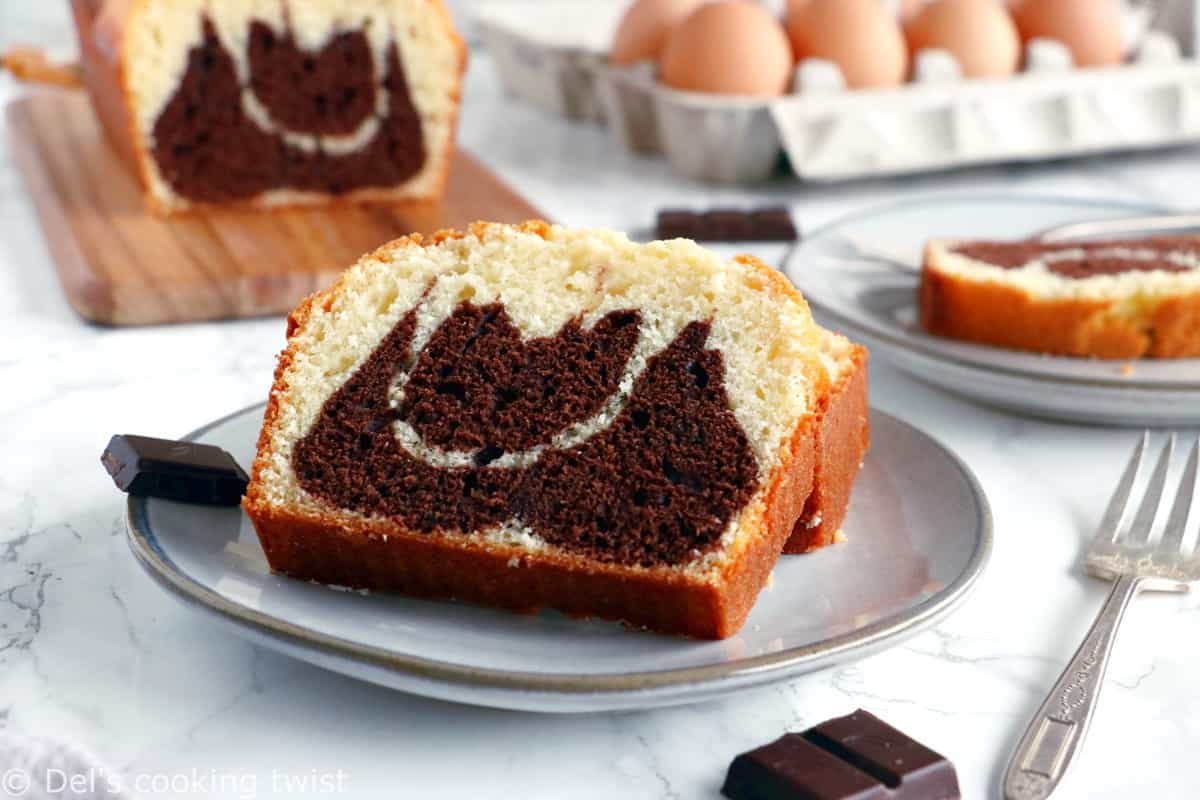 Print
Easy Chocolate Marble Yogurt Cake
Author:

Prep Time:

15 mins

Cook Time:

45 mins

Total Time:

1 hour

Yield:

8

servings

1

x

Category:

Cakes and Pies

Cuisine:

French
---
Description
Easy Chocolate Marble Yogurt Cake has become a basic recipe in my house. It's light, fluffy, moist, delicious, and ready in no time.
---
For all measurements, use 1 standard yogurt container* (about 4.2 ounces / 120g), or follow the metric measurements below:
1

container (4.2 ounces / 120g) plain yogurt**

2

containers (3.5 ounces / 100g) caster sugar

3

medium eggs

1 teaspoon

vanilla extract

1

container (3.8 ounces / 110g) unsalted butter, melted

3

containers (7.9 ounces / 225g) all-purpose flour

3 Tablespoons

unsweetened cocoa powder

1 teaspoon

baking powder

1

pinch salt
---
Instructions
Preheat the oven to 350°F (180°C) and grease the bottom and the sides of a 9×5-inch (23×13 cm) loaf pan or a 9-inch (23 cm) spring form with melted butter. Set aside.
In a large mixing bowl, pour the plain yogurt. Add sugar, eggs, vanilla extract and melted butter. Whisk until combined.
In a separate bowl, mix all-purpose flour, baking powder, and salt. Add the dry ingredients to the wet ingredients.
Scoop ⅓ of the cake batter into a small bowl gently stir in the cocoa powder until well-mixed.
Pour one layer of the vanilla cake batter into the prepared loaf pan, then spoon a few spoonfuls of the chocolate cake batter. Repeat until all the batter has been used up.
Bake for about 45 minutes or until a toothpick inserted into the center comes out clean. If the top is browning too fast, tent it with a piece of aluminum foil. Remove from the oven and let cool for about 10 minutes in the pan, then transfer to a cooling rack and cool completely.
---
Notes
* Depending on where you live, you can find different standard sizes for the yogurt container: 5 ounces (140g) in the United States, 4.4 ounces (125g) in France, 4.2 ounces (120g) in Canada. Good news is: whatever container size you use between the 3 mentioned above, the recipe works with the x1, x2, x3-container rules (1 container yogurt, 2 containers sugar, 3 containers all-purpose flour) and you won't need any additional egg. Remember that this is a very forgiving recipe and the difference in measurements is too small to make such a difference in the final cake result.
** For the choice of yogurt, try t go for plain yogurt over any flavored ones although vanilla flavor is fine). Also, note that both Greek or non-Greek yogurt will do. I personally prefer full-fat but low-fat works too.
Keywords: Chocolate Marble Yogurt Cake