This simple chocolate chip almond yogurt cake makes a wonderful coffee cake for every occasion. Inspired from the classic French yogurt cake (gâteau au yaourt), this version is enhanced with brown sugar, almond flour, and some delicious chocolate chips. A hit among both kids and adults!
French yogurt cake is one of the easiest cake on Earth according to French people. This basic recipe doesn't require any measurement other than a yogurt container, which makes it easy to make in any circumstances (as long as you have an oven to bake it). It's one of the very first recipes French kids learn how to make and it has this little sweet taste that brings us straight to our childhood memories.
A while ago, I shared the original yogurt cake recipe with a little video tutorial on the blog, then later I shared a marble version. Because this yellow cake is a very basic recipe, French people like to customize it almost every time they bake it, adding their own little twist to the recipe, following the seasons, ingredients they have at hand, and sometimes some other crazy ideas (I remember I once tried with olive oil many years ago – the result was so so…).
What I love about this recipe:
Super easy to make – No need to measure the ingredients!
Extra moist texture – This lovely texture is achieved with the combination of almond flour and yogurt.
Deliciously sweet – A great balance between caster sugar and brown sugar enhances the flavors of this cake.
Chocolate chips! – Who doesn't love a dessert recipe loaded with chocolate chips? I used mini chocolate chips but you could go for regular size too.
Perfect for any occasion – This cake can be served for breakfast, as a coffee cake in the afternoon, and you can even bring it to a picnic with you.
A kid friendly recipe – Simple flavors make this cake a hit among both kids and adults!
Easy to store – You can easily keep this cake for a few days without loosing the moist texture. Store slices in an airtight container or wrap with cling film for best results.
The start: a French yogurt cake recipe
Today, I'm sharing a version with almond and chocolate chips, that makes the cake extra soft and tender in texture and absolutely irresistible.
This chocolate chip almond yogurt cake recipe starts with the basis of the yogurt cake: a container of yogurt of about 4.2 ounces (120g). The measurements and proportions remain roughly the same, but I made a few tiny adjustments to the recipe after talking with other French people who have their very own way to make a classic yogurt cake. The main changes you can see from the original recipe are the use of brown sugar, almond flour, and of course chocolate chips. So let's get started!
Basic ingredients you need
There are 2 types of ingredients: the very basic ones you'll find in any French yogurt cake (the so-called "gâteau au yaourt") and the little twists I added there and there. Let's start with the basic ingredients:
Yogurt: I recommend the use of plain yogurt rather than flavored yogurt, but Greek yogurt can work too.
Eggs: 3 eggs in this recipe, but note that you can achieve ok results if you use 2 or 4 eggs too. This is a very forgiving recipe.
Baking powder: I use the same amount as you would need in the original yogurt cake recipe.
Vegetable oil: I almost always go for canola oil, but note that you could swap it with the same amount of melted coconut oil or even melted butter. In these two options though, you will end with a slightly different flavor and texture but this is ok.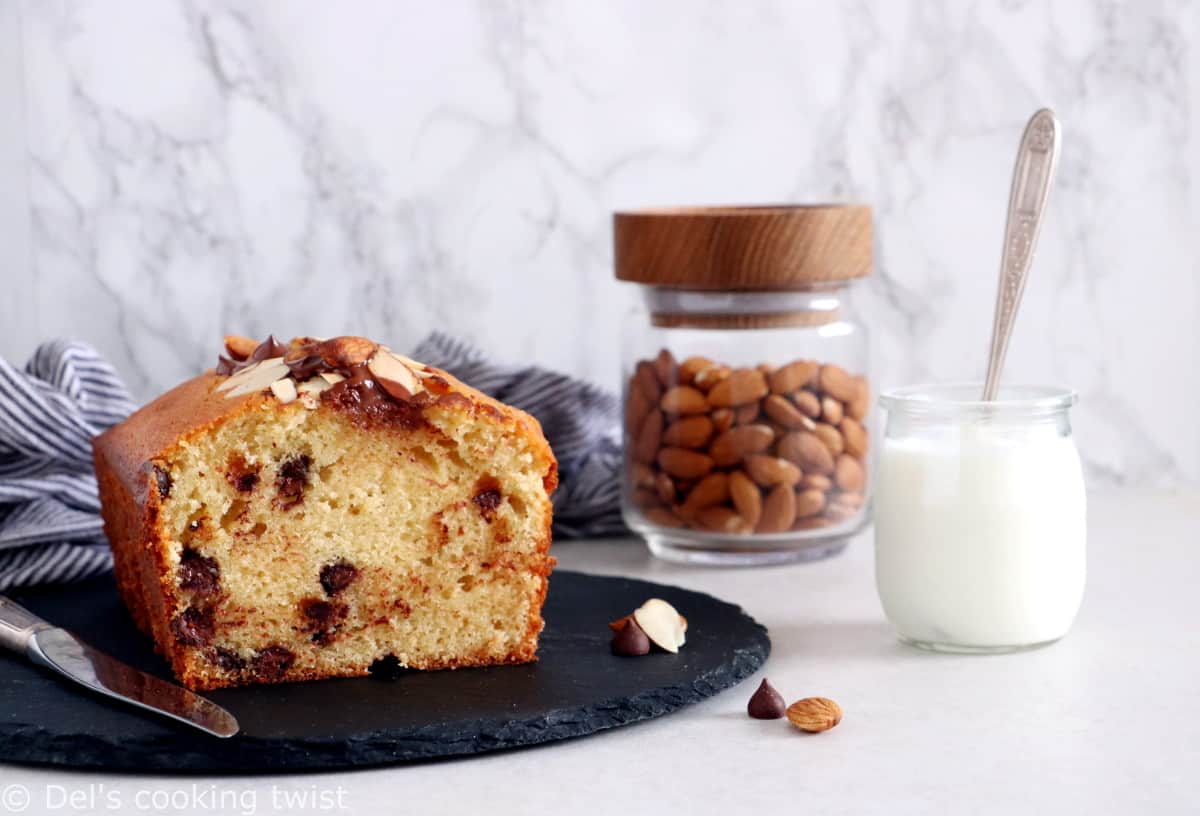 A few add-ons to the original recipe
The choice of sugar: Instead of going for caster sugar only, I combined brown sugar and caster sugar in this recipe. The brown sugar brings some chewiness to the cake but also adds in flavor with its strong notes of caramel or offee.
Almond flour: A very good French friend of mine once told me she had the habit to cut all-purpose flour with almond flour in her yogurt cake. I made a few tests and found that the ration 1:3 worked indeed pretty well. So here I used one third of almond flour and two thirds of all-purpose flour. The use of almond flour makes the cake extra moist and tender in texture.
Chocolate chips: I can't help it, I love everything chocolate chips. Whether in regular size or mini chocolate chips, you've got to add some chocolate chips to your cake batter. Feel free to add more or less chocolate chips, depending on how you like the cake. Note that you can also choose from regular size chocolate chips or mini chocolate chips.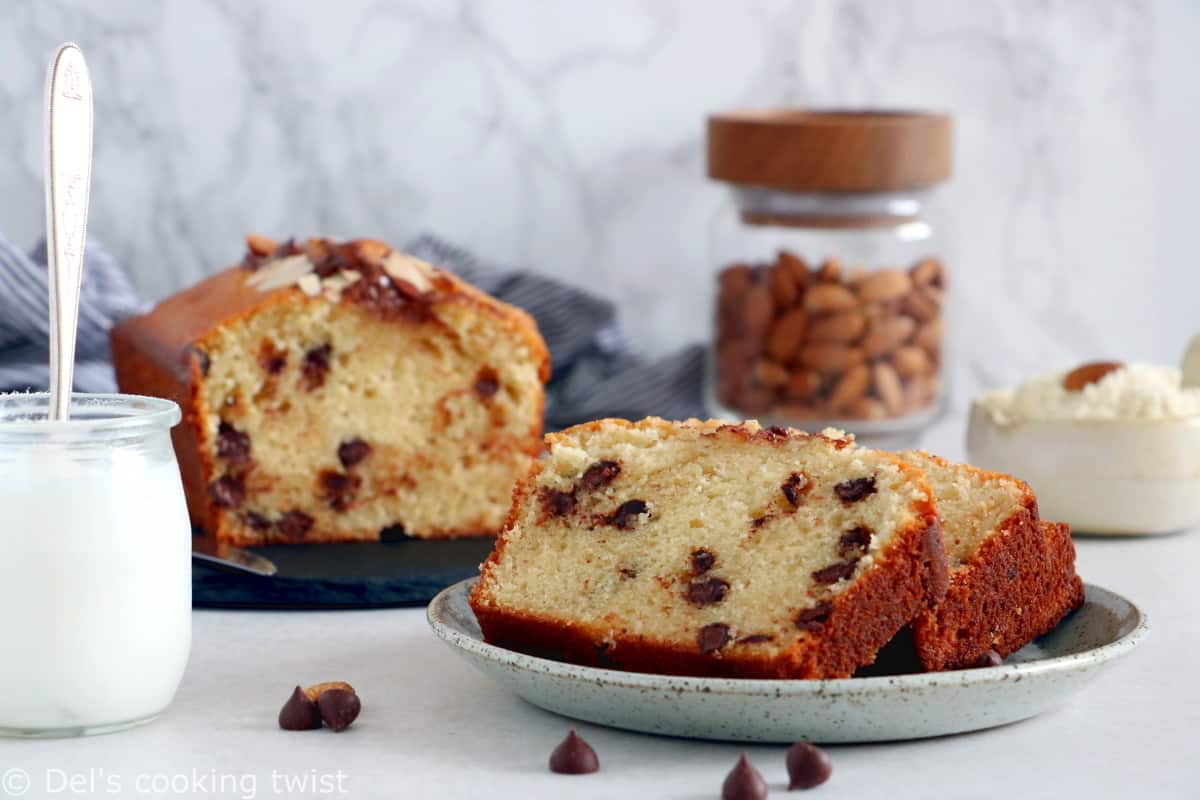 More easy cake recipes you'll love:
For even more inspiration, make sure you check my Easy Baking Recipes (with minimal ingredients).
Kid-friendly recipes with chocolate chips:
Lastly, if you make this chocolate chip almond yogurt cake, be sure to leave a comment and/or give this recipe a rating, letting me know how you liked it. And of course, don't forget to tag me on Instagram! Thank you and enjoy!
Print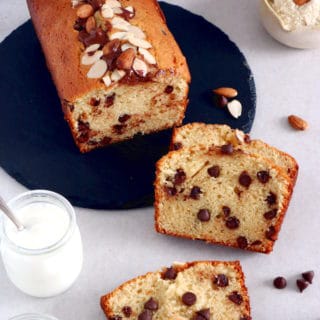 Chocolate Chip Almond Yogurt Cake
Author:

Prep Time:

15 mins

Cook Time:

45 mins

Total Time:

1 hour

Yield:

8

servings

1

x

Category:

Cakes and pies

Cuisine:

French
---
Description
This simple chocolate chip almond yogurt cake makes a wonderful coffee cake for every occasion. Inspired from the classic French yogurt cake (gâteau au yaourt), this version is enhanced with brown sugar, almond flour, and some delicious chocolate chips. A hit among both kids and adults!
---
For all measurements, use 1 standard yogurt container* (about 4.2 ounces / 120g), or follow the metric measurements below:
1

 container (4.2 ounces / 120g) plain yogurt**

1

container (1/4 cup / 1.75 ounces / 50g) caster sugar

1

container (1/4 cup / 1.6 ounces / 45g) light brown sugar, or vergeoise

3

 medium eggs

1 teaspoon

 vanilla extract

1

 container (1/2 cup / 3.8 ounces / 110g) vegetable oil, neutral in taste (canola oil)

2

 containers (1 ¼ cup / 5.3 ounces / 150g) all-purpose flour

1

container (3/4 cup / 2.6 ounces / 75g) almond meal

2

containers (1 cup / 6.3 ounces / 180g) mini chocolate chips

1 teaspoon

 baking powder

1

 pinch salt

1 Tablespoon

slivered almonds (optional)
---
Instructions
Preheat the oven to 350°F (180°C) and grease the bottom and the sides of a 9×5-inch (23×13 cm) loaf pan or a 9-inch (23 cm) spring form with melted butter. Set aside.
In a large mixing bowl, pour the plain yogurt. Add sugar, brown sugar, eggs, vanilla extract and vegetable oil. Whisk until combined.
In a separate bowl, mix all-purpose flour, almond meal, baking powder, and salt.
Add the dry ingredients to the wet ingredients, and fold in the mini chocolate chips.
Scoop the batter into the prepared loaf pan and sprinkle slivered almonds on top.
Bake for about 45 minutes or until a toothpick inserted into the center comes out clean. If the top is browning too fast, tent it with a piece of aluminum foil.
Remove from the oven and let cool for about 10 minutes in the pan, then transfer to a cooling rack and cool completely.
---
Notes
* Depending on where you live, you can find different standard sizes for the yogurt container: 5 ounces (140g) in the United States, 4.4 ounces (125g) in France, 4.2 ounces (120g) in Canada. Good news is: whatever container size you use between the 3 mentioned above, the recipe works with the x1, x2, x3-container rules (1 container yogurt, 2 containers sugar, 3 containers all-purpose flour) and you won't need any additional egg. Remember that this is a very forgiving recipe and the difference in measurements is too small to make such a difference in the final cake result.
** For the choice of yogurt, try to go for plain yogurt over any flavored ones (although vanilla flavor is fine). Also, note that both Greek or non-Greek yogurt will do. I personally prefer full-fat but low-fat works too.
Keywords: Chocolate chip almond yogurt cake