Easy raspberry and lemon curd cream puffs make a delicious fancy sweet dessert with a lovely touch of acidity brought by the homemade lemon curd and the fresh raspberries. Using a choux pastry recipe as a base, they look technically advanced and a little intimidating at first, but I promise the recipe is way easier than it seems. Just follow my advice and you'll have them ready before you know it.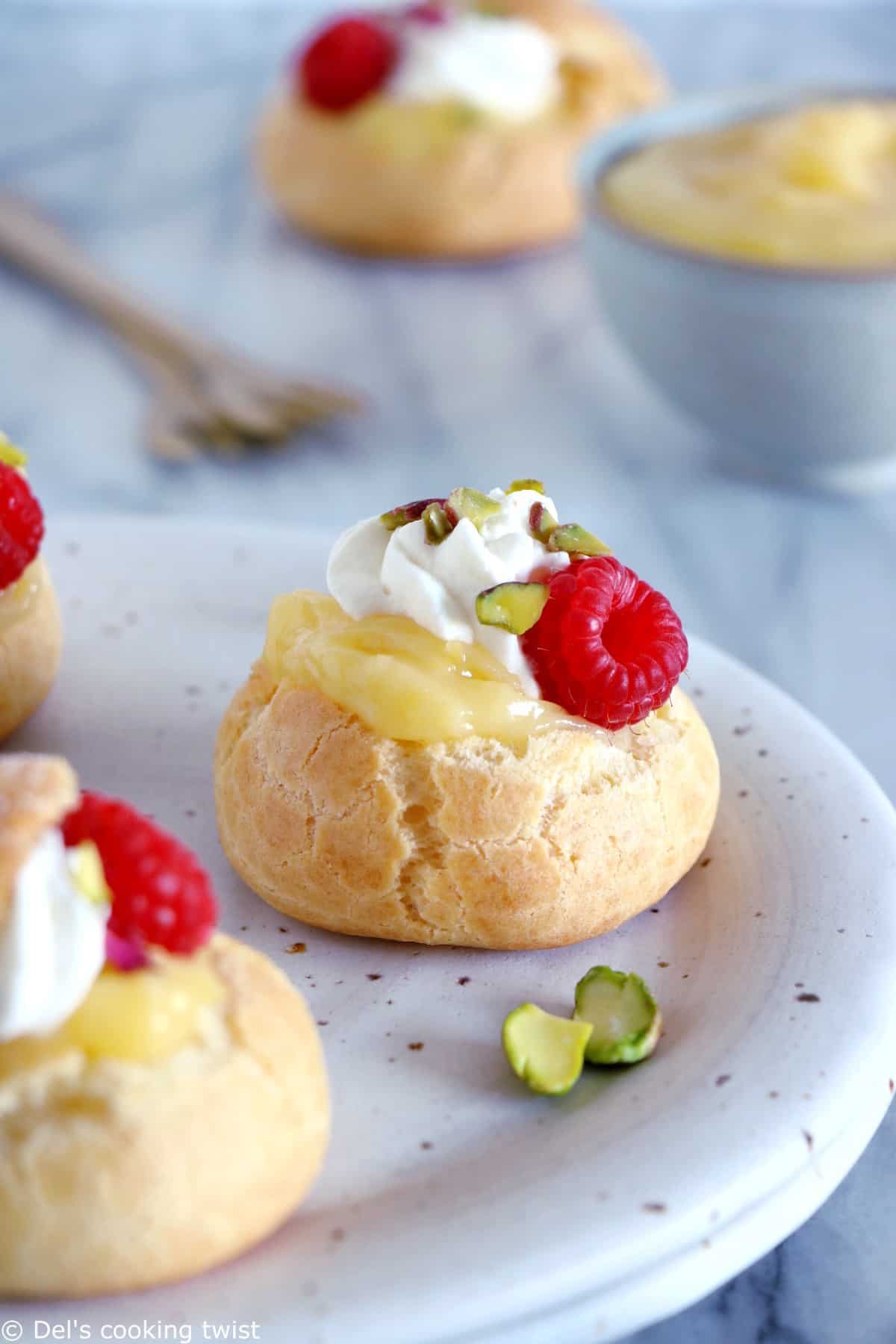 Cream puffs (or choux pastry) count among my favorite things to bake. I actually improvised these easy raspberry and lemon curd cream puffs recipe for my other half's birthday last year as I was lazy to bake an entire cake and still wanted to create this wow effect. Yes, I know, this may sound weird to you but I promise that these cream puffs are way easier to prepare than they seem and I'm happy to guide you through the steps.
The entire process from start to finish didn't take that long, the baking equipment you need is basic, and in the end the guests were absolutely amazed by the recipe. So if you're looking for something a little different this summer, but still very light and refreshing, you need to give these easy raspberry and lemon curd cream puffs a try!
How to make cream puffs: 2 ways
First thing first, let's talk about the choux pastry recipe. I actually have 2 choux pastry recipes that I really like (this one and this one), but when it comes to dessert, the last one is my favorite. There is just a slightly difference between them too. When making choux puffs with a savory filling, I use water only as a liquid, whereas for a sweet filling I use equal parts of milk and water. In the last version, milk brings a soft texture that pairs beautifully with anything sweet.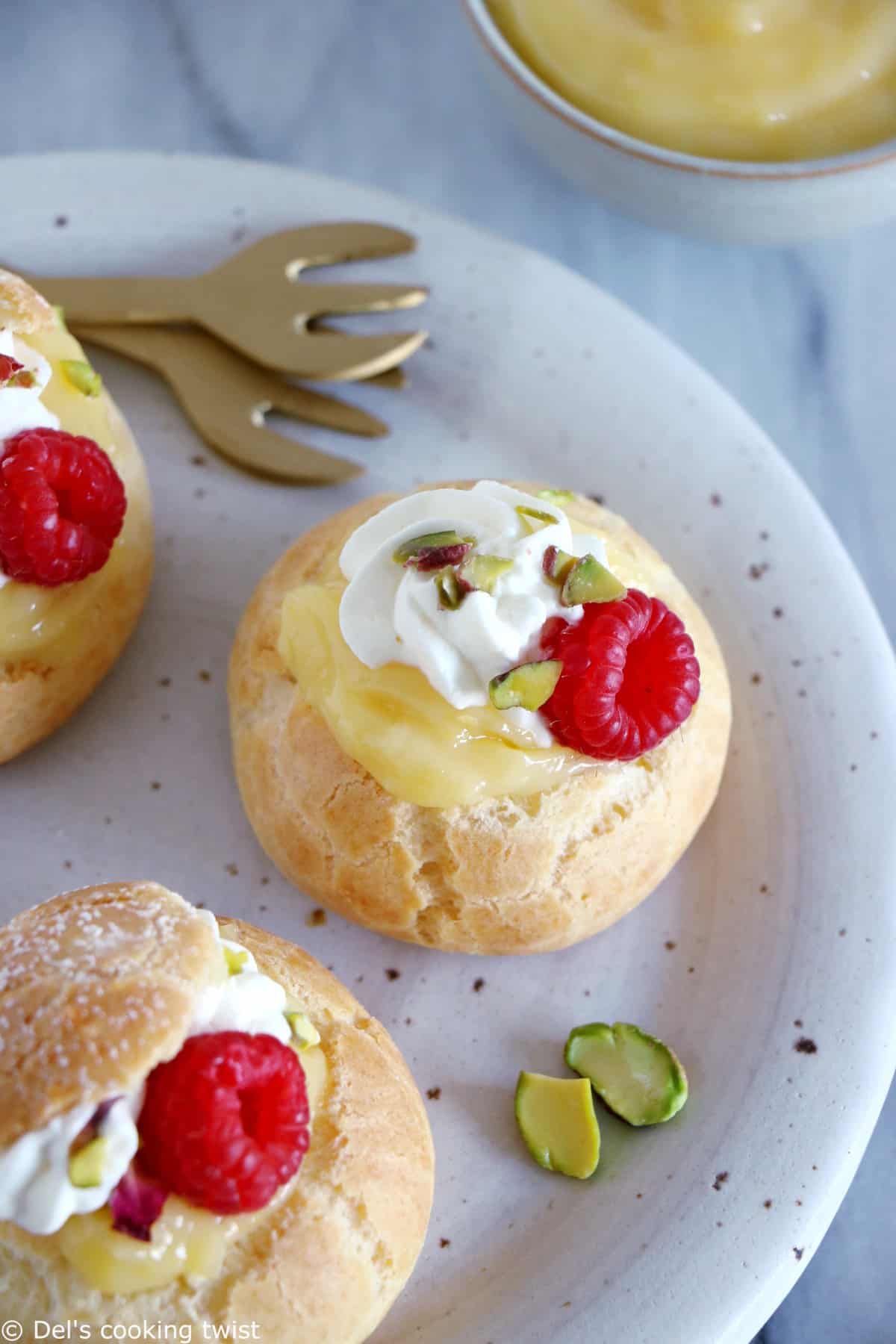 Apart from this slightly difference, both recipes are the same, and I share all my tips for success here. Note that I do not use a so-called "craquelin" to coat the choux pastry as you sometimes find in some French bakeries. With the craquelin, cream puffs have a stunning final look but I want the recipe to remain simple for all baking levels so I didn't go for it.
A lemon curd cream puff filling
Once your choux pastry is ready, it's time to prepare the filling. Here I simply made my homemade lemon curd. This recipe is a keeper and an absolute no-brainer: super easy to prepare, it works every single time and it's ready within minutes. Plus you can store leftovers in the refrigerator for up to a week to enjoy with anything you like!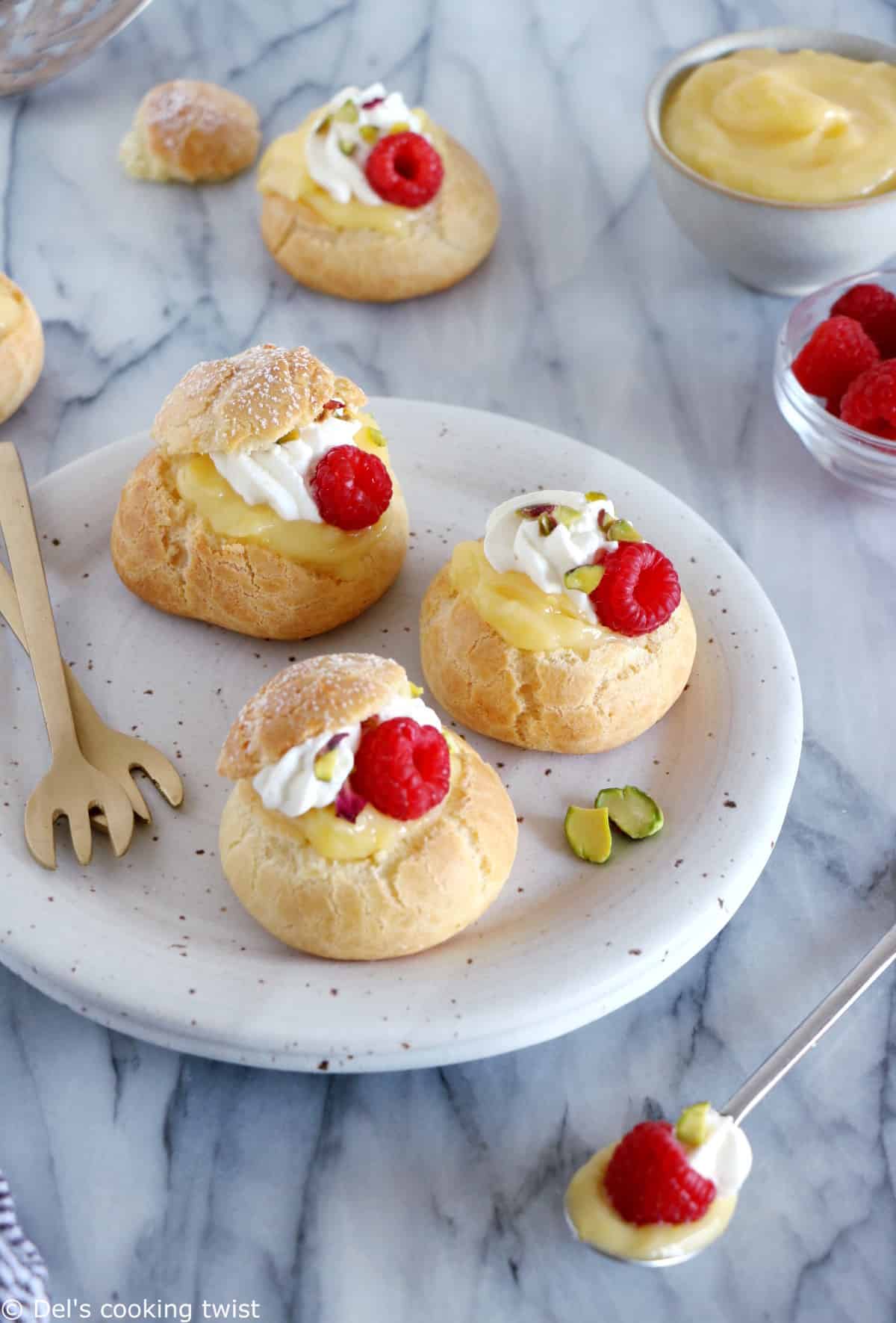 Now if you run out of time, keep in mind that you can use store-bought lemon curd instead. That works too! Don't be too hard on yourself and just use what's more convenient for you when you make the recipe.
Assembling your cream puffs
To make these cream puffs even more festive, make sure you don't skip the "extra stuff": fresh raspberries, whipped cream and mint leaves.
I start with slicing the choux pastry in half, garnish the inside with a teaspoon or two of lemon curd. Then top with whipping cream (you can use a piping bag to make it fancy but you don't have to), a few fresh raspberries, and additional pistachios and/or mint leaves. The result is just delightful: creamy, light and fruity. Enjoy!
More recipes using choux pastry:
After you tried this recipe, you may, like me, fall in love with the choux pastry recipe. If so, I recommend you try some of the following recipes. Note that I usually use a slightly different choux pastry recipe, depending on the sweet or savory filling I use.
Looking for fancy desserts with berries?
Print
Easy Raspberry and Lemon Curd Cream Puffs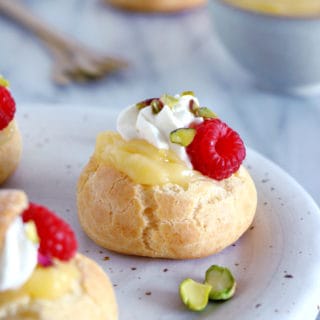 Author:
Prep Time:

2 hours

Cook Time:

25 mins

Total Time:

2 hours 25 minutes

Yield:

15

-

20

choux

1

x
Category:

Desserts

Cuisine:

French
Easy raspberry and lemon curd cream puffs make a delicious fancy sweet dessert with a lovely touch of acidity. Using a choux pastry recipe as a base, they look technically advanced and a little intimidating at first, but I promise the recipe is way easier than it seems.
For the choux pastry:
½ cup

(125ml) water

½ cup

(125ml) milk

4

g salt

8

g sugar

3.5 ounces

(

100g

) butter

1¼ cup

s (

150g

) all-purpose flour, sifted

4

eggs
For the lemon curd:
2

medium lemons*, juice and zest

4

large eggs

1/3 cup

(

80g

) unsalted butter, softened at room temperature and diced

3/4 cup

s (

150g

) white sugar
Other ingredients:
1/2 cup

(

120

ml) heavy whipping cream
Fresh raspberries
Fresh mint leaves (optional)
Instructions
For the choux pastry:
Preheat the oven to 480°F (250°C) and line a large baking sheet with parchment paper. Place a large mixing bowl in the refrigerator.
In a medium saucepan, heat water, milk, butter, salt and sugar on low heat. Remove the saucepan from the heat as soon as the liquid starts bubbling. Add the sifted flour and mix vigorously with a wooden spatula until no lumps remain.
Put the saucepan back on the heat and stir the dough until it detaches from the sides of the pan and makes a compact and smooth ball of dough. Transfer to the cold large mixing bowl and let cool for 5 minutes in the bowl placed at room temperature. Incorporate the eggs, one at a time, using a wooden spatula or a stand mixer equipped with a paddle attachment, stirring well after each addition.
Transfer the choux pastry in a large piping bag and pipe small amounts of dough, leaving enough space between each of them. Bake in the 480°F (250°C) preheated oven, then drop the oven temperature to 350°F (180°C) right away. Bake for 25 minutes (do not open the oven in the meantime!) or a little bit longer if needed, until the choux become golden in color. Open the oven door and let the choux for 5 more minutes in the oven, then transfer to a cooling rack and let cool completely.
For the lemon curd:
Wash the lemons, grate the zests and press the juice. When zesting, make sure you do not remove the white flesh, which gives bitterness.
Beat the eggs in a medium glass mixing bowl. Whisk in the lemon juice, zests, butter and sugar.
Heat the bowl in a water-bath (bain-marie) in a larger saucepan filled with some water until the the half. Whisk the mixture regularly for 20 minutes until it thickens.
Once the texture thickened, pour into a glass jar and cool completely. Then place the jar in the fridge and close it well, so that you can keep the lemon curd a few weeks before using it.
Final touches and assembling:
Pour heavy whipped cream in a medium bowl and beat using an electric hand mixer until light and fluffy (don't over-beat or you will get butter). Transfer to a pipping bag and close tightly.
Slice each choux pastry in half and fill with lemon curd. Pipe whipped cream on top, then add fresh raspberries and a few mint leaves. Enjoy!
Notes
* Because you will need to use the zest as well, make sure you choose organic, untreated lemons.
Keywords: Easy Raspberry and Lemon Curd Cream Puffs
Did you make this recipe?
Lastly, if you make this Easy Raspberry and Lemon Curd Cream Puffs, be sure to leave a comment and give this recipe a rating, letting me know how you liked it. And of course, don't forget to tag me on Instagram! Thank you and enjoy!