Beautiful Strawberry Rhubarb Meringue Pie filled with a subtle almond cream is a perfect summer dessert with a great balance of sweetness and tartness. Simply delicious!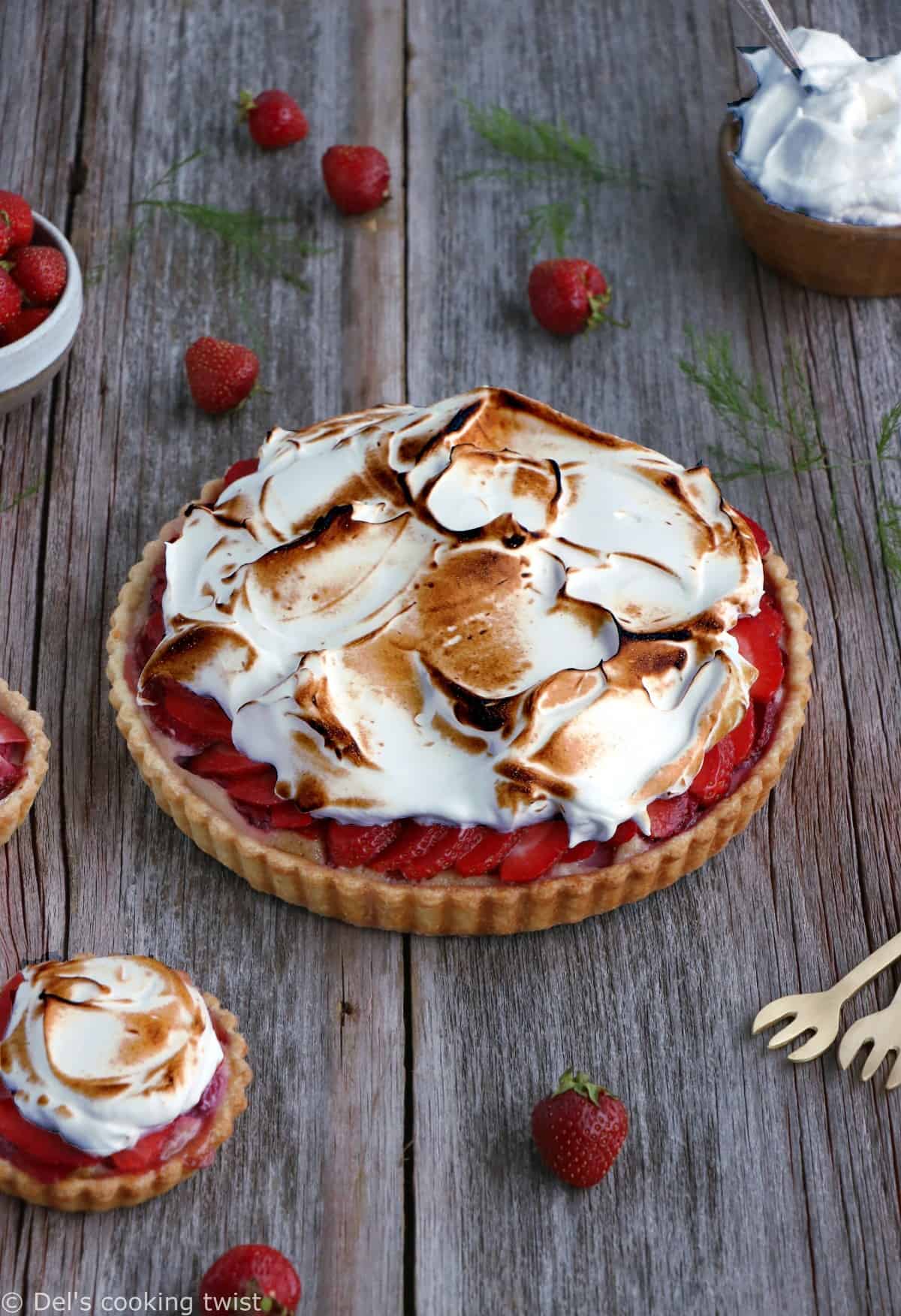 In Sweden, strawberries are definitely a star ingredient in summer. From early May until late August, you find them everywhere, whether you are an adept of berry picking or going to your local farmer market.
This means you have also plenty of options when it comes to strawberry recipes. You can use them fresh or cooked, either in dessert recipes or in savory recipes, such as this Spinach & Strawberry Salad with Goat Cheese and this Strawberry and Feta Quinoa Salad.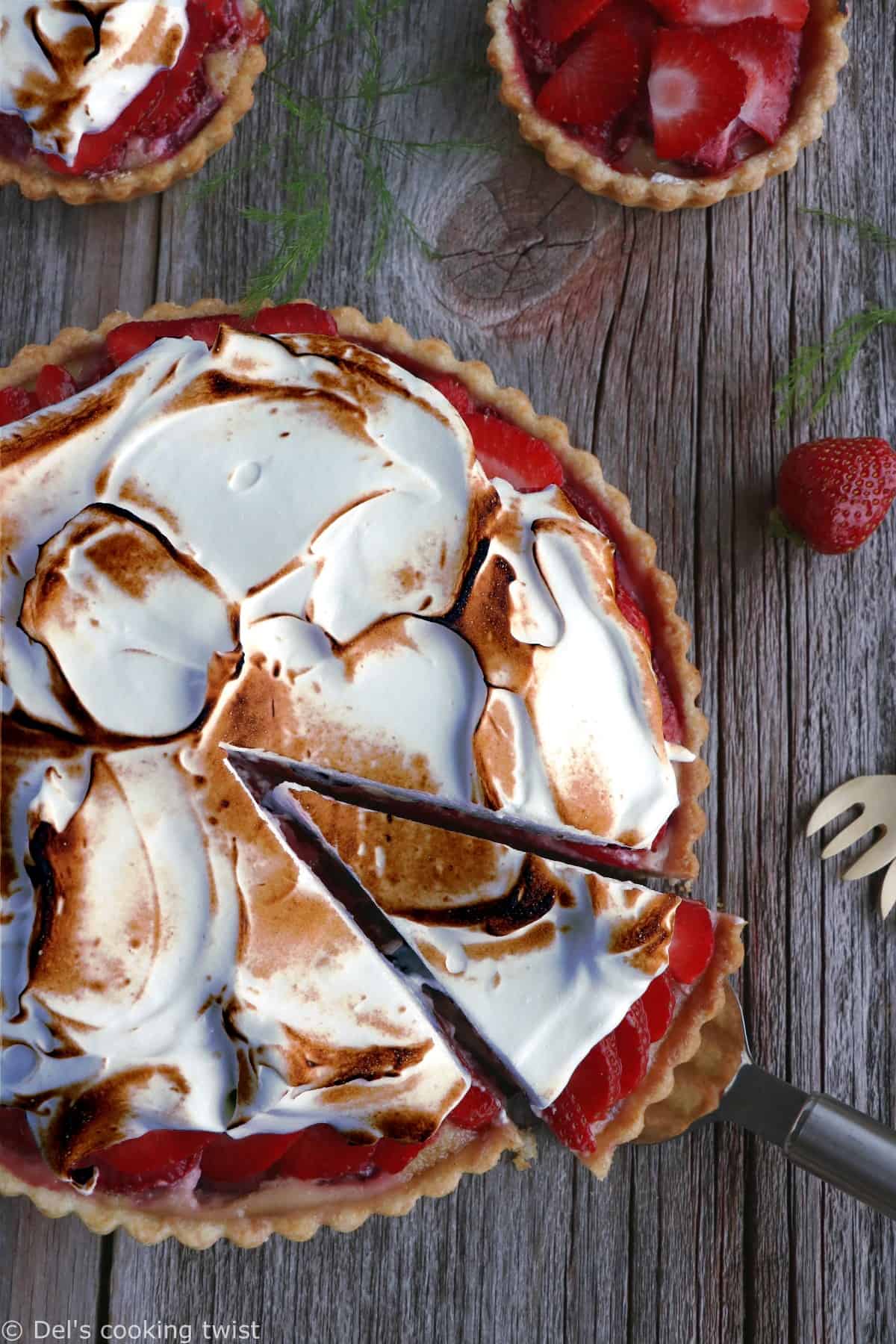 Another fruit (well, a "vegetable-fruit" actually) very popular in summer in Sweden is rhubarb. Fortunately, the two go very well together! There are are many different ways to arrange them together: in a fruit compote or in a strawberry rhubarb jam, in a lovely fruit cake, in a crumble pie, etc.
Today, I went for a completely decadent dessert, entirely prepared from scratch, and I'm so excited about it. On top of a buttery pie crust, expect an almond cream, some juicy fruits, with a subtle sweet and tangy flavor, and a wonderful Italian meringue. Ready to know more? Jump below.
How to prepare a meringue strawberry pie?
First of all, you will need to prepare the pie crust. You could go for a store-bought and ready-to-use pie crust but I really advice against it. The 5 extra minutes that requires a homemade pie crust are worth the effort, believe me. This one in particular is rich, buttery, slightly sweet… What's not to love about it?
Then, cook the rhubarb. There is really nothing difficult about it. Just wash, dice and cook the fruits all together in a saucepan with just a little bit of lemon juice. You can add a little bit of water if it doesn't look juicy enough, and a tablespoon of sugar if you wish, but I don't find it necessary. Pour the rhubarb compote over the pie pre-baked pie crust and add the fresh strawberries over.
Set aside, and make the almond filling. Don't be afraid, it's pretty simple actually. All you need to do is combine almond meal, eggs and sugar together in a medium mixing bowl. Note that because we use the sugar here, I didn't add any in the strawberry-rhubarb compote. Once combined together, you get a perfect sweet tangy flavor.
At this stage, you can decide to cook it and enjoy as is, or prepare a meringue on top.
What's the best meringue for this recipe?
Let's say that there is no right or wrong really ; it's mostly a matter of preference. As far as I'm concerned, I have tried different options and found that the Italian meringue is by far my favorite.
In a previous version of this recipe (updated as of August 4th, 2019), I used a classic French meringue consisting of beaten white eggs, to which we add a little bit of sugar. It's also the easiest meringue recipe you can find, so even if I changed it for the Italian meringue in the recipe, you can still find this alternative version in the recipe note. If you are going for this one, I strongly advise you to make the meringue at the very last minute before eating it for best results, in particular when it comes to the final look of the dessert.
If you go for the Italian meringue however, you will need to prepare a syrup first, heat it to the right temperature, and then add it once your egg whites are foamy but not yet firm. It is a little bit more technical in all aspects and you will need a cooking thermometer.
Love rhubarb? Try these too:
More summer desserts with strawberries:
For even more inspiration with berries this summer, check out 20+ Very Berry Recipes.
Lastly, if you make meringue strawberry rhubarb pie, be sure to leave a comment and/or give this recipe a rating, letting me know how you liked it. And of course, don't forget to tag me on Instagram! Thank you and enjoy!
This meringue strawberry rhubarb pie always make the greatest impression for any festivity or summer party. Whether you chose to make it with an Italian meringue or a French one, I hope you'll like it as much as I do!
Print
Meringue Strawberry Rhubarb Pie
Author:

Prep Time:

45 mins

Cook Time:

15 mins

Total Time:

45 mins

Yield:

8

servings

1

x

Category:

Cakes and Pies
---
Description
Beautiful Strawberry Rhubarb Meringue Pie filled with a subtle almond cream is a perfect summer dessert with a great balance of sweetness and tartness. Simply delicious!
---
For the pie crust:
3/4 cup

(

150g

) unsalted butter

2 1/2 cups

(

300g

) all purpose flour

3 Tablespoons

(

50g

) granulated sugar

1

pinch of salt

1

large organic egg

1 1/2 Tablespoons

water
For the filling:
1 1/3 cups

(

200g

) fresh strawberries, rinced and cut in half

1 1/3 cup

(

200g

) fresh rhubarb, diced

1/2

lemon zest

1/2 cup

(

100g

) granulated sugar

2

large eggs

4 Tablespoons

(

60g

) almond flour
For the Italian meringue:
1 cup

(200ml) water

1 cup

(

200g

) caster sugar

4

egg whites
---
Instructions
For the pie crust:
Mix the dry ingredients with the butter and the eggs until the mix is roughly crumbled. Add the water until the ingredients stick together and form a thick dough.
Roll a large disk of 10.5 inches (27 cm) in diameter. Line a pie dish with the crust. Pre-bake the pie at 410°F (210°C) for ten minutes.
For the filling:
Precook the rhubarb with lemon zests and juice for about 5 minutes. Allow to cool a little, then spread over the pie crust. Add the fresh strawberries* on top.
In a large bowl, mix the almond flour with the eggs and sugar, then pour over the pie crust and bake in the oven at 410°F (210°C) for about 15 minutes.
For the Italian meringue**:
Pour water and sugar in a small saucepan, and heat the syrup to 240°F (115°C) without stirring.
When the temperature approaches 230°F (110°C), start beating the whites with an electric mixer or ideally in the bowl of a food processor. When they are foamy but not yet firm, very gradually stream the hot sugar syrup into your egg whites as they continue to whip on low to medium speed.
Once you've added all of the syrup, increase the mixer speed to medium-high. Continue mixing until the meringue reaches stiff peaks.
Spoon the meringue over the ganache, swirling decoratively, and toast with a kitchen torch until golden brown in spots, if desired.
---
Notes
* Alternatively, you can bake the pie with almond-rhubarb filling, and then add the fresh strawberries afterwards, and just before topping with the meringue. Both options work; it's a matter of personal taste.
** If you go for a classic French meringue instead, here's how to: beat 4 egg whites with a pinch of salt until they form firm peaks. Add 1/2 cup (100g) icing sugar and beat vigorously. Pour over the pie. Bake in grill position for a few minutes only while checking regularly that the meringue does not burn.
Keywords: Meringue strawberry rhubarb pie