Learn how to make chocolate profiteroles from scratch with this easy foolproof choux pastry. Served with hot chocolate sauce, vanilla ice cream and topped with candied hazelnuts, this classic French profiteroles recipe will soon have no secret for you!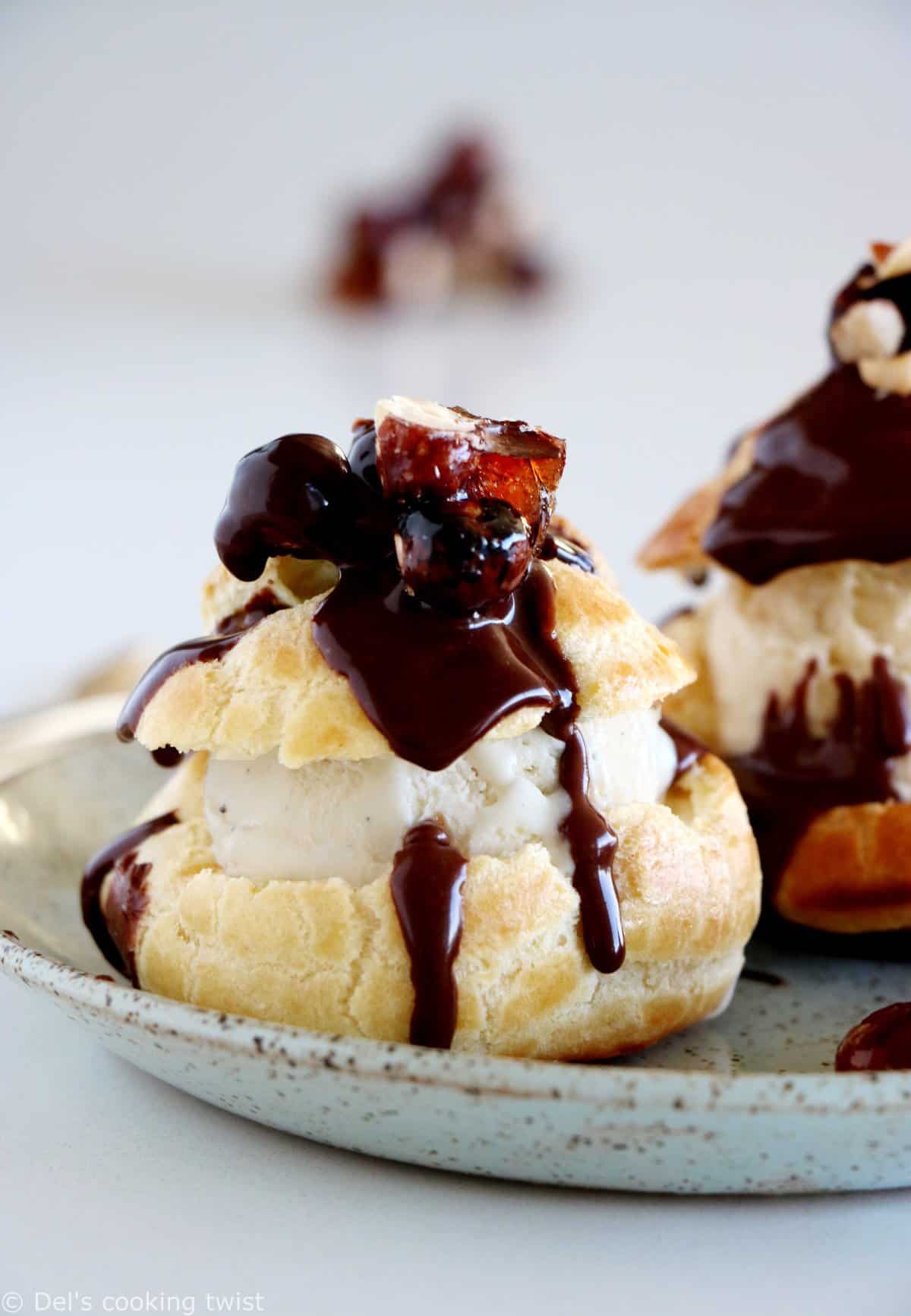 Say hello to the last recipe of the year on the blog, and also the last of my monthly French baking series. Since January I have been posting one classic French baking recipe a month. Among others, you can find the brioche à tête, the pains aux raisins, the classic apple tarte tatin, and also the easy chocolate brioche buns. In total you now have 12 recipes to introduce you to French baking, the easy way (exit croissants and chocolate croissants, for advanced levels only).
Homemade chocolate profiteroles
For the very last one of the series, I opted for another classic. Homemade chocolate profiteroles it is! They make a delicious dessert that will please both chocolate and ice cream lovers. French chocolate profiteroles are also very festive and will make a great dessert for New Year's Eve in just a couple of days. I added candied hazelnuts to make them extra special and bring an irresistible crunchy touch!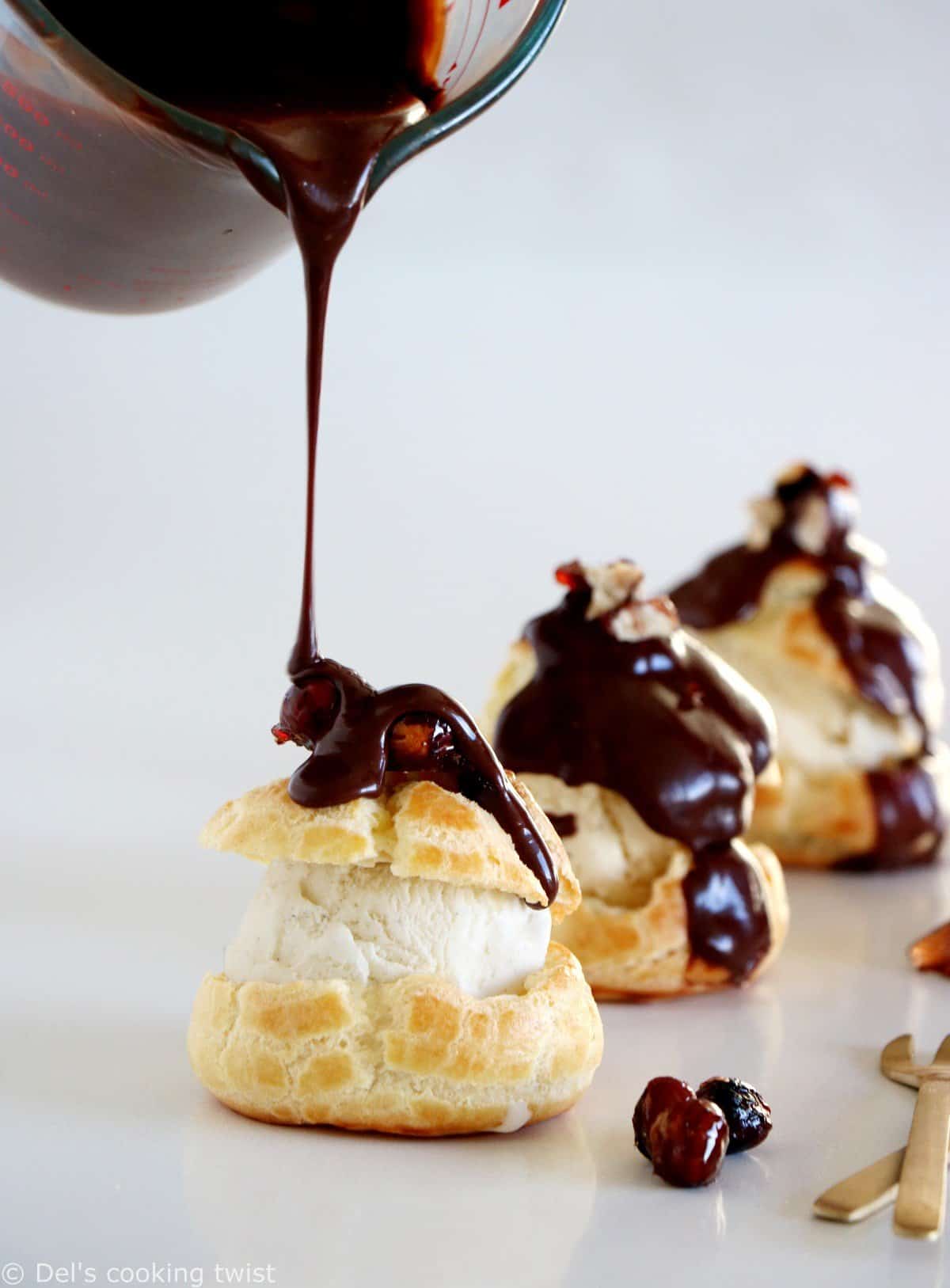 Now to all of you who might think profiteroles are for advanced bakers only, please don't run away. Preparing choux pastry is actually way easier than it seems. I have been testing many different choux pastry recipes and learned all the tricks to make them perfect every single time. By following just a few simple rules, I can insure you that you will soon be able to bake profiteroles with confidence.
How to make perfect choux pastry?
It all begins with just a few basic ingredients everyone has at hands: milk, flour, butter, eggs. Some recipes call for water in replacement of milk, some for half water half milk. I tried both and adopted the milk-water version, which is enables a soft texture to your choux pastry. As for the ingredient ratio, it can vary from one recipe to another. For my salmon choux puffs for instance, I used way more flour than I used for the profiterole recipes. For any dessert choux pastry in general and these homemade chocolate profiteroles in particular, I recommend you use the recipe with less flour and half milk, half water.
When it comes to the choux pastry recipe itself, there are 4 steps to remember:
Start with combining water, milk and butter on medium heat.
Then pour all the flour at once, stir well and place back on the heat while stirring, until the dough detaches from the sides of the pan.
Transfer into a cold bowl, let sit for 5 to 10 minutes, then add the eggs, one at a time, stirring quickly to prevent them from cooking.
Piping choux pastry and baking tips
After that, your choux pastry is ready to use. I like to transfer it into a piping bag to create small amounts of dough on a baking sheet, but you could also go the lazy way and simply spoon small amounts of dough onto the sheet. In order to make profiteroles, you need to have medium size mounts, approximately half the size of your thumb. It might seem small, but keep in mind that your profiteroles will rise in the oven and double in size.
Once ready, place them in a preheated oven and lower the temperature right away. Now the most important thing you need to keep in mind to guarantee success every single time is to NEVER open the oven door while baking, or your choux will flatten. The baking time can vary from one oven to another so I recommend you keep a close eye on it. Usually you would need to bake them about 25 minutes, or until the choux are golden. Remove from the oven, transfer to a cooling rack and let cool completely before handling.
Final touches before serving
Meanwhile, prepare the candied hazelnuts by combining them in the heated syrup. Then transfer to a baking sheet the hazelnuts with the syrup all together. They will harden rather quickly. Let sit a few more minutes, then pulse just a couple of times in a food processor. When your chocolate profiteroles are ready to assemble, cut the upper part and garnish the empty inside with vanilla (or coffee) ice cream, then drizzle the hot chocolate sauce. Serve right away, with the candied hazelnuts on top. And voilà!
More recipes with choux pastry:
Other French dessert recipes:
Lastly, if you make these chocolate profiteroles with candied hazelnuts, be sure to leave a comment and/or give this recipe a rating, letting me know how you liked it. And of course, don't forget to tag me on Instagram! Thank you and enjoy!
Print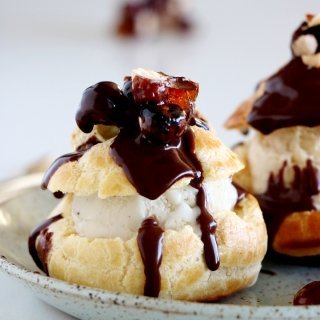 Chocolate Profiteroles with Candied Hazelnuts
Author:

Prep Time:

1 hour 30 mins

Cook Time:

25 mins

Total Time:

1 hour 55 mins

Yield:

12

servings

1

x

Category:

Desserts

Cuisine:

French
---
Description
Learn how to make chocolate profiteroles from scratch with this easy foolproof choux pastry. Served with hot chocolate sauce and vanilla ice cream.
---
For the choux pastry:
½ cup

(125ml) water

½ cup

(125ml) milk

4g

salt

8g

sugar

3.5 oz

(

100g

) butter

1¼ cups

(

150g

) all-purpose flour, sifted

4

eggs
For the hazelnuts:
1/2 cup

(

75g

) hazelnuts

1/4 cup

(60ml) water

1/4 cup

(

50g

) sugar
For the chocolate sauce:
5.6 ounces

(

160g

) chocolate, chopped finely

2/3 cup

(160ml) heavy cream
To serve:
---
Instructions
For the choux pastry:
Preheat the oven to 480°F (250°C) et line a large baking sheet with parchment paper. Place a large mixing bowl in the refrigerator.
In a medium saucepan, heat water, milk, salt and sugar on low heat. Remove the saucepan from the heat as soon as the liquid starts bubbling. Add the sifted flour and mix vigorously with a wooden spatula until no lumps remain.
Put the saucepan back on the heat and stir the dough until it detaches from the sides of the pan and makes a compact and smooth ball of dough. Transfer to the cold large mixing bowl and let cool for 5 minutes in the bowl placed at room temperature. Incorporate the eggs, one at a time, using a wooden spatula or a stand mixer equipped with a paddle attachment, stirring well after each addition.
Transfer the choux pastry in a large piping bag and pipe small amounts of dough, leaving enough space between each of them. Bake in the 480°F (250°C) preheated oven, then drop the oven temperature to 350°F (180°C) right away, and bake for 25 minutes (do not open the oven in the meantime!), or a little bit longer if needed, until the pastry choux become golden in color. Open the oven door and let the choux pastry 5 more minutes in the oven, then transfer to a cooling rack and let cool completely.
For the hazelnuts:
In a small saucepan, heat water, sugar and hazelnuts until you reach 240°F (118°C) (if you don't have a thermometer, stop when the mixture become sticky and syrupy).
Transfer to a sheet of parchment paper and let cool.
Once the hazelnuts have cooled, transfer to a food processor and pulse a few times until crushed.
For the chocolate sauce:
Heat the cream until just simmering. Let sit for one minute, then pour over the chocolate, chopped finely (extremely important) and whisk until completely incorporated.
To assemble the profiteroles:
Slice each choux pastry in half, fill with vanilla ice cream and pour hot chocolate sauce on top.
Add the caramelized hazelnuts, and enjoy straight away!
Keywords: Homemade chocolate profiteroles