Subtle, elegant and original, these beautiful Ispahan style mini pavlovas filled with raspberries, lychees and a generous chantilly flavored with rosewater, are just out of this world!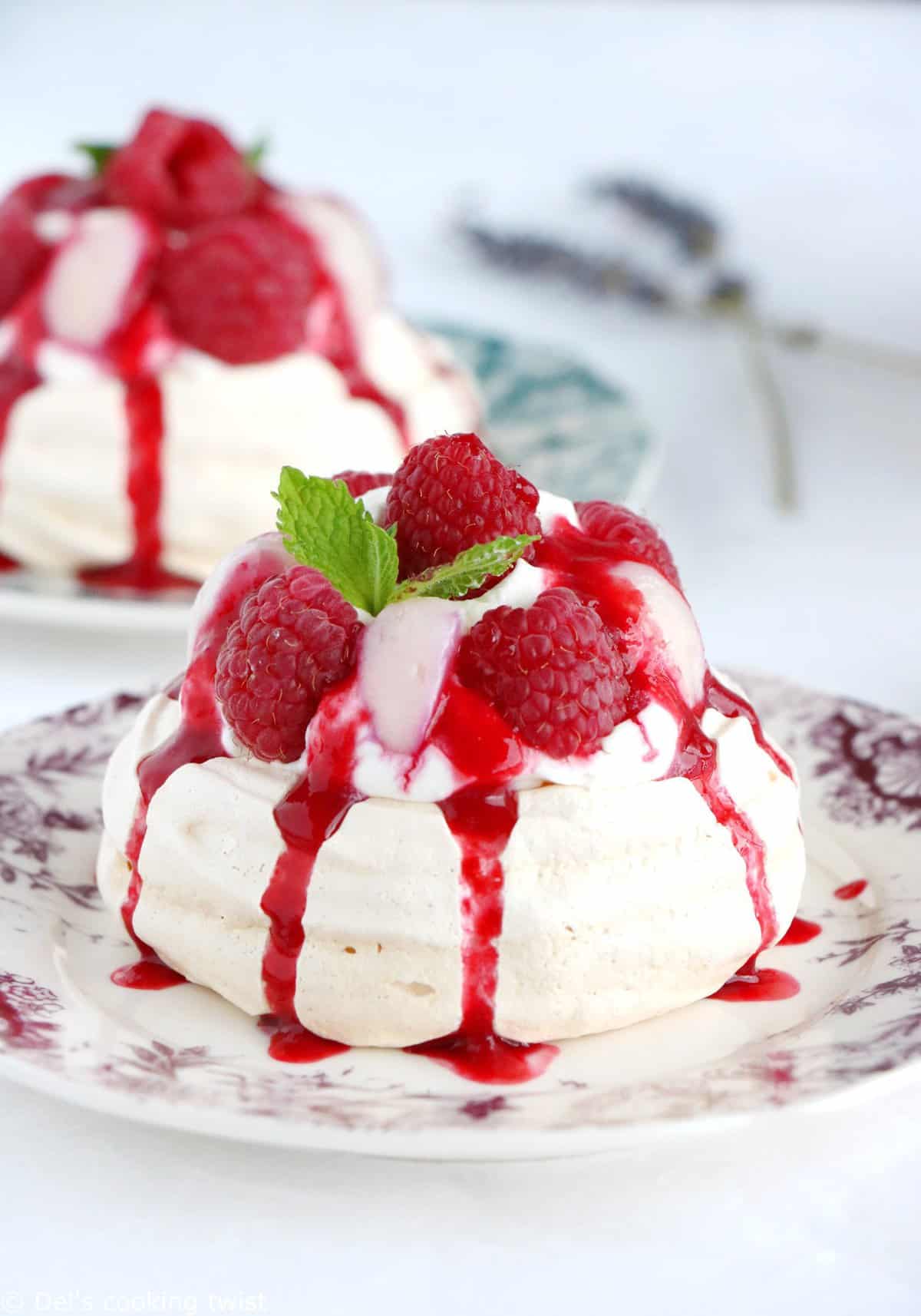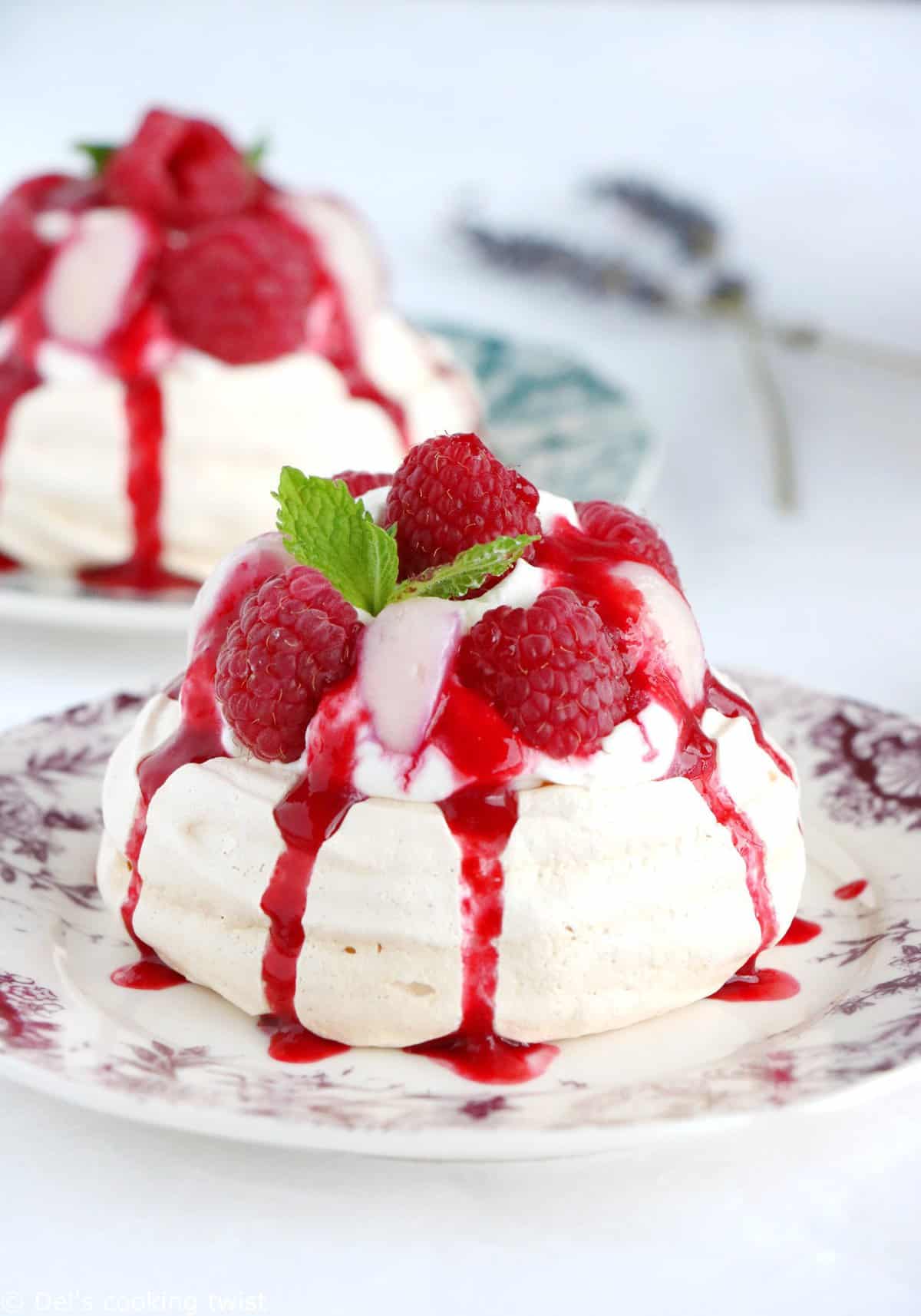 Before we go further, have you ever heard of Ispahan? And no, I'm not talking about the Iranian city here, but about the French Pastry Chef Pierre Hermé's signature macaron. The Ispahan macaron is a mix of rose cream, lychee and fresh raspberries, sandwiched in between two raspberry macaron shells. The result: a lovely visual effect with a surprising and delicate flavor combo.
I first tried confit of rose petals many years ago after a friend offered me some in a small jar. Before that, I had absolutely no idea that roses could be edible. Oh my, I remember this delicate sweet flavor as much as Proust would describe his little madeleine! It was a handmade prepared jar filled with delicate rose petals from Syria (my friend was coming back from a trip there). Memory is food to me, and this one is a very special one, also because it is not that easy to find. I found some in Istanbul, Jerusalem, now more and more in France too.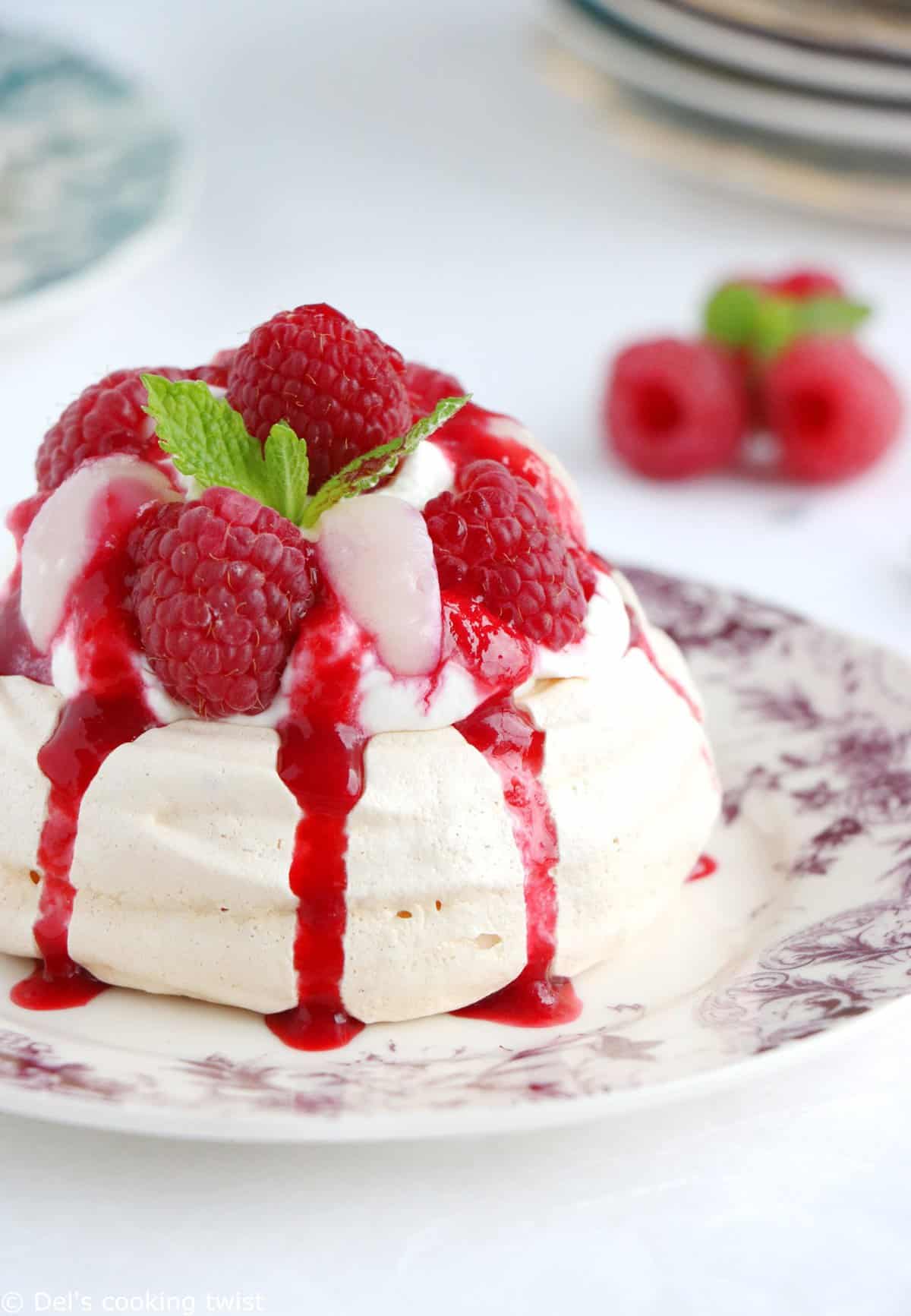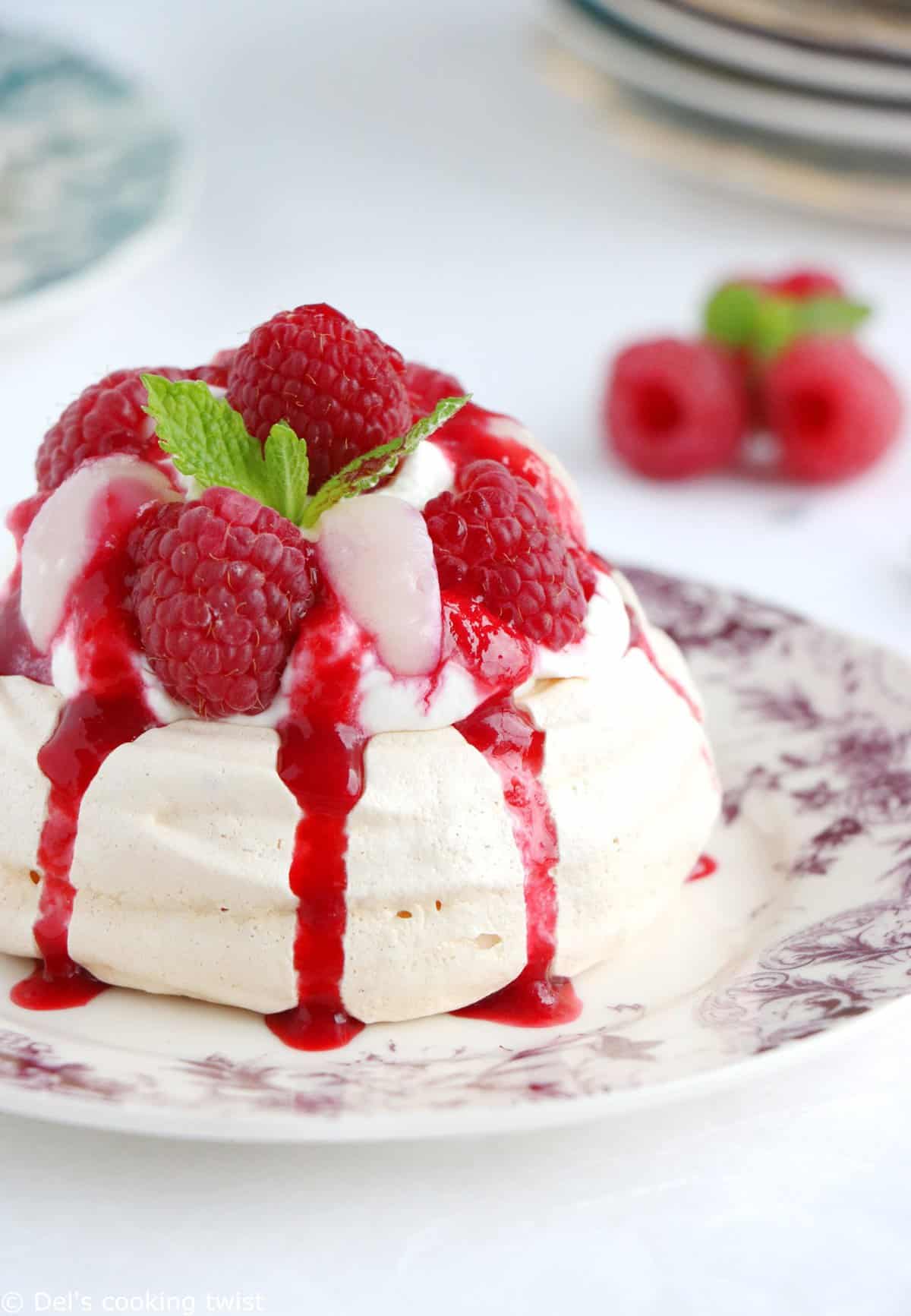 Years later, I took a French baking class and learned how to prepare some tiny Ispahan macarons. By the time I didn't really know the name "Ispahan", and even if I liked these macarons a lot (note here that strangely enough I am usually not a big fan of macarons) I do not recall the rosewater flavor in the cream. Did we used some? I'm not really sure…
Anyhow, my very first Wow experience with Ispahan was last year at my cousin's wedding. Living in Paris, she had chosen this subtle pastry as a huge wedding dessert – not your traditional wedding dessert! There were three of them, pink and heart-shaped. Just beautiful! I wouldn't have expected less from her (and by the way, she is my bridesmaid at my wedding this year, I'm so happy!). This time, the rose flavor came back to me, and again, I loved it. The whole dessert had the right combination of everything: the meringue gave some chewiness lightly crispy on top, the cream a soft texture, and the fresh fruits a very refreshing touch. The perfect wedding dessert!
Talking about wedding, you might know already that I am now one week away from getting married myself, and in this context the idea of this edible beauty naturally came back to my mind. I wanted to share with you a similar version, but as macarons are often tricky, I added a little twist to this Ispahan recipe and went instead for a pavlova, which I find much easier to prepare. And even if you do not have special baking skills, I'm pretty sure you can do well with this one, and impress your guests too!
I baked here 4 individual pavlovas instead of a big one, that often looks very good at first sight but totally collapse when we slice it. Plus, individual pavlovas look absolutely adorable and I couldn't resist to them. With the meringue, you get a quite similar chewy texture as in macarons. For the rest, the filling is exactly the same, I just drizzled some raspberry coulis on top and added some fresh mint. For every single very special occasion, this is the dessert to go for!
Print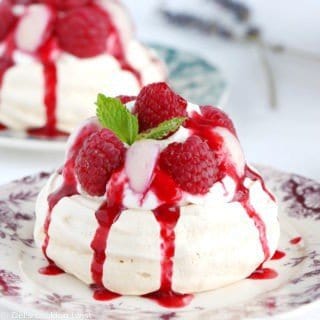 Ispahan Style Raspberry, Lychee & Rose Pavlovas
Author:

Prep Time:

45 mins

Cook Time:

1 hour

Total Time:

1 hour 45 mins

Yield:

4

individual pavlovas

1

x

Category:

Desserts

Cuisine:

Around the world
---
Description
Subtle, elegant and original, these beautiful Ispahan style mini pavlovas filled with raspberries, lychees and a generous chantilly flavored with rosewater, are just out of this world!
---
For the pavlovas:
3/4 cup

(

160g

) sugar

1 Tablespoon

cornstarch

3

egg whites

1/2 teaspoon

white vinegar
For the filling:
1 cup

(

25

cl) whipping cream

3 Tablespoons

icing sugar

1 teaspoon

rosewater

4 teaspoons

confit of rose petals

1

handful lychees

1

handful fresh raspberries
Raspberry coulis*
Fresh mint leaves
---
Instructions
Preheat the oven to 260°F (130°C), and line a large baking tray with parchment paper.
Use 1 1/2 Tablespoon of the sugar to add to the cornstarch. Set aside.
Whip egg whites and as soon as soft peaks form, gradually incorporate the remaining sugar (one spoon at a time). Add cornstarch-sugar mixture and vinegar, then keep whipping for 4 minutes.
Spoon or pipe the meringue onto the parchment paper, drawing four 4 inch (10 cm) circles. You want to make the meringue slightly higher at the rims.
Bake for one hour, checking from time to time by the end to prevent the pavlovas from becoming slightly golden – you want them to remain white. Let cool in the oven turned off and open (the meringue must stay moist in the inside).
Whip the cream into a chantilly, together with the icing sugar, then add the rosewater.
Garnish each mini pavlova with the confit of rose petals, then generously top with chantilly.
Add the fresh raspberries and lychees, cut into two or four.
Place in the refrigerator for one hour, then serve with raspberry coulis and fresh mint leaves.
---
Notes
* If you want to make a homemade raspberry coulis, check the recipe here: http://www.delscookingtwist.com/2015/04/15/white-chocolate-cake-with-raspberry-coulis/