Last week I started a new mini series in two parts, starting with 12 back-to-school recipes for the kids. Today it's time for the second part of this mini series with 12 healthy breakfast recipes. Breakfast is my favorite meal of the day and it has always been. I like to wake up early, take care of myself, then take time to enjoy breakfast. For me it's a good way to organize my mind and get ready for the day.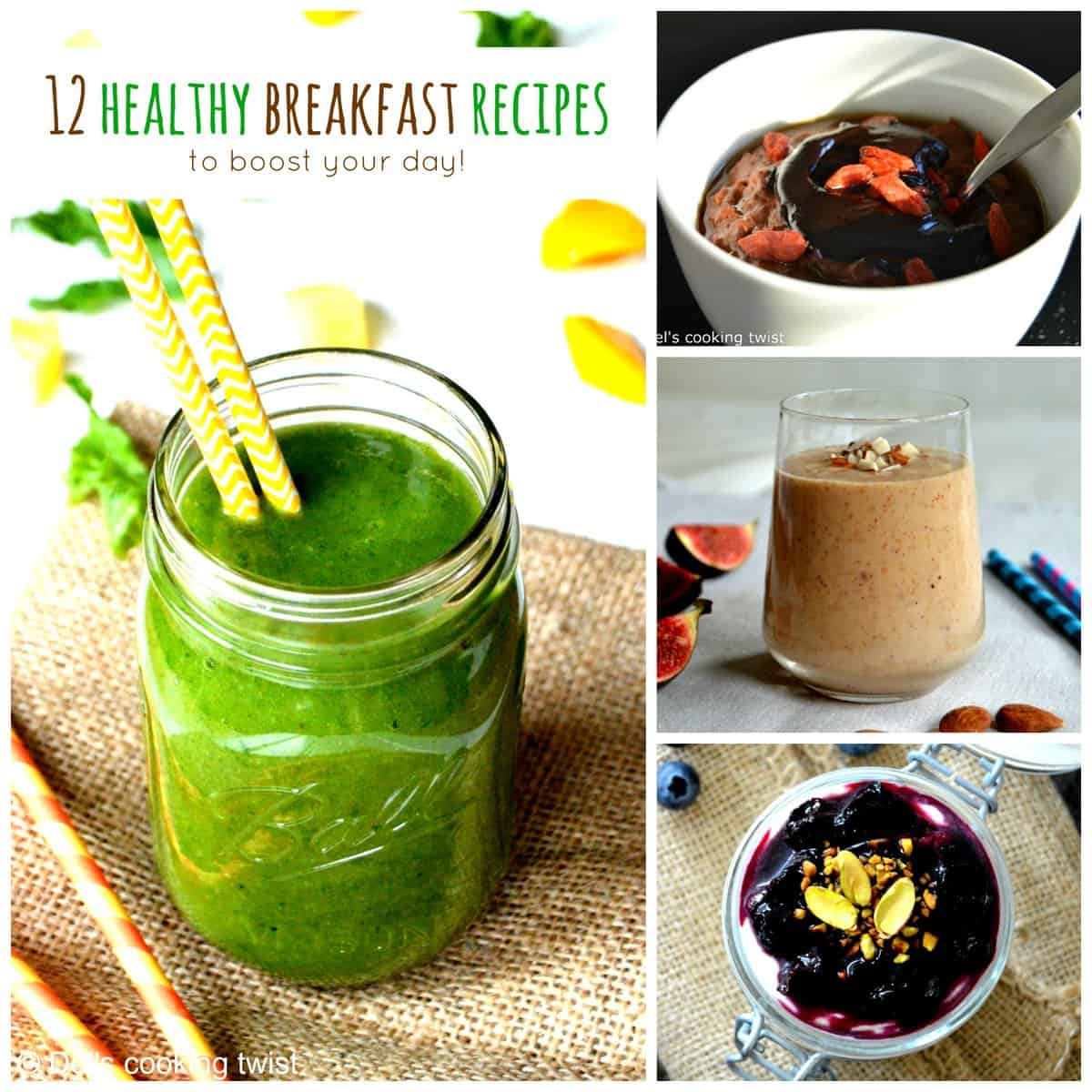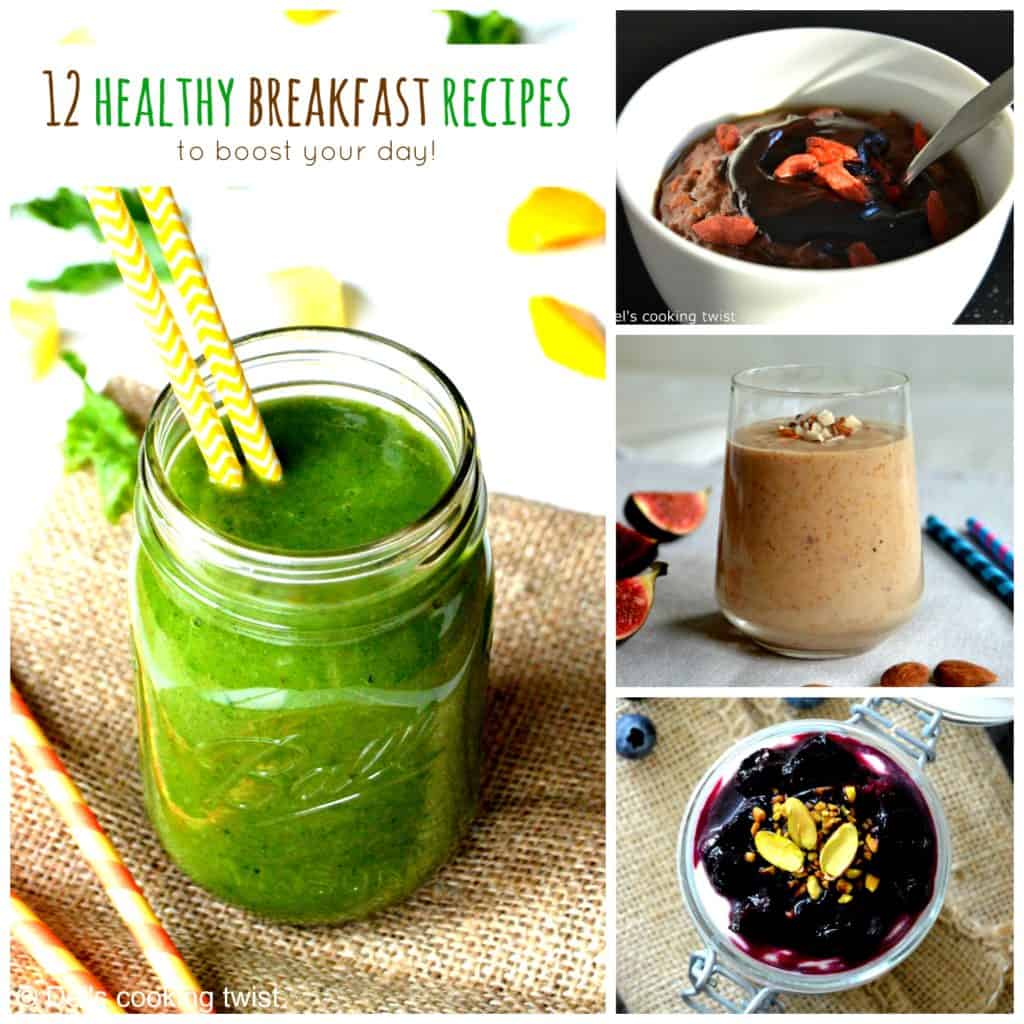 I love all kind of breakfasts but I naturally go for healthy and nourishing food in the morning. I need something that gives me energy and which is good both for my brain and for my body. Here are a few healthy breakfast ideas I really enjoy in the morning. Hope you will like them too!
Chia seed is the new trendy superfood and everyone is crazy about this tiny seed packed with big benefits, such as protein and fibers. They also don't have much of a taste, which make them a great way to amp up the nutrients of a salad or of a delicious smoothie like this blackberry smoothie.
Another thing to know about chia seeds: they keep you full for quite a while since they are such a good source of fiber.
Vegan Double Chocolate Oatmeal with Goji Berries
Oatmeal is always a very good way to start the day: it doesn't take you long to prepare, and you can change the topping almost everyday.
This double chocolate oatmeal is a yummy breakfast bowl which also contains ingredients with health benefits. Oats are loaded with dietary fiber and have a range of healthy cholesterol-lowering properties, while goji berries are rich in nutrients and antioxidant properties that help to boost the immune system.
In this smoothie I combined both oats and cashews together, which makes it a very nourishing drink which is perfect to boost your morning.
While oats are like I said earlier loaded with dietary fiber, cashew nuts are naturally cholesterol-free and contain good amounts of  heart-healthy fats, fiber, and protein. I also added some natural vanilla to this smoothie, which gives it a very sweet texture.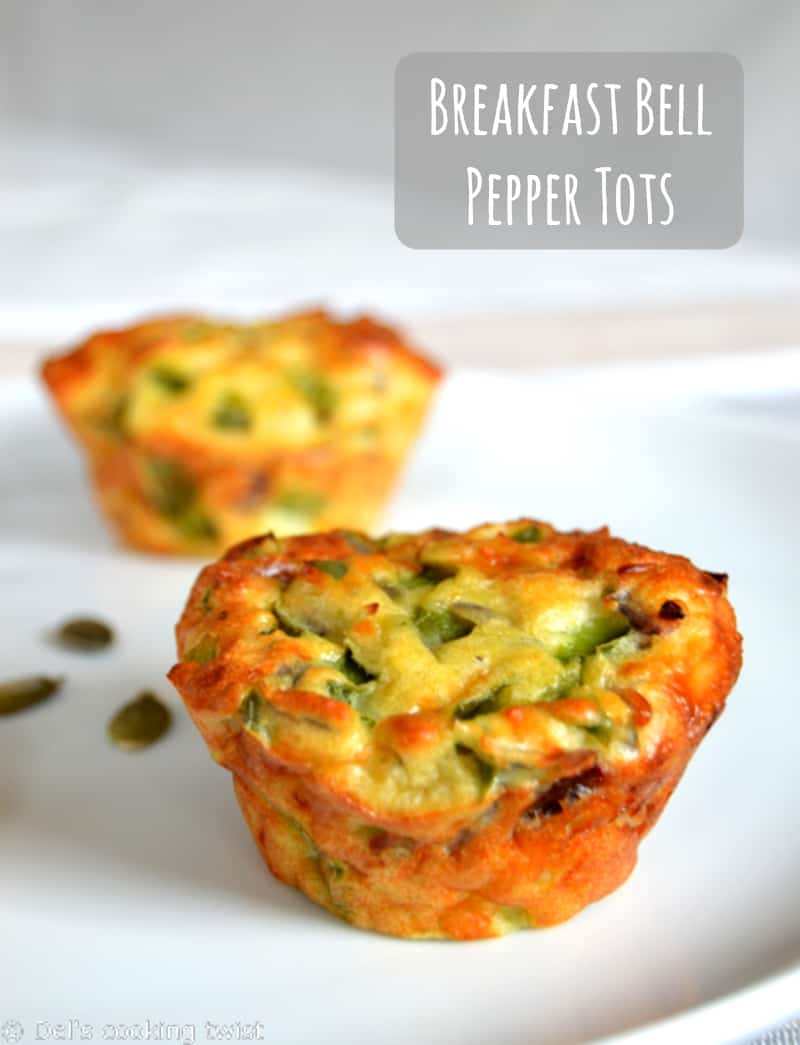 If you're not a sweet tooth in the morning, go for a savory option with these easy vegetarian egg muffins that you can make ahead the day before and simply warm up for breakfast.
While cheese provides calcium, eggs are a good source of protein and bell pepper are high in vitamin C. A great way to boost your day!
If you enjoy eating raw food, this smoothie is for you. No processed food or cooked ingredients, just natural almond butter and raw chocolate.
Add a banana, and you will get a great amount of potassium, an essential nutrient which is needed for the proper function of all living cells.
If you are not a morning person and your morning routine often synonym to being in a hurry, go for these healthy no bake energy bites that you can make ahead and store in the refrigerator for a few days.
They are loaded with superfood ingredients with health benefits that will bring your body all the energy you need to start the day. And they are also super tasty! It's way better than ending up buying a huge muffin with empty calories at the nearest bakery!
Green smoothies are the perfect way to detoxify your body. It's also a great way to eat your veggies without even realizing it. Although most people like fruit, many have trouble getting their daily requirement of veggies. When you make a green smoothie, the taste of the greens is hidden by the taste of the fruit (here with tropical fruits such as mango and pineapple), so you don't even notice the veggies are there.
Green smoothies are also low in calories but very filling. Because they contains high amounts of water and fiber, they will make you feel as if you just ate a full meal.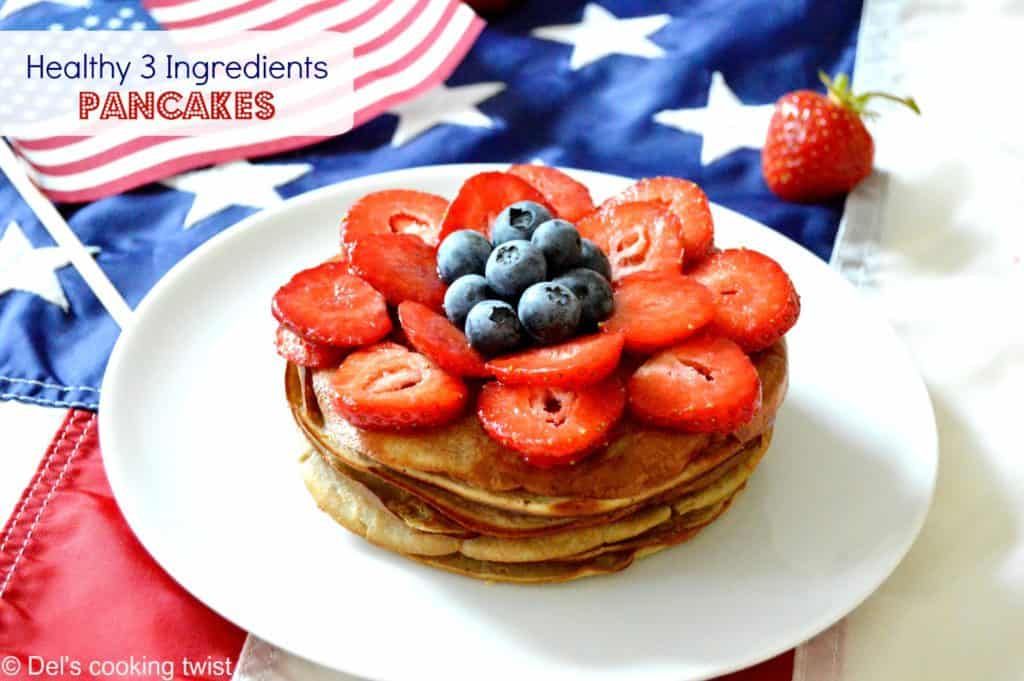 Healthy 3 Ingredients Pancakes
No flour, no added sugar, no butter… these easy pancakes are incredibly healthy! All you need is 3 ingredients: banana, peanut butter and eggs. The three of them are perfect to eat in the morning to give your body full energy!
Top them with berries, they are a great source of vitamin C and antioxidants. And personally, I like to drizzle some maple syrup on top as well!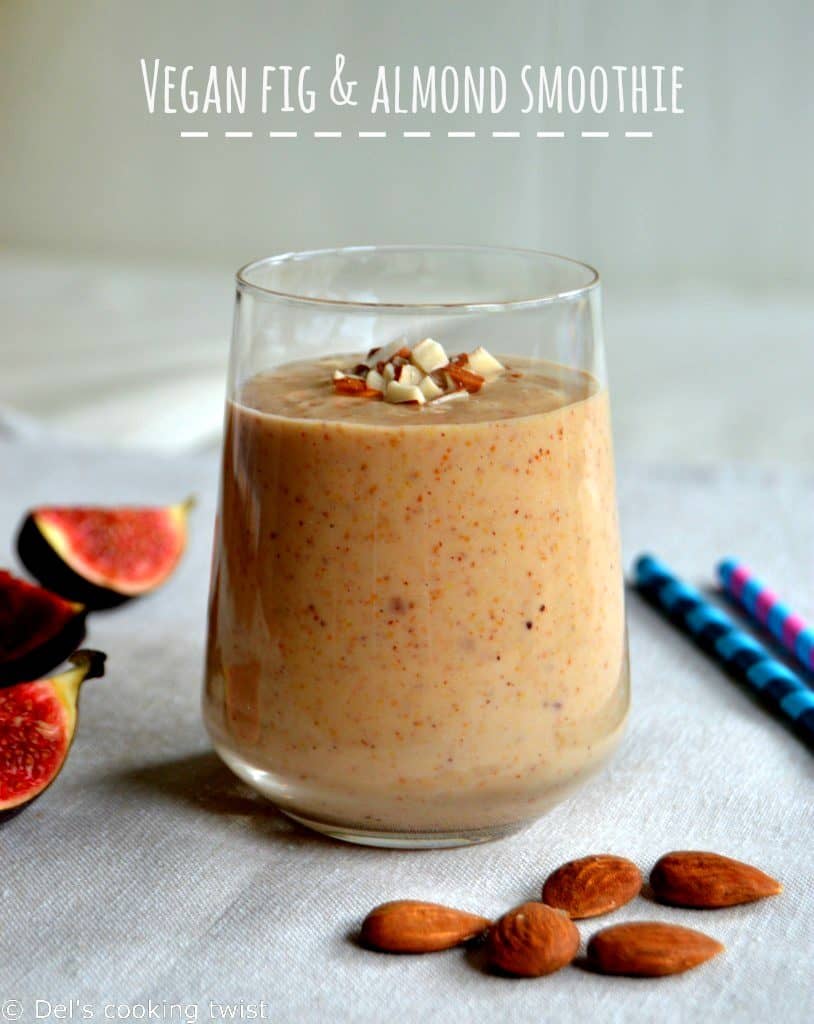 Fresh figs are among my favorite seasonal fruits at the moment. Combine them in a delicious almond smoothie to get even more healthy benefits in one drink.
Like figs, almond are a very good source of fiber, and they also bring you a great amount of protein, magnesium and vitamin E, which protect your cell membranes from damage.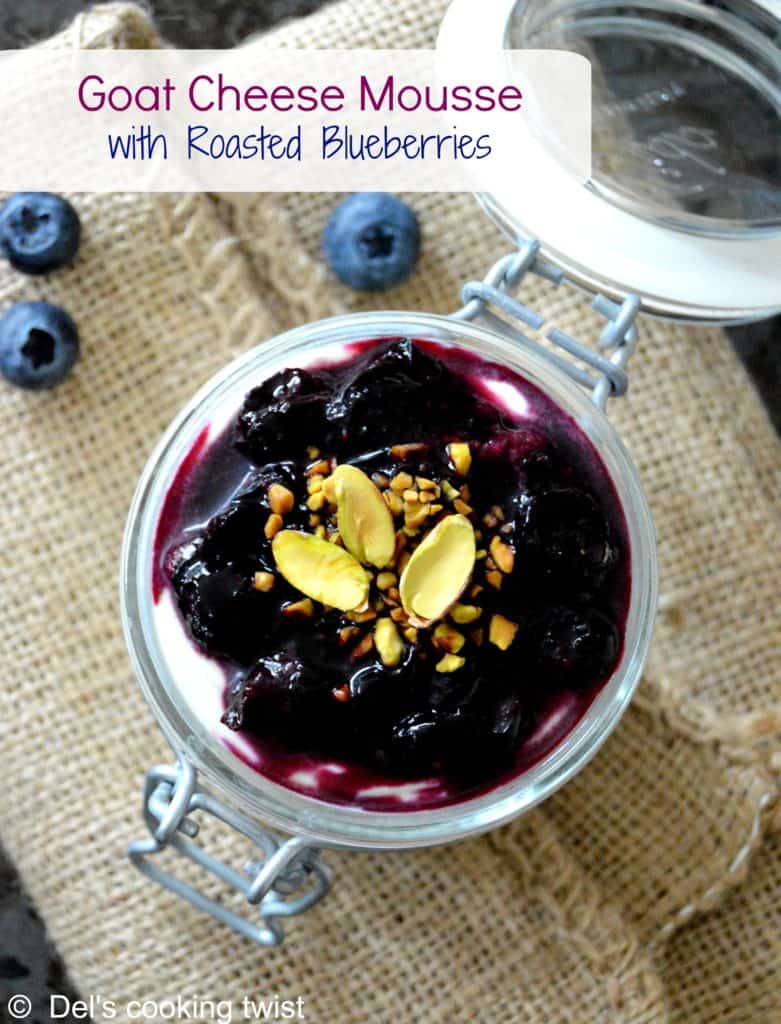 Goat Cheese Mousse with Roasted Blueberries
Sweet and savory at the same time? Go for this amazing and original goat cheese mousse topped with roasted blueberries.
Blueberries are a super ingredients loaded with antioxidant properties and rich in vitamin C. In this recipe, you just toast them in the oven without adding any other ingredients, and it gives a fantastic taste to the fruits. They also pair perfectly this white goat cheese foam, which is a good source of calcium, phosphorous and magnesium.
Creamy Banana Peanut Butter Smoothie
This is a bombastic smoothie! Loaded with energetic ingredients only, it's the perfect drink to enjoy after training or before a long and busy morning. It will literally boost your day!
Banana, milk and peanut butter, that's pretty much all you need. And yes, peanut butter is actually healthy, despite what we often hear. It contains a great amount of protein as well as potassium, which lower the risk of high blood pressure, stroke and heart disease. It also has fiber, healthy fats and magnesium to fortify your bones and muscles, and even has vitamin E and antioxidants.

Again, all is about balance in your life, and all this starts from the morning with a good breakfast. Don't blame yourself of eating something that you might think too much energetic, your body actually needs it and will thank you for the boost. It will fill your body longer and also prevent you from being tired in the mid-morning, which often results in some unhealthy cravings.
Don't get me wrong, there is nothing wrong to allow yourself some enormous chocolate pastries from time to time, as long as it stays occasional!