Spinach and feta quinoa patties are vegetarian, nutritious, and a great meatless option everyone loves. They are also a great way to use quinoa leftovers and perfect for meal prep. Dip them into the lemon yogurt dip for more refreshing flavors. Amazing!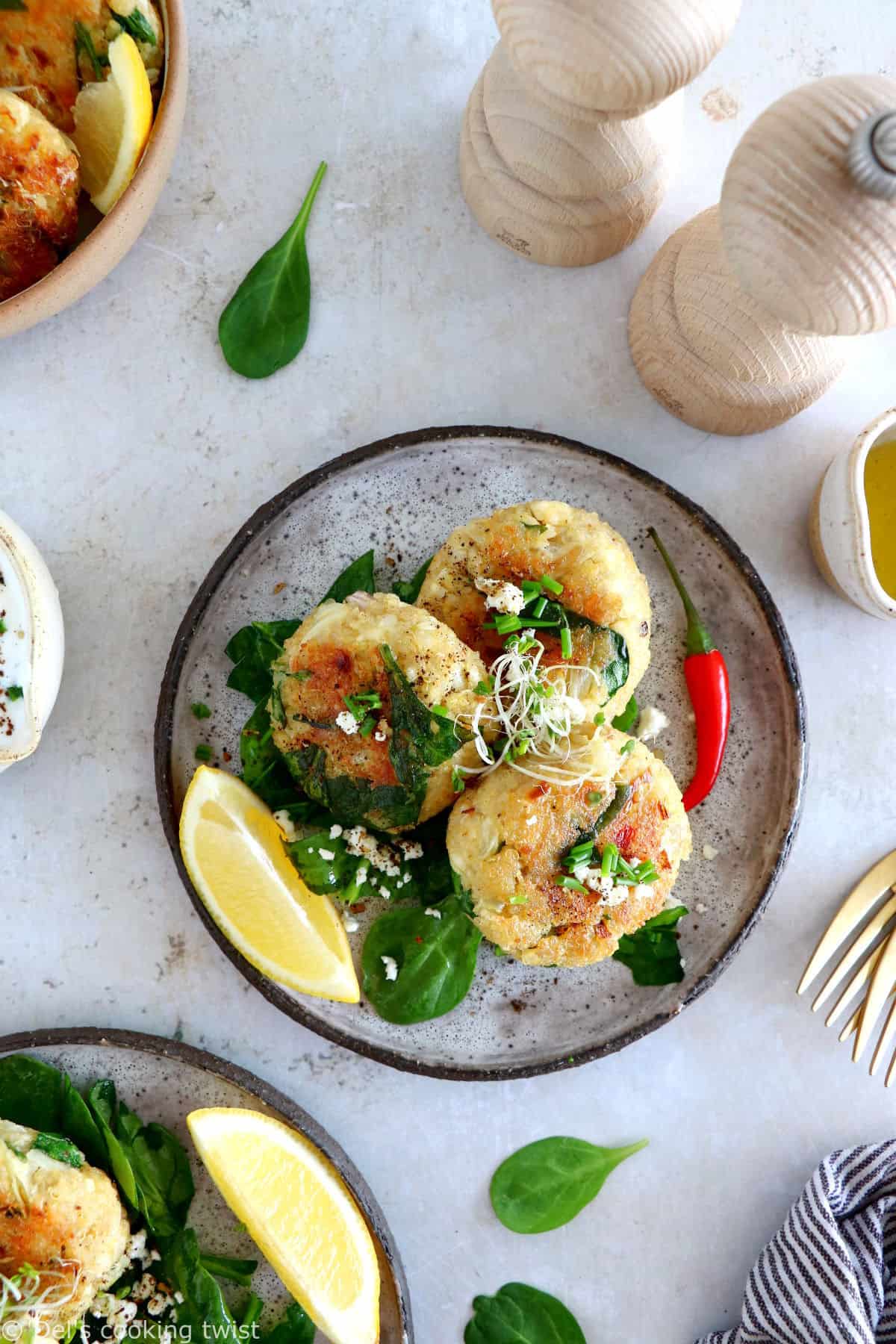 I've been making quinoa patties for years, and they're always a huge hit in my house. My husband is obsessed, my toddler devours them in minutes, and I always find excuses to make a new batch!
These spinach and feta quinoa patties are one of the very first recipe I shared on this site almost a decade ago. They needed a little refresh, so I upgraded the recipe a little, added more detailed instructions and process shots to guide you through the steps with confidence. I hope you'll love them too and make them often!
Why we love these quinoa patties:
They are vegetarian/meatless ✔
They are kid-friendly ✔
A perfect make-ahead recipe (meal prep) ✔
A great way to use quinoa leftovers ✔
The recipe is very forgiving and versatile ✔
These patties are also nutritious and plant-based protein packed ✔
What goes into spinach quinoa patties?
Quinoa. You can cook it from scratch, or use quinoa leftovers for a quicker version.
Onion + shallots + garlic. They bring bold flavors to the quinoa patties. Choose the onion small (you need only 1/2), or use shallots only if you prefer. The recipe is very versatile, so play around!
Baby spinach. Make sure you go for baby spinach leaves (not spinach), and chop them before mixing with the other ingredients. This will help you shape the patties without having any small leaves trying to escape.
Feta cheese, crumbled. Alternatively, fresh goat cheese would do very well, and so would blue cheese if you like stronger flavors.
Eggs. You need two eggs to help bind the ingredients together.
Breadcrumbs. You can go for regular or gluten-free breadcrumbs, or even replace with rolled oats.
1-2 small red chili peppers (optional). If you make the patties for toddlers, you can skip the red chili peppers. Another option consists in adding a little bit of paprika in the seasoning.
Olive oil + seasoning (salt and pepper). The right seasoning will enhance the flavors of your quinoa patties. You do not need much salt though, as the feta cheese is already very salty.
How to make spinach and quinoa patties?
First, make the mixture. Start with mixing the quinoa with the eggs, the binding ingredients of the recipe. Then add the feta and all the veggies: onions/shallots/garlic for flavors, spinach for a touch of green, and chili pepper for a hint of spice (optional). Finally, add the breadcrumbs to absorb all the moisture, adjusting as needed. The mixture will make about 12 patties.
Then, form the patties with your hands or using a ⅓ measuring cup (my preferred method). The patties do not need to have a regular shape but they should be compact.
Chill the patties in the refrigerator for 15 minutes or up to 3 hours before cooking them. This will ensure they hold their shape and don't fall apart while cooking.
Fry the patties with some olive oil, until golden on one side. Flip them carefully with a spatula and fry on the other side. And voilà, your spinach quinoa patties are ready!
How to make the dip + serving suggestions
Lemon yogurt dip. To make the lemon yogurt dip, you need only 3 ingredients, plus salt and pepper. Add Greek yogurt, freshly squeezed lemon juice and fresh chives to a bowl, season with salt and pepper, and mix until combined.
Serving suggestions. Serve the lemon yogurt dip with the quinoa patties for a delicious appetizer, side dish, or vegetarian main. You can replace the lemon dip with an avocado dip, or basically any dip of your choice. If you serve these quinoa patties as a main, add a side of veggies (any kind would work, use your imagination, explore, and have fun). I personally love it on top of a salad consisting of baby spinach, green and black olives, as well as some sliced avocadoes and cherry tomatoes. It's fresh and delicious!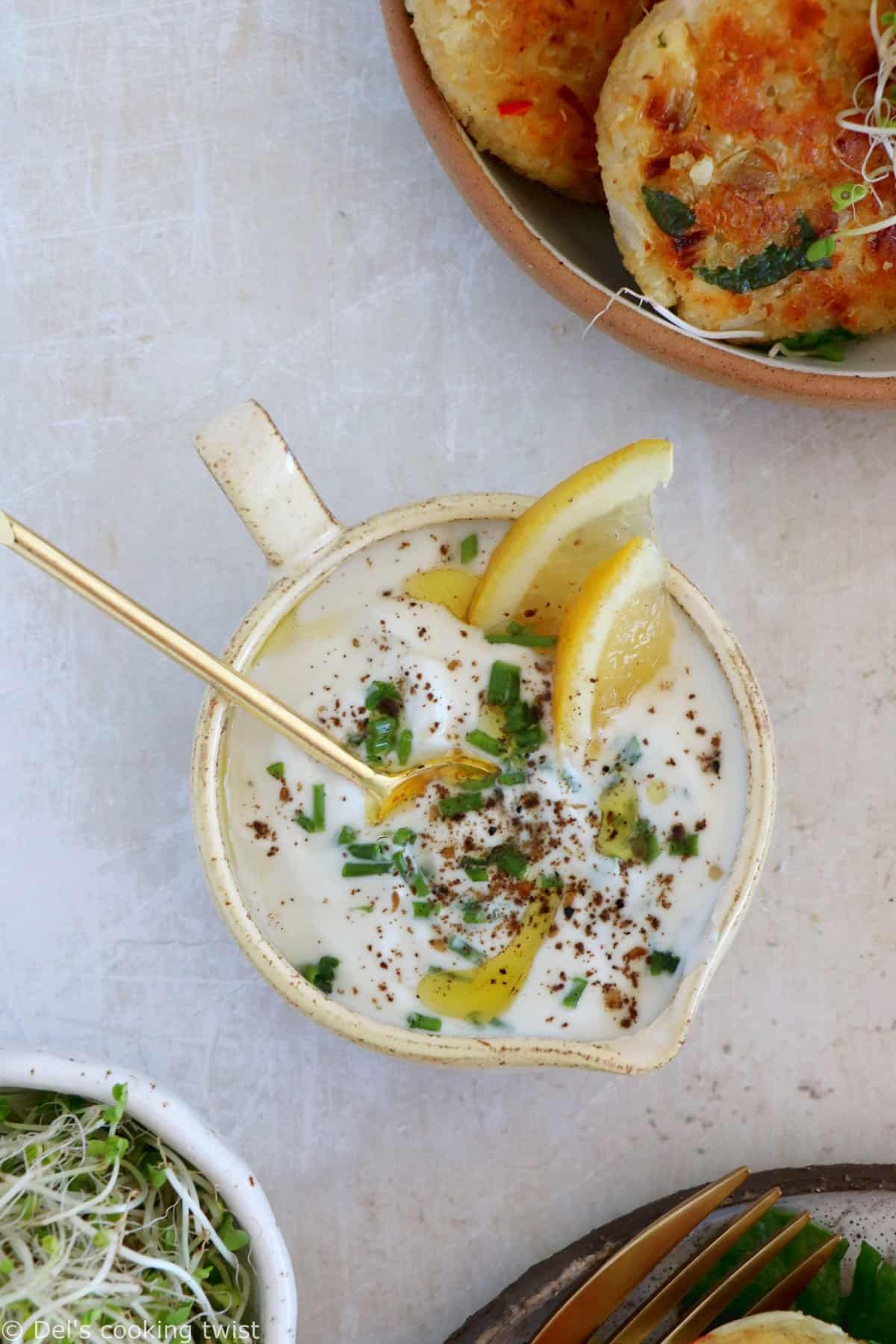 FAQ & useful tips for success
My mixture is too wet / too dry. If the mixture is too wet, add a little bit more of breadcrumbs (or cooked quinoa if you have any left). If it's too dry, add one spoonful of water at the time, combine again, and adjust as necessary.
Shaping the patties – troubleshooting. You can shape the patties by hand, but I recommend using a ⅓ measuring cup, this will make your job easier. Still, it can be a little tricky to shape the patties without they fall apart. Pat, pat, pat with your hands, and if you still can't shape them properly, adjust the wet and dry ingredients of the mixture (i.e. water and breadcrumbs), as stated previously.
Chill the patties before cooking. Once the quinoa patties are shaped, I recommend chilling them in the refrigerator for about 15 minutes; this will help them to keep their shape.
Don't crowd the skillet. I usually bake no more than 3 patties at a time in a skillet. If you overcrowd the skillet, you will have a hard time to flip the patties without destroying the ones around.
Can I freeze quinoa patties? Absolutely! These spinach and quinoa patties are a great make-ahead recipe that you can easily freeze in ziploc bags (once completely cooled) for up to 3 months. You can cook them right away after (no need to thaw).
Can I bake the patties instead of frying them? Yes you can. This is actually a healthier version, since you will skip the cooking oil. Be aware though: you will loose the irresistible crispiness you get when sautéing them in a pan. If you ask me, I would sauté them, always.
More vegetarian patties you'll love:
Other quinoa recipes for you to try: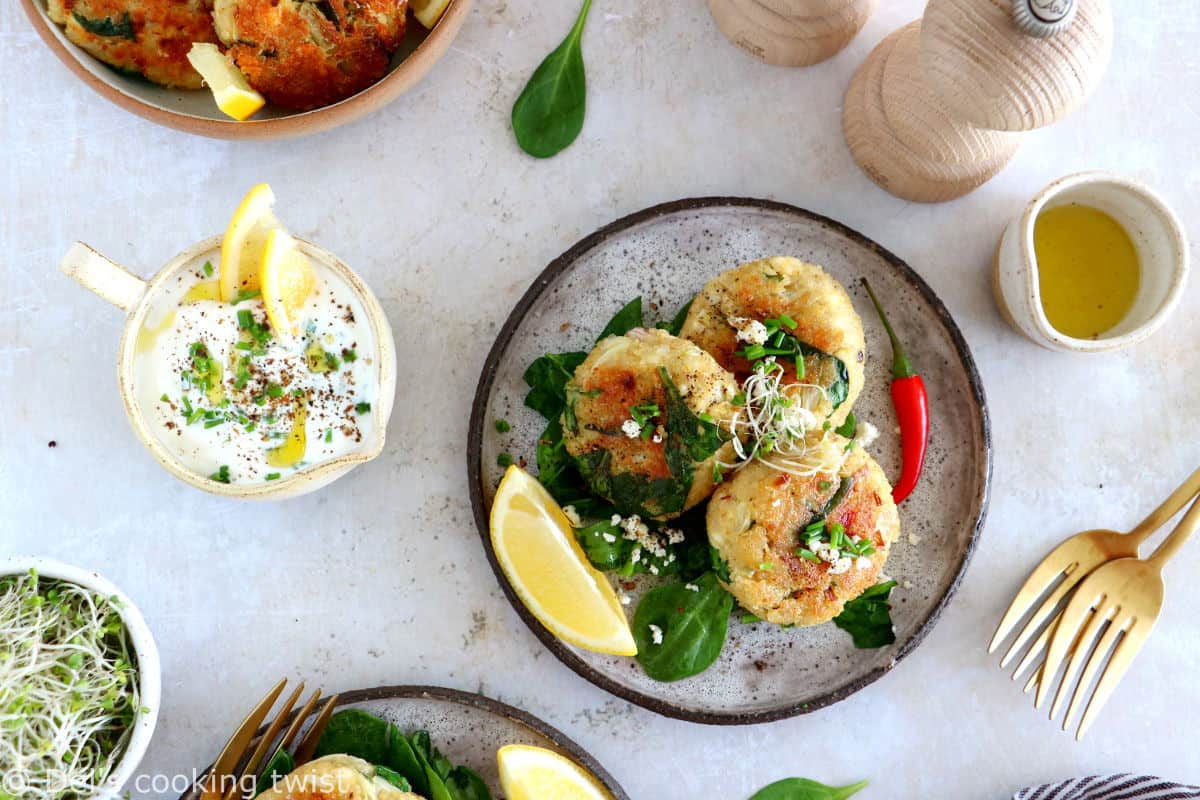 Print
Spinach and Feta Quinoa Patties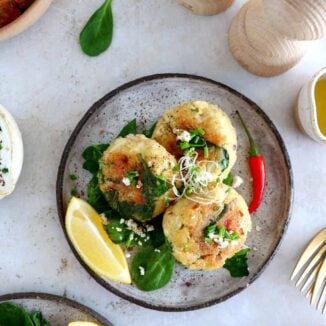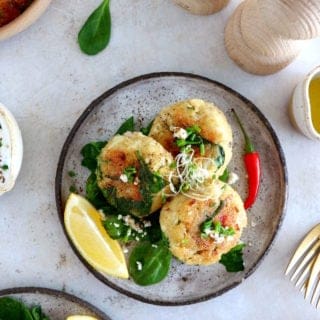 Author:
Prep Time:

30 mins

Cook Time:

15 mins

Total Time:

40 mins

Yield:

12

servings

1

x
Category:

Savory

Diet:

Vegetarian
Spinach and feta quinoa patties are vegetarian, nutritious, and a great meatless option everyone loves. They are also a great way to use quinoa leftovers and perfect for meal prep. Dip them into the lemon yogurt dip for more refreshing flavors. Amazing!
Quinoa patties:
1 cup

(

200g

) uncooked quinoa or

2 ½ cups

(

450g

) cooked quinoa

2

large eggs

½

yellow onion, finely chopped

2

small shallots, finely chopped

2

garlic cloves, finely chopped

1

–

2

small red chili pepper, finely chopped*

1 cup

(

30g

) baby spinach, rinsed, and finely chopped**

3.5 ounces

(

100g

) feta cheese, crumbled***

¾

to

1

cup (80-1

10g

) breadcrumbs****, or more if needed

2 Tablespoons

extra-virgin olive oil, for cooking
Yoghurt dip:
½

cup (120 ml) natural Greek yoghurt

1 Tablespoon

lemon juice

1 Tablespoon

chives, finely chopped
Salt and freshly ground pepper
Instructions
Pour the quinoa in a saucepan. Cover with 2 cups of water. Bring to a boil, then reduce heat, cover and simmer on low heat. As soon as all the water is absorbed, turn off the heat, but leave covered for 15 minutes. The steam will continue to cook the quinoa, resulting in lovely fluffy quinoa grains. Fluff with a fork and allow to cool completely.
In a large bowl, mix the cooked and cold quinoa with the eggs until combined. Stir in the salt, pepper, then add the feta, shallots, onions, garlic, chili pepper, and spinach. Then mix in the breadcrumbs to absorb the moisture. The mixture should be wet enough to shape into patties. Feel free to add some water if the patties are too dry, or breadcrumbs if they are too wet.
Spoon some mixture and shape the patties by hand, or using a ⅓ measuring cup. Transfer into a plate or baking sheet, and place in the refrigerator for 15 minutes. This will allow the mixture to hold its shape while cooking later on.
Heat olive oil into a large skillet on medium heat, and once hot, place 3 patties at a time into the heated skillet, lightly pressing it down with the back of a spoon to shape it into a patty. Cook for 3-5 minutes on each side, until both sides are golden brown. Repeat with the rest of the mixture, adding more cooking oil as needed.
Prepare the yogurt lemon dip in a small bowl by combining Greek yoghurt, fresh lemon juice and chives. Season with salt and pepper. Enjoy the patties hot or cold, with the yoghurt dip, a salad and/or some crispy veggies on the side. Enjoy!
Notes
* For a toddler version, or if you do not like spicy food, you can skip the red chili pepper in the recipe. Instead, feel free to add a little bit of paprika for smoky flavors, although this is not strictly necessary either.
** If using baby spinach with very small leaves, you do not need to chop them.
*** You could also replace the feta cheese with fresh goat cheese, crumbled.
**** For a gluten-free version, consider using gluten-free breadcrumbs or gluten-free oats instead. The quantity of breadcrumbs may vary a little bit, depending on the mixture humidity. If too wet, add a little bit more breadcrumbs, one Tablespoon at a time, and stir well between each addition.
Keywords: Spinach Quinoa Patties
Did you make this recipe?
Lastly, if you make this Spinach and Feta Quinoa Patties, be sure to leave a comment and give this recipe a rating, letting me know how you liked it. And of course, don't forget to tag me on Instagram! Thank you and enjoy!