Bring colors to your meals with these veggie beet patties, prepared with beets, quinoa and ricotta cheese. Wholesome, healthy and nutritious, they are delicious on their own with a quick dipping sauce, or as part of a vegetarian beet quinoa burger!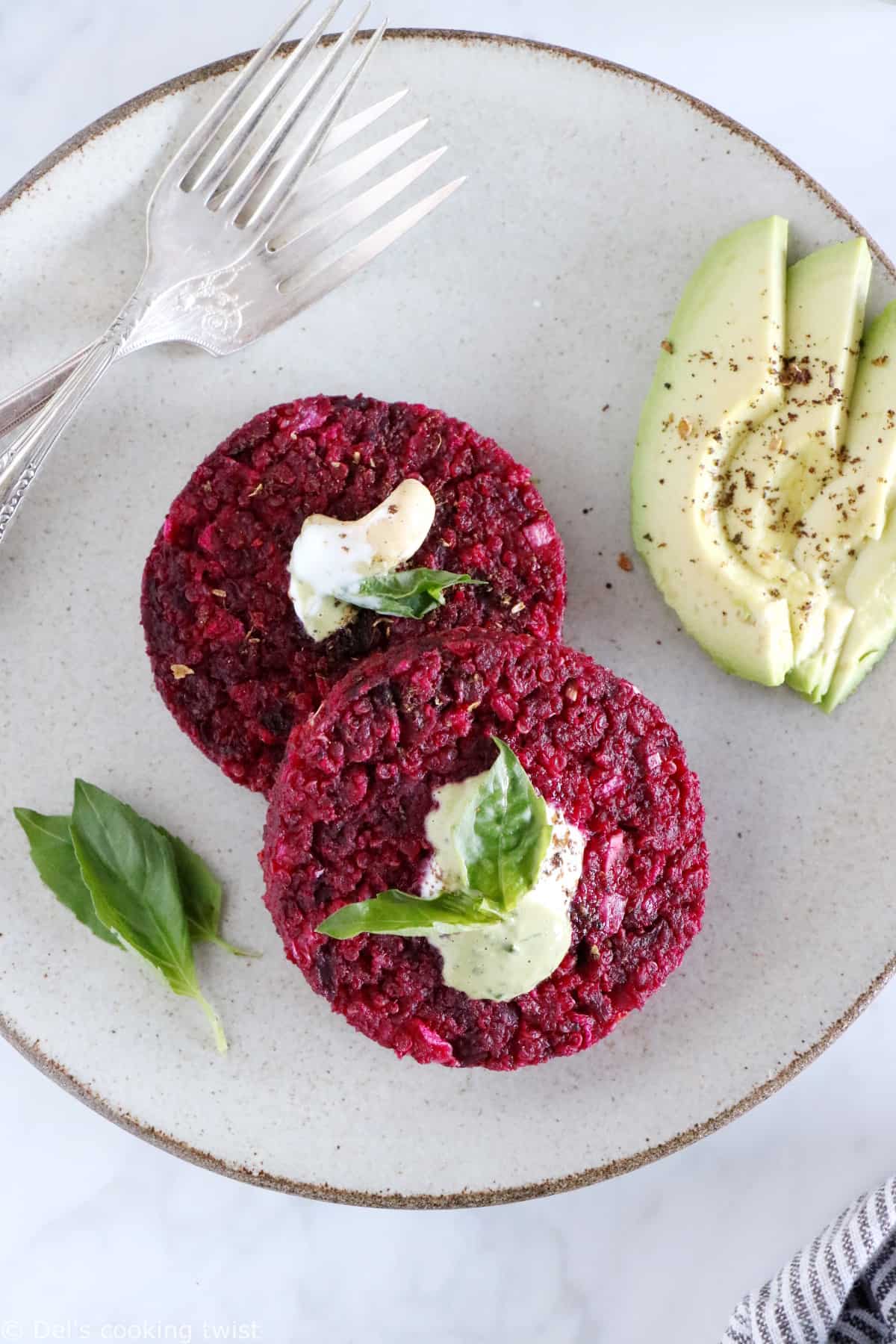 I love the idea of veggie patties. Ready in half an hour, they are a great side dish, but can also be a fulfilling and nutritious meatless main meal. Plus, there are endless of veggie patties variations to choose from so you never get tired of eating vegetarian.
As I recently introduced my little one to solid food, I tried these veggie beet burgers, that were originally part of my vegetarian beet quinoa burgers, and made them into kid-size portions. Not only they were adorable, but they were also such a success that I decided to add the recipe separately so you never miss an occasion to make them. Serve with a side of greens, and enjoy!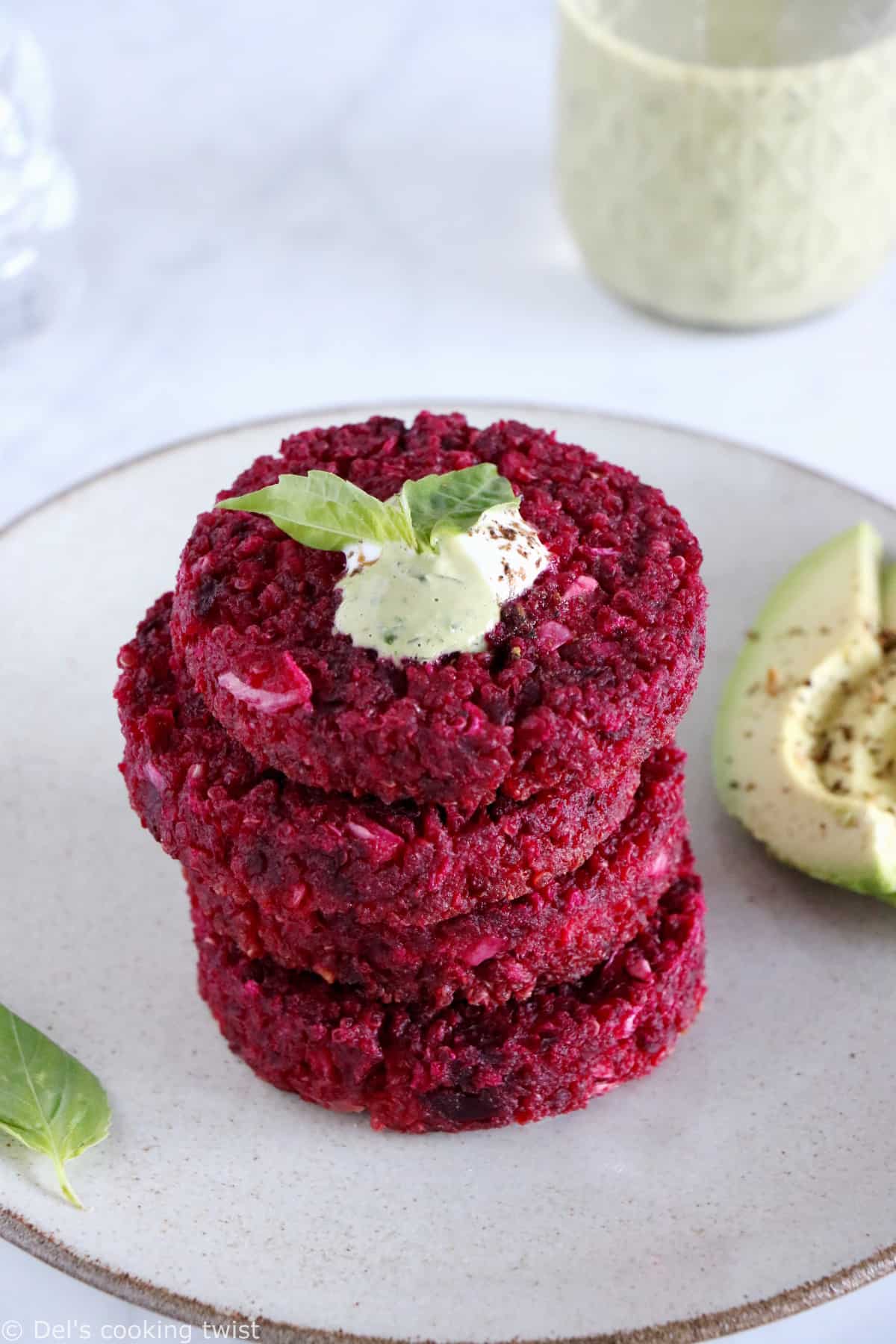 Ingredients you need:
Quinoa. I use white quinoa, but you can also use tricolor quinoa!
Beets. Roast them in the oven for best results, but you can also boil them in water for a quicker version.
Onion + garlic. They bring some additional flavors and personality to the patties.
Cheese. See below for the possible options.
Egg. It's the binder in the recipe, and help to shape the patties.
Rolled oats or breadcrumbs. Both versions work equally well, so just choose your favorite one.
Note that I also use lemon juice but no oil in the recipe. You can always add a little bit of olive oil if you wish to. Also, don't pass on the seasoning or your patties will taste bland. The simple combo salt and pepper works fine, but you can also add a little bit of ground cumin.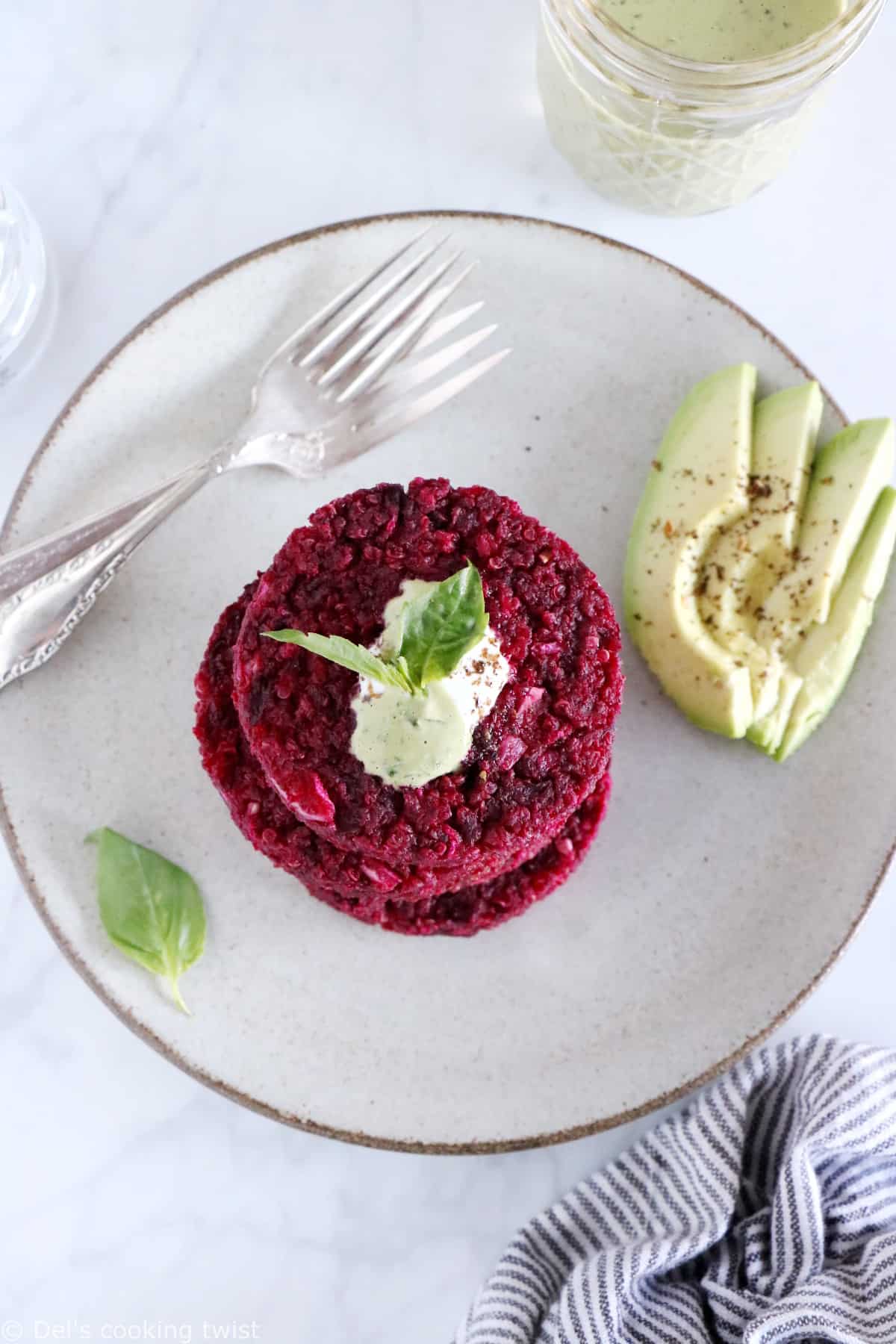 Pro tips to make veggie beet patties
Meal prep ingredients: In order to save you some precious time, cook the quinoa in advance so you have it ready for your patties. You can also bake, peel and mix the beets up to a few days in advance, stored in the fridge. Then, on the day you're making the recipe, the only thing you'll need to do is assemble the recipe and bake the patties. Super easy!
Freezing tip. If you are planning to freeze the patties, pre-bake them on both sides first, then place in an airtight bag and freeze up to 3 months. When ready, thaw them, then bake them as you would normally do until cooked-through.
Bake in the oven or cook in a pan? Most of the time, I choose to bake the patties in the oven for healthy reasons (no addition of oil). However, once in a while I like to cook them in a pan with a little bit of olive oil. Cook one side until slightly crispy, then flip on the other side and sauté a few additional minutes. This cooking method guarantees delicious crispy edges!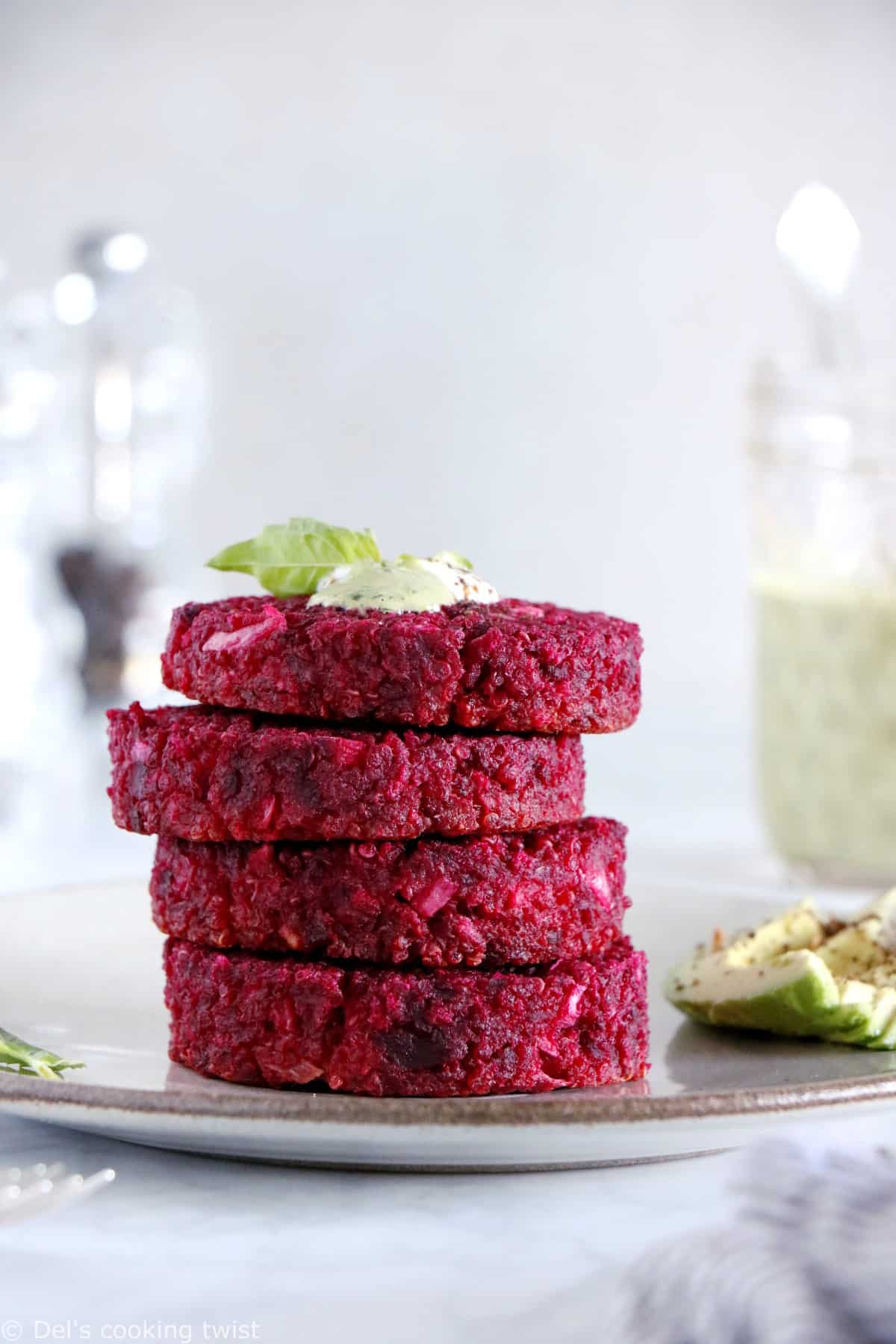 How to get the perfect pattie shape?
In the recipe card I recommend the use of a measuring cup or simply your hands to form the patties. In order to get the perfect pattie shape (like on the photos), I sometimes use a round stainless steel ring mold with a pusher, that gently press the mixture. The result is neat and beautiful!
Which cheese in my veggie beet patties?
I used plain ricotta cheese, which makes an incredible binder to the beet patties, bringing some humidity to the dough. It's also a low sodium cheese, which was perfect for my little 8 month old (who devoured the patties, created in mini patties especially for her).
Feel free to create a variation to these veggie beet patties recipe, replacing the ricotta cheese with soft, fresh goat cheese, crumbled feta cheese, or cream cheese. I guess blue cheese should work too, but make sure you choose a creamy one. Have fun exploring around these patties!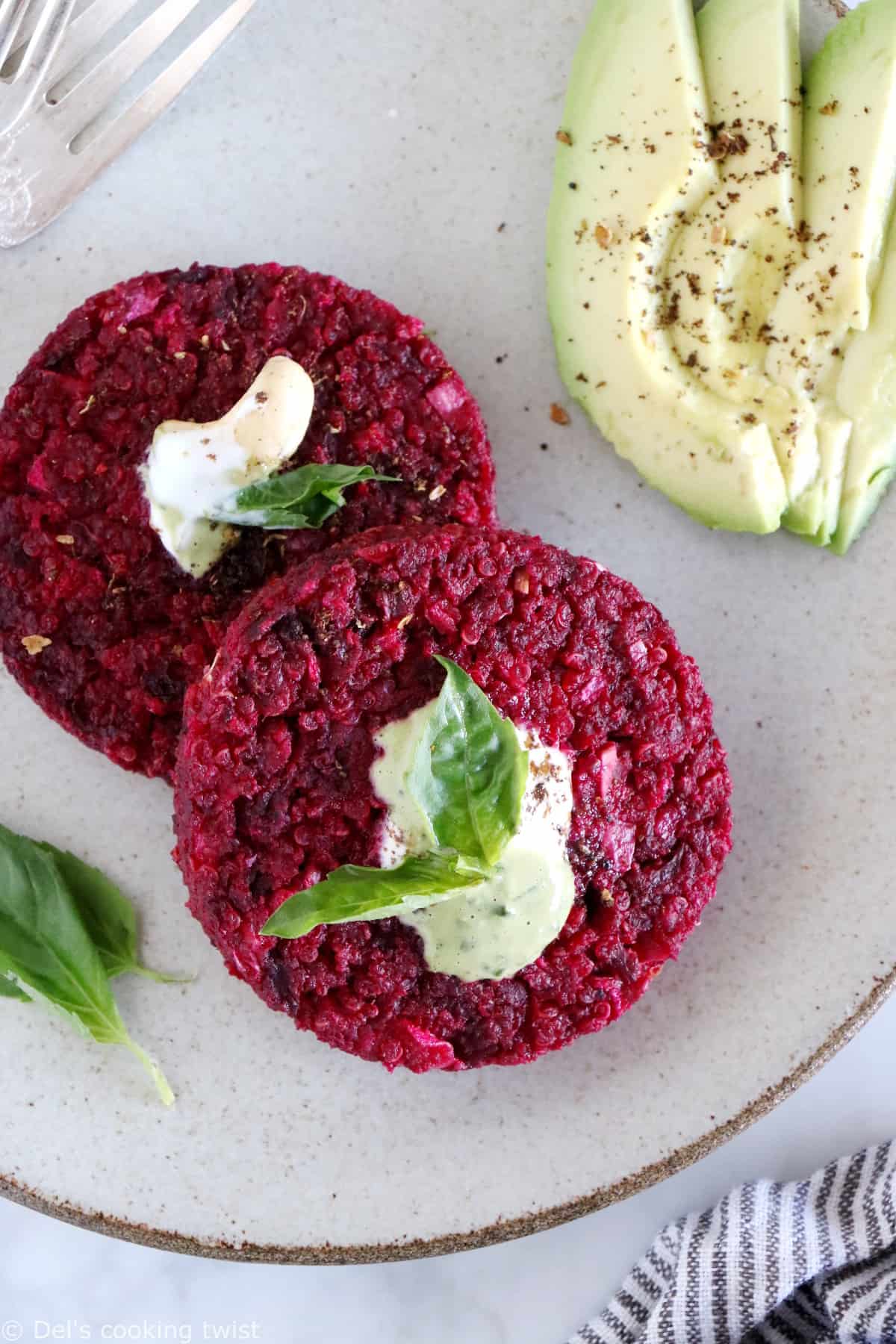 Can I make it vegan and/or gluten-free?
Vegan: Yes and no. The recipe contains dairy and eggs used as a binder to the patties in a subtle balanced of wet and dry ingredients combined together. Replacing one or the other would change the overall balance between wet and dry ingredients so the recipe would need a few adjustments. The good news is that these patties are a very forgiving recipe, so if you are up to make changes to the original recipe, you can replace the cheese with cashew butter and the egg with a flaxseed egg (= 1 Tablespoon ground flaxseed + 3 Tablespoons water). Then adjust the consistency as needed, adding more water or breadcrumbs to the mixture. You should be able to form patties that hold their shape.
Gluten-Free: Yes! You can either use gluten-free oats or gluten-free breadcrumbs.
Are veggie beet patties healthy?
Yes they are. These veggie beet patties are packed with nutritious ingredients combined together, creating a wholesome, nutritious dish, packed with healthy properties.
Quinoa in particular is a great source of vegetable protein and fiber, while beets have an impressive nutritional profile (and as such, considered as a superfood). Low in calories and fat, beets are indeed a great source of nutrients, including fiber, folate and vitamin C. They also contain nitrates and pigments that may help lower blood pressure, reduce the growth of cancer cells and improve athletic performance.
The patties also include cheese, that guarantees a great amount of calcium, and are prepared without oil or any additional fat. That being said, don't forget that to get the full benefits of veggie beet patties health properties, they have to be part of a healthy, balanced diet.
What can I serve with veggie beet patties?
These beet patties are directly inspired from the ones I used in my Vegetarian Beet Quinoa Burgers – a recipe I highly recommend (and don't pass on the homemade burger buns, they're incredible!). For a more complete experience, serve with homemade sweet potato fries or garlic herb potato wedges.
For a healthy version, you can serve these beet patties alongside with a dip of your choice. My favorite ones include plain yogurt, a garlic-herb tahini sauce, or a vegan basil pesto. I also like to add avocado, sliced, diced or mashed, and a side of greens (mix greens, baby spinach, or any other veggies of your choice).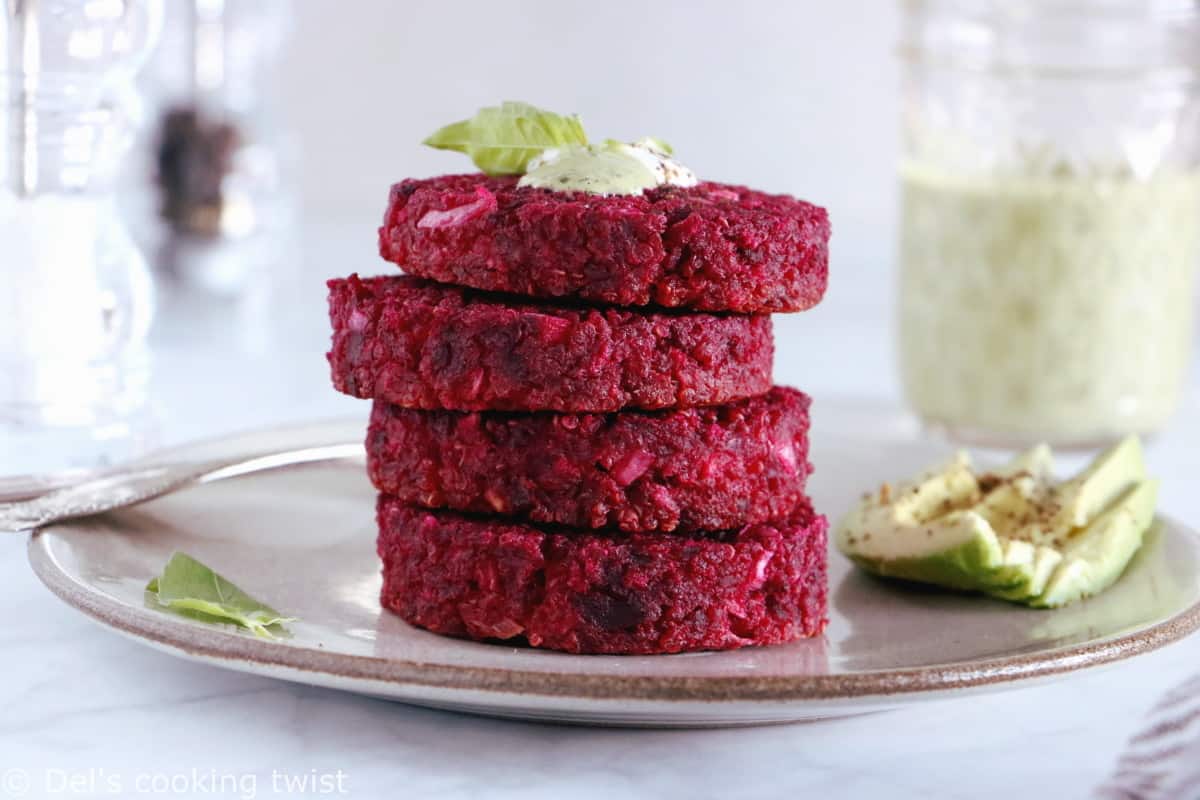 More veggie patties to try:
For the burger lovers:
Print
Veggie Beet Patties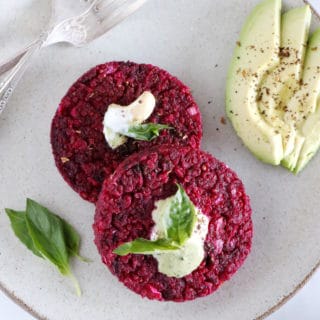 Author:
Prep Time:

45 mins

Cook Time:

30 mins

Total Time:

1 hour 15 minutes

Yield:

8

servings

1

x
Category:

Savory

Diet:

Vegetarian
Bring colors to your meals with these veggie beet patties, prepared with beets, quinoa and ricotta cheese. Wholesome, healthy and nutritious, they are delicious on their own with a quick dipping sauce, or as part of a burger.
2 cups

(

350g

) beets, peeled and cubed

½ cup

(

90g

) uncooked quinoa*

3.5 ounces

(

100g

) plain ricotta cheese**

½

onion, finely chopped

2

–

4

Tablespoons breadcrumbs***

1

large egg

1

garlic clove, minced

2 teaspoons

lemon juice
Salt and freshly ground pepper
Instructions
Preheat the oven at 350°F (180° C) and line a baking sheet with parchment paper or foil. Set aside.
Bake the quinoa according to the package instructions. Set aside.
Place the beet onto the baking sheet, drizzle some olive oil and roast for about 30 minutes. Remove from the oven and set aside to cool.
Place the roasted beets in a food processor and pulse 2 or 3 times – you need some texture for the patties, so make sure you don't mash them completely.
Transfer the beets into a large bowl, add all the other ingredients and stir to combine. If the texture is too mushy add more breadcrumbs (or rolled oats) until you obtain the desired consistency.
Using a measuring cup or your hands, shape the burgers and place them on a lined baking sheet.
Bake in the oven for 15 minutes on one side, then flip over and bake for 15 more minutes.****
Notes
* or 1 cup cooked quinoa.
** You can also replace the ricotta cheese with fresh goat cheese, crumbled feta or alternatively cream cheese.
*** For a healthier and gluten-free version, you can replace breadcrumbs with (gluten-free) rolled oats.
**** Alternatively, you can choose to cook the patties in a large sauté pan with some olive oil. I personally prefer the oven version better because it's healthier and fat-free, but once in a while I do not mind cooking them in a sauté pan. It gives them a beautiful crispy texture.
Did you make this recipe?
Lastly, if you make this Veggie Beet Patties, be sure to leave a comment and give this recipe a rating, letting me know how you liked it. And of course, don't forget to tag me on Instagram! Thank you and enjoy!