This crunchy Thai quinoa salad served with a ginger peanut butter dressing is a lovely twist to the classic Pad Thai. Entirely vegan and gluten-free, this recipe is packed with veggies, plant-based protein and essential nutrients.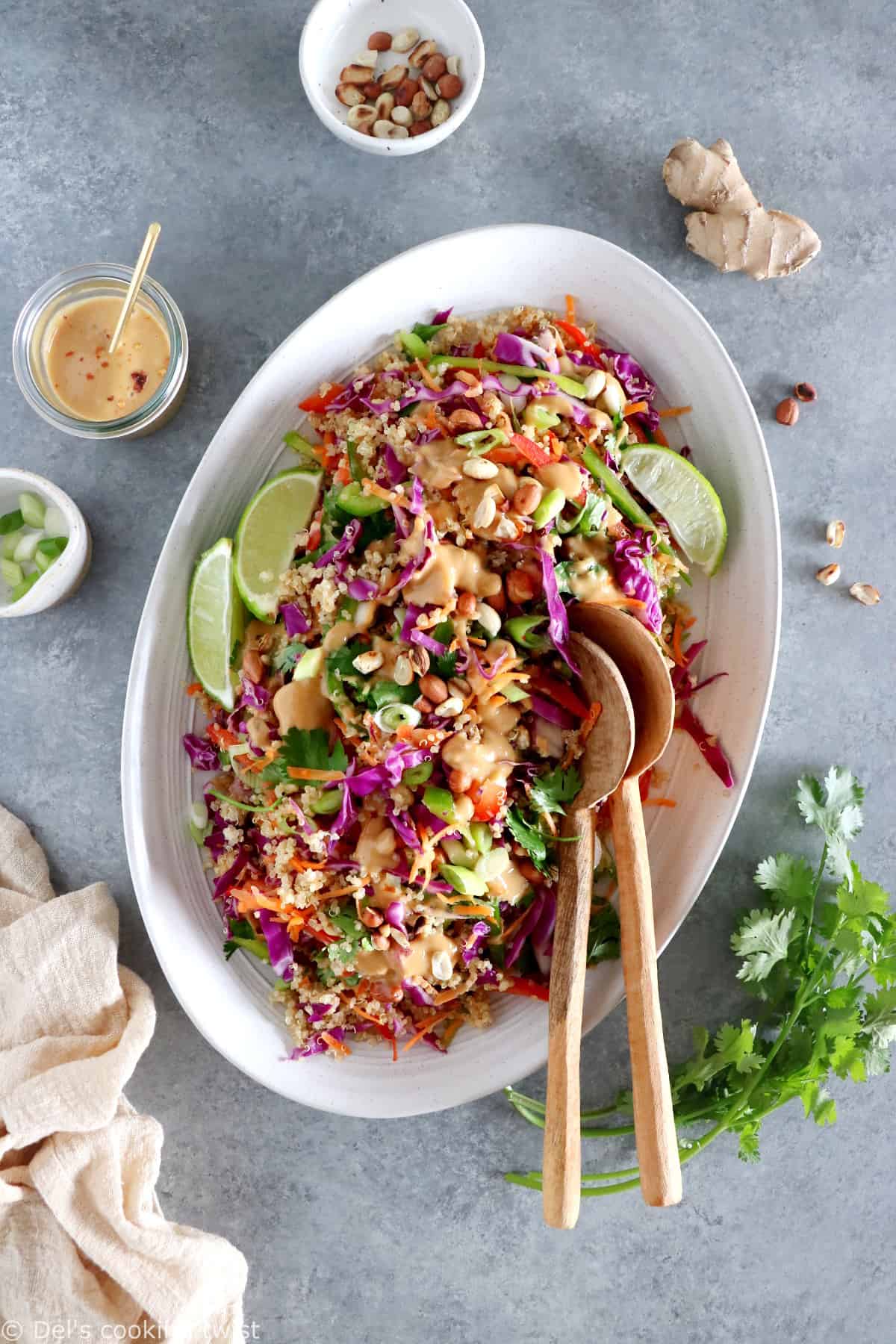 My love for Thai food has no limits and I'm always happy to explore more of this cuisine, adding my little twist here and there. Pad Thai in particular counts among my very favorite Thai dish. It's crunchy, packed with sautéed veggies, and it has this amazing combination of sweet and savory flavors, exactly as I like it. If you're curious too, make sure you check my Easy Vegan Pad Thai, for which I use simple ingredients rather than making it fancy.
Another way to enjoy Pad Thai is to turn it into a Thai Quinoa Salad. This vibrant salad is loaded with raw and colorful vegetables mixed together with quinoa and coated in a creamy ginger peanut butter sauce. The result is colorful and visually appealing in the eat-the-rainbow style, super tasty, and slightly crunchy too. SO good!
When Pad Thai becomes a salad
Let's take all the good stuff from the traditional Pad Thai, add a little twist to it and turn it into a delicious vegan quinoa salad!
Here rice noodles are replaced with quinoa, sautéed vegetables with raw vegetables and we add a creamy touch to the dish through the peanut butter dressing. If you're looking for a lighter and healthier version of a Pad Thai, that is perfectly suitable for lunch and can easily make lunch boxes for the week, then this Thai quinoa salad is for you!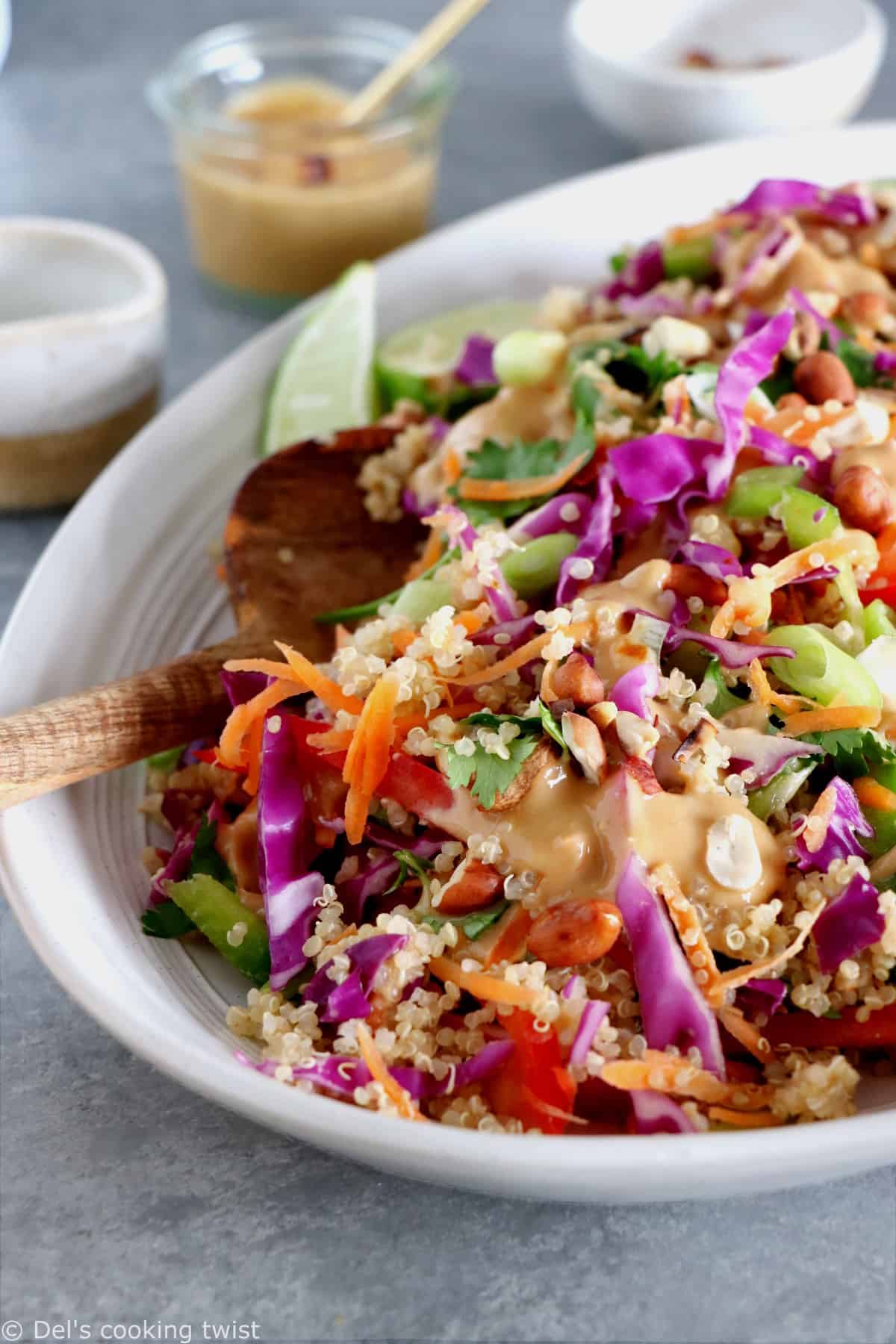 Ingredients you need
When it comes to the Thai Quinoa Salad, you have 3 types of ingredients: the main ingredients of the salad, the ingredients for the peanut butter dressing, and the extra toppings. Find below the most important ingredients in the dish:
Quinoa: Cook it in advance and make sure it's cooled enough before adding any vegetables to it.
Bell Peppers: I use both red and green bell peppers, just because I love the combination of the 2 colors together. Also, I really enjoy to slice bell peppers thinly, in a way that reminds me of the traditional Pad Thai with the long noodles. Alternatively, you can dice bell peppers.
Red cabbage: It makes the salad vibrant and colorful! You can either slice it thinly with a knife or use a mandolin slicer.
Carrots: They're perfectly optional but they add such a great color to the dish too!
Peanut Butter: For the dressing! I use creamy peanut butter, but crunchy peanut butter could work too. Also, try to stick to natural, unsweetened peanut butter (you can then play with agave to sweeten the dressing as it suits your tastes).
Ginger: I use fresh ginger, that I grate very thinly. Alternatively you could go for ground ginger but know that flavors won't be as bold as they are with fresh ginger.
Note regarding the quantities: Like for any salad recipe, it is perfectly ok to adjust the ingredient quantities. Try to keep the proportions in a way that you don't end up with too much quinoa or on the opposite too much vegetables (to make sure it keeps you full and satisfied) but apart from that, feel free to play around with the recipe.
How to make Thai quinoa salad & variations
Good news: it's easy to make this Thai quinoa salad! Start with cooking the quinoa according to the recipe instructions, and make sure you allow it to cool completely. Meanwhile, slice and chop all vegetables and add them to the cooled quinoa.
Variations and topping ideas:
Play with vegetables: Add zoodles (zucchini noodles), use white cabbage instead of red, skip the grated carrots…
Add plant-based protein: You can for instance add some sautéed tofu to the salad.
Topping ideas: I usually garnish this Thai quinoa salad with toasted peanuts, chopped cilantro and spring onions. Consider also adding some edamame.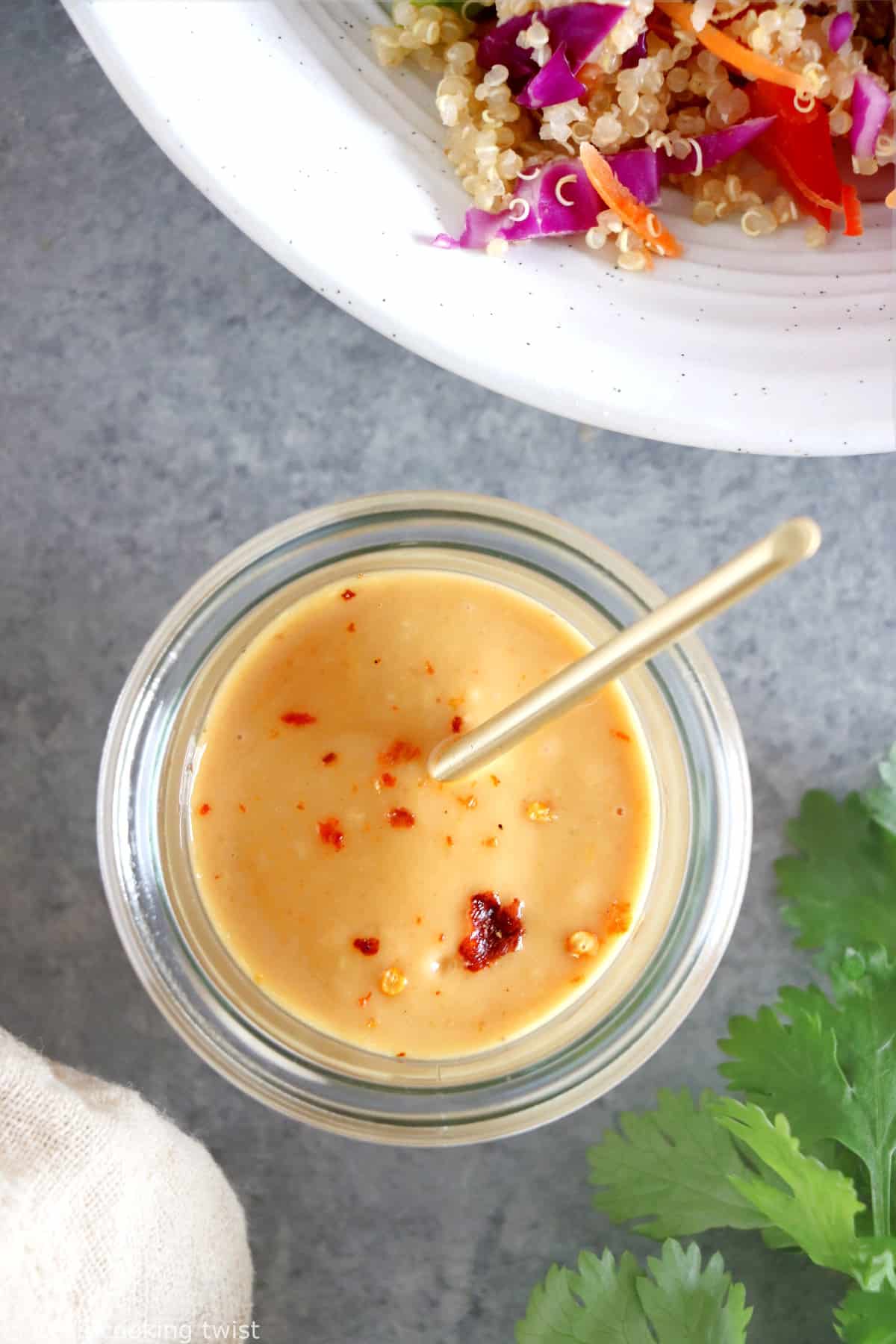 Not to miss: the ginger peanut butter dressing
This Thai peanut dressing is easy to make, as long as you have all your ingredients ready. Some of them are easy to find, others are a bit more specific (sesame oil, rice vinegar) but you should be able to find them in the Asian section of your grocery store. Just whisk all the ingredients in a bowl, then add to the quinoa salad and toss well. If you don't want to use up all the dressing in your salad, you can store leftover in a Mason jar with lid on in the fridge for up to a week.
A few tips about the dressing:
You may want to warm up the peanut butter a few seconds in the microwave before using if a little too chunky.
The freshly grated ginger is not to miss; it will bring some fresh and subtle notes to the sauce.
You may adjust the agave syrup quantity based upon your own personal tastes. If you're not vegan, consider replacing agave syrup with honey.
You can use more or less water to thin out the sauce. I personally like it creamy but not too thick.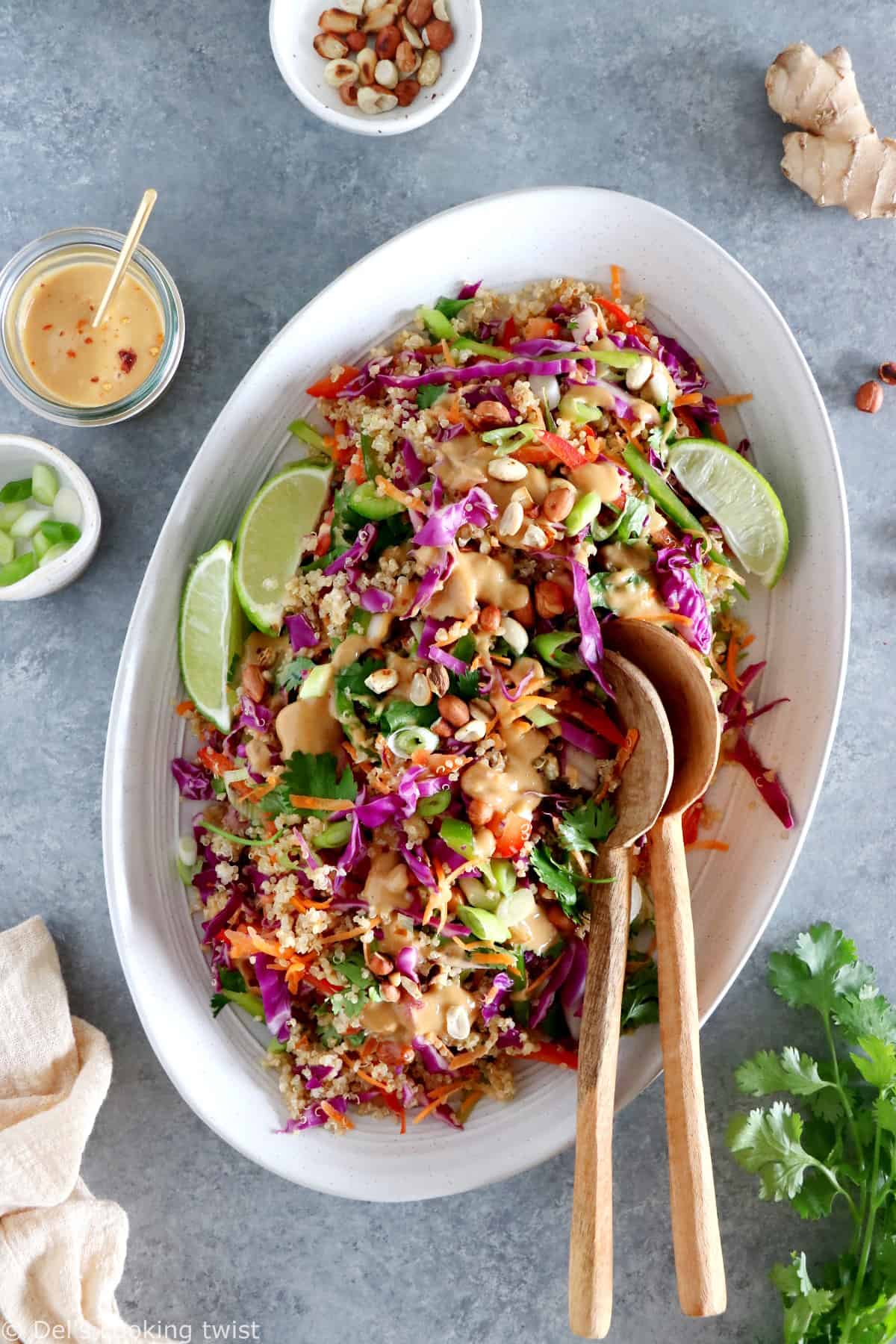 Is this Thai quinoa salad healthy?
Good question! The answer is yes and no. In short, let's say this salad is packed with good-for-you ingredients. It's loaded with veggies and as such it's a good source of fiber and vitamins. Also, this Thai quinoa salad is packed with plant-based protein from both the quinoa and the peanut butter. Lastly, this salad is naturally gluten-free, dairy-free and vegan.
That being said, you may want to go easy on the ginger peanut butter dressing if you are watching your calories intake closely or try to avoid sugar as much as possible. Peanut butter is indeed high in calories, but you will be happy to know that it's also full of healthy fat (the one responsible for the "good" cholesterol). So keep everything in moderation and you will be just fine!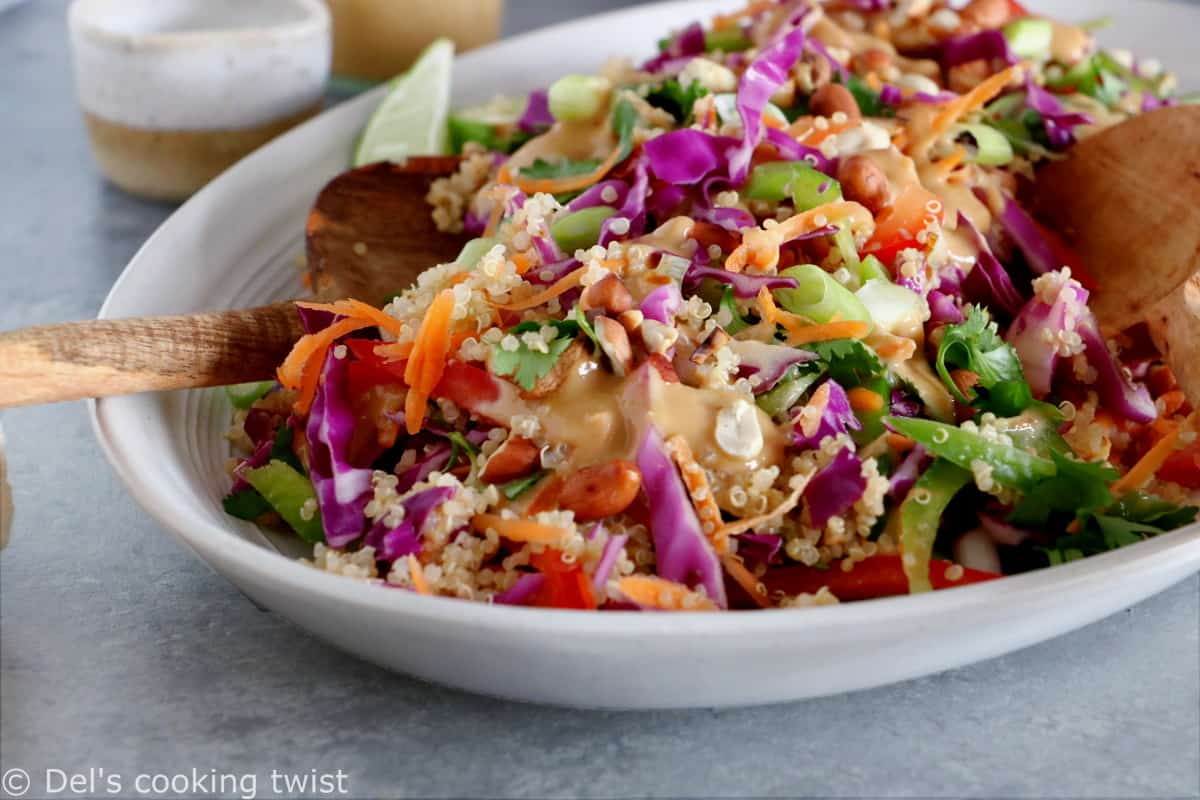 More Thai-inspired recipes:
A few other quinoa salads to consider:
Print
Thai Quinoa Salad with Ginger Peanut Butter Dressing (Vegan, Gluten-Free)
Author:
Prep Time:

45 mins

Total Time:

45 mins

Yield:

4

-

6

servings

1

x
Category:

Savory

Cuisine:

Thai

Diet:

Vegan
This crunchy Thai quinoa salad served with a ginger peanut butter dressing is a lovely twist to the classic Pad Thai. Entirely vegan and gluten-free, this recipe is packed with veggies, plant-based protein and essential nutrients.
For the Thai quinoa salad:
1 cup

(

180g

) quinoa, uncooked

2

bell pepper (

one

red and

one

green), thinly sliced or diced

½

medium red cabbage, shredded

3

medium carrots, grated

2

scallions, thinly sliced

1

bunch cilantro, chopped

¼ cup

(

40g

) peanuts, raw and unsalted
For the peanut dressing:
½ cup

(

125g

) creamy peanut butter

1

,5 to 2 Tablespoons agave syrup

2 Tablespoons

fresh lime juice

2 Tablespoons

sesame oil

3 Tablespoons

rice vinegar

2 teaspoons

fresh ginger, minced

1

to

2

teaspoon(s) Sriracha or any hot chile sauce
Water, as needed to thin out the sauce
Instructions
For the quinoa salad:
On a medium pot placed over high heat, add quinoa and double its volume of water. Bring mixture to a boil, then cover, reduce heat to low and cook for 15 minutes. Remove from heat and fluff quinoa with a fork. Cover and allow quinoa to sit in the pot for 10 minutes.
Add quinoa to a large mixing bowl and let cool completely before using.
Add bell peppers, shredded cabbage and grated carrots to the cooled quinoa, and set aside.
For the ginger peanut sauce*:
Warm up the peanut butter 10-15 seconds in the microwave to soften it up a little bit if needed.
In a small bowl, combine together the peanut butter, agave syrup, lime juice, sesame oil, rice vinegar, fresh ginger and Sriracha sauce. Add water, one Tablespoon at a time, until you obtain the desired consistency.
Pour dressing over the vegetables and toss to coat. Serve with chopped scallions, cilantro, and toasted peanuts. Transfer to 2-3 bowls, sprinkle with a bit more peanuts and fresh cilantro.
Notes
* You can store any leftovers of the ginger peanut sauce in an airtight container / Mason jar for up to a week.
Keywords: Thai Quinoa Salad
Dairy-Free
,
Family-Friendly
,
Gluten-Free
,
Healthy
,
Nuts
,
Quick & Easy
,
Quinoa
,
Salads & Bowls
,
Sides
,
Vegan
,
Vegetarian
,
Videos
,
Year Round
Did you make this recipe?
Lastly, if you make this Thai Quinoa Salad with Ginger Peanut Butter Dressing (Vegan, Gluten-Free), be sure to leave a comment and give this recipe a rating, letting me know how you liked it. And of course, don't forget to tag me on Instagram! Thank you and enjoy!