World's Best Cookie Alert! Bake it like NY's Levain Bakery: a giant, thick cookie, crispy golden brown on the outside with a soft gooey center inside. To die for!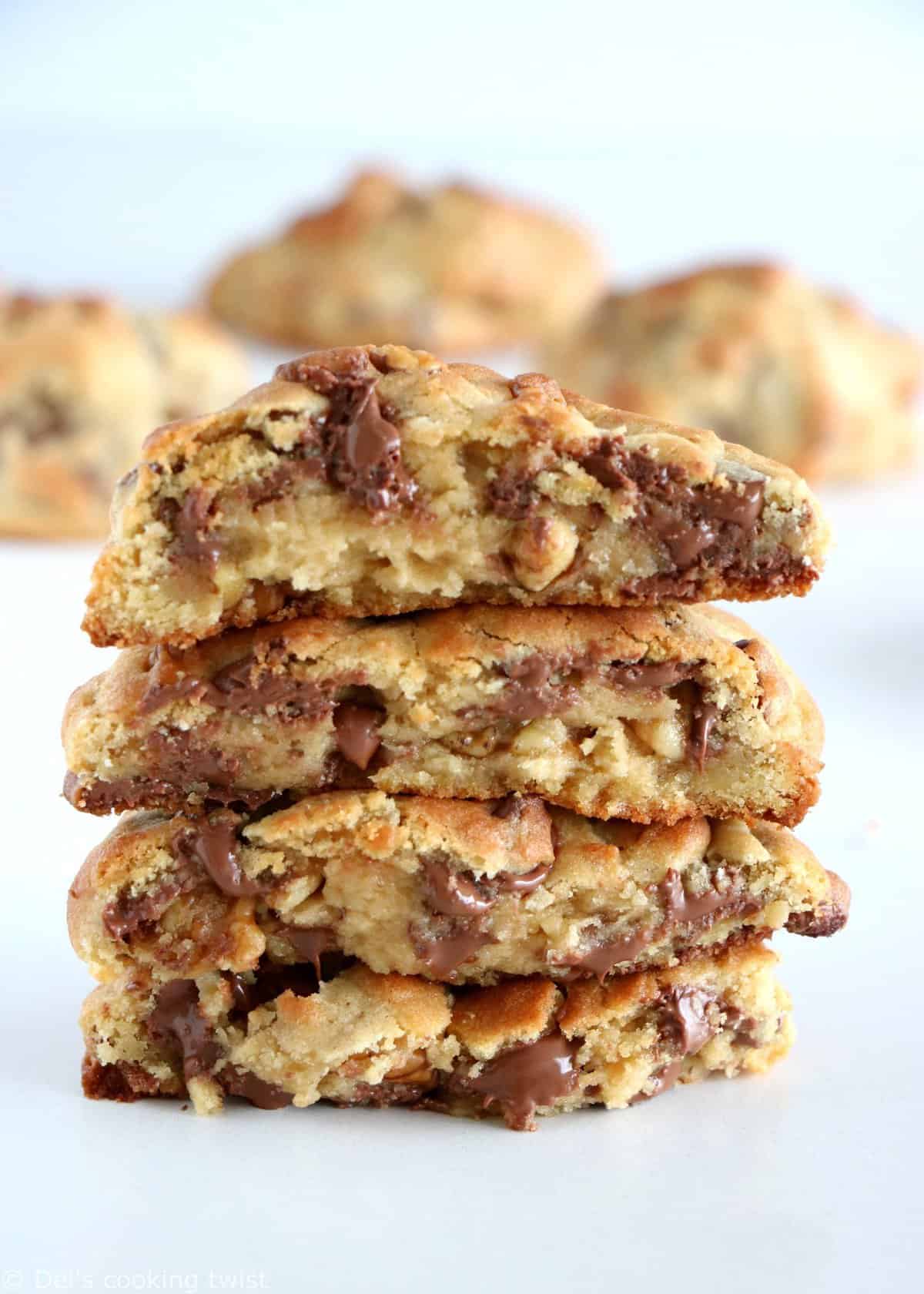 To all cookie lovers, forget all cookie recipes out there; this one is the only one you will ever need in your life. If you have tried the authentic recipe from Levain Bakery in New York City, you know what I'm talking about and I don't need to say more about it, right? For everyone else who have not been there (yet), be ready for the true cookie experience of your life. This recipe is game-changing, I'm not kidding!
New York Style Cookies
I am completely obsessed with Levain Bakery cookies and each time I go to New York City, this bakery is my go-to stop, at least once, often twice during the same trip. You might have seen this little video that I made over a year ago in Central Park, showing you the fantastic inside of the cookie. Isn't it dreamy just looking at it? I usually do one last stop to the bakery before my trip back home, making sure I bring some fresh ones with me that I then freeze until I can't resist anymore. You've got to deserve such a cookie, so make it count and choose your special occasion.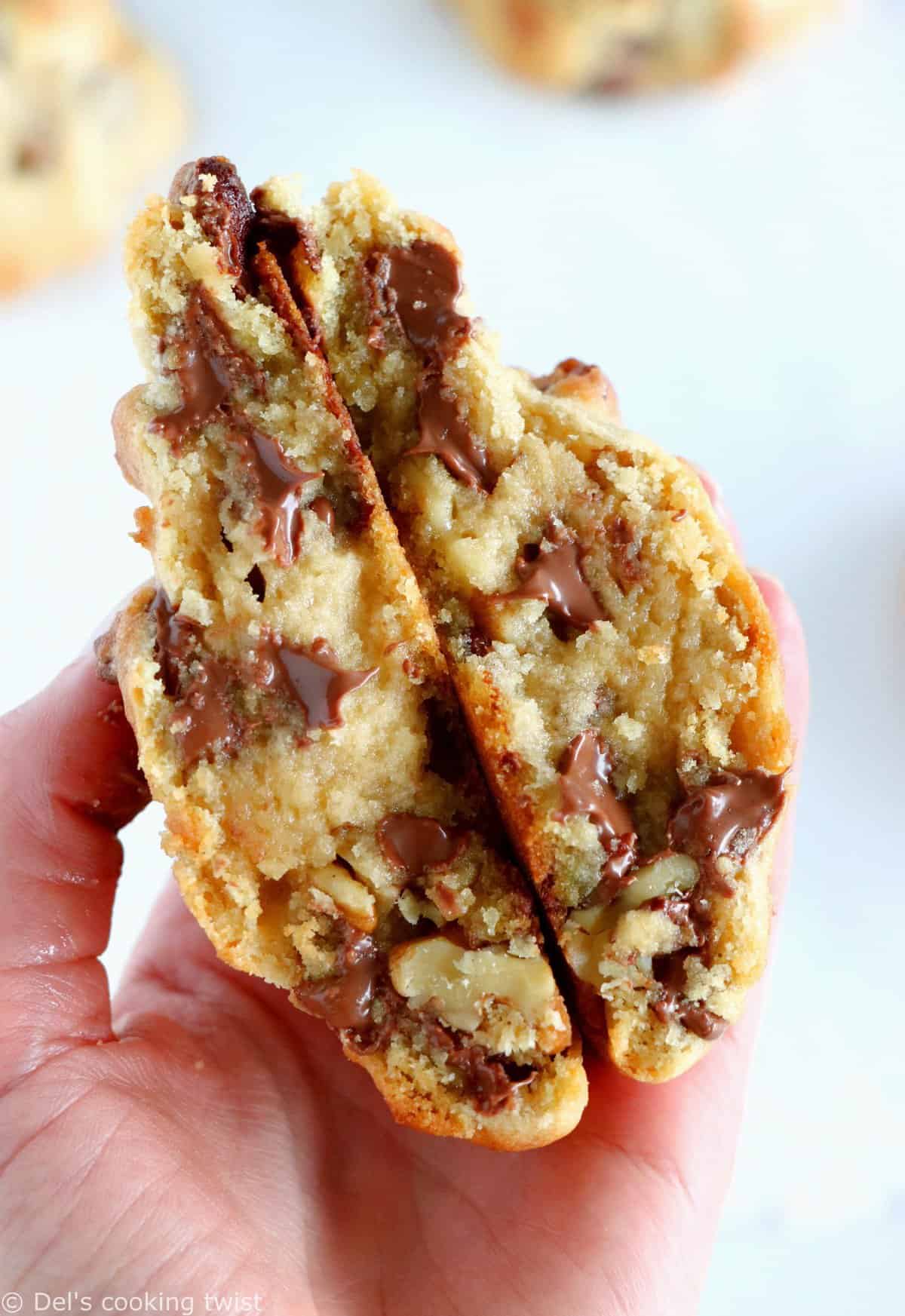 Coming back to the bakery, Levain Bakery is a very tiny shop located in a building basement, with nothing fancy outside that would make you think it is a mandatory stop-over, if not for the long line outside. And if you don't like waiting outside for a while for a cookie, trust me this one is worth the wait! Once you go down the few steps taking you to the shop, you are immediately overwhelmed by the sweet aromas of the cookies prepared in the back. This is a happy therapy place: everyone comes and leaves with a bright smile, and a giant one-inch thick cookie, slightly warm, gooey inside, and oozing with chocolate.
I usually take mine to Central Park or to a tiny café nearby (I keep the place secret for myself, hehe!), and my guilty pleasure is then to break the large cookie into two equal parts to see this perfect and decadent texture inside. At first bite, you have everything in your mouth: a crispy golden outside, contrasted by this soft gooey inside which is, without a doubt, extremely rich and sweet. I like healthy foods most of the time, but for this cookie, I make an exception. There is no other way to enjoy it. Life is all about balance after all; you'll eat a salad next time.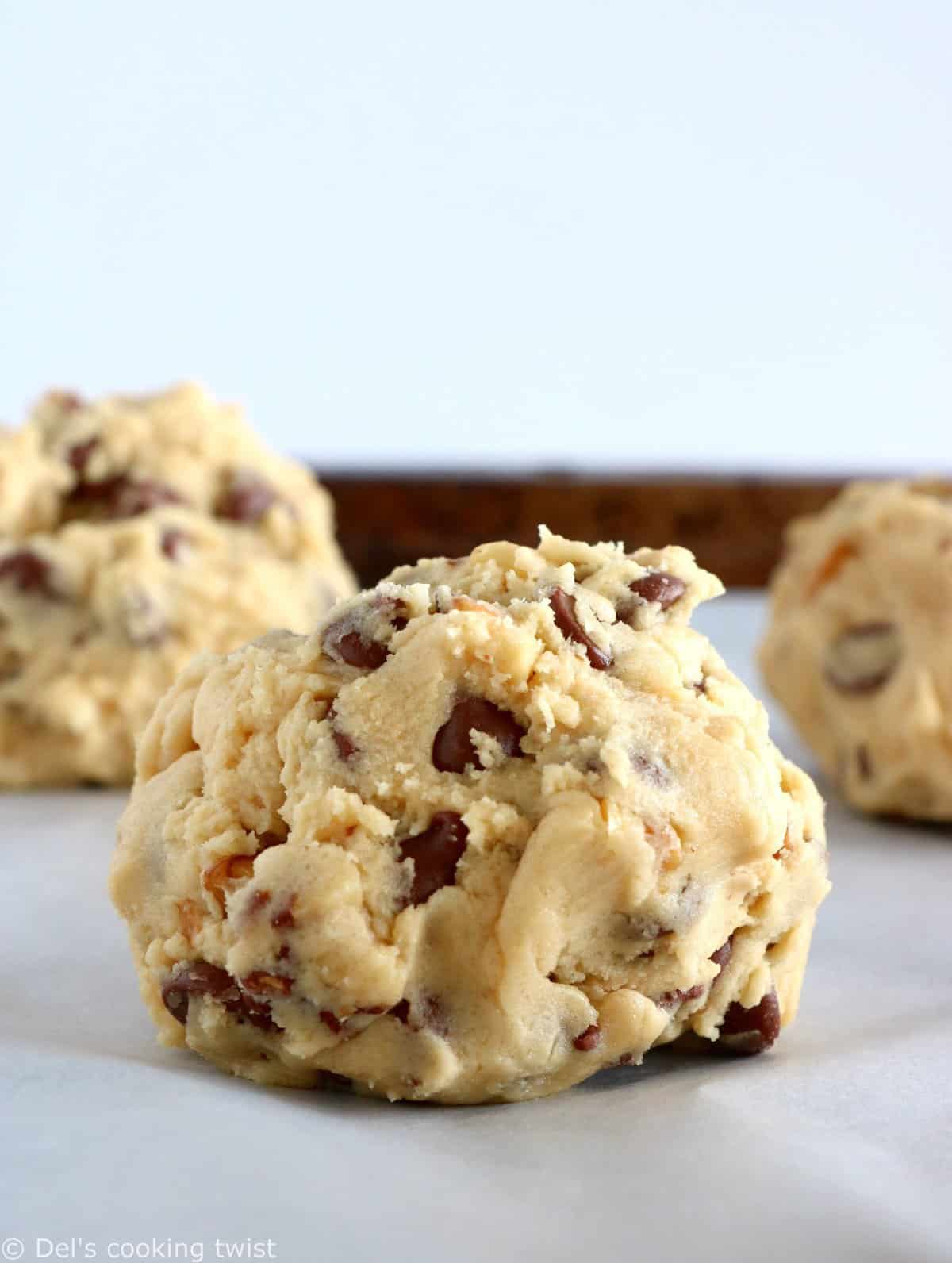 Since the first day I have tried Levain Bakery Cookies, I have been dying to learn how to bake these awesome cookies myself and share the beautiful recipe with you, so that we don't need a trip to New York every single time we have a Levain Bakery Cookie craving (it's a serious addiction, believe me!). Anyway, in the beginning I did my very best to understand what the cookie was made of but let's be honest, this would have taken me ages to find the right ingredients and proportions. So I checked for the original recipe, and of course it is a well- kept secret.
This wouldn't discourage me and I was ready to give the recipe a few attempts anyway, when I stumbled upon Si, from A Bountiful Kitchen. There are several Copycat Levain Bakery Cookie recipes people tried to recreate over the years after their huge success, but no one came as close as Si. Completely obsessed with these cookies, she spent time watching videos where you see the owner baking them and then watched them again and again, until she finally guessed the right quantities, after giving the recipe a few attempts. She truly did an awesome job and literally nailed the cookies!
On her blog, she wrote an extremely long post explaining everything about Levain Bakery cookies, from their creation over 24 years ago by two triathlete/Iron women – Pam McDonald and Connie Weekes – who wanted to create the best cookie in the world (congrats, ladies, you did it!). Si also describes with precision all her observations during her way to recreate the recipe for us, and you will find many useful tips to master yours too.
A few tips to get the perfect Levain Bakery Chocolate Chip Walnut Cookies:
Dream Big! – Levain Bakery's Cookies are 6 oz (170g) each, which is far more than one can eat, but you can always share with your friends. Or not!
Chocolate Chips – the original recipe calls for large milk chocolate chips, which I did in my version here as well. In the end, I think I prefer with semi-sweet chocolate chips or dark chocolate chips (I love dark chocolate). Or just use chocolate chunks!
Go nuts – walnuts really made the cookies awesome, bringing a perfect nutty and crunchy texture at the same time.
Also, do not forget:
Do not chill the dough – I mean, you could if you would like to, but I don't find it necessary here.
Rustic shaping – roughly shape the dough into your hands for a rustic look (you don't need an ice cream scoop)
Silpat vs parchment paper – unlike Si, I found that my cookies kept their shape much better when they are baked on parchment paper instead of a silicone mat (Silpat).
Cool onto the baking sheet – unlike other cookies, you don't need to transfer them to a cooling rack to cool completely. Just leave them on the baking sheet and it will be just fine.
One of the secrets that make the texture perfect – besides the enormous quantity of butter (yes, I know, I know…) – is the use of cake flour. Si suggests a few versions with or without cake flour, which is indeed not easy to find in every store. To make it easier for everyone and because I truly believe that the ratio all-purpose/cake four really makes the difference over the use of all-purpose flour only, I am sharing with you in a recipe note how to make your own cake-flour mix, which is incredibly easy indeed and won't take you long to prepare.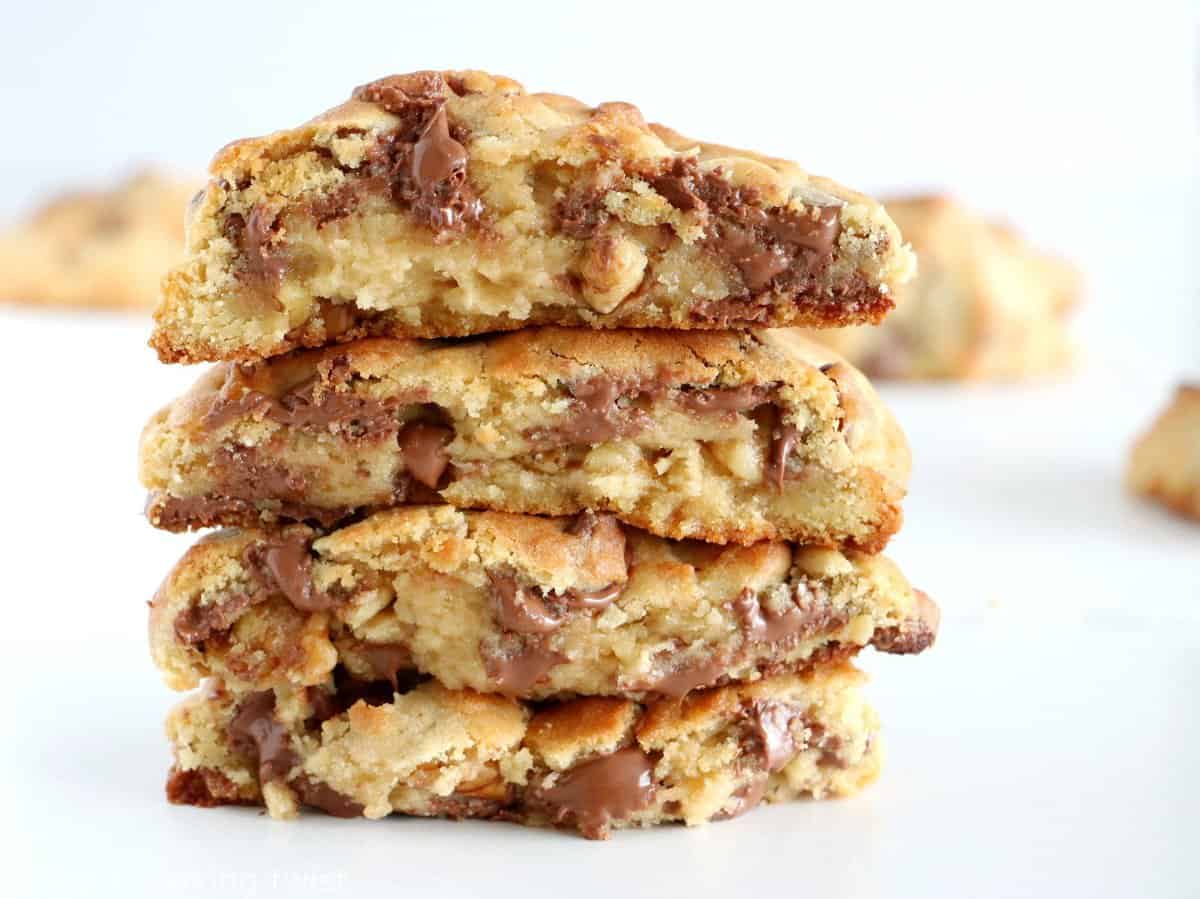 It's also good to know that the Levain Bakery Cookies freeze extremely well. I usually wrap mine in a ziploc bag once they have cooled enough, making sure they don't touch each other. And then, when a cookie craving hits, I just remove a few of them from the freezer and either let them thaw at room temperature (this can take a little while) or warm them up in the oven for a few minutes. Some people would tell you to warm them up in the microwave, which you could too but you might lose a bit of the crispy outside which makes this fantastic contrast of textures.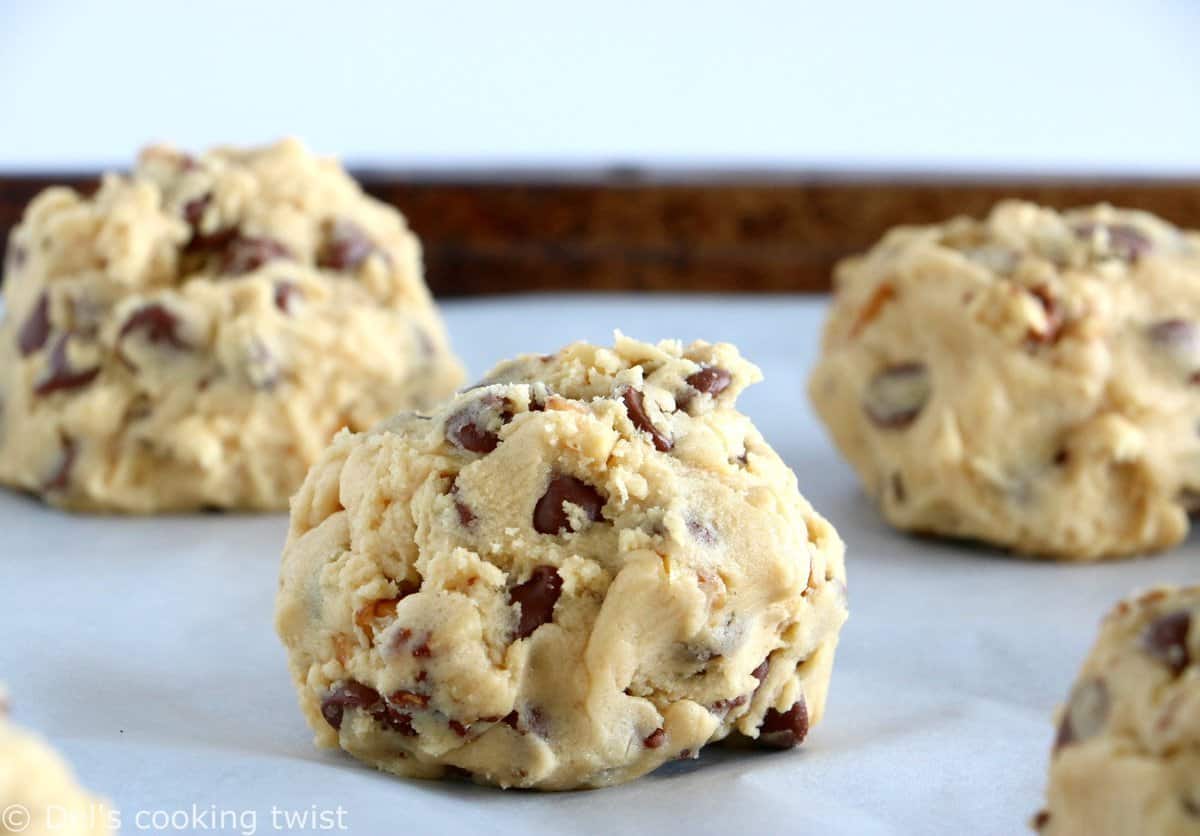 I didn't mean to ramble on so long about these cookies but I couldn't stop writing. I describe them here with passion as they are my #1 favorite in the entire world. Give them a try and stick to the original recipe as much as possible for best results (although you can cut on the sugar a little bit if you wish, but definitely not the butter or any other ingredients except maybe chocolate chips and walnuts). Oh, and before you say it: you are welcome! 🙂
Lastly, if you make these Levain Bakery chocolate chip cookies, be sure to leave a comment and/or give this recipe a rating, letting me know how you liked it. And of course, don't forget to tag me on Instagram! Thank you and enjoy!
Print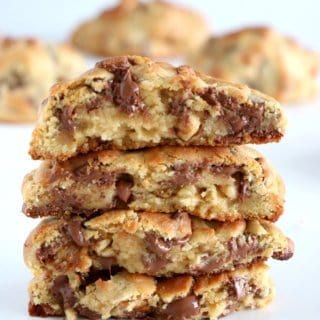 Levain Bakery Chocolate Chip Cookies
Author:

Prep Time:

15 mins

Cook Time:

11 mins

Total Time:

26 mins

Yield:

8

cookies

1

x

Category:

Cookies & Bars

Cuisine:

American recipes
---
Description
World's Best Cookie Alert! Bake it like NY's Levain Bakery: a giant, thick cookie, crispy golden brown on the outside with a soft gooey center inside. To die for!
---
1 cup

(2 sticks/

240g

) unsalted butter, softened and diced

3/4 cup

(

135g

) light brown sugar

1/2 cup

(

100g

) sugar

2

large eggs

1 cup

(about

120g

) homemade cake flour*

1 1/2 cup

(

180g

) all-purpose flour

1 teaspoon

baking powder

1 teaspoon

baking soda

1/2 teaspoon

sea salt

2 cups

(

250g

) walnut halves

2 cups

(

350g

) large chocolate chips/chunks**
---
Instructions
Preheat the oven to 400°F (200°C).
Place butter into bowl and turn mixer on low.
Add sugars and beat butter until smooth on medium speed, about 1 minute.
Add the eggs and beat on medium just until incorporated with butter and sugars, about 30 seconds.
Turn the mixer off. Add the homemade cake flour*, all-purpose flour, baking powder, baking soda and salt. Pulse the dry ingredients on low until the wet and dry ingredients are mixed together.
Pour the walnuts and chocolate chips into the batter, and stir with a rubber spatula until spread evenly into the batter.
Divide the dough into 8 equal pieces, about 6 oz/170g each (or half of it if you want regular size cookies). Use your hands to shape cookies, not a cookie or ice cream scoop. The cookies are meant to be roughly shaped. Do not flatten the dough.
Bake 4 cookies per pan, for 11 minutes. The cookies are done when the top and bottom parts are slightly golden. Do not over bake. Let cool for 15 minutes before serving.
Notes
* Homemade cake flour: measure 1 cup (120g) of all-purpose flour. Remove 2 tablespoons of the flour, and add 2 tablespoons of cornstarch to the flour. Sift the flour and cornstarch mixture over a medium sized bowl 3 or 4 times. You now have cake flour!
** The original Levain Bakery Cookie recipe calls for milk chocolate chips, but you could go for dark chocolate chips or use chunks instead of chips.
This beautiful Levain Bakery Cookies is suggested by A Bountiful Kitchen.
Keywords: Levain bakery, chocolate chip cookies
Shop the recipe

Here are some items I used for this recipe
Platinium Professional Bakeware | KitchenAid Hand Mixer | Stainless Steel Ice Cream Scoop |  Silpat Baking Mat | Stainless Steel Measuring Cups | Stainless Steel Sifter | Measuring Spoons | Glass Mixing Bowl Set
Some of the links above are affiliate links, which pay me a small commission for my referral at no extra cost to you! Thank you for supporting Del's cooking twist.