Say hello to the BEST chocolate chip cookies ! I'm happy to report I finally found the one and only chocolate chip cookie recipe you need in your life. A perfect soft, buttery cookie, with a slightly puffy, inflated texture, and oozing with large ooey-gooey melted chocolate puddles.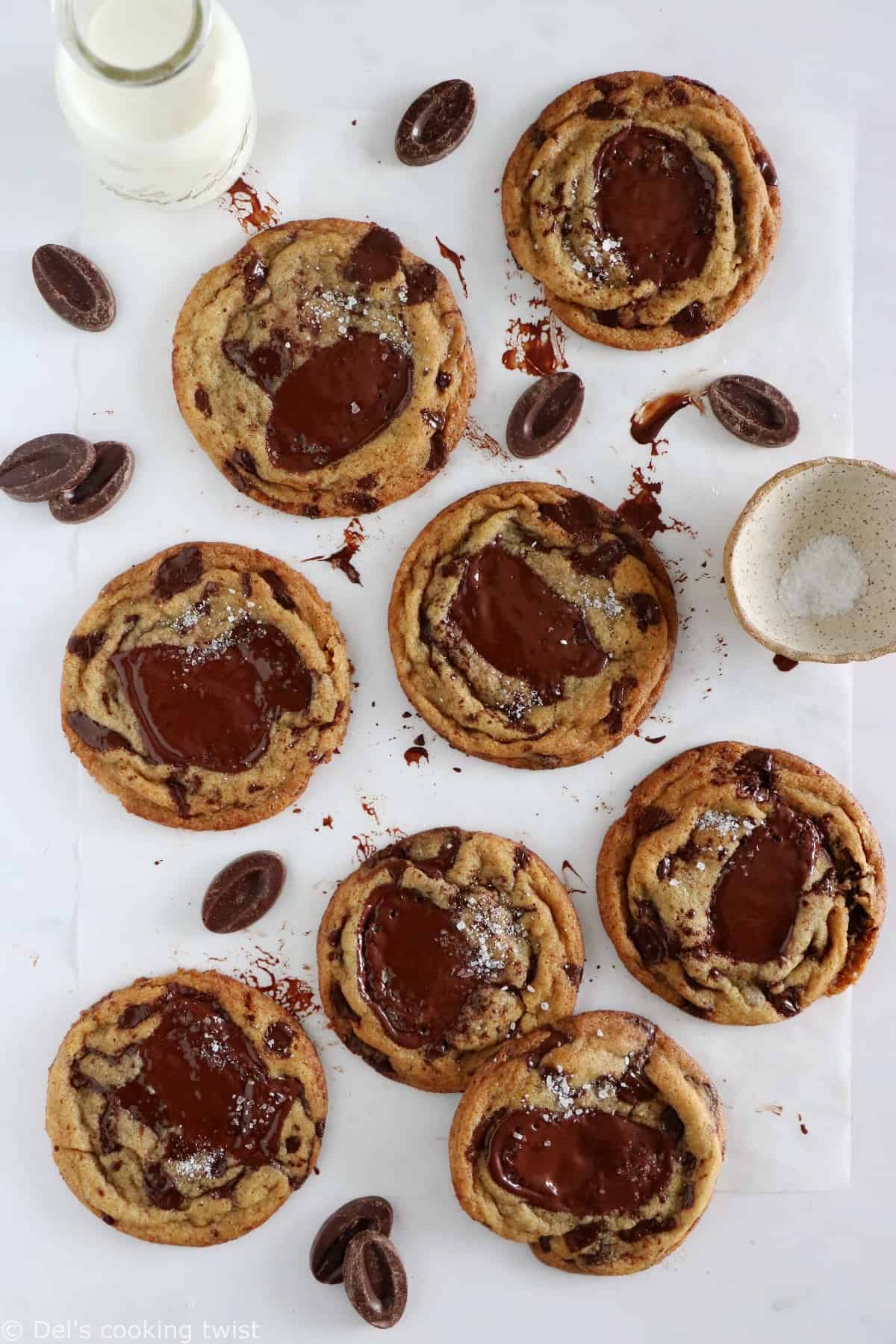 I've been working on creating the best chocolate chip cookies for a while, and I'm incredibly proud of the result I finally managed to reach over the years. I'm not gonna lie here: creating the perfect chocolate chip cookie recipe doesn't happen overnight. It took me years and hundreds of cookies to understand all the science behind the process of creating the desired texture and flavor.
And there is more: the perfect chocolate chip cookie might be different for each person. So here's my version of the best chocolate chip cookie, and I totally get it if your idea of the perfect cookie is slightly different. But if you're looking for a slightly inflated cookie with a chewy bite and oozing with melted chocolate puddles, this recipe is the one you need!
The ingredients you need
Butter. Use high quality European-style unsalted butter, and measure in grams rather than cups for more precision.
All-purpose flour. Make sure you measure the flour correctly. Too much flour will result in a thick cookie, while not enough flour will make your cookie spread too much while baking.
Baking powder + baking soda. They enable the cookies to rise just as needed, keeping them thin and slightly inflated at the same time.
Sugar (brown sugar + caster sugar). Make sure you use the right sugars and respect quantities and ratios. They're a key element of this chocolate chip cookie recipe. Although it might be tempting, reducing the amount of sugar is NOT an option.
Egg. You need just one egg in the recipe, to bring moisture and bind the ingredients together. For best result, use it at room temperature (not too cold). If you would like a slightly thicker, chewier cookie, you can add one yolk.
Vanilla extract. The use of vanilla enhances the sweet aromas in your chocolate chip cookies.
Dark baking chocolate. See note below to choose the right chocolate.
Coarse salt. Delicious, sprinkled over the dark chocolate!
The secret ingredient for perfect cookies
I use softened butter in the recipe, but there is more to it. I actually make brown butter out of unsalted butter, and then cool it down until perfectly softened. It creates some unique, nutty and slightly caramelized flavors in your cookies.
The process of creating softened brown butter can take some time. You're looking for a foamy texture with brown bits showing in the bottom of the pan, and then allow the mixture to cool down until completely softened. The good news is that you can prepare it ahead of time, the night before or even up to a month in advance and keep it in a sealed glass jar in your refrigerator. Just make sure the brown butter is perfectly softened before using in the recipe.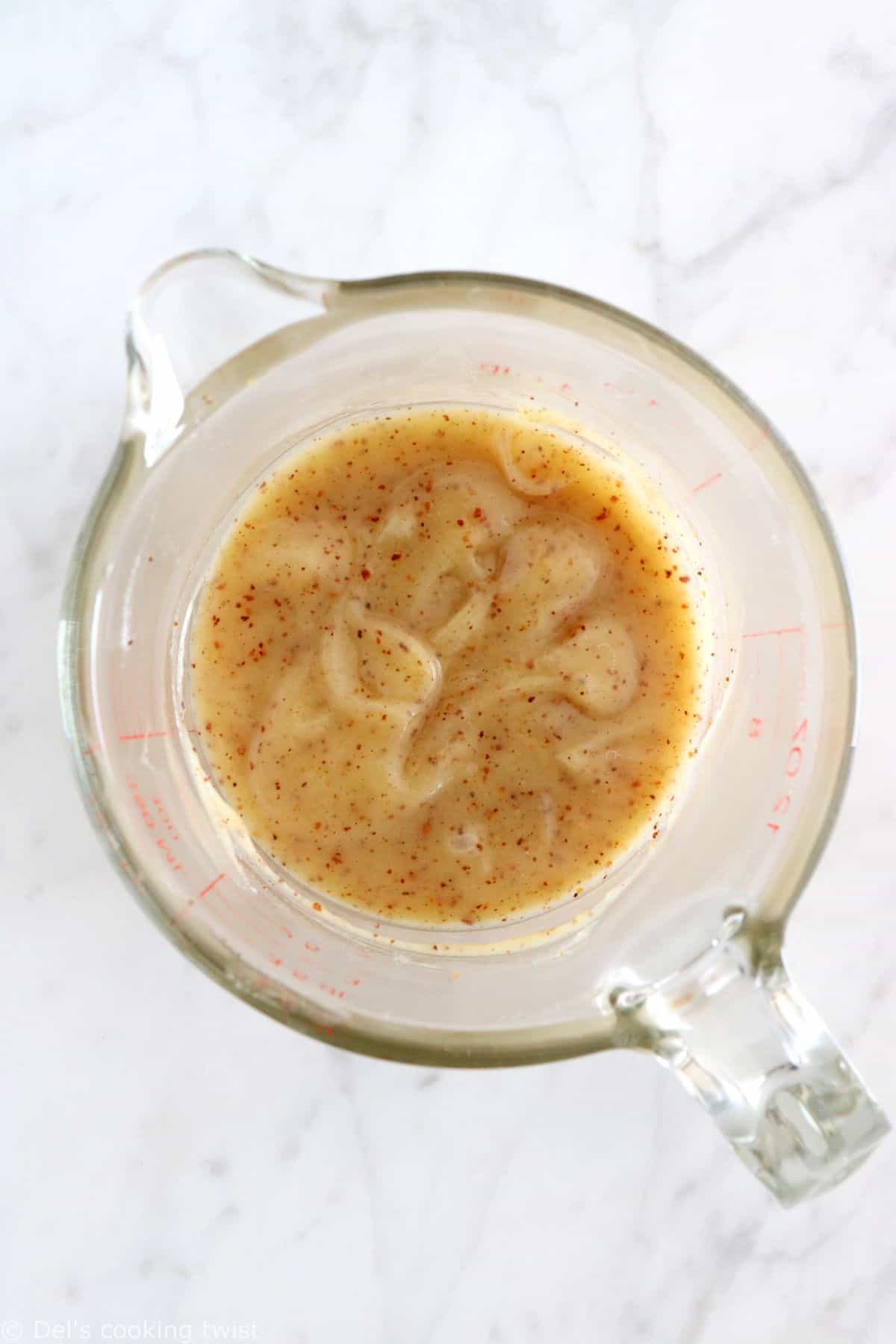 How to make the BEST chocolate chip cookies?
Measure your ingredients properly. If possible, use a scale to ensure accuracy, especially when it comes to the butter (using cups for the other ingredients is okay).
Use the right sugars and the correct ratio. Sugar plays an important role in the structure of the cookie, as it contributes to the moisture level while also interacting with the fat to provide lift within the cookie. You need both granulated sugar and brown sugar to create a perfect chewy bite with an irresistible little crunch to it. Make sure you use the right sugars too, and respect the quantities and ratios provided in the recipe. I often get asked if we can reduce the quantity of sugar in a cookie recipe. The answer is no, as it will compromise the texture.
Cream butter and sugar properly. Using an electric hand mixer, beat softened (not melted!) butter and sugars for a minimum of 2 minutes, until perfectly creamed and fluffy. It will provide lift and texture in your cookies.
Chill the dough. You could bake the cookies right after you made the dough, but if you want slightly thicker cookies, I recommend chilling the dough for a minimum of 30 minutes to 1 hour before baking. Chilling the cookie dough allows the flavors in the cookie batter to develop, the flour to hydrate slightly, and the butter to chill down.
Bake until just set. The level of doneness of a chocolate chip cookies depends on your personal preference of course, but for a perfectly chewy and gooey bite with crispy edge, remove the cookies from the oven when just set. When in doubt, remove when slightly under-baked, and remember they will set up on the pan a little too.
Use cocoa feves to create melty chocolate pockets. Place a feve on top of each cookie dough ball right before baking to get melty chocolate in your cookies (more details below).
The best chocolate for chocolate chip cookies
The choice of chocolate really makes the difference in a cookie, both in texture and flavor. Instead of chocolate chips, I recommend using 60% to 70% dark chocolate bars and roughly chop them before adding to the cookie dough. Chopping chocolate yourself gives you a great range of sizes in your chocolate and a good distribution throughout. And don't forget to add the chocolate dust too (which is what's left from chopping the chocolate) to get tiny chocolate specks all throughout the cookies.
Chocolate chips vs chocolate bars. Chocolate chips are prepared with cocoa butter together with other additives to enable them to hold their shape while baking. This can effect the taste of chocolate. For this reason, I prefer using dark chocolate bars, which contain more cocoa butter, creating a richer, smoother flavor, and allowing the chocolate to melt more easily when warmed.
Melty chocolate puddles. Now if you want to create the big pools of melty chocolate in the cookies, I recommend adding on top of each cookie dough ball a chocolate fève (I use Valrhona Caraïbe 66% cocoa fèves). These are the best: they melt more easily when warmed, and translate into melt-in-your-mouth chocolate pools and melted puddles. SO GOOD!!!
How to get perfectly round cookies every time?
If you're serious about chocolate chip cookies, there are two tricks you should know to create the most incredible texture. First of all, I recommend to bang the cookie sheet on the countertop a couple of times right after you removed it from the oven to create these slightly puffy, inflated texture with crispy edges.
To get a perfectly round cookie, I then use a cookie cutter or ring that is slightly larger than your cookies and swirl it around each cookie for a few seconds to scoot them into a perfectly round shape. It's important to do this step when cookies are still warm so you can re-shape them easily. The combination of both banging the cookie sheet and using a cookie ring guarantees a perfect texture and cookie shape every single time.
Cookie troubleshooting
Why did my cookies turn out flat? Most of the time it happens if butter is melted rather than perfectly softened/creamy, or if you didn't chill your cookie dough enough before baking. The use of silpat/silicone baking sheet can also make cookies spread out more. Lastly, always check your baking powder/soda expiration date and make sure your oven temperature is well calibrated, or adjust accordingly.
Why did my cookies NOT spread out while baking? If your oven is not fully preheated before adding the cookie balls, this can prevent them from spreading sufficiently.
Note on the oven temperature. Every oven's temperature is slightly different, depending on the size and age of the oven, and also if you're using the conventional mode or the convection one (I use conventional baking). Learn to know your oven, adjust temperature if necessary, and monitor the baking time closely, looking for a slightly under-baked cookie rather than relying on the baking time given in the recipe instructions. Just a few minutes can make the difference!
Melted butter, softened butter and softened brown butter: are they all the same? Definitely not. Melted butter would result in a cookie that spreads out too much, turns out flat and crispy. Using softened butter however allows a thicker, chewier bite. For nutty, smoky flavors, I recommend softened brown butter (make brown butter first, then allow to soften), but it's ok to use plain softened butter instead.
What happens if I chill/don't chill the cookie dough? Chilling the cookie dough helps the flavors in the cookies to develop. It also helps them to hold their shape better when baking and prevents them from spreading too much on the cookie sheet.
Why didn't I get these melted pockets of chocolate? In order to get these large pools of chocolate, you need to use chocolate feves (or chopped chocolate bars) and place them on top of your raw cookie balls before placing in the oven, so they melt while baking. Chocolate chip however contain ingredients that prevent them from melting and do not enable these melted pockets of chocolate in your cookies.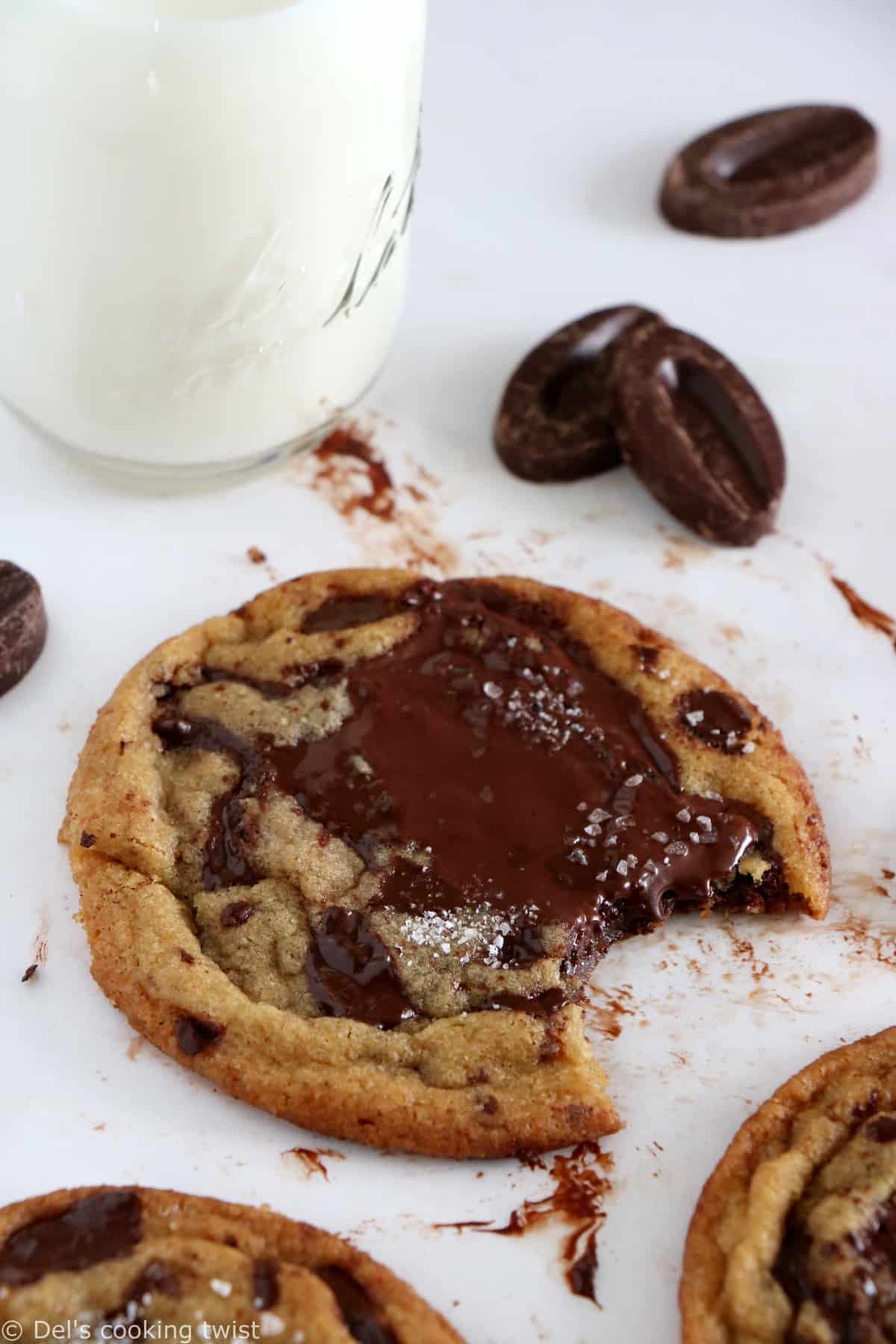 How to store chocolate chip cookies?
Storing. Cookies are best eaten freshly out from the oven, when still warm and oozing with melty chocolate. You can store them in an airtight container with a piece of white bread (or a marshmallow!) to keep a somewhat moist and chewy bite, although your cookies will inevitably become a little bit more dense. If possible, warm up individually in the microwave for a minute or so before eating.
Freezing. For a perfect warm and gooey chocolate cookie every time, I find it best to freeze the cookie dough balls in a ziploc bag (after the chilling time) and bake them in small batches whenever you have a little cookie craving. Decrease the oven temperature to 325°F (160°C) and bake directly from frozen for roughly the same amount of time.
Other must-try cookie recipes: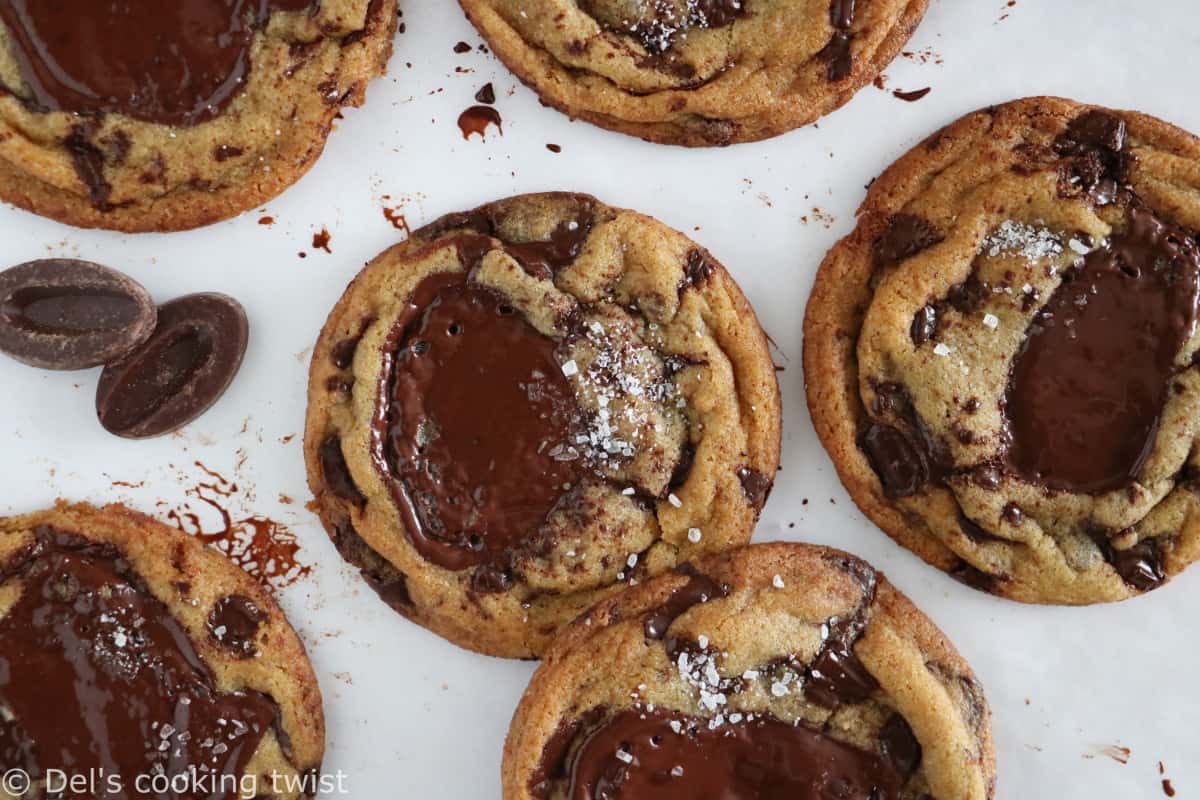 Print
The BEST Chocolate Chip Cookies
Author:
Prep Time:

20 mins

Cooling Time (brown butter):

1 hour

Cook Time:

8 mins

Total Time:

1 hour 28 minutes

Yield:

12

-

14

cookies

1

x
Category:

Cookies
The BEST chocolate chip cookies are soft, buttery, with a slightly puffy, inflated texture, and oozing with melted chocolate puddles.
⅔ cup

(

160g

) unsalted butter, diced

1 ¼ cup

(

150g

) all-purpose flour

½ teaspoon

baking soda

½ teaspoon

baking powder

1 teaspoon

vanilla extract

¾ cup

(

135g

) light brown sugar

¼ cup

(

50g

) granulated sugar

1

large egg

7 ounces

(

200g

) dark chocolate, roughly chopped*

½ teaspoon

coarse salt
Instructions
Start with the brown butter. Place diced butter in a heavy saucepan over medium heat, swirling the pan from time to time (do not stir). Once melted, it will foam up and then subside, and the milk solids will begin to separate, creating brown bits in the bottom of the pan. Swirl the pan regularly, until the butter turns a dark caramel color and a nutty aroma. Remove from the heat and pour into a glass measuring jar. Cool to room temperature, seal, then cool in the refrigerator for 1 hour, until almost completely softened.
Preheat the oven to 350°F (180°C) and line 2 large baking sheets with parchment paper.
Whisk the flour, baking soda and baking powder in a medium bowl.
In a large mixing bowl, whisk together the softened brown butter and sugars for at least 2 minutes, until pale and fluffy, using an electric hand mixer. Add the egg, vanilla extract, and mix until combined.
Switch to a rubber spatula and add the dry ingredients to the bowl in two or three addition, mixing well. Fold in the chocolate chunks*, and mix until evenly distributed.
Using an ice cream scoop, scoop large balls of cookie dough onto a baking sheet lined with parchment paper. Place a chocolate fève* on top, flatten slightly, and sprinkle with sea salt. Cover with plastic wrap and place in the refrigerator for 30 minutes, up to 1 hour.
Transfer the cookies onto the prepared baking sheet, leaving enough space between each of to allow spreading, and bake for about 8 minutes, or until slightly under-baked**. Bang the baking sheet onto the counter a few times to create some texture at the surface, and use a round cookie cutter slightly larger than the cookie to scoot them into a perfectly round shape. Cool on the baking sheet for 10 minutes, and transfer the cookies to a cooling rack, or eat them immediately while still warm and oozing with chocolate.
Notes
* Important note about the chocolate. Use high quality dark baking chocolate, and chop it roughly into larger and smaller chocolate chunks, adding the chocolate scrapes to the cookie dough too. To get these large pools of melted puddles of chocolate in your cookies, I recommend keeping 12 larger pieces of dark chocolate to place on top of each cookie dough right before baking. Or better, use chocolate fèves (I use Valrhona Caraïbe 66% cocoa fèves, available to order online on Amazon or other online stores). These are the best: they melt more easily when warmed, and translate into melt-in-your-mouth chocolate pools and melted puddles.
** Important note about baking. Each oven is different so may need to adjust the baking time a little bit. When in doubt, always remove your cookies when still slightly under-baked, they will continue to bake on the hot baking sheet when out from the oven. I also often decrease the baking time a little bit for the following batches of cookies, keeping in mind the oven (and baking sheet if re-using the same) is already very warm.
Keywords: Best Chocolate Chip Cookies
Did you make this recipe?
Lastly, if you make this The BEST Chocolate Chip Cookies, be sure to leave a comment and give this recipe a rating, letting me know how you liked it. And of course, don't forget to tag me on Instagram! Thank you and enjoy!