You'll love this Easy Chocolate Olive Oil Yogurt Cake. Directly inspired from the classic French Yogurt Cake, this no-fail recipe is moist, tender, and deliciously chocolaty! 
Yes, I'm back with another yogurt cake recipe. Again! It seems that this is for me the year of easy, affordable dessert recipes ; the ones you can make for any occasion. And as much as I love beautiful cakes, let's be honest for a minute: these simple cake recipes are often the ones we go back to. And even more when you have a newborn in your life that takes all your time and energy.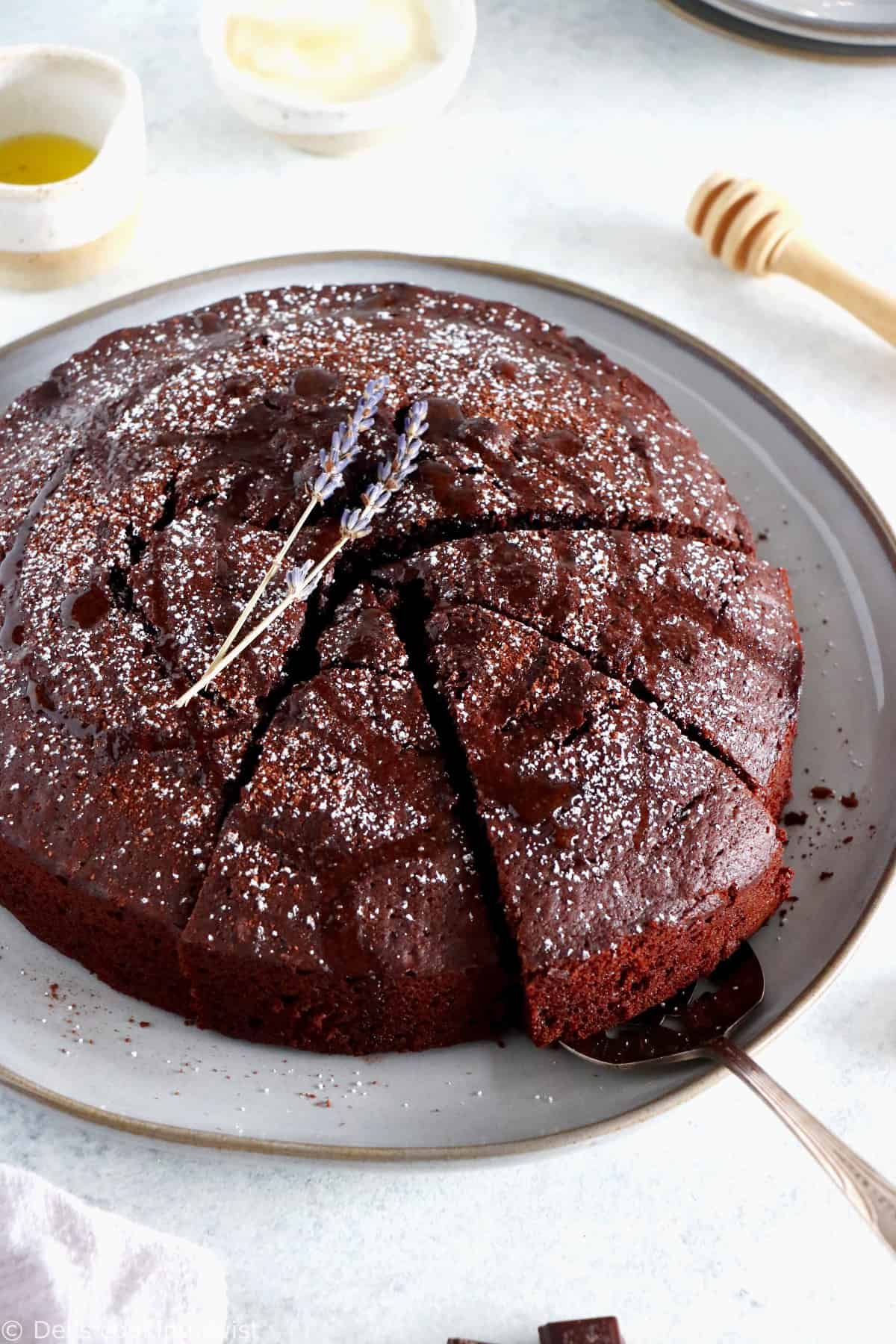 But this doesn't stop me from baking! With just a couple of ingredients, a mixing bowl and a whisk, you can create some magic in the kitchen. This time, I added a few twists to the classic French yogurt cake (aka the Easiest cake on Earth) and turned it into a delicious chocolate olive oil yogurt cake.
The story behind this chocolate olive oil yogurt cake
The idea of this quick chocolate cake recipe was born while walking around in the neighborhood with David and baby Lucie in the stroller. These moments are always my favorite way to brainstorm new recipes. Together, we were talking about yogurt cake, as I had just made another yogurt cake for the 8,987,635 time. To be honest, David is not always interested in all my food obsession, but somehow, the idea of yogurt cake always gets him. He loves that it's so easy to make and so easy to use as a base for many other cake recipes.
This time, he suggested I could use olive oil instead of canola oil. At first, it made me laugh and brought me back 15 years ago (damn, I sound old now!) when I was a student and had a sudden craving for cake. Because I only had olive oil in my tiny student kitchen, I used it to make a quick yogurt cake. Well, let me tell you that it tasted quite funny, and my dear friend Audrey kept making fun of me years later.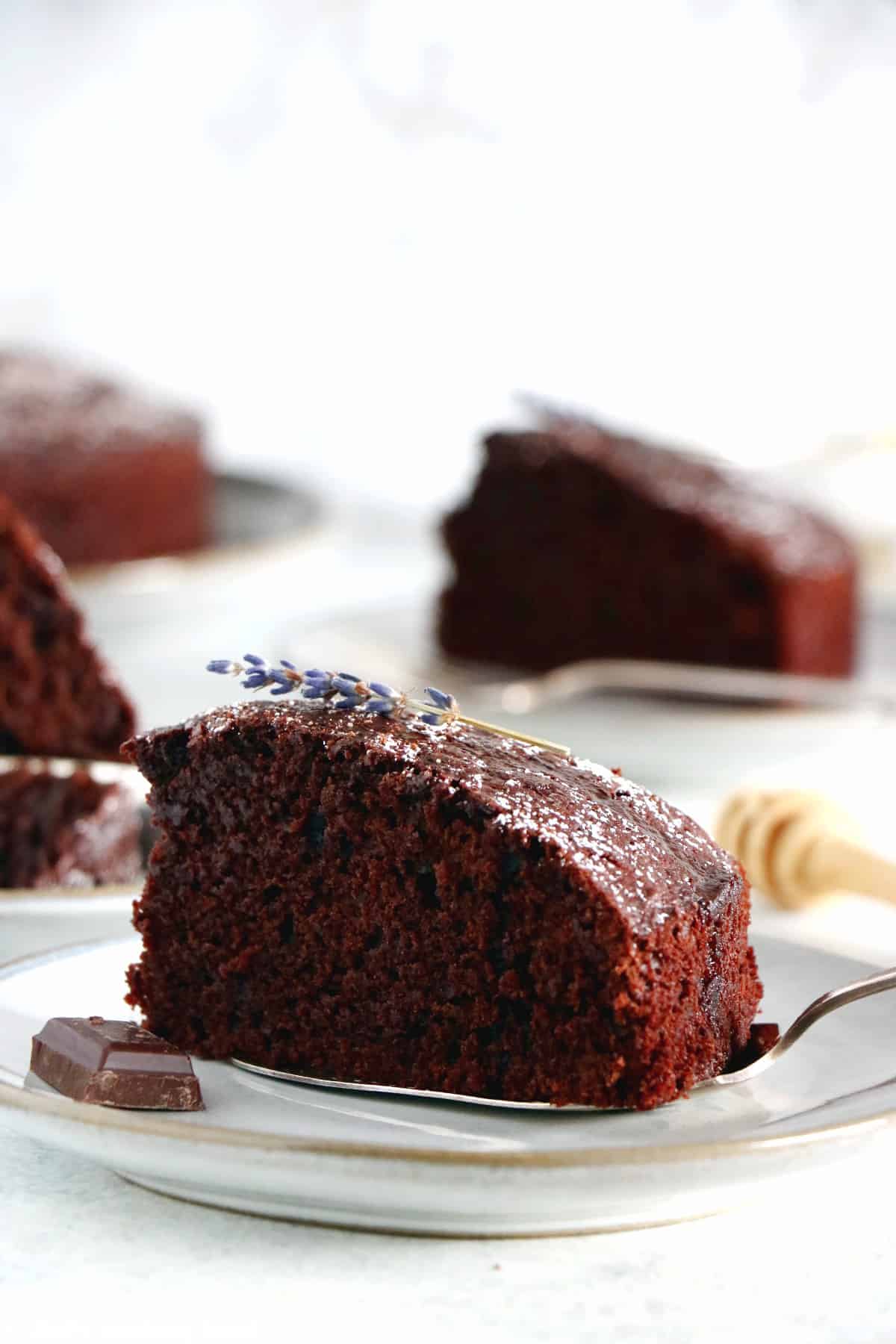 But one thing leading to another, from my student life memories to the conversation with David, I figured that maybe I could combine olive oil and chocolate. A few attempts later (with a few fails along the way), and this chocolate olive oil yogurt cake was born!
A yogurt cake with olive oil…
As a quick reminder, the French yogurt cake is basically coffee cake or yellow cake, that everyone can bake with the bare minimum equipment since it's a no-measure cake. Just use a yogurt container as a measure referential for all the ingredients and you're good to go!
The perfect choice of vegetable oil. Traditionally, the classic yogurt cake recipe calls for canola oil or any other vegetable oil, neutral in taste. In this chocolate version however, I chose olive oil deliberately. Spoiler alert: the cake doesn't taste like olive oil! Here the use of olive oil helps to enhance the chocolate flavors. Also, I even recommend you use a fruity olive oil for more bold chocolate flavors.
Can I use canola oil instead? Yes, you can! If for one reason or another you don't like the taste of olive oil or just don't happen to have some handy at the moment you want to bake the cake, you can absolutely use an other vegetable oil neutral in taste (canola oil or sunflower oil). The chocolate flavor will be more discrete but you'll still have a deliciously moist chocolate yogurt cake.
… and an intense chocolate flavor
Ok, now let's talk chocolate for a minute! And as for many chocolate cake recipes, there's a dilemma: baking chocolate versus cocoa powder. In France, most chocolate cake use baking chocolate (see my French Chocolate Cake) while in other countries like Sweden the use of cocoa powder in the norm (check this wonderful Swedish Chocolate Gooey Cake).
So here I made 2 attempts to the recipe: one with unsweetened cocoa powder, the other one with a mix of cocoa powder and baking chocolate. After a blind taste with David (my Number 1 tester in the house, and the only one that dares to give a honest opinion about my cooking and baking), it turned out that the first version with unsweetened cocoa won by far.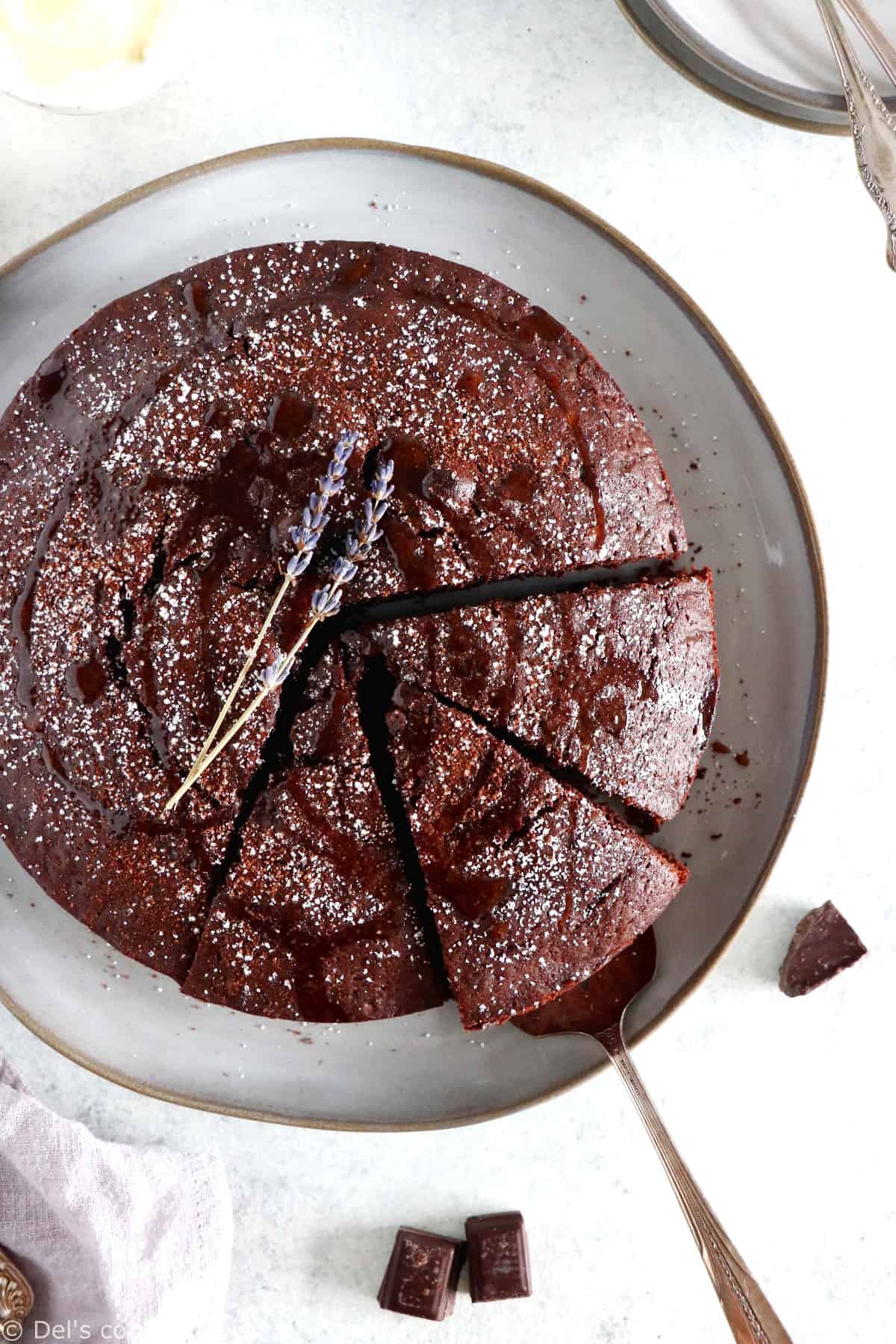 The addition of brewed coffee and olive oil bring a subtle touch of bitterness and enhance the chocolate aromas. The result is perfectly balanced, not too sweet and deliciously chocolaty!
In search for the perfect moist texture
One of the main characteristics of the yogurt cake is that it has a super moist texture. This phenomenon is of course brought by the use of yogurt. For best results, I recommend plain Greek yogurt, full-fat. But the recipe also works with low-fat yogurt if this is what you have at hand.
So yogurt brings some moisture to the cake, but baking chocolate tends to make the cake dry (or drier). Hence my choice for unsweetened cocoa powder over baking chocolate in the recipe. I also reduced the quantity of flour. For extra moisture, I also added a few Tablespoons of boiling water. This is totally optional but let's say it's just the little extra that makes the difference between a good yogurt cake and a great yogurt cake!
More yogurt cakes to try:
For the chocolate fanatics:
Lastly, if you make this Chocolate Olive Oil Yogurt Cake, be sure to leave a comment and/or give this recipe a rating, letting me know how you liked it. And of course, don't forget to tag me on Instagram! Thank you and enjoy!
Print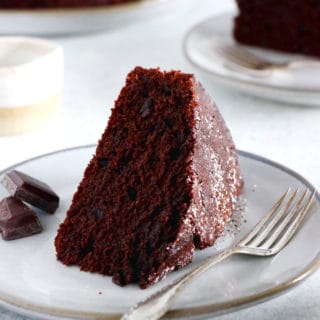 Chocolate Olive Oil Yogurt Cake
Author:

Prep Time:

10 mins

Cook Time:

30 mins

Total Time:

40 minutes

Yield:

8

servings

1

x

Category:

Cakes and pies

Cuisine:

French
---
Description
You'll love this Easy Chocolate Olive Oil Yogurt Cake. Directly inspired from the classic French Yogurt Cake, this no-fail recipe is moist, tender, and deliciously chocolaty!
---
For all measurements, use 1 standard yogurt container* (about 4.2 ounces / 120g), or follow the metric measurements below:
1

container (½ cup or

120g

) plain yogurt**

2

container (½ cup or

100g

) sugar

3

medium eggs

1 teaspoon

vanilla extract

1

container (½ cup or

120

ml) olive oil

2

containers (1 cup or

120g

) all-purpose flour

1

container (½ cup or

60g

) unsweetened cocoa powder

1 Tablespoon

baking powder
A pinch salt

1 Tablespoon

strong brewed coffee

3 Tablespoons

boiling water
---
Instructions
Preheat the oven to 350°F (180°C) and grease the bottom and the sides of a 9×5-inch (23×13 cm) loaf pan or a 9-inch (23 cm) spring form. Set aside.
In a large mixing bowl, pour the plain yogurt, and whisk in sugar, eggs, vanilla extract and olive oil. Whisk until combined.
In a separate bowl, mix all-purpose flour, cocoa powder, baking powder, and salt.
Add the dry ingredients to the wet ingredients. Add brewed coffee and boiling water.
Scoop the batter into the prepared pan and bake for about 45 minutes or until a toothpick inserted into the center comes out clean. If the top is browning too fast, tent it with a piece of aluminum foil.
Remove from the oven and let cool for about 10 minutes in the pan, then transfer to a cooling rack and cool completely.
---
Notes
* Depending on where you live, you can find different standard sizes for the yogurt container: 5 ounces (140g) in the United States, 4.4 ounces (125g) in France, 4.2 ounces (120g) in Canada. Good news is: whatever container size you use between the 3 mentioned above, the recipe works with the x1, x2, x3-container rules (1 container yogurt, 2 containers sugar, 3 containers all-purpose flour) and you won't need any additional egg. Remember that this is a very forgiving recipe and the difference in measurements is too small to make such a difference in the final cake result.
** For the choice of yogurt, try to go for plain yogurt over any flavored ones (although vanilla flavor is fine). Also, note that both Greek or non-Greek yogurt will do. I personally prefer full-fat but low-fat works too.
Keywords: Chocolate olive oil yogurt cake