Easy chocolate brioche buns are a perfect addition to your breakfast basket. They are soft, pillowy, and loaded with chocolate chips.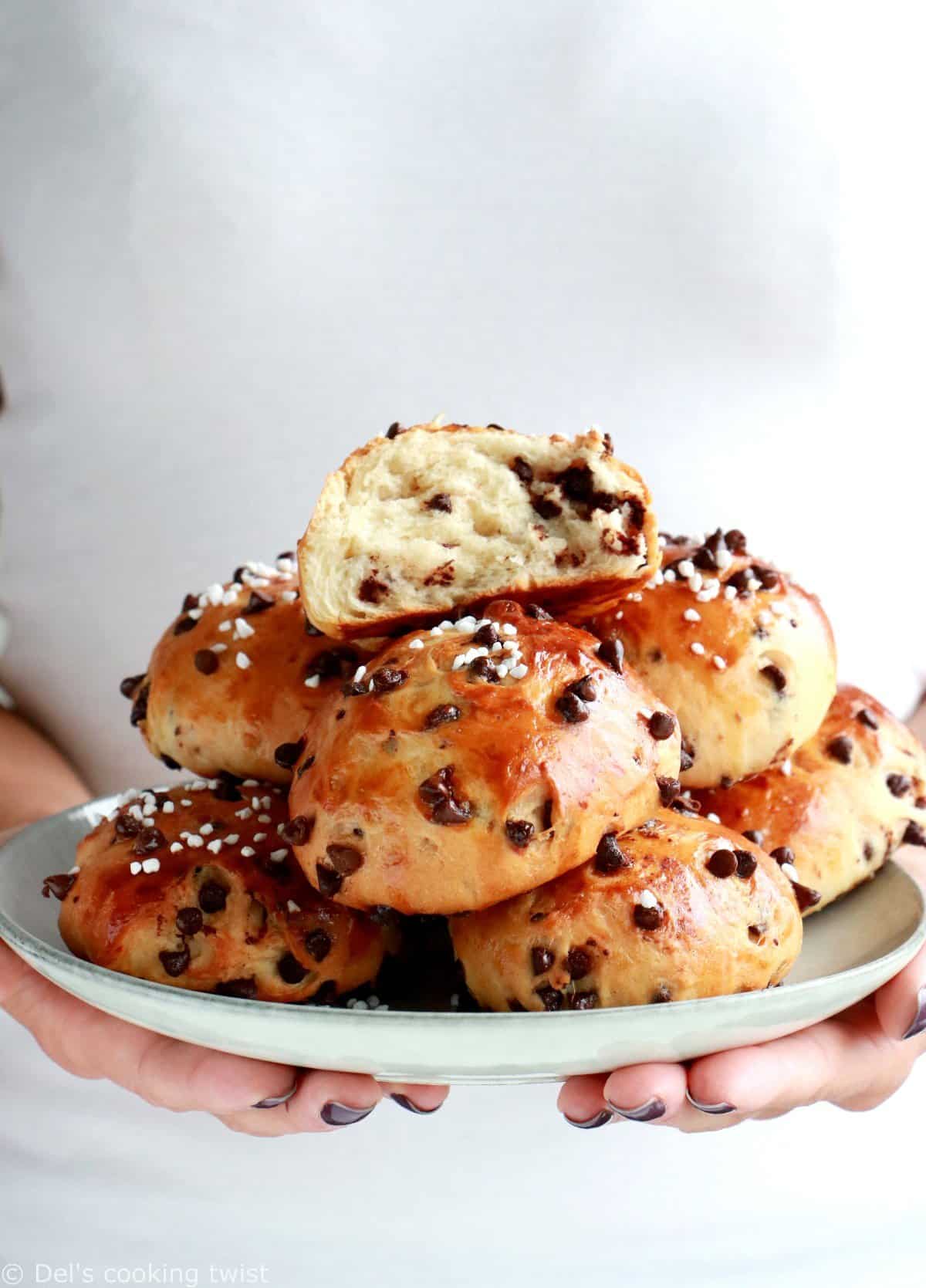 Here we are again; it's time for my monthly French baking challenge with a new recipe and I'm all excited about it. In case you missed it, I started this personal challenge in the beginning of the year and this is my eleventh recipe of the kind. All recipes have a special place in my heart and are somehow reminiscence of my childhood in France. Among others you can count the Apple Tarte Tatin, the French Lemon Meringue Pie, or the Canelés de Bordeaux.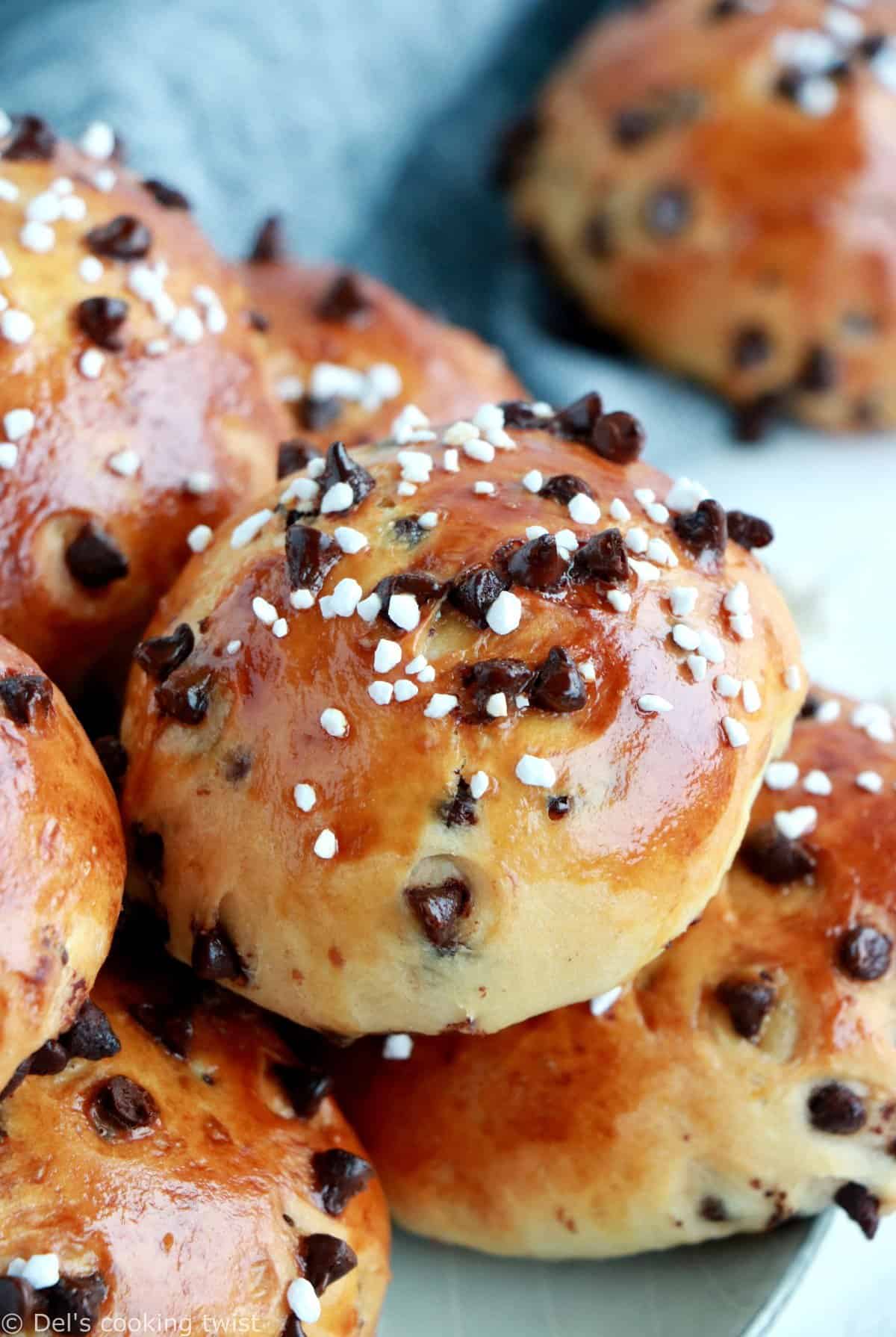 Easy Chocolate Brioche Buns
Today's recipe is making me ridiculously happy for two reasons: the mini chocolate chips and the kneading part!
Mini chocolate chips. First of all, the recipe involves mini chocolate chips. Don't you love chocolate chips too? My favorite are always the ones that fall of the baking goods. You know, the little extra ones you always want to grab even though you have plenty of them in your treat. But the ones who don't count are actually the ones that matter. They are just extra stuff, and we love extra stuff. Weird, but true.
A rising dough. The other reason why I'm so excited about this new recipe is because it involves a rising dough. I have always loved kneading dough by hand and find it quite relaxing most of the time. For the last couple of years, since I moved to the US and left my Kitchen Aid behind me in Sweden, I kneaded all my recipes by hand. But guys, I have got news for you: I finally decided to purchased a new one, the Artisan Red Kitchen Aid. I already love it!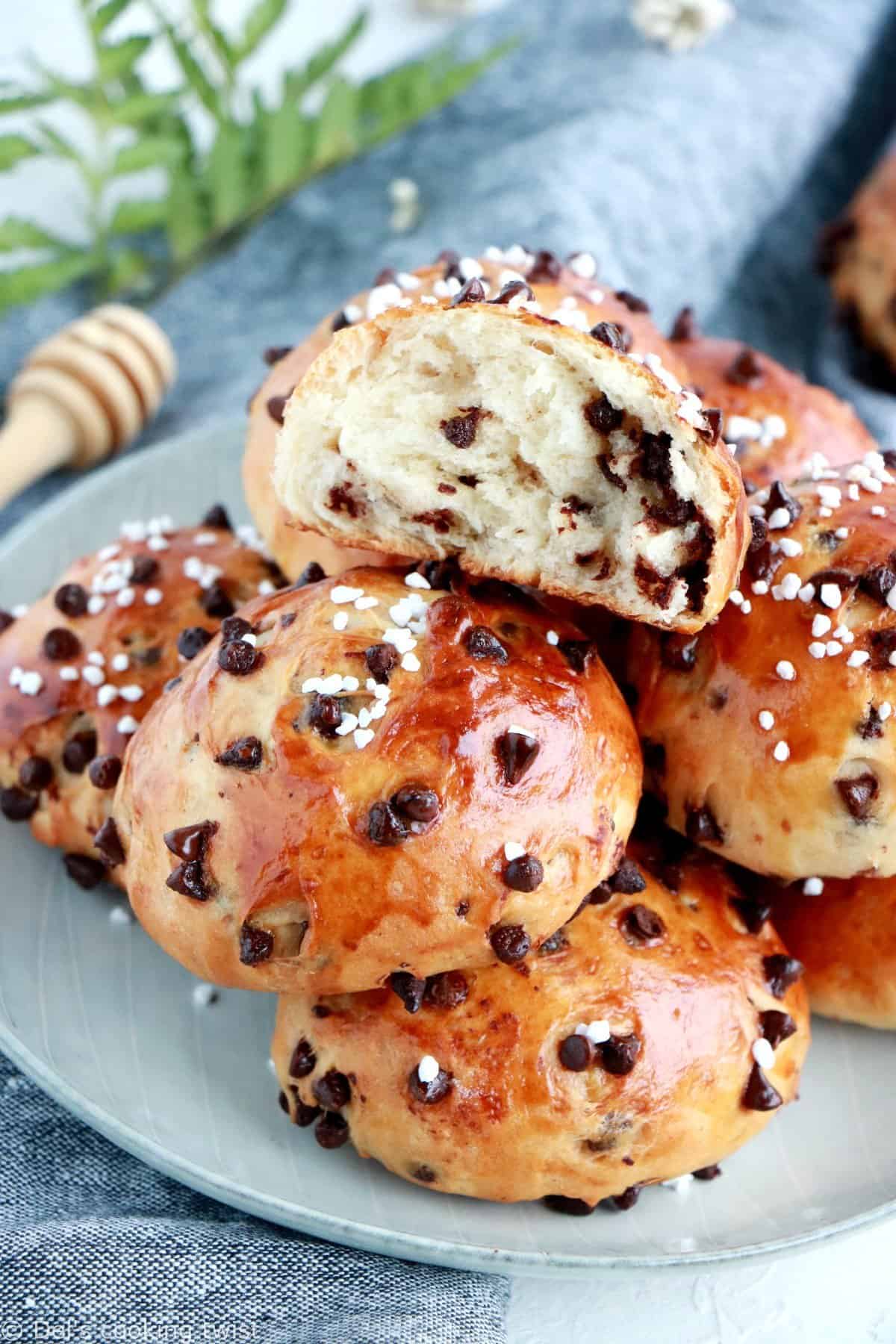 Using a stand mixer versus kneading by hand
I received my Kitchen Aid this week and I already have tons of recipes I want to create with my new friend. To be really honest with you, after I left mine behind, I was not sure anymore that a Kitchen Aid was absolutely necessary to my baking recipes. Lately however, I have been working with more delicate recipes that are obviously way easier if you use a stand mixer. It prevents from creating a mess while kneading the dough on your counter top and insure the right texture to your bakings.
As an example, the stand mixer will considerably be a good help to get a light, soft, airy and pillowy texture to a French Butter Brioche. This applies to any other brioche recipe, especially when they involve great quantities of butter and eggs.
Today's brioche buns are on the edge: with just a little experience, you can get a really good result by hand (this is what I did) but a stand mixer will spare you the extra effort. So if you are into serious baking too, a stand mixer is definitely to add on your (Christmas/Mother's Day or whatever special occasion) baking gift list.
The easiest brioche bun recipe
French in all aspects, these chocolate chip brioche buns are a kids'favorite after school or a lovely family treat to enjoy for a cozy brunch or breakfast in the weekend. Much easier to prepare than chocolate croissants, they involve just a few basic ingredients, to which I added some orange flower water for extra taste. If you don't have any, you could use juice and zest of a freshly squeezed orange, making sure you keep the same proportions.
Chocolate chips and other options. As for the chocolate part, I used mini chocolate chips which are the ones that work best for the buns. If you can't find your hand on it, go for regular chocolate chips. You could also replace with candied fruits and pearl sugar, or enjoy the buns plain. You can them slice them in two parts, lengthwise, and spread with butter and jam.
Tips to keep them fresh
Keep in mind that brioche buns always taste best freshly baked from the oven or the same day. My trick to keep them longer consists of wrapping them in a hermetic ziploc bag until the following day.
If you end up with too many buns, you can also freeze them. Place them in a ziploc bag while still fresh and freeze for up to 2-3 months. Make sure you remove them from the freezer ahead of time, ideally the night before, and leave them on the countertop. When thawed, just warm them up in the oven at 350°F (180°C) for a couple of minutes to recreate the crispy crust.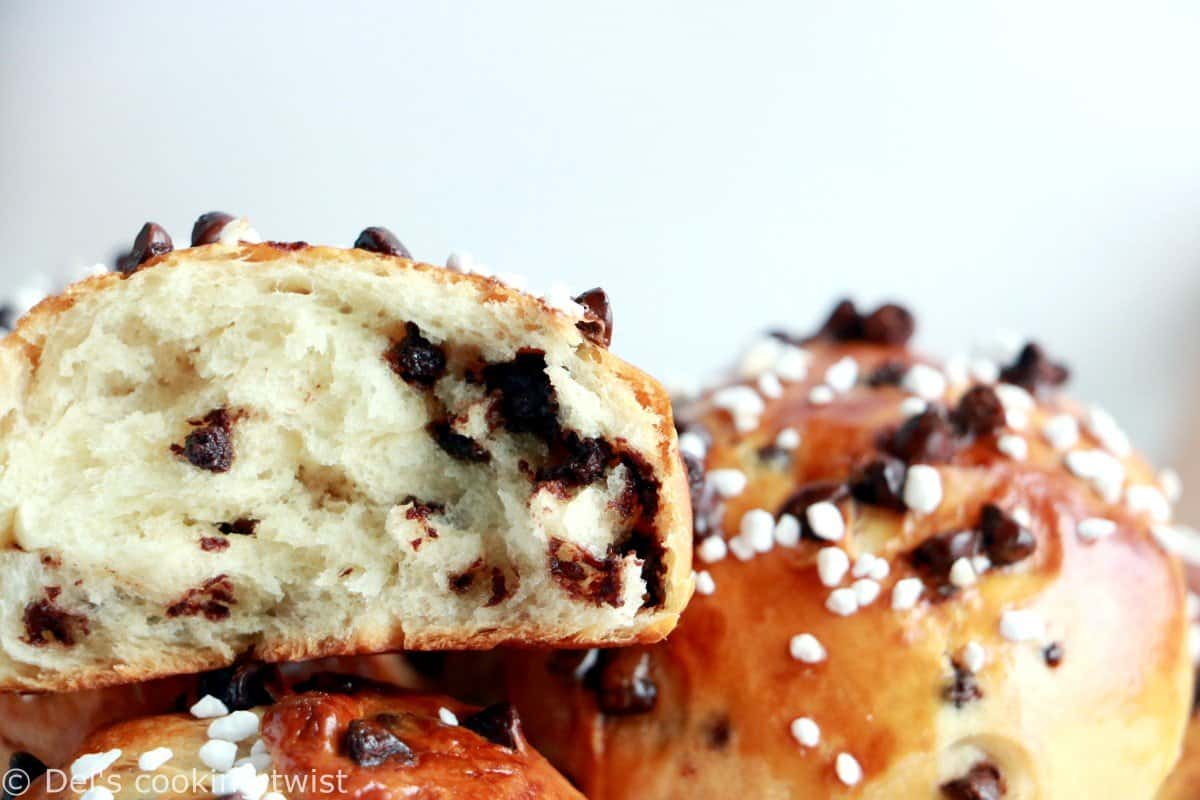 More baking goods with chocolate chips:
Lastly, if you make these easy chocolate chip brioche buns, be sure to leave a comment and/or give this recipe a rating, letting me know how you liked it. And of course, don't forget to tag me on Instagram! Thank you and enjoy!
Print
Easy Chocolate Brioche Buns
Author:

Prep Time:

12 hours

Cook Time:

15 mins

Total Time:

12 hours 15 mins

Yield:

16

brioches

1

x

Category:

Breads and brioches

Cuisine:

French
---
Description
Easy chocolate brioche buns are a perfect addition to your breakfast basket. They are soft, pillowy, and loaded with chocolate chips.
---
20g

fresh yeast (or

10g

active dry yeast)

4 1/4 cups

(

500g

) all-purpose flour

1/2 cup

(

100g

) sugar

1 teaspoon

salt

1

egg

2 Tablespoons

orange flower water

1 cup

+ 1 Tablespoon (

25

cl) milk, lukewarm

1/4 cup

(

60g

) butter, softened at room temperature

1 cup

(approx.

200g

) chocolate chips

1

yolk +

1 Tablespoon

milk, for brushing
---
Instructions
Sprinkle fresh yeast in a small bowl and stir with one or two tablespoons lukewarm milk and a little bit of sugar too. Set aside for about 10 minutes.
In a large mixing bowl or in a food processor, combine the flour with sugar and salt. Make a well in the center and add the egg, orange flower water, yeast and milk.
Stir well, then knead the dough for about 20 minutes by hand, or 10-15 minutes in a food processor until smooth. Add the softened butter, diced, then continue kneading until well incorporated. The dough must be smooth and slightly sticky.
If the dough is a little bit warm, let cool for a few minutes at room temperature, then add the chocolate chips and spread evenly in the dough.
Cover the dough with a cloth and let rise at room temperature for about 1 hour or until the dough has doubled in size.
When the dough is ready, punch it a little bit to remove any air bubbles. Place the dough back in the bowl, cover with cling film, and place in the refrigerator for about 3 hours or ideally overnight.
Divide the dough into segments of 2.3 oz (65g) each and shape into small balls, rolling them smoothly with your hand on a lightly flour surface. Do not overwork or the chocolate will melt.
Brush with the yolk-milk mixture, cover, and let rise for 1 hour.
Preheat the oven to 350°F (180°C) and brush one more time with the yolk-milk mixture. Bake for about 15-20 minutes, or until the brioche are golden-brown. Transfer to a rack and let cool completely.
Shop the recipe

Here are a few items I used for this recipe:
KitchenAid Artisan | Stainless Steel Measuring Cups | Measuring Spoons | Platinum Professional Bakeware | Cookie Sheet Baking Mat | Nonstick Cooling Rack
Some of the links above are affiliate links, which pay me a small commission for my referral at no extra cost to you! Thank you for supporting Del's cooking twist.