A wonderful alternative to the classic pizza to make you eat more veggies. And still delicious!
A few days only after sharing with you my roasted beet pesto on the blog, I am now back with a wonderful veggie recipe involving this pesto. For you today, I prepared a beet pizza with a cauliflower crust!
We all love pizza, don't we? However, sometimes we can be a bit tired of them. Of course the toppings can vary from one another, but often the base is pretty much the same, consisting in a wheat flour crust topped with a layer of tomato sauce and some cheese.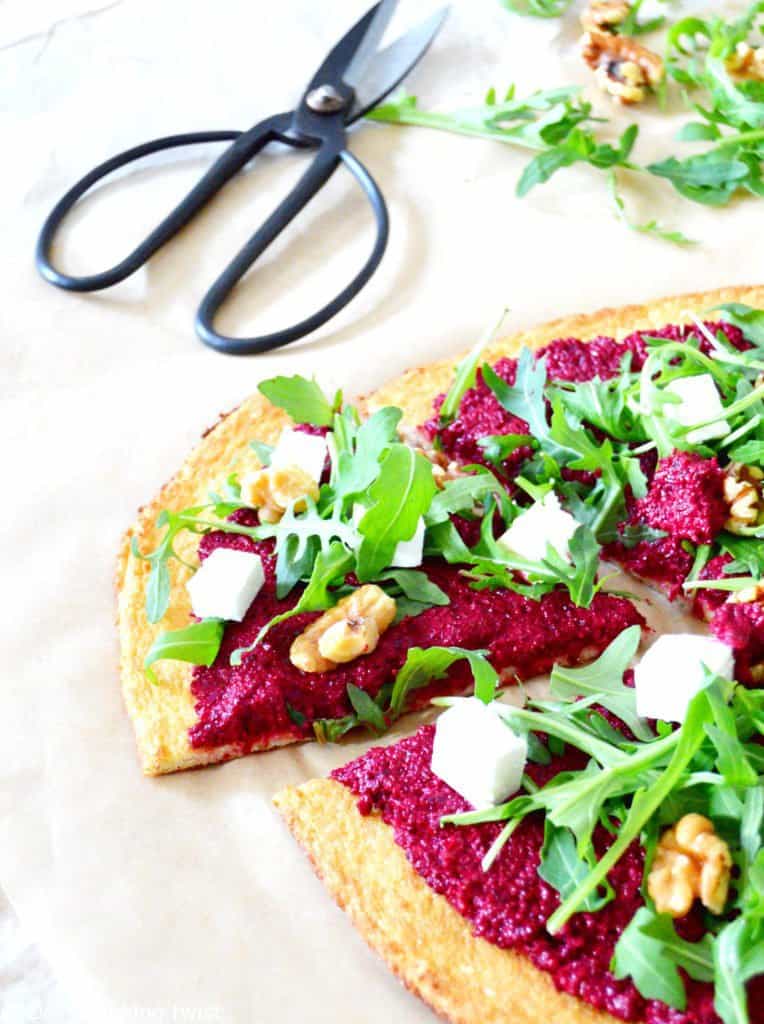 I have tried different crusts though: very thin ones, thick ones, the famous deep dish pizza of Chicago (yum), or the wheat flour crust as you can find in my Fig & goat cheese pizza (if you haven't tried it yet, don't wait any longer, this recipe is just awesome)!
And now, I have tried a totally different one: a cauliflower crust. I was first introduced to cauliflower "rice" over a year ago through my dear friend Thierry, who always comes up with good healthy tips in terms of nutrition and training. I liked cauliflower "rice" immediately, and it's a fantastic idea to make you eat more veggies! To make it, it's very simple, and your best friend is your food processor: this is basically all you need to turn your florets into a thin sand-texture aspect.
Later on, I discovered a cauliflower pizza made out of this cauliflower "rice", while flipping out the pages of Green Kitchen Stories' first cookbook – if you don't know Green Kitchen Stories yet, head on over their blog (or their cookbooks, they are awesome) and get introduced to new innovative veggie recipes from all over the world.
I got inspired from their cauliflower pizza crust recipe, and added some chickpea flour to mine, in order to get a more pizza dough look-alike effect. This naturally gluten free dough is very easy, ready in 5 minutes (no need for the dough to raise), and makes two medium-sized pizzas.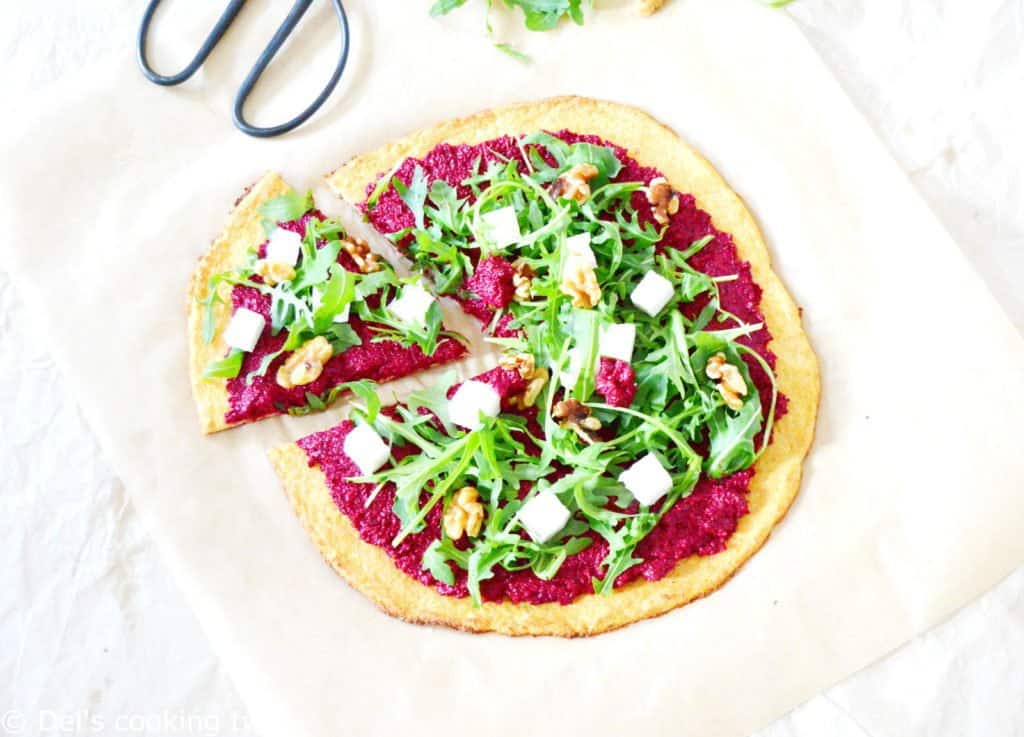 I first baked the crust, and then I spread a generous layer of my roasted beet pesto that I had made earlier, instead of the usual combo tomato sauce/cheese. Prepared with walnuts and beets, this pesto makes the pizza more fulfilling than a regular pizza, and you probably won't need more than a slice or two, instead of eating the entire pizza for yourself.
Some people prefer to enjoy the beet pesto "raw" onto the baked cauliflower crust, while other would prefer it baked. Personally, I think both options work equally good, although I go more often for the second one, spreading first the pesto, then topping with feta cheese, before baking for a few more minutes in the oven. Before serving, I add some arugula salad on top with toasted walnuts. A wonderful veggie experience!
And if you like cauliflower as much as I do, here are some recipes you definitely need to try:
Print
Veggie Beet Pizza with Cauliflower Crust
Author:

Prep Time:

30 mins

Cook Time:

30 mins

Total Time:

1 hour

Yield:

2

pizzas

1

x

Category:

Savory

Cuisine:

Plant-based
---
Description
A wonderful alternative to the classic pizza to make you eat more veggies. And still delicious!
---
Cauliflower crust (makes 2 crusts):
4 1/2 cups

(

18 oz

) cauliflower, cut into florets

1/2 cup

chickpea flour

1

large clove garlic, crushed

1

pinch of salt

1 Tablespoon

extra-virgin olive oil

2

large eggs
Roasted Beet Pesto
Recipe below the instructions
Topping:
1/2 cup

(

75g

) walnuts

5 oz

(

150g

) feta cheese, diced
Arugula (or spinach)

1 Tablespoon

olive oil
---
Instructions
Preheat the oven to 400°F (200°C) and line 2 baking trays with parchment paper.
Put the cauliflower florets into a food processor in 2 batches, and pulse until cauliflower "rice" forms.
Transfer the cauliflower "rice" into a medium-sized bowl, and place in the microwave on high, about 3-4 minutes. Set aside and cool.
Add the chickpea flour, crushed garlic, salt and one tablespoon of olive oil. Add the eggs and stir until well combined.
Spread half of the dough onto the baking sheet with a spatula, and form a large circle. Repeat with the other half and the second baking sheet.
Bake until cooked through and golden-brown, about 30-40 minutes depending on the oven. Transfer carefully the baking sheets with the cauliflower crust on a rack and let cool.
In the meantime, prepare the roasted beet pesto.
Toast the walnuts with one tablespoon of oil in a frying pan, until golden brown.
Spread the beet pesto onto each pizza crust, top with feta cheese, and bake for 10 more minutes (cover with foil to prevent the sides from burning).
Top with toasted walnuts and arugula, and drizzle some extra olive oil.
---
Notes
Find the roasted beet pesto here (or click on the picture below): http://www.delscookingtwist.com/2016/04/18/roasted-beet-pesto/
Get the Roasted Beet Pesto recipe here: