Tender cauliflower steaks roasted in the oven and seasoned with an irresistible spicy harissa tahini sauce. Sprinkle with chopped dates and pistachios and you've got it all. Vegan and gluten-free, this dish has a great meaty-texture and can be enjoyed as a main or as a side.
I get it, cauliflower can be pretty boring for many people. In France, it's one of the most hated veggie (alongside with brussels sprouts). And we easily understand why, since the most common way to prepare it is boiled or served with a bland bechamel. But when prepared the right way, cauliflower is a wonderful veggie, delicious (yes, I said it!), and incredibly versatile too!
In fact, cauliflower is probably one of the vegetables that inspires me the most in the kitchen. Cooked or raw, it makes a fantastic addition to just about any dish. You can use it to replace grains and legumes in your diet (this is especially helpful for those who follow low-carb diets), and it's a fantastic way to increase your veggie intake.
Cauliflower Steaks with Harissa Tahini Sauce
A few weeks ago, I ordered a cauliflower starter at True Food Kitchen, and loved it to bits. It was perfectly roasted and seasoned with a harissa tahini sauce, bringing a little spicy kick that was just irresistible.
Inspired by the dish I had in the restaurant, I made my own version of the recipe. I started with a base of cauliflower steaks roasted in the oven (check also my cauliflower steak recipe) with some spices, and then drizzled with a generous harissa tahini sauce. I also added some dates and pistachios, for a sweet and crunchy bite. The dish has a great meaty texture that even non vegetarian will love, and the right seasoning with a little spicy kick. It's easy to make, and a hit every time I serve it to my guests – even when they swear they don't like cauliflower!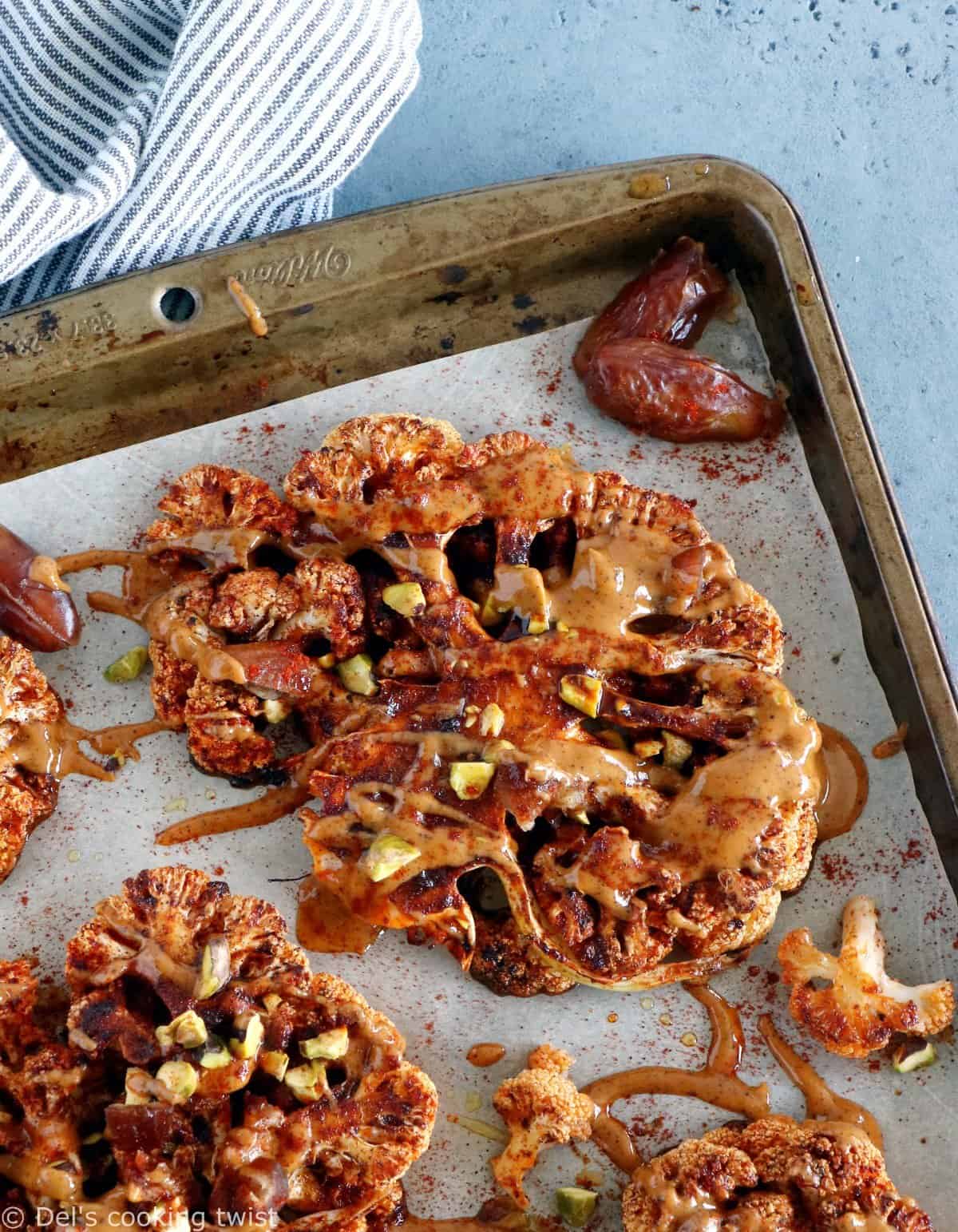 What is harissa?
Harissa is a Maghrebi hot chili pepper paste prepared with roasted red peppers, Baklouti pepper, serrano peppers and other hot chili peppers, seasoned with a mix of spices and herbs (coriander seeds, saffron, rose, or caraway), garlic paste and some some vegetable oil for preservation.
You can find it as a paste in a jar or in a tube, or dehydrated (as a spice mix). For the dehydrated version, you just need to add oil and water to re-hydrate it and create this "paste".
How to make cauliflower steaks with harissa?
Cut your whole cauliflower into thick slices, making "steaks" out of it.
Season with oil, paprika, garlic, salt and pepper, and roast in the oven.
Meanwhile, prepare the harissa tahini sauce.
Drizzle the harissa tahini sauce over the cauliflower steaks, add dates and pistachios, and enjoy!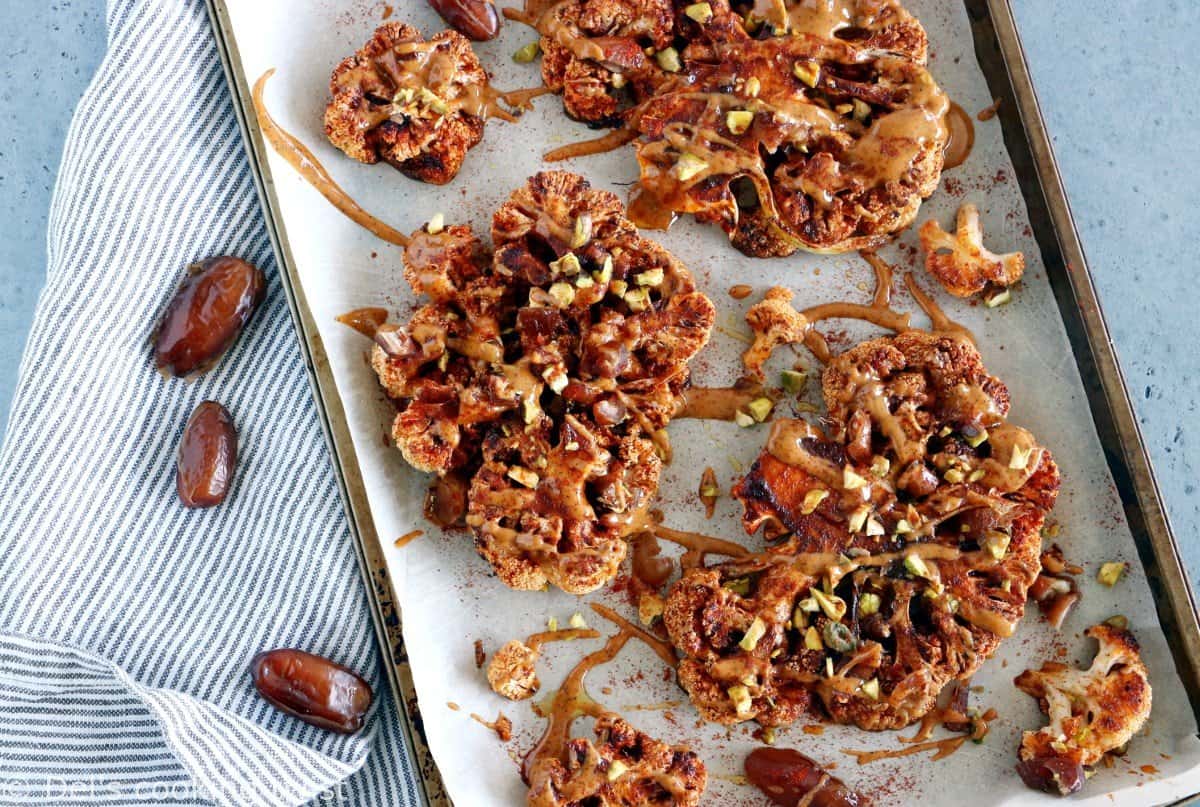 How to serve these cauliflower steaks?
This cauliflower steaks with harissa tahini sauce makes a great main for vegetarians and vegans, thanks to its meaty texture. Non-vegetarians and other flexitarians will also like it as a side.
Also, because of its sweet and spicy flavors, do not overpower with another strong dish, as you want to keep this one the star of the show. Just a simple side of lettuce or some couscous to make a full meal would do the trick.
Nutritional value
Cauliflower provides some powerful health benefits. High in fiber, it is a great source of nutrients, including a few that many people need more of. Cauliflower also contains unique antioxidants that may reduce inflammation and protect against several diseases, such as cancer and heart disease.
Now does that make this dish healthy? Yes and no. Yes, because it's a veggie-based dish, fiber-rich, and also because tahini is packed with vitamins, protein, and healthy fats. But if you are watching your sugar level closely, I recommend you stay off the dates if necessary, or ask your doctor if any doubt. Note that these cauliflower steaks with harissa are also vegan and gluten-free.
More original cauliflower recipes for you to try:
To go further, make sure you check my 5 Fun and Heathy Ways to Cook with Cauliflower.
Lastly, if you make these Cauliflower Steaks with Harissa Tahini Sauce, be sure to leave a comment and/or give this recipe a rating, letting me know how you liked it. And of course, don't forget to tag me on Instagram! Thank you and enjoy!
Print
Cauliflower Steaks with Harissa Tahini Sauce (vegan, gluten-free)
Author:

Prep Time:

15 mins

Cook Time:

30 mins

Total Time:

45 mins

Yield:

4

servings

1

x

Category:

Vegan
---
Description
Tender cauliflower steaks roasted in the oven and seasoned with a spicy harissa tahini sauce. Sprinkle with chopped dates and pistachios and you've got it all!
---
For the cauliflower:
2

large cauliflowers

2 Tablespoons

olive oil

1 Tablespoon

smoked paprika

2

garlic cloves, minced

5

small dates, pitted and diced

2 Tablespoons

pistachios, roughly chopped
For the sauce:
1/3 cup

(

75g

) tahini

1

–

2

Tablespoons olive oil

1

lemon, zest and juice

1 Tablespoon

harissa

1 teaspoon

paprika
Salt and pepper

1

–

2

Tablespoons water
---
Instructions
Preheat the oven to 350°F (180°C), and line a baking sheet with parchment paper.
For the cauliflower:
Remove the leaves from the cauliflowers and trim the base so they sit flat on a board. Cut 2 to 4 thick slices out of the centre of each – about 1-inch (3cm) thick.*
Arrange the 'steaks' on the prepared baking sheet and brush with olive oil. Sprinkle some paprika and garlic all over, season with salt and pepper, and bake for 15 minutes. Top the cauliflower steaks with the diced dates and chopped pistachios, and bake for another 15-20 minutes until tender and cooked through.
For the harissa tahini sauce:
In a small bowl, whisk the tahini with lemon zest and juice, olive oil, harissa, paprika, salt and pepper. Add water until smooth and thin consistency.
When the cauliflower steaks are ready, drizzle the harissa tahini sauce over, and serve immediately.
---
Notes
* You can use cauliflower leftovers for a salad or a cauliflower rice.