Homemade lemon curd recipe is incredibly easy to prepare. With only 4 ingredients, you get a perfectly sweet and tangy flavor with such a creamy texture. The perfect spread with scones, cakes and pancakes.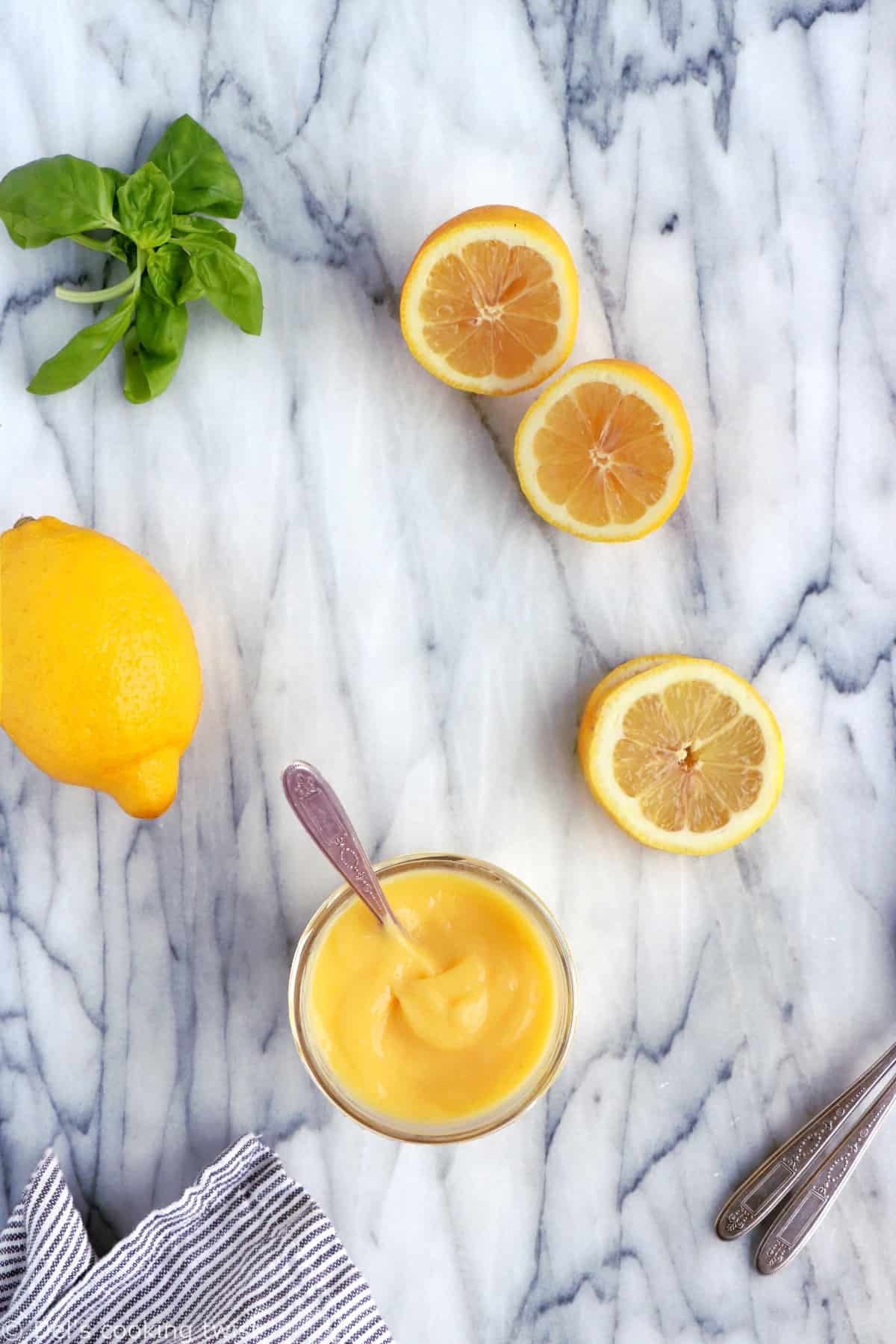 Forget all store-bought lemon curds and learn how to prepare it from scratch instead. This British spread is a wonderful addition to your desserts or to serve with berries and is way easier to make than it seems. And of course, no need to say that it tastes way better than a store-bought one. To all lemon meringue pie lovers, this foolproof recipe is for you!
4 simple ingredients
The recipe calls for just a handful of ingredients that you probably all have at home on a regular basis:
Fresh lemons – You will need both the juice and the zest.
Butter – I prefer unsalted butter for the success of the recipe.
Eggs – I use whole eggs for my curd, so you don't need to worry about separating the yolk from the white.
Sugar – I use here white sugar (granulated sugar), which I find gives best results.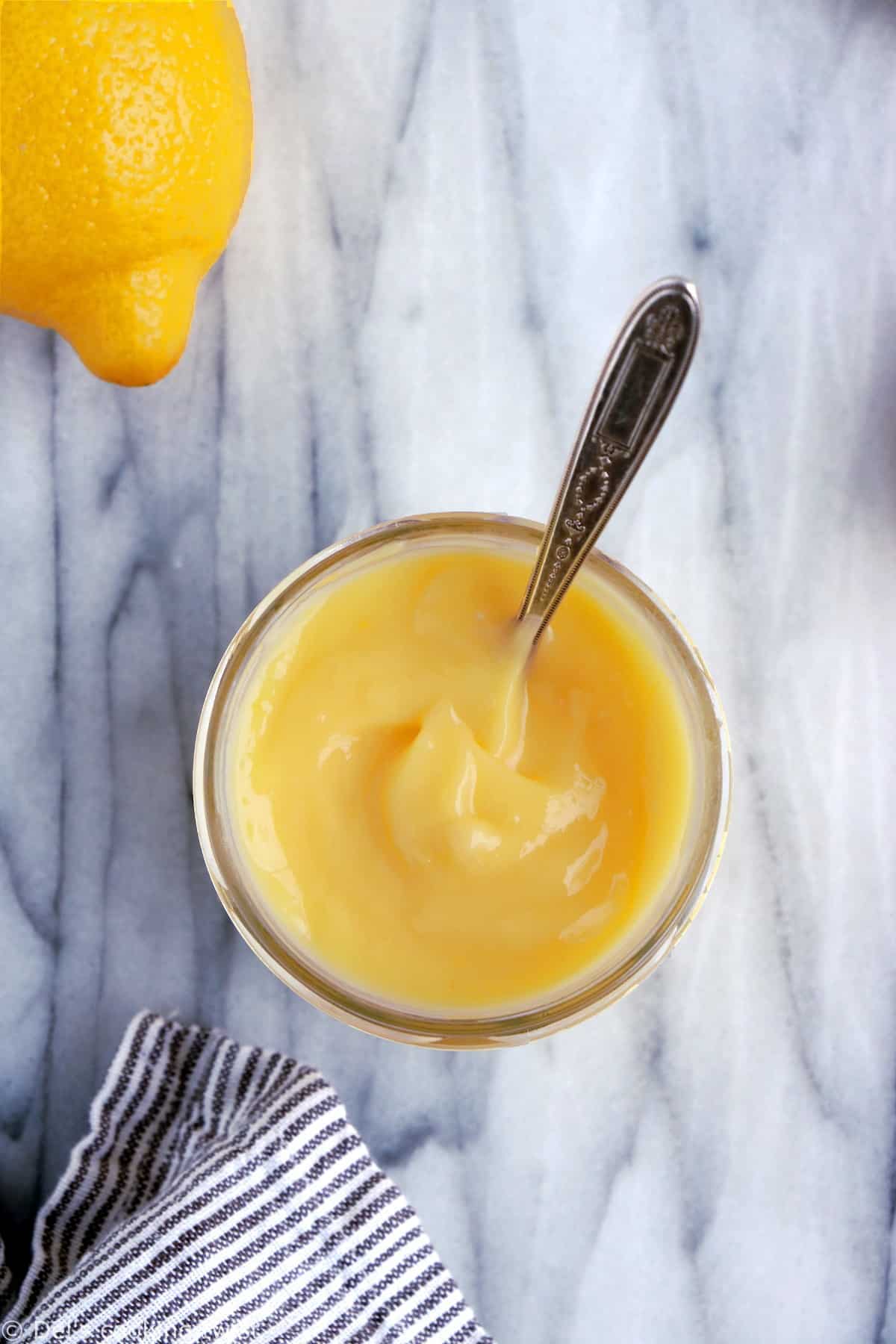 A few words about the lemons. Because you will use the zest, make sure your lemons are organic and untreated. Also, you might wonder about the ideal size of the lemons. I do not find necessary to measure the exact quantity of lemon juice you will need here, because it can vary a little bit but still gives good results. So my recommendation in this matter is to use medium size lemons, that can almost hold entirely in your hands. If slightly bigger, it's still ok but avoid large lemons.
How to make lemon curd?
I said it before and I will repeat myself: it's easy! That being said, I confess I got lazy the other day and was ready to purchase a jar of lemon curd in my grocery store. But they were out of lemon curd! So, because I had planned a recipe to use it (actually cream puffs with berries and whipped cream), I agreed to make my own. Once it was done, I smiled at myself and wondered why I wanted to purchase it on the first place. It's so easy, so creamy, so flavorful. It is really worth the (almost no) effort!
First, prepare your cooking tools. Make sure you use a mixing bowl that is resistant to high temperature, as you will use it for your water bath. You will also need a saucepan, a whisk, a zester and that's pretty much it! When you're ready with your tools, jump into the recipe!
1. Start with beating the eggs, and mix in the other ingredients: sugar, softened butter, lemon juice and zests.
2. Then prepare a water-bath i.e. heat some water in a saucepan (not higher than half of the pan) on medium heat, and simply place the glass bowl over it.
3. Keep whisking constantly while cooking on low-medium heat, until texture thickens. You want to stop just at the right moment: when your texture is smooth, creamy and slightly covers a spoon. Don't over cook or you will end up with lumps. Transfer into a jar and let cool completely before using and/or refrigerate.
What if I get lumps in my lemon curd?
Don't worry, there's an easy trick that can reverse the result of the lemon curd. Simply grab an immersion blender and mix until the texture is smooth again. Easy, right?
A few ideas to use lemon curd:
Other lemon recipes you might also like: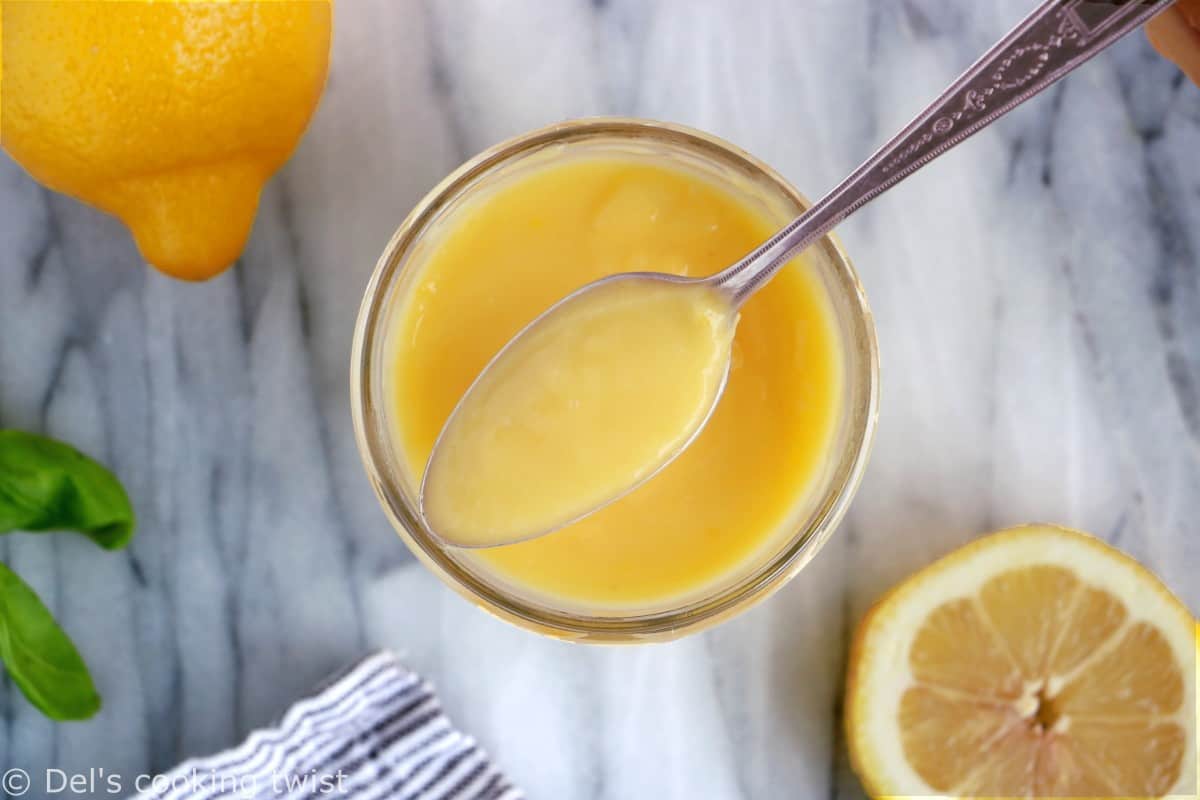 Now it's your turn to shine! Go grab some lemons, butter, sugar and eggs, and let the magic happen. You'll thank me later!
Print
Homemade Lemon Curd
Author:

Prep Time:

2 mins

Total Time:

15 mins

Yield:

1

jar

1

x

Category:

Desserts

Diet:

Gluten Free
---
Description
Homemade lemon curd recipe is incredibly easy to prepare. With only 5 ingredients, you get a perfectly sweet and tangy flavor with such a creamy texture. The perfect spread with scones, cakes and pancakes.
---
2

medium lemons*, juice and zest

4

large eggs

1/3 cup

(

80g

) unsalted butter, softened at room temperature and diced

3/4 cups

(

150g

) white sugar
---
Instructions
Wash the lemons, grate the zests and press the juice. When zesting, make sure you do not remove the white flesh, which gives bitterness.
Beat the eggs in a medium glass mixing bowl. Whisk in the lemon juice, zests, butter and sugar.
Heat the bowl in a water-bath (bain-marie) in a larger saucepan filled with some water until the the half. Whisk the mixture regularly for 20 minutes until it thickens.
Once the texture thickened, pour into a glass jar and cool completely. Then place the jar in the fridge and close it well, so that you can keep the lemon curd a few weeks before using it.
---
Notes
* Because you will need to use the zest as well, make sure you choose organic, untreated lemons.
Keywords: homemade lemon curd