These 5-star review easy fluffy American pancakes are the BEST pancake recipe you can possibly find. With only 6 ingredients and 2 minutes preparation, you get generous and fluffy pancakes with no effort. These pancakes make hands down the best easy breakfast or brunch recipe for the entire family.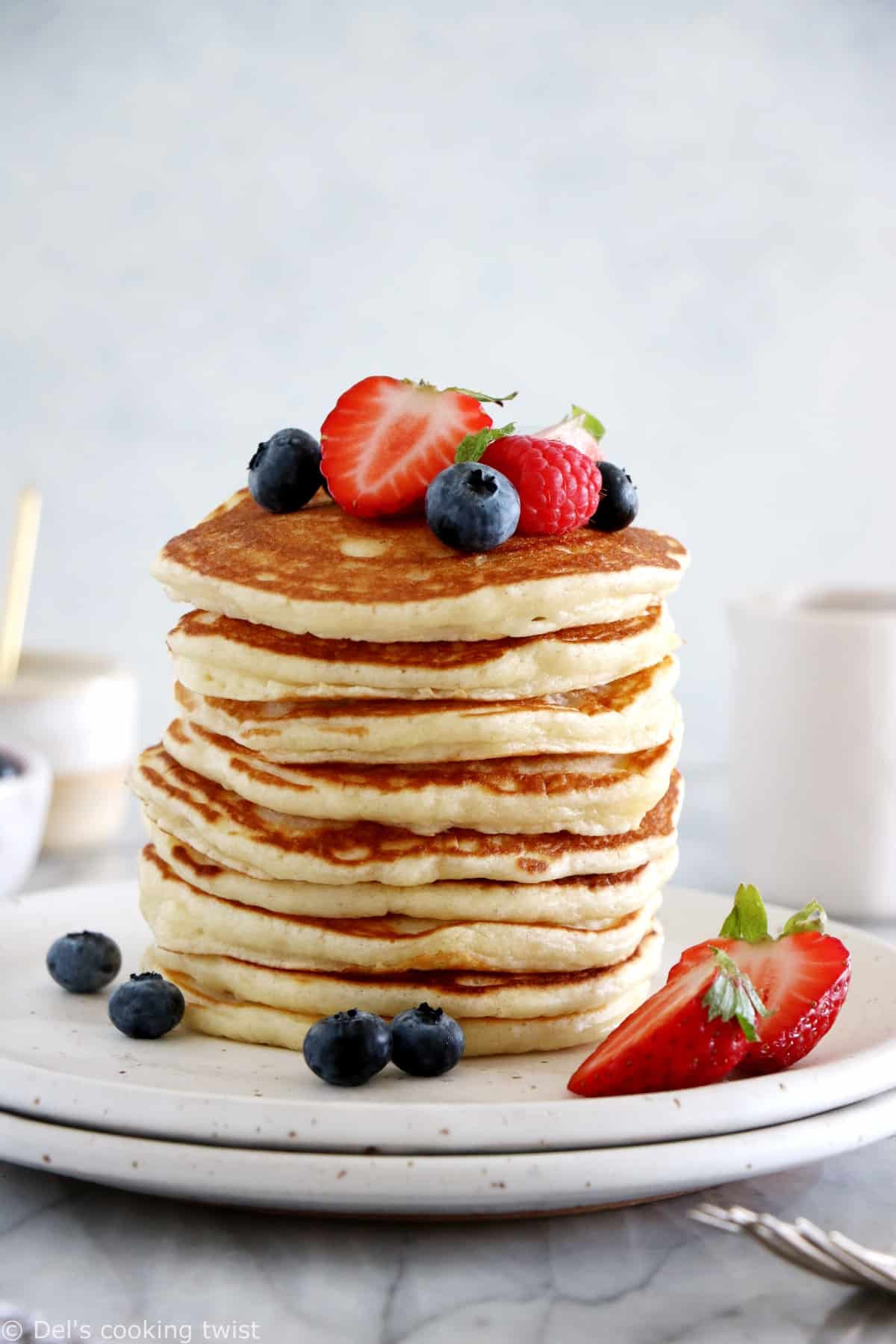 The easiest pancake recipe
I love everything about these pancakes. First, they are extremely quick and easy to prepare, with only a few basic ingredients that everyone has at hand (yes everyone: egg, milk, flour, sugar, baking powder – that's it!). Also, they turn out perfect every single time, with a lovely small round shape, and an amazing light and fluffy texture. And finally, they make me hungry as soon as I see them! Look no further. This is the one and only recipe you need!
We all need a basic pancake recipe that is your lazy Sunday go-to breakfast when you are just craving fluffy pancakes. Something easy and quick to make. With a long week behind me, I often happen to be tired, and for these lazy mornings, this easy breakfast recipe is just perfect.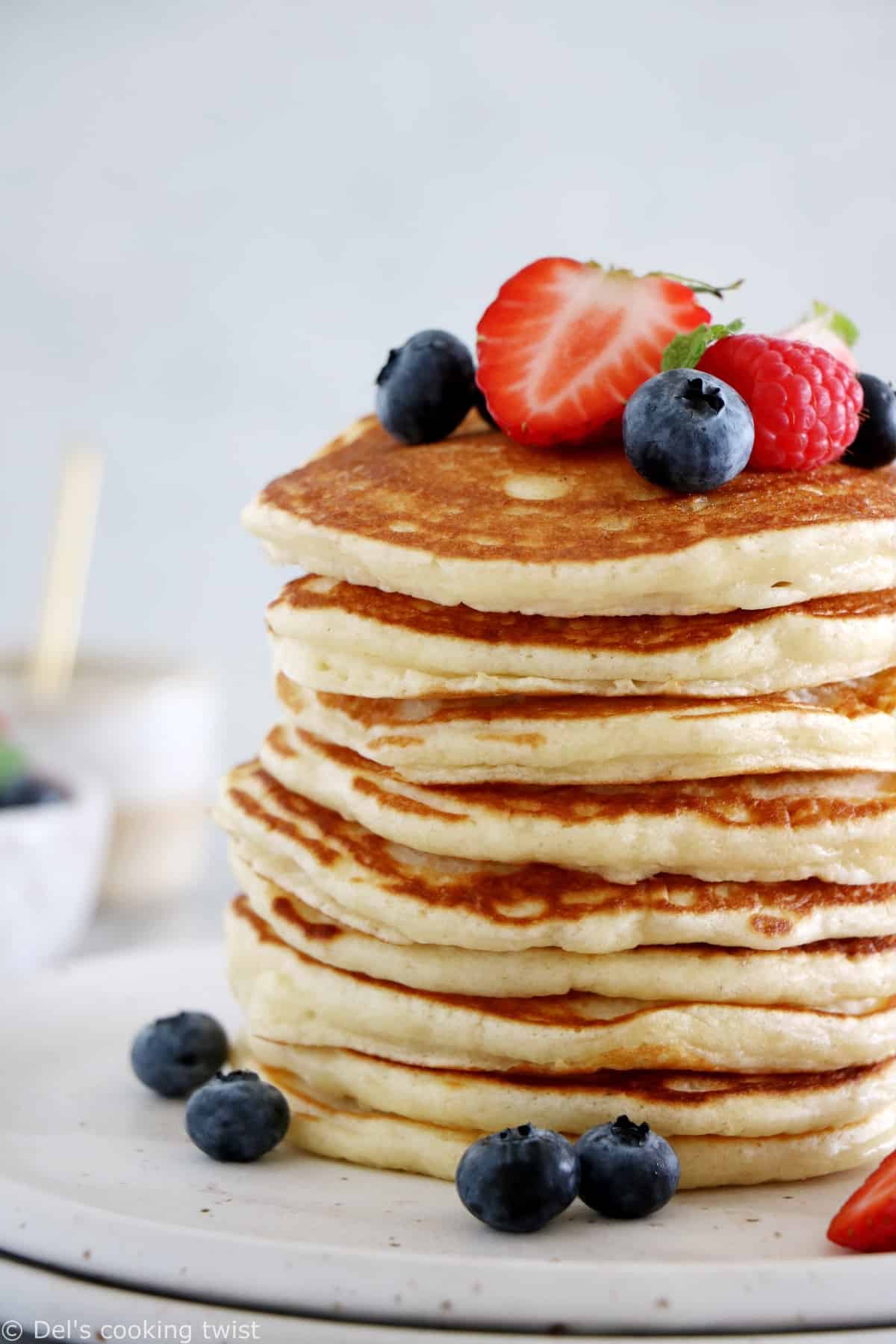 Why you will love these pancakes:
Quick and easy to prepare ✔
A few basic ingredients ✔
Fluffy and generous ✔
Melt in your mouth ✔
A no-fail pancake recipe ✔
Ingredients you need to make these fluffy pancakes
You only need a few basic ingredients, to make the magic happen and create beautiful and generous pancakes. Chances are that you already have all these ingredients at hand, so you really have no excuse not to treat yourself to a delicious stack of pancakes for breakfast.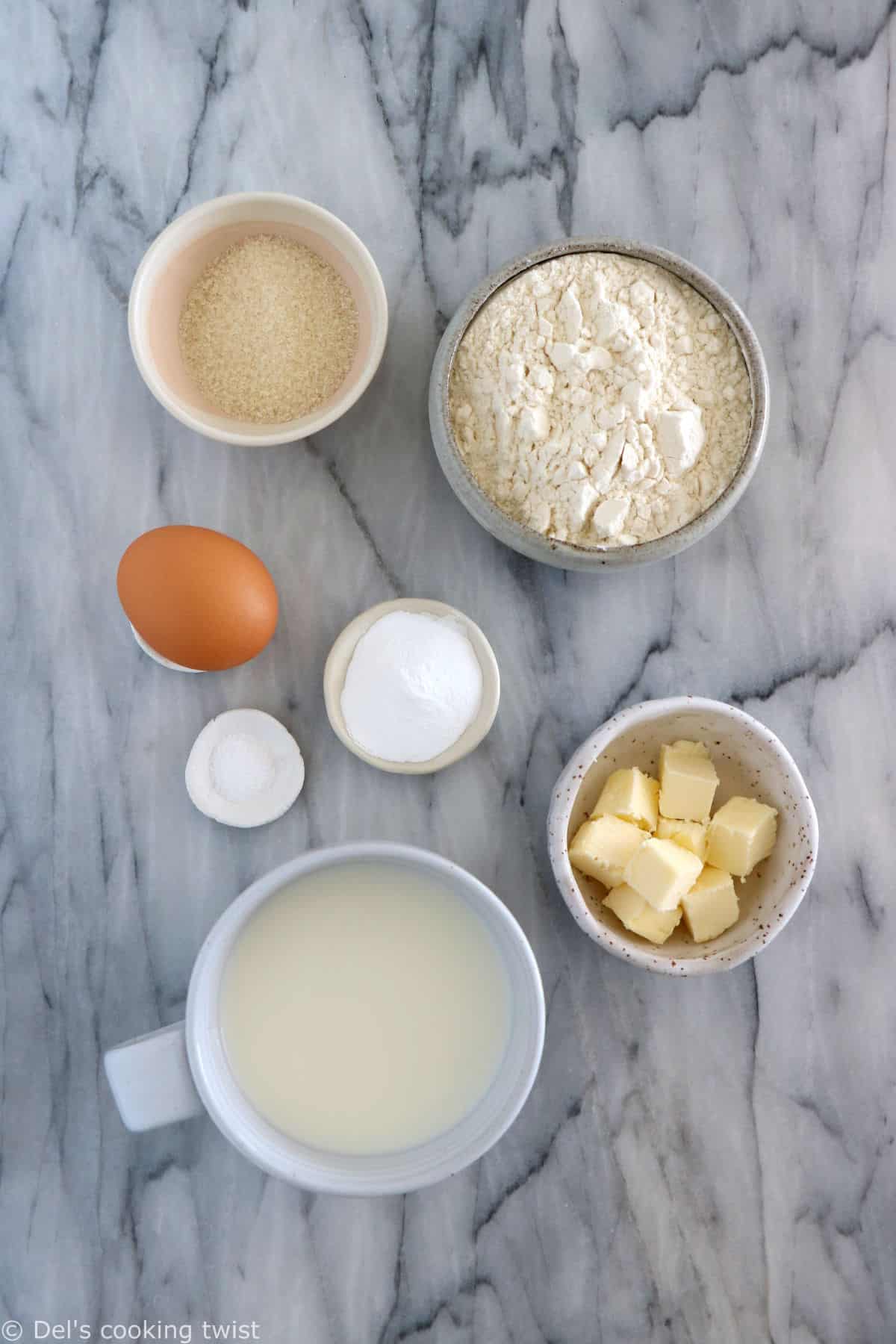 Here's what you need to make these fluffy pancakes:
All-purpose flour. Use plain, all-purpose flour in this pancake recipe.
Baking powder. This is the leavening agent that will make your pancakes to rise. Do not skip it, and double check the expiration date before using (in many cases, flat pancakes can result from the use of old baking powder).
Sugar. It's mostly used here as a sweetener in the pancakes, and it also participates to the texture. If for healthy reasons you want to omit the sugar in the recipe, feel free to do so.
Salt. Not only salt is a flavor enhancer but it also affects the tenderness of your pancakes.
Milk. I recommend the use of whole milk or 2% milk for best results. Non dairy milk works too.
Melted butter (or vegetable oil). I always use melted unsalted butter in my pancakes. It gives them a subtle nutty flavor. You may also want to use vegetable oil, neutral in taste, instead of melted butter (like canola oil or sunflower oil).
Egg. The egg makes your pancakes moist and tender. For fluffier pancakes, use a room temperature egg (versus a refrigerated one).
Possible add-ons. You can also flavor your pancake batter with a hint of cinnamon or a splash of vanilla extract.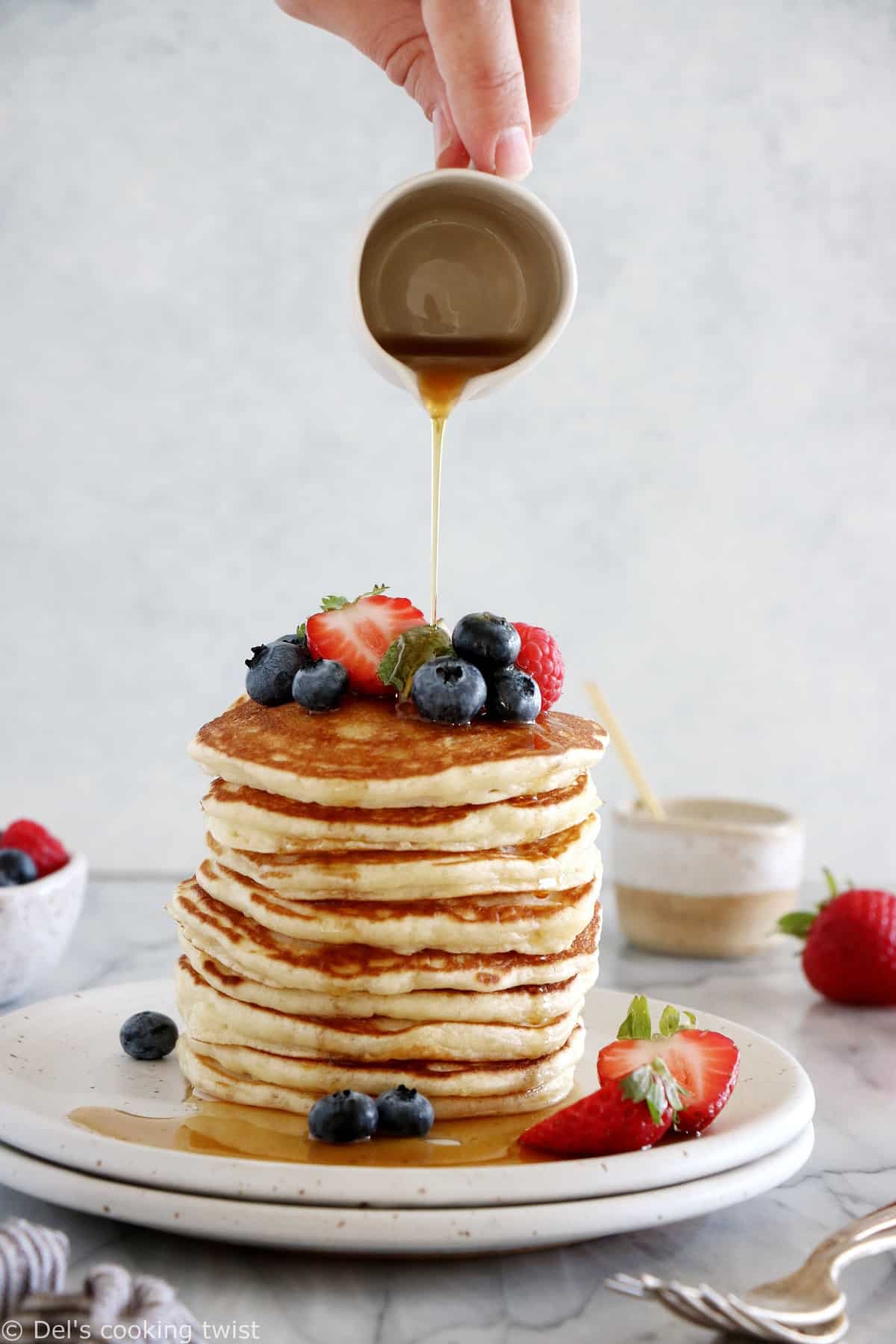 How to make the best fluffy pancakes ?
We all love fluffy pancakes, but sometimes our pancakes turn out flat and thin. This is how I make my pancakes in just a few easy steps:
Mix all the dry ingredients in a bowl.
Whisk the wet ingredients in a separate bowl, then add the dry ingredients to the wet ones and mix and stir until just combined (do not overmix). My secret: let the batter sit for a minute or two. It will allow the baking powder to activate and make your pancakes fluffy.
Heat oil or butter in a skillet or griddle and once hot, drop two or three Tablespoons of the batter for each pancake, making sure the pancakes do not spread out. Cook for a minute, until fluffy. Flip, and cook on the other side for another minute. And voilà! Here to some perfect fluffy pancakes in NO TIME!
How to cook pancakes perfectly?
Do NOT overmix the batter. When you add the wet ingredients to the dry ingredients, stir until just combined, not more. This will guarantee fluffier pancakes. When overmixing, the gluten in the flour can form elastic gluten strands, resulting in a more dense, chewy texture.
Bring the eggs at room temperature before using.
Let the batter rest for a few minutes before cooking the pancakes.
Use a nonstick pan (or better, an electric griddle if possible).
Cook on low-medium heat, and make sure you have even heat while cooking the pancakes. Fluffier pancakes are the result of slow cooking.
Lightly grease your pan with vegetable oil, or nonstick spray between each pancakes.
The perfect flip! In order to flip the pancake perfectly, don't rush your pancakes. You'll know they're ready when bubbles start to form and pop on the top (the uncooked side). To get a perfect flip without batter sliding around, be sure to purposefully shove your spatula all the way underneath and turn them over in a quick, confident move.
What to serve with pancakes?
There are so many ways to enjoy pancakes and make your breakfast a feast! I always top my pancakes with a knob of butte, which melts instantly over the warm pancakes and bring a subtle nutty flavor. Then, use any topping of your choice. A few options to consider:
Maple syrup! Pancakes and maple syrup is the ultimate combo. Because these pancakes are so fluffy, they absorb the maple syrup right away, bringing a subtle sweet touch.
Fresh berries (Strawberries, raspberries, blueberries…).
Sliced bananas. For even more flavors, you can caramelize the bananas with butter, sugar, and vanilla (or cinnamon) beforehand. Delicious!
Chocolate chips. You can add them on top of your pancakes OR add them to the pancakes while they are cooking on their first side in the skillet or griddle. This way, you are sure to have chocolate chips evenly spread out!
Nut butter. I love adding a dollop of peanut butter, cashew butter or almond butter on top of warm pancakes. It makes them extra nutritious and they taste awesome!
Nuts. Pecans, slivered almonds, walnuts… Nuts add an irresistible crunchy texture to your pancakes!
You can also add some toppings to the batter directly! Consider using blueberries, chocolate chips, pecan nuts, chopped macadamia nuts… I always add them once the pancakes are in the skillet to make sure they spread evenly in the batter (they also make your pancakes look gorgeous!).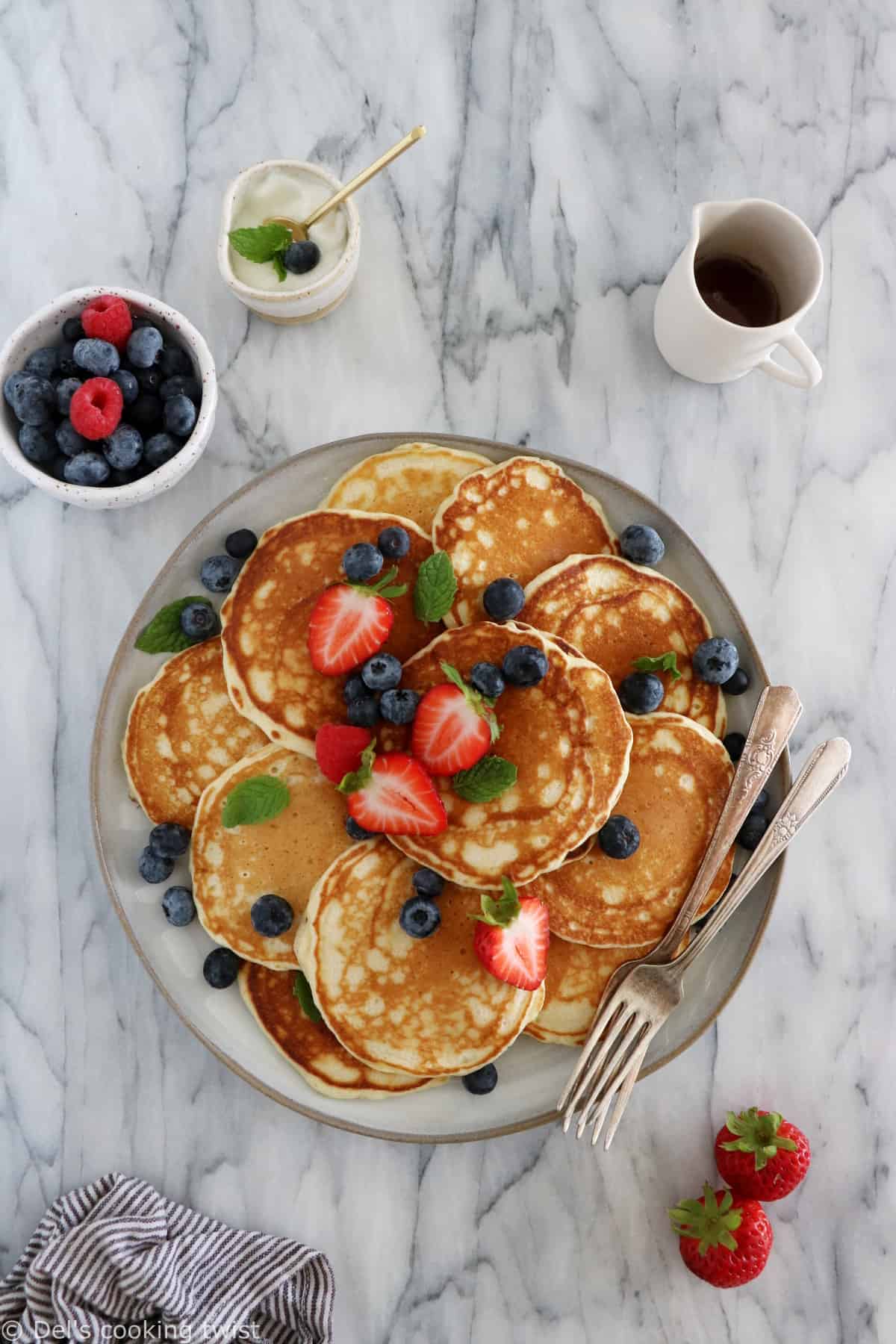 The secret to perfectly fluffy pancakes
To get perfectly fluffy pancakes DO NOT OVERMIX the batter. When adding the dry ingredient to the wet ones, mix until just combined. If you have a few lumps here and there, it's ok. Overmixing would result in very flat pancakes, you don't want that. Then, let sit for a couple of minutes to give baking powder time to activate and make your pancakes rise beautifully while cooking.
FAQs
Why are my pancakes not fluffy? If you notice that your pancakes didn't rise as expected, check the expiration date of your baking powder. If it's a little old or open for quite some time, it may not work as well as expected. But above all, always make sure you DO NOT OVERMIX the batter, this is the key to perfectly light and fluffy pancakes.
Can I make a buttermilk version? Absolutely! You can go for homemade buttermilk or store-bought buttermilk and use it instead of milk in this pancake recipe. Buttermilk will make your pancakes even more tender, moist and delicate.
May I use whole wheat flour instead? Yes, you can replace all-purpose flour with whole wheat flour in a 1:1 ratio. Or make my whole wheat pancake recipe, that yields even more pancakes!
How to make a dairy-free version? Simply use vegetable oil (canola, sunflower) instead of melted butter and replace milk with vegetable milk of choice (I recommend almond milk or oat milk).
Can I double/triple the recipe? For a family breakfast, consider using the scale in the recipe card below to double or triple the recipe. Yes, it's that easy!
How to store, freeze and reheat pancakes?
These pancakes keep in the refrigerator for a two to three days in a sealed container. If you want to freeze them, I recommend freezing your pancakes in two steps: freeze them separately in a single layer onto a baking sheet lined with parchment paper, then transfer them into a freezer-safe ziploc bag. This is the best way to ensure your pancakes won't stick together. Alternatively, you can stack them and place a sheet of parchment paper between each, then wrap the pancakes stack in foil. To reheat your pancakes, simply toast them straight from frozen or warm in the microwave for about 30 seconds to one minute.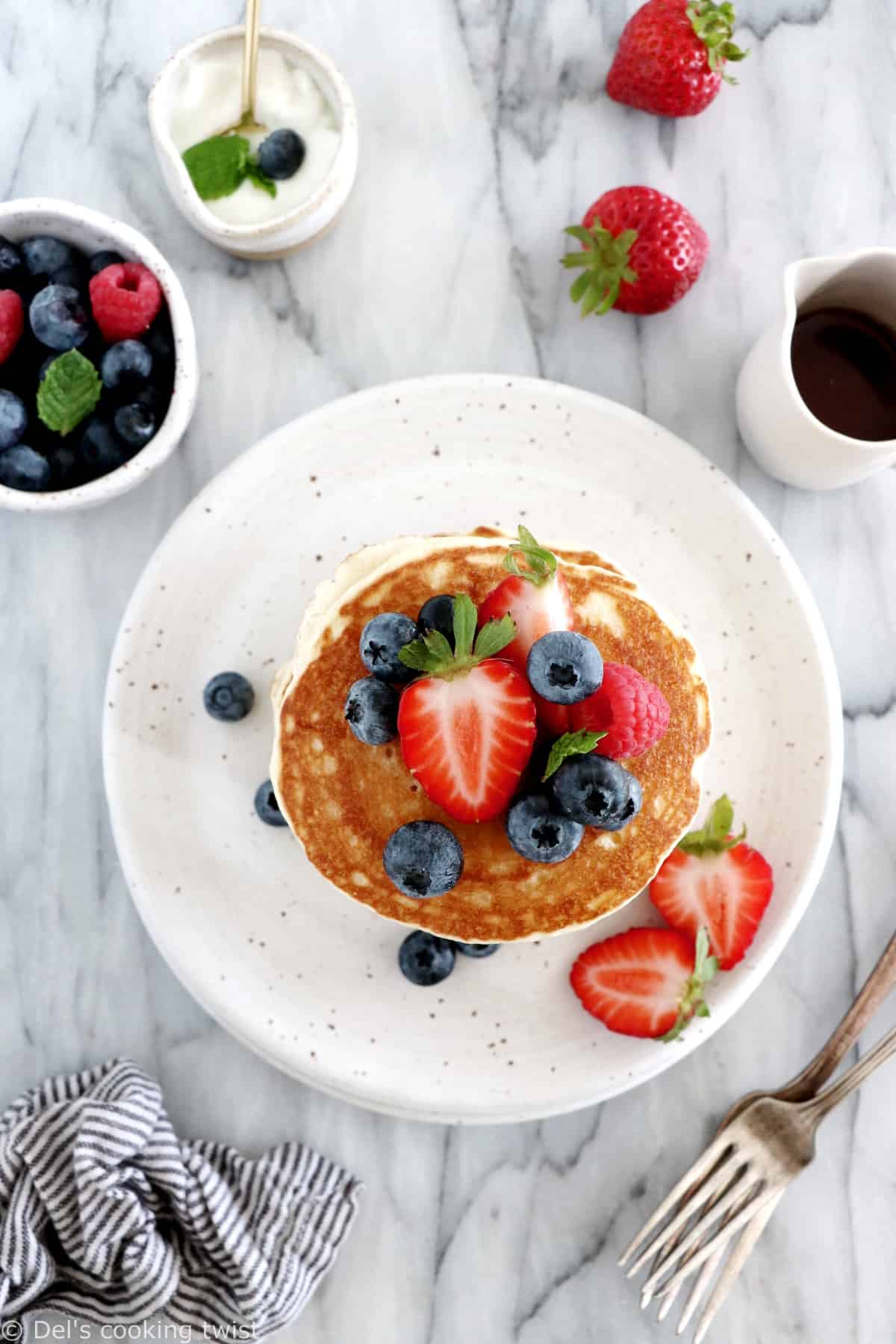 My other favorite pancake recipes:
Other breakfast recipes you should try:
If you are not in the mood for pancakes, here are a few other breakfast recipes that will get you off to the right start!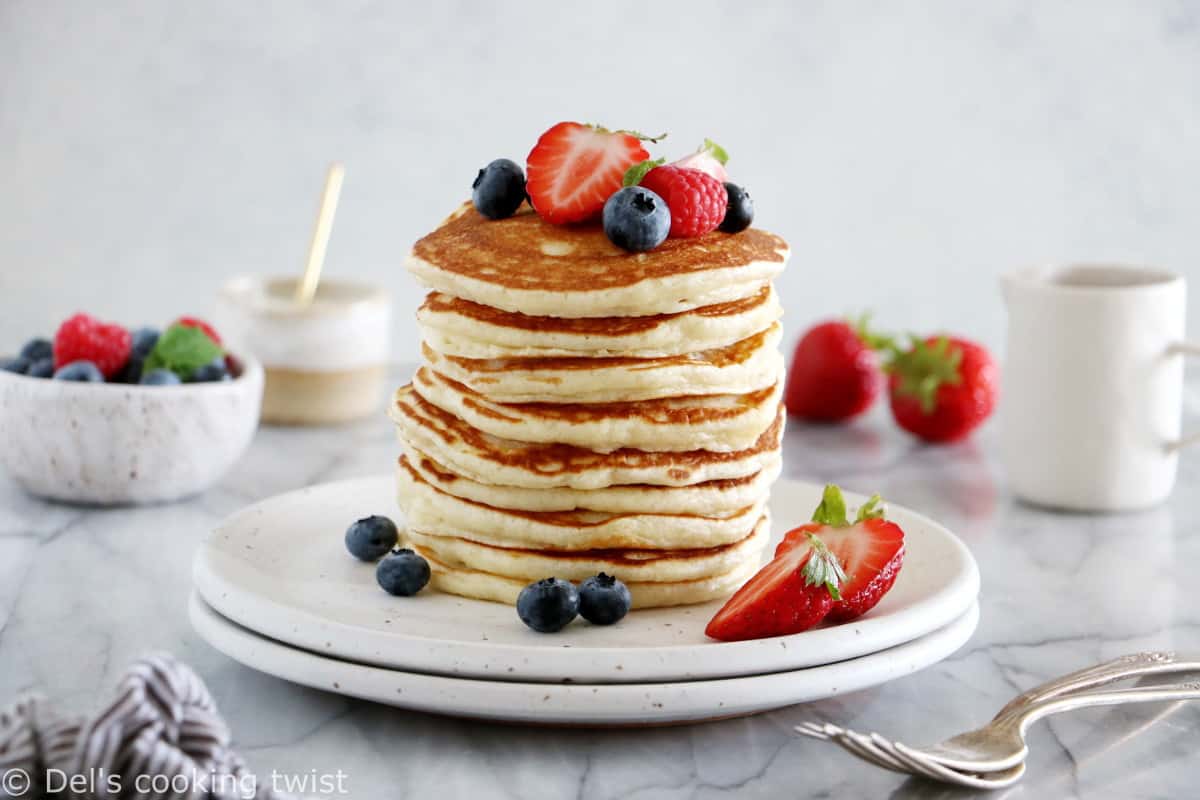 Print
Easy Fluffy American Pancakes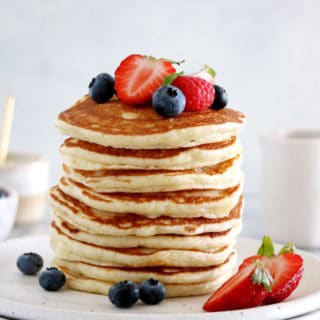 Author:
Prep Time:

5 mins

Cook Time:

15 mins

Total Time:

20 mins

Yield:

8

servings

1

x
Category:

Breakfast

Cuisine:

American recipes

Diet:

Vegetarian
These 5-star review easy fluffy American pancakes are the BEST pancake recipe you can possibly find. With only 6 ingredients and 2 minutes preparation, you get generous and fluffy pancakes with no effort.
1 cup

(

120g

) all-purpose flour

2 Tablespoons

sugar

2 teaspoons

baking powder

1

pinch of salt

1 cup

(

240

ml) milk

2 Tablespoons

melted butter or vegetable oil

1

large egg
Assorting toppings such as maple syrup, fresh berries, etc.
Instructions
Preheat the oven to 200°F (90°C), with a heatproof platter ready to keep cooked pancakes warm in the oven.
In a small bowl, whisk together flour, sugar, baking powder, and salt. Set aside.
In a medium bowl, whisk together milk, butter (or vegetable oil), and egg.
Pour the dry ingredients to the milk mixture, and stir (do not overmix).
Heat a large skillet or griddle over medium heat, and coat generously with vegetable oil.
For each pancake, spoon 2 or 3 Tablespoons of batter onto skillet. Cook until the surface of pancakes have some bubbles, about 1 minute. Flip carefully with a thin spatula, and cook until brown on the underside, 1 to 2 minutes more.
Transfer to the heatproof platter, cover with foil and keep warm in the oven until serving. Serve warm, with desired topping such as maple syrup, fresh berries or banana slices.
Notes
Note: Recipe originally published in Sept. 2016.
Nutrition
Serving Size:

1 pancake

Calories:

124

Sugar:

4.5g

Fat:

4.8g

Saturated Fat:

1.3g

Carbohydrates:

17.1g

Fiber:

0.5g

Protein:

3.4g

Cholesterol:

26mg
Keywords: Easy Fluffy Pancakes
Did you make this recipe?
Lastly, if you make this Easy Fluffy American Pancakes, be sure to leave a comment and give this recipe a rating, letting me know how you liked it. And of course, don't forget to tag me on Instagram! Thank you and enjoy!
Try also my Fluffy Banana Pancakes!
If you enjoyed these fluffy American pancakes, chances are high that you will also fall in love with these incredibly fluffy banana pancakes. Make sure you try them and serve them with a generous drizzle of maple syrup!