20+ Original Back-to-School Recipes include cozy breakfasts, healthy snacks on-the-go and other freezable baked good ideas kids love. Whether you're looking for American back-to-school recipe ideas or some French classics for your kiddos, you are sure to find a sweet happy place here. I hope you enjoy the journey!
Summer is coming to an end and I'm already embracing the new season with hope and happiness. Your little ones are going back to school, and it's the perfect time of the year to get back to baking and prepare some sweet comfort treats and other baked goods to enjoy after school.
And if you don't have kids or your kids are all grown-up, be reassured that these lovely baking goods will do great for breakfast too!
I divided this selection in 3 different categories:
Healthy Breakfasts and Snacks
When back-to-school is approaching, we are always looking for healthy options for a breakfast on-the-go or a quick snack packed with nutritious ingredients. Here are a few options you may consider for your little ones (or for yourself), to choose among all my healthy snack recipes.
1. Easy Chocolate Chip Granola Bars (vegan, gluten-free, no added sugar)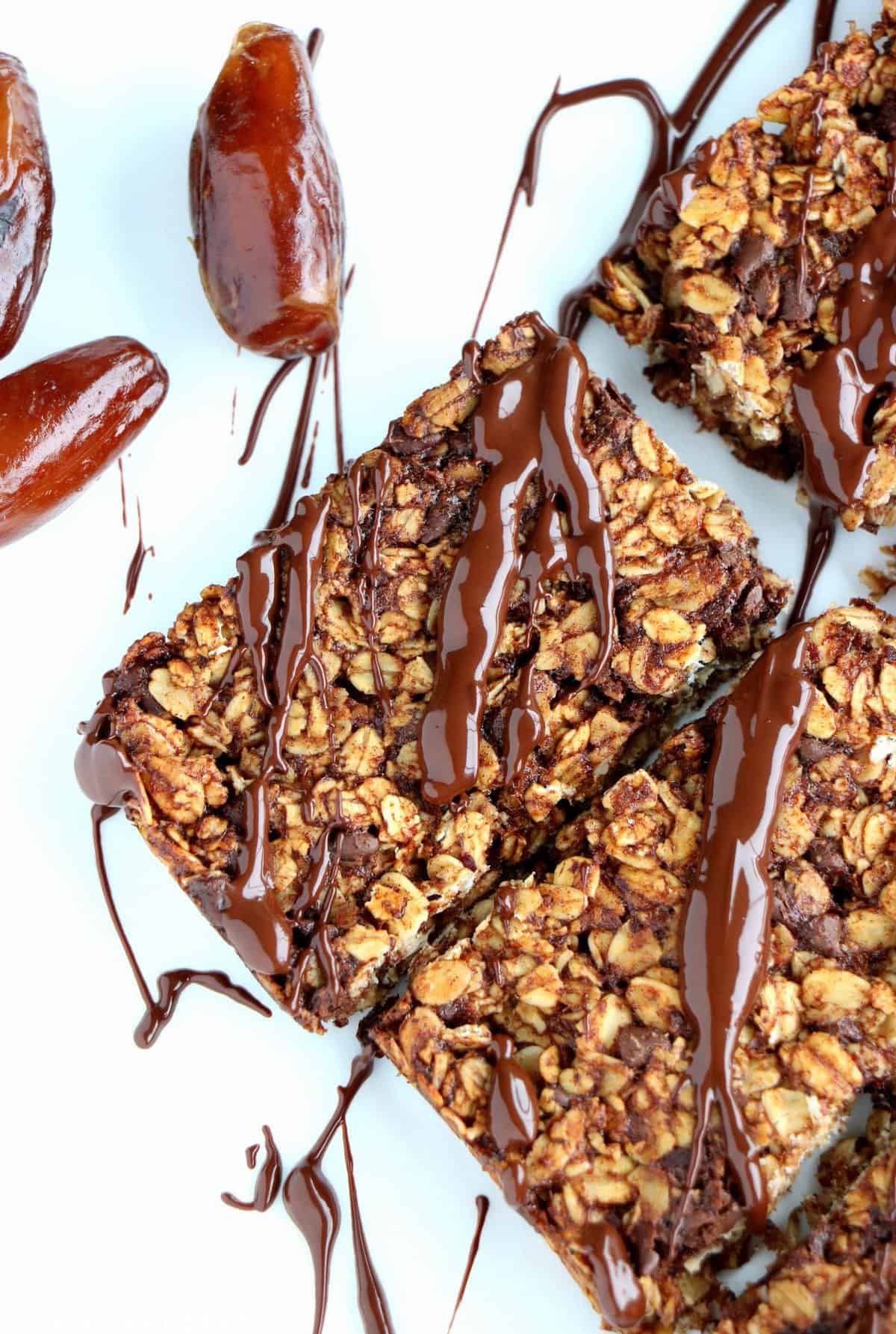 Soft and chewy, these Easy Chocolate Chip Granola Bars are the perfect quick homemade snack your kids (or you!) can pack in their lunchbox to give them an energy kick any time of the day. They are also naturally vegan, gluten and refined sugar-free.
2. Chocolate Almond Banana Smoothie
Thick, creamy and generous, this Chocolate Almond Banana Smoothie will provide all the energy you and your kids need after a long day at work/school.
3. Vegan Banana Oatmeal Cookies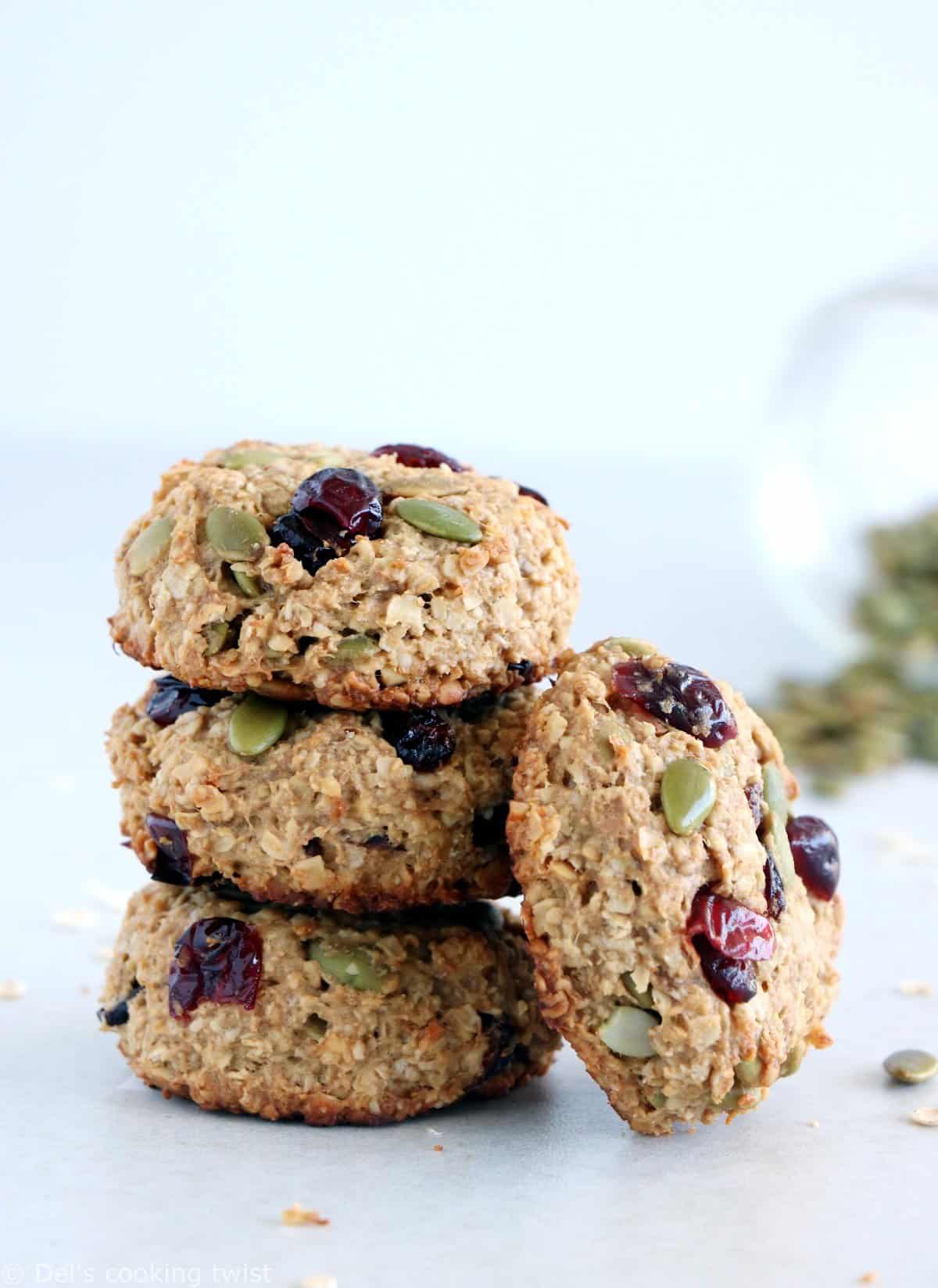 Super easy and quick to prepare, these Vegan Banana Oatmeal Cookies are the perfect tiny treat to enjoy when a little craving shows up. You can also add your little twist and replace nuts and cranberries with mini chocolate chips!
4. Raspberry Banana Layered Smoothie
Nothing fancy here, just a delicious Raspberry Banana Layered Smoothie, full of vitamins. A great way to increase your kids' daily fruit intake in a smooth way.
5. Healthy Double Chocolate Avocado Cookies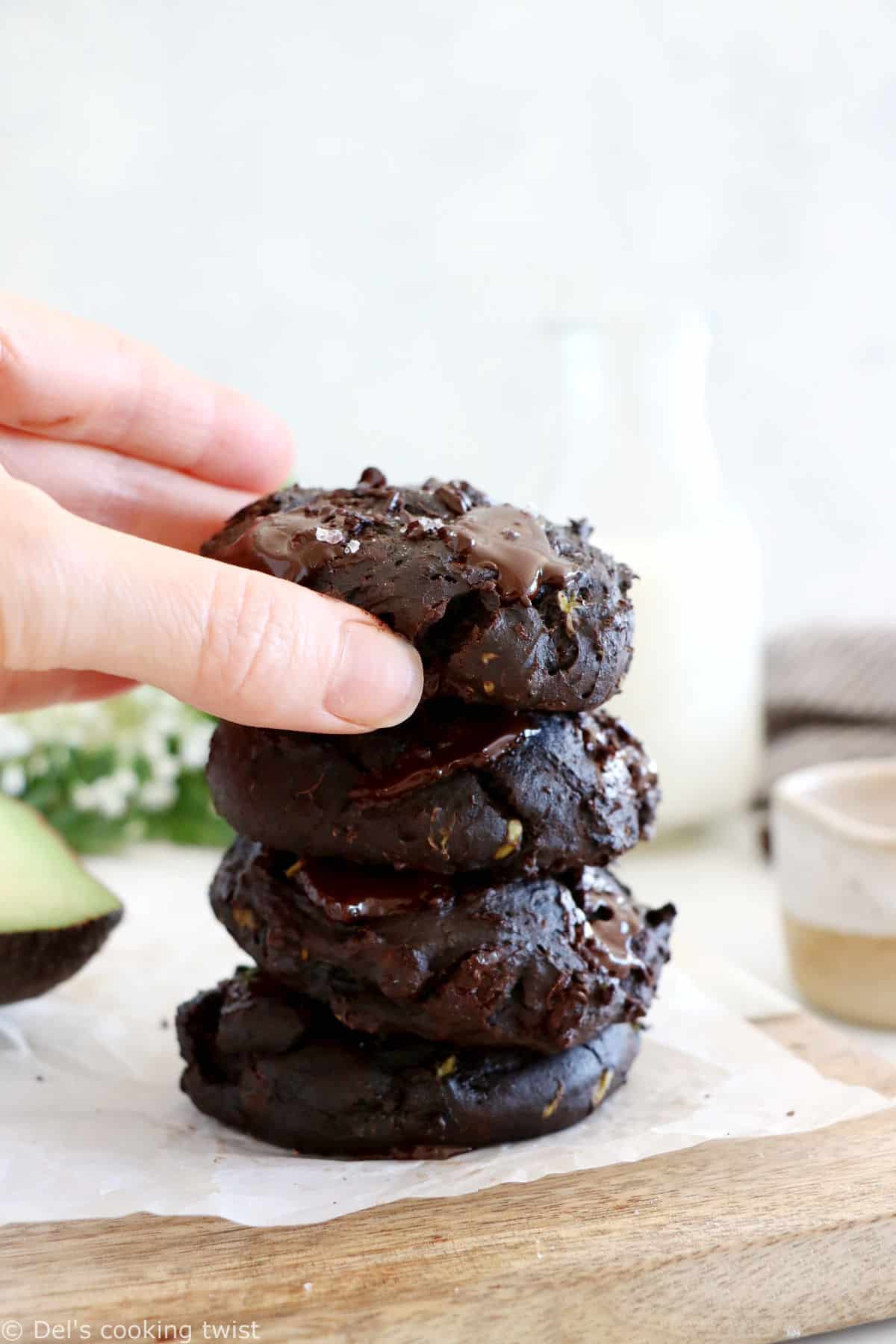 These Healthy Double Chocolate Avocado Cookies were approved by kids! I like that they are sugar and dairy-free and also exist in a vegan version. Watch the little video tutorial to learn how to make them.
6. Easy Chocolate Granola
Easy Chocolate Granola – a basic and quick recipe to keep a lifetime. Either with milk or yogurt, it's a beautiful back-to-school snack as well as a perfect sweet breakfast for cozy mornings.
7. Skinny Coconut Oil Chocolate Chip Cookies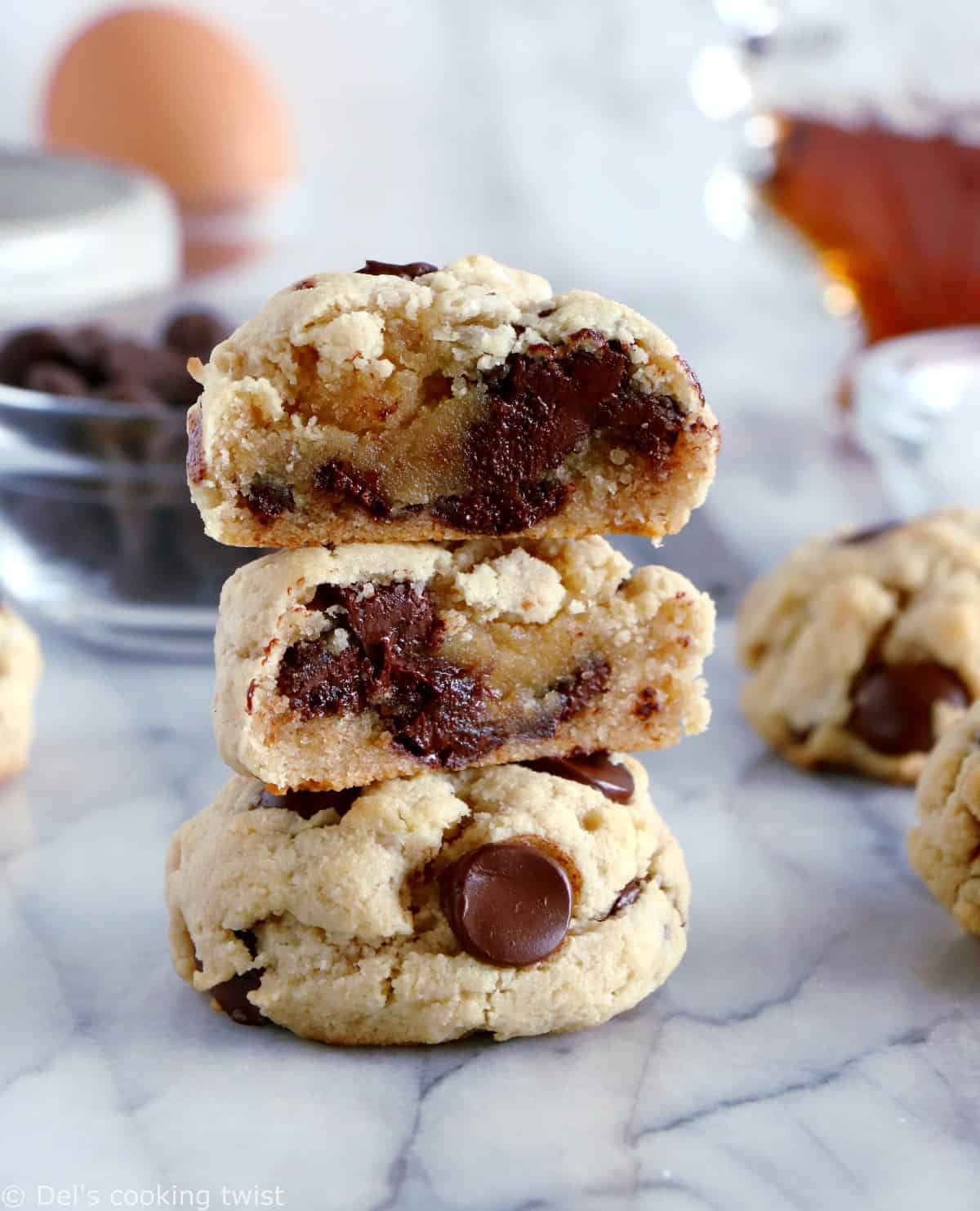 These Skinny Coconut Oil Chocolate Chip Cookies are my new obsession. Thick, soft and loaded with chocolate chips, they are super easy to prepare and made both gluten-free and dairy-free!
French Baked Goods
French kids love their little "goûter" after school, consisting on either bread and spreadable, or occasionally fresh baked goods from the bakery. Here's a little selection of some delicious back-to-school recipes that are typical recipes from France.
8. Easy French Crepes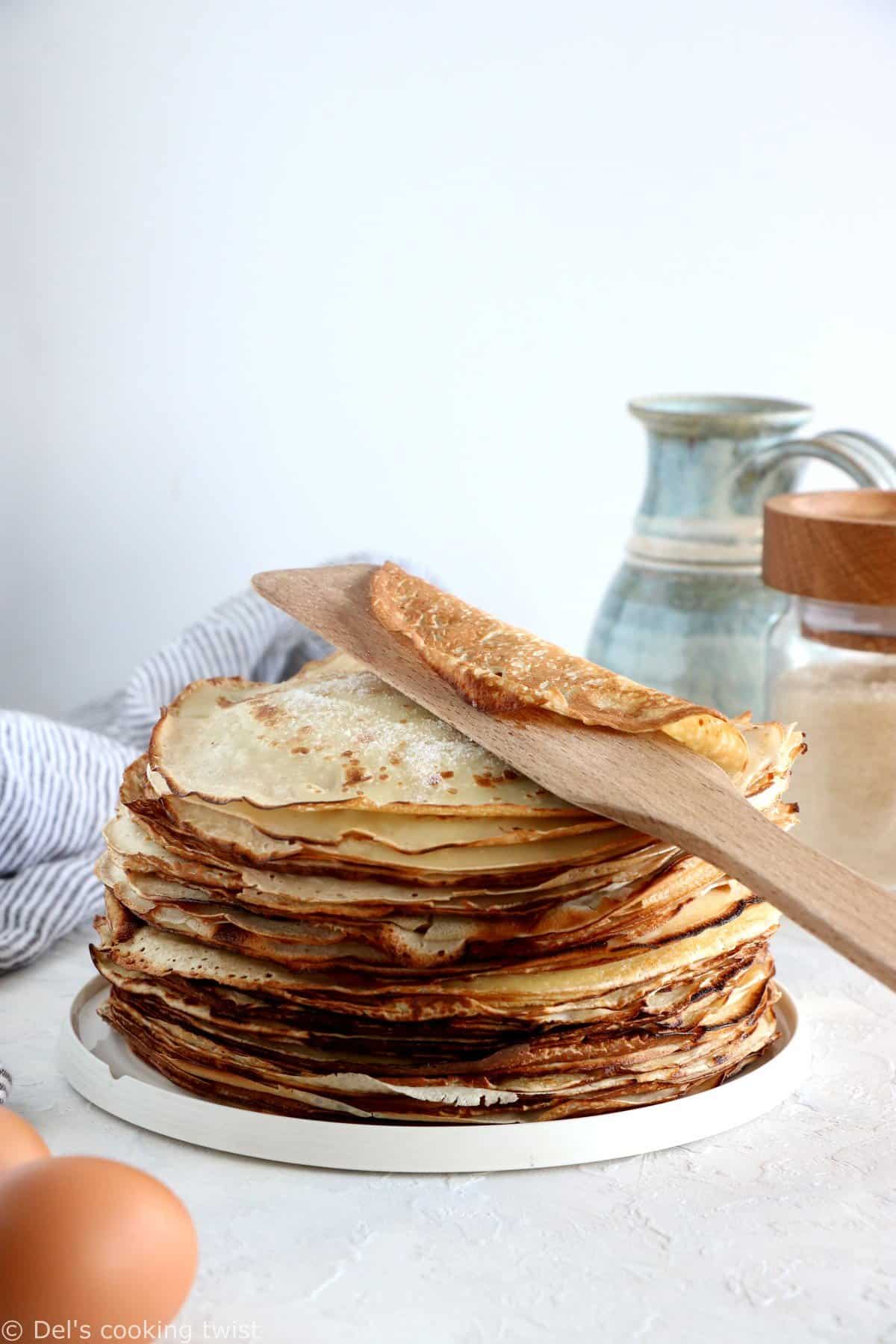 We can never get bored of Easy French Crepes. Thin and supple in texture, you can use any filling of your choice, whether sweet or savory. I bet your kids will ask for melted chocolate or chocolate spread!
9. Easy Chocolate Chip Brioche Buns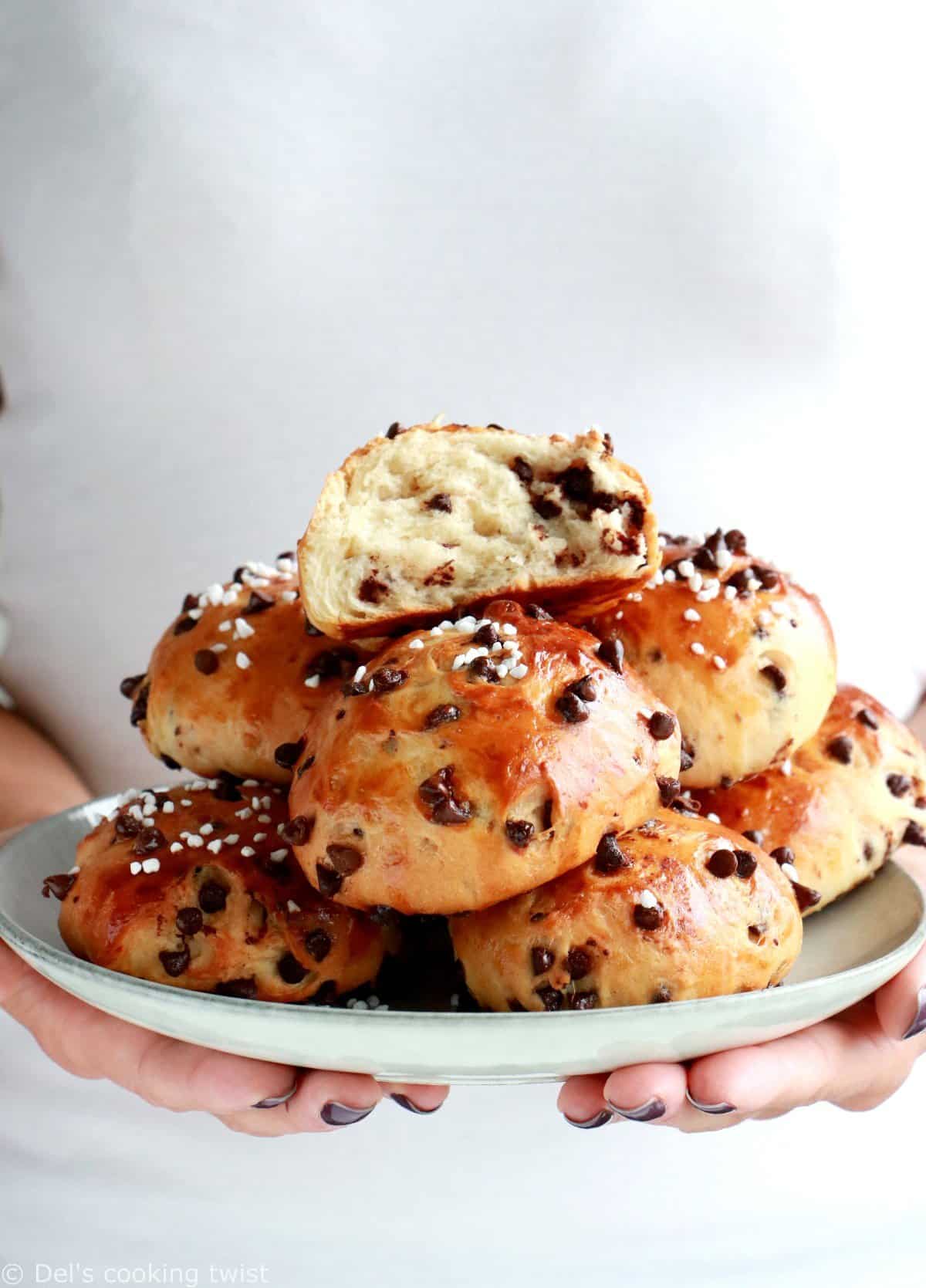 These Easy Chocolate Chip Brioche Buns count among my very favorite baked goods for breakfast. Both kids and adults love them and will come back for more!
10. Easy No-Knead Bread + Chocolate-Hazelnut Spread
This is the perfect back-to-school treat to all French kids and for once it is entirely homemade. Learn how to master the Easy Classic No-Knead Bread recipe (it's SO EASY!) as well as your very own Chocolate Hazelnut Spread "Newtella". I know you will be proud of yourself and you should be!
11. Chocolate Chip Vanilla Custard Brioches (Brioches Suisses)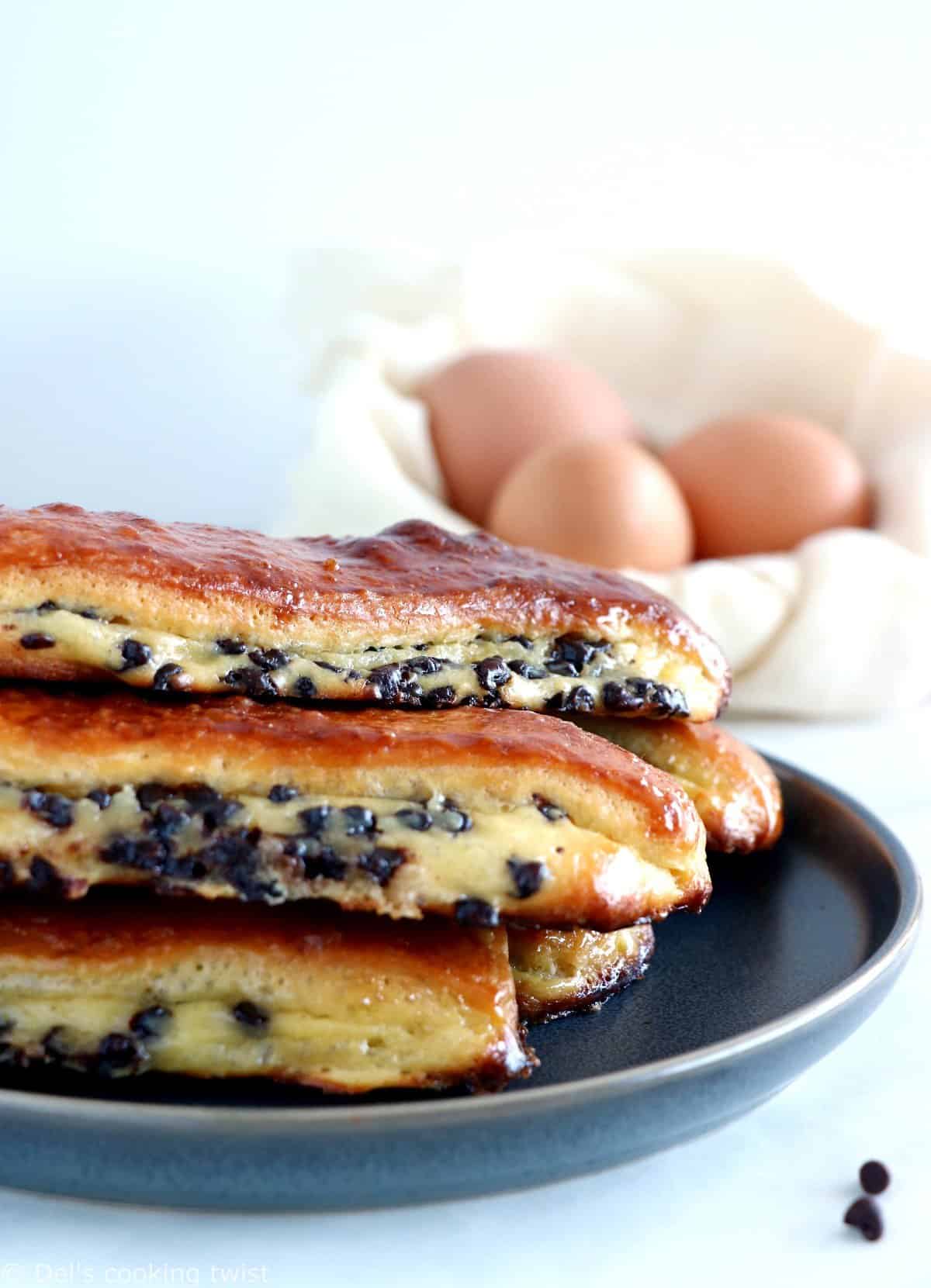 These Chocolate Chip Vanilla Custard "Brioches Suisses" are soft, creamy, and loaded with mini chocolate chips. They are definitely one of the kids' favorite treats in France, alongside with croissants and chocolate croissants.
12. Gâteau au Yaourt (A No-Measure Cake)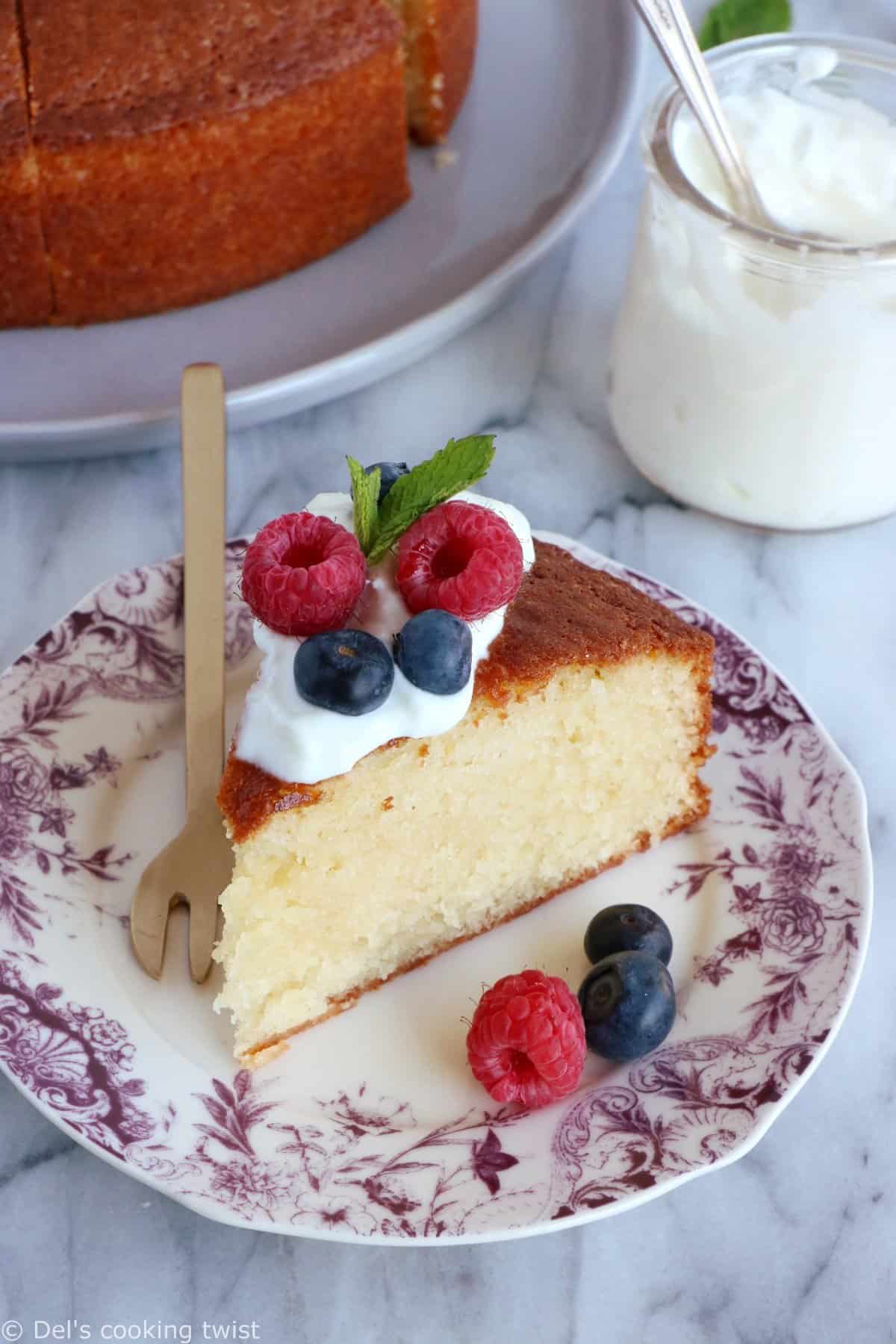 Gâteau au Yaourt (literally yogurt cake) is a French classic that comes easily together – no baking skills or baking tools required. Just grab an individual yogurt container and use it as a unit measurement for the other ingredients. The cake will be ready within minutes!
13. French Petits Choux "Chouquettes"
What if you tried baking something fun? These hollow homemade Choux Pastry "Chouquettes" topped with pearl sugar are an all-time kids favorite back-to-school treat in France. They are indeed terribly addictive. Fun fact: they are not that difficult to prepare. Give them a try!
14. French Rustic Tartines from My Childhood
French Rustic Tartines from My Childhood include a mix of delicious homemade spreadables topped onto a thick slice of fresh, crusty bread. Simple pleasures made easy!
15. Easy French Pains aux Raisins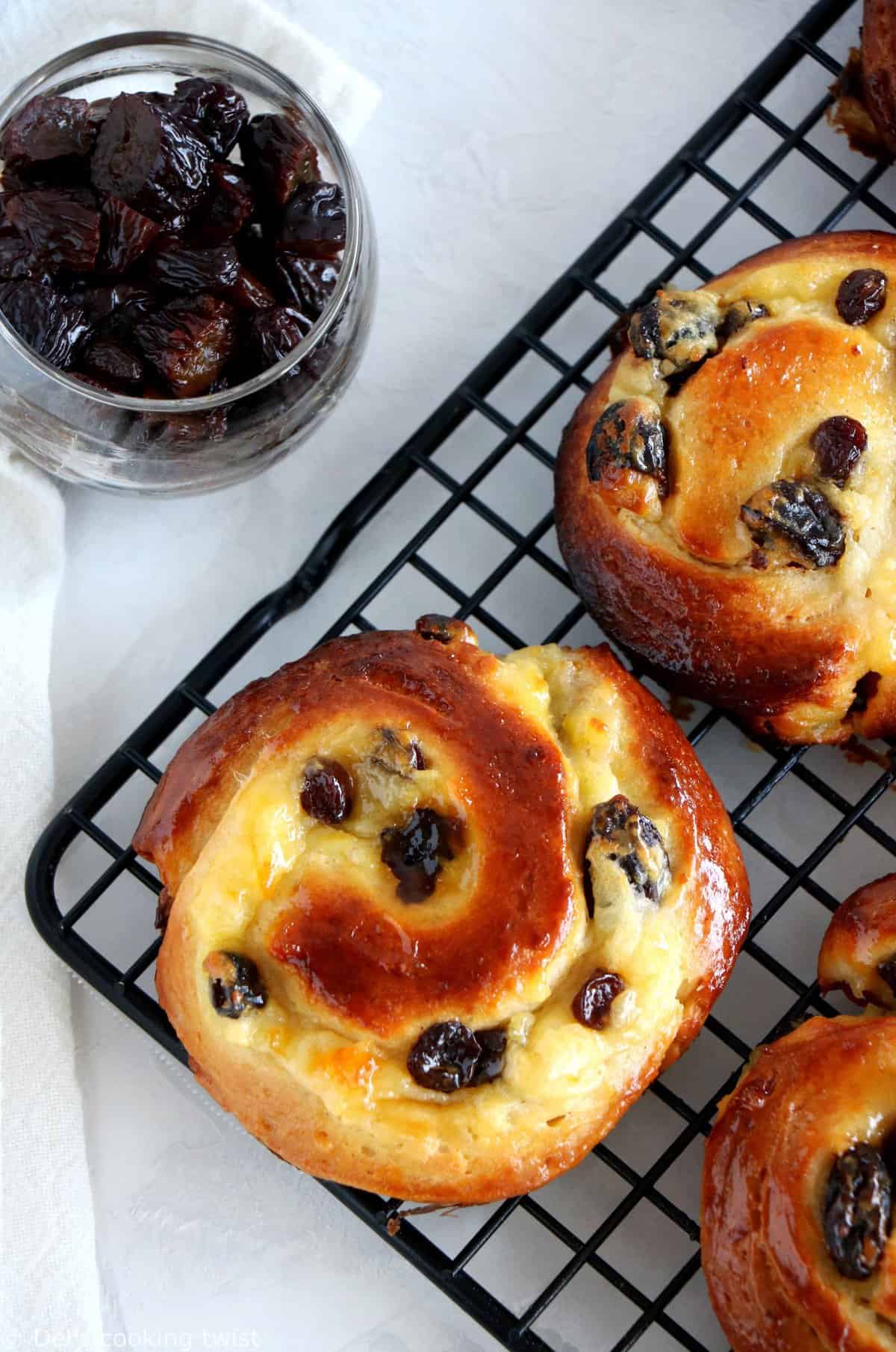 These Easy French Pains aux Raisins are reminiscent of my childhood in France. Filled with pastry cream and raisins, I made them here with a brioche dough rather than a puff pastry one to make the recipe more accessible to everyone. You are welcome.
16. Chocolate Dipped Madeleines with Pistachios
These adorable Chocolate Dipped Madeleines with Pistachios make for a beautiful tiny sweet treat your kids can bring with them at school.
17. French Brioche à tête + Apricot Jam
Another French back-to-school idea because… eh, I'm French after all! This French Brioche à Tête served with a homemade Apricot Almond Jam with Vanilla will make a premium treat to enjoy together with your kids after school.
American Classics for Back-to-School
In this section, you will find a medley of cookies, quick breads, sweet buns and other baked goods that are classic American recipes for back-to-school.
18. Daim Bar Cookies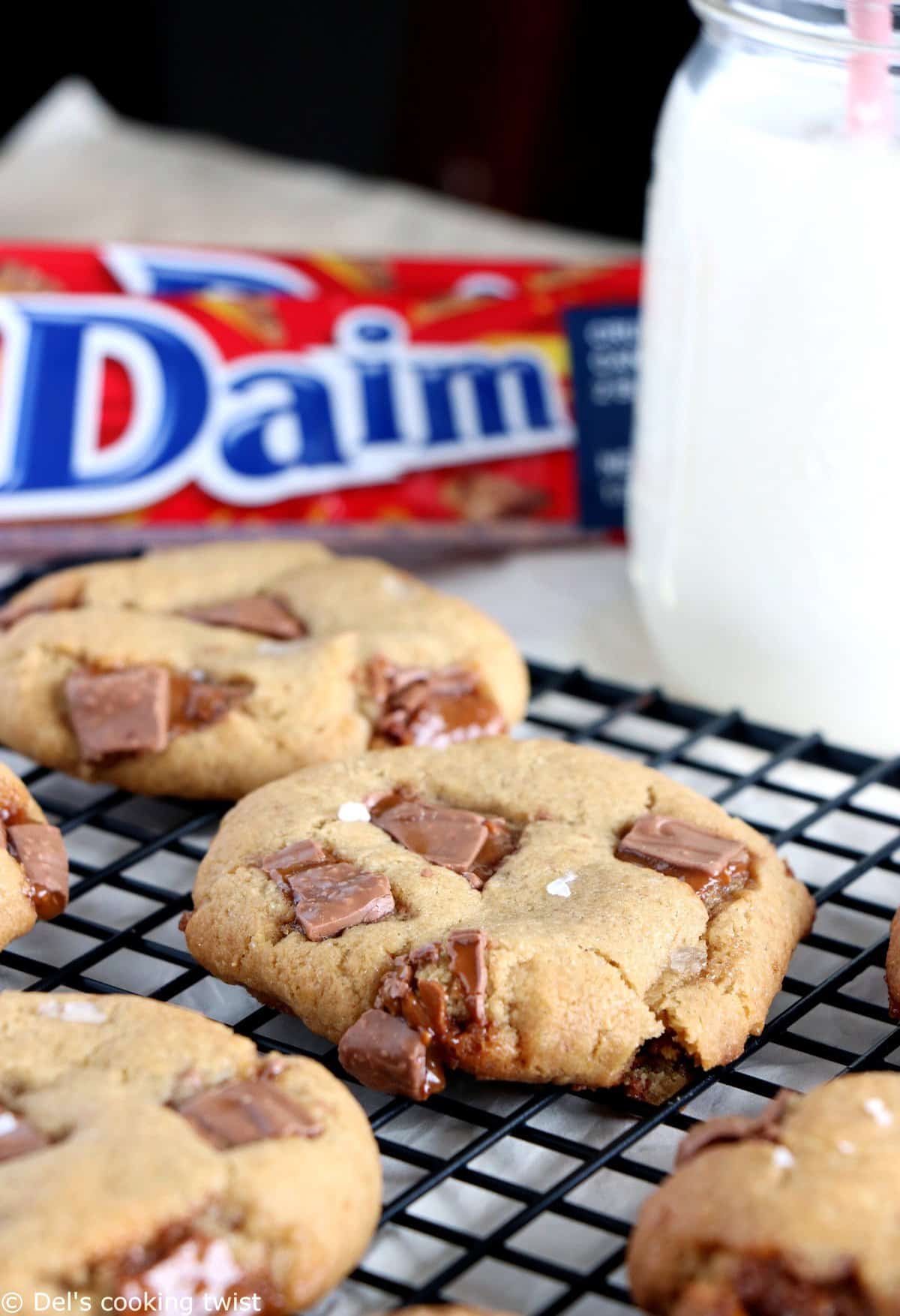 Made with the typical Swedish chocolate bars, these ultra soft and chewy Daim Bar Cookies are oozing with caramel and milk chocolate. Everything to satiate your sweet tooth!
19. PB & J Mummy Hand Pies
At first we could say they are more a Halloween treat than a back-to-school one, but these PB & J Mummy Hand Pies are always a good idea to put a beautiful and bright smile on your little ones' face.
20. Easy Chocolate Frosted Donuts
These Easy Chocolate Frosted Donuts are baked in the oven instead of fried. Ask your kids to assist you when you prepare them, they will love dipping the donuts into the chocolate glaze and adding the sprinkles on top.
21. Easy Salted Caramel Peanut Ice Cream
This super Easy Salted Caramel Peanut Ice Cream requires a few basic ingredients and will only take you a couple of minutes to prepare.
22. Cinnamon Rolls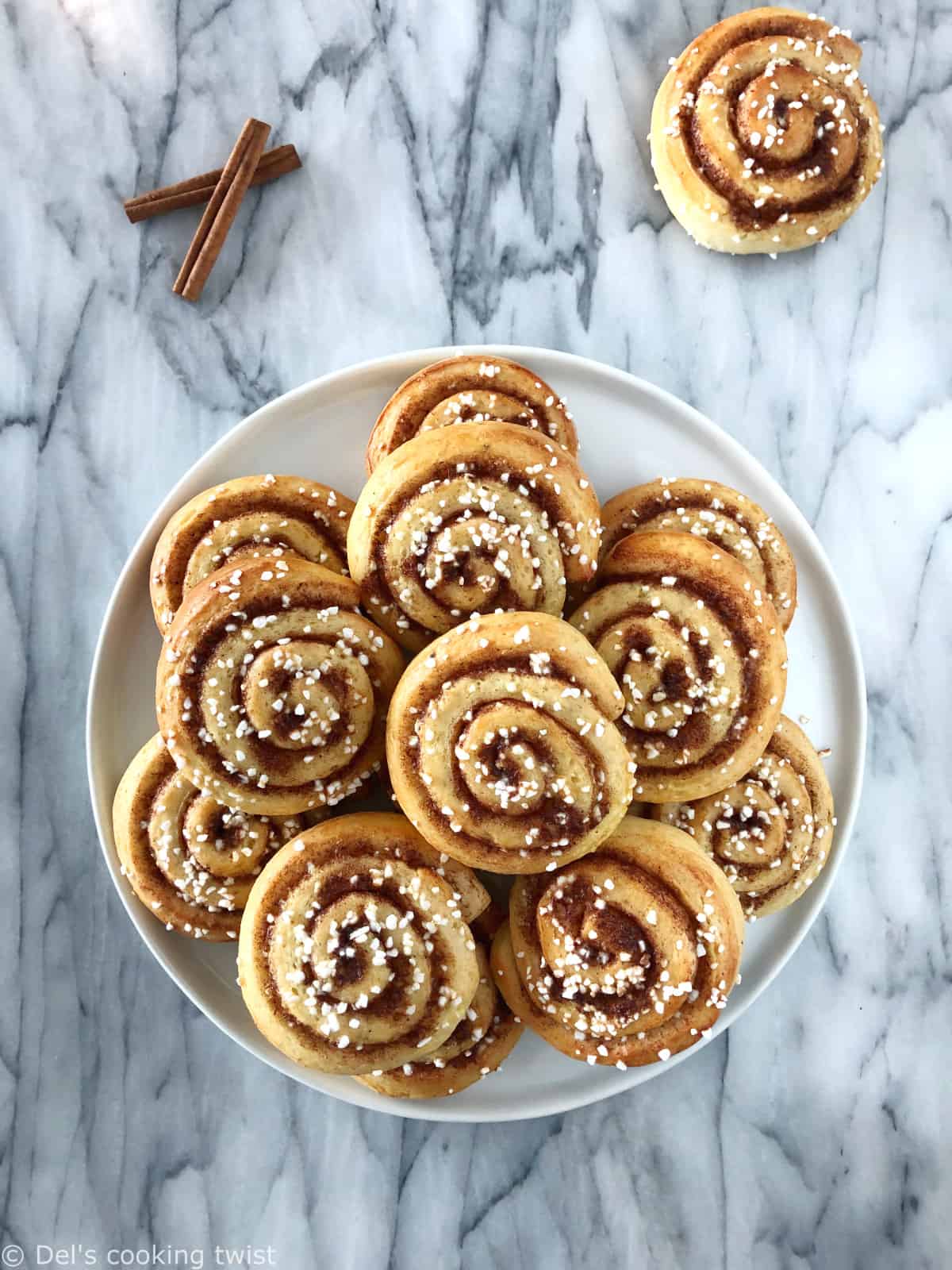 These classic Cinnamon Rolls are an all-time favorite on the blog and many of you have already tried them. They are sweet, deliciously spicy, and definitely a kid's favorite!
23. Chocolate Chip Cookie Skillet
Like a cookie… but giant! This ooey-gooey Chocolate Chip Skillet Cookie is served slightly warm. For special occasions, top with a drizzle of caramel sauce and vanilla ice cream.
24. Strawberry Rolls with Lemon Glaze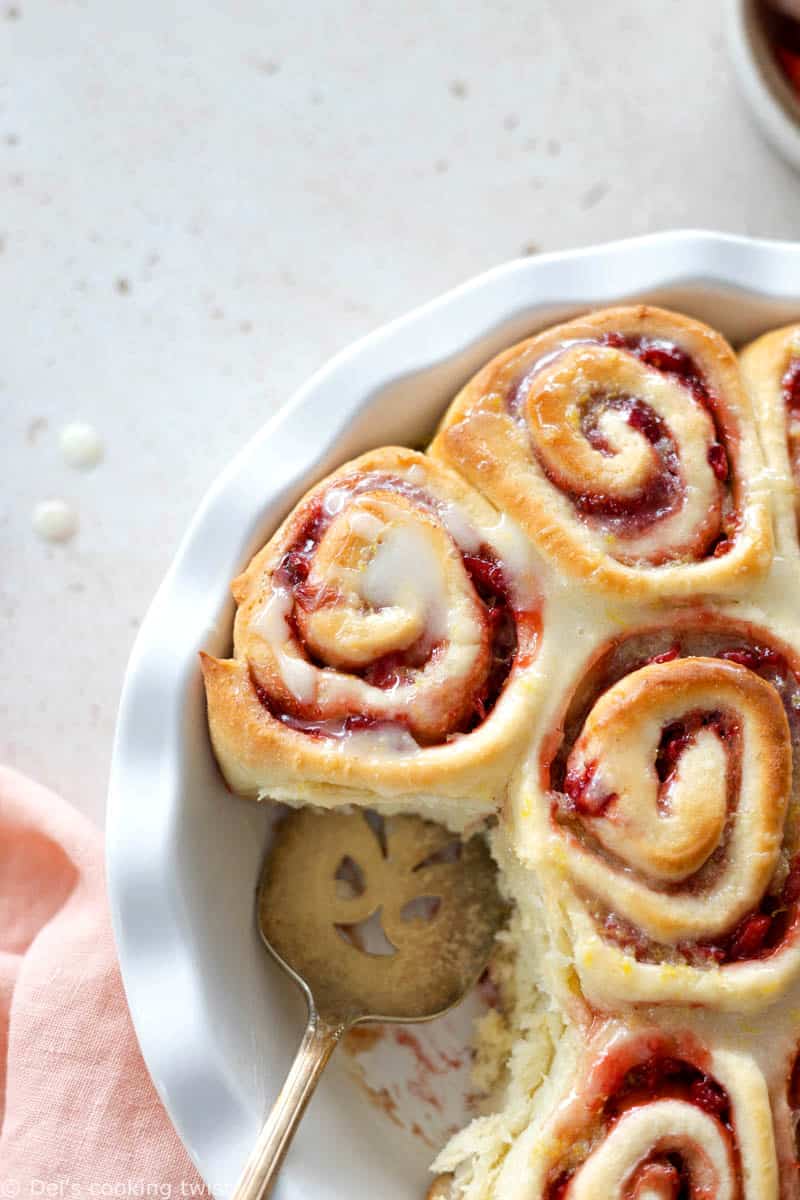 Soft, sweet, juicy… these Strawberry Rolls with Lemon Glaze make a lovely shareable sweet treat after school or for breakfast. My personal tip: prepare the dough the day before to spare you some precious time.
25. Buttermilk Banana Bread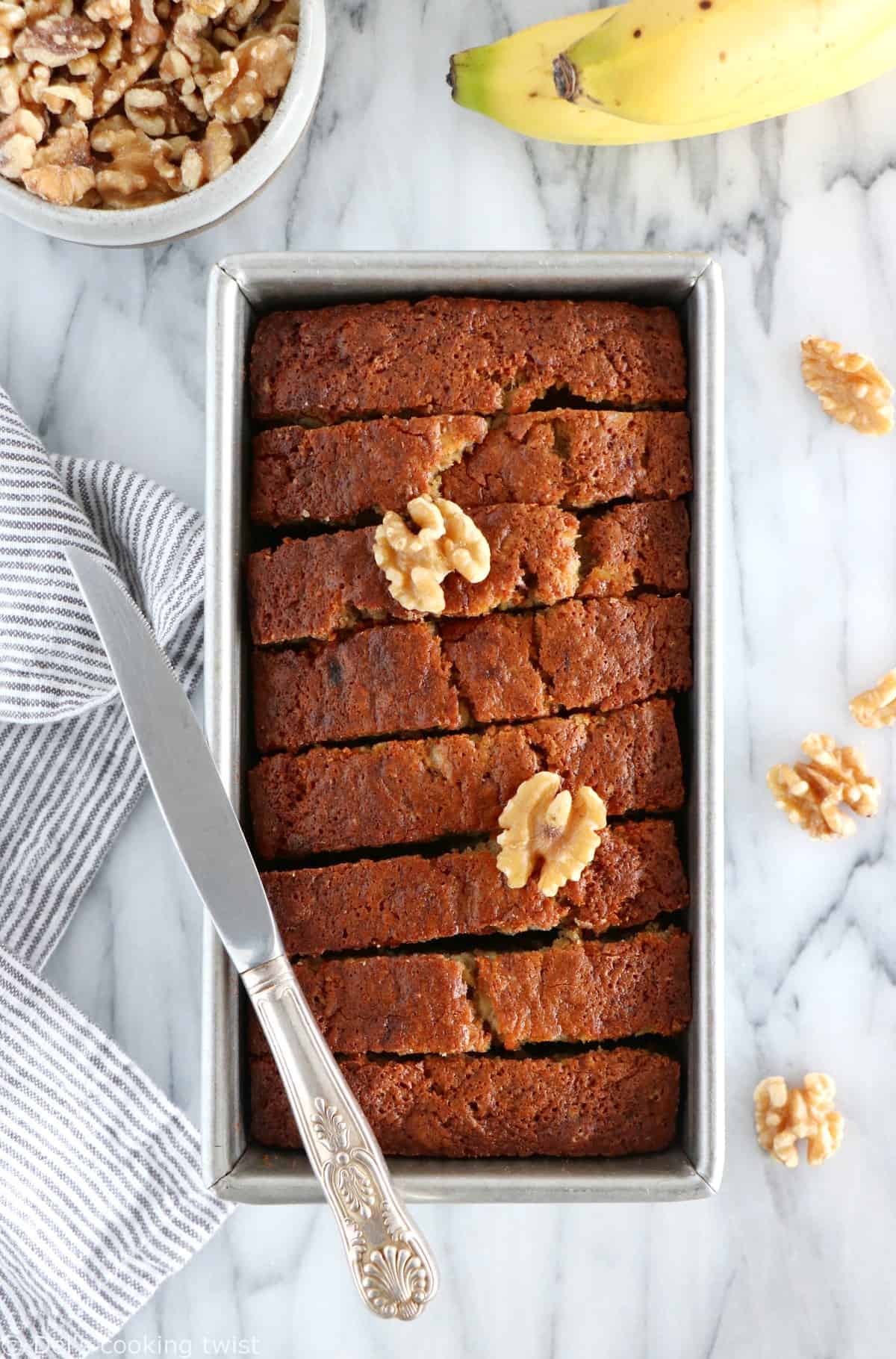 Widely approved by all my readers who tried it, this Buttermilk Banana Bread is extremely moist and slightly addictive. Enjoy as is, or toasted with butter. Hmmm…!
And you, what are your favorite back-to-school recipes?
Pin it for later:
Lastly, if you make one of these back-to-school recipes, be sure to leave a comment and/or give this recipe a rating, letting me know how you liked it. And of course, don't forget to tag me on Instagram! Thank you and enjoy!