Made with the typical Swedish Daim chocolate bars, these ultra soft and chewy cookies oozing with caramel and milk chocolate are beyond perfection.
A Swedish recipe on the blog again, finally! I used to share more of them when I lived in Stockholm but since I moved to Chicago, there are less and less of them on the blog. It was about time to change this, as I'm heading to Stockholm next week, for the first time in a year. I'm so excited about it! It will be a lot of quality time with my friends, many fika (my favorite Swedish word, meaning "tea time"), and also the occasion for new cooking and baking projects. Stay tuned to discover them all pretty soon!
As for now, I'm all into the Swedish mood again, my brain switching back to the language already (not that I stopped speaking Swedish completely but I'm surprised anyway… it seems that Swedish is now part of me forever). I am also dreaming about nature, simple and random things that once were part of my daily routine in Sweden, and I can't wait to eat my favorite cardamom bun from the Swedish bakery Fabrique. I always said that I didn't miss Sweden, maybe I do a little, after all!
MY LATEST VIDEOS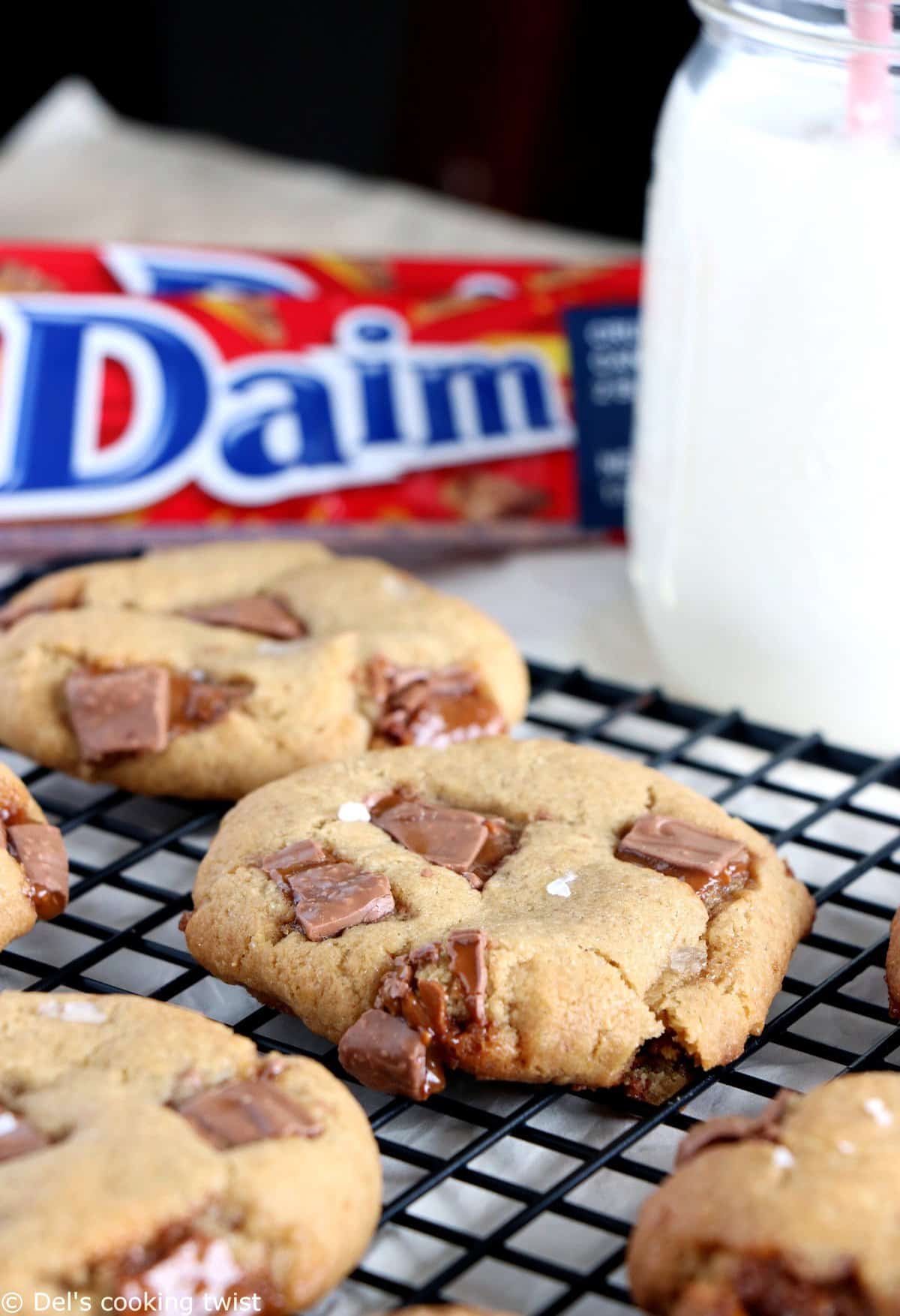 All this to say that it's the perfect time to share with you a Swedish recipe, or to be more precise, a recipe with a Swedish twist. I'm pretty sure that everyone has heard about this Swedish specialty and probably tried it too, as we find them at Ikea for instance (And of course we have all been to Ikea in our lives, right?). Yes, I'm talking about the Swedish Daim candy bars here, these milk chocolate bars or candies filled with gooey caramel. By the way, did you know that Swedes were the first country in Europe to eat candies? Crazy, right? And scary too!
I'm not a huge fan of candies myself and could live my entire life without touching them, I really don't mind. However, I love chocolate and fresh baked treats. Great, as these Daim candy bars are just perfect in baking! Swedes make a cake out of Daim cookies for instance, and today it's a cookie recipe with Daim cookies that I am happy to share with you. The idea is pretty simple: just replace chocolate chips with some bites of Daim cookies, and you've got both milk chocolate and caramel at the same time in a cookie.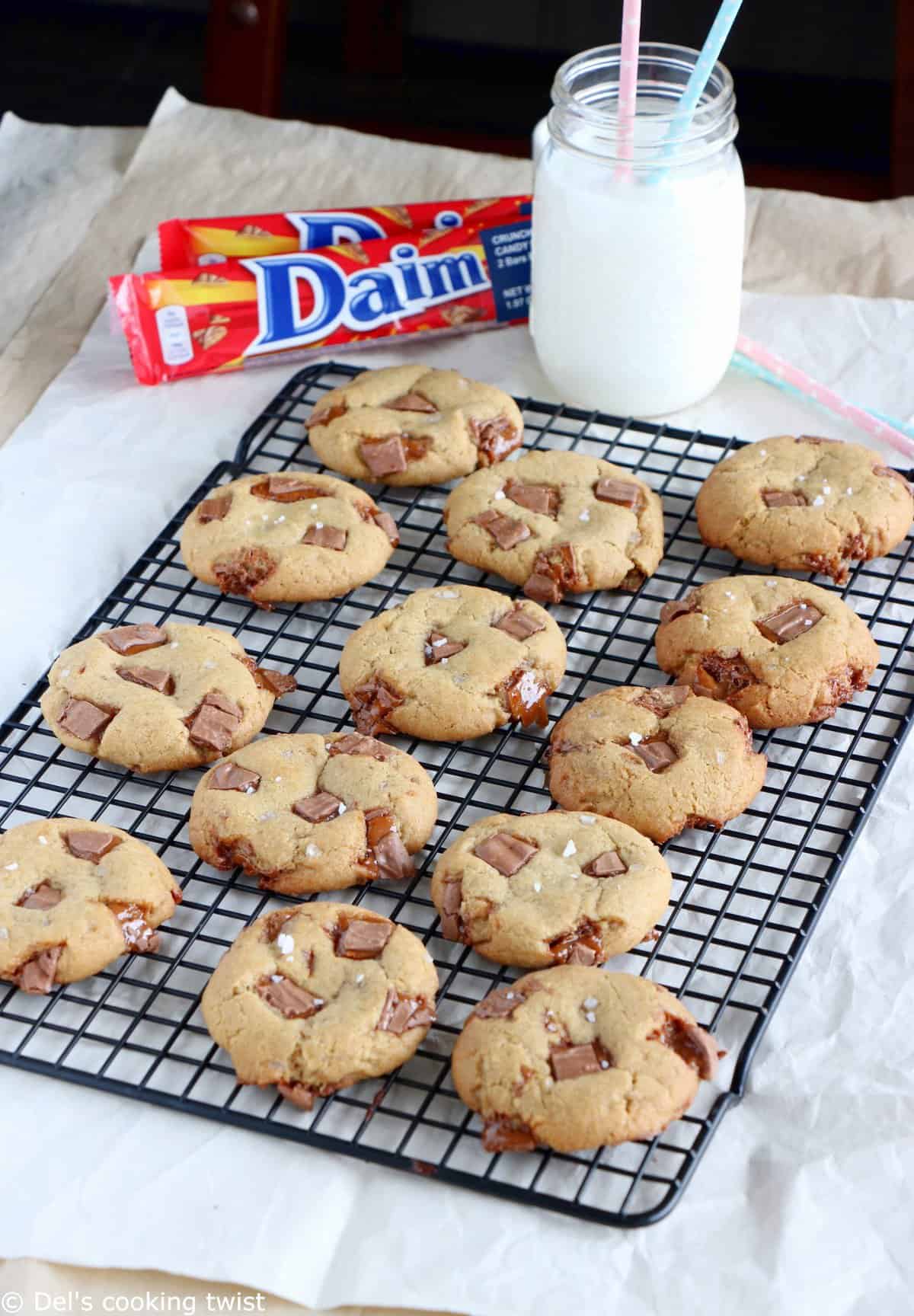 I found this recipe in a cooking book when I was once at the Swedish American Museum in Chicago but I cannot remember the name of the book itself. Anyhow, I remember that I found it slightly different from my regular chewy cookie recipe, as here we use one egg plus one yolk (there is only one egg in mine), and also a few tablespoons of milk. I had never done that before so I was curious. I baked this recipe at the same time I baked my regular one and found the dough equally chewy, if not a little bit more. All my guests actually preferred this one. Was it because of the dough or because of the daim bars inside, I'm not really sure but what matters here is that this cookie dough is super soft and chewy.
Enjoy these Daim bar cookies with a large glass of milk and you will almost feel like a kid again. Your new Ikea routine will soon be to purchase a huge quantity of Daim bars every time you go, so that you can bake this Daim bar cookie recipe again and over again!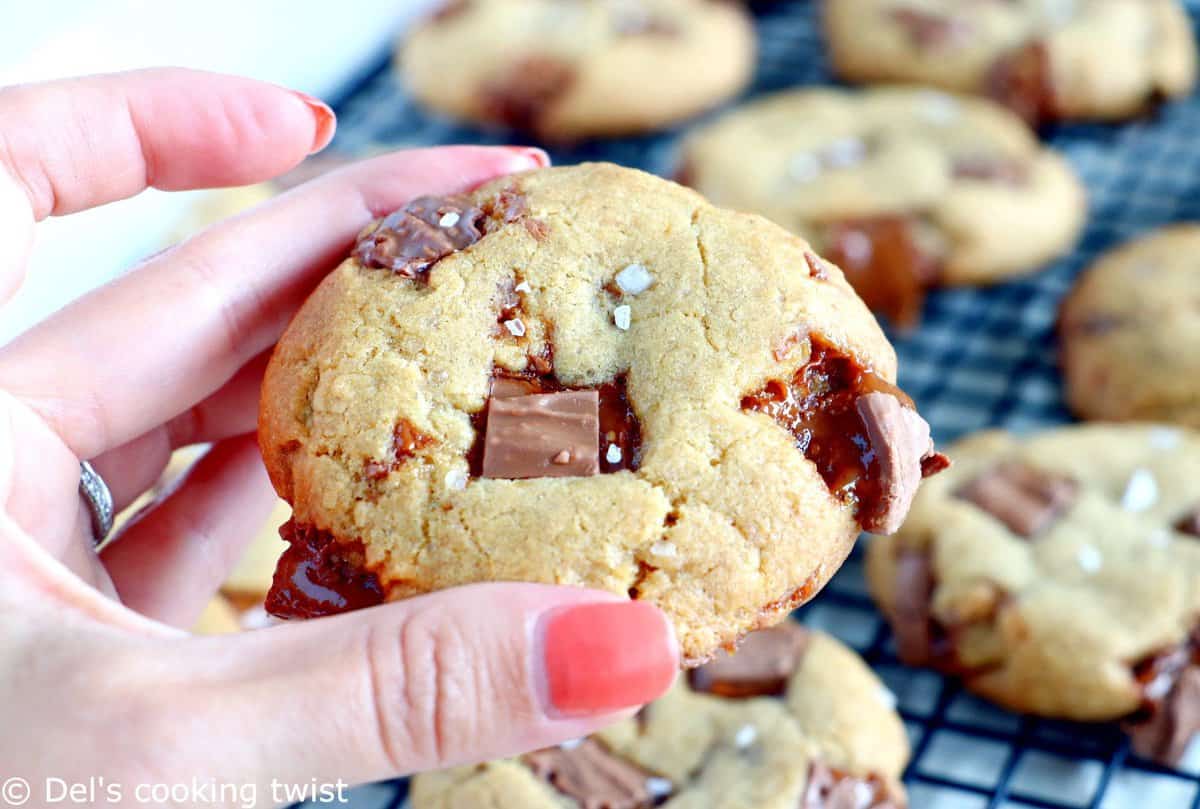 Daim Bar Cookies
Made with the typical Swedish Daim chocolate bars, these ultra soft and chewy cookies oozing with caramel and milk chocolate are beyond perfection.
Recipe type:
Cookies and Bars
Ingredients
1¼ sticks (150g) unsalted butter
2 cups + 2 Tablespoons (300g) all-purpose flour
½ teaspoon baking soda
½ teaspoon vanilla extract
¼ teaspoon sea salt
¾ cup (150g) light brown sugar
½ cup (100g) caster sugar
1 large egg
1 egg yolk
2 Tablespoons (30 ml) milk
5 Daim bars (each weighing 28g/1oz), roughly chopped
Instructions
Melt butter and set aside to cool down.
In a medium bowl, combine flour, baking soda, vanilla and salt. Set aside.
In a large bowl, combine both sugars with the cooled, melted butter, and stir well until no lumps remain. Add in the egg, egg yolk and milk well.
Pour the dry ingredients into the liquid ingredients, mixing until everything is incorporated. Add the Daim pieces and mix to combine.
Cover the bowl with clingfilm, place in the refrigerator and let chill for about 2 hours.
Preheat the oven to 375°F (190°C) and line a baking tray with parchment paper.
Once the dough has chilled, remove it from the refrigerator and let sit at room temperature for about 10 minutes before using it.
Form the dough into balls and place onto the baking tray, leaving enough space between each.
Bake for about 8-10 minutes or until just golden while still looking slightly under-cooked inside (it's normal). Remove from the oven and sprinkle some additional sea salt on top. Let cool for one minute onto the baking tray, then transfer to a cooling rack and let cool completely.