Quick and easy chocolate granola recipe. A wholesome breakfast perfect for all chocolate cravings!
Today I want to share with you a fantastic easy and tasty chocolate granola recipe. Once you tried it, you will love it forever and your mornings will be much nicer!
I had never tried to make my own chocolate granola before and instead I used to buy it at the store. What a mistake! The ones you buy are quite expensive, and they are also packed with sugars and fats you have no idea about.
MY LATEST VIDEOS
 Here I used 100% cacao powder, oats, natural sweetener (honey or agave) and also coconut oil, known for its numerous healthy benefits, and some chocolate chips. Nothing else!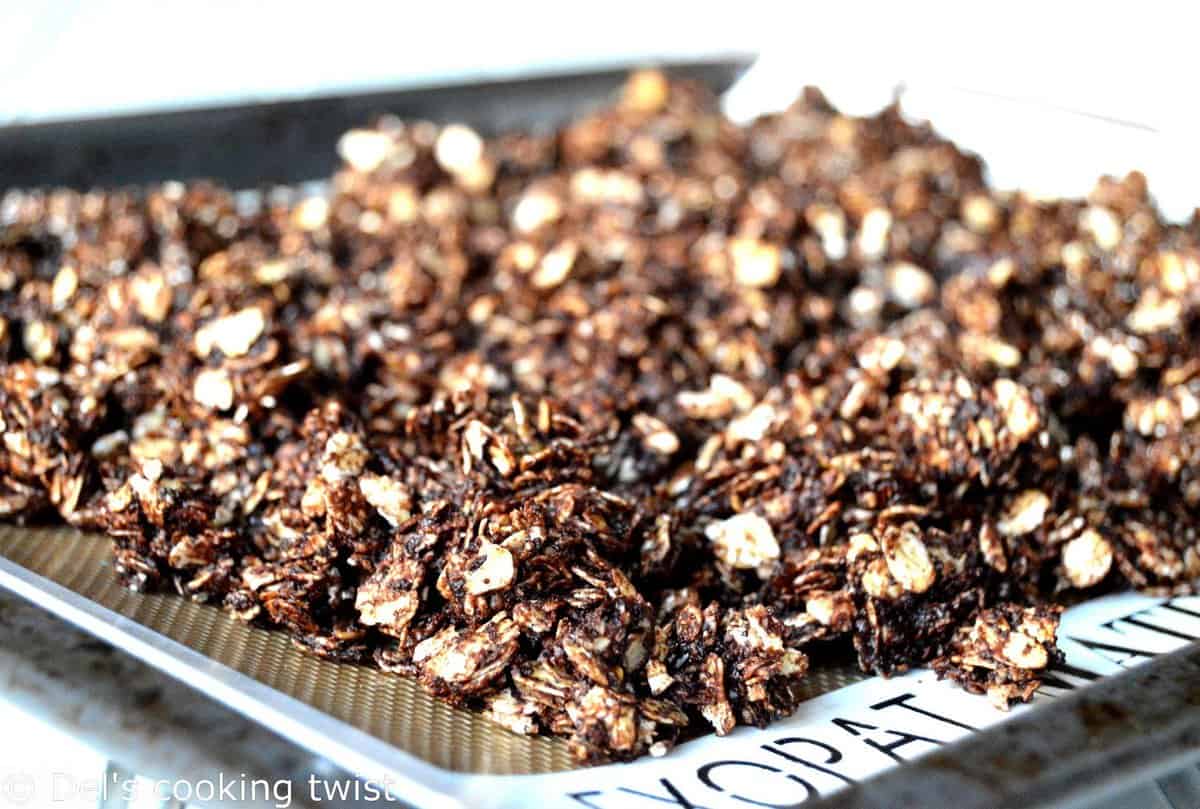 When making your own chocolate granola, you can have a better control of the ingredients you choose and it will make the all recipe much healthier.
And you will be surprised to notice how easy and quick it is. I usually make the recipe once a week, on Sunday morning, and then I can enjoy it every morning during the week. Feel free to bring some fun in the recipe by adding some of your favorite ingredients for a granola like hazelnuts, pecan nuts or cranberries!
Easy Chocolate Granola
Quick and easy chocolate granola recipe. A wholesome breakfast perfect for all chocolate cravings!
Cuisine:
American recipes
Ingredients
3 cups (6,3 oz) old fashioned rolled oats
4 Tablespoons (1,7 oz) coconut oil, melted
¼ cup (1 oz) unsweetened cocoa powder
¼ cup (1,7 oz) packed dark brown sugar
⅓ cup (3,8 oz) honey or agave syrup
¼ teaspoon salt
¾ cups (4,5 oz) chocolate chips
Instructions
Preheat the oven to 350°F (180°C). Line a large oven tray with parchment paper or a silicone baking mat.
Pour oats into a large bowl and set aside.
In a smaller bowl, mix together the melted coconut oil, cocoa powder and dark brown sugar until combined. Add honey and salt, and mix well. The texture must be quite liquid.
Pour the cocoa and coconut liquid over the oats and mix until oats are moistened.
Bake for 20 minutes, stirring and flipping every 10 minutes. Remove from the oven and sprinkle with ½ cup chocolate chips while the granola is still warm and stir well. The chocolate chips will melt, creating large clusters of granola*.
Let cool completely, then add the remaining chocolate chips. You can also fold in some nuts, seeds or dried fruits if desired.
Notes
* Another option is to let cool the granola completely and add the chocolate chip after. They will not melt or create clusters but you'll have wonderful chocolate chips in your granola.