These 12 baby-approved veggie recipes are healthy, nutritious, and perfect for the whole family. Whether you're following a baby-led weaning approach or simply want to educate your little one to eat like grown-ups as early as possible, these recipes will spare you some precious time in the kitchen. Read under each one for possible tweaks to the original recipe, possible food allergens to take into account, and serving suggestions so baby can eat by himself (or almost).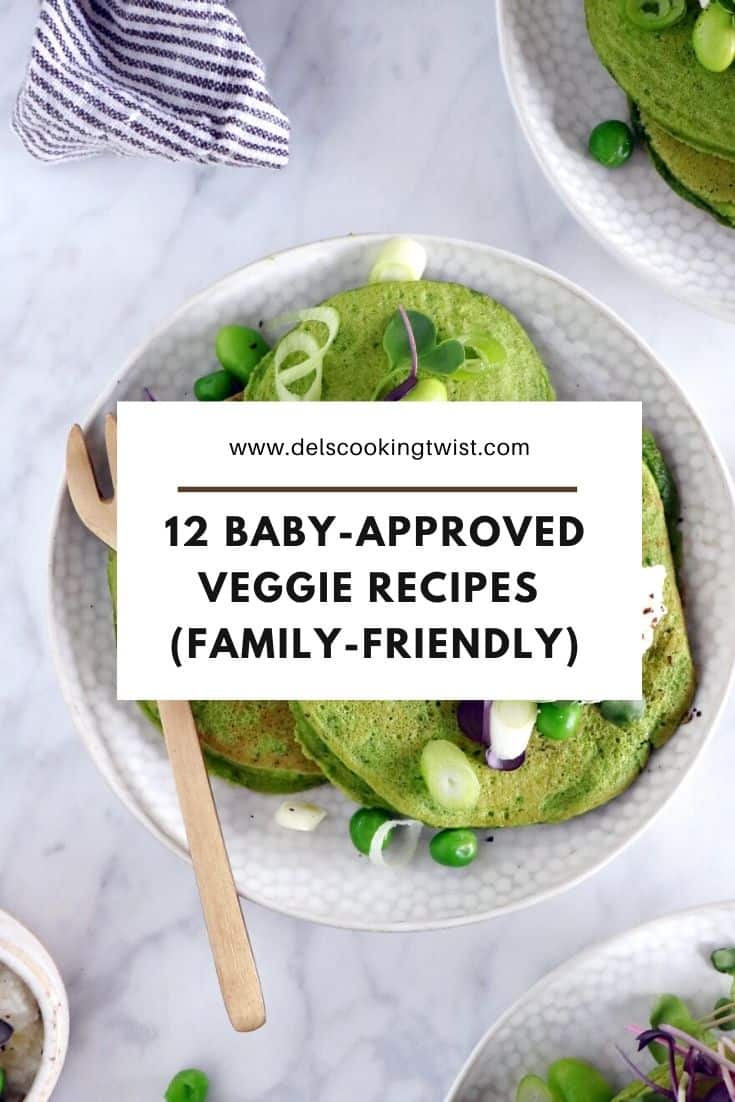 Baby food is boring! Or let me rephrase: baby too, can have fun meals. I'm a firm advocate of the idea that "baby food" should not exist, or at least not in the way it does. So when I got asked many times if I could create some baby recipes, my answer was no. Always. I'm not an expert at baby nutrition and I do not intend to be. The main purpose of this site is and will remain the same: create some nutritious meals for the whole family.
How to feed my baby?
Based on my recent experience as a mom of a 9-month-old baby, the question of how to feed my baby came to the table anyway. How to feed an almost toothless baby? (Baby Lucie's first teeth just pointed out last week). Should I follow a baby-led weaning approach? Or should I feed my baby with basic purees?
Eventually I purchased a couple of cookbooks for babies, made tons of research on the web, and ended up following my instinct. Of course, this implies that you make some basic research beforehand (baby nutrition, food allergies, chocking hazards, etc.). On that matter, you can check these 8 foods to avoid feeding your baby. With all that in mind, 3 things came to my mind about feeding my baby:
Do not overthink, trust your instinct as a mom. Generally speaking, I realized that when I was feeling unsecure with the idea of giving let's say a chunk of banana to my baby, it meant I was not ready for it and baby probably wouldn't either. Give yourself some time, observe how your baby eats and swallows day after day, and soon enough you will find yourself giving bigger chunks with confidence.
Educate your little ones to eat everything and hence discover the taste of each ingredient separately. This can be basic single-ingredient purees or soft vegetable sticks if you follow a baby-led weaning approach.
Help them to eat like adults as early as possible in life.
What are baby-approved veggie recipes?
Baby-approved veggie recipes are simple recipes you can find on the blog, that are also perfect for our little ones from 6+ months. And the best part: They're adult-friendly too! 😉 Here's what you can expect:
Healthy and nutritious recipes, prepared with wholesome ingredients.
Real foods only (no processed food, no dyes, no preservatives, no chemicals).
Recipes loaded with fruits and veggies.
Sugar-free breakfast and dessert ideas.
Easy to handle for your little ones so they can eat by themselves.
Soft textures and foods that are easy to chew/swallow.
Perfect for a led-weaning approach or to introduce solid foods to your little ones.
Suggestions to tweak the original recipes and make them baby-friendly.
Savory baby-approved recipes
1. Healthy Spinach Pancakes
Healthy Spinach Pancakes. Made right in the blender, these green pancakes come in handy for breakfast, lunch or dinner. Just play with the toppings to make them more adult or baby/toddler friendly.
What's in there? Baby spinach, chickpea flour, egg, oat milk.
Why we love them? They're perfect for picky eaters who don't want to eat their greens. Also, their soft and fluffy texture makes them safe for baby to swallow.
Serving suggestions: Cut them into stripes so your little one can hold them. They're delicious dipped in plain yogurt but also served with blueberries.
2. Red Lentil Patties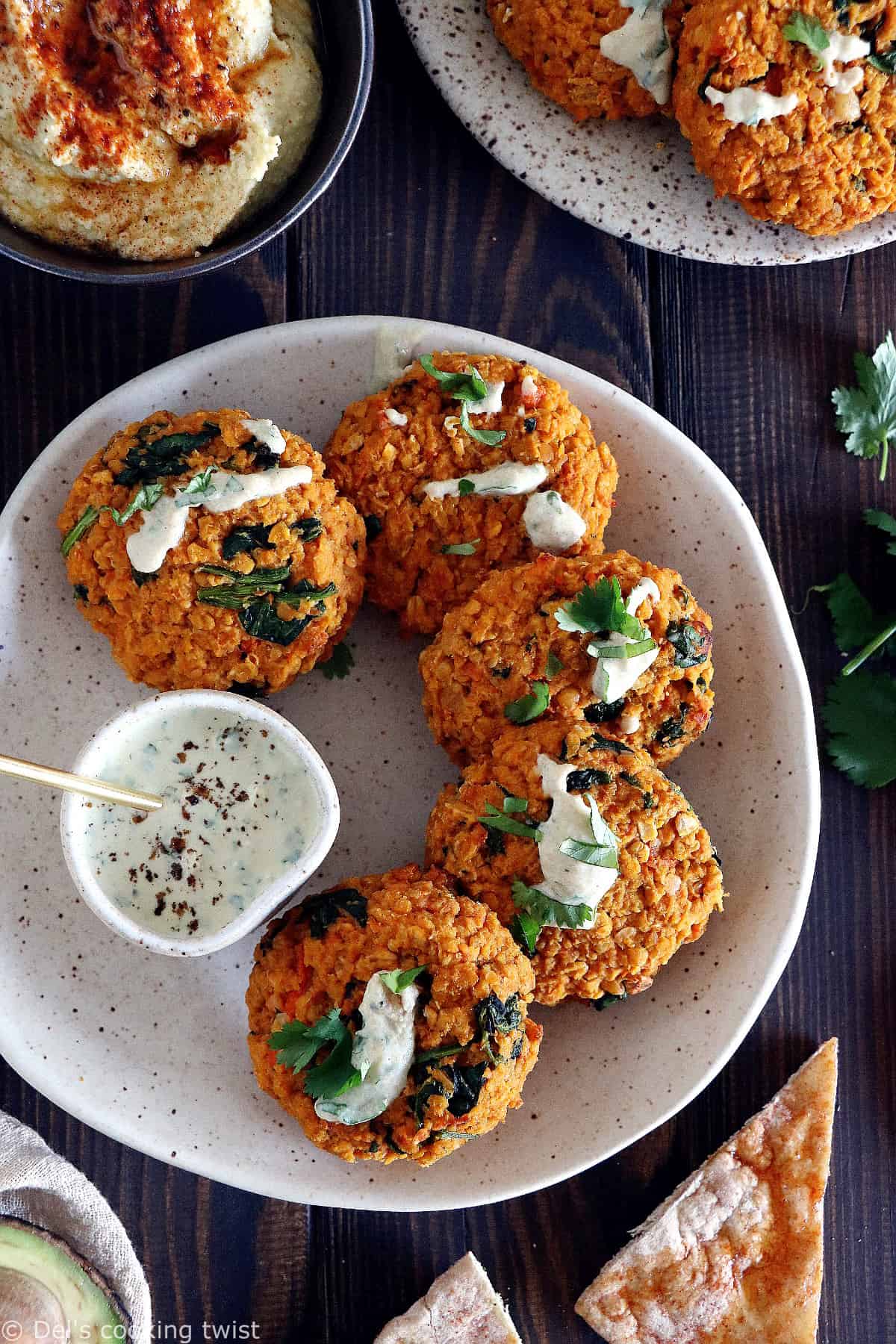 Red Lentil Patties. These patties are nutrition in a nutshell. Bursting with earthy flavors, oozing with plant-based protein, they're definitely a crowd-pleaser. Both kids and adults will LOVE them.
What's in there? Red lentils, carrots, onions, rolled oats. You can make them with or without cilantro (you can replace with spinach for instance).
Why we love them. They're vegan, gluten-free (if using GF oats), packed with legumes and veggies. It's pretty much an entire meal. They're also very soft to chew on, even for toothless babies. Last but not least, they freeze very well.
Serving suggestions. I like to shape them into small patties to fit in a baby's hand. You can skip the sauce or replace with a simple yogurt sauce.
3. Grandma's Nourishing Lentil Soup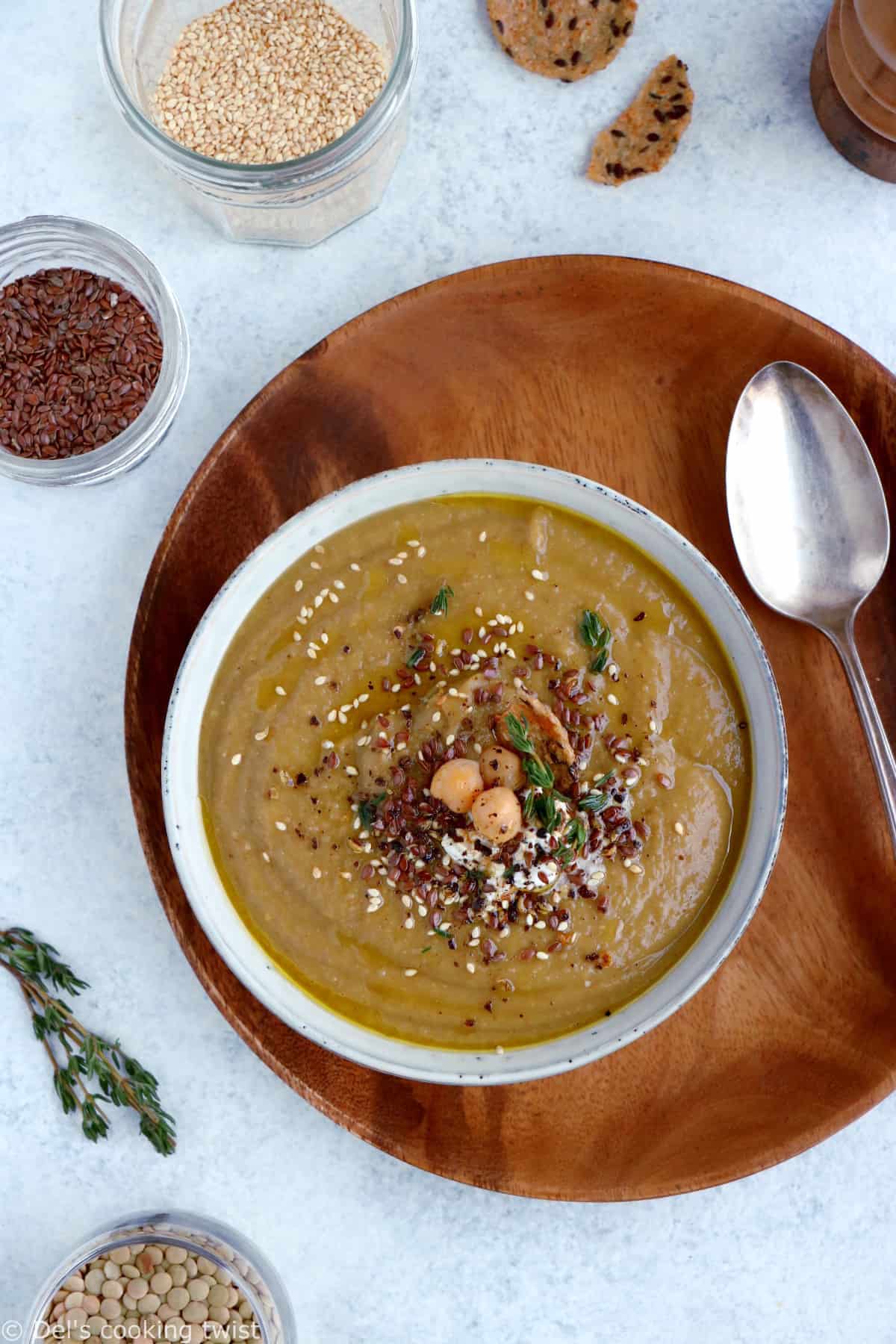 Grandma's Nourishing Lentil Soup. Prepared with 5 ingredients only, this soup is packed with earthy flavors and keeps you warm from the inside.
What's in there? Green lentils, chickpeas, sweet potato, butternut squash.
Why we love it? This soup is very filling and provides its share of plant-based protein, fiber, and vitamins. It makes a perfect meal for your little ones and for yourself too (just add some bread and cheese for a grown-up version).
Serving suggestion. There is none, the soup will easily adapt to babies, toddlers and grown-ups. You can adjust the consistency to your liking, making it thicker or thinner.
4. Veggie Beet Patties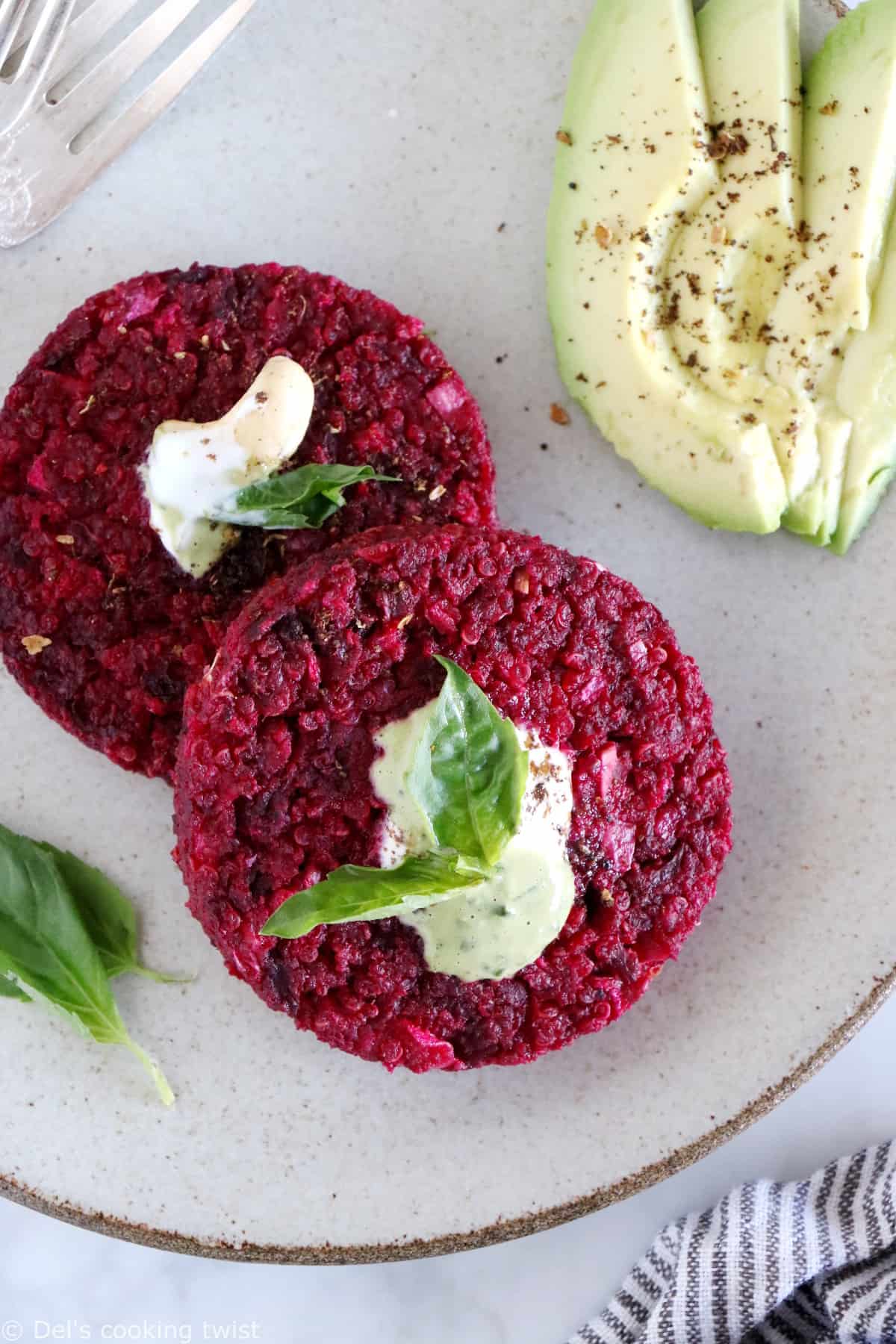 Veggie Beet Patties. These vibrant patties, naturally colored by the beets are a success every single time, among babies, toddlers and adults indistinctly. Have fun and make them part of a mini-burger using my burger bun recipe: baby Lucie loved them!
What's in there? Beets, quinoa, ricotta, breadcrumbs (or rolled oats), onions.
Why we love them? They're pretty, nutritious, very tasty, and freeze very well. Oh, and we LOVE to make mini burgers out of them, for a baby-adult burger party!
Serving suggestion. Like for the other patties recipes, I love to shape them into mini patties for a baby version so that your little ones can eat them by themselves.
5. Red Lentil Stew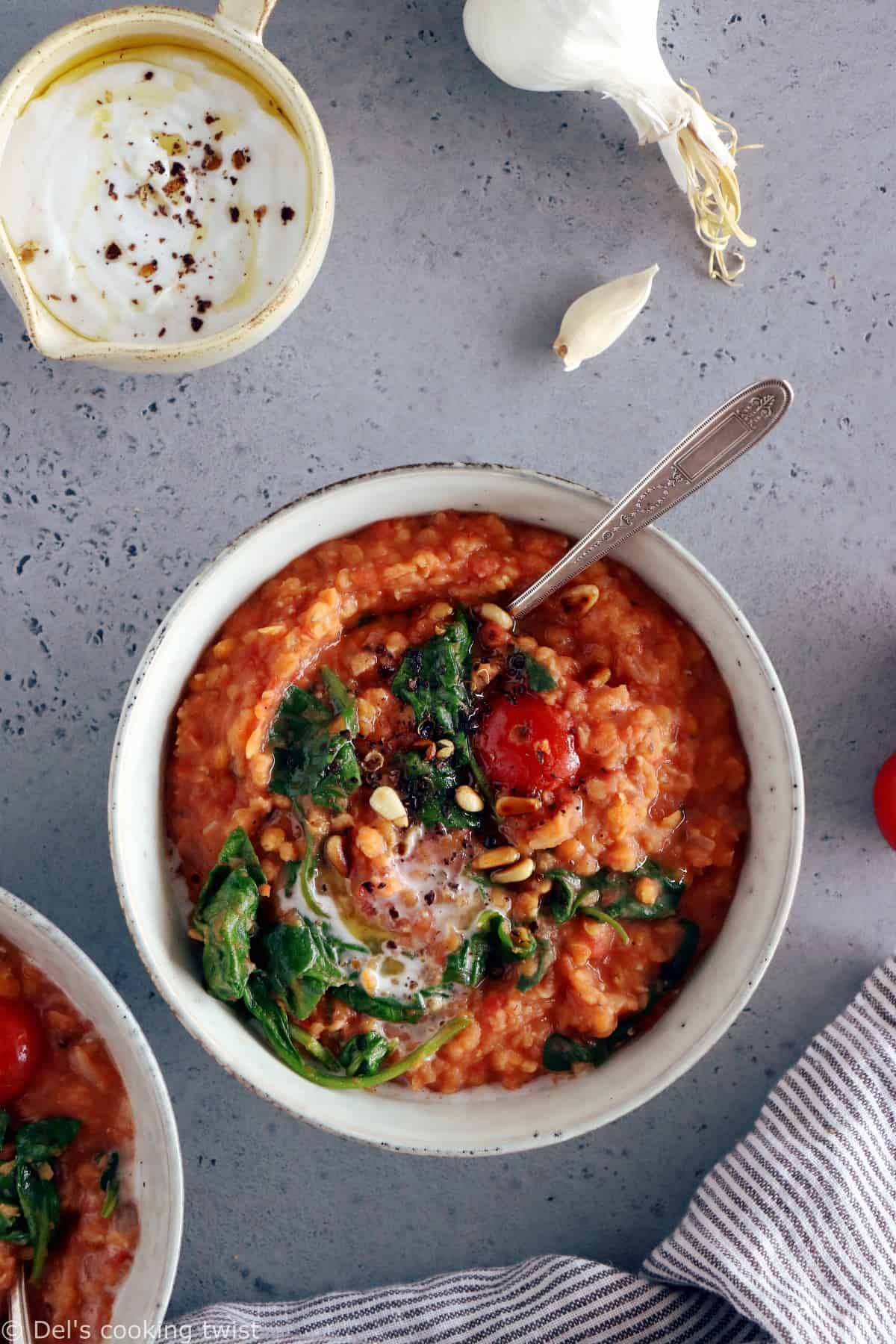 Red Lentil Stew. It's a perfect quick, easy, dal recipe for cozy evenings. Packed with comforting, earthy flavors, it's nutritious and naturally vegan and gluten-free.
What's in there? Red lentils, tomatoes, onions, baby spinach.
Baby version. Chop spinach to make it easier for baby to swallow.
Why we love it? It's such a simple, comforting dish! It's perfect to feed the whole family and it's totally baby-approved too.
Serving suggestion. SKIP THE PINE NUTS (pine nuts) for serving, to avoid chocking hazards.
6. Vegetarian Lentil Shepherd's Pie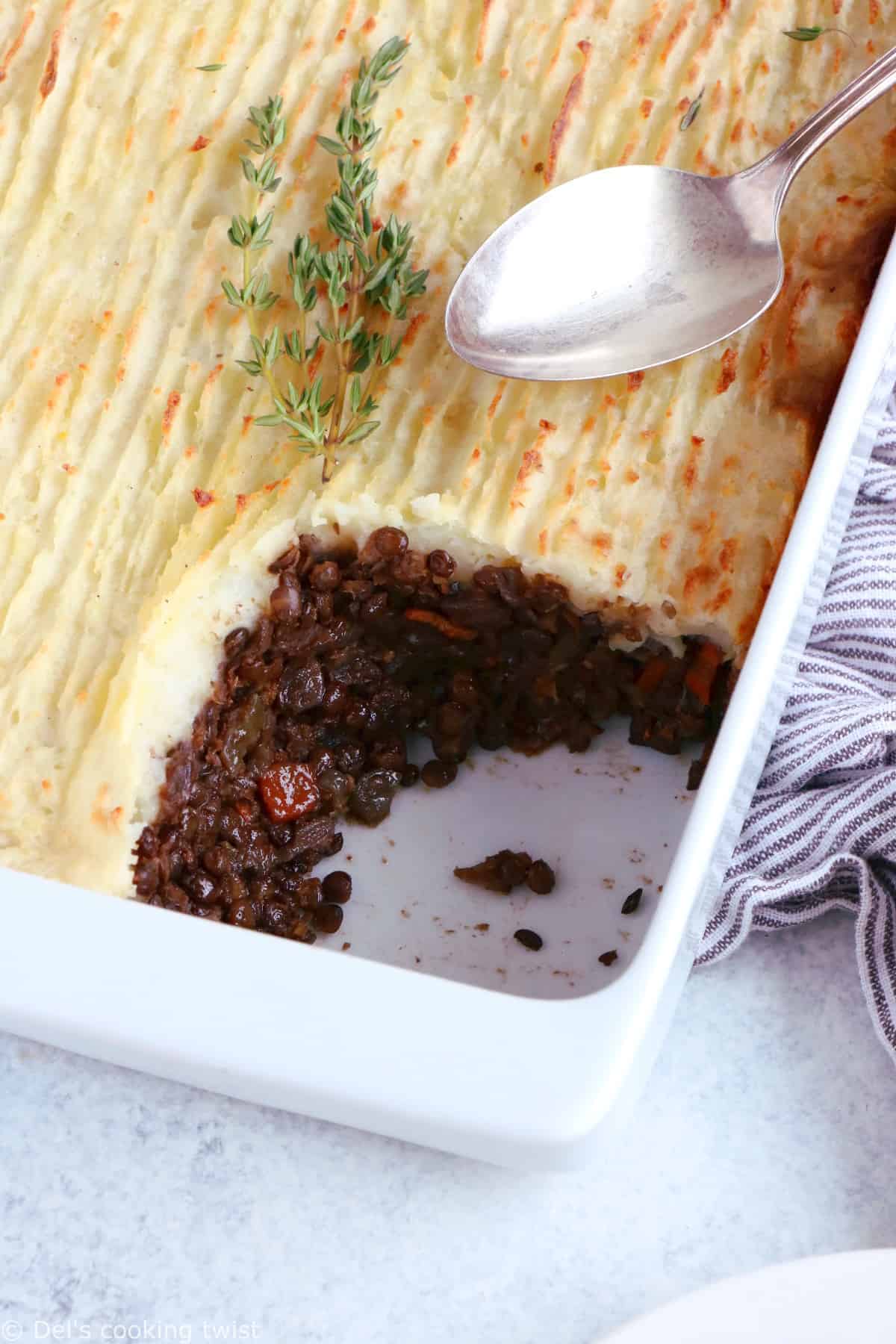 Vegetarian Lentil Shepherd's Pie. This comforting family dish is a crowd-pleaser. Rich, earthy and packed with flavors, it's always a hit!
What's in there? Lentils, carrots, onions, celery stalks, and seasoning.
Baby version. Replace red wine for the sauce with balsamic vinegar to make it baby-friendly. You can use either green lentils or black beluga lentils.
Why we love it? Lentils are iron and fiber-rich, which is perfect for babies. And who doesn't like mashed potatoes? The dish also freezes easily in portions.
7. Sweet Potato Veggie Patties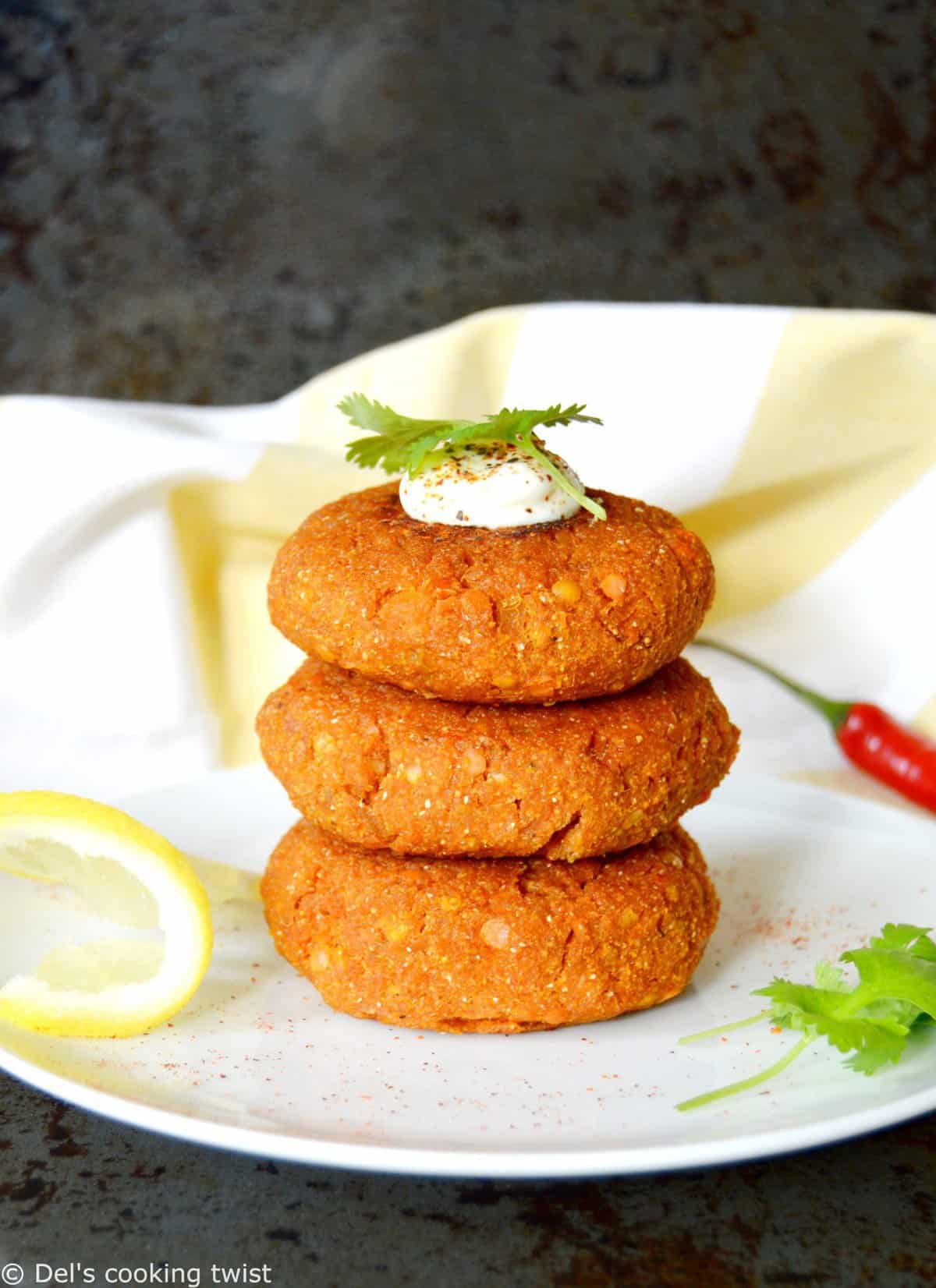 Sweet Potato Veggie Patties. Baby Lucie is literally obsessed with sweet potatoes since day 1 she started on solid food. These patties are filling, extremely nutritious, and also delicious wrapped into two burger buns (mostly for an adult version as they are already very filling on their own).
What's in there? Sweet potatoes, red lentils, chickpea flour, onions, breadcrumbs.
Why we love them? They're packed with earthy flavors, they're easy to shape into mini burgers for a baby version and they freeze well.
Serving suggestion. Shape them into mini patties and dip into mashed avocado.
Sweet baby-approved recipes (no sugar)
8. Easy Oatmeal Recipe
Easy Oatmeal Recipe. This is probably the "sweet" recipe we make the most for baby Lucie, and for us too! Almost every morning she has her bowl of oatmeal, with various toppings depending on the mood and what we have at hand.
What's in there? Rolled oats, vegetable milk and/or water. For a thicker version, you can add plain yogurt too.
Baby version. Oatmeal makes an easy first meal for very small babies starting from 5+ months. To do so you can pulse them in a food processor until finely ground. When babies are a little bit older, you can use rolled oats directly.
Possible topping variations. I love to add homemade unsweetened applesauce, pureed pears, blueberries, mashed or slice bananas, etc. You can also add a Tablespoon of ground flaxseed, chia seeds, or if baby has passed the allergen test of nuts, a spoonful of nut butter of your choice.
Why we love it? This is probably the most customizable recipe.
Serving suggestion. In a bowl; just make sure it is not too hot when serving it to baby.
9. Healthy Whole Wheat Apple Bread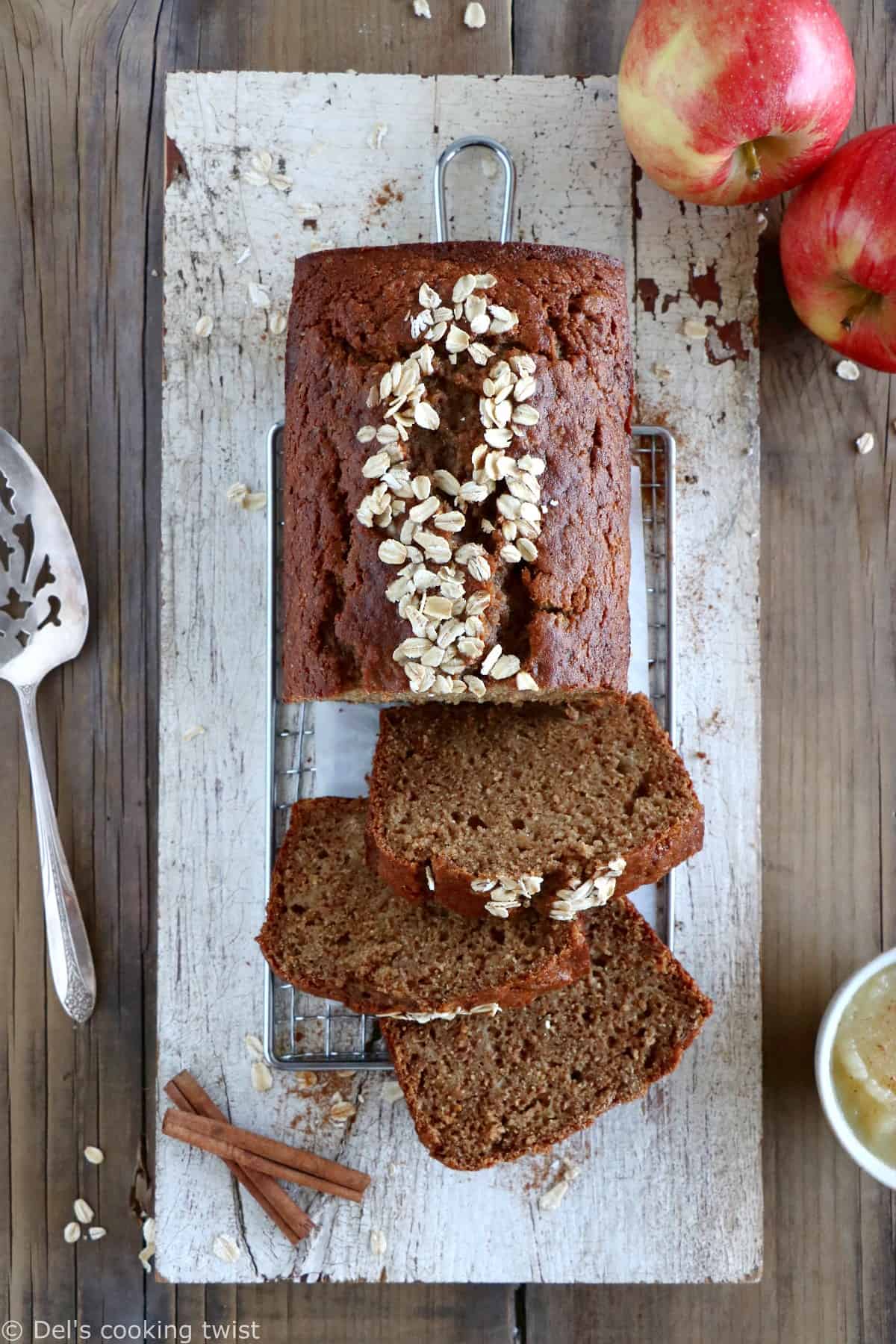 Healthy Whole Wheat Apple Bread. Essentially prepared with fruits and wholesome ingredients, this recipe is a winner that both babies and adult will love.
What's in there? Apples, apples, apples. Well, almost. And whole wheat flour as well.
Baby version. Replace the amount of sugar with the same amount of unsweetened applesauce (½ cup / 100g). Also, SKIP the honey entirely for babies under 12 months.
What we love about it: The bread is almost entirely naturally sweetened by the apples and unsweetened applesauce. The bread is also super moist, which is easy for baby to swallow.
Serving suggestion: Cut each slice into stripes so baby can hold them himself.
10. Banana Pancakes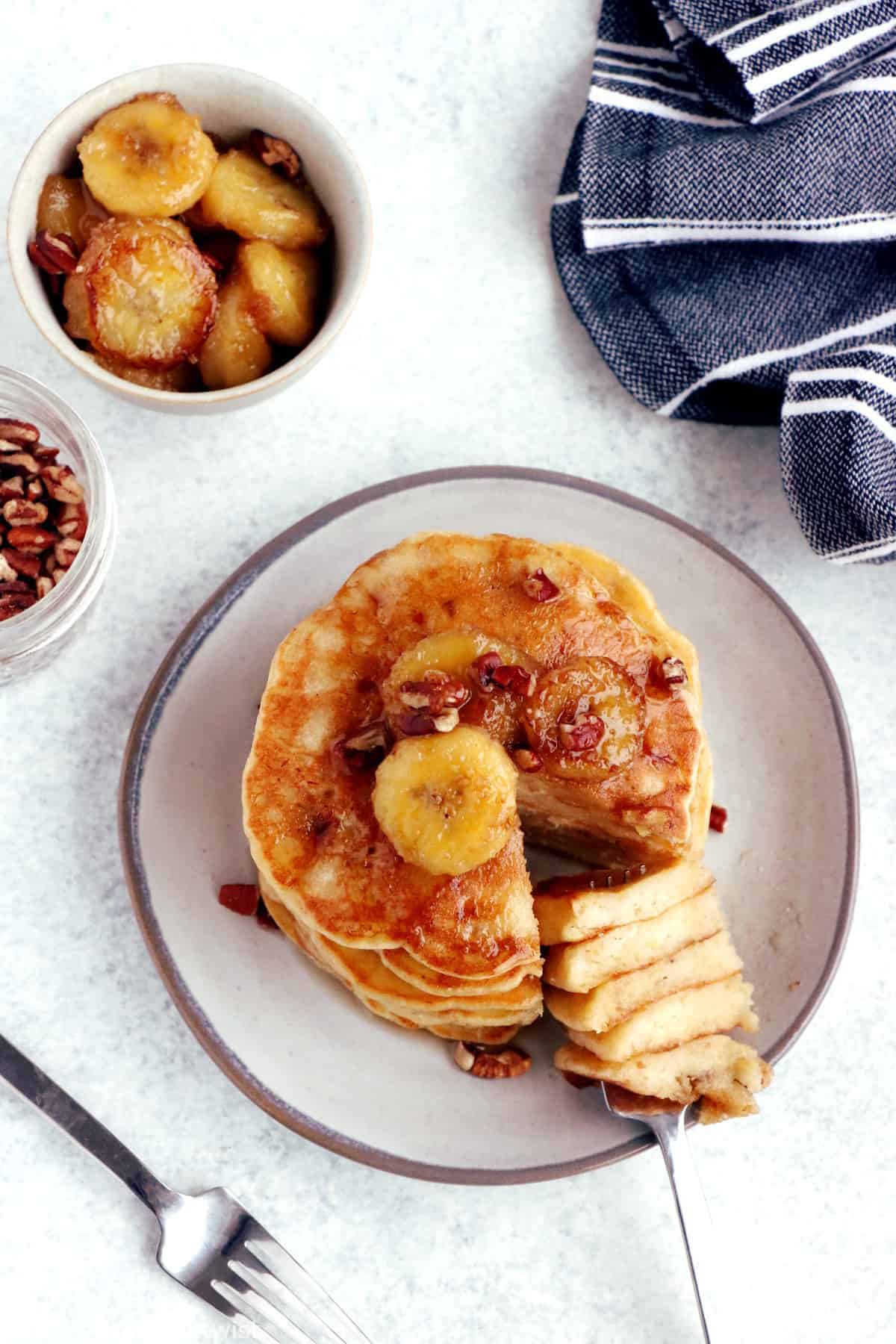 Banana Pancakes. Babies love bananas, and so do we! So why not make these fluffy banana pancakes for breakfast from time to time? They make an easy first baby food when you make the switch from purees to solids.
What's in there? Bananas, flour (use whole wheat flour instead), eggs, milk, oil.
Baby version. I would replace all-purpose flour with whole-wheat flour (use a 1:1 ratio) to make them more nutritious. Also, skip the sugar entirely and simply use ripe bananas. Last but not least, I recommend plant-based milk over dairy milk for babies under 1 year old.
Why we love them? They're extremely fluffy, which makes them perfectly safe for your little ones to swallow even when they don't have any teeth.
Serving suggestion. Cut them into stripes so your baby can hold them and eat by himself.
11. Sugar-Free Almond Butter Banana Muffins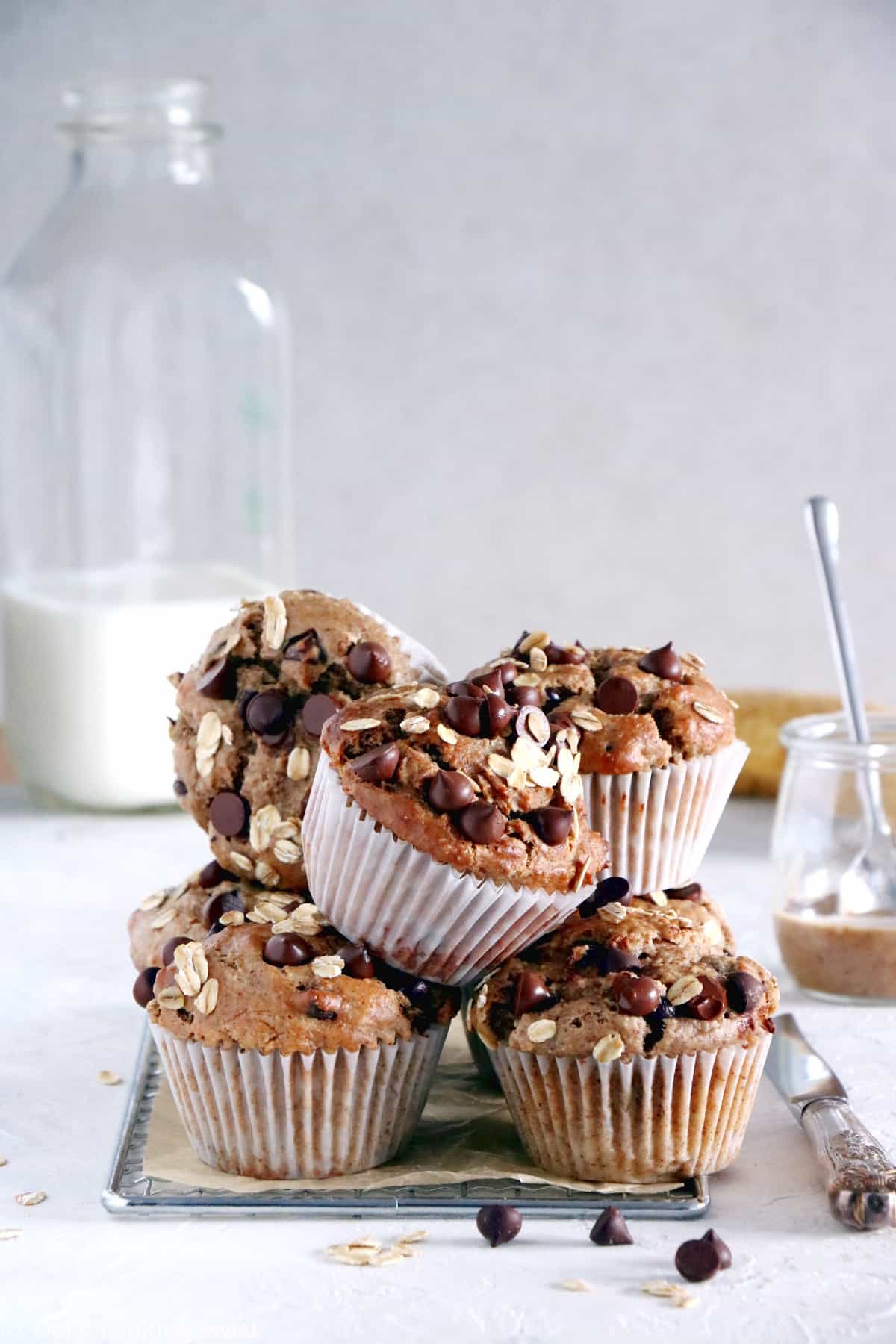 Sugar-Free Almond Butter Banana Muffins. I'm obsessed with these muffins. Skinny, sugar-free yet very nutritious, they come a handy when you're looking for a little healthy snack. Make some of them into mini muffins and without the chocolate chips to make them baby-friendly.
What's in there? Bananas, rolled oats, plain yogurt, almond butter.
Baby version. Skip the mini chocolate chips, as babies are not supposed to eat chocolate before 1 year old. Replace with blueberries or serve plain.
Important note: Make sure you do a test with almond butter separately first, to check if your baby has any allergies with nut butter.
Why we love them? They're yummy and loaded with good-for-you ingredients.
Serving suggestion. Make them mini muffins for a baby-version. Lucie loves them!
12. Whole Wheat Waffles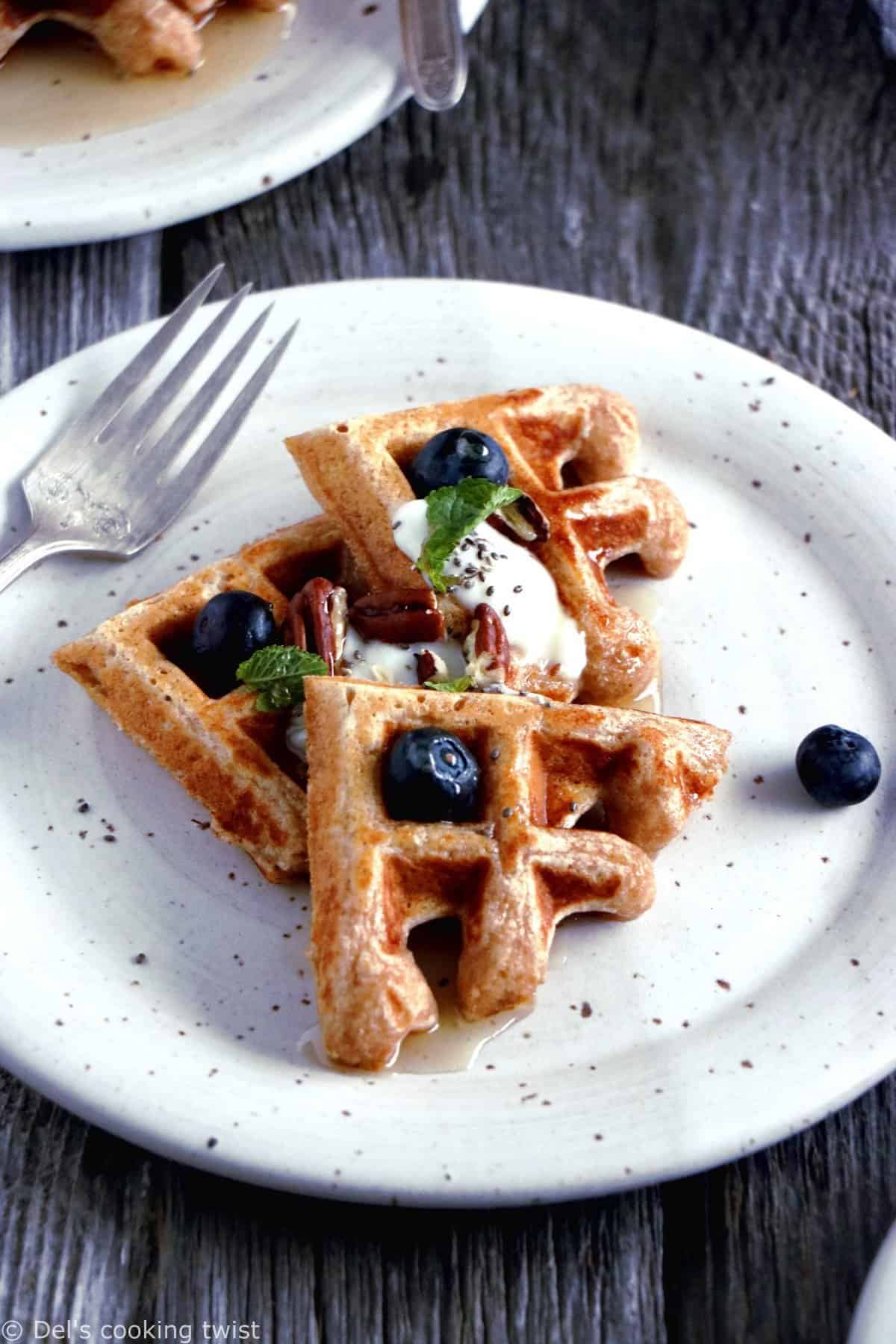 Whole Wheat Waffles. They are fluffy, nutritious and count among our favorites for breakfast. But there is more: babies love them too! Get ready for a great family breakfast!
What's in there? Whole wheat flour, eggs, buttermilk, vegetable oil, sugar (skip it).
Baby version. Skip the sugar entirely, and consider a non-dairy buttermilk version for sensitive tummies. Also, unlike the photo above, don't use any nuts or syrup as of serving options for obvious reasons (chocking hazards, the no-sugar rule).
Why we love it? They're fluffy and easy to chew on. Perfect when baby is teething!
Serving suggestion. Make them into triangles and serve them along with fresh blueberries and yogurt.
I hope these recipes will have inspired you to cook some delicious meals that are perfect for the entire family, baby included. Note that this is a non-exhaustive list, and you will probably find some other baby-approved recipes while crawling the site. Also, remember that every baby is different, with his very own pace, so if for any reason he's still not ready to eat one of the recipe listed above, simply postpone it for later. On that note, have fun and enjoy your meal!
Lastly, if you make one of the 12 Baby-Approved Veggie Recipes listed above, be sure to leave a comment and/or give this recipe a rating, letting me know how you liked it. And of course, don't forget to tag me on Instagram! Thank you and enjoy!