Healthy whole wheat apple bread is a low fat recipe prepared with whole wheat flour, shredded apples and is lightly sweetened with applesauce. This simple apple bread recipe is a winner.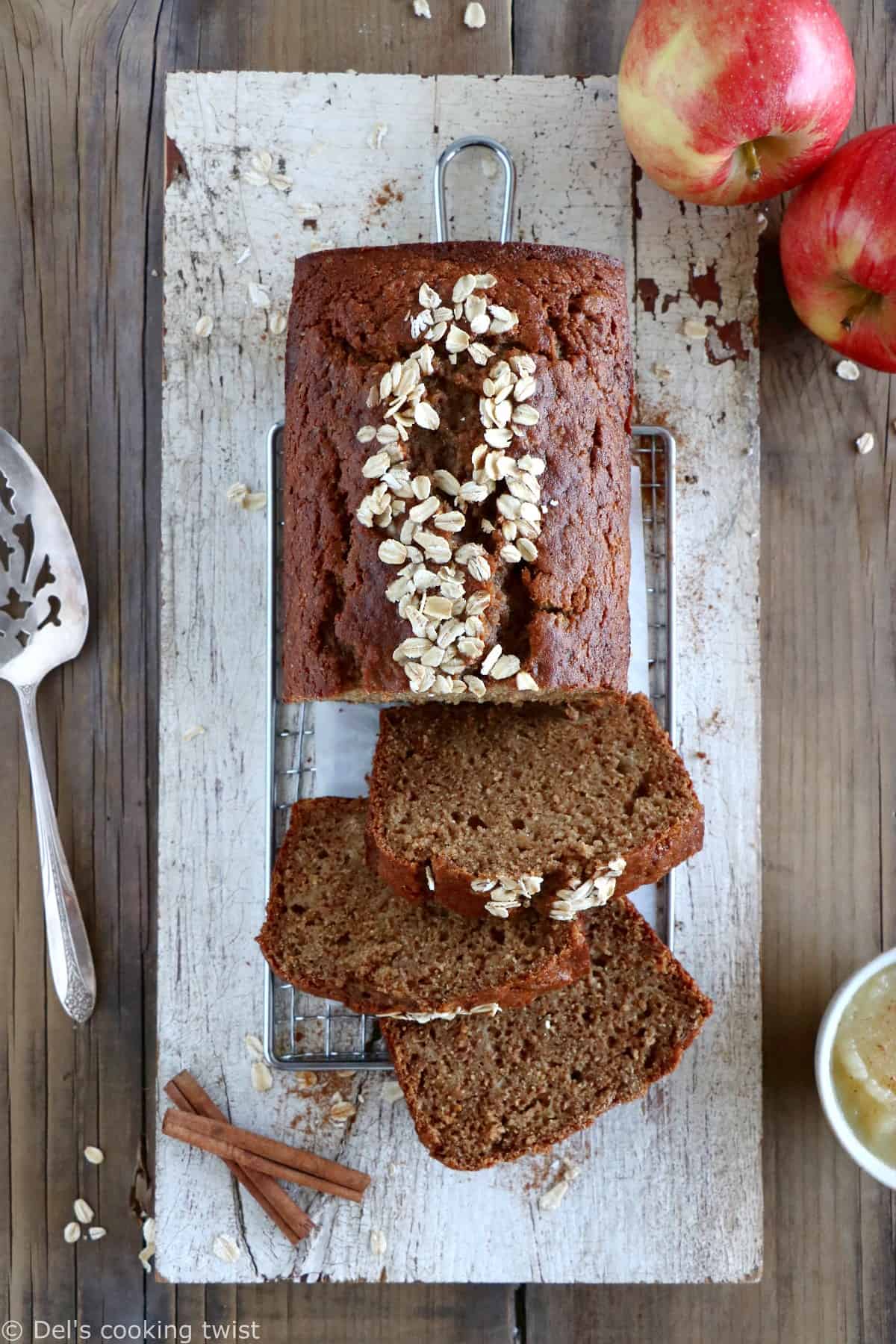 It's apple season, let's celebrate! I have been willing to share an apple bread recipe for quite some time and was waiting for fall to be here. Now that it's right at the corner, I'm finally ready. And good news, guys, I think I finally found the one. This apple bread recipe is made with clean, wholesome ingredients, super easy to whip up, perfectly moist in texture and packed with some delicious apple flavors.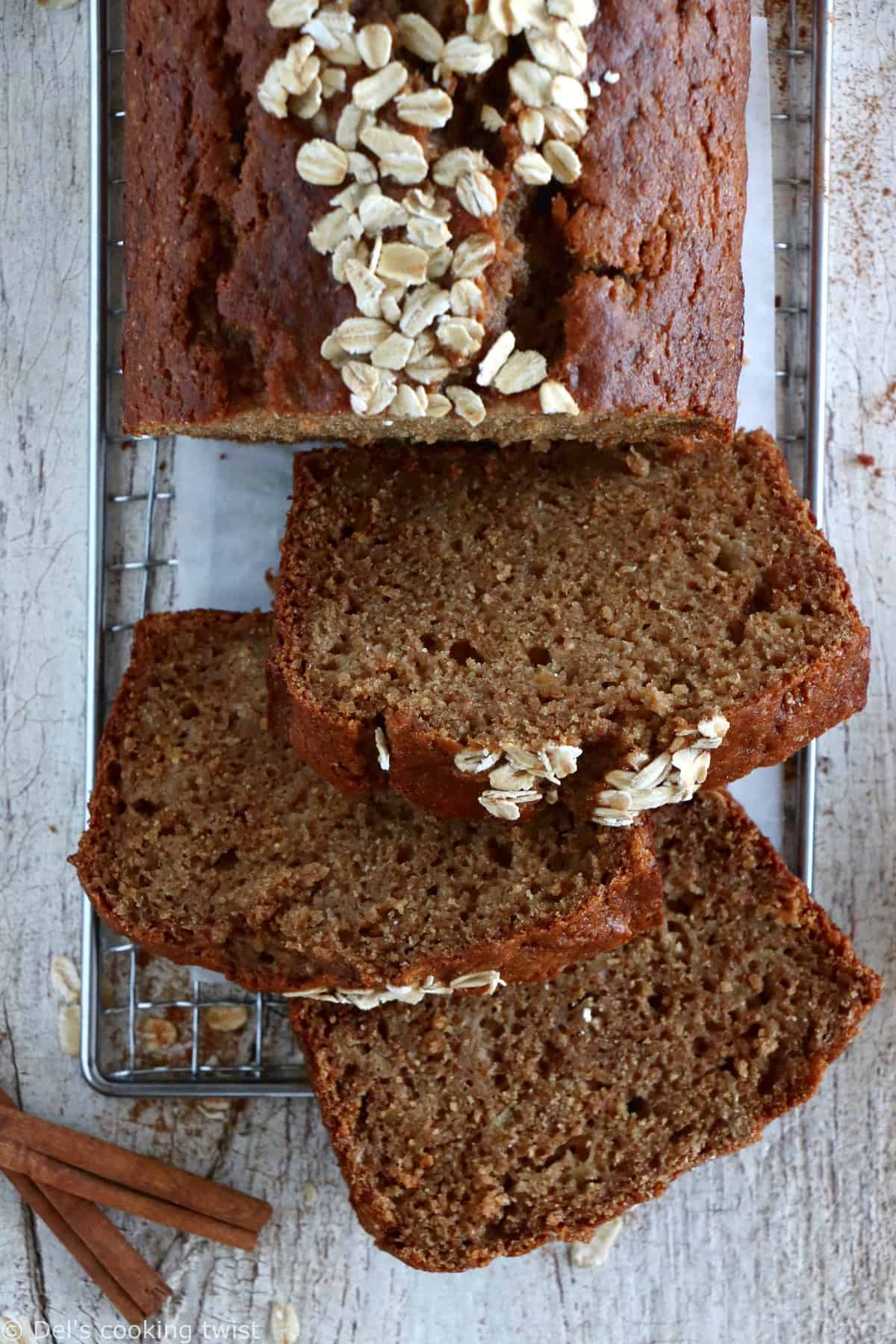 My secret is to use both unsweetened apple sauce and shredded apples to release as much flavors from the apples as possible. I also added a pinch of cinnamon, but I leave it optional here, as the idea with spices is only to lightly enhance the flavors. That being said, and as we go further in the fall season and the holiday season, it's up to you to use a spice mix in this apple bread if you'd like.
Which apples are best for baking?
This is always a tricky question, as it's easy to get lost in all the apple varieties that exist, especially in this time of the year when apples are in season. Funny enough, I did apple picking for one or two seasons when I was a student, and still I never remember the apple varieties and what is best to use in which recipe. I usually asks my mom, who is quite an expert in apples.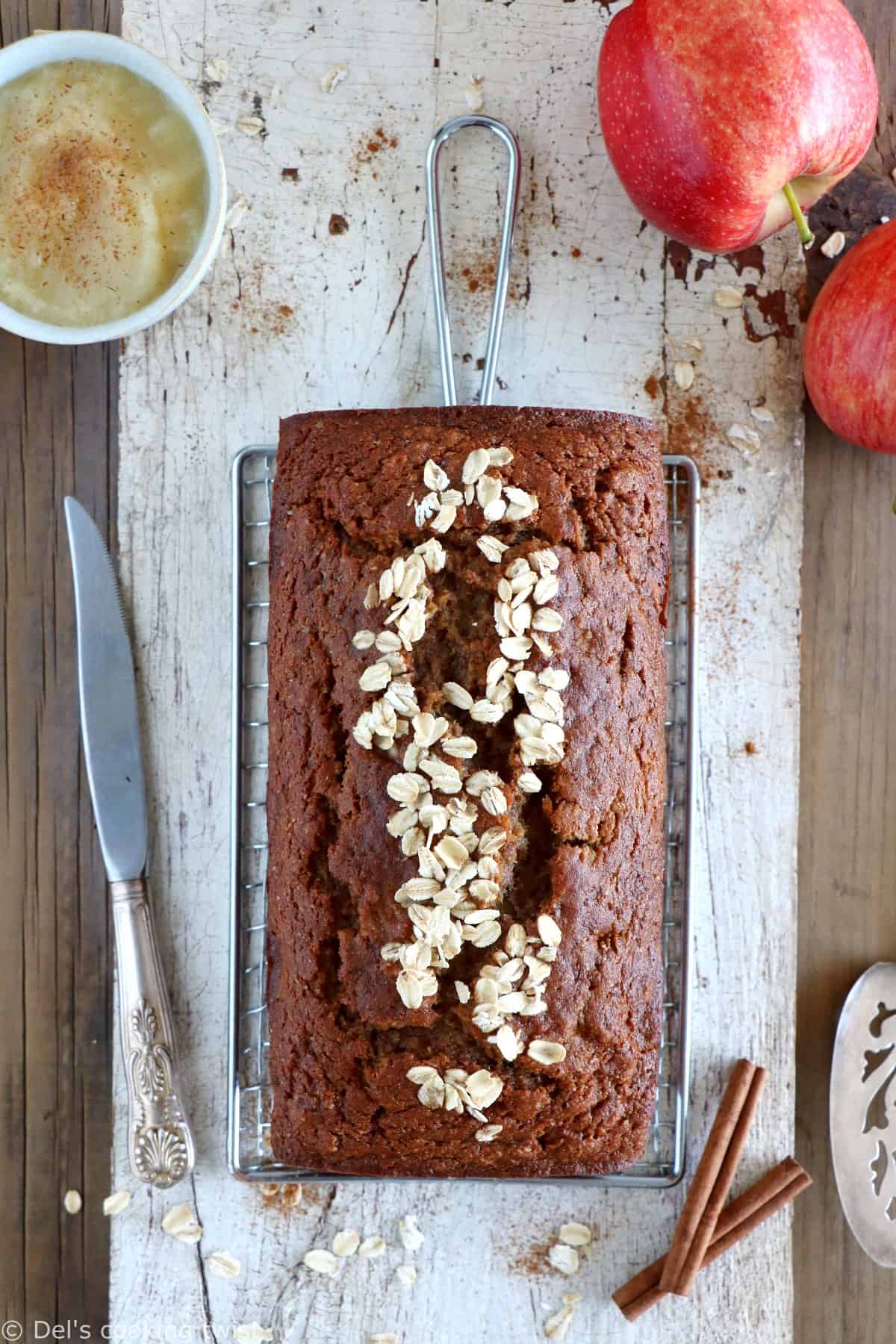 So basically, what you need to remember here is that all apples would do the job. Now if we have to choose, I would go for Gala or Fuji apples. But really, this is mostly a matter of personal tastes.
Shredded apples + unsweetened applesauce
Unlike a classic apple bread, I chose not to use sliced or cubed apples but shredded apples instead, willing to avoid this mushy apple bite we stumble upon every so often. Instead, I wanted a very smooth texture, that still brings you as much apple flavor as possible. I use a coarse grater to get shredded apples, and note that you will need approximately 2 medium size apples. Try to avoid to use a fine grater however, that will end up in a pureed texture.
To complete the flavors released by the apples in the recipe, I use applesauce. I recommend you make your own unsweetened apple sauce. It takes a little bit more time but the result is worth the effort. Store-bought applesauce is often the result of damaged apples and may contain some unnecessary additives.
What makes this apple bread healthy/healthier?
This apple bread is overall a healthy dessert recipe in the sense that it focuses on plain, wholesome ingredients, such as whole wheat flour (rather all-purpose flour), plain Greek yogurt (instead of huge quantities of butter) and some delicious fruits loaded with vitamins and fiber.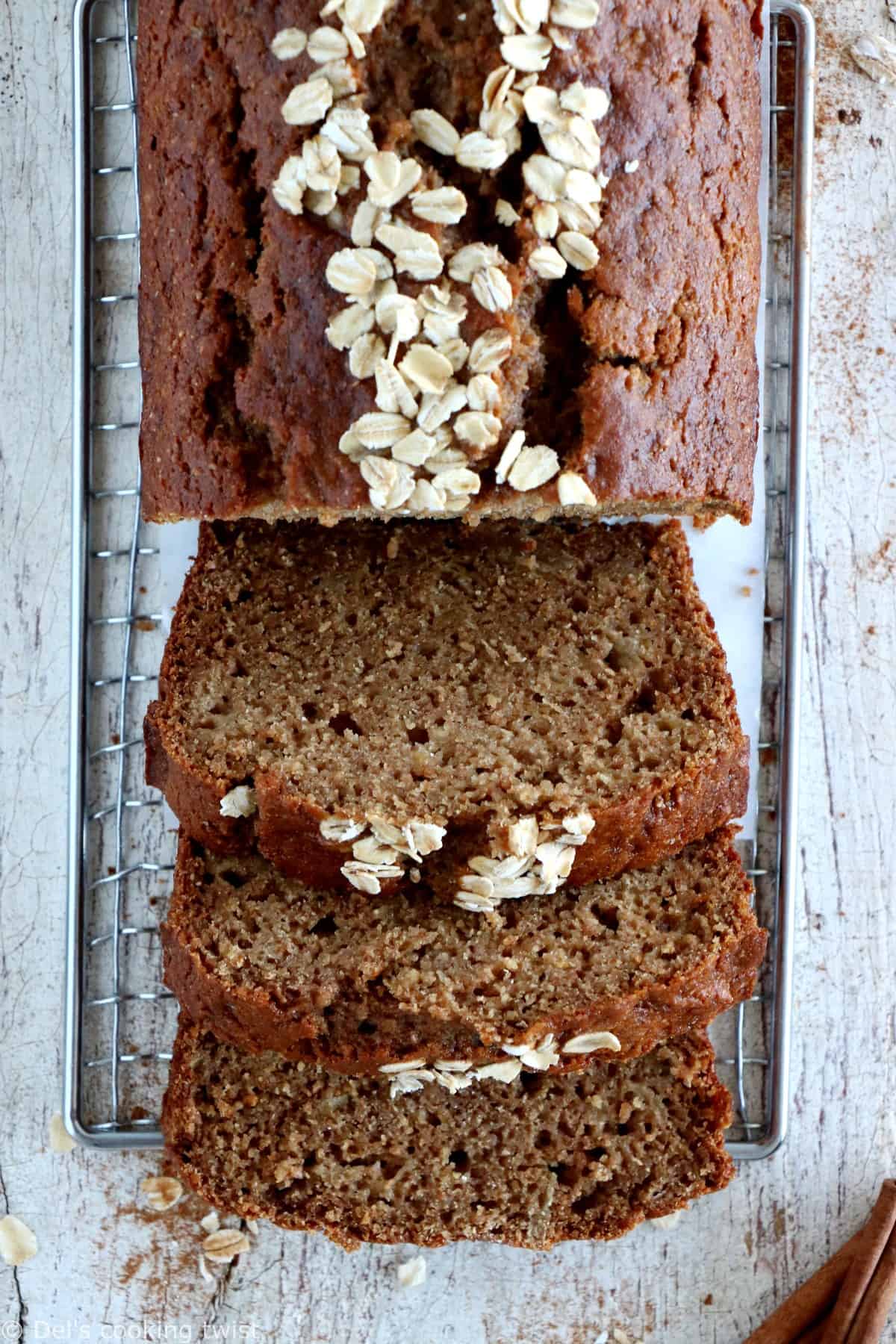 Note however that it remains a dessert recipe and it contains sugar. This apple bread is for sure a healthier dessert than its classic counterpart, but if you are looking for cutting the sugar completely from your recipes, you can check out my Sugar-Free and Naturally Sweetened Desserts. Now, this is what you can expect in this apple bread recipe:
Whole wheat flour: the use of whole wheat flour rather than all-purpose flour makes the recipe much higher in fiber, vitamins B6 and E, magnesium, zinc, folic acid and chromium. In other words, you get a more wholesome apple bread.
Unsweetened applesauce:  The recipe is naturally sweetened by the applesauce, to which I added a little bit of sugar and honey. If you are a sweet tooth though, you can always add until 1/2 cup (90g) honey, but I find it not necessary.
Greek yogurt: the use of Greek yogurt makes the recipe very low in fat compared to a classic apple bread. I added two tablespoons of melted butter, and that's all the fat you have in the recipe.
Shredded apples: Together with the unsweetened applesauce and the whole wheat flour, the use of shredded apples makes the recipe high in fiber and vitamins.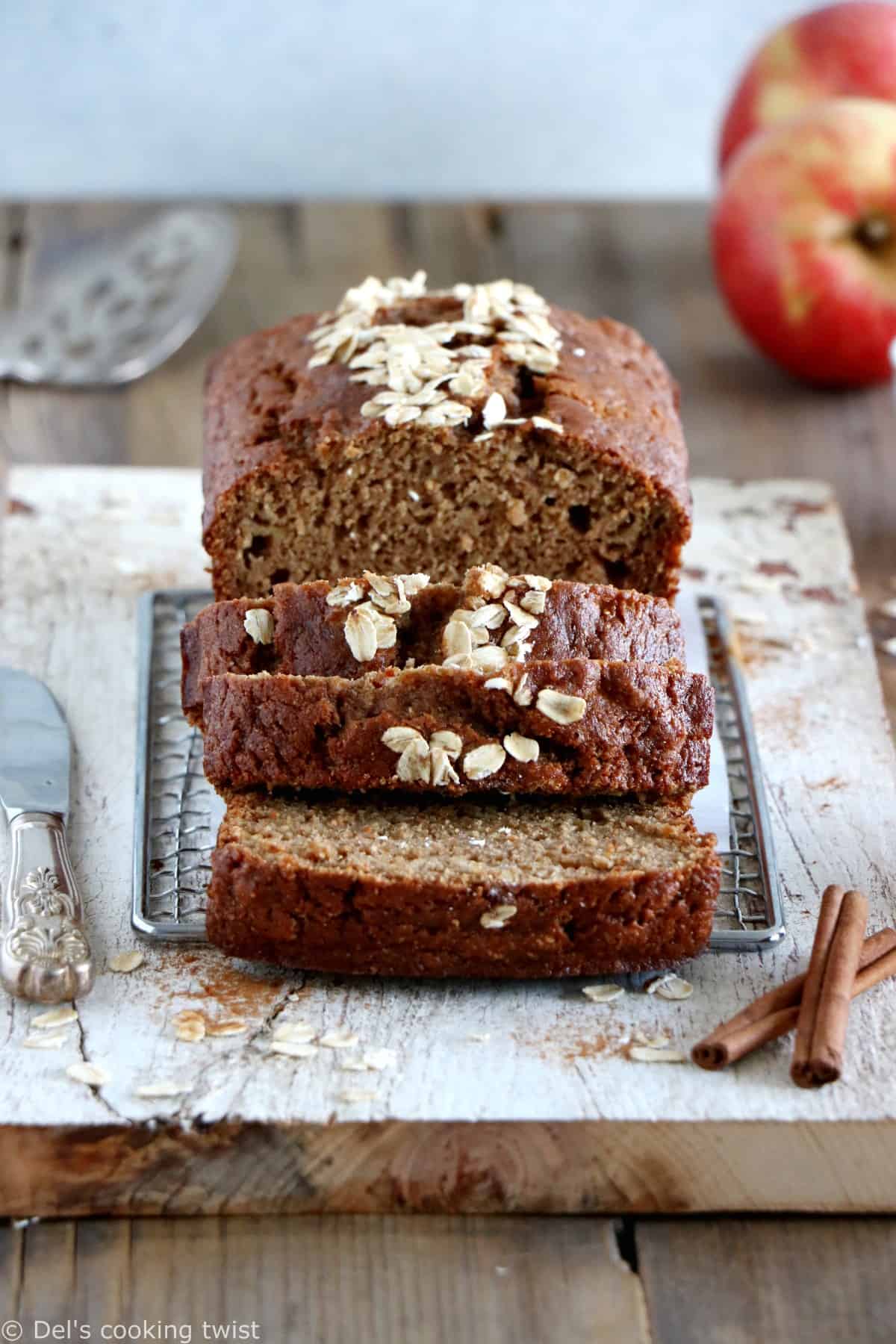 More apple recipes you'll love:
More bread recipes: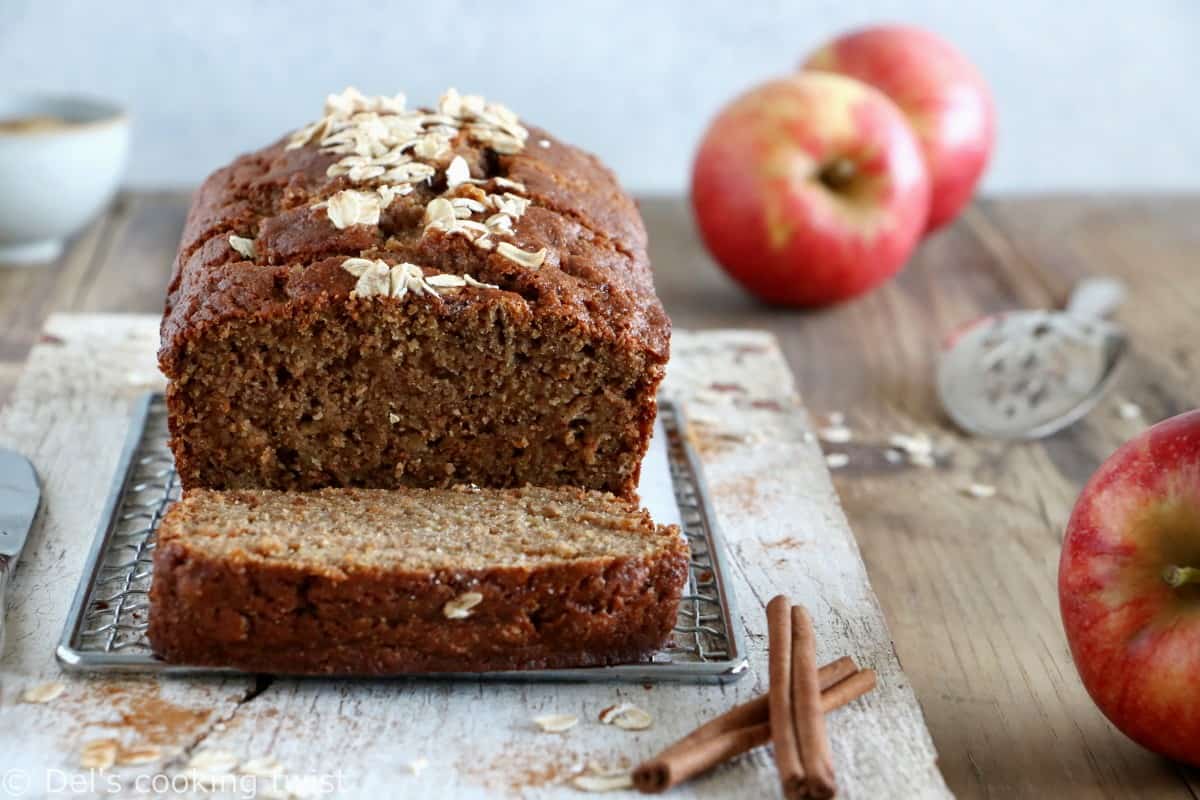 Print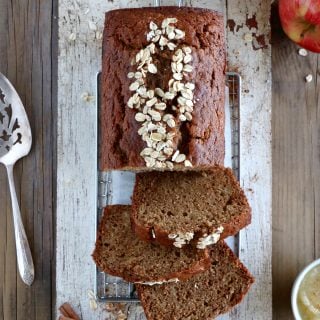 Healthy Whole Wheat Apple Bread
Author:

Prep Time:

20 mins

Cook Time:

1 hour

Total Time:

1 hour 20 minutes

Yield:

1

loaf

1

x

Category:

Cakes and pies

Cuisine:

Healthy
---
Description
Healthy whole wheat apple bread is a low fat recipe prepared with whole wheat flour, shredded apples and is lightly sweetened with applesauce. This simple apple bread recipe is a winner.
---
1 cup

(

140g

) shredded apples*

1 1/2 cups

(

170g

) whole wheat flour

½ cup

(

100g

) cassonade (or coconut sugar)

1 teaspoon

baking soda

1/2 teaspoon

ground cinnamon (optional)

2

large eggs

2 Tablespoons

(

40g

) honey

1 cup

(

220g

) unsweetened applesauce**

1/2 cup

(

120g

) plain Greek yogurt

1 teaspoon

vanilla extract

2 tablespoons

(

30g

) butter, melted
---
Instructions
Preheat oven to 350ºF (180ºC) and grease a loaf pan with butter.
In a medium size bowl, mix together shredded apples, whole wheat flour, sugar, baking soda and cinnamon. Set aside.
In a separate bowl, mix the eggs with honey, unsweetened apple sauce, greek yogurt and vanilla extract.
Slowly add dry ingredients to wet ingredients and mix until smooth. Finally, fold the melted butter into the batter.
Pour batter into the prepared loaf pan and bake for 40 minutes. Cover with tin foil, and bake for another 20 minutes. Remove from the oven and let cool completely. Enjoy!
---
Notes
* You need approximately 2 apples to make 1 cup (140g) shredded apples. Use a coarse grater rather than a fine grater that would result in apple puree rather than shredded apples.
** To make homemade apple sauce: dice 4 medium-size apples, and cook with 3/4 cup (180 ml) water, until soft. Puree in a food processor, and it's ready!
Recipe inspired and adapted from Fit Foodie Finds.
Keywords: healthy apple bread