Here's my favorite pot pie recipe – A rustic vegetarian pot pie loaded with hearty veggies coated in a creamy gravy, and tucked in between two crunchy flaky pie crusts. This vegetarian-friendly pot pie is just as good as the traditional chicken pot pie, without the meat!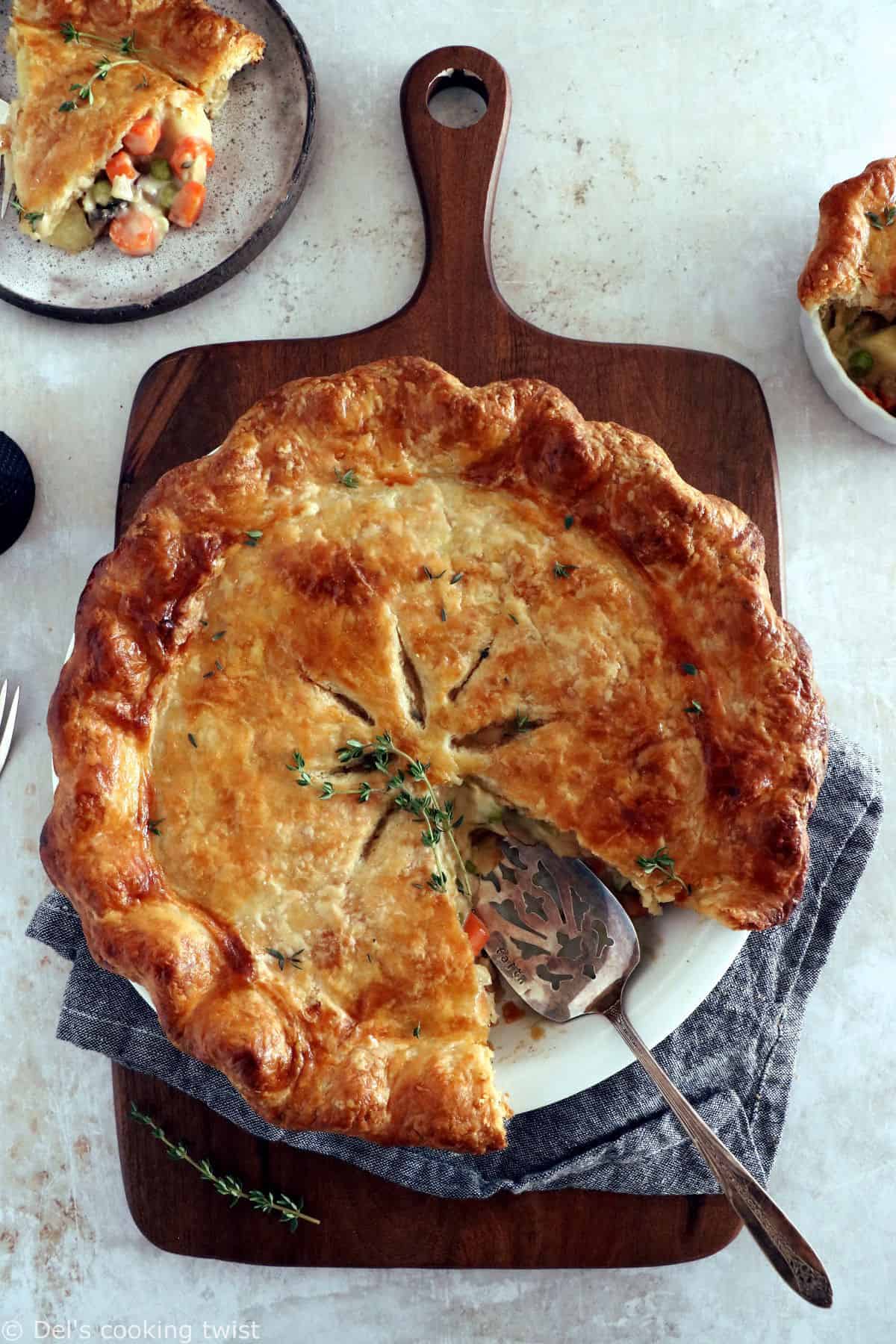 If you ever had a chicken pot pie before, this vegetarian version will amaze you. The recipe skips the chicken and features some delicious veggies that recreate all the flavors from the original recipe. Even non vegetarian won't miss the chicken in the recipe. Under a flaky golden crust, you will find a warm, hearty filling and a creamy gravy.
Comforting, filling, and just perfect to cozy up on a relaxing week night or to serve for Thanksgiving dinner, this vegetarian pot pie recipe is a winner!
The veggies you need for a vegetarian pot pie:
A vegetarian pot pie could be made with many different veggies of your choice. I deliberately chose to use the same veggies you would have in a traditional chicken pot pie to stay as close as possible to the original recipe. So here's what you need for a vegetarian pot pie: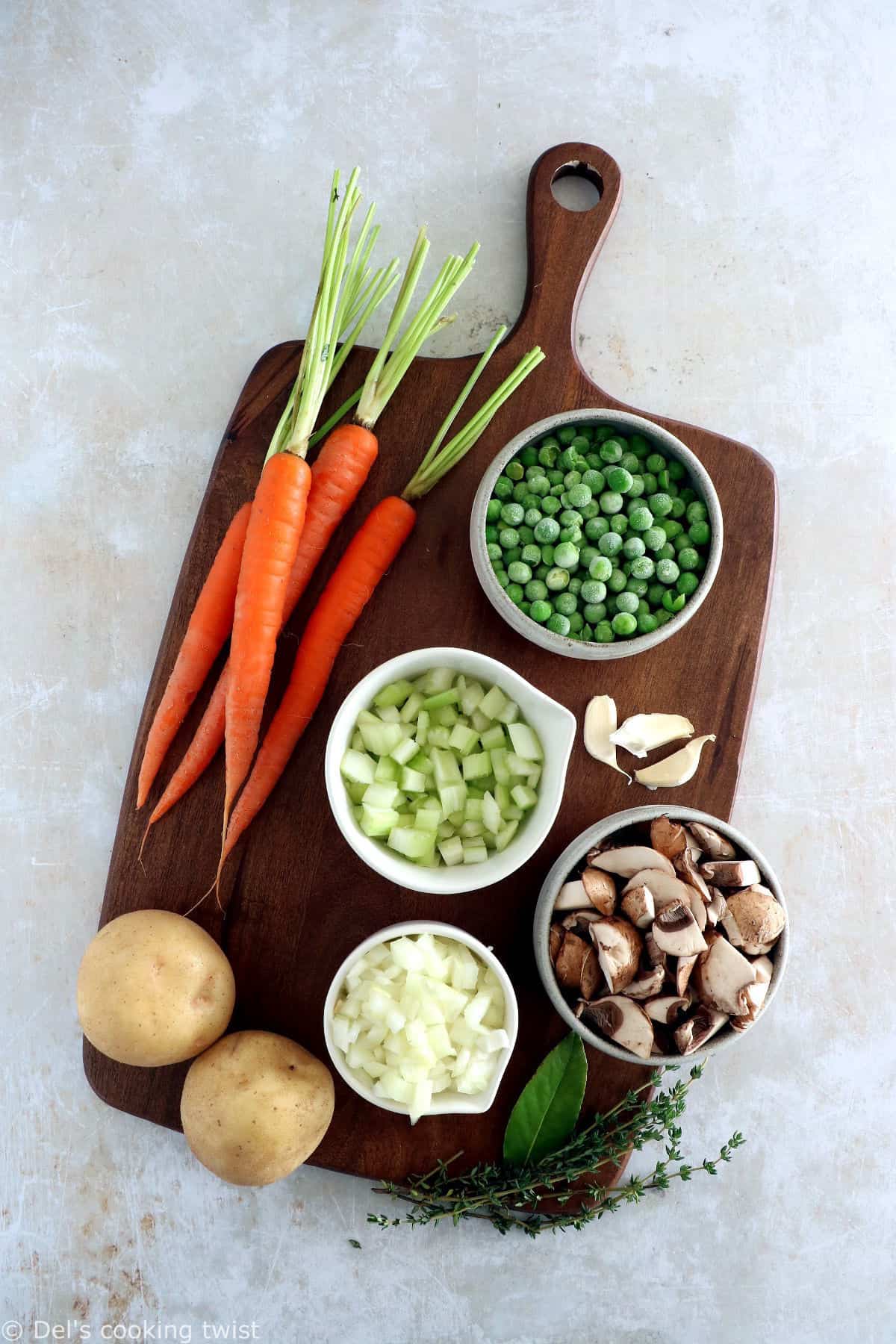 Don't pass on the herbs and the seasoning! Thyme is an important ingredient of vegetarian pot pie. It has earthy and floral hints that adds layers of flavors without being overwhelming. Also, make sure you use enough salt to the recipe, it may seem a lot but this is what you need to make flavors pop. My personal touch when I make pot pie is to add some nutmeg. I discovered the trick from a pie shop in Chicago years ago, and to me it really makes the difference between a good and a great pot pie!
How to make vegetarian pot pie?
Prepare the pie crust, divide in two, and let chill for 2 hours. If you plan way in advance, I recommend to freeze it, I find that it makes the crust even flakier. So good!
Pre-cook carrots and potatoes in some boiling water until tender.
Prepare the gravy. Saute onions and garlic in melted butter, add mushrooms, then whisk in flour, salt, black pepper, thyme, vegetable broth and cream. When ready, add the pre-cooked vegetables.
Roll out the first dough, place in the bottom of pie dish and top with the filling.
Roll out the second dough and use it to cover the pie, sealing and crimping the edges.
Make a few slits on top, brush with beaten eggs, and bake until golden brown.


Important notes about the crust
To make this vegetarian pot pie, you will need one crust for the top, one for the bottom. Note that there are two schools when it comes to the pot pie crust:


Can I swap/add ingredients?
Absolutely! If you want to stay as close as possible to the traditional chicken pot pie without the chicken, then stick to the ingredients listed above. If however you don't mind these flavors, then you can use many different veggies. I recommend to keep onions and garlic for their sharp flavors, and add other veggies of choice. Potatoes can be replaced with (pre-cooked/steamed) cauliflower florets, broccoli, asparagus or green beans for instance, mushrooms can be skipped, and frozen peas can be completed with corn. Try to not overload with veggies, or you may be short in gravy. You want to make sure you have enough sauce to coat and make the filling creamy and comforting.
What to serve with vegetarian pot pie?
This vegetarian pot pie is traditionally served as a main. Because it is earthy and very filling, I recommend a side of salad to bring a touch of freshness. Here are a few options you may consider: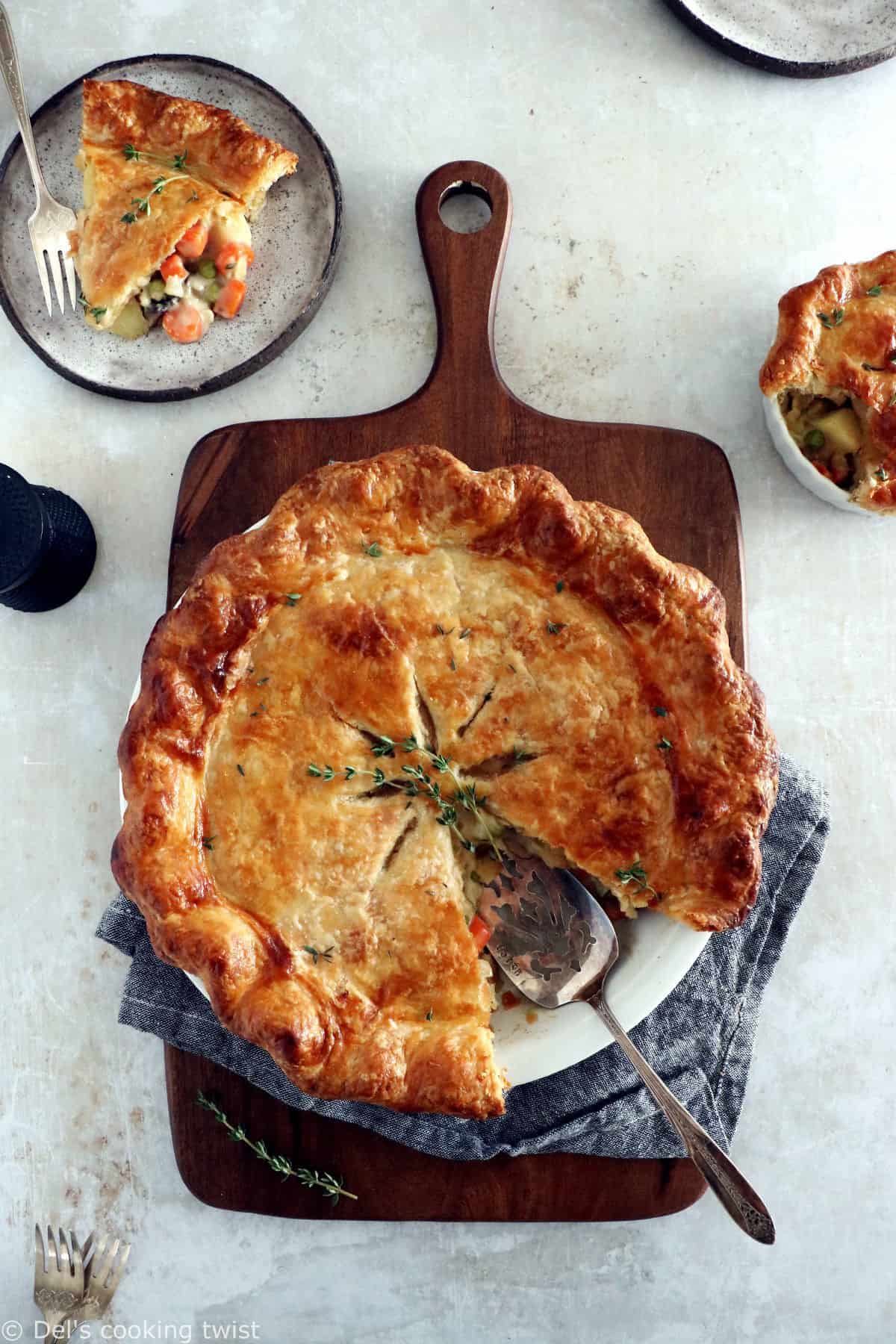 More vegetarian pie/quiche recipes:
Lastly, if you make this Vegetarian Pot Pie, be sure to leave a comment and/or give this recipe a rating, letting me know how you liked it. And of course, don't forget to tag me on Instagram! Thank you and enjoy!
Print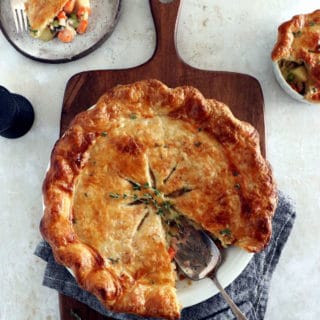 Vegetarian Pot Pie
Author:

Prep Time:

2 hours

Cook Time:

30 mins

Total Time:

2 hours 30 minutes

Yield:

8

servings

1

x

Category:

Savory

Cuisine:

American

Diet:

Vegetarian
---
Description
This rustic vegetarian pot pie is loaded with a creamy and hearty vegetarian filling tucked in between two crunchy flaky pie crusts. The best vegetarian-friendly pot pie out there.
---
For the pie crust*:
3 ½ cup

(

15 ounces

/

420g

) all-purpose flour

1

pinch of salt

1 cup

+ 4 Tablespoons (

10 ounces

/

280g

) unsalted butter, diced

2 teaspoons

granulated sugar

⅔ cup

(

5 ounces

/150 ml) water, or more if needed
For the filling:
⅓ cup

(

80g

) butter

½

medium yellow onion, finely chopped

3

–

4

cloves garlic, minced

½ cup

(1 large stalk/

80g

) celery, finely chopped

1 ½ cup

(about 3 carrots,

200g

) carrots, chopped or sliced

1 cup

(

100g

) mushrooms, chopped

1 ½ cup

(2 small potatoes/

230g

) yellow potatoes, chopped

1 cup

(

120g

) frozen peas

⅓ cup

(

40g

) all-purpose flour

1 teaspoon

salt

½ teaspoon

black or white pepper

¼ teaspoon

ground nutmeg

1 Tablespoon

fresh thyme

1 ¾ cup

(

420

ml) vegetable broth

⅔ cup

(

160

ml) heavy liquid cream

1

egg, beaten (for brushing)
---
Instructions
For the crust:
In a medium-sized bowl, mix together the flour and salt. Dice the butter into small pieces and crumble it with the flour until lumps are the size of small peas. Add sugar and stir well. Pour in the ice cold water, little at a time, mixing with a fork. Finish by hand and shape into a ball.
Flatten the dough a little bit, wrap into cling film and chill in the refrigerator for about 2 hours.
For the filling:
Preheat the oven to 425°F (220°C). Grease the bottom and sides of a 9-inch (23 cm) pie dish with butter and dust with flour.
Place the carrots and potatoes in a pan with just enough water to cover them. Heat over medium heat until soft, about 15 minutes. Drain all the vegetables. Set aside.
Melt butter in a large skillet placed over medium heat. Add the onions, garlic and celery and cook for about 3 minutes, until tender. Add mushrooms and cook for one more minute. Whisk in the flour, salt, pepper, nutmeg and thyme. Slowly add the broth and cream, stirring frequently until thick, about 10 minutes. Turn off the heat and add the peas, and stir in the remaining veggies.
Roll out the first pie crust into a large circle, about 12-inch (30 cm) in diameter. Carefully place over the pie dish, prick with a fork and pour the filling over.
Roll out the second pie crust and use it to cover the pie. Trim the extra overhang off the sides. Seal the edges by crimping with your fingers. With a small sharp knife, make a few slits in the top crust for steam to escape.
Brush with beaten egg and bake for about 30 minutes or until crust is golden. Check the pot pie after 15 minutes, and place a piece of foil loosely over the top if the top starts to brown, then continue baking. Allow to cool slightly and serve!
---
Notes
* Note that this pie crust recipe makes 2 crusts, one for the bottom, the other one for the top part. If you happen to have any leftovers, make one or two individual pot pies in extra.
Keywords: Vegetarian Pot Pie