Perfect thin vegan chocolate crepes made with just a few ingredients and served with a quick and easy homemade caramel sauce. To die for!
French Crepes Day 'Chandeleur' is approaching and I was willing to try a new crepes recipe for the occasion. I have been making crepes since I was able to grab a spoon on the counter top of my mother's kitchen, so as you can easily guess they are no secret to me. I like them extremely thin, light and airy in texture. My favorite one is slightly sweetened with granulated sugar and lemon juice. Pretty simple you might say, but it's for sure the best way to know if a crepe is great.
Now if you are wondering how to master your crepes every time you make them, there are a few basic rules I learned along the way that are good to keep in mind. In order to guide you, I gathered them all in one single article Flip it like the French: how to organize a successful crepes party!. My tips come together with a few crepes ideas, from the crepe itself to the spreads and fillings (article updated with January 2018 ads on).
A few crepes recipes you might also like (from basic recipes to fancy ones):
I can never get enough of crepes and I wanted a new crepes recipe to add to my modest collection. As I ran out of eggs the other day, I figured I should share with you an egg-less crepes recipe that would also be dairy-free, hence vegan at once (you know I'm always curious about anything vegan). I also wanted them with cocoa powder for a change, which definitely adds to the challenge.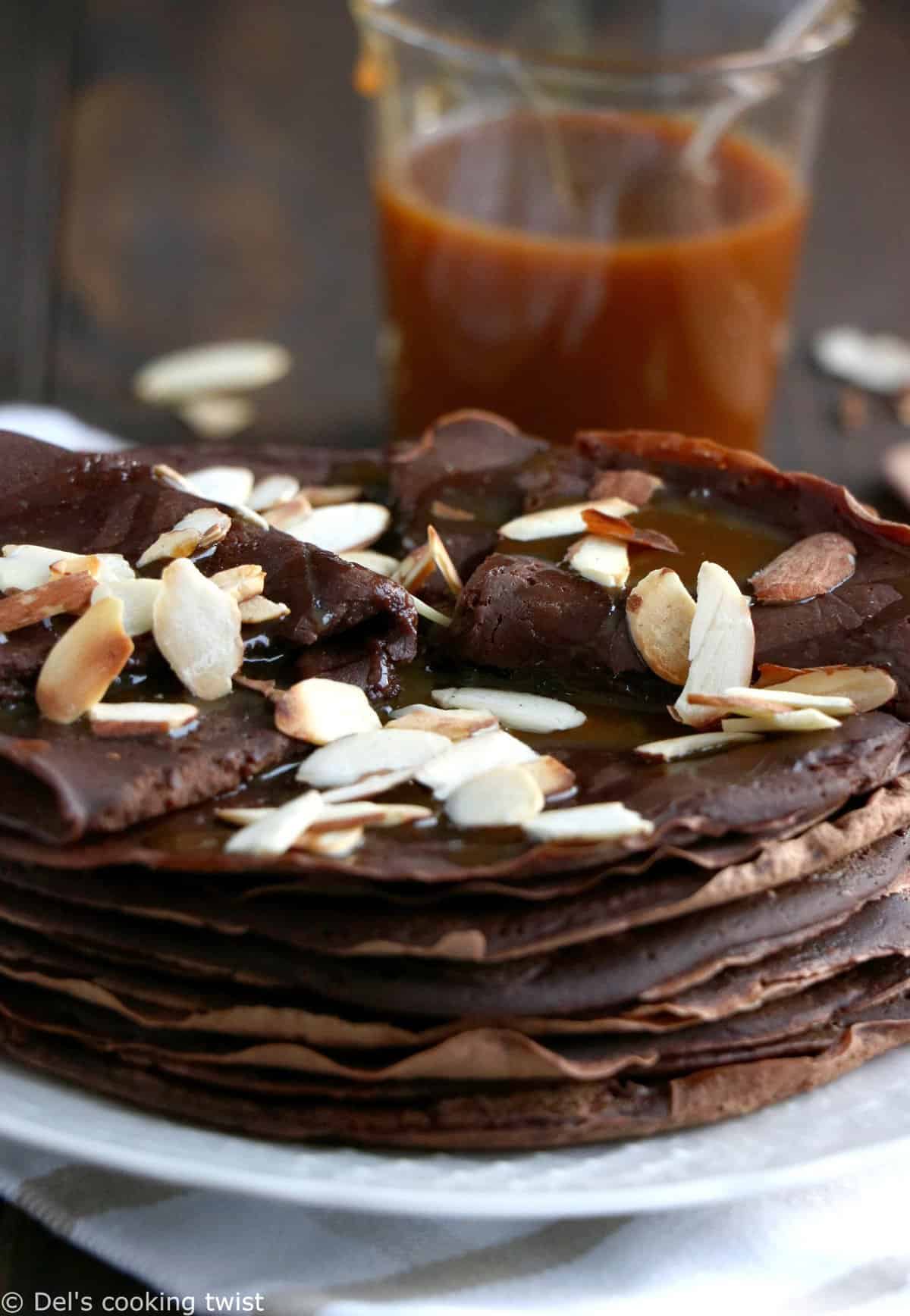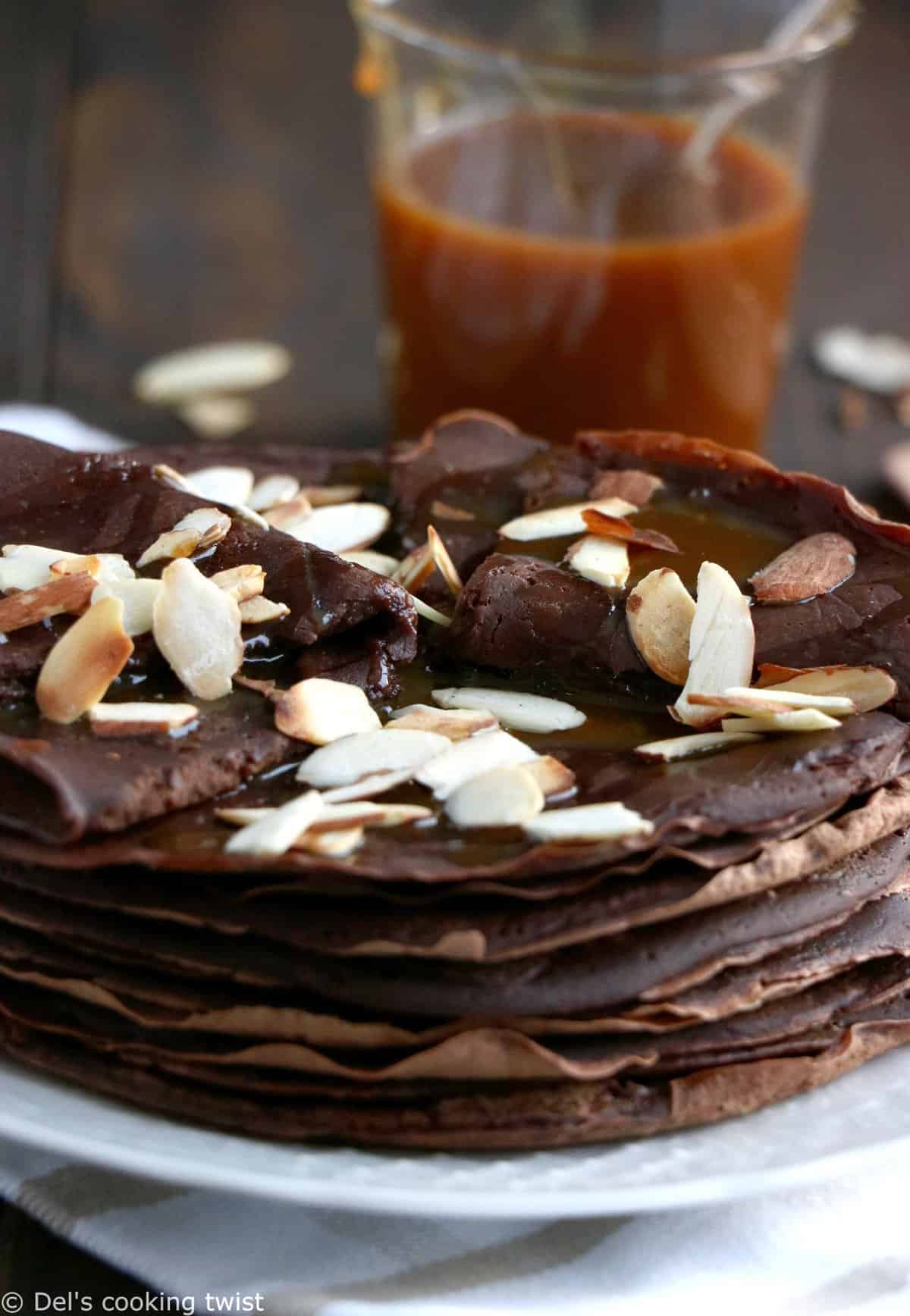 I found a few existing recipes online but none of them pleased me: the texture was either too thick (making them looking like pancakes), either too chewy and sticky. This is not what you are looking for in a crepe. You want it very thin, light, and supple. For the record, making a crepe vegan is not that difficult; the addition of cocoa powder however, make it more delicate. You've got to find the right proportion between flour and cocoa powder to make sure both texture and color (dark enough) work well.
After not less than 3 attempts that turned out pretty badly, I finally found my way to what I call the perfect vegan chocolate crepes recipe. Note here that I used high quality unsweetened cocoa powder , the only one you should ever consider for this recipe and in baking in general. Avoid however any kind of sweetened cocoa powder that is nothing but sugar and fat, while cocoa is almost nonexistent.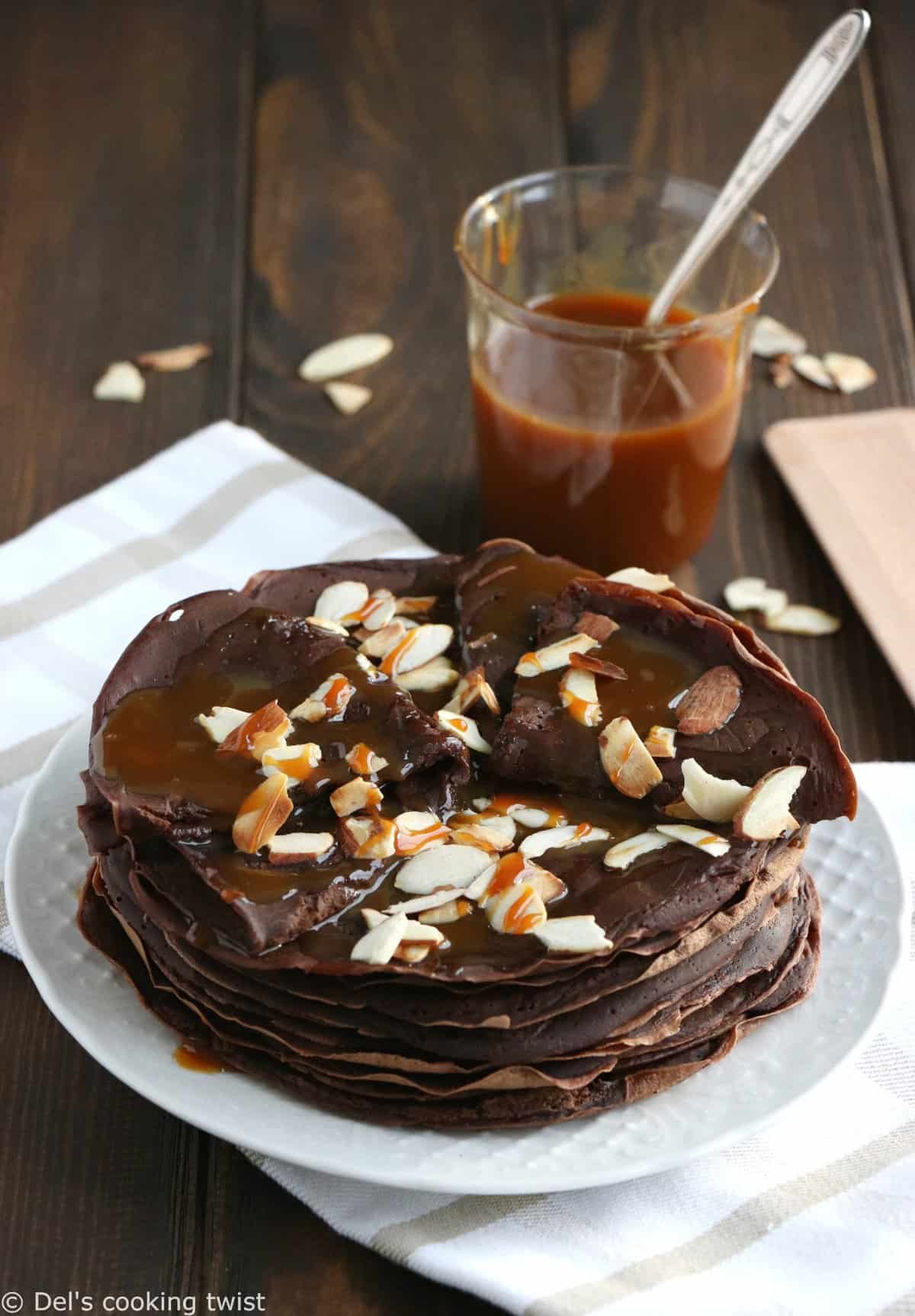 After I found my dream vegan chocolate crepes recipe, I looked for a delicious caramel sauce recipe to enjoy with. To be honest with you, I had tried it before and couldn't wait to share it with you. If you've been following me around Christmas, it's almost the same recipe I used in my Vegan Caramel Gingerbread Naked Cake.
I have always been very bad with making my own caramel (despite all the tutorials that claim it's a piece of cake) and I simply gave up with that idea. The idea of making it vegan i.e. with no butter inspired me and definitely reconciled me with caramel. Here you replace butter with coconut cream (the solid part of coconut milk) and cook it on low-medium heat with brown sugar until it becomes syrupy. The result is bluffing!
Serve your vegan chocolate crepes with the vegan caramel sauce and a few toasted slivered almonds on top. Enjoy; you'll thank me later!
Print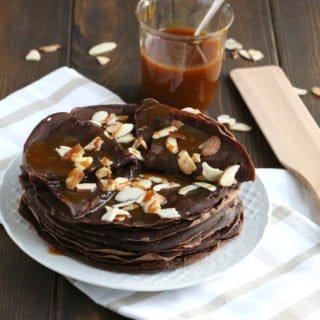 Vegan Chocolate Crepes + Caramel Sauce
Author:

Prep Time:

15 mins

Cook Time:

20 mins

Total Time:

35 mins

Yield:

16

crepes

1

x

Category:

Breakfast

Cuisine:

Vegan
---
Description
Perfect thin vegan chocolate crepes made with just a few ingredients and served with a quick and easy homemade caramel sauce. To die for!
---
For the vegan chocolate crepes:
2 cups

(

240g

) all-purpose flour

1/2 cup

(

50g

) cocoa powder, unsweetened

1

pinch salt

1 cup

(

240

ml) non-dairy milk

1 1/2 cup

(

360

ml) water

2 Tablespoons

(

30

ml) vegetable oil (I used canola oil)

1/4 cup

(

60

ml) agave or maple syrup
For the vegan caramel:
1 cup

(

200g

) dark brown sugar

2 cups

(

50

cl) coconut cream (the solid part of coconut milk)

1/2 teaspoon

sea salt

2 teaspoons

vanilla extract
---
Instructions
VEGAN CHOCOLATE CREPES: in a large bowl, combine all the ingredients. Mix with an electric mixer on low speed until no lumps remain. Let sit for about 30 minutes.
Heat a drop of vegetable oil in small skillet over medium high heat. Pour the batter into the center of the hot skillet, letting it spread outward to create a thin layer of crepe. Cook for about 1 minute, then flip and cook for a few seconds only. Repeat with the remaining batter.
VEGAN CARAMEL: place sugar, coconut cream and salt in a small sauce pan. Heat slowly while stirring to dissolve the sugar. Once mixture is boiling, reduce to a simmer. Simmer for 10-15 minutes. The sauce will thicken further as it cools. To test the consistency, spread a little sauce onto a plate and place in the freezer for a few minutes. If the caramel doesn't thicken (enough), simmer the sauce for a little longer. Stir 2 teaspoons of vanilla extract into finished caramel sauce. Pour into a jar and place in the refrigerator until ready to use.
Serve the chocolate crepes with the caramel sauce and enjoy!
---