Easy Triple Berry Crisp made with fresh or frozen berries under a crispy oat and almond topping. Serve with warm white chocolate sauce, fresh mint and you've got it all!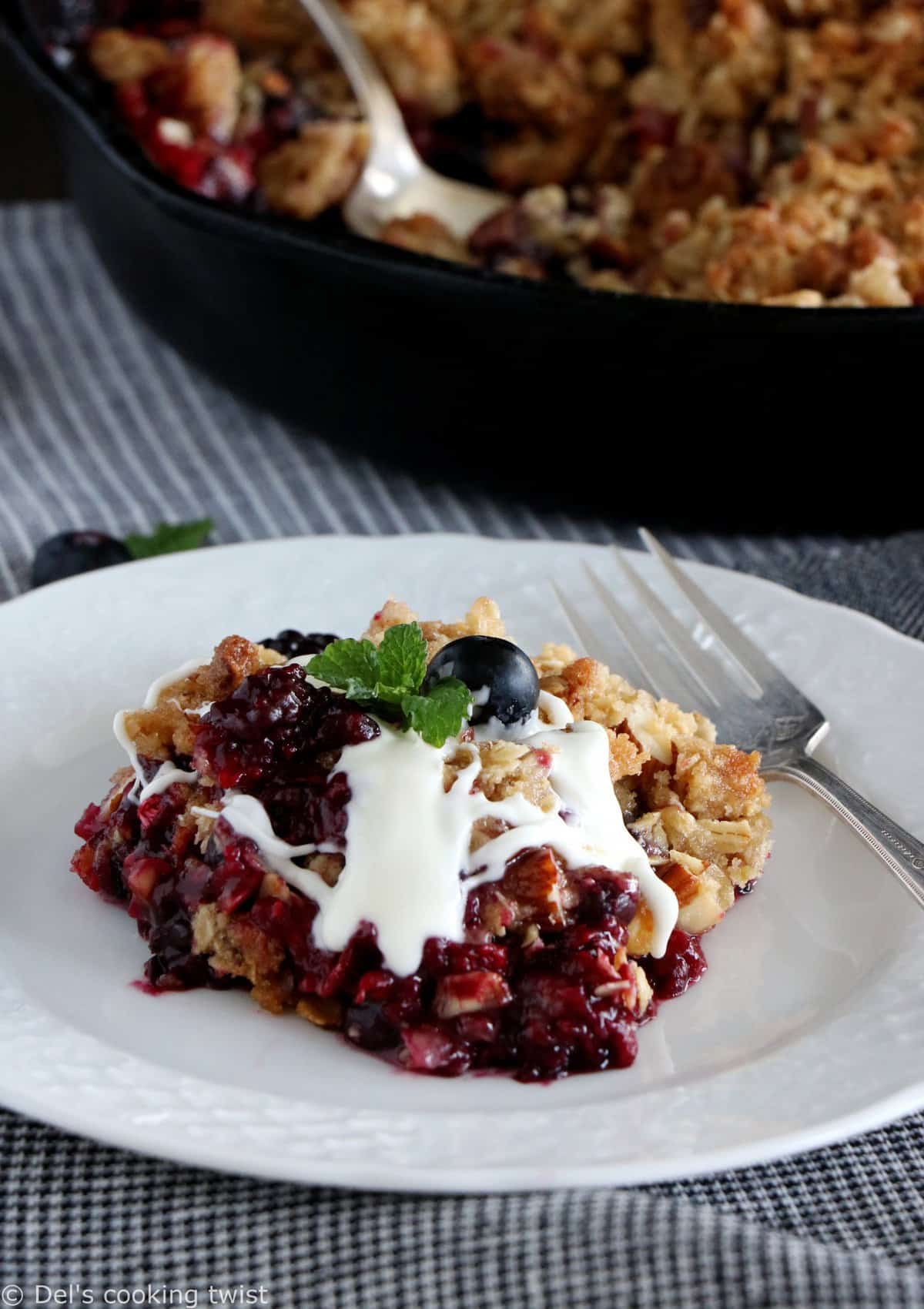 I'm happy to finally share today one of my favorite desserts of all times. It's a quick and easy one you can prepare in no time and it's always a success among your guests. If you have one dessert to remember this summer, it is probably this one.
I discovered this recipe many years ago when I lived in Sweden. I remember I was invited at a friend's place for dinner with other people – we were indeed enough to feed an army. One person was in charge of bringing dessert and she completely blew me off. Because it was after work, she didn't have time to bake any fancy dessert, so she quickly bought a large bag of frozen berries (it was winter time), borrowed some flour, sugar and oats to our hosting friend to quickly create the crispy topping, and while the berry crisp was baking in the oven, she melted white chocolate in the microwave. That was it. Easy, quick, and delicious!
Berries are indeed quite common in desserts in Sweden, anytime of the year. In Summer, you can pick them up in the woods or almost everywhere in the nature, and in winter you find them frozen. Berries are loaded with vitamin C, antioxidant benefits, and are beautifully sweet – without being too sweet at the same time. Berries are also great source of fiber, an important nutrient for a healthy digestive system. So many reasons to love these adorable tiny beauties!
In this triple berry crisp, I used equal parts of blackberries, blueberries and raspberries, but you could go mono-berry if you'd like, or change the proportions depending on what you have at hand. You can even mix fresh and frozen berries; this berry crisp is extremely forgiving. Sometimes, I even add some strawberries.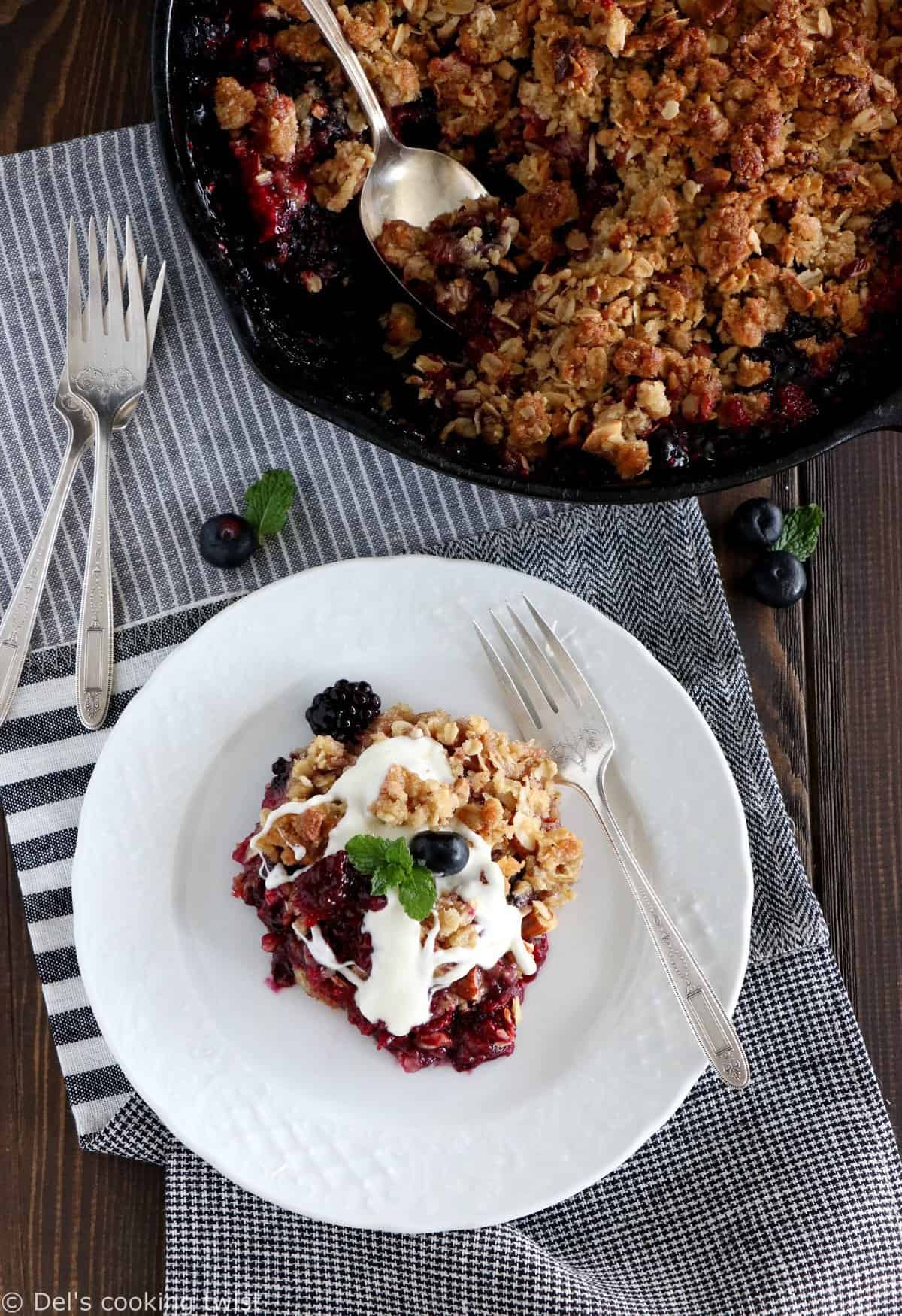 Other berry recipes you might like:
Since my first try of the recipe at my friend's place, I baked this lovely berry crisp so many times! It's my easy dessert when friends show up at the last minute, so I make sure I always have a bag of frozen berries in the freezer, just in case. I usually mix up all the dry ingredients together with random proportions, making sure I get the crumbly texture I'm looking for, and it usually works just fine, I must have a thing with homemade crisp. However, I had to figure out the best proportions so I could share the recipe with you too!
My first attempt was to try an American version of a berry crisp, and I noticed that most recipes were very similar to each other, if not exactly the same. The crisp came out together beautifully but I was so disappointed with the taste though, which is far too sweet! I'm a sweet tooth myself, but not that sweet, and I believe that in a dessert involving fruits, too much sugar completely takes over the taste of fruits, which in my opinion is a shame. Here I couldn't taste the berries acidity that make them so delicious.
So I went back to my intuition and whipped up my best berry crisp recipe, with far much less sugar and a little bit of almond meal as I usually do (almonds and berries together are a perfect match). I even added a few chopped almonds here as I like their crunchy taste, but they are completely optional in this crisp and you could totally go without. In the end, the dessert is still sweet enough to fix your sweet tooth without damaging the natural taste of berries, which was exactly what I was looking for here.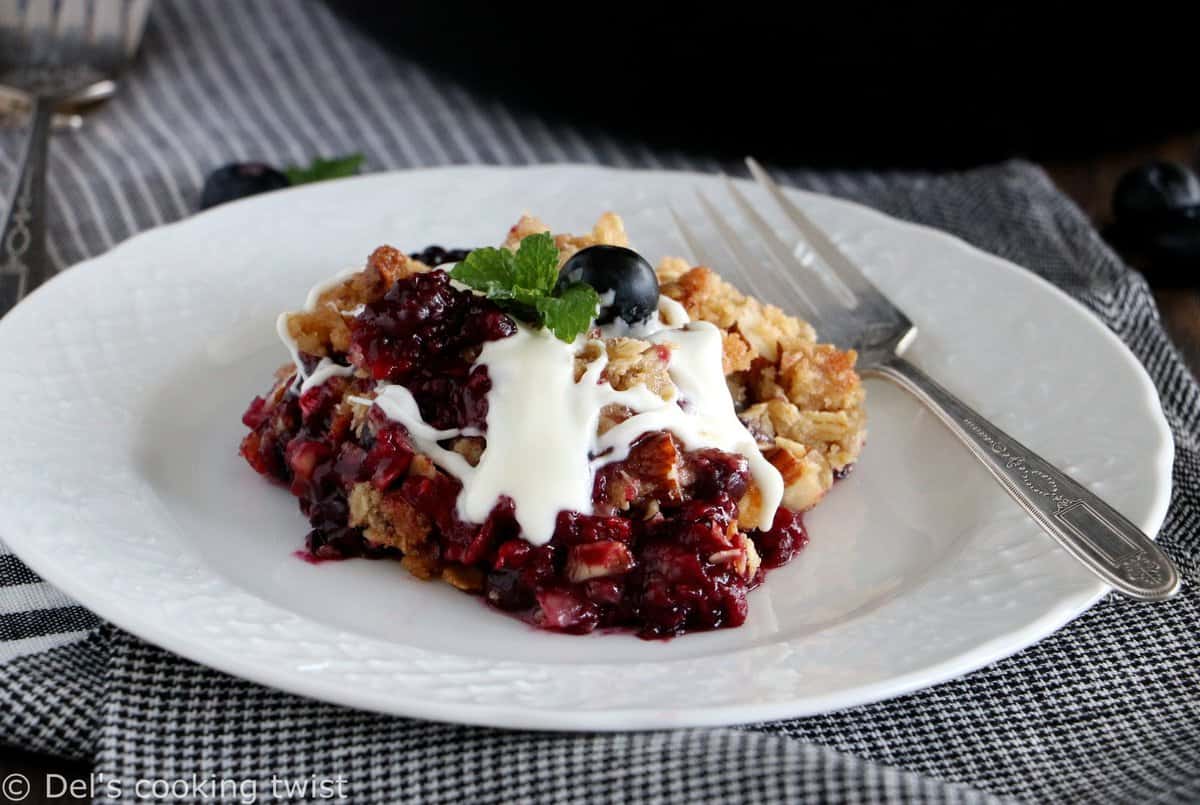 Like I tried it the first time, I served the berry crisp with melted white chocolate, which comes here to add a little sweetness to the whole dessert if you don't find yours sweet enough. Note that I used white chocolate chips, but you could go with real white chocolate if you wish. I also like to add a few fresh mint leaves as a final touch for this perfect summer dessert!
Print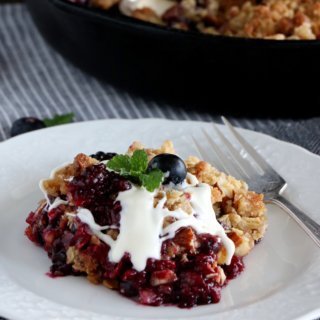 Triple Berry Crisp with White Chocolate Sauce
Author:

Prep Time:

15 mins

Cook Time:

45 mins

Total Time:

1 hour

Yield:

6

servings

1

x

Category:

Cakes and Pies
---
Description
Easy Triple Berry Crisp made with fresh or frozen berries under a crispy oat and almond topping. Serve with warm white chocolate sauce, fresh mint and you've got it all!
---
For the berry filling:
6 cups

(

750g

) mixed berries*

1/4 cup

(

50g

) granulated sugar

1/4 cup

(

30g

) all-purpose flour

1/2 teaspoon

fresh lemon juice + zest of 1 lemon
For the crumble topping:
1 cup

(

100g

) old-fashioned oats

1/4 cup

(

30g

) all-purpose flour

1/3 cup

(

30g

) almond meal*

1/2 cup

(

75g

) almonds, chopped (optional)

1/4 cup

(

50g

) granulated sugar

1/4 cup

(

45g

) light brown sugar

1

stick (115g) unsalted butter, cold and diced
For the white chocolate sauce:
1 1/2 cup

(

250g

) white chocolate chips
---
Instructions
Preheat oven to 350°F (180°C) with the oven rack in the middle position.
In a medium size bowl, make the berry filling by combining all the ingredients together, tossing well to combine. Set aside.
In a separate medium size bowl, make the oat crumble by combining all the ingredients, then use your finger tips to pinch the butter and incorporate with the dry ingredients. Keep pinching and tossing together with your hands until evenly combined. You will be left with many pea sized pieces of butter mixed in with the oat mixture, resulting in a crumbly texture. Set aside.
Pour the berry filing into a cast-iron skillet (or a 8×8-inch (20 cm) pyrex baking dish, a pie baking dish…). Top with the oat crumble topping, and spread to an even layer.
Bake uncovered until the berry filling is bubbling, and the oat crumble is golden brown, about 45 minutes. Let cool for 1 hour before serving.
Just before serving, melt the white chocolate chips in the microwave in several intervals of 30 seconds, stirring well between each interval, making sure the chocolate is not burning.
Serve the berry crisp with melted white chocolate and fresh mint leaves.
---
Notes
* Blueberries, blackberries and raspberries, fresh or frozen depending on the season.
** You can replace with 1/4 cup more of all-purpose flour (for a total of 1/2 cup all-purpose flour in the recipe) if you don't find any almond meal.