I've been living in Sweden for almost 4 years now and I noticed lately that I had never baked any Swedish cinnamon rolls/buns (but eaten many!).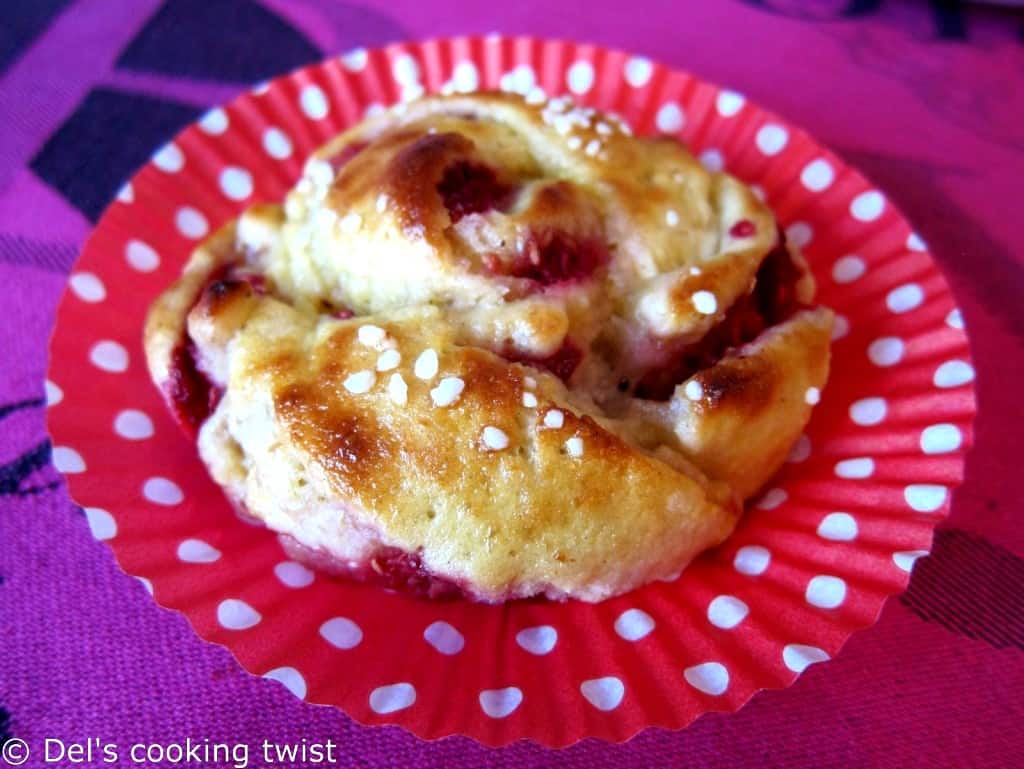 You see them everywhere here and there are countless recipes and variations, but one thing is sure, you can't come to Sweden without trying at least one! The thing is that I don't really like following a recipe. It seems boring to me while creating my own one is more fun and challenging, in spite of the risks involved.
As I was curious to know how the buns are given their lovely shape, I watched many tutorials, all slightly different. Then I decided to go for the cardamom alternative (very common as well, and my favorite one) and to add a twist of raspberry. And that was it! I just dreamed up my recipe and created it exactly the way I wanted it.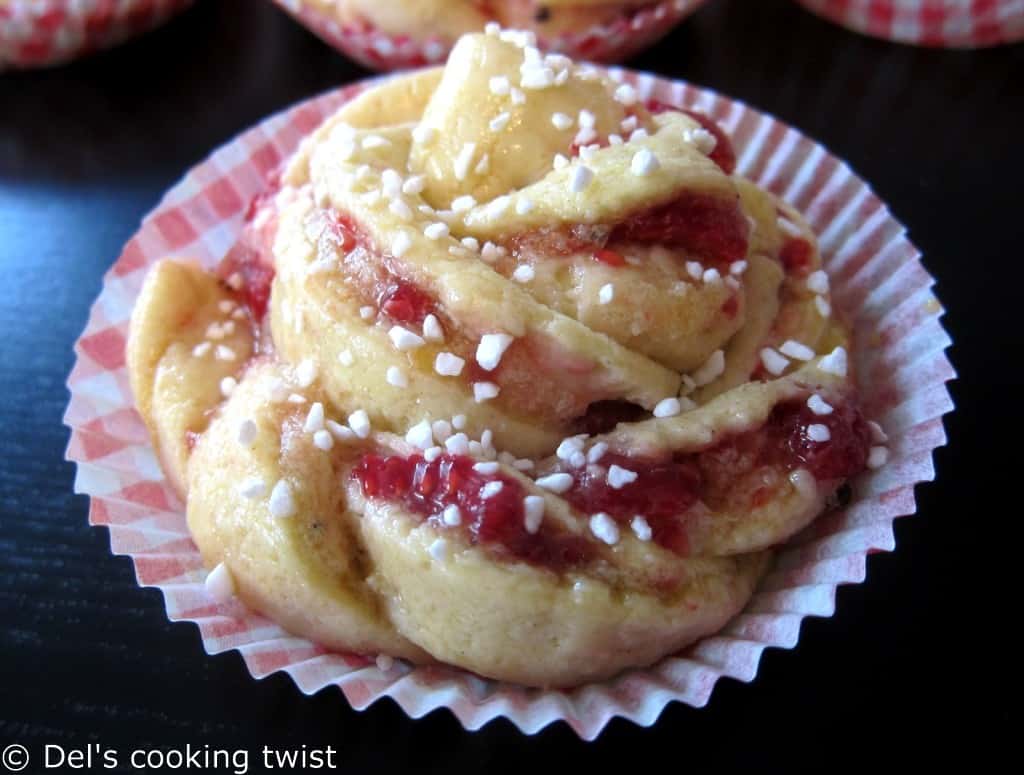 I think my friend Mo who is crazy about raspberries would faint. I was not only proud of myself because the recipe worked perfectly, but also amazed by the buns rich flavors. Just the ones I was expecting, fruity and deliciously perfumed with cardamom.
Well sorry, it's time for fika now, I have to go, the Swedish cardamom and raspberry buns are calling me!
Swedish cardamom buns with a twist of raspberries
Beautifully shaped Swedish cardamom buns with raspberries. This is heaven!
Ingredients
For the dough:
7 cups flour
50g fresh yeast
½ cup butter
1½ cup milk
½ tsp salt
½ cup sugar
2 tsp ground cardamom
For the filling:
400g raspberries
½ cup butter, at room temperature
Zests of one lemon
1 cup sugar
½ tsp cardamom seeds
4 tbsp raspberry jam
To decorate:
Instructions
Crumble the fresh yeast into a large mixing bowl. Melt butter in a saucepan, add milk and warm gently to 98°F. Pour the starter dough into the mixing bowl in order to dissolve the yeast. Add salt, sugar, cardamom and almost all the flour (keep some for the baking). Work into a smooth and knead-able dough. Cover with a dishcloth and let rise for 30 minutes.
In the meantime, prepare the filling: crush the cardamom seeds with a rolling pin (the seeds need to be crushed right before use as they lose their intense smell and flavor if left for too long). Then blend together butter, lime zests, cardamom and sugar.
Roll the dough into a large rectangle on a lightly floured surface. Spread the cardamom filling on half the dough lengthwise. Then spread 4 tbsp of raspberry jam and dispose the raspberries (I cut them in half) on top of it. Fold the dough so that the empty side covers the filled one.
Make cuts in the dough, 1 cm wide - every other cut should be all the way through, and the rest should stop 1,5 cm from the top. Take each 2 cm strip, and twist the two skinny parts to make a rope. Fold into a sort of bun and place in a paper baking cup. Cover with a dishcloth and leave to rise for 30 minutes.
Brush the buns with beaten eggs and sprinkle with pearl sugar.
Bake at 440°F for 8 minutes. Let the buns cool on a rack, covered with a dishcloth. You can enjoy them immediately or freeze them. In this case, you just need to warm them up a little bit in the oven before serving.