Fancy some fusion cuisine today? Try this Thai green curry asparagus pasta, an elegant yet easy meal that combines the best of Thai food and Italian cuisine, with a fresh spring touch. I bet you won't resist this incredibly creamy green curry sauce on top of fettuccine, with the crunchy addition of toasted cashews on top. And if you want to make it a 100% vegan, just go for rice noodles instead!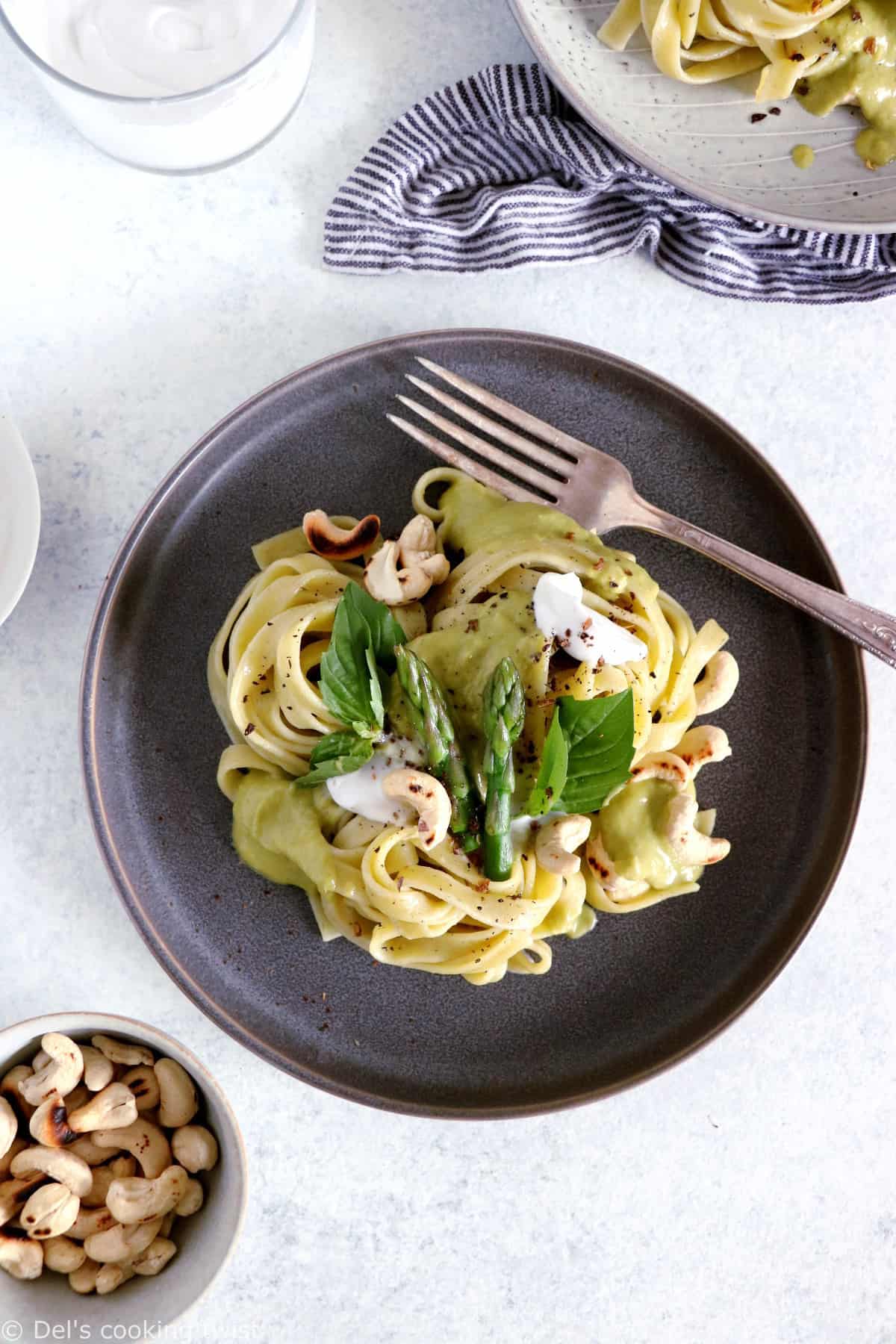 It's a secret for no one, fusion food is one my favorite cuisines. I've always loved experimenting in the kitchen, playing with flavors that you would never think go together. And after years of living abroad in different part of the world, mixing food cultures has become very natural to me. Being an adept of sweet and savory flavors, my favorite playground is Thai cuisine in particular and everything with an Asian touch. Make sure you check my world cuisine section for even more inspiration.
Today's recipe is directly inspired from a classic Thai green curry recipe, to which I added a little Italian touch with the addition of pasta and spring vegetables – asparagus as a matter of fact. It makes for a subtle and very fragrant dish that will surprise the most delicate palates.
Asparagus green curry: a Thai inspired base…
Let's talk about the sauce! As I just said, it's actually a classic Thai green curry recipe, prepared with:
Green curry paste: you could of course make your own green curry paste, but the easiest and quicker version is to go for a store-bought version.
Coconut cream/milk: I used here the solid, creamy part of the coconut milk, but you can also find a can of coconut cream. The idea is to get a thick, creamy sauce, rather than something too runny. You want texture in the sauce.
Thai Basil leaves: I infused Thai basil leaves in the sauce, but another option that works great in green curry sauces is to replace it with fresh lemongrass if you can find some. If so, slice it lengthwise and smash it first, in order to release all its subtle lemony flavors.
… with an Italian touch!
Now the little twist is to add some fresh green asparagus to the sauce! This is a trick I've learned a few years back when trying another recipe and I immediately fell for this unexpected combo. I remembered I prepared this dish to my parents who are more on the conservative side when it comes to food (no too much into sweet and savory flavors for instance) and they both loved it too!
The concept is simple: sauté some asparagus in a large skillet with the green curry sauce, add some coconut cream, and mix it all with a blender, adjusting the cream/water quantity as needed. You get a wonderful vegan green curry sauce with a twist of asparagus.
Here I simply serve this green curry sauce over some fettuccine, but you could go for any other pasta of your choice. In my opinion, pasta that work best with this sauce are tagliatelles, fettuccine, spaghetti, and penne. Pick your favorites, and don't forget to add a some grilled asparagus heads on top, a few spoonfuls of coconut cream on top, as well as some toasted cashews (or pine nuts if you want to make it even more Italian).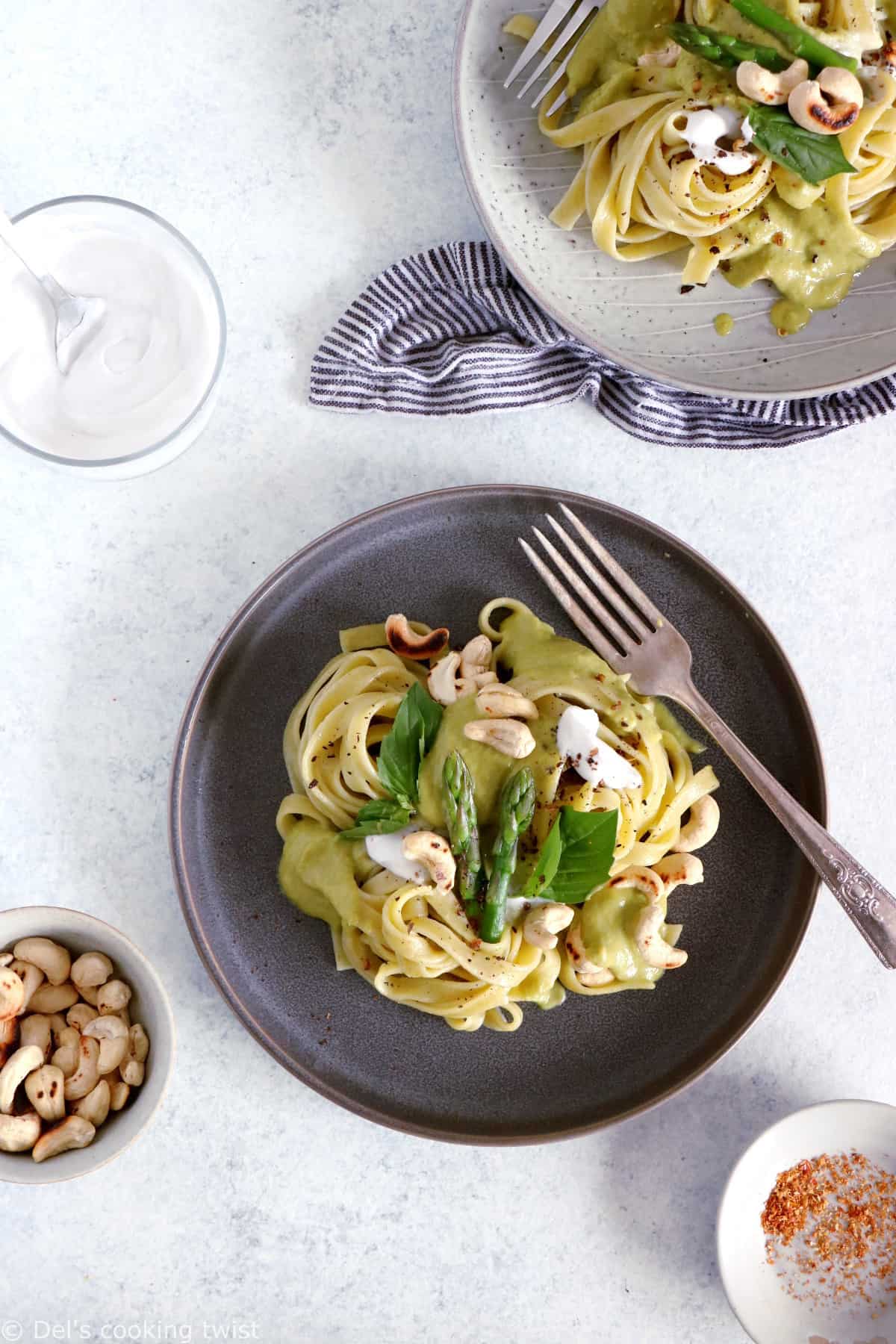 Possible variations around the recipe
Now that we discussed the initial concept of this Thai green curry asparagus pasta recipe, let's explore the variations around. Here are 3 of my favorite ways to adapt the recipe:
Play with the toppings: This is without doubt the easiest part. Because asparagus as part of the sauce, I naturally add some sautéed asparagus on top of the pasta. But other sautéed vegetables that you would find in a classic green curry would go to. Sautéed broccoli florets or broccolini, diced red peppers, or even diced tofu would do too.
Make it vegan + 100% vegan: Replace regular pasta with rice noodles and you get some wonderful vegan green curry noodles.
Turn the green curry sauce into a soup! Yes, you can turn this Thai inspired green curry sauce into a creamy soup, and I swear it's absolutely delicious. If you want to do so, I would recommend 1 full cup (240 ml) of coconut milk and about 1/2 cup (220 ml) water or vegetable broth. Also, sauté all the asparagus at once (i.e. 1 pound/450g) and mix them all together. And voilà, you get a delicious creamy soup, packed with Thai flavors and absolutely delicious. I tried it myself, I'm addict to it!
Other Thai inspired recipes: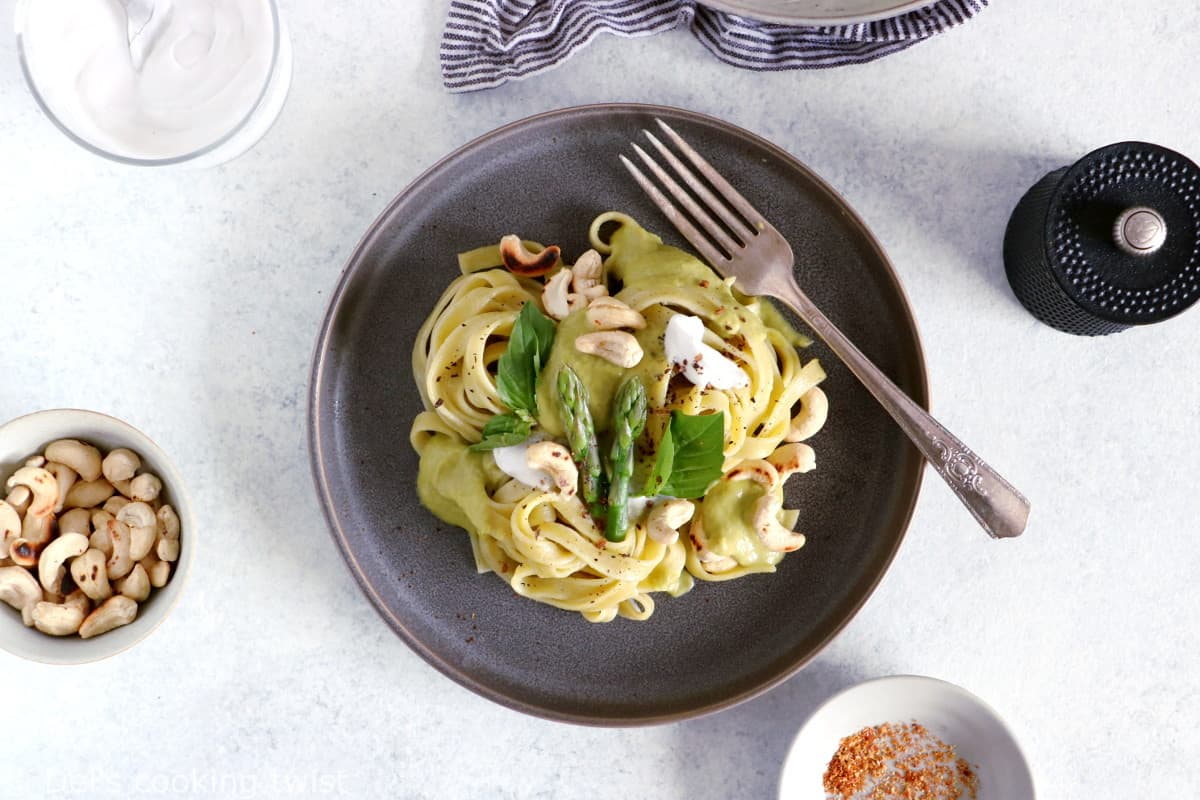 Love pasta? Try also these recipes:
Lastly, if you make this Thai green curry asparagus pasta, be sure to leave a comment and/or give this recipe a rating, letting me know how you liked it. And of course, don't forget to tag me on Instagram! Thank you and enjoy!
Print
Green Curry Asparagus Pasta
Author:

Prep Time:

15mins

Cook Time:

20 mins

Total Time:

35 minutes

Yield:

4

-

6

servings

1

x

Category:

Savory

Diet:

Vegetarian
---
Description
Fancy some fusion cuisine today? Try this Thai green curry asparagus pasta, an elegant yet easy meal that combines the best of Thai food and Italian cuisine, with a fresh spring touch.
---
1

pound (450g) fettuccine*

2 Tablespoons

olive oil, divided

1

shallot, diced (or

1/2

red onion, diced)

1

clove of garlic, minced

3 teaspoons

green curry paste

3

Thai basil leaves**

1

pound (450g) green asparagus, divided and diced

1/2 cup

(

120

ml) coconut cream (creamy part of coconut milk)
Salt and pepper, to taste

1

lime, juiced

1/4 cup

cashews, toasted
Black sesame (optional)
A few spoonfuls of coconut cream, for serving (optional)
---
Instructions
Heat olive oil in a medium skillet over medium heat. Once hot, add the shallot, garlic, and green curry paste. Cook for about 3 minutes, or until shallots are soft and tender.
Add half of the asparagus (keep the ones with the head for later) to the skillet and cook for 5 minutes, stirring regularly to prevent sticking.
Pour in the coconut milk, basil leaves, salt and pepper. Cover and let simmer over medium heat fo 5 to 10 minutes, or until the asparagus are soft but still green in color.
Remove Thai basil leaves, then transfer asparagus to a blender, and blend on high speed until smooth and creamy. Add lime juice and give a good stir. If too thick, add a little bit water or coconut milk, one Tablespoon at a time.
Wipe the skillet, then heat the remaining olive oil. Once hot, add the remaining half of asparagus and sauté on medium heat until tender, stirring often. Season with salt and pepper.
Cook pasta according to package instructions. Drain and serve with the Thai green curry sauce. Add asparagus heads on top, sprinkle with toasted cashews, and enjoy!
---
Notes
* I went for fettuccine here but you can use any pasta of your choice: tagliatelles, spaghettis, penne… Another option consists in using rice noodles for a 100% vegan option (the regular pasta contain eggs, rice noodles don't).
** Another option consists in using fresh lemongrass instead of basil leaves. If so, start with slicing one stick of lemongrass lengthwise and smash it before adding it to the pan. It's the best way to help lemongrass release all its fresh, lemony flavors.
Recipe inspired and adapted from Full of Plants.
Keywords: Thai green curry asparagus pasta