The authentic Swedish cinnamon rolls "kanelbullar". The recipe is extremely easy and comes with a step-by-step tutorial to guide you.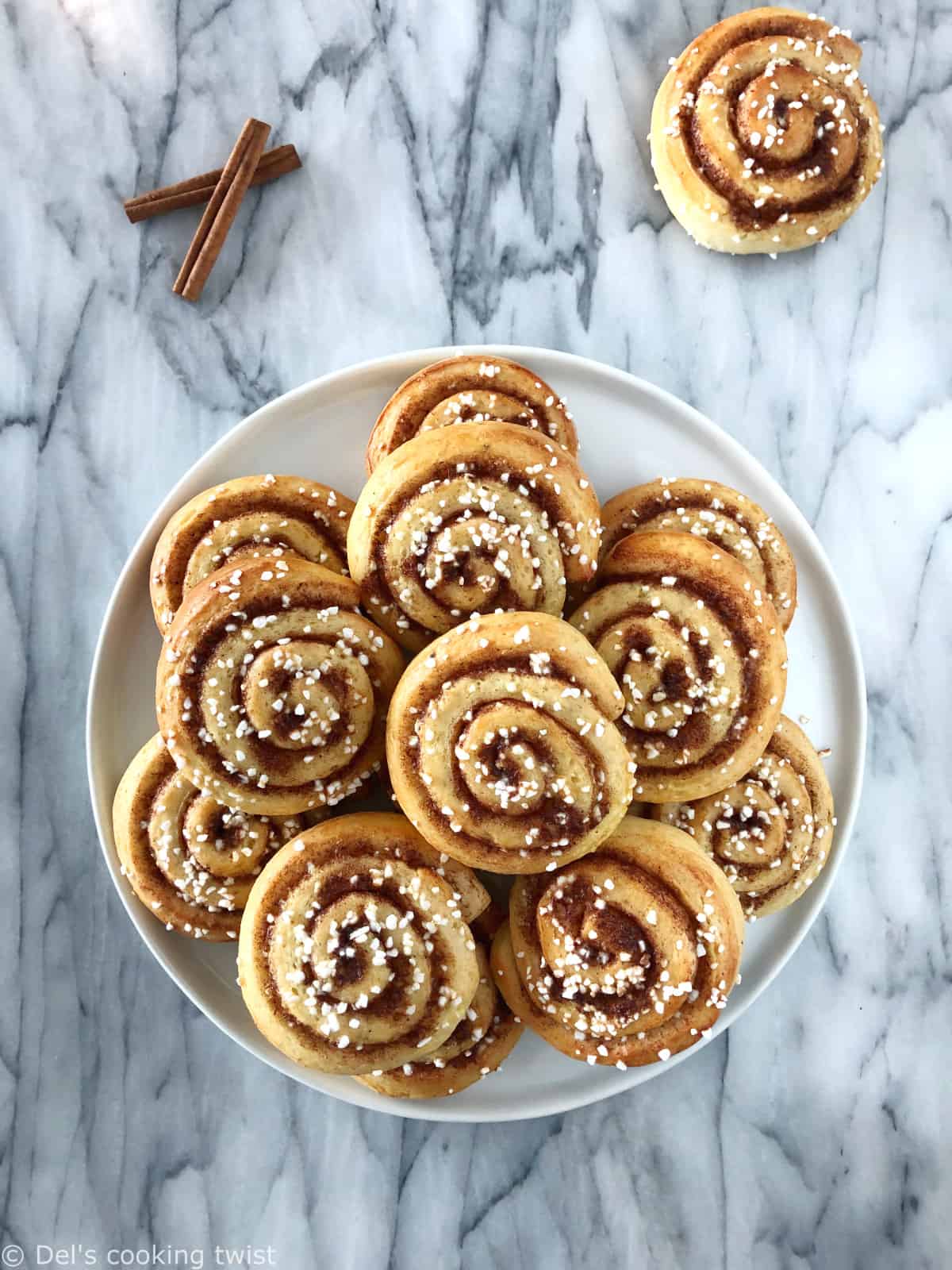 When I visited my family in France for Christmas, my family asked me to bake some Swedish cinnamon buns. I came back to Sweden after the holidays and baked a second batch so that I could share this traditional Swedish recipe with you.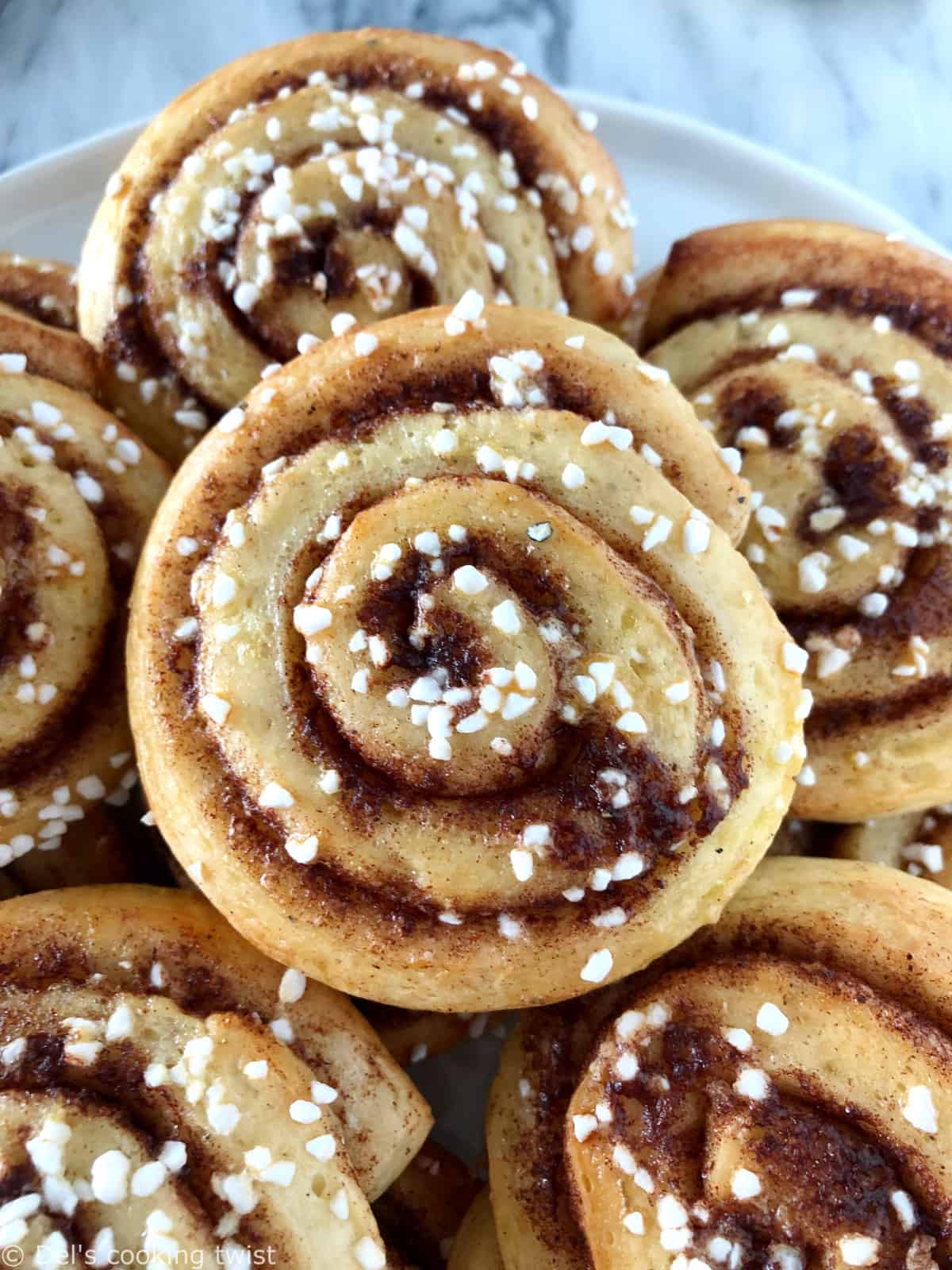 Before we go any further, it's important to mention that there are many different cinnamon buns recipes, and they all come in different shapes (more or less advanced). This cinnamon roll recipe is VERY easy and the buns come out delicious!
Cinnamon rolls: the number 1 Swedish recipe
Swedish cinnamon rolls are the number 1 recipe in Sweden! You can find them absolutely everywhere, and cinnamon (followed by cardamom) is by far the number one spice in Sweden.
A family project. Believe it or not, but after all these years in Sweden, I had never baked this traditional Swedish pastry before (but I did eat quite a few… and more!). So while visiting my family in France for the holidays, my boyfriend now husband David and I took the opportunity to bake some cinnamon buns with our nieces, who are 3 and 8 years old. Oh gosh, we had such great fun together! While the small one was asking all the time if she could lick the spoon of butter, the bigger one was really focused on brushing the buns with the egg mixture and sprinkling the pearl sugar over the buns.
As you can see, baking kanelbullar is usually a perfect family project as the recipe makes plenty of buns and you need company to help you eat them all!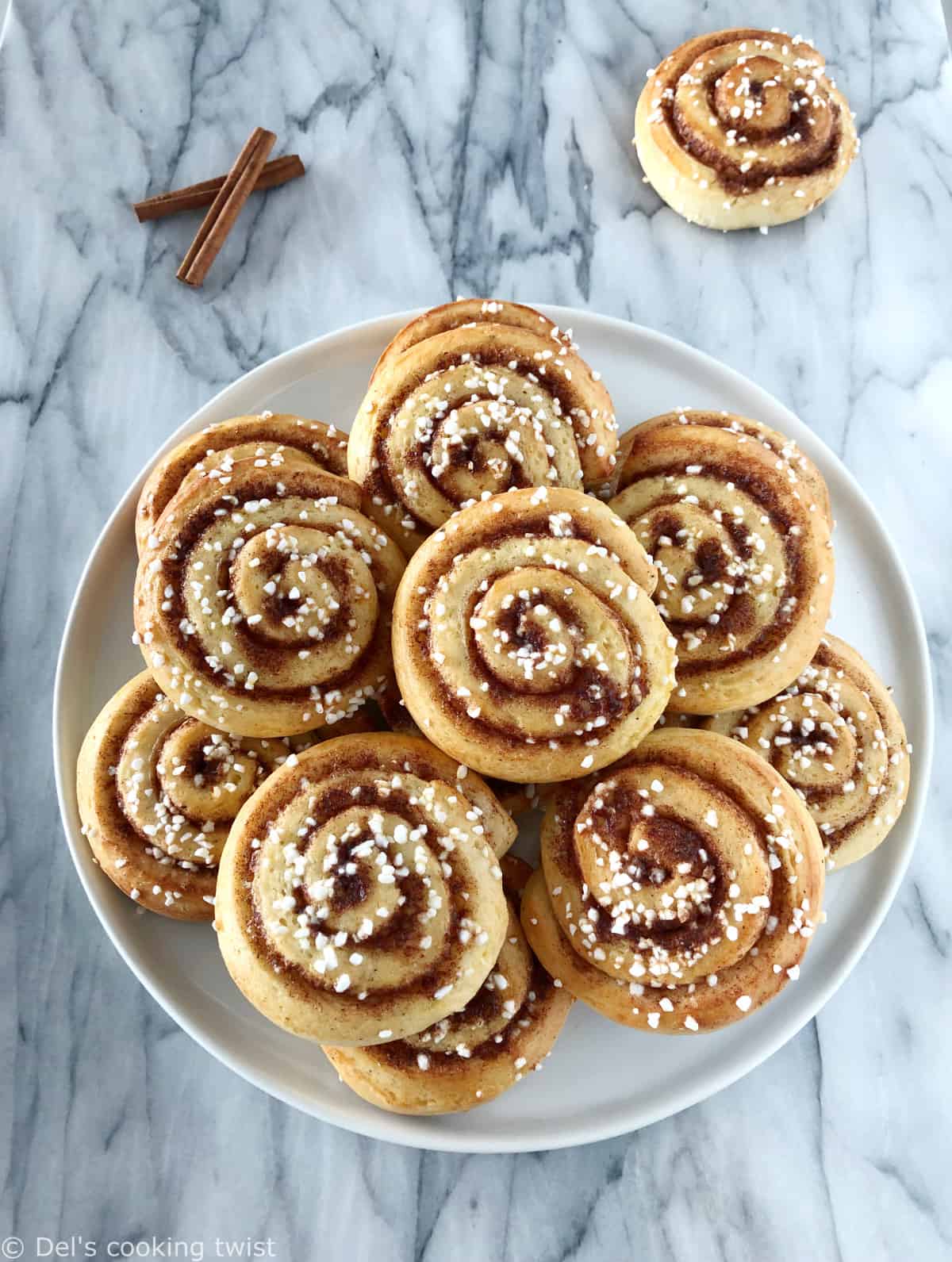 Good to know: October 4th is Swedish National Cinnamon Rolls Day!
How to shape the cinnamon rolls perfectly?
As the adage goes, a picture is worth a thousand words. So here it goes…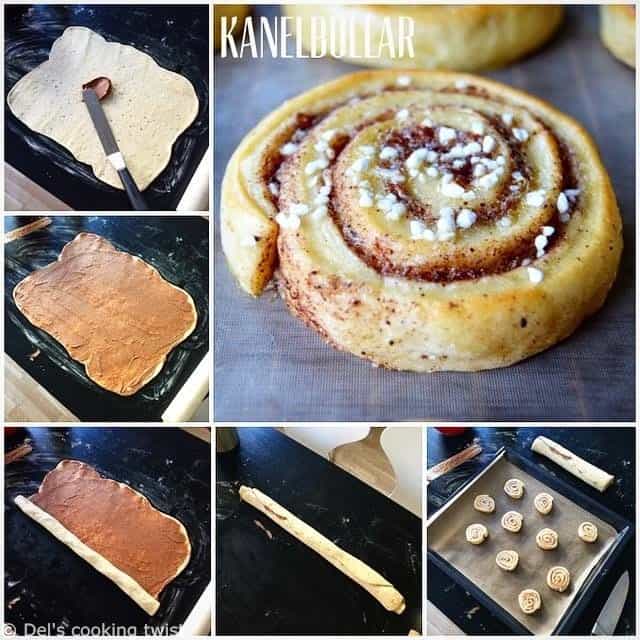 How to shape the cinnamon rolls:
Start with rolling out the dough into a large rectangle.
Spread out the cinnamon filling (softened butter + cinnamon + sugar) all over the surface. Alternatively, you can spread out the softened butter, then sprinkle the cinnamon-sugar mixture all over.
Now roll the dough, lengthwise.
Cut the roll into about 25 slices.
See, it's way easier than it seems, right? I bet you can do it too, with little helpers around.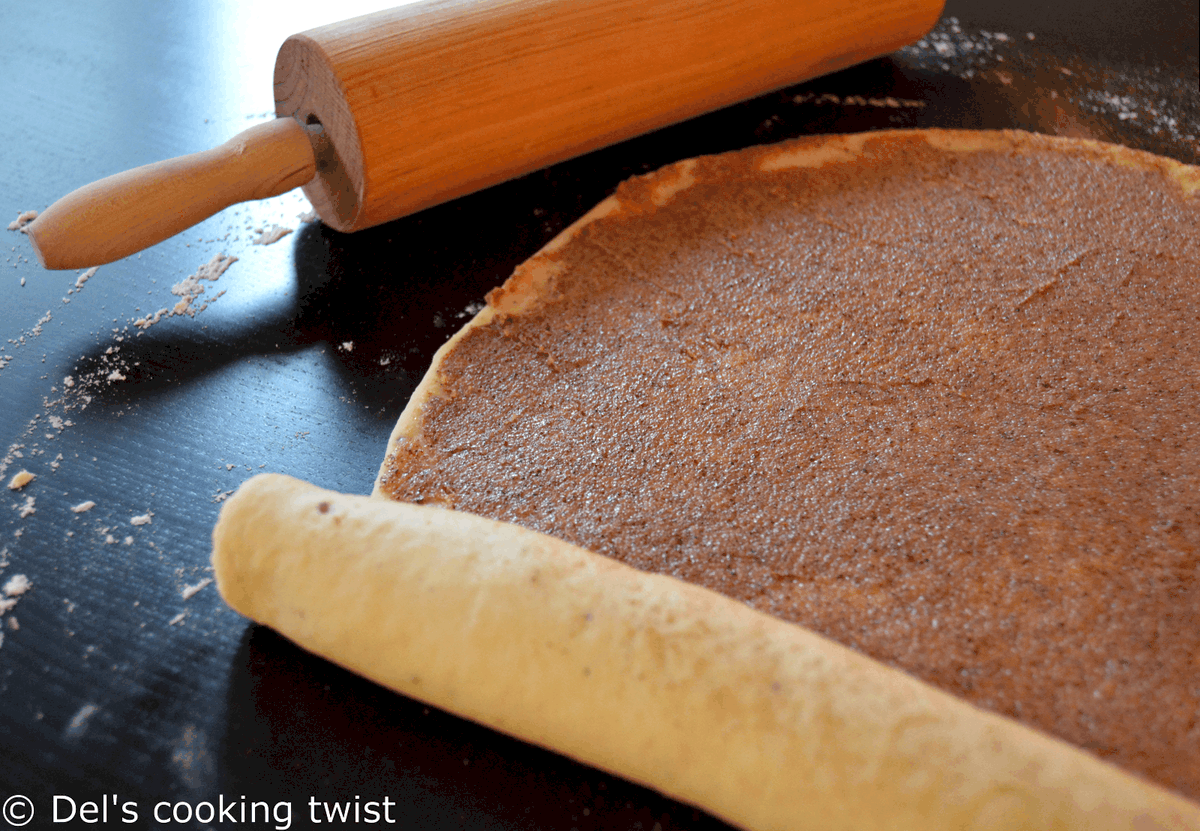 What if I don't have fresh yeast?
The recipe call for 1.2 ounces (35g) fresh yeast. The best practice is usually to crumble fresh yeast into a bowl, then whisk it with just a few spoonfuls of lukewarm milk and a little bit of sugar to activate the yeast. Make sure you don't use hot milk however or you may kill the yeast. Let sit for 5 to 10 minutes, until mixture is bubbling slightly. Then it's ready to use. If you don't have fresh yeast, you can still make this recipe using instant dry yeast or active dry yeast, following the ratio suggested below. Note that instant dry yeast can be added to the ingredients directly while active dry yeast needs to be activated the exact same way fresh yeast is.
Perfect yeast ratio:
Fresh yeast: 1.2 ounces (35g)
Active dry yeast: 0.6 ounces (17g)
Instant dry yeast: 0.4 ounces (11g)
In other words, to convert from fresh yeast to active dry yeast, multiply the fresh quantity by 0.4. To convert from fresh yeast to instant dry yeast, multiply the fresh quantity by 0.33.

It's "fika" time!
Then we all sat at the table to have a proper "fika" as Swedes do, and enjoyed the warm buns fresh out from the oven with some tea. The entire house was perfumed with a delicious scent of cinnamon, and my boyfriend's sister was really happy to rediscover the taste of cinnamon buns, reminiscent of her childhood in the US! Never heard of fika before? It's actually the very first word I learned in Swedish and also my favorite one. It means literally "coffee break", and often comes along with a sweet treat on the side. How sweet is that?
Fika is not just a coffee break in Sweden, it's also an important time dedicated to socialize, and a serious ritual even in companies, where it is served once or twice a day. Indeed, studies have showed that some of the greatest professional decisions are made around fika, in a relaxed atmosphere that helps building a trust relationship exists between two parts. Yes, fika is a serious thing – and very fun too!
How to store kanelbullar?
You can of course eat them right away, fresh out from the oven. But for this, you need an army to feed, as the dough yields about 25 portions! These cinnamon rolls are usually best when eaten right away, but you can always warm them up in the oven a few minutes the following day.
How to freeze cinnamon rolls? If you plan to freeze cinnamon rolls so you can keep some for later, start with under-baking them slightly them, i.e. you can remove them from the oven when they are set but not golden yet. Then, let them cool completely at room temperature, place in ziploc bags and freeze them for up to 2 months. This way, whenever you have a cinnamon roll craving (yes it exists, I swear!), just remove from freezer and warm them up for 5 minutes in the oven at 350°F (180°C). I usually do that for a cozy Sunday breakfast.
Now, have fun baking in the kitchen and enjoy these lovely Swedish cinnamon rolls!
More Swedish baking recipes:
To go further, make sure you check these 12+ Classic Swedish Recipes.
Print
Swedish Cinnamon Rolls (Kanelbullar)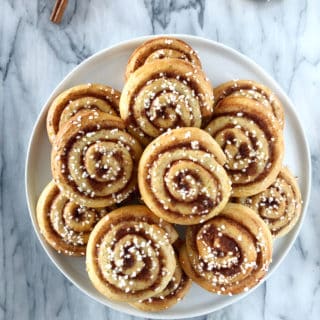 Author:
Prep Time:

1 hour 30 mins

Cook Time:

6 mins

Total Time:

1 hour 36 mins

Yield:

25

rolls

1

x
Category:

Breads and brioches

Cuisine:

Swedish recipes

Diet:

Vegetarian
The authentic Swedish cinnamon rolls "kanelbullar". The recipe is extremely easy and comes with a step-by-step tutorial to guide you.
For the cinnamon rolls:
35g

fresh yeast

1 ½ cup

(

360

ml) milk

½ cup

(

120g

) butter

½ cup

(100) white sugar

1

large egg

1 teaspoon

salt

1 Tablespoon

ground cardamom

6 ¼ cups

(

750 g

) all purpose flour
For the filling:
½ cup

(

120g

) butter, at room temperature

¼ cup

(

50g

) white sugar

2 Tablespoons

ground cinnamon
For the glaze:
1

large egg

2 Tablespoon

(

15

ml) water

2 Tablespoons

(

30g

) pearl sugar
Instructions
Crumble the yeast in a bowl and stir in a few Tablespoons of milk. Melt the butter and pour the milk on it. Add the rest of the ingredients and knead the dough for approx. 10-15 minutes (very important). Let the dough rise while covered at room temperature for a minimum of 30 minutes.
Roll out the dough so it is about 3mm (1/8 in) thick and 30 cm (12-inch) wide. Spread the room temperature butter on top. Make a mixture of sugar and cinnamon and sprinkle it over the dough.
Roll the dough the long way and cut the roll into about 25 slices. Place them with the cut edge upward in paper molds or on a baking sheet directly. Let rise under a cloth for about 1 hour or until the buns have doubled in size.
Beat together the egg and water. Brush the mixture carefully over the buns and sprinkle pearl sugar on top. Bake in the oven to 425°F (220°C) for 5-6 minutes. Allow to cool on a rack before serving. Enjoy!
Keywords: Swedish Cinnamon Rolls Kanelbullar
Did you make this recipe?
Lastly, if you make this Swedish Cinnamon Rolls (Kanelbullar), be sure to leave a comment and give this recipe a rating, letting me know how you liked it. And of course, don't forget to tag me on Instagram! Thank you and enjoy!