Spiced pumpkin spice butter is wonderful spread on toasts, bagels or muffins. Canned in a lovely jar, it also makes a spectacular holiday edible present!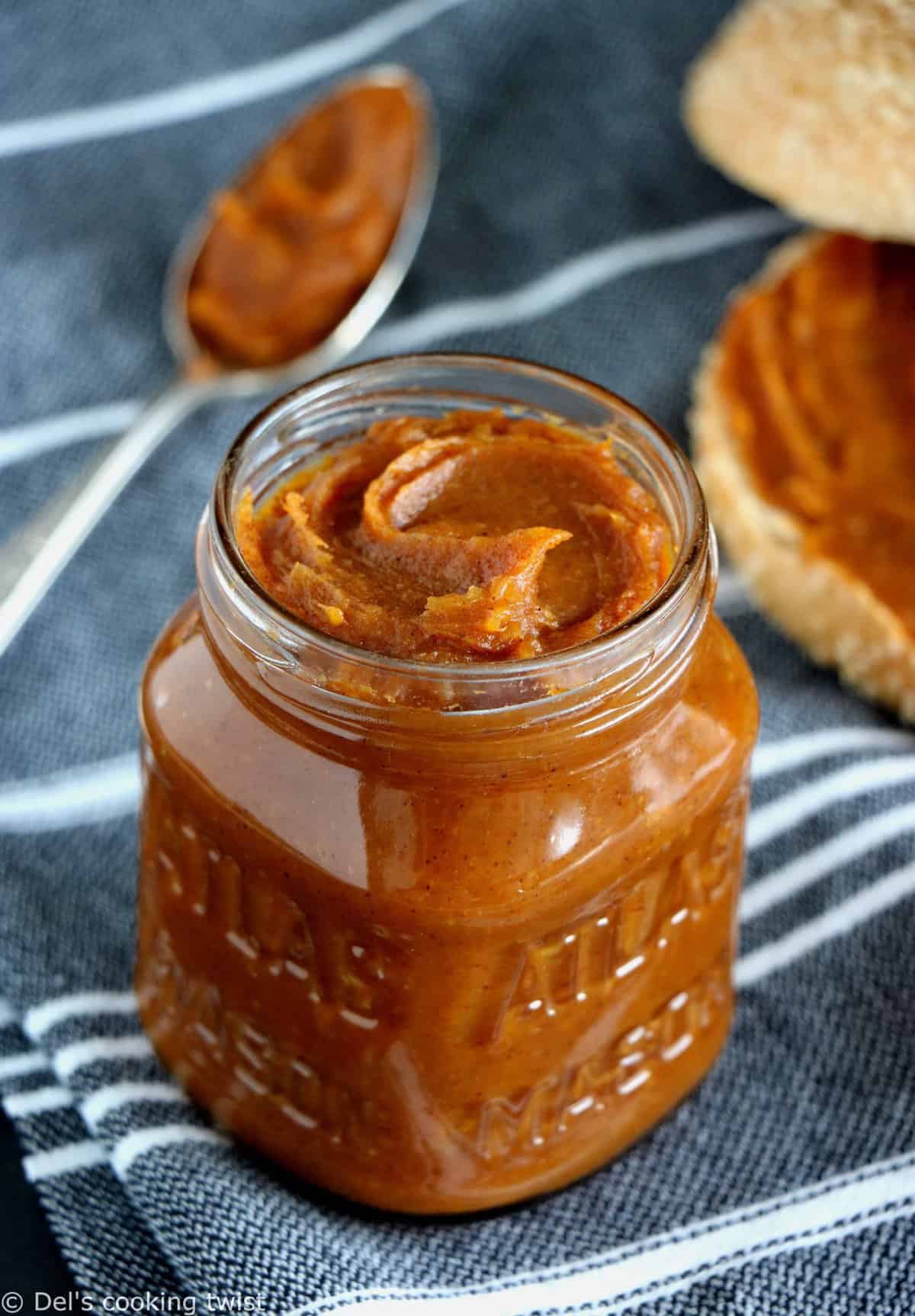 My obsession for pumpkin is still going strong and I'm back today with another classic pumpkin recipe: a spiced pumpkin butter. Have you ever tried? Well I guess so, if you live in the US at least! I remember my very first time ever, a few years ago (yes, only a few years ago… I never found some in Europe, neither in France or Sweden) in New York. It was in a great bagel store in Lower East Side. I remember I ordered a sesame bagel filled with pumpkin butter for breakfast. It immediately blew up my mind ; it was love at first bite!
Last summer, I bought some spiced pumpkin butter directly from the Amish in Michigan and we tried it with my cousins who were visiting me at the time. My cousin is always curious when it comes to try new foods and I like it a lot as I'm pretty much the same! Like me, she loved spiced pumpkin butter and tried to find some to bring back in France. Sadly, she didn't find any. The fact that pumpkin season had not started yet probably explains part of it. However, I noticed afterwards it was not easy to find pumpkin butter in regular grocery stores anyway, unlike pumpkin puree that you find everywhere, whatever the season. If you do know a great address to find some pumpkin butter any time of the year in Chicago, please let me know!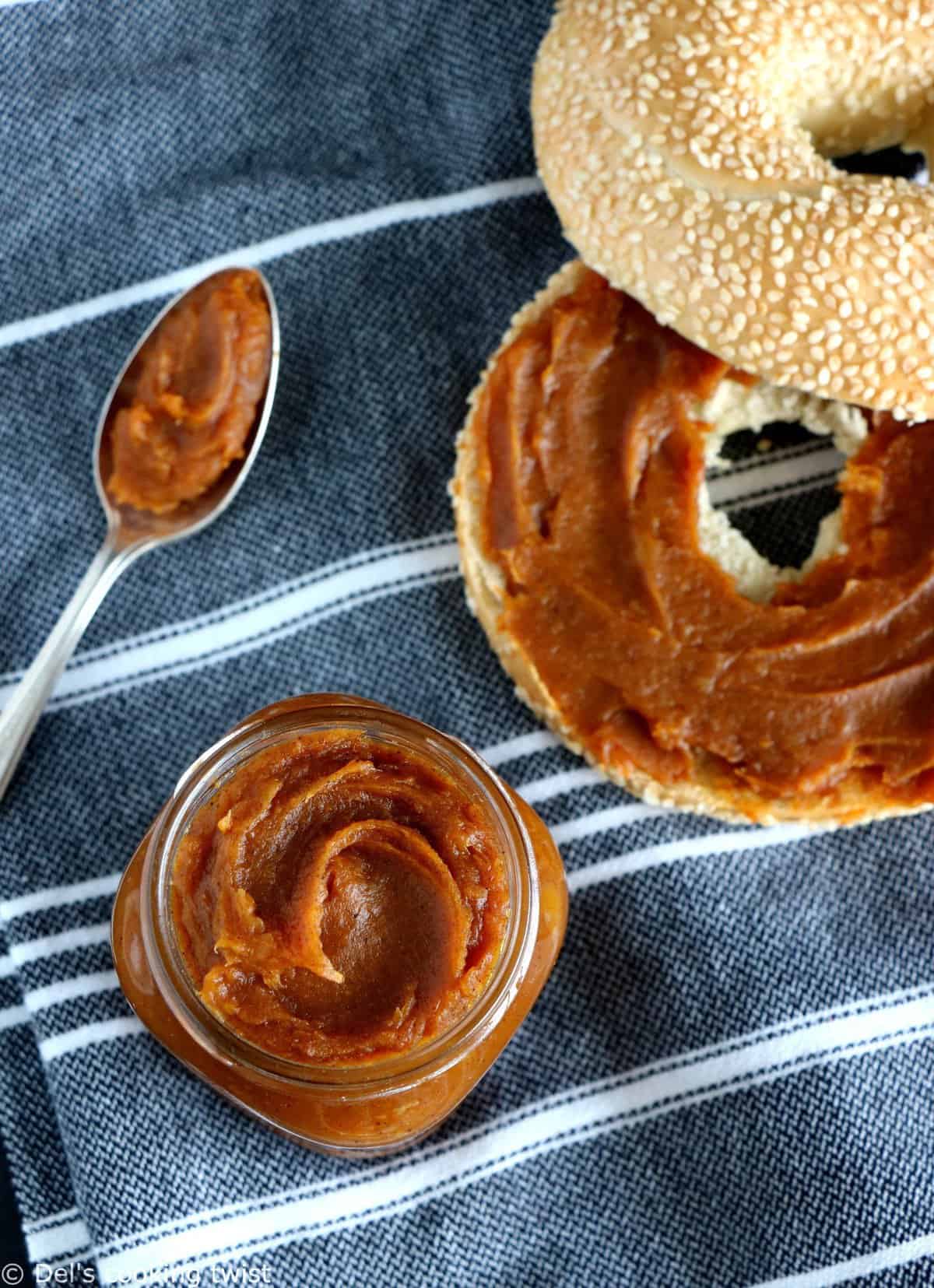 In the meantime, I figured I should simply make the recipe myself and share it with you here. This way, both my cousin in France and you wherever you are in the world can prepare her/your own jar of spiced pumpkin butter. The recipe I suggest today is made entirely from scratch, using real pumpkin. It might scares you at first but it's actually extremely easy to prepare, much more you would expect. And if you run out of time, you can always use canned pumpkin puree instead; it will work equally well.
Note here that I roasted my pumpkin in the oven with some coconut oil to make it vegan and also because it gives a great sweet taste to the pumpkin. If you do not mind vegan however, you can use melted butter instead. Once pumpkin is roasted, you did half of the job already, and the rest is pretty simple: puree in the food processor, then cook with the remaining ingredients (do not forget the spices), stirring often. Important to keep in mind: the longer you cook it, the stronger your pumpkin butter will be in taste, as spices have time to release their flavors. The texture will also become thicker and the color darker, which is totally normal.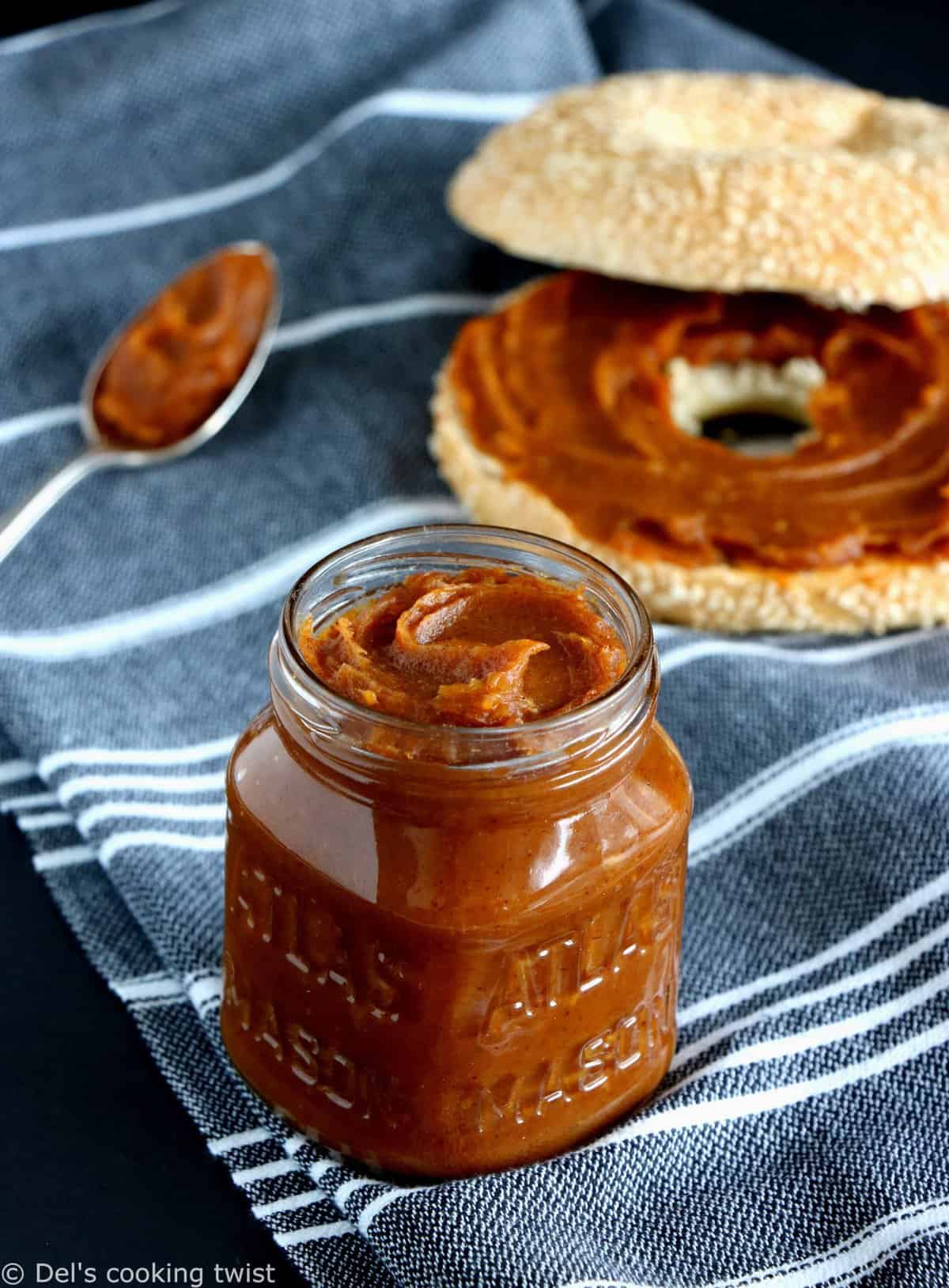 When it comes to the pumpkin spices, you can either do your own mix (which I recommend; I find it more flavorful) or go for a ready-to-use pumpkin spice mix. If you do not like pumpkin spices, which actually happens quite often when you do not live in the US and are not use to pumpkin spices, you can replace them with vanilla instead. Vanilla extract or vanilla bean, whichever is more convenient for you. If you use the last one, let simmer longer to give time to the vanilla to release its flavor, stirring regularly.
Once ready, simply pour into a glass jar, such as a Mason Jar, and store in the refrigerator for up to 2 or 3 weeks. Spiced pumpkin butter also makes a lovely DIY holiday edible present. Use a lovely ribbon around, stick a pretty label on the jar, and offer to your loved ones for Thanksgiving or Christmas. I would also display onto the label some ideas to use or eat pumpkin butter.
Find below a few idea to eat/use spiced pumpkin butter:
Simply replace the pumpkin puree and spices with the spiced pumpkin butter. You might also want to skip maple syrup as the pumpkin butter is already sweetened. It's a much quicker pumpkin oatmeal version, which is just perfect for busy mornings. ** You can replace the filling used in my pumpkin cinnamon rolls by this spiced pumpkin butter. It will bring additional moist to the texture.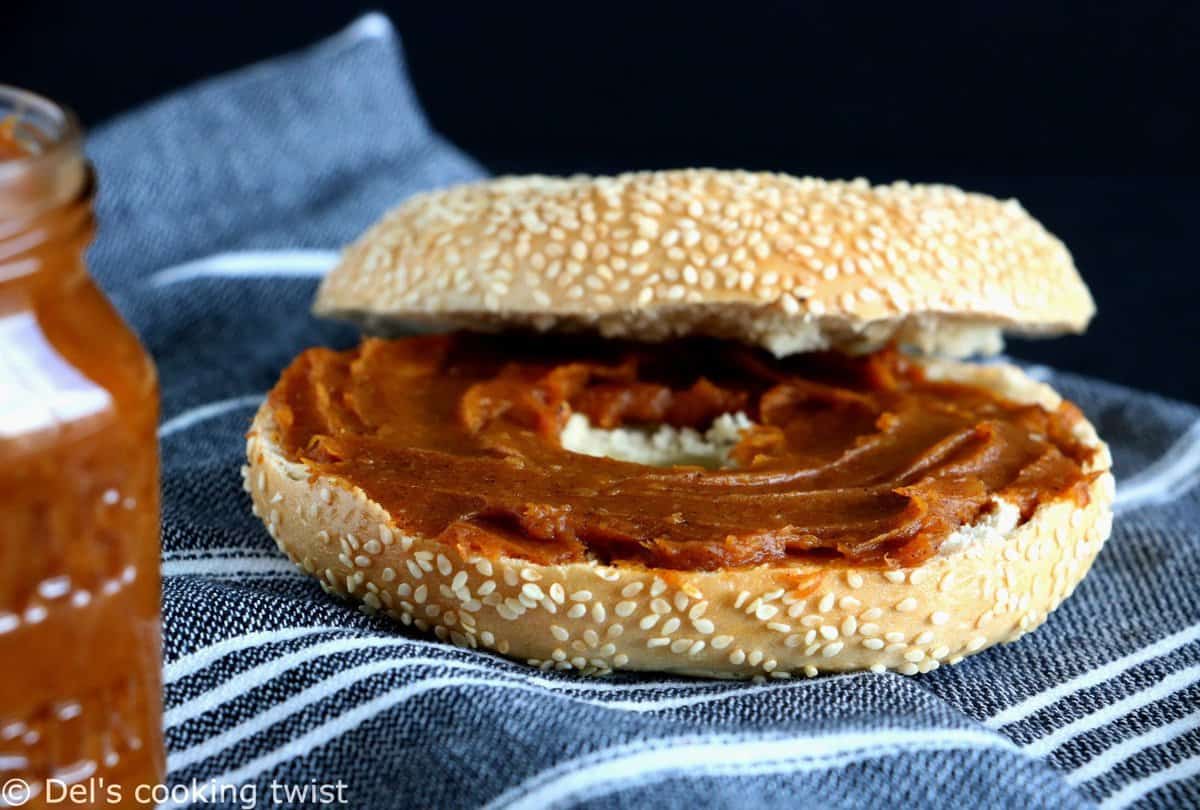 Note that this recipe is naturally vegan and gluten free.
Print
Spiced Pumpkin Butter
Author:

Prep Time:

20 mins

Cook Time:

1 hour

Total Time:

1 hour 20 mins

Yield:

1

-

2

jar(s)

1

x

Category:

Breakfast

Cuisine:

American recipes
---
Description
Spiced pumpkin spice butter is wonderful spread on toasts, bagels or muffins. Canned in a lovely jar, it also makes a spectacular holiday edible present!
---
1

butternut squash (or any other pumpkin of about

2.2

lbs /

1

kg with seeds and skin on)*

1

–

2

Tablespoon coconut oil

1/2 cup

(

120

ml) unsweetened apple juice

1/4 cup

(

60

ml) maple syrup

1/4 cup

(

50g

) dark brown sugar

1/2

lemon, juice

2 1/2 teaspoons

pumpkin spice**

1

pinch salt
---
Instructions
Preheat the oven to 400°F (200°C) and line a baking tray with parchment paper.
Peel, seed and roughly cut the butternut, and place onto the baking tray. Brush with the coconut oil on all faces and bake for half an hour, or until the flesh is fork tender.
Transfer into a food processor and puree until creamy consistency.
Add pumpkin puree to a saucepan, together with apple juice, maple syrup, dark brown sugar, lemon juice, spices and salt. Mix until well combined and cook uncovered for about 25-30 minutes, stirring occasionally.
Allow to cool completely, and pour into a glass jar. Store in the refrigerator for up to 2-3 weeks.
---
Notes
* If you are in a hurry, you can replace with 1 can (29 oz / 822g) ready to use pumkin puree.
** Make your own pumpkin spice mix : 2 tsp ground cinnamon, 2 tsp ground ginger, 1 tsp ground nutmeg, 1/2 tsp ground clove.