Learn how to master the layered smoothie technique with this simple raspberry banana smoothie, packed with vitamins. A pretty and very satisfying drink for any occasion.
Today is a smoothie kind of day! It's been quite a while since I last posted a smoothie recipe and I figured it was about time to change that. Smoothies are extremely easy and quick to prepare, and if you think about it, no one really needs a recipe to make them. Except maybe for the inspiration. Does it happen to you sometimes that you would like to make yourself a smoothie but have no idea of what to prepare exactly? Which fruits to use? Milk and/or yogurt? Nuts or nut butter maybe? Which sweetener, if any?
Then comes the other dilemma: a smoothie or a smoothie bowl? Haha, life is full of essential questions, right? The good thing is that smoothies are great for any occasion, whether in the morning for breakfast, after a workout session, as a dessert, and also on the beach this summer, for those of you who are still on vacations (lucky you!)… Today however, I create a new smoothie to celebrate Back to School very soon!
Whether for your kids or for yourself, smoothies make a perfect healthy treat to enjoy after school or work. It's also a great way to increase your fruit intake, in particular if like me you are sometimes struggling with eating fresh and raw fruits on a regular basis. Here, fruits are mixed raw in a food processor or blender, keeping both the pulp and the fiber they contain. It is also better than using a juice extractor that would remove the fiber, the latter playing an important part in the sugar absorption. So whenever you can, make sure you eat the fruit with the fiber it contains, whether raw or mixed.
The version I suggest today is probably one of the easiest you could ever imagine: just two fruits combined together with dairy. But I made it pretty and bi-color, and it makes all the difference! As you know I believe in pretty food, and smoothies are no exception. If your smoothie is 1/homemade and 2/looks pretty and unique, you will find yourself enjoying it better than a random smoothie purchased on the go, believe me.
The thing is that it can be a little bit tricky to get this bi-color visual, and this is why you need a recipe for this smoothie. You want to find the perfect balance in texture so that one can support the weight of the other on top. Because of that, I combined yogurt with the fruits, each of them mixed separately. Because bananas are thick by nature, you want to mix them first with yogurt and milk and pour at the bottom of your glass. If too thick, add a little bit of milk, keeping in mind that you want to be able to drink with a straw and still enable the mixture to support the weight of raspberries of top.
For the raspberries, I used them frozen, which helps keep a thick and creamy texture, which is exactly what we are looking for in this smoothie. Again, you can adjust the milk/yogurt quantity if needed. Now if you want to make this smoothie vegan, it is also possible: just replace the yogurt with coconut or soy yogurt (alternatively coconut cream i.e. the solid part of a coconut milk can), and use any non-dairy milk of your choice, from almond, soy, coconut…
About the sweetener, I recommend you adapt the quantity you use depending on your needs and the natural sweetness of bananas. If you chose them very ripe, you will need much less sugar, i.e. honey or maple syrup (or agave for a vegan version) than if they are still firm. I recommend to use as little sugar as possible, in order to get your body used to less sugar absorption. I add here that this is in no way a diet recommendation, just a reasonable one because our occidental diets already contains far too much sugar, which we get addicted to. Fruits are naturally sweetened and it's ok to increase their sweetness, but always with moderation.
A few other smoothie ideas you might also want to try:
You can also check my Top 10 Healthy Smoothie & Smoothie Bowl Recipes to get even more inspiration on a regular basis and bring more colors to your life!
Print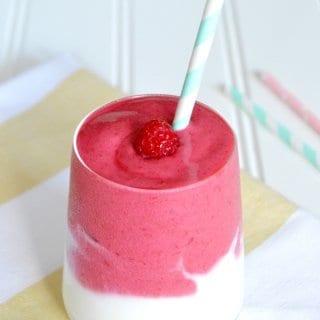 Raspberry Banana Layered Smoothie
Author:

Prep Time:

5 mins

Total Time:

5 mins

Yield:

2

servings

1

x

Category:

Beverages

Cuisine:

Healthy
---
Description
Learn how to master the layered smoothie technique with this simple raspberry banana smoothie, packed with vitamins. A pretty and very satisfying drink for any occasion.
---
1

large banana, sliced

1 cup

(

240

ml) plain yogurt, to adjust if needed

1 cup

(

240

ml) milk, dairy or non-dairy, to adjust if needed

2 teaspoons

honey, agave or maple syrup (optional)

2 cups

(

8 oz

,

230g

) raspberries, frozen
---
Instructions
Put the sliced banana in a blender together with half of the milk, half of the yogurt, and half of the honey, and mix for a few minutes until smooth. Add a little bit of milk if consistency is too thick but remember to keep it thick enough to support the raspberry part afterwards. Share the mixture in 2 glasses.
Rinse the blender, then add the frozen raspberries and the remaining milk and honey, and mix until smooth enough. Then add the remaining yogurt and mix again until smooth. If too thick, add some milk, a little at a time. Pour on top of the banana smoothie part and enjoy!
---