Say hello to the perfect vegan chocolate chip cookies. Thick, chewy, and prepared with just a few ingredients, they taste exactly like a classic chocolate chip cookie!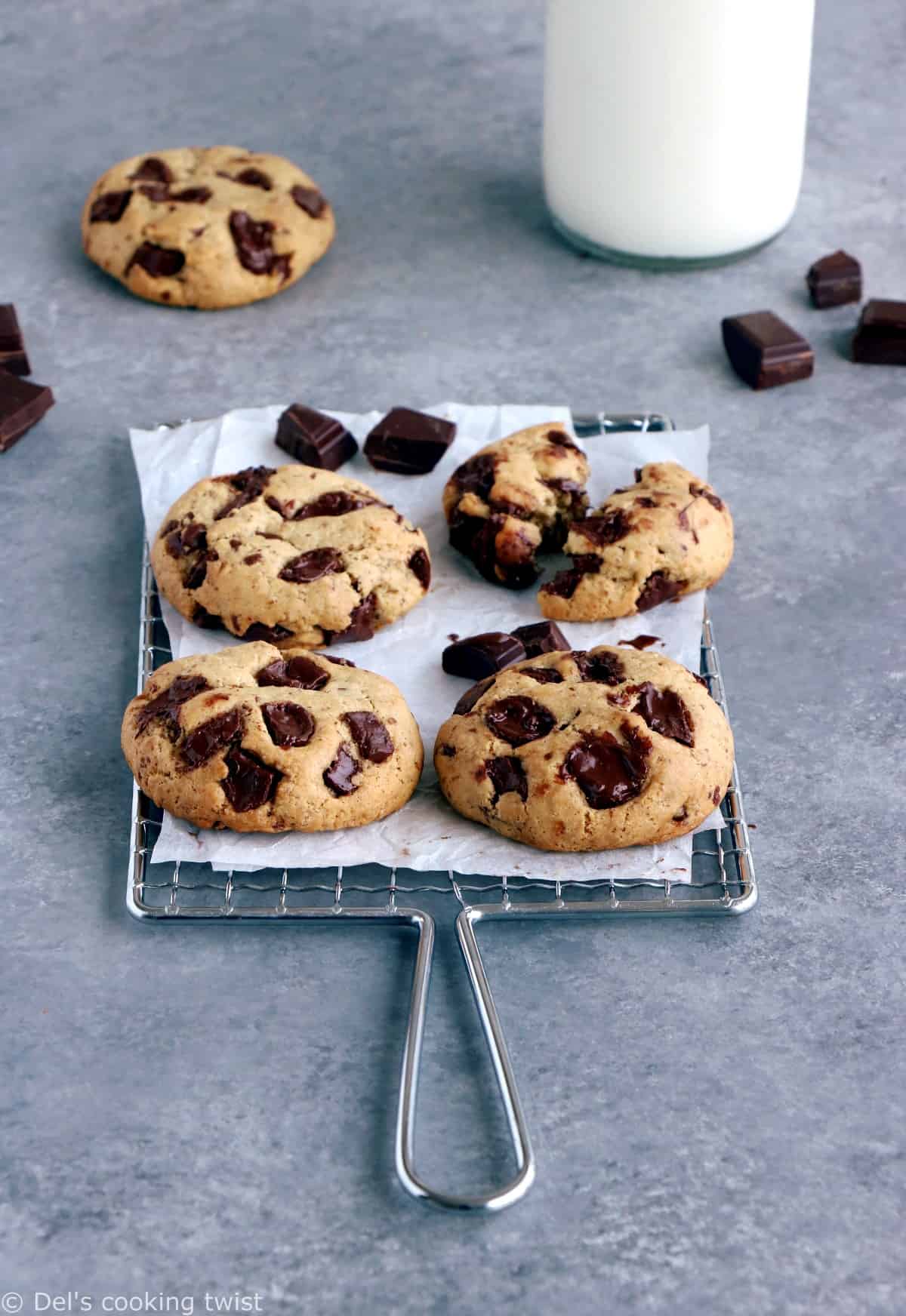 If you are looking for the best vegan chocolate chip cookie recipe, don't look any further because it's right here in front of you. I have been working on this recipe for quite some time, in search for the perfect vegan cookie, that would taste exactly like a classic chocolate chip cookie recipe. My goal here was to use simple ingredients only (no fuss ingredients), with a great egg replacer that would not affect the final taste of the cookie.
The idea was simple: no one should be able to guess it's a vegan cookie. I did the test with my husband, pretending I just prepared some regular cookies. He grabbed a bite, stopped and looked at me: "They're perfect. I can tell there's a lot of butter in there; the cookies are soft, chewy, exactly as I like them." Well, that's the thing, darling, there is no butter in these cookies, and no eggs either!
I can't believe it's vegan!
No eggs, no butter, and yet they taste exactly like your regular chocolate chip cookies. Isn't it a dream come true?
Again, it's easy to make a cookie vegan (I could for instance take this recipe of mine with coconut oil and use an egg replacer). What's more difficult however is to make it taste exactly like a classic cookie, with a rich, buttery, texture. Using coconut oil or mashed bananas usually work pretty well in a vegan cookie recipe, except that you can tell there's an additional flavor. It's just not the regular chocolate chip cookie.
I found countless of vegan cookie recipes and none of them did satisfy me completely. They were either too oily, too crispy, or on the opposite they wouldn't hold their shape. Some vegan cookie recipes I found seemed to work ok but were a little bit tricky and required slightly advanced baking skills. With this one, you are guaranteed to get perfect cookies every single time you make them.
How to replace butter in vegan cookies?
You might have seen one of these old British commercials from the 1990's "I can't believe it's not butter" (pronounce with a British accent "but-ter"). They are absolutely hilarious! Fast forward to 2019, it became a spread brand produced by Upfield. As its name implies, it is marketed as a substitute to butter. I could have gone straight to this ingredient, but first I studied all possibilities and here's what I found:
Vegetable oil (either rapeseed or olive): it makes the cookies too greasy, on the crispy side, and they don't hold their shape very well.
Coconut oil: it's a great substitute to butter because you can use it liquid or softened. The down side is that they taste coconut. So I didn't go for it either.
My choice: I used margarine or vegan butter, softened. It's indeed the closest substitute to butter in terms of texture and neutral taste, and it enables the cookies to be both soft and chewy, while holding their shape beautifully. Be aware however that all margarine or vegan butter are not the same and you'd better look at the list of ingredients before you purchase one or the other (some margarine brands are not strictly vegan). Also, choose a reasonable percentage of fat but definitely not a "light" option.
Can I use coconut oil instead?
Yes you can. If you do not mind the coconut taste, simply replace softened vegan butter with the same amount of coconut oil in its solid form (i.e. softened, not meted).
Which egg replacer to use in your cookies?
There are many ways to replace eggs in vegan recipes, but they do not all work the same in all baking recipes. Among different options, there are apple sauce, bananas, nut butter… All of them could work, potentially, but they would also bring additional flavors to your cookies (bananas and nut butter in particular).
Because I wanted my cookies to be as close as possible to a classic chocolate chip cookie recipe, I eliminated the options above. Also, I was looking for this chewy texture when you grab a bite of your cookie.
My choice: I found that the flaxseed egg is the best option. To be completely honest with you, I was reluctant at using it in a cookie recipe at first as I feared it would make my cookies too soft and crumbly. It actually did not at all as I used just a small amount of it.
If you are not familiar with flaxseed egg, here's how to make one: mix ground flaxseed with water, let sit for a couple of minutes until it becomes fluffy, and there you are!
What if I don't have flaxseed at home?
There is always a possibility that you really want to make these vegan cookies but don't have flaxseed at home (ground flaxseed has become extremely populat in the US and you can find it in every grocery store in the baking section). If it's the case, I would advise you to use apple sauce instead, about 1/4 cup (60g).
Not that the texture will be slightly different though, a little bit more on the soft side rather than on the chewy side. The good news however is that you won't taste apple sauce in the recipe.
Are vegan cookies healthy?…
Or should I ask: is this vegan cookie recipe healthy? No eggs, no butter, and much less sugar than in a classic cookie recipe is what you can expect here. Also, flaxseed are a goof source of fiber, so the use of a flaxseed egg in this cookie recipe makes it healthier too.
So yes, these cookies are healthier or healthy~ish (take a pick) if you compare to a classic chocolate chip cookie. That being said, they remain cookies in all that it means, so take it easy and keep it occasional.
How to bake vegan cookies?
You don't want your cookies to spread out while baking. To prevent this from happening, place the raw cookie balls in the freezer for about 5 minutes before baking. It's the quickest trick I found to make sure the cookies hold their shape beautifully when baking.
Alternatively you could place them in the refrigerator for about 30-60 minutes. But if like me you can't wait to have warm cookies in your hand when you start the recipe, just freeze them briefly and it will be just fine.
More vegan cookies and snacks you can prepare:
And for all cookie addicts out there, I invite you to check all my cookie recipes, where you will find plenty of delicious and crazy cookies for any occasion.
Print
Perfect Vegan Chocolate Chip Cookies
Author:

Prep Time:

10 mins

Cook Time:

12 mins

Total Time:

22 minutes

Yield:

10

cookies

1

x

Category:

cookies and bars
---
Description
Say hello to the perfect vegan chocolate chip cookies. Thick, chewy, and prepared with no crazy ingredients, they taste exactly like a classic chocolate chip cookie!
---
2 teaspoons

ground flaxseed

2 teaspoons

water

2/3

stick (75g) maragarine or vegan butter, at room temperature

1/4 cup

(

50g

) caster sugar

2/3 cup

(

120g

) light brown sugar

1 teaspoon

vanilla extract

1 1/3 cup

(

160

gms) all-purpose flour

2 teaspoons

cornstarch

1/2 teaspoon

baking soda

1

pinch salt

1/2 cup

(

90g

) vegan chocolate chips or chunks
---
Instructions
Prepare the flaxseed egg: mix ground flaxseed with water and set aside for a couple of minutes.
In a medium bowl, beat softened butter, and mix with sugar and brown sugar, using a hand mixer or a whisk. Add flaxseed egg, vanilla extract, and mix well to combine.
In a separate bowl, mix flour, baking soda, cornstarch and salt. Add the dry ingredients to the wet mixture, and mix well. Fold in the chocolate chips or chunks and stir to combine.
Preheat the oven to 350°F (180°C) and line a cookie sheet with parchment paper. Set aside.
Form cookie balls, about 3 tablespoons each, and place onto the baking sheet, leaving enough space between each of them. Place in the freezer for about 5 minutes until firm to touch.
Bake the cookies for 12-13 minutes. Remove from the oven and let cool on the sheet for about 5 minutes. Transfer on a wire rack to cool completely (unless you are dying to eat them warm!). Enjoy!
---
Keywords: vegan chocolate chip cookies