An easy savory granola to serve as a snack or to use as a topping for your salads and your soups. Quick to prepare, it will soon become a favorite in your house.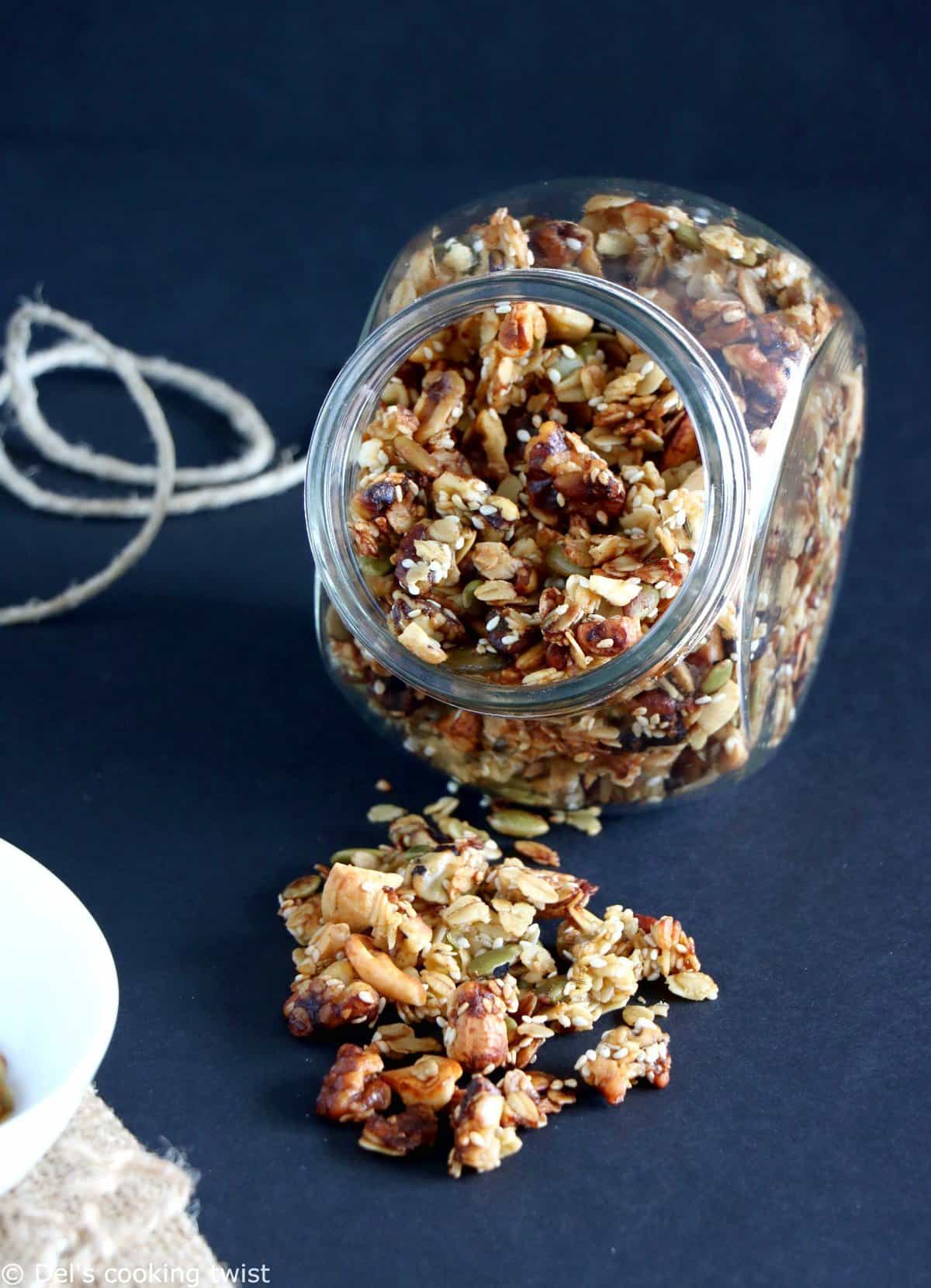 Forget all the chips, pretzels, peanuts, and any other sorts of junk-food snacks you eat before dinner or whenever you have a savory craving. Instead, say hello to your new favorite: a nutty, nutritious and gluten-free savory granola. You'll be surprise to see how easy it is to prepare. Just mix all the ingredients in a bowl, pour onto a lined baking tray, and roast it in the oven, stirring from time to time to prevent from burning (nuts can burn quickly). Then, let cool completely, and store in a glass jar until ready to use. That's it!
As for all the granola recipes, sweet or savory, it is very versatile, and you can easily play with ingredients depending on what you have at home. Here I went for walnuts, cashews, and pumpkin seeds. But hazelnuts, almonds, pecans, or any other seeds and nuts could do the job too. Whatever you go for, keep in mind that it's important to respect the same proportions between nuts and the seasoning.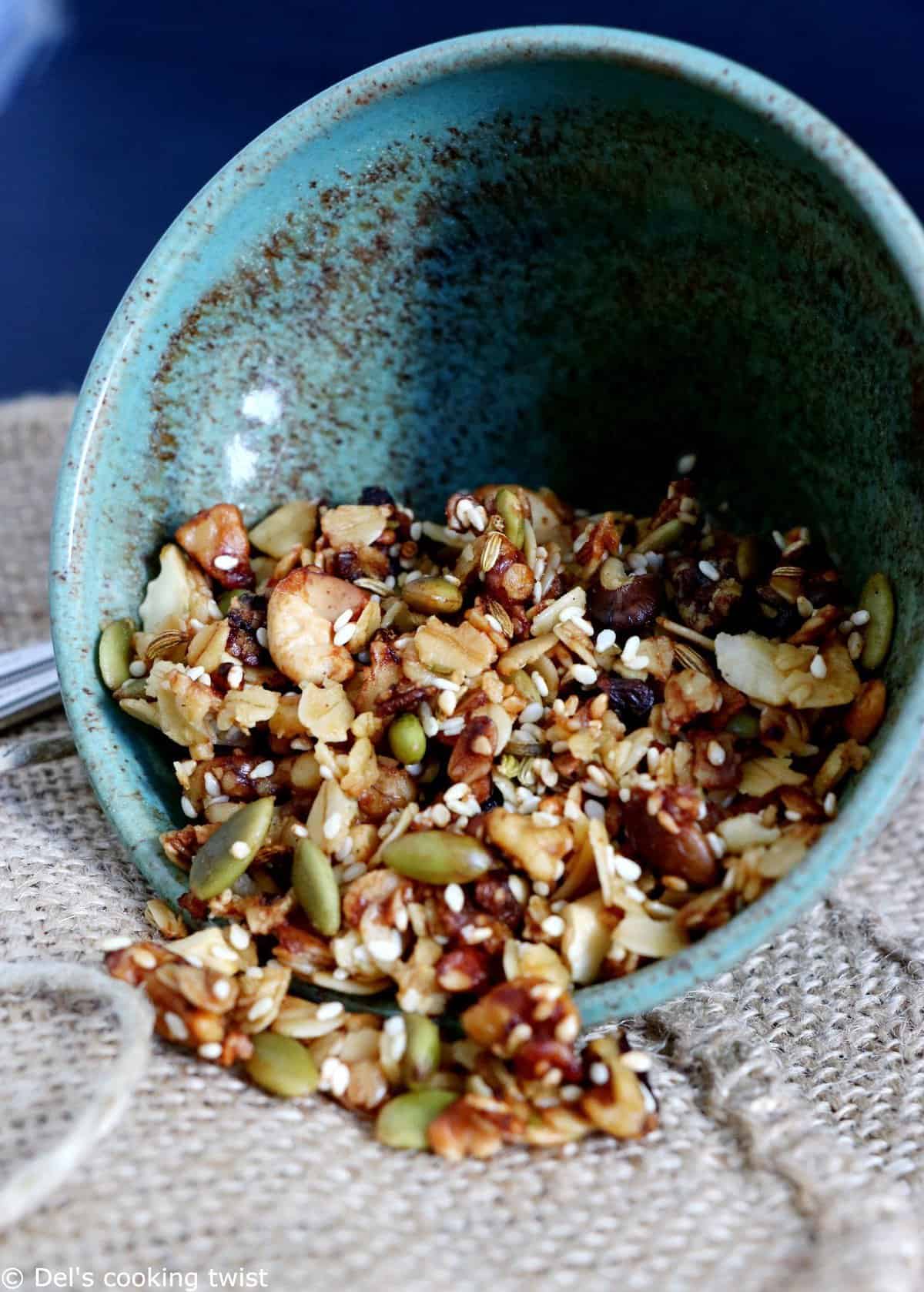 Talking about the seasoning, it's an easy one. To me, the touch of chili definitely brings the granola to the next level. Feel free to add some herbs as well, as I did here with fennel. You could replace it with rosemary if you wish, or use it as a variant for your next tries. I also added some olive oil, as well as an egg white, that helps the ingredients to stick together, creating clusters. It works beautifully. Add a pinch of sea salt, and you've got perfection.
To sum up, here's what makes this granola so special:
An original savory version
Some irresistible crunchiness
The toasted nuts (pick your favorites!)
A great taste of olive oil
A touch of chili
Some freshness with the fennel seeds (you can do without if you wish)
A dab of sweetness
A pinch of sea salt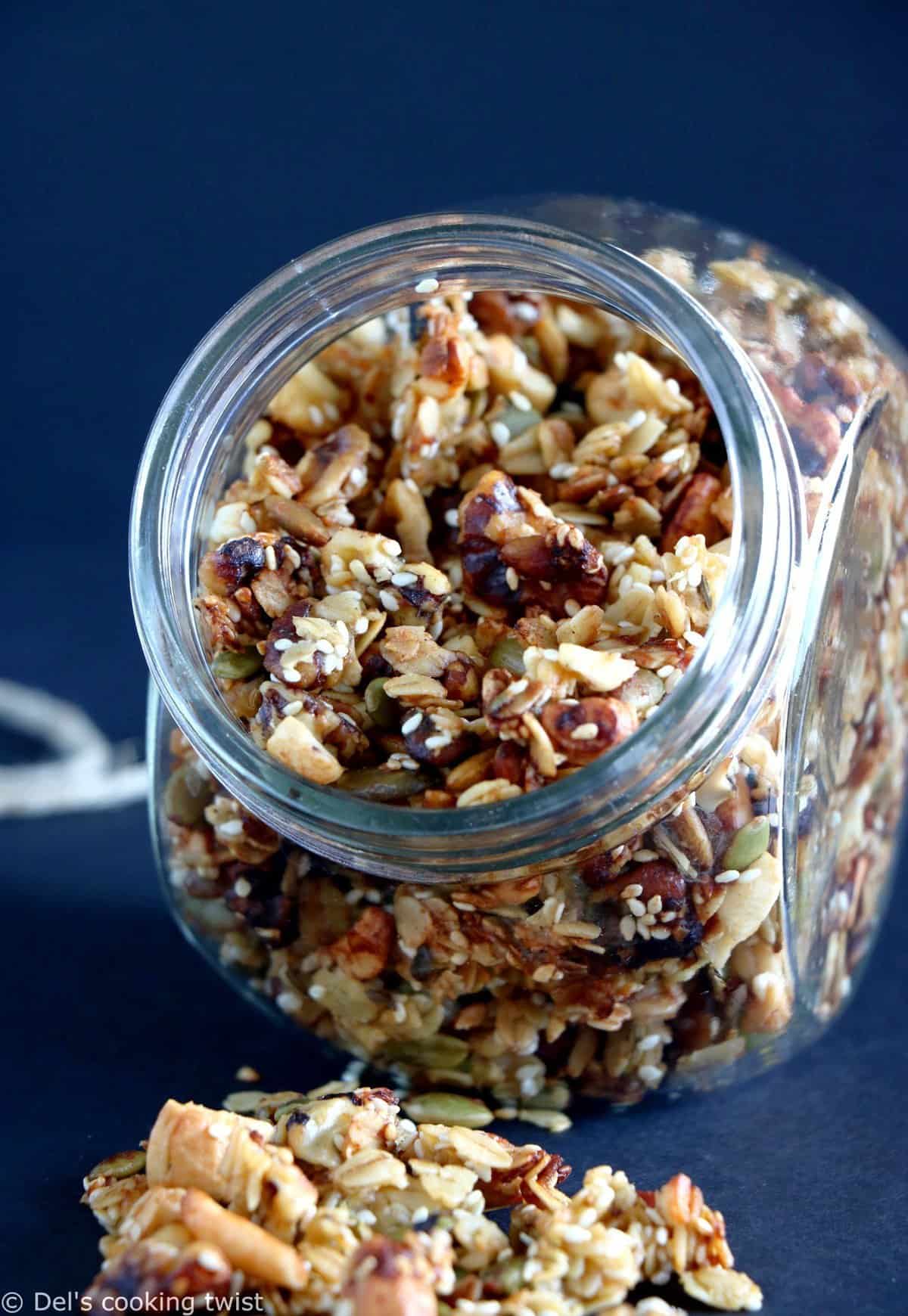 At first, I made this savory granola to serve with a warm winter soup that I will share with you on Tuesday next week – it will make a beautiful starter for the holidays and also a healthy, tasty, and nourishing dish for a fancy everyday dinner. You could indeed top all your soups with this granola – try my roasted pumpkin soup, the purple sweet potato and cauliflower soup, or the creamy mushroom soup for instance. Another idea is to sprinkle your savory granola on top of your salads, to add a little bit of crunchiness.
Last but not least, the holidays are approaching, and this savory granola will make a lovely edible present for your loved ones. Homemade – and edible – presents are always my favorites. Not only they are a nice attention but they also show that the person who made them cares about you and put some love in her/his recipe. They are many different options of course, and granola is one of them. While everyone would usually go for a sweet granola, surprise your dear ones with this savory version instead. Pour onto a glass jar, put a nice sticker on it with the name of the recipe, and add a beautiful ribbon. Your present is ready! The other option is to serve some of your beautiful granola in small bowls on your holidays table. No doubt your guest will love it, taking a few clusters at a time, while drinking some sparkling wine…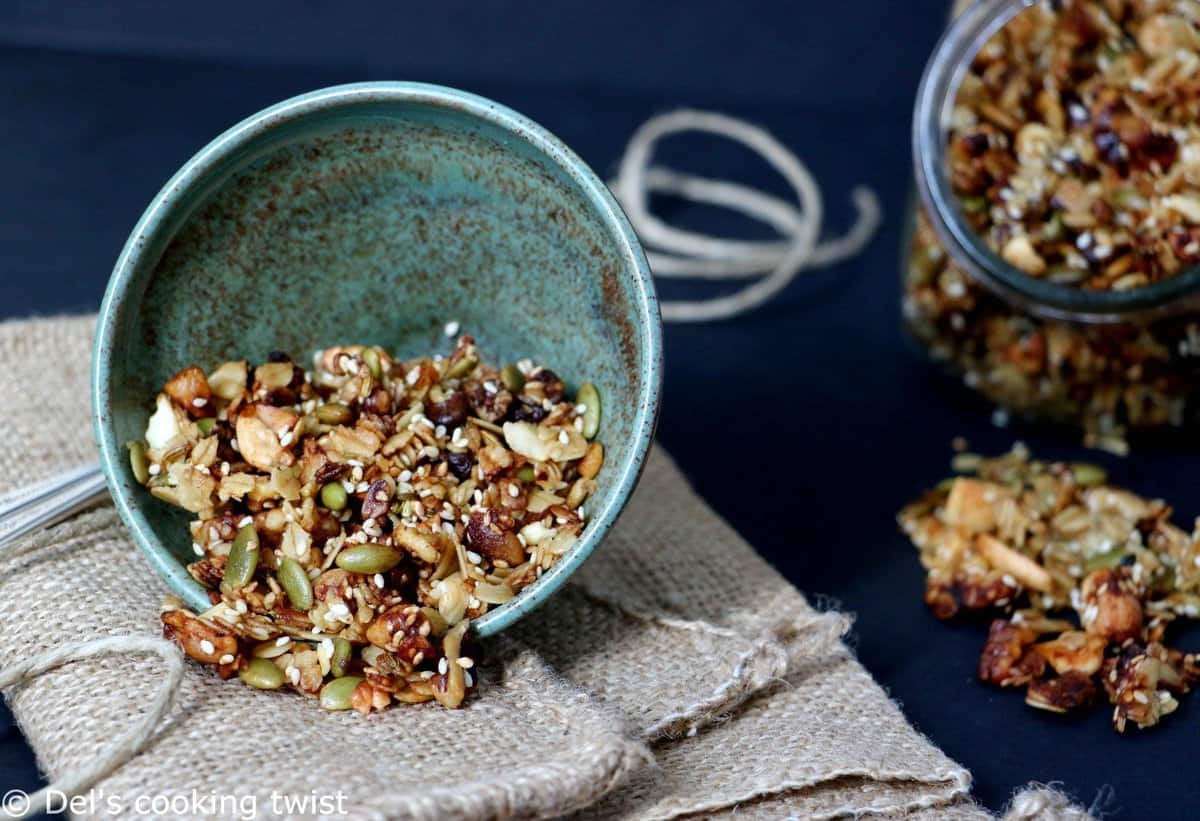 Print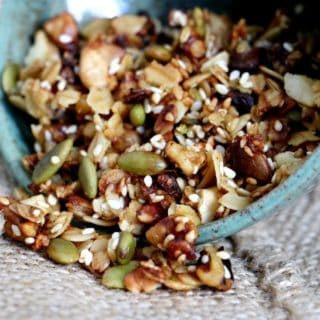 Easy Savory Granola
Author:

Prep Time:

10 mins

Cook Time:

20 mins

Total Time:

30 mins

Yield:

1

large jar

1

x

Category:

Savory

Cuisine:

Plant-based
---
Description
An easy savory granola to serve as a snack or to use as a topping for your salads and your soups. Quick to prepare, it will soon become a favorite in your house.
---
1 cup

(

100g

) old-fashion rolled oats, gluten free

1/2 cup

(

60g

) walnuts, chopped

1/2 cup

(

60g

) cashews, chopped

1/2 cup

(

60g

) pumpkin seeds

2 Tablespoons

(

30g

) sesame seeds

1 Tablespoons

fennel seeds

1/2 teaspoon

ground chili pepper

1/4 teaspoon

chili flakes

1

egg white

1/4 cup

(

60

ml) olive oil

1 Tablespoon

agave syrup

1/2 teaspoon

sea salt
---
Instructions
Preheat the oven to 350°F (180°C), and line a large baking tray with parchment paper.
In a large mixing bowl, mix together the rolled oats, walnuts, cashews, pumpkin, sesame, fennel seeds, chili pepper and flakes.
Add in the egg white, olive oil, and agave syrup. Stir well.
Pour the mixture onto the prepared baking tray and bake for about 20-30 minutes, stirring 2 or 3 times. Remove from the oven when the granola starts to be golden in color.
Pour into a glass jar or an airtight container and store at room temperature for up to 3 weeks.
---
Notes
* For a VEGAN version, you can:
1/ replace the egg white with some aquafaba (liquid from a can of chickpeas) in this savory granola recipe. Use ⅓ cup aquafaba and mix it together with the oil and agave syrup. Add the nuts and stir well.
2/ use flax meal. In this case, use 1½ Tablespoon ground flax seed, mixed with ¼ cup warm water, and let sit for about 5 minutes. Add the oil and agave, and the remaining ingredients.