This easy no-bake cheesecake is just perfection. With a few basic ingredients and very minimal effort, you will get a smooth, creamy cheesecake. Lightly sweetened, it makes the most delicious refreshing summer dessert.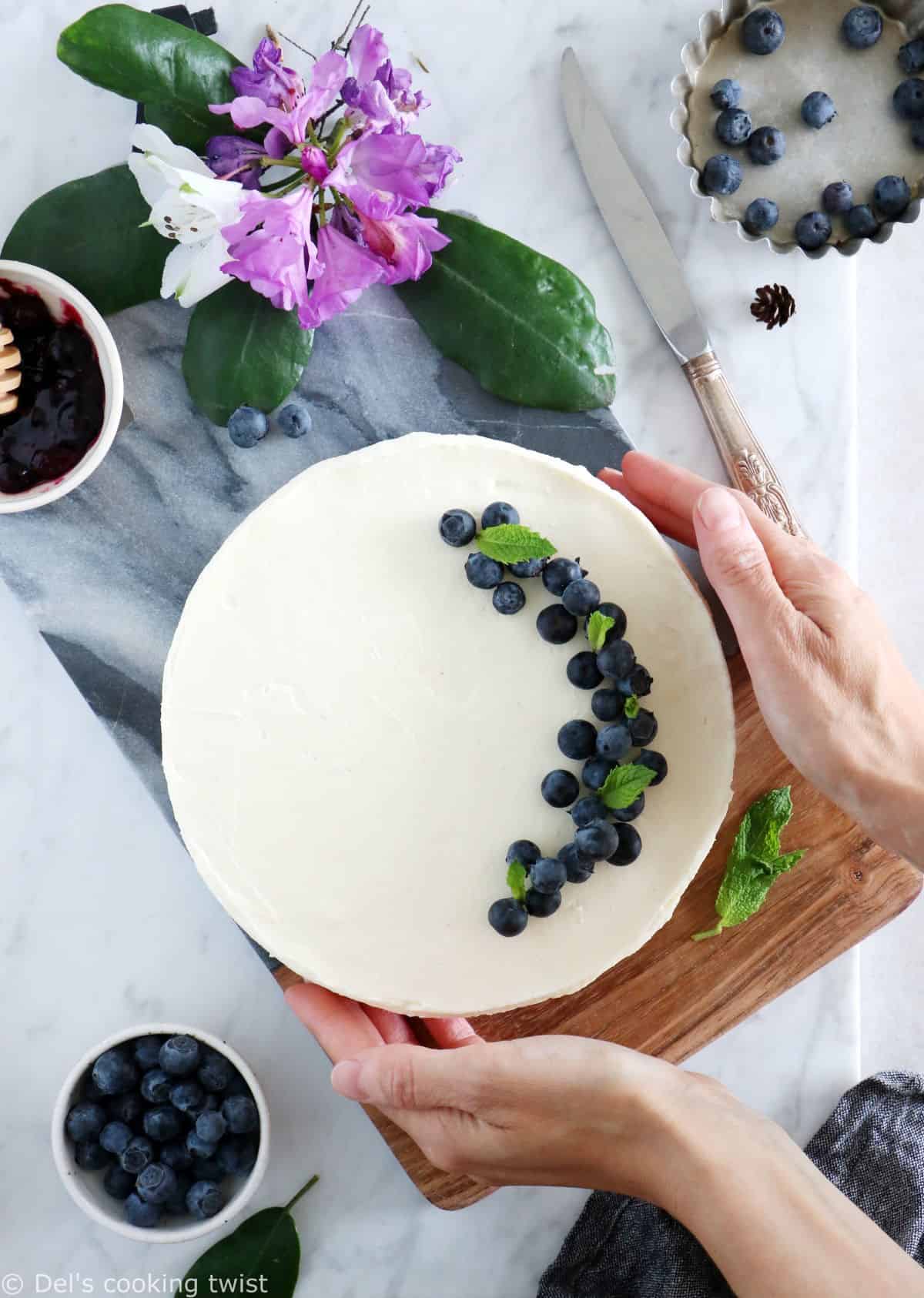 You recently asked for a no-bake cheesecake recipe. I heard you loud and clear, and after hours of experiments in my kitchen, I'm delighted to share with you today my perfect no-bake cheesecake recipe.
This straightforward cheesecake recipe is a crowd-pleaser and a perfect make-ahead dessert. Play with fresh fruit or other topping of choice (see below), or serve as is if you are a cheesecake purist. I bet your guests will ask for seconds!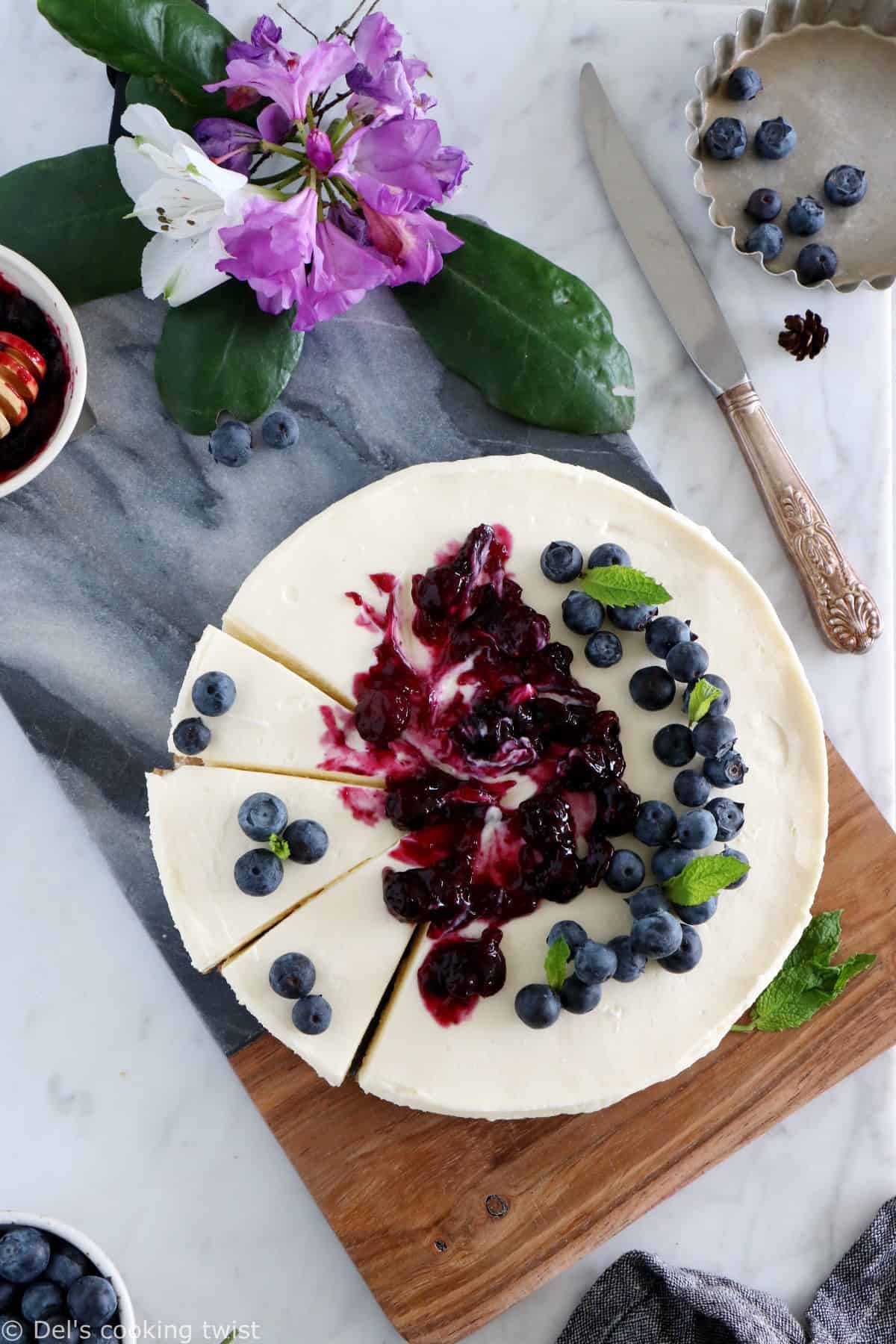 What is a no-bake cheesecake?
Unlike a classic cheesecake recipe, a no-baked cheesecake is chilled in refrigerator to set rather than baked in the oven. It makes the recipe way easier to make, since you do not run the risk of under or over-baking the cheesecake, or worse, having those cracks to develop on top.


With a NO-ERROR zone, the no-bake cheesecake also has a lighter, smooth and mousse-alike cream cheese filling while a baked cheesecake is a little bit more on the heavier side. I love them both, but if you are a beginner, be sure to pick this one for outstanding results every single time.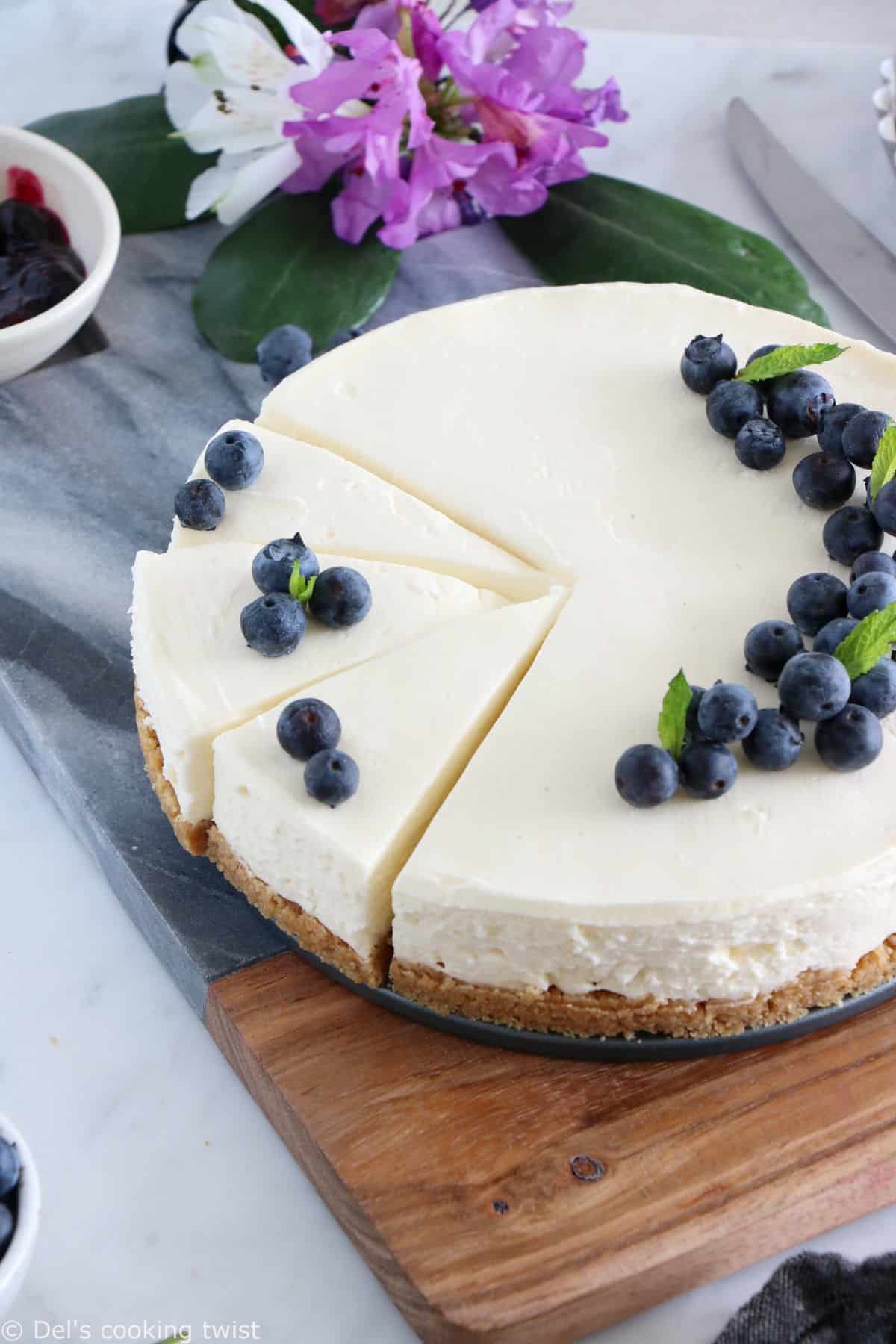 How to make no-bake cheesecake?
As I said previously, when it comes to making a no-bake cheesecake, it doesn't get any easier. Just gather your ingredients, follow the step-by-step instructions and be sure to read the tips for success below. Here's how to:
Crush the biscuits, combine with melted butter, then press into a 9 or 10″ (23-25 cm) springform pan and chill in the freezer to speed up the process.
Whip the cream to stiff peaks, making sure you use the cream very cold.
Beat cream cheese (at room temperature), sugar and lemon juice until smooth and creamy. The lemon juice brings a subtle tangy flavor. For more citrusy flavors, add the zest of one lemon.
Fold the whipped cream into the cream cheese mixture, pour over the crust, cover, and place in the refrigerator to set.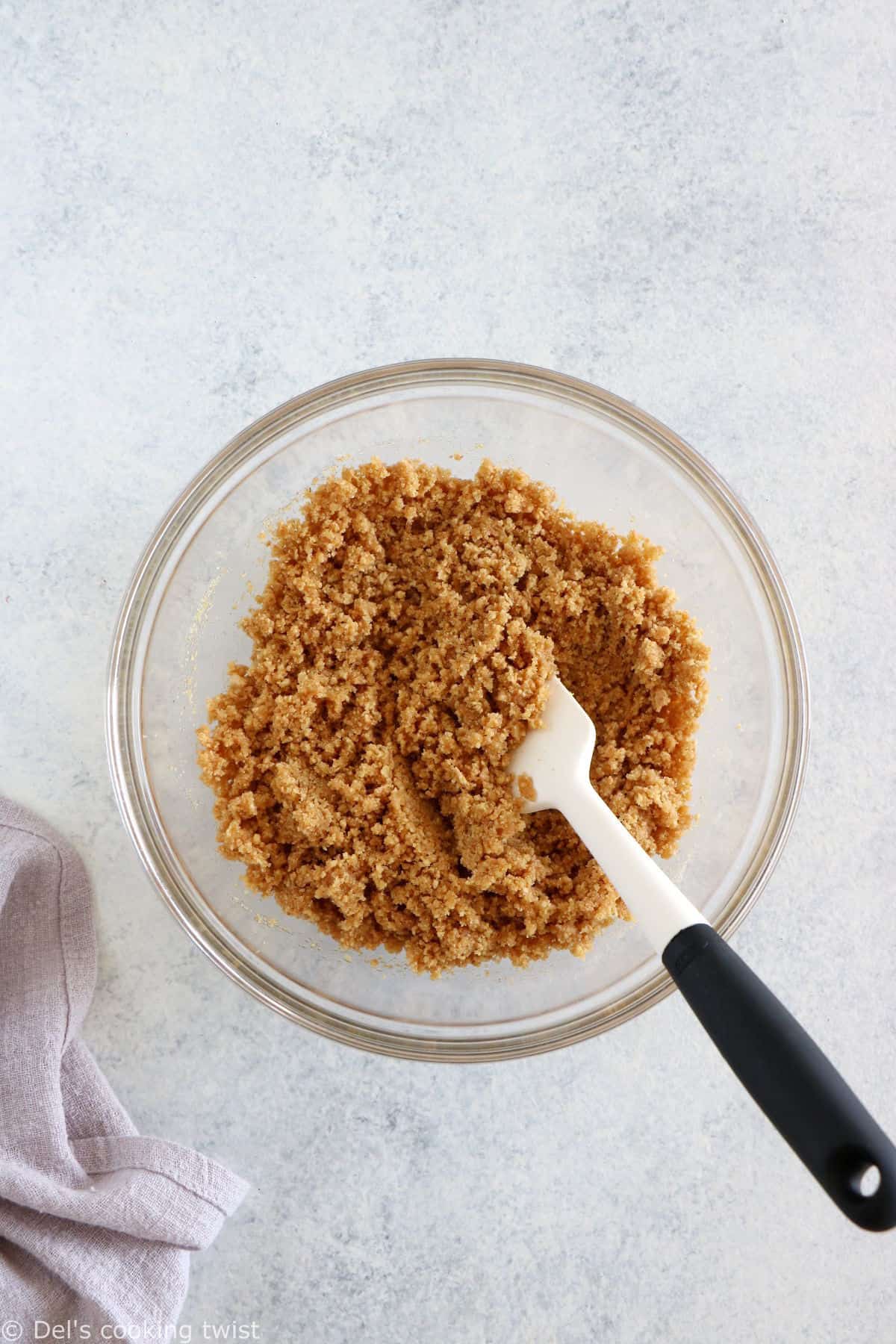 1. Press the crumbs into the pan.
2. Beat the cheese, sugar and lemon juice.
3. Fold in the whipped cream.
4. Spread onto the base.
5. Smooth out with an offset spatula.
6. And voilà!
Tips for success:
Use room temperature cream cheese BUT very cold whipping cream.
Whip the cream to stiff peaks (but not too much or it will turn to butter). It is the key for your cheesecake to set properly.
Chill overnight to ensure the cheesecake is completely set. If you leave it in the refrigerator for just a few hours it may be too runny.
DO NOT freeze to speed up the firm-up process. No-bake cheesecake needs time to firm up, and speeding up the process by placing it in the freezer won't help. Instead, play by the rules and refrigerate for 6 hours or ideally overnight. You can also freeze cheesecake (see instructions below); it makes a great make-ahead dessert!
Can I freeze no-bake cheesecake?
Yes, you can freeze no-bake cheesecake with fairly good results. However, cheesecake is very delicate so be sure to read the instructions below carefully before freezing.
Freezing instructions. Chill first. To freeze a cheesecake, always start with placing the cheesecake in the refrigerator until set (about 6 hours). This is a mandatory step, do not try to freeze it right away. When the no-bake cheesecake is set, wrap it with plastic wrap then with foil. You could also freeze individual slices or mini cheesecake by wrapping them individually in plastic wrap. Keep frozen for up to 2 months but not longer, as the cheesecake will loose a little bit of its texture and flavor if kept longer in the freezer. To thaw, place the cheesecake in the refrigerator until thawed. However, do not thaw no-bake cheesecake on the counter or at room temperature.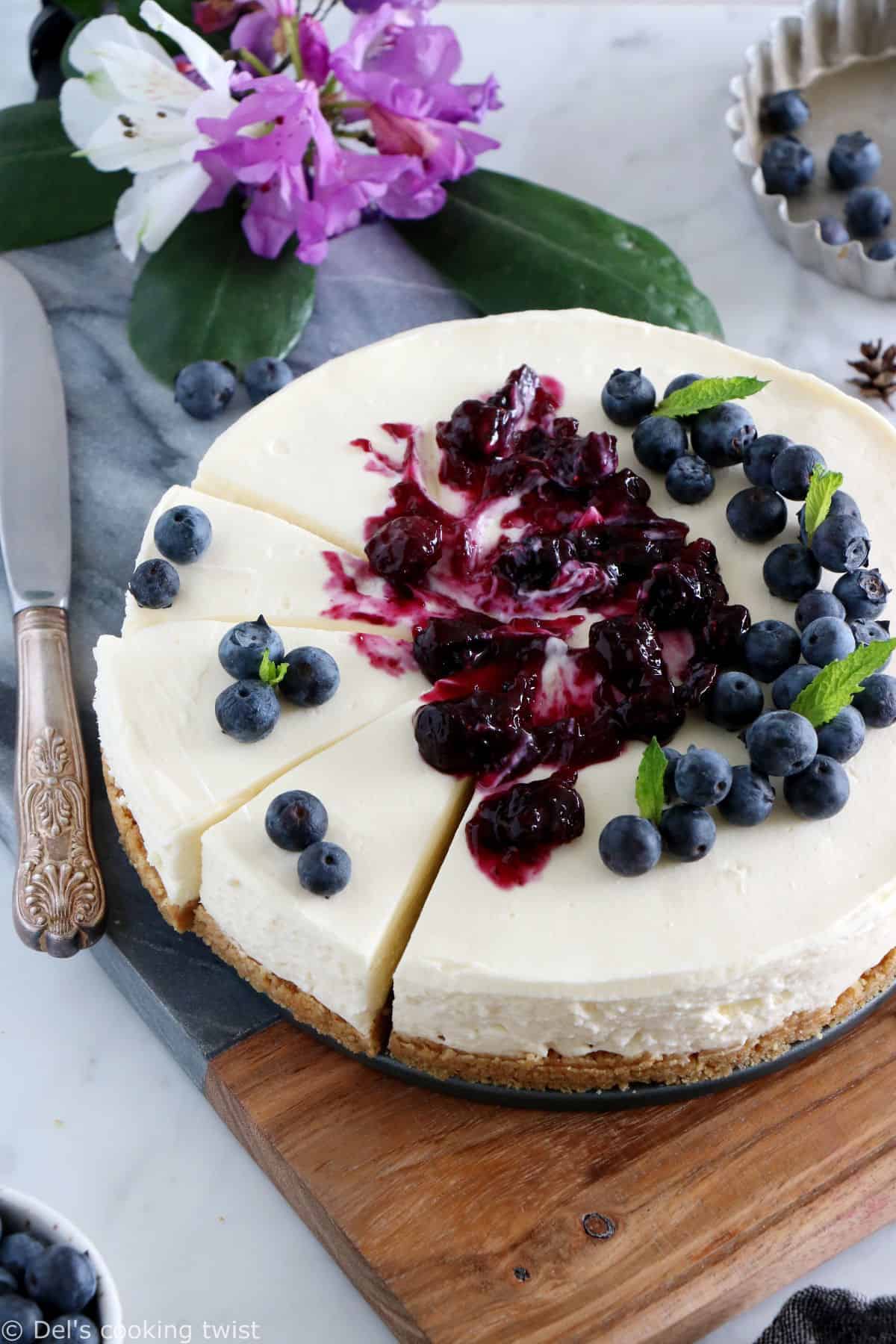 Possible variations around the recipe:
Make a chocolate biscuit bottom. To do so, simply add 2 Tablespoons of unsweetened cocoa powder and 1 Tablespoon sugar to the crumbs and melted butter.
Prepare mini cheesecakes. This recipe will yield approximately 5 to 6 individual cheesecakes, using 6-inch spring forms, or about 12 min cheesecakes using a standard muffin pan.
What to serve with your no-bake cheesecake?
You could either enjoy this no-bake cheesecake plain, or you could top it with various topping, depending on what you are up to!
Drizzle some salted caramel sauce or chocolate sauce over the cheesecake, and maybe add a few pecan nuts too. Delicious!
Top with fresh berries (blueberries, raspberries, strawberries…).
Serve with some berry compote on the side or make some swirls with the berry compote on top of your cheesecake.
Add fresh fruit slices: sliced mangoes, fresh figs, kiwis, etc.
Drizzle some freshly made lemon curd.
More cheesecake recipes you'll love: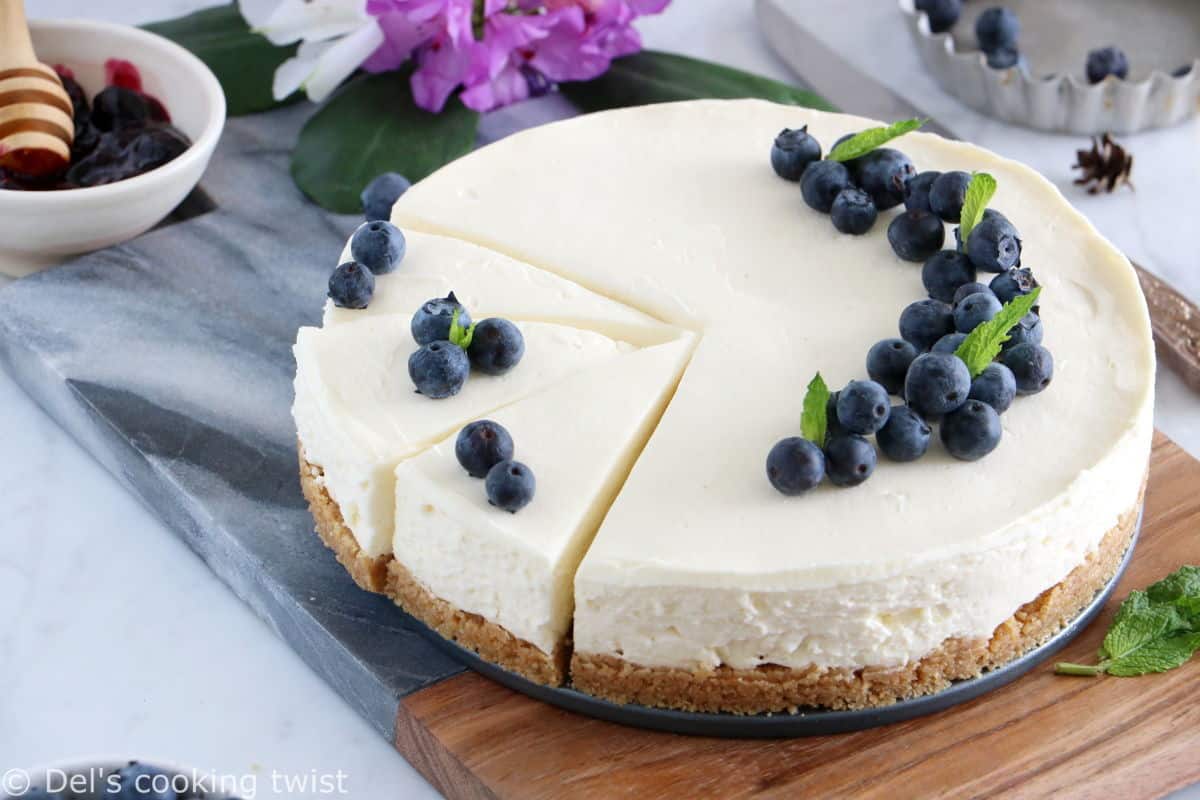 Lastly, if you make this Easy No-Bake Cheesecake, be sure to leave a comment and/or give this recipe a rating, letting me know how you liked it. And of course, don't forget to tag me on Instagram! Thank you and enjoy!
Print
Easy No-Bake Cheesecake
Author:

Prep Time:

20 mins

Total Time:

20 minutes

Yield:

8

servings

1

x

Category:

Cakes and pies

Cuisine:

American
---
Description
This easy no-bake cheesecake is just perfection. With a few basic ingredients and very minimal effort, you will get a smooth, creamy cheesecake. Lightly sweetened, it makes the most delicious refreshing summer dessert.
---
For the crust:
½ cup

(

115g

) unsalted butter, melted

1 ½ cup

(

225g

) graham cracker or Digestive biscuits crumbs*

1 Tablespoon

sugar (optional)**
For the cheesecake filling:
2 cups

(

480

ml) very cold heavy whipping cream

3

8-ounces (680g) packages cream cheese, softened at room temperature

½ cup

(

100g

) granulated sugar

2 Tablespoons

lemon juice, freshly squeezed
---
Instructions
Lightly grease 9-inch or 10-inch (23-or 25 cm) springform pan.
In a medium mixing bowl, add biscuit crumbs, sugar and melted butter. Stir with a fork until well incorporated then press into the prepared baking dish. Use the bottom of a glass or a cup to pack it to the bottom tightly and evenly. Place in the freezer while you are preparing the filling.
In the bowl of a stand mixer fitted with the whisk attachment or using a hand mixer, beat the heavy cream on medium-high speed until stiff peaks form. Transfer to a separate bowl and set aside.
In the same mixing bowl, beat the cream cheese, sugar, and lemon juice together on medium speed for 2 minutes, or until smooth and creamy, scraping the sides of the bowl as needed.
Remove the bowl from the mixer and using a rubber spatula, fold in the whipped cream evenly, making sure to scrape the sides and bottom of the bowl completely.
Spread the cheesecake filling into the chilled crust and smooth with an off-set spatula. Cover and chill for 6 hours or overnight.
Notes
* To create graham crackers crumbs, place biscuits in a large ziploc bag, seal, and using a rolling pin, crush cookies until they resemble graham cracker crumbs. Alternatively, you can pulse a few times in a food processor until it resembles to bread crumbs.
** I personally prefer not to add sugar, as I find the biscuits (graham crackers) sweet enough on their own, but you can definitely add a little bit of sugar to your liking.
Keywords: No-bake cheesecake