Learn how to bake the traditional French galette des rois with frangipane and a twist of tonka bean bringing stronger vanilla notes. The recipe comes with a step-by-step guide to making puff pastry from scratch.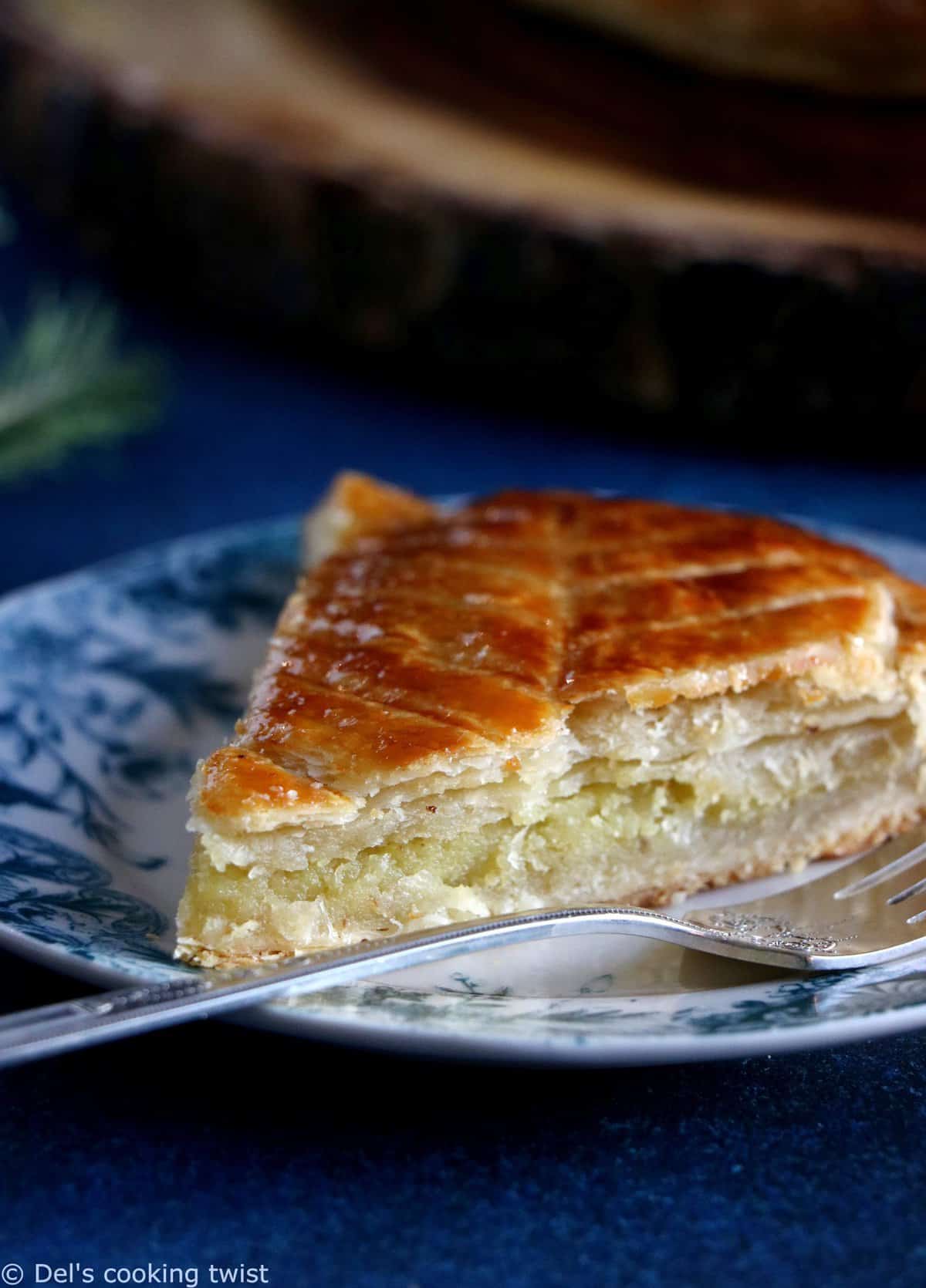 I never thought I would share a galette des rois recipe on the blog. Don't get me wrong, I really enjoy this traditional French cake served for Epiphany and throughout January in France. However, I had never made a puff pastry before and found it too advanced, too technical, and thought that none of you would take time to make it anyway. Of course, you could always use a ready-to-use puff pastry instead, but let's be honest here: for a proper galette des rois, you will never reach the right texture with multiple layers by using a ready-to-use puff pastry – and believe me, I have tried many of them in the past.
Let's bake a French Galette des Rois !
As a result, I shared different Epiphany recipes over the last few years, excluding of course the traditional galette des rois… until I finally changed my mind. Or to be more exact, until someone helped me change my mind. As it turns out, one of my very good friends – a foodie – came to visit in Chicago for a few days and insisted we bake a galette des rois together. I'm glad we pushed my baking boundaries a little bit further to accomplish this new challenge together. That's anyhow the only way we can progress in life, and starting with this already in January brings me confidence for this new year!
So I threw myself into the water last weekend and baked a galette des rois from scratch, crafting a step-by-step tutorial for the puff pastry in order to guide you when baking it. This way, you can follow the instructions one by one, making sure you don't go wrong at any time in the recipe. I will not lie to you here, it is indeed with no surprise a little technical and it requires both time and patience. If you don't have either of them at the moment, don't blame yourself, there is absolutely no shame in it. You can still be a very good baking aficionado without baking your own puff pastry.
Useful tips to perfecting puff pastry
There are a few important things to keep in mind when baking a puff pastry. To begin with, you will notice that the recipe calls for only 3 basic ingredients, mainly flour and butter (+ water).
At this stage, you start by preparing a beurre manié, i.e. a dough consisting in equal parts of soft butter and flour. By kneading the flour and butter together, the flour particles are coated in butter, preventing the latter from being too sticky when combined with flour later on. From now on, and until the end of the recipe, one rule is king: always work with a cold dough. If it's too warm (even lukewarm), place it in the refrigerator until cold again.
Then, I count 2 tricky parts when making a puff pastry: the folding and turning part of course, and the ability to keep butter inside without poking through it at anytime.
The folding part: Following recommendations of a Pastry Chef friend, it's important to take your time and leave the dough to rest/chill between turns, ideally once or twice during the process. For instance, start with 3 foldings and turnings the day before, and the remaining ones on the baking day.
Keep butter inside: It's important to be very careful when you flatten the dough so that the butter does not come through at any time. It would damage the dough and make the puff layers uneven, which of course you do not want here. The best way to avoid this phenomenon is to gently flatten the dough with a rolling pin instead of rolling and stretching it out. If by accident it happens to you, do not feel defeated and try to hide the buttery part inside the next folding so that it is trapped between two layers of dough. When the puff pastry is ready to use, roll it out and cut 2 circles, one being 1 inch wider than the other.
Homemade frangipane
Then it's time to prepare the crème frangipane, which is a combination of a crème pâtissière and a crème d'amande (almond cream). Start with the crème pâtissière first, and then use only 3.5 oz (100g) of this preparation to combine with the almond cream. You will eventually end up with some puff pastry and crème pâtissière leftovers, and my advice is to use them to prepare a small sweet pie with crème pâtissière topped with fresh fruit of your choice. It never fails!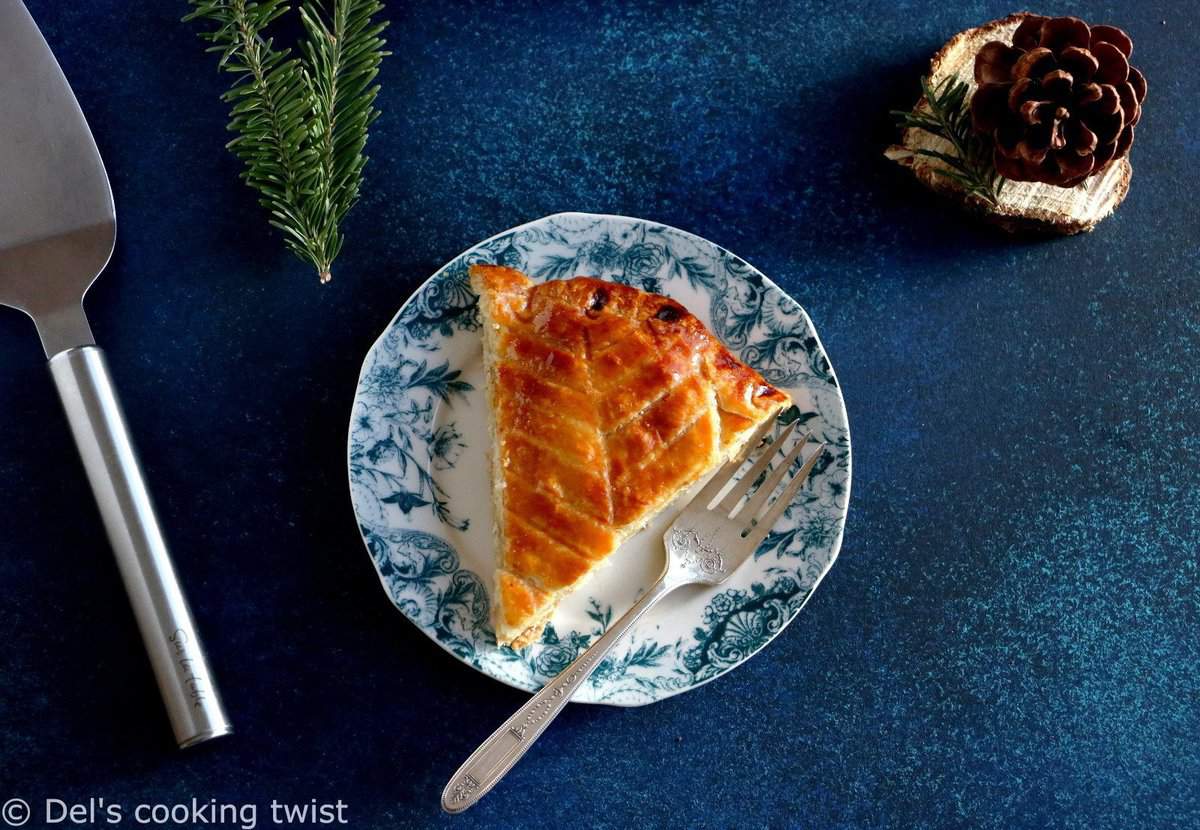 The little twist: the use of tonka bean
Last but not least, I flavored this traditional French galette des rois with tonka bean. If you've never heard of it before, the tonka bean is a small black and wrinkly seed from Central America with a smooth, brown interior. Its strong fragrance can be compared to a sweeter version of vanilla, with notes of almond. We use tonka beans in perfumes most of the time. But you can also be grate and infuse it in desserts such as a crème brûlée or this crème frangipane for instance. If you don't have any, just skip it and replace with vanilla extract instead.
Now before I leave you with the recipe, remember to hide a small fève in the galette des rois. The tradition wants that the one who gets the slice with the fève becomes king/queen and can then choose his/her other half.
A few other recipes you might want to try for the Epiphany:
Lastly, if you make this French Galette des Rois, be sure to leave a comment and/or give this recipe a rating, letting me know how you liked it. And of course, don't forget to tag me on Instagram! Thank you and enjoy!
Print
French galette des rois with tonka bean
Author:

Prep Time:

12 hours

Cook Time:

40 mins

Total Time:

12 hours 40 mins

Yield:

1

large galette

1

x

Category:

Cakes and pies

Cuisine:

French recipes

Diet:

Vegetarian
---
Description
Learn how to bake the traditional French galette des rois with frangipane and a twist of tonka bean bringing stronger notes of vanilla. The recipe comes with a step-by-step guide to make puff pastry from scratch.
---
For the puff pastry:
7 oz

(

200g

) beurre manié (=

5.3 oz

/

150g

room temperature butter +

1.7 oz

/

50g

flour)

2 cups

+ 1 Tablespoon (

250g

) all-purpose or pastry flour

1

pinch salt

5.3 oz

(

150g

) water
For the crème pâtissière:
1 ¼ cup

(

½

L) milk

1

vanilla bean, cut in half lenghtwise

5

yolks

½ cup

(

80g

) sugar

1/3 cup

(

40g

) flour +

2 Tablespoons

(

20g

) cornstarch
For the crème d'amande:
1/3 cup

+ 1 Tablespoon (

100g

) softened butter

½ cup

(

100g

) sugar

2

large eggs

1 teaspoon

rum

1 cup

(

100g

) almond flour
A small tonka bean (or 1 teaspoon vanilla extract)

3.5 oz

(

100g

) crème pâtissière*
For brushing:
1

yolk

1 Tablespoon

maple syrup
---
Instructions
For the puff pastry:
Beurre manié: Rub butter with your finger tips, then add the flour in one addition. Rub in together butter and flour until a smooth dough. Shape into a thick, compact square. Wrap into cling film and place in the refrigerator.
Puff pastry: mix the flour with the salt, then turn out onto your work surface in a pile. Run your fingers down the center to create a trough. Sprinkle 1 Tablespoon of water into the trough. Quickly fluff the dough with your fingers, keeping your fingers loose and using a scooping motion. Gather the flour back in to a mound, create a trough, and add another Tablespoon of water. Continue sprinkling and fluffing until the flour clumps together in large pieces and holds together when pressed.
Folding the puff pastry:
Shape the dough into a cross with 4 arms, keeping the center part a little bit fluffy. Roll out each arm toward the outside, using a rolling pin. Place the beurre manié in the center, then fold each arm of the dough over the butter so they meet in the middle. With the last arm, make sure to cover all over, including the sides.
For the 1st turn: using a rolling pin, gently shape into a long rectangle 12 inches by 6 inches (30,5 x 15 cm), tapping the dough rather than rolling it, so that you spread the butter from inside without piercing the dough. Fold the top third over the bottom third, and the bottom over the top third, like a letter. The first tour is done.
For the other turns: rotate the folded dough so it looks like a book about to be opened. Roll it out again into a rectangle 12 inches by 6 inches. Fold it again. Make 6 turns in total. My advice: start with 3 tours, then wrap the dough into cling film and place in the refrigerator. Remove a few hours later, ideally the day after, and make the 3 remaining turns.
For the frangipane:
Crème pâtissière* : heat milk with vanilla in a medium saucepan, and stop when it starts bubbling. In a medium-size bowl, beat yolks with sugar until pale and fluffy. Add in the flour and hot milk, and whisk vigorously. Put it back in the saucepan and cook for a few minutes until the mixture thickens, whisking constantly. Pour into a medium-size bowl, and cover with cling film, creating contact with it to prevent from drying on top. Let chill in the refrigerator.
Almond cream (crème d'amande): in a medium-sized bowl, stir in butter and sugar until creamy. Add in the eggs, one at a time, whisking between each addition. Pour the rum and the almond flour, and stir well. Grate the tonka bean and add in to the preparation (you can replace the tonka bean with vanilla extract).
Withdraw 3.5 oz (100g) of crème pâtissière and combine with almond cream. You get a so-called crème frangipane*. Transfer the frangipane into a piping bag and place in the refrigerator until ready to use.
To assemble the galette des rois:
Roll out the puff pastry in a long stripe. Cut in two circles, one of about 10.5 inch (28 cm), and the over one about 0.3 inch (1 cm) smaller.
Place the smaller disk onto a prepared baking sheet lined with parchment paper, then pipe the frangipane into circles, starting from the center, leaving about 0.5 inch (1,5 cm) margin all over. At this point, don't forget to hide the fève. Cover with the second disk, and press with your thumb and make small cuts with a knife all around.
Whisk the yolk with maple syrup. Brush the galette des rois, and draw some patterns of your choice on top, using a small knife (just draw, do not cut through!).
Bake for about 30-40 minutes at 350°F (180°C), or until the galette is golden-brown.
---
Notes
* Crème frangipane is nothing but an almond cream (crème d'amande) to which we add some crème pâtissière. Note here that you will need to use only 100g of the crème pâtissière to make the crème frangipane, which means you will have some leftovers.
Recipe inspired by Chef Simon and following advice from French Pastry Chef Damien Foschiatti.
Keywords: Galette des rois
Puff Pastry – Step-by-step Guide