Discover the authentic Chicago-style deep dish pizza, made with a crunchy flaky crust and garnished with thick layers of cheese and tomato sauce. This deep dish pizza recipe is an attempt at recreating Lou Malnati's pizza, which in my opinion, is the best deep dish pizza in Chicago. I am very proud of the result as it is very close to the original recipe, while still being a very easy deep dish pizza recipe.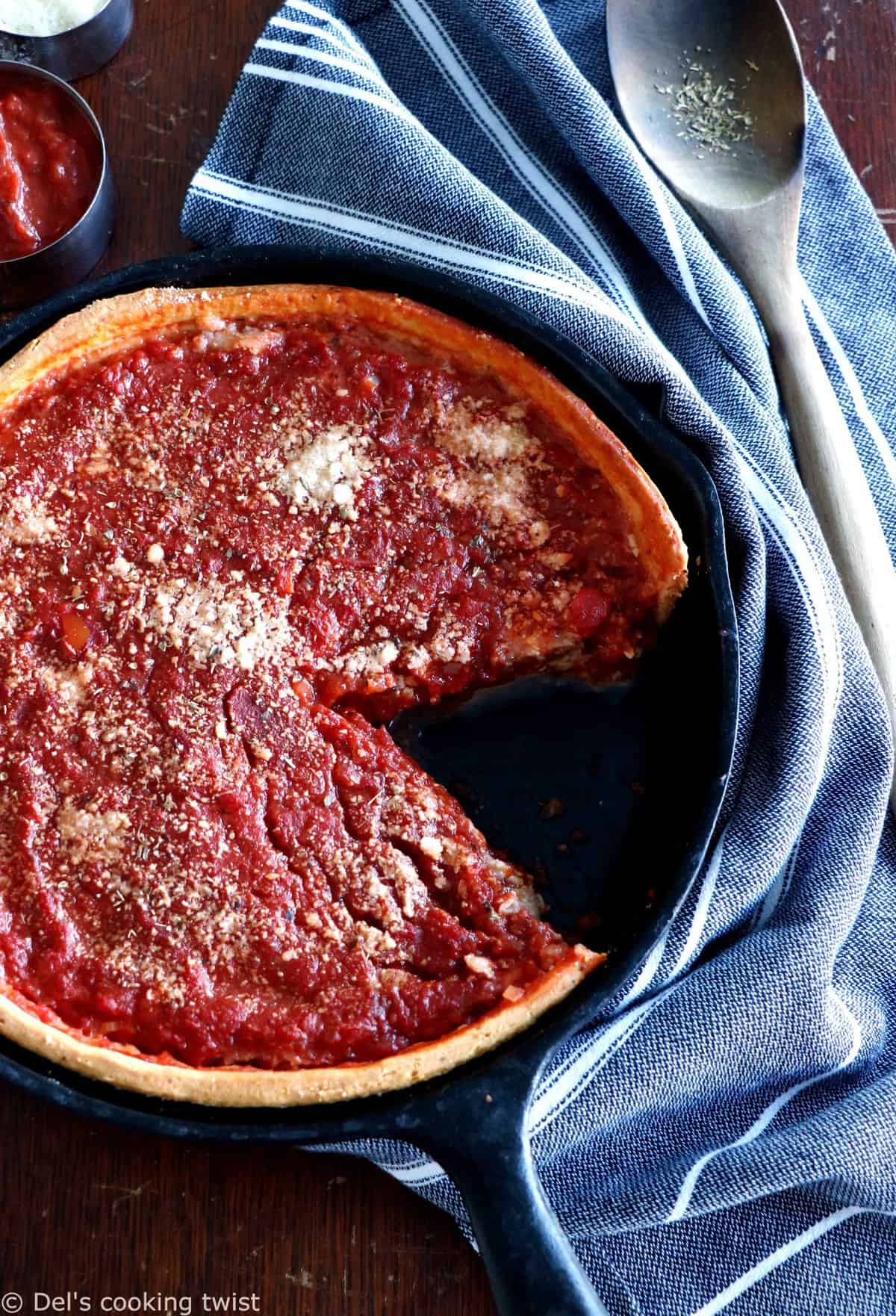 My favorite Chicago-style pizza!
For my Chicago birthday
To celebrate 1 year as a foodie in Chicago, I baked a giant Chicago-Style Deep Dish Pizza. I have tried countless deep dish pizza recipes them since I moved to Chicago, but it was my very first attempt to bake it myself. Being a huge fan of deep dish pizzas, I was quite exigent with the result I expected both in terms of taste and texture. While reviewing the existing deep dish pizza recipes, I found out that there were many different ones that had nothing to do with each other. It's easy to get lost! So I simply tried to recreate my very favorite deep dish pizza, the one from Lou Malnati's. No need to wait longer here to tell you the result. A complete success. I'm so happy I found how to make the perfect (in my own opinion) deep dish pizza.
An easy recipe for an amazing result!
Thing is, there are plenty of different recipes trying to recreate the Lou Malnati's pizza. I looked at different forums and found many passionate people competing about it. Some of the recipes seemed a little bit advanced to make, and I wanted an easier version, something everyone could do at home, no matters the cooking skills, advanced or beginner and that is what I created for you here.
So first things first, you may wonder:
What's a Chicago-style deep dish pizza ?
And what makes it different from the classic Italian pizza? That's a good question actually, as they have absolutely nothing to do with each other. The look is different, the texture is different, the taste is different. To begin with, a Chicago-style deep dish pizza is baked in a deep dish cake pan (!). It consists of a crunchy flaky crust with edges going up in the pan, and garnished with generous layers of cheese and tomato sauce. Not your regular flat and thin pizza.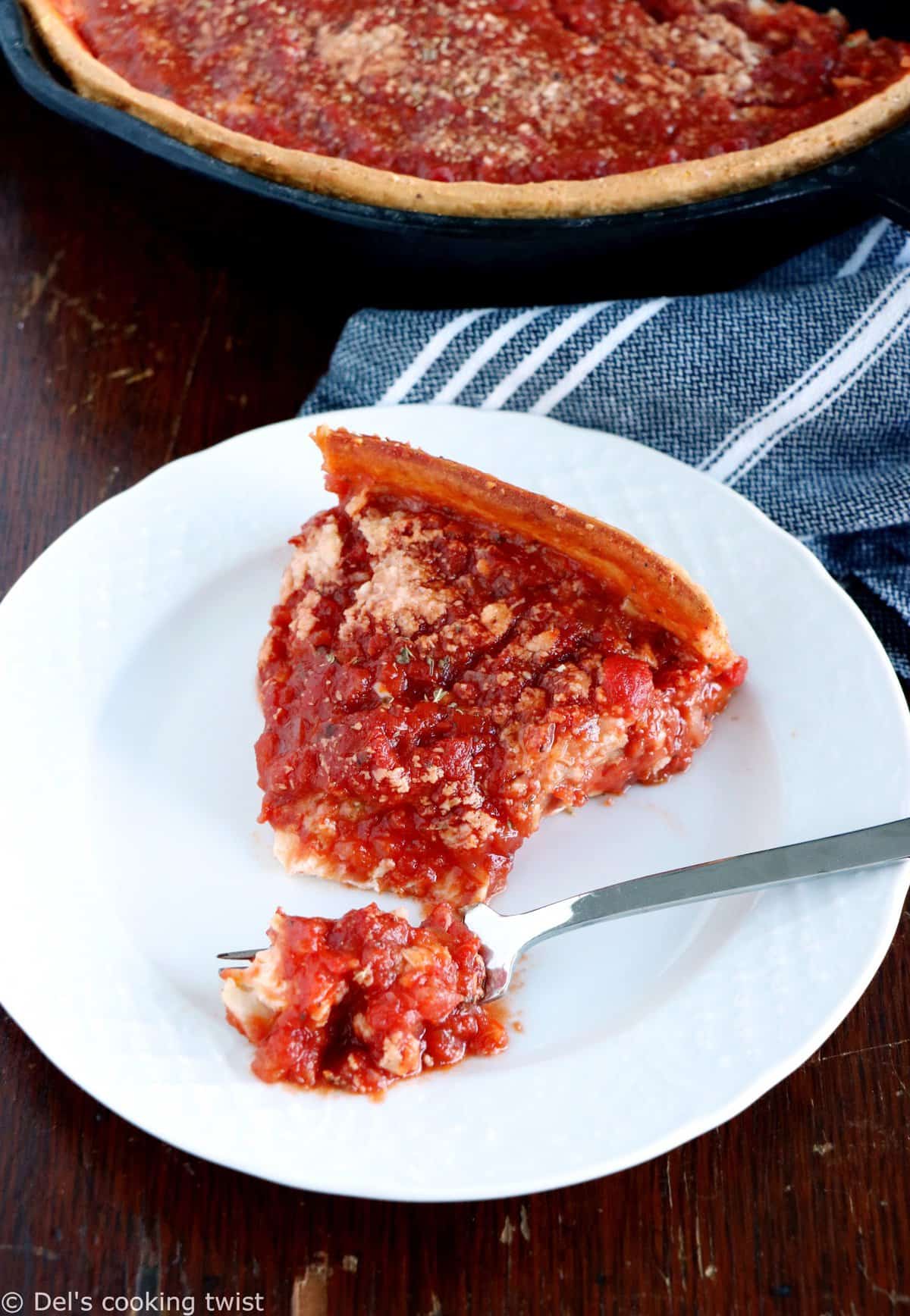 The crust is very different in taste and texture from the classic thin-crust pizza. Even between the different deep dish pizzas you can try in Chicago, the crust is different from one place to another, some of them can be soft, other crunchy. I definitely go for the very thin crunchy buttery one, that is by far my favorite.
An easy version of Lou Malnati's pizza dough recipe
The important thing to have in mind is that there is an ingredient that makes all the difference: the use of yellow cornmeal, that bring this crunchy texture to the crust. Another difference between a deep dish pizza recipe and a classic pizza crust is the use of butter. Some recipes use butter only, other prefer to use a mix of butter and oil to get a perfect crunchy texture. This last option is what I went for, also because it makes the dough easier to work with. While the use of butter only, implies that you laminate the dough (a specific technique that takes a little bit longer and can discourage some of you – which I didn't want), my deep dish pizza crust recipe does not require any special technique which makes it a version everyone can make in less than 10 minutes, even when you are a beginner!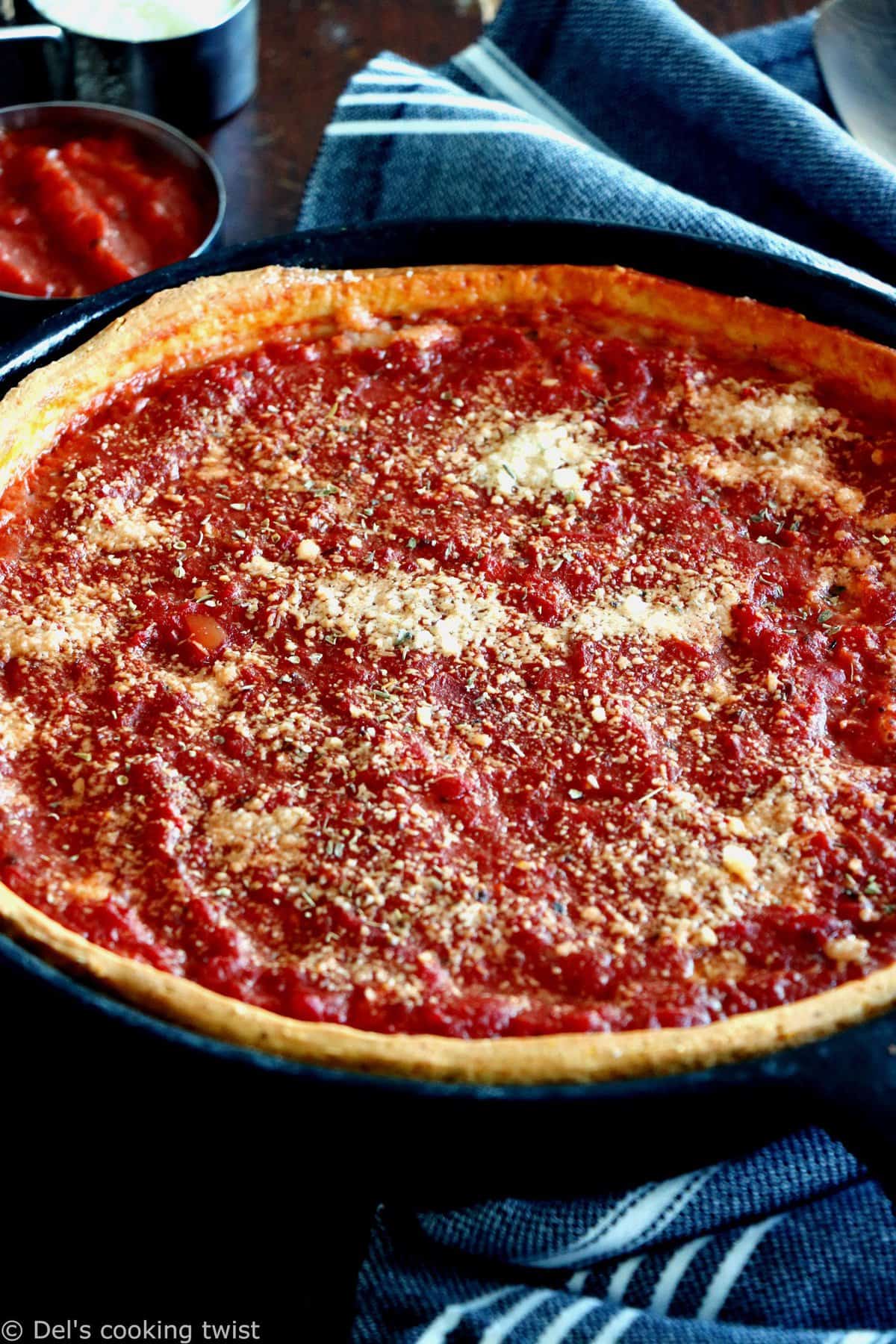 Once the dough is ready, stretch it out just enough to fit the pan. Then, in order to give the crust its perfect texture on the edges, we usually recommend to use your fingers to press the dough into cake pan. You want to make sure this is nice and tight fitting inside the pan.
Talking about the pan, what pan to use for a deep dish pizza? You'll notice here that I used a cast-iron skillet, but traditionally you would bake your pizza inside a 9-inch deep dish pan with at least 2-inch height. Or just use your regular cake spring form.
Now, the Chicago-style pizza sauce
Deep dish pizza is not only about the crust, it's all about the generous and thick layers of cheese and tomato sauce. Because of it, you need fork and knife to eat your Chicago-style deep dish pizza. Again, this is not a regular pizza from which you grab a slice with your hands. With a deep dish pizza, you're pretty sure to make a big mess around if you want to try. Regarding the tomatoes, make sure you use a can of crushed tomatoes (don't go for diced tomatoes!), as it makes a big difference in texture. Also, you'll want to do a quick drain of the crushed tomatoes beforehand (about 10 minutes in a colander).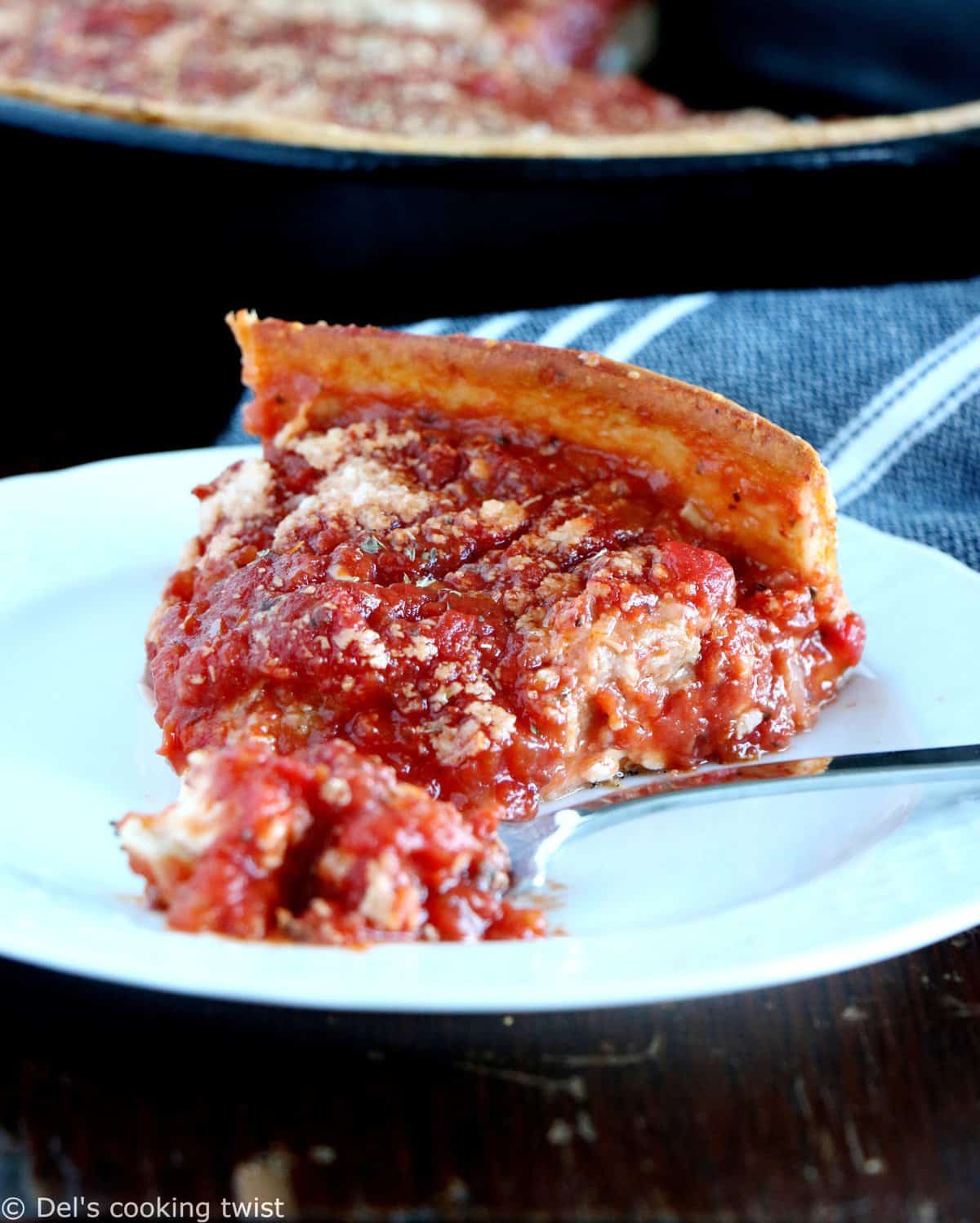 In my deep dish pizza recipe here, I used Italian sausage, as it is my very favorite version at Lou Malnati's (surprisingly enough, as I am usually not a huge fan of meat).
Then it's all about the layers! Make sure you always start with the layer of mozzarella (use sliced mozzarella, not shredded) rather than using it last. This ensure that the cheese on top doesn't burn because of the longer baking time this pizza requires compared to a thin crust. Then, add a layer of Italian sausage, the tomato sauce, and finish up with some grated parmesan cheese on top.
To go the extra mile…
FAQ about the Chicago-style deep dish pizza
Can you skip the meat in the recipe? Absolutely. For a vegetarian version (called "The Lou" at Lou Malnati's), skip the sausage and replace with a mix of spinach, mushrooms or artichokes. For this version, I would sauté the veggies beforehand to remove any liquid. Now that I told you everything, it's your turn to bake your own Chicago-style deep dish pizza. Hope you'll like it!
Can you freeze/reheat the deep dish pizza? Yes, the deep dish freezes indeed very well. Just place the slices (or half of the pizza) into a ziploc bag, then place in the refrigerator up to 3 months. When ready to eat, remove from the freezer and reheat in a 350°F (180°C) oven until thawed and warm, about 15-20 minutes.
Can you bake the dough in advance? I wouldn't recommend it as the dough will loose its crusty texture. However, you can prepare the dough in advance, store it wrapped with cling film in the fridge overnight and then bake the following day.
And for thin crust pizzas, try also:
Lastly, if you make this Chicago-style deep dish pizza, be sure to leave a comment and/or give this recipe a rating, letting me know how you liked it. And of course, don't forget to tag me on Instagram! Thank you and enjoy!
Print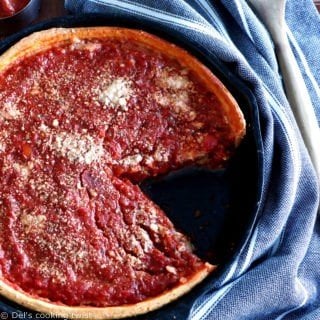 Chicago-Style Deep Dish Pizza
Author:

Prep Time:

2 hours

Cook Time:

20 mins

Total Time:

2 hours 20 mins

Yield:

1

large pizza

1

x

Category:

Savory

Cuisine:

American recipes
---
Description
Discover the authentic Chicago-style deep dish pizza, made with a crunchy flaky crust and garnished with thick layers of cheese and tomato sauce.
---
For the crust:
1 1/4 teaspoon

instant dry yeast

1

teaspon sugar

1/2 cup

(

120

ml) lukewarm water

2 cups

(

240g

) all-purpose flour

1 1/2 Tablespoon

yellow corn meal

3/4 teaspoon

salt

2 Tablespoons

(

30g

) butter, melted and slightly cold

1 Tablespoon

canola oil

1 Tablespoon

olive oil (for greasing the bowl only)
For the tomato sauce:
2 Tablespoons

olive oil

1

small onion, grated or minced

1 Tablespoon

dried oregano

1/2 Tablespoon

crushed red pepper flakes (optional)

3

garlic cloves, minced

1

can (28 oz/793g) crushed tomatoes with basil

2 teaspoons

tomato paste
For the filling:
6 oz

(

170g

) mozzarella cheese, sliced

2

Italian sausages, sliced (optional)

2

–

3

Tablespoons (30-4

5g

) parmesan cheese
---
Instructions
For the crust:
In a small bowl, combine the active dry yeast, sugar, and lukewarm water together and let sit for one minute. In a large mixing bowl, combine the flour, cornmeal, and salt. Add the yeast mixture, melted butter and canola oil into the dry ingredients and stir until dough forms.
Bring the dough to a floured surface and knead until it forms a smooth ball.
Move the dough to large bowl drizzled with olive oil. Coat the dough in oil and cover and let rest for 1 hour.
For the tomato sauce:
In the meantime, prepare the tomato sauce: heat the olive oil in a medium saucepan and add the grated onion, salt, oregano, and red pepper flakes. Once the onion has slightly browned, add the garlic, tomato sauce*, and tomato paste. Turn the heat down to low-medium and allow to simmer until it's hearty, fragrant, and thick- about 30 minutes, or until the amount has reduced. It has to be thick Remove from heat and set aside until ready to be used.
For assembling the deep dish pizza:
Preheat your oven to 425°F (215°C).
Remove the dough and bring it onto a floured surface. Roll it out into a 12-inch (30 cm) circle. You want to stretch it out as much as you can to make a large circle. The dough needs to be stretched out enough to cover the bottom and sides of the baking pan.
Using a rolling pin as a guide, place over a 9×2-inch (23×5 cm) deep dish cake pan or cast-iron skillet. Using your fingers, press the dough into the cake pan. Make sure it is nice and tight fitting inside the pan. Trim any excess of dough off the edges with a small knife. Brush the top edges of the dough with a little olive oil, which gives the crust a beautiful sheen.
Fill the pizza with a first layer of mozzarella cheese, a second layer with the slices of Italian sausage if using, and a third layer of tomato sauce on top. Sprinkle with grated parmesan cheese on top.
Bake for 20-30 minutes, or until the crust is golden brown and the filling is set. To prevent the edges from burning, cover with foil after 15 minutes baking.
Notes
* Quick drain of the crushed tomatoes beforehand (about 10 minutes in a colander).
Keywords: Deep Dish Pizza