Zucchini, cherry tomatoes, pesto, cheese and aromatic herbs – all the good summer things brought together to create the perfect Mediterranean Pizza Star Ring!
Let's get ready for our next summer gathering! On Sunday, France will play against Croatia for the World Cup Final. I am old enough to have seen France win the World Cup in 1998 (yes, call me a dinosaur!) and I still have vivid memories of this incredible euphoria all over the country for days and weeks after: smiles, laughs, happy faces, music, dance, positive vibes and energy everywhere… Soccer has the power to bring people together and that's what I like the most about it. So let's create the occasion to gather with friends and watch the game.
For a special occasion, you need a special treat, and there I am with a pizza star ring. In other words, it's a pizza in a shape of a ring or a crown, which makes it easy to grab a slice. The impact is immediate. Last time I baked it, I brought it on the rooftop coffee table around which all my guests were installed (and had started to eat various appetizer before – so they were not empty stomachs), and I saw the ring disappearing in less than 5 minutes, everyone grabbing a slice quickly and going back to their conversation with the other guests.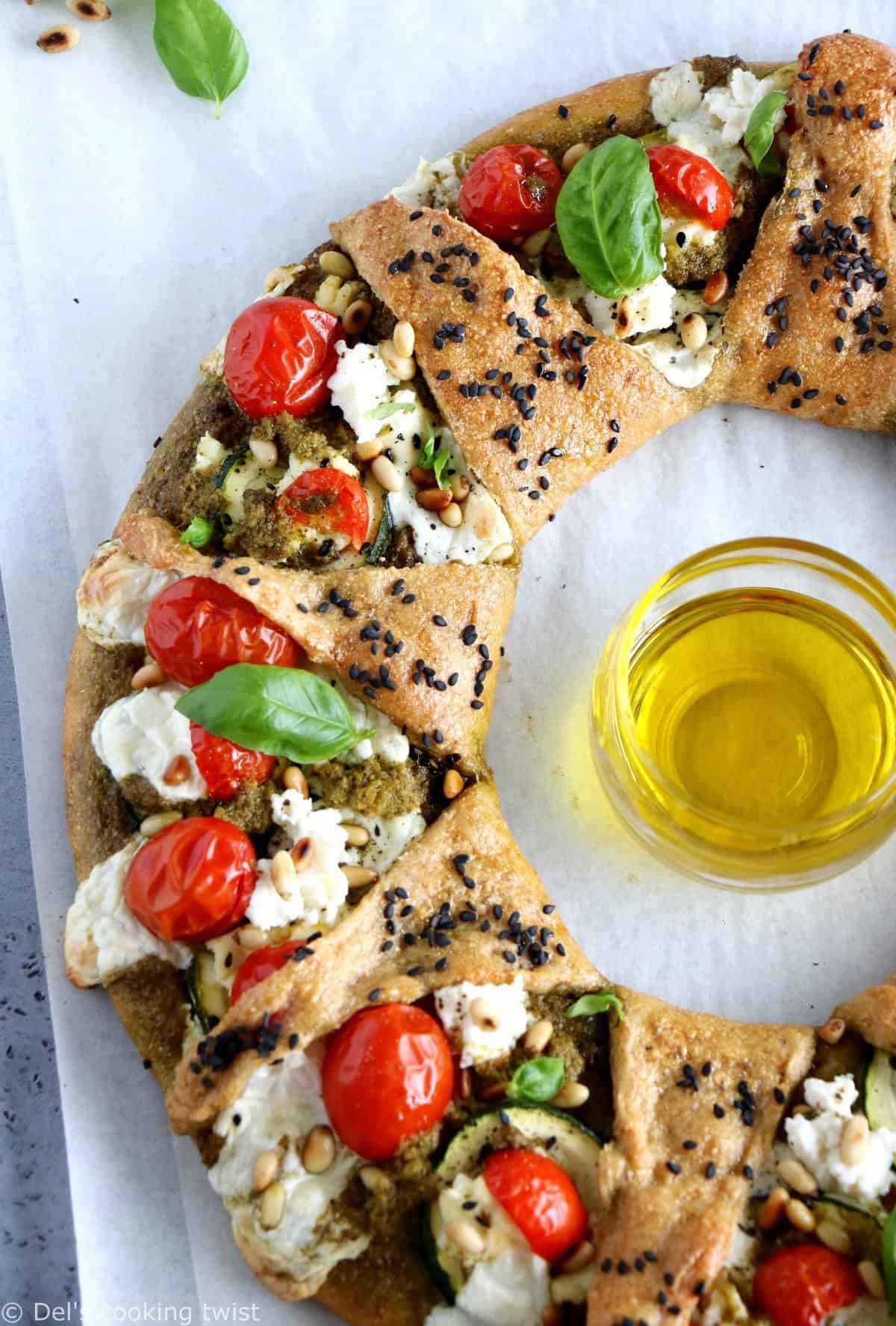 The shareable effect of this pizza ring is indeed what makes it so popular, followed immediately by the ingredients I used for the filling. Nothing fancy here, I made it very simple, with basic Mediterranean ingredients that are perfect for summer: basil pesto, zucchini, fresh cherry tomatoes, mozzarella and ricotta cheese (you could also add feta cheese if you wish). Note that these ingredients serve as a base but you could also add olives or whatever you fancy in a pizza. My version is vegetarian; feel free to add prosciutto or any similar ingredient of your choice. Again, the filling is very forgiving and you can easily adapt the recipe.
Then you will note that I prepared a whole wheat crust instead of a classic one with all-purpose flour. The idea is to bring an additional nutty taste to the crust, as well as making it slightly healthier. The use of whole wheat flour can be a little bit tricky in order to get the exact texture we are looking for, also because wheat flours are different from one brand to another. Because of this, I recommend you follow the recipe quantities at first, but then adapt as needed in order to get the right texture, i.e. not too humid and sticky (if so, just add a little more flour).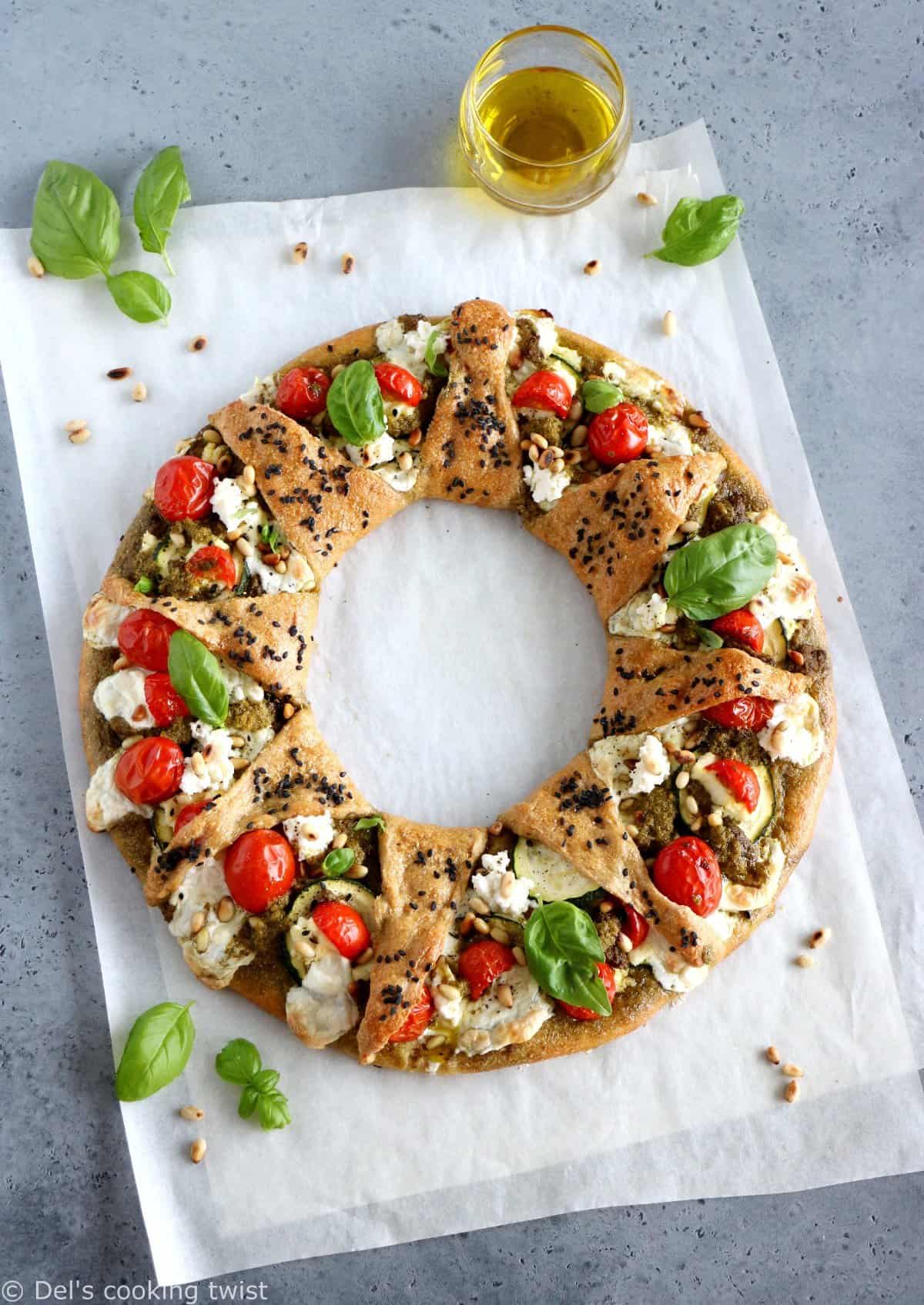 I also use active dry yeast in the crust recipe, which makes it close to a classic pizza dough and create a soft and pillowy texture that contrasts with a classic pie crust. Prior to this, you will need to let the dough rise just a little, for about 10 minutes. Then place the ball of dough onto a sheet of parchment paper and roll it out into a large circle. At this point, I recommend to slip the parchment paper sheet toward the baking sheet. Then it's time to prepare the ring or the circle. It might look slightly technical, but it's not that difficult.
Just place a bowl in the center of the circle by pressing it down so that it leaves an imprint. Then grab a sharp knife and draw 4 traversal cuts in the small circle. Leave it as it while you garnish the ring with the dedicated filling, bringing the outer edge/cut of pastry inwards over the filling. If you look from top, you see a beautiful star. The final touch consists in brushing the crust with egg yolks and black sesame seed if you happen to have some, and then place in the oven to bake. When the crust is golden and the filling slightly bubbling, the pizza star ring is ready. Let it cool a little, sprinkle with fresh basil leaves, and enjoy!
Print
Whole Wheat Mediterranean Pizza Star Ring
Author:

Prep Time:

30 mins

Cook Time:

30 mins

Total Time:

1 hour

Yield:

6

servings

1

x

Category:

Appetizer
---
Description
Cherry tomatoes, pesto, cheese and aromatic herbs – all the good summer things brought together to create the perfect Mediterranean Pizza Star Ring!
---
For the crust:
2 1/2 cups

(

340g

) whole wheat flour

½ teaspoon

active dry yeast

¼ teaspoon

salt

1 teaspoon

sugar

¾ cup

(

180

ml) warm water

2 Tablespoons

extra virgin olive oil
For the filling*:
5 Tablespoons

basil pesto

1/2

zucchini, thinly sliced

10

–

15

cherry tomatoes

3

–

4

Tablespoons ricotta cheese

10

–

15

mini mozzarella balls
To garnish:
1

egg yolk

2 teaspoon

black sesame (optional)
Fresh basil leaves
Pine nuts, toasted
---
Instructions
Preheat the oven to 350°F (180°C).
For the crust:
In a large bowl mix the flour, instant dry yeast, salt and sugar. Pour in the water and olive oil and mix until combined.
Knead the dough for about 2-3 minutes, and let rise in the bowl under cover for about 10 minutes.
Roll the dough into a 14 inch (35 cm) circle on a large sheet of parchment paper, then gently transfer the paper with the dough on top onto a baking sheet.
Place a medium-sized bowl upside down in the center of the circle, and using a sharp knife, make 4 traversal cuts into the center circle.
For the filling:
Spread the pesto around the center "star", then top with zucchini slices, cherry tomato, ricotta cheese, and mini mozzarella balls.
Bring one point of the center star over the filling as well as bringing the outer edge of pastry inwards. Press the two together and continue until you have a wreath.
To garnish:
Brush with beaten egg and sprinkle with black sesame.
Bake for about 30 minutes or until golden brown and cooked through. Garnish with fresh basil, toasted pine nuts, and enjoy warm or lukewarm.
---
Notes
* Adjust ingredient quantities as it suits you, this crown is very forgiving.