Extremely easy to prepare, this comforting carrot coconut soup with fresh lime juice and ginger should delight even the pickiest eaters. It's a definite winner during the winter months.
Let's go back to basics today with a comforting bowl of soup to warm us up from the inside. It's been very cold these last two weeks in Chicago and the temperatures dropped down to -8F (22 C), with huge amounts of snow as well. Winter is definitely with us this year, and while many people keep complaining about the weather, I personally love it and it does not stop me from having long walks for several hours in a row. I actually find the cold very invigorating and as long as I can still feel my finger tips (I'm equipped with a proper gear), I'm happy!
I don't know why but I also find myself more focused in winter and noticed that my body usually keeps asking for healthier, nutritious foods. Soups and stews then become my best friends for the season. I like them healthy (I do not like to drown soups in cream or unnecessary fats), tasty, colorful, and full of vitamins. Almost each week I prepare a soup in this time of the year, trying to alternate between different recipes to keep a balanced diet. It also keep my palate awake with new flavors constantly instead of feeling bored with the same soup each time. You can do it too, be creative!
Find below a few winter soup recipes you might also like:
In addition to these soup recipes, there is one I never shared with you before, although it's been my very favorite one for many years now. So why keep it secret then? Well, it happens to be a carrot coconut soup – a pretty basic recipe that probably everyone have tried more than once and keep making it every so often in the cold season. You've got thousands and thousands of carrot coconut soups on the web, between various food websites and food blogs all over the world. Taking that into account, there was – in my opinion – no need to pollute Google with one more version. So I just kept my recipe for myself… until I prepared it again this year.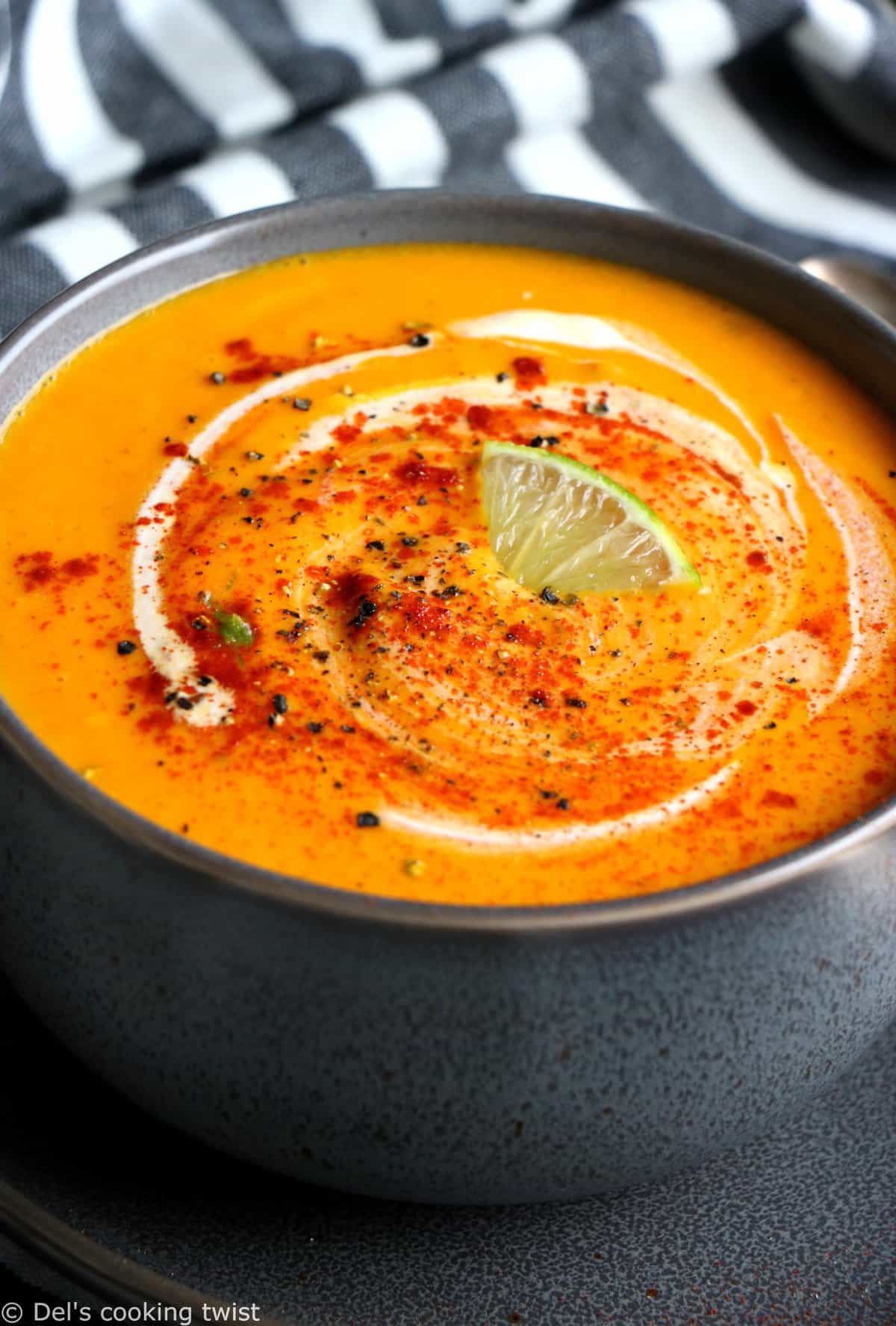 What made me change my opinion about it you may ask? First of all, many of you asked for more easy and quick recipes on the blog (after I made a quick pool on my Insta Story a couple of weeks ago). Also and more importantly, I noticed that there were in my version a few ingredients that make it truly special and festive, with extra flavors. It turns out that this soup is an amazing success every single time I prepare it, just because of these few ingredients, and they are indeed what makes it the best ever ginger lime carrot soup of the universe (I am not objective at all but I don't care as I know from all the reviews I got in the past it's a no-fail recipe).
Let's get straight to the point now and tell you what makes this soup so different from all the over carrot coconut soups. My first secret is the addition of freshly grated ginger. Many recipes call for ground ginger instead, which is of course quicker and more convenient, as you can keep it in your pantry for months and years. But if you are looking for a unique and unbeatable flavor, simply forget it and add fresh ginger to your shopping list instead. It's also the right time to maybe invest in a stainless steel grater that makes the job so much easier – it's probably one of my favorite utensil in the kitchen.
The second secret ingredient is not something you would think about spontaneously: it's lime, or lime juice to be exact. It turns out that freshly squeezed lime juice (from a whole lime) brings some bitterness and acidity to the soup, cutting with the extra sweetness of the carrots while helping the ginger to release its flavors. It also enhance the warm curry spices of the soup. Without any further notice, here's the recipe. Enjoy!
Print
Best Ever Ginger Lime Carrot Soup (vegan)
Author:
Prep Time:

10 mins

Cook Time:

20 mins

Total Time:

30 mins

Yield:

4

servings

1

x
Category:

Savory

Cuisine:

Vegan
Extremely easy to prepare, this comforting carrot coconut soup with fresh lime juice and ginger should delight even the pickiest eaters. It's a definite winner during the winter months.
2.2

lbs (1 kg) carrots, sliced

4 cups

(

960

ml) water

1 Tablespoon

hot curry powder

1 teaspoon

chili pepper

1

can full-fat coconut milk, unsweetened

1

lime, juice

1 Tablespoon

fresh ginger, grated
Salt & ppper
Instructions
Cook the carrots in 4 cups of water until fork tender.
Mix until smooth, using a hand stand mixer. Add the curry, chili, and mix again.
Pour the coconut milk and let simmer for a couple of more minutes.
Add lime juice and freshly grated ginger. Season with salt and pepper. It's ready!
Did you make this recipe?
Lastly, if you make this Best Ever Ginger Lime Carrot Soup (vegan), be sure to leave a comment and give this recipe a rating, letting me know how you liked it. And of course, don't forget to tag me on Instagram! Thank you and enjoy!