Beautiful meringue pie with fresh strawberries, rhubarb, and an almond filling.
Another fruit (well a vegetable-fruit actually) very popular in summer in Sweden is rhubarb. Fortunately, the two go very well together! Theyre are many different ways to arrange them together: in a compote, a jam, a lovely fruit cake, a crumble pie and so on. In this recipe I chose to associate them in a lovely pie with a base of almond cream and I topped the pie with a meringue.
This meringue strawberry pie is very fruity with a light and airy texture due to the meringue, while the almond cream in the bottom of the pie enhances the sweet tangy flavor of the rhubarb/strawberry combination. Several layers of pure happiness for this amazing summer pie!
Meringue Strawberry Rhubarb Pie
Beautiful meringue pie with fresh strawberries, rhubarb, and an almond filling.
Recipe type:
Cakes and Pies
Ingredients
For the pie crust:
¾ cup (150g) unsalted butter
2½ cups (300g) all purpose flour
3 Tablespoons (50g) granulated sugar
1 pinch of salt
1 large organic egg
1½ Tablespoons water
For the filling:
1⅓ cups (200g) fresh strawberries, rinced and cut in half
1⅓ cup (200g) fresh rhubarb, diced
½ lemon zest
½ cup (100g) granulated sugar
2 large eggs
4 Tablespoons (60g) almond flour
For the meringue:
4 egg whites
1 pinch of salt
½ cup (100g) icing sugar
Instructions
For the pie crust: mix the dry ingredients with the butter and the eggs until the mix is roughly crumbled. Add the water until the ingredients stick together and form a thick dough. Roll a large disk of 10,5 inches in diameter. Line a pie dish with the crust. Pre-bake the pie at 410°F for ten minutes.
For the filling: Precook the rhubarb with lemon zests for maximum 5 minutes. Allow to cool a little. In a large bowl, mix the almond flour with the eggs and sugar. Pour over the pie crust, then add the rhubarb and top with the fresh strawberries cut in half. Bake in the oven at 410°F for 15 minutes.
For the meringue: beat the egg whites with a pinch of salt until they form firm peaks. Add icing sugar and beat vigorously. Pour over the pie. Bake in grill position for a few minutes only while checking regularly that the meringue does not burn.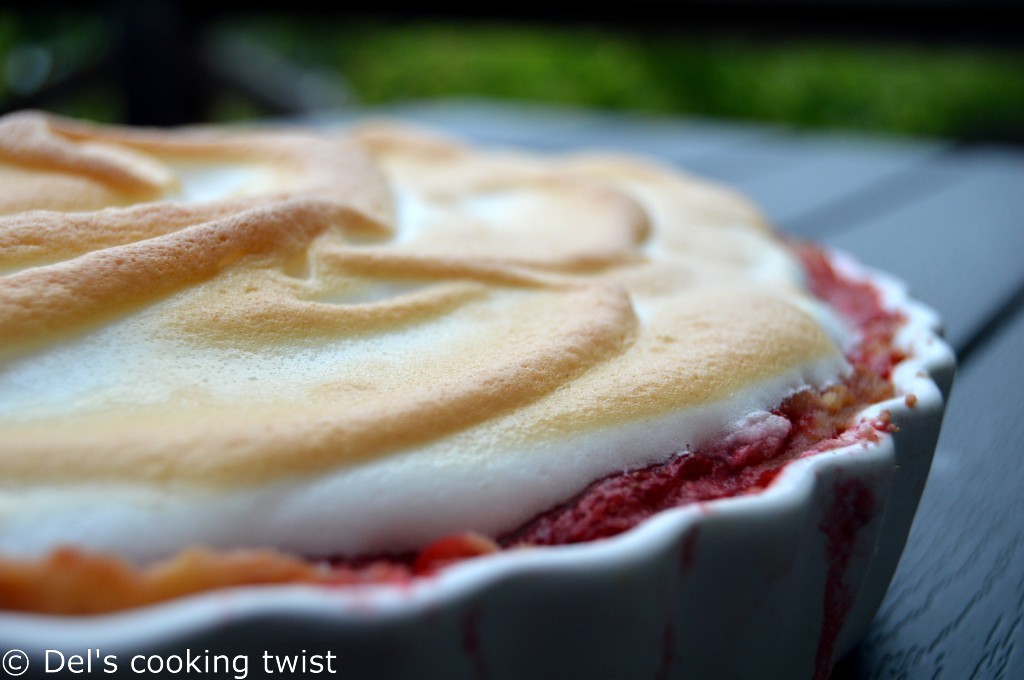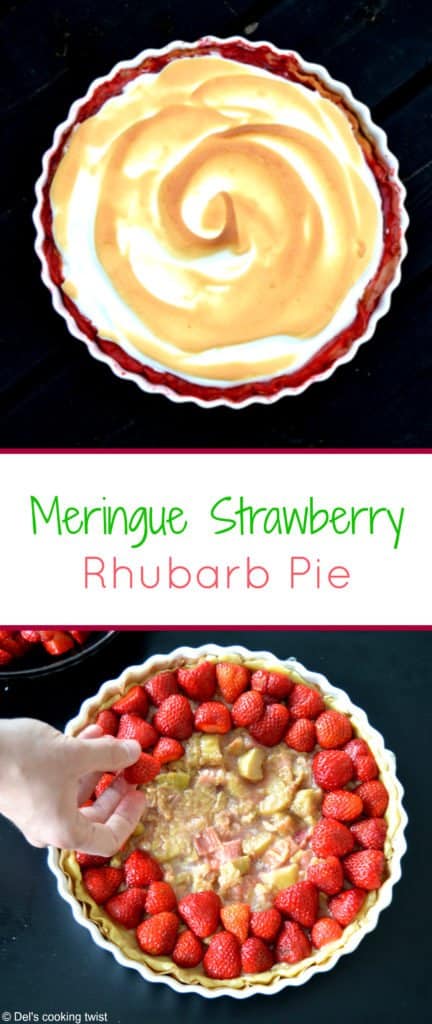 MY LATEST VIDEOS