These Orange Cranberry Scones are very festive and extremely easy to bake. Made with a perfect crumbly texture and bursting with juicy flavors, they are also entirely vegan!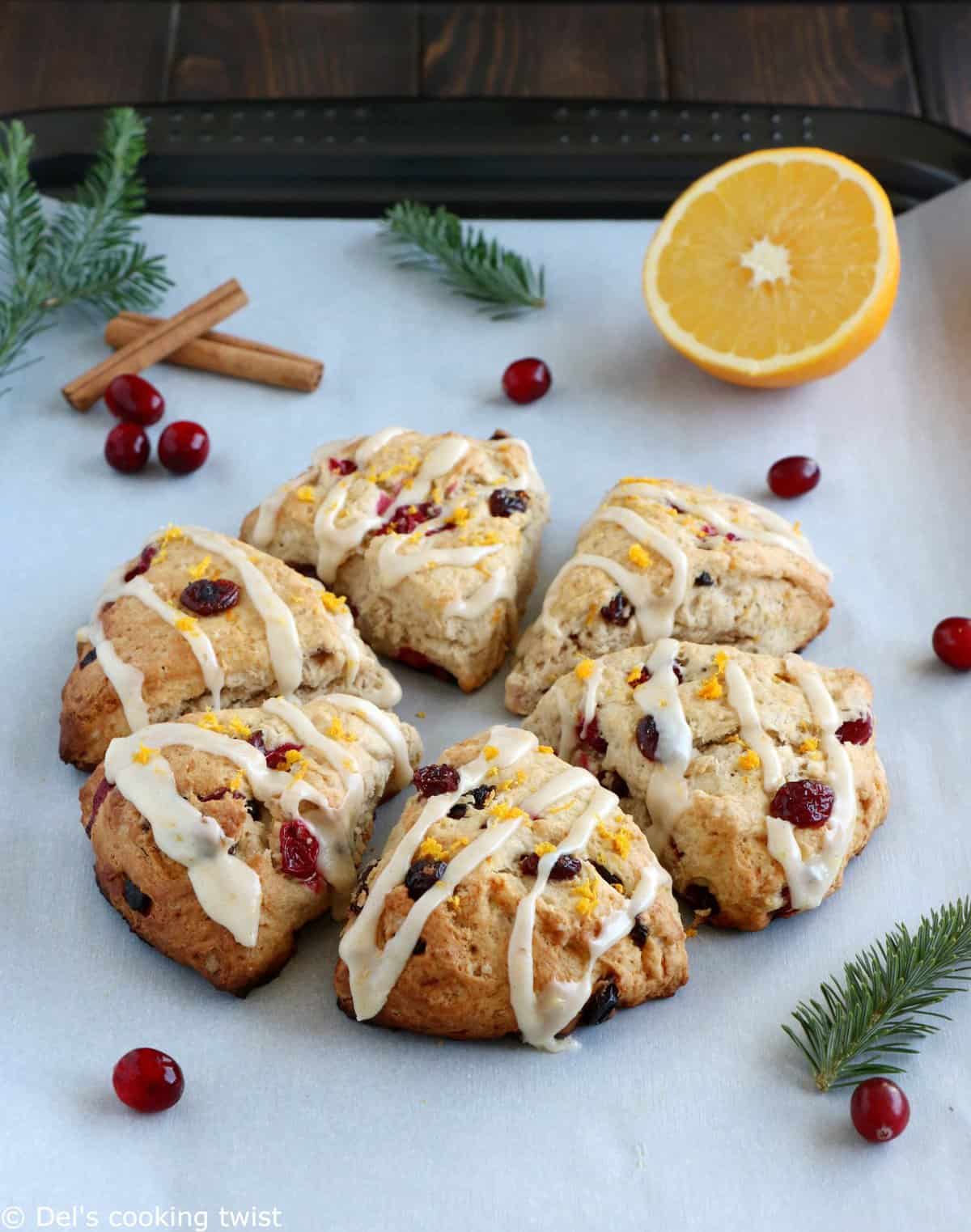 Let's set the mood for Christmas today, with a lovely scent of orange all over the house. We just decorated our Christmas tree, lit a few candles, and everything is cozy and intimate in here. While it looks like Christmas morning already, it's the perfect occasion to share with you these orange cranberry scones to enjoy for breakfast or for a Christmas brunch. For this new recipe, I partnered with my French friend Camille from the vegan and minimalist blog Rosenoisettes.
But let me come back a little bit earlier. In early November, Camille, who had lived in Canada for the last few months, took a bus over the border and arrived in Chicago. I have known Camille through our blogs for quite some time now, and we were super excited about this opportunity to meet IRL (in real life) here in Chicago. When you think about it, it's crazy how a common passion shared online often ends up in true friendships. If you don't know Camille yet, you should definitely head over to her blog, where amazing creative vegan recipes await you. She is also the author of 20 Vegan Squash Recipes (available on both English and French), and she recently started an Advent Calendar with a new Christmas recipe everyday. I just love the idea!
Together, we decided to create a new recipe for you, gathering the very best of our experiences. Both born and raised in France, we also both lived abroad, in UK and Canada for Camille, Sweden and USA for me as you know already. Camille learned the culture of tea time in UK, and scones have no secrets for her. Here in the US (and same in Canada), cranberries are queens in this season, and you find them in many recipes. So we ended up baking a new scones version, entirely vegan (no dairy, no eggs). Being not vegan myself, I can tell you that you will never notice the difference with the original recipe, the texture is exactly the same.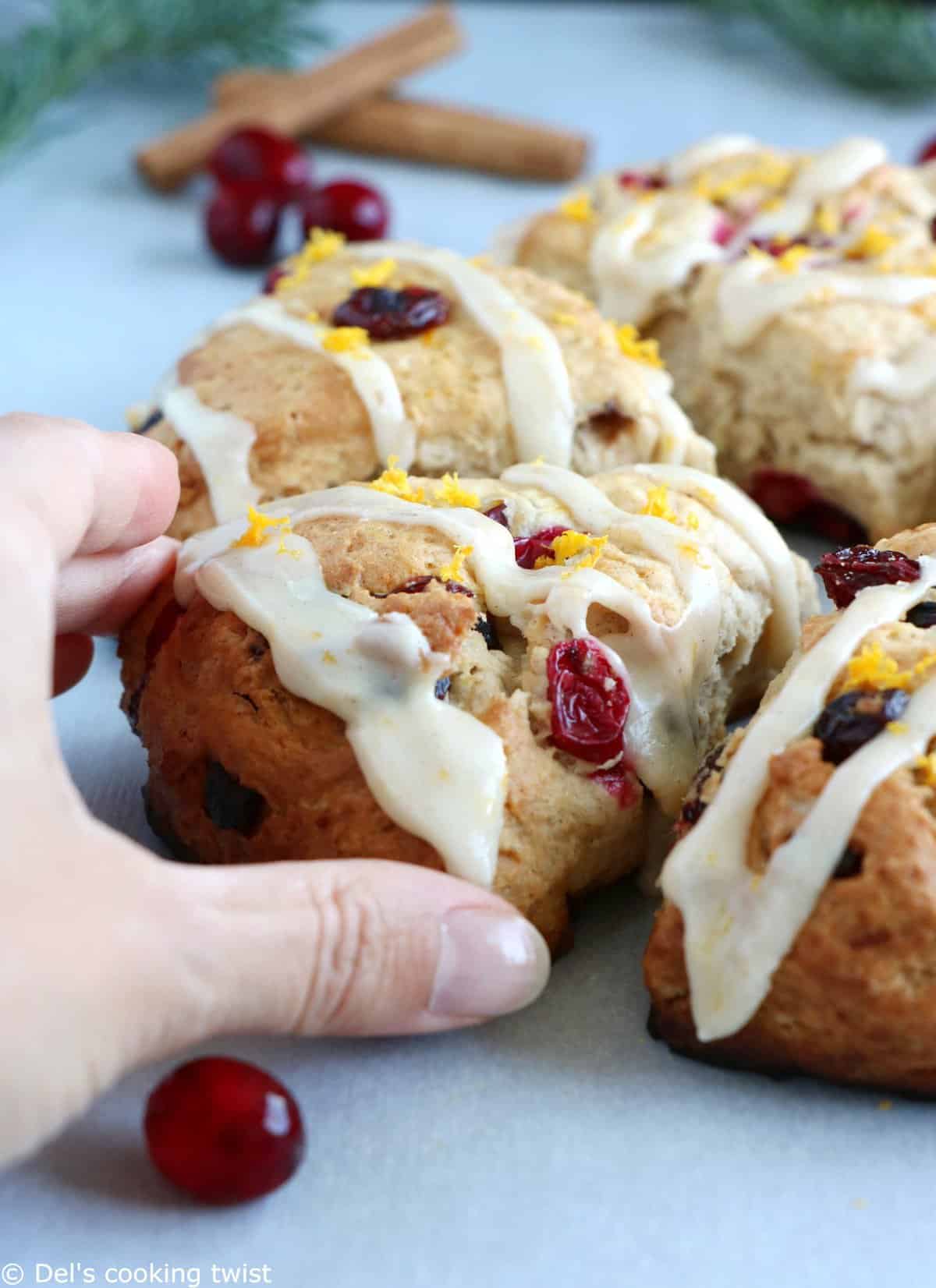 Oh, and of course we did not only made the recipe together, we also made a little video to make it easier for you. It was the first time for me that I shot a baking video in partnership with someone and in French, and I must say I found it so much easier! French will always be my mother tong after all, and it was about time for you to meet the real "me" behind "Del's cooking twist" (is it me only or do you also share the same feeling of having a different personality when you speak a different language, even on a daily basis?). I suggested Camille should move over to my place so that we could create many other videos for you – I was half joking only, it could be so fun!
The video is here to entertain you a little and most importantly to guide you, as we try to give you some useful tips so that your scones turn out perfect each time. Scones are indeed very easy to make, as long as you keep some rules in mind. When it comes to the recipe instructions however, you will find more detailed information on our respective blogs. Please feel free to ask us questions in comments anytime, we are happy to help.
As for now, let's say a few words about this recipe. Again, the scones are entirely vegan – a mandatory rule for us as Camille is vegan. This is important enough to mention here again, as butter, milk, and eggs are usually what characterizes scones the most. So how do we make a vegan version without changing the texture and the taste. Is that even possible? Oh yes, I guarantee you that it is. Here we replaced butter with softened coconut oil (not melted) and worked the dough until we get a crumbly texture. Then, we just added full-fat coconut milk instead of milk. It works beautifully and you will be happy to learn that, despite the use of coconut milk and oil, the scones do not taste coconut at all.
Instead, we used some cranberries and orange zests, two flavors that pair beautifully together. As they are in season, we went for fresh cranberries and added some dried ones as well. We really love the addition of fresh cranberries, that gently release their juice and bring some moistness to the scones. However, fresh cranberries can be difficult to find depending on where you live. If it's your case, you can work with dried cranberries only (feel free to re-hydrate half of them, by soaking in hot water for a couple of hours if you wish).
The final touch consists in the orange glaze, that brings some additional freshness to the scones and will definitely set your mood for Christmas. Again, no dairy here as the glaze is vegan. While the orange flavor is dominant, you will find some subtle flavors of cinnamon and pumpkin spice, as well as a stronger taste brought by the maple syrup. In the video, you see that we make it easy for you, by simply drizzling the glaze over the scones with a spoon. Another version – which in my opinion is the best but requires just a little bit more time – is to fill up a piping bag with the glaze and drizzle beautifully over the scones as you can see on these photos.
Enjoy your scones while still warm, together with vegan butter or vegan clotted cream (made out of whipped coconut cream), and a hot cup of tea. Happy Holidays!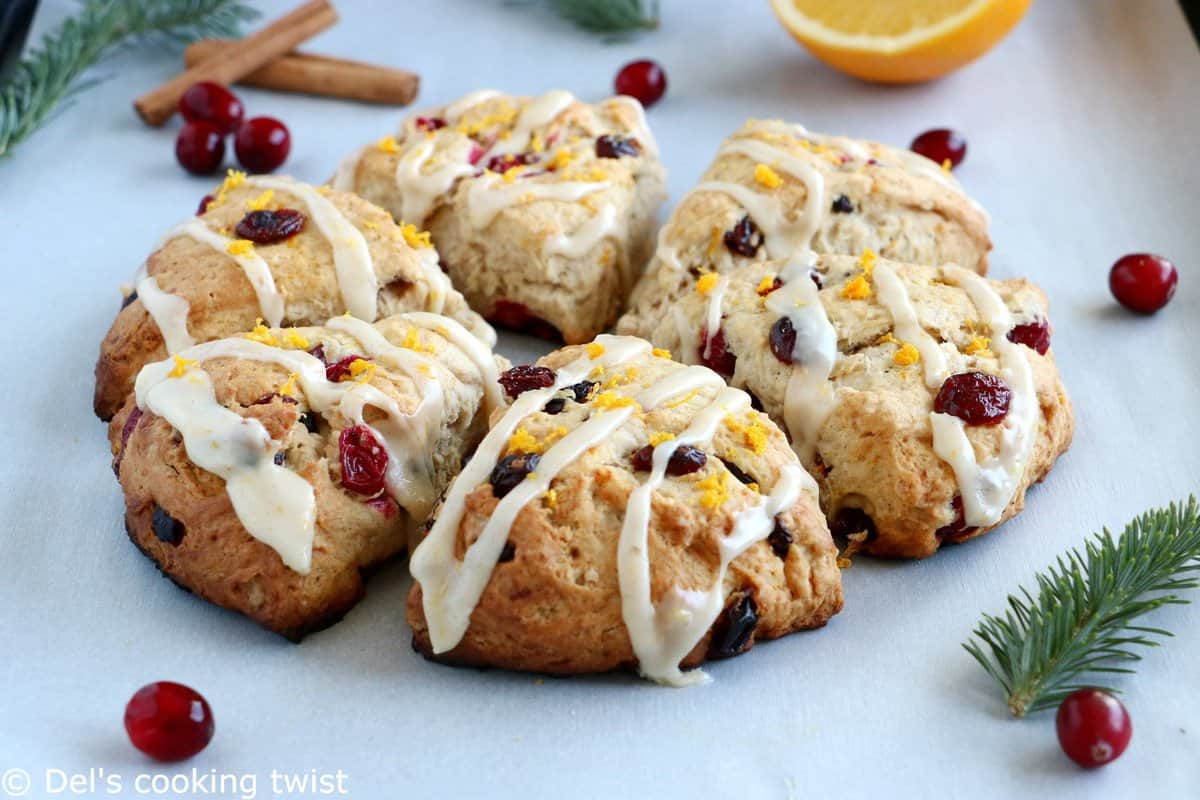 Print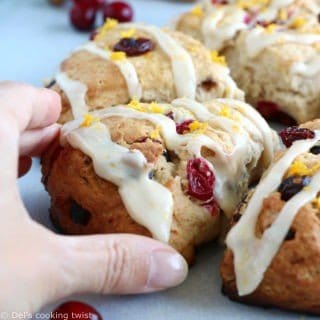 Vegan Orange Cranberry Scones
Author:

Prep Time:

1 hour

Cook Time:

25 mins

Total Time:

1 hour 25 mins

Yield:

6

servings

1

x

Category:

Breakfast

Cuisine:

Vegan
---
Description
These Orange Cranberry Scones are very festive and extremely easy to bake. Made with a perfect crumbly texture and bursting with juicy flavors, they are also entirely vegan!
---
For the scones:
2 cups

(

225g

) all-purpose flour

1 Tablespoon

baking powder

1/4 cup

(

50g

) sugar

1

pinch salt

1/2 teaspoon

cinnamon (optional)

1/4 cup

(

55g

) coconut oil

1 cup

(

225g

) coconut milk, full-fat and unsweetened

1 cup

(

25

cl) fresh and dried cranberries, divided*
Zest of

1

orange
For the glaze:
3/4 cup

(

90g

) powdered sugar

1

pinch cinnamon

1

pinch pumpkin spice

1 teaspoon

maple syrup

1 teaspoon

coconut milk, full-fat

1 Tablespoon

orange juice

1/2

orange, zest
---
Instructions
In a large mixing bowl, combine flour, baking powder, sugar, salt and cinnamon. Add orange zest and mix.
Stir in coconut oil to the dry ingredients, and mix by hand until a crumbly dough.
Stir in coconut milk, using a wooden or rubber spatula.
Toss with the cranberries and mix until just combined. Do not overmix.
Turn the bowl onto a baking tray lined with parchment paper, and pat the dough into an approx. 7-inch (18 cm) round and 2-inch (4 cm) thick. Refrigerate for 20 minutes.
Preheat the oven to 400°F (200°C).
Cut the chilled dough into 6 wedges, detaching each of them from the center and leaving space in between so they don't stick together while baking.
Sprinkle with sugar and bake for about 25 minutes. Let cool completely.
In the meantime, prepare the glaze: in a small bowl, combine all the ingredients until you get a thick and smooth batter. Transfer into a pipping bag and set aside.
When the scones are chilled, drizzle the glaze all over. Let chill for 5 minutes, and serve.
Notes
* or dried cranberries only if easier for you.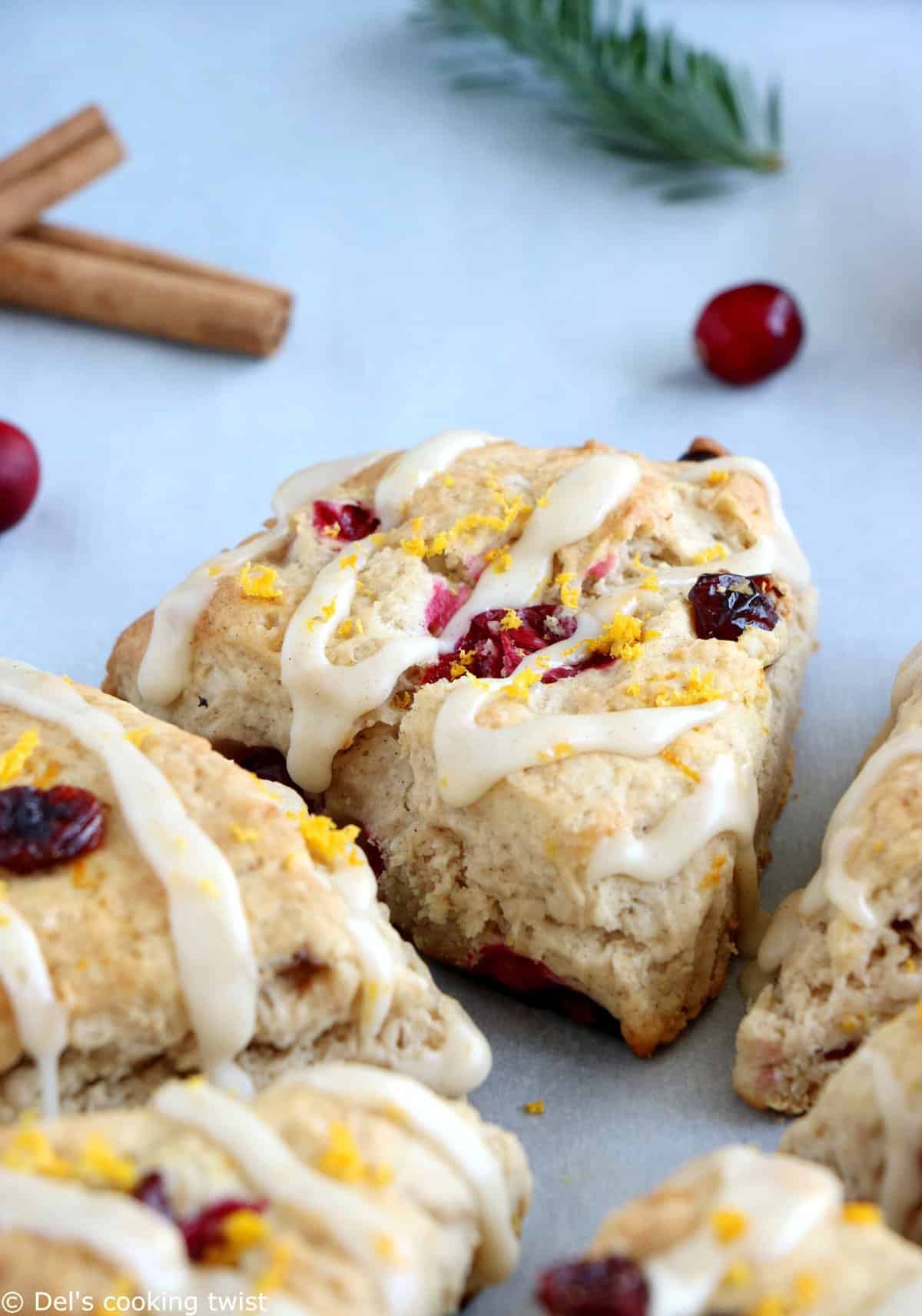 Happy Holidays from Camille et Del!