For your next cocktail party, treat yourself with a delicious daiquiri made with strawberry, lime, rum, and a touch of cardamom. A very sweet, fruity drink everyone loves!
Food, food, food… the blog is a lot about food – indeed almost exclusively. But today I'm in the mood for cocktail! Not that I have anything to celebrate in particular, but sometimes it feels great to treat yourself with a fancy drink. Good news: weekend is almost there, so you'll have a good excuse to try it too!
No mystery in the recipe today, the title says it all: I prepared for you (and for me!) a daiquiri. As you know, a daiquiri is a cocktail, whose main ingredient is rum. It also features citrus and sugar. Unlike the mojito, the daiquiri does not contain any mint leaves, and the lime is used for its juice instead of being crushed with sugar in a mojito.
Ok, so now that we summed up what a daiquiri is, do you know where it comes from? What's its origin? I didn't know myself so I checked it out and learned that it takes its origin from Cuba (shame on me, I went to Cuba a few years ago and I didn't even learn about it, or worse I forgot!). The drink was supposedly invented by Jennings Cox, an American mining engineer, who was in Santiago de Cuba in the 19th century at the time of the Spanish–American War. He then of course introduced the drink to Americans on his way back.
There are various twist to a daiquiri, and one of the most famous one is probably the strawberry daiquiri. Being a sweet tooth, this cocktail is one of my favorite one. I like that it's half way between a drink and a sorbet somehow. It's also fresh, thanks to the lime juice, with a kick of rum that makes the drink very festive.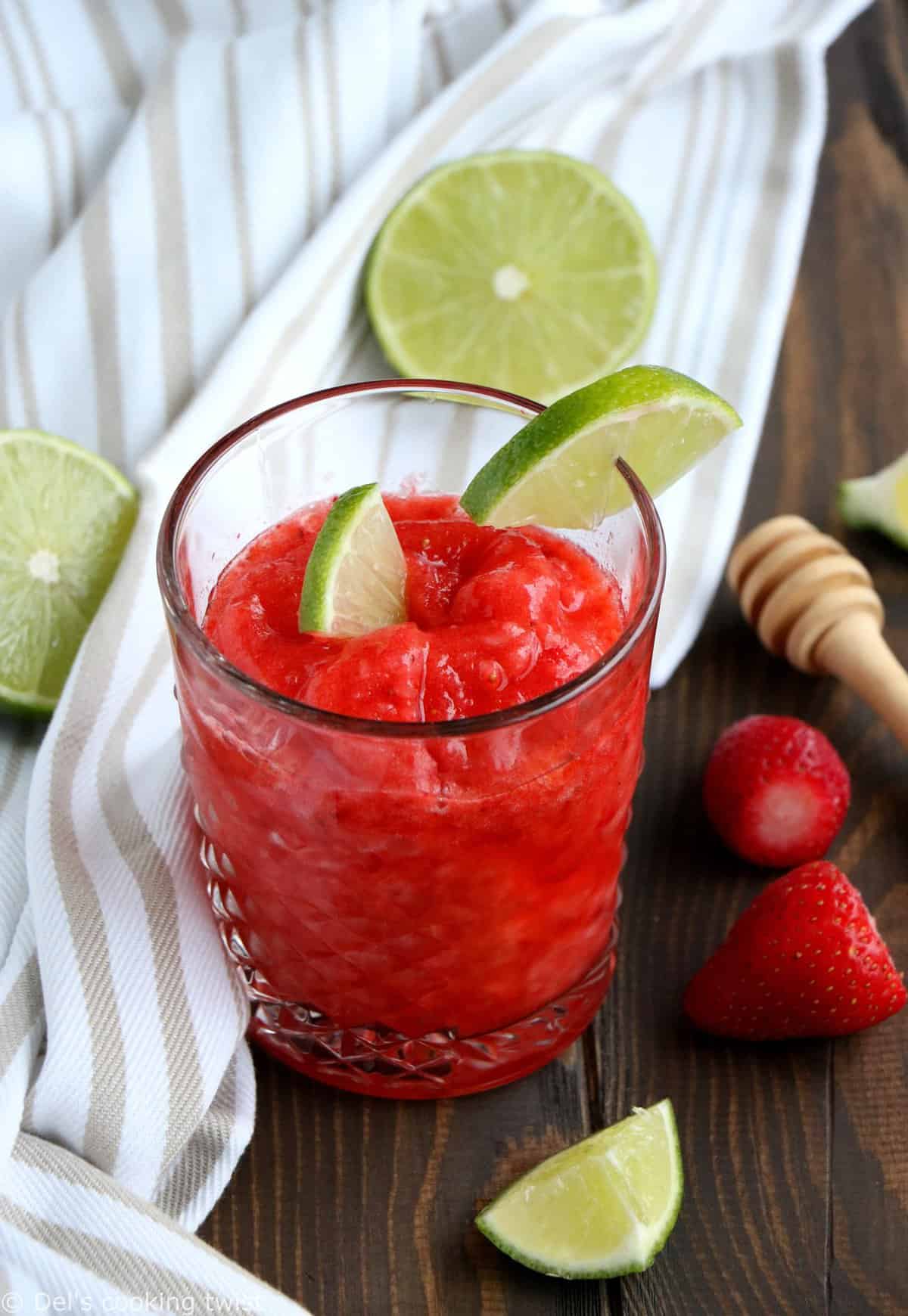 I didn't invent the drink at all, but if I share the recipe with you today, it's because I added a very tiny twist, a dash of my precious spice: cardamom! While many know the use of cardamom in savory recipes, it goes actually very well in sweet recipes too. I learned that during my years in Sweden and loved it that way ever since. Cardamom with red berries in particular are an amazing combo together.
I said it before but I will never say it enough: the best way to enjoy cardamom in both this drink and in general is to grind the seeds just before using it. When freshly grind, it releases its flavors the most, and it's what you are looking for here. I like that cardamom brings a slightly spicy touch to the cocktail with remaining discrete at the same time. It makes the strawberry daiquiri elegant and fancy.
As you can see, making this cocktail is easy as a piece of cake. You just need a robust blender that allows you crush ice cubes until you get a sandy looking-like texture. Also, try to use frozen strawberries if possible, mostly for the texture that they bring to the cocktail. Now go make yourself a strawberry daiquiri with cardamom and have a great weekend you all. Cheers!
Print
Strawberry Daiquiri with Cardamom
Author:

Prep Time:

10 mins

Total Time:

10 mins

Yield:

2

-

4

cocktails

1

x

Category:

Beverages
---
Description
For your next cocktail party, treat yourself with a delicious daiquiri made with strawberry, lime, rum, and a touch of cardamom. A very sweet, fruity drink everyone loves!
---
1 1/2 cups

(

35

cl) white rum

1/2 cup

(

120

ml) fresh-squeezed lime juice

1 Tablespoon

agave syrup

1

16-ounce (450g) frozen strawberries

4 cups

ice cubes (about

28

ice cubes)

1/2

–

3/4

Tablespoons freshly ground cardamom
---
Instructions
Pour the rum, lime juice, agave syrup, frozen strawberries, and ice cubes into a blender and pulse until completely blended with a slushy consistency.
Add the freshly ground cardamom* and stir well.
Check the consistency and flavor, adding mor lime juice or agave syrup if needed. For a slushier consistency, add more ice.
Divide the daiquiris in glasses, and serve!
---
Notes
* Using freshly ground cardamom is mandatory as it will release the most flavor possible to the drink. I also like to add half crushed cardamom seeds as well.