Shakshuka with Feta Cheese is a simple dish consisting of poached eggs in a simmering tomato sauce with feta and spices, traditionally served in a cast iron skillet. Healthy, family-friendly and easy to prepare, it makes a perfect savory breakfast, lunch or dinner on a budget. The best part: dipping some thick bread slices or pita bread into the sauce.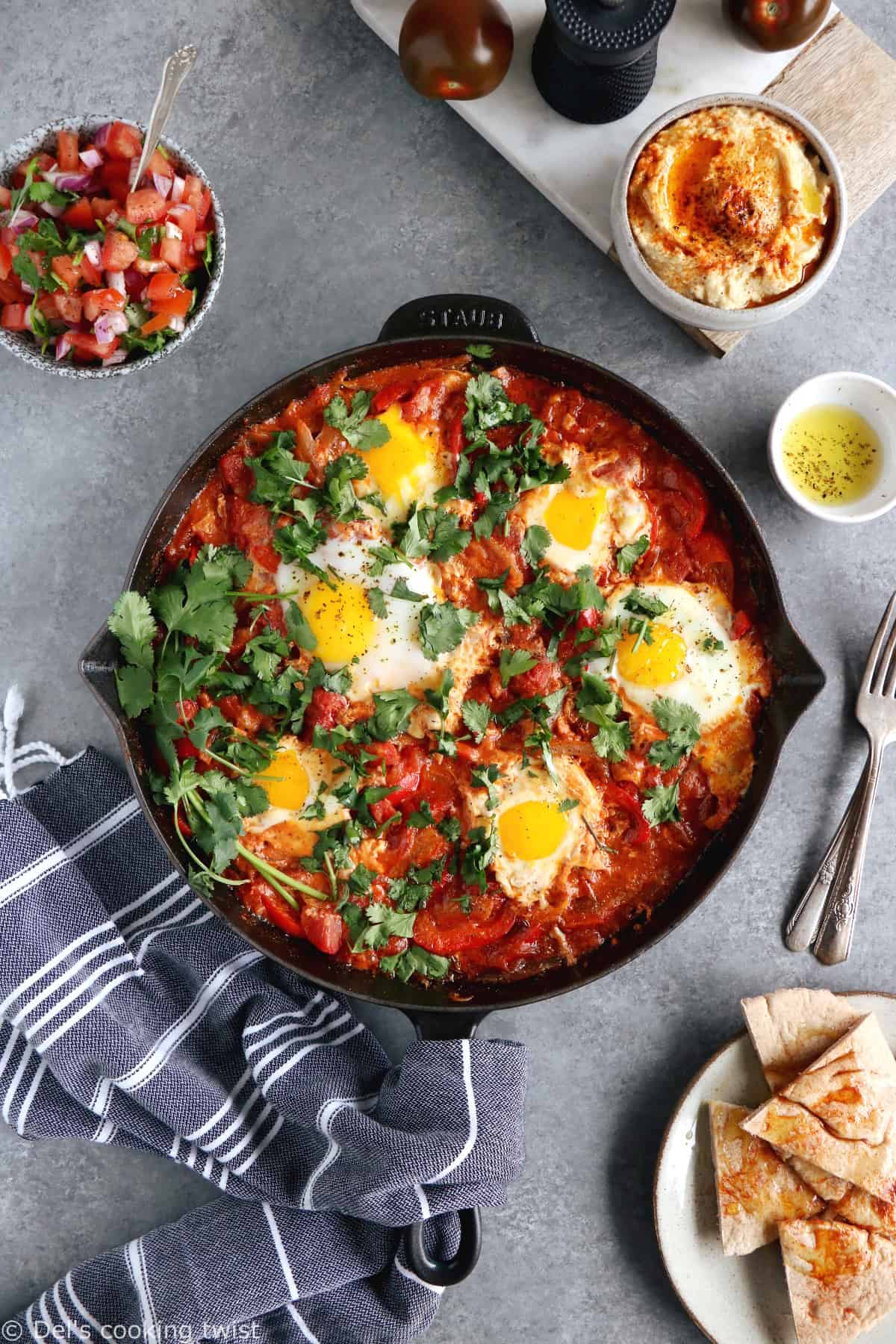 Let's make a shakshuka to set the mood for my next trip to Israel in a couple of days. I'm heading there for a wedding, and I'm all excited about it. I can't wait to learn about the culture, the food traditions, and so much more! And yes, it's the perfect excuse for me to share a traditional dish from the Middle East. The combo eggs-tomato also reminds me of a pretty similar version my mom used to make when I was a kid, using very large ripe tomatoes from the garden.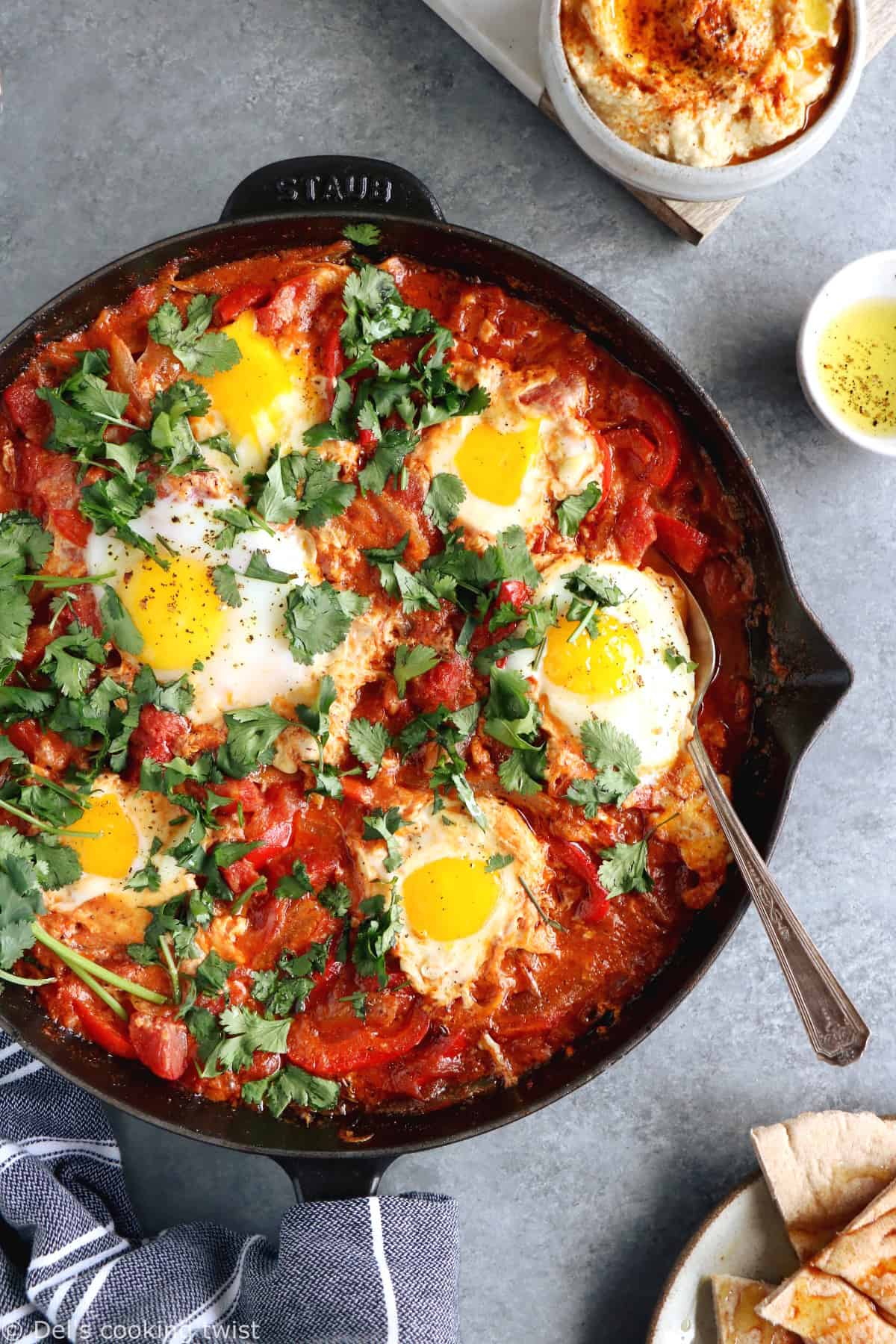 What is a Shakshuka?
A shaksuka is a simple dish prepared in a skillet and consisting of poached eggs served in a simmering tomato sauce with spices.
The origins. Its origin is a staple of Lybian, Egyptian, Tunisian, Algerian, Moroccan cuisines. It is now popular in Israel, where it was introduced by Libyan and Tunisian Jews, tens of thousands of whom immigrated to Israel during the 1950s. But to be fair, the dish is very popular in both the Middle East and North-Africa.
What does "Shakshuka" mean? In Arabic, shakshuka means "a mixture". Some believe that it was first known as chakchouka, a Berber word meaning a vegetable ragout, but it remains unclear and there are many other beliefs. Traditional recipes are very basic, consisting of merely crushed tomatoes, hot peppers, garlic, salt, paprika, olive oil and poached eggs, but some version include other ingredients such as salty cheese – here feta cheese.
The ingredients you need:
1 large onion, sliced or diced, depending on your choice.
1 bell pepper (I use a red one), sliced or diced, depending on your choice.
Garlic, to add some personality to the dish.
1 28-ounces (820 ml) can whole plum tomatoes, with juice. Chop them coarsely with a wooden spoon.
Eggs. You can use between 4 to 6 eggs, depending on your preference. It's always easy to add one more.
Feta cheese. This is completely optional in a traditional shakshuka, although I highly recommend it. Feta makes the dish creamier and it adds in salty flavors.
Spices: paprika, cumin, cayenne pepper.
Fresh cilantro, for serving.
My secret spicy twist
You can prepare the shakshuka with a mix of spices including ground paprika, cumin and cayenne pepper. Then serve with hot sauce if you are up for a little additional kick.
I also LOVE to add some harissa paste to the dish to make it even more spicy with smoky flavors. I usually add about 1 teaspoon of harissa paste to the onion mixture together with the other spices, then I add the other ingredients and give a good stir to ensure the flavors are well distributed in the dish.
How to make a shakshuka?
Heat olive oil in a skillet on medium heat, then stir in the sliced (or diced) veggies until the onions become soft and translucent.
Add the garlic and spices and stir until they're nice and fragrant.
Pour in a 28-ounce can (820 ml) of whole peeled tomatoes and use a wooden spatula to break up the tomatoes into smaller pieces.
Once the mixture is simmering, crack the eggs on top.
Transfer the skillet to a preheated oven until the eggs are just set.
Add some freshly ground black pepper, garnish with fresh cilantro, and enjoy!
Breakfast, brunch, or dinner?
The Shakshuka makes a perfect everyday meal but can also be served for a savory breakfast or for brunch. Also, when tomatoes are in season, I recommend you use large fresh ripe tomatoes instead of canned ones, it will be even tastier.
What to serve with your shakshuka?
Be confident and bring your own twist from time to time, adding some jalapeno slices, spicy sausages, or prosciutto for instance. Whatever option you choose, make sure you serve it with some hot sauce, fresh cilantro and large slices of bread (or any other bread of your choice), such as:
Other shakshuka recipes worth a try: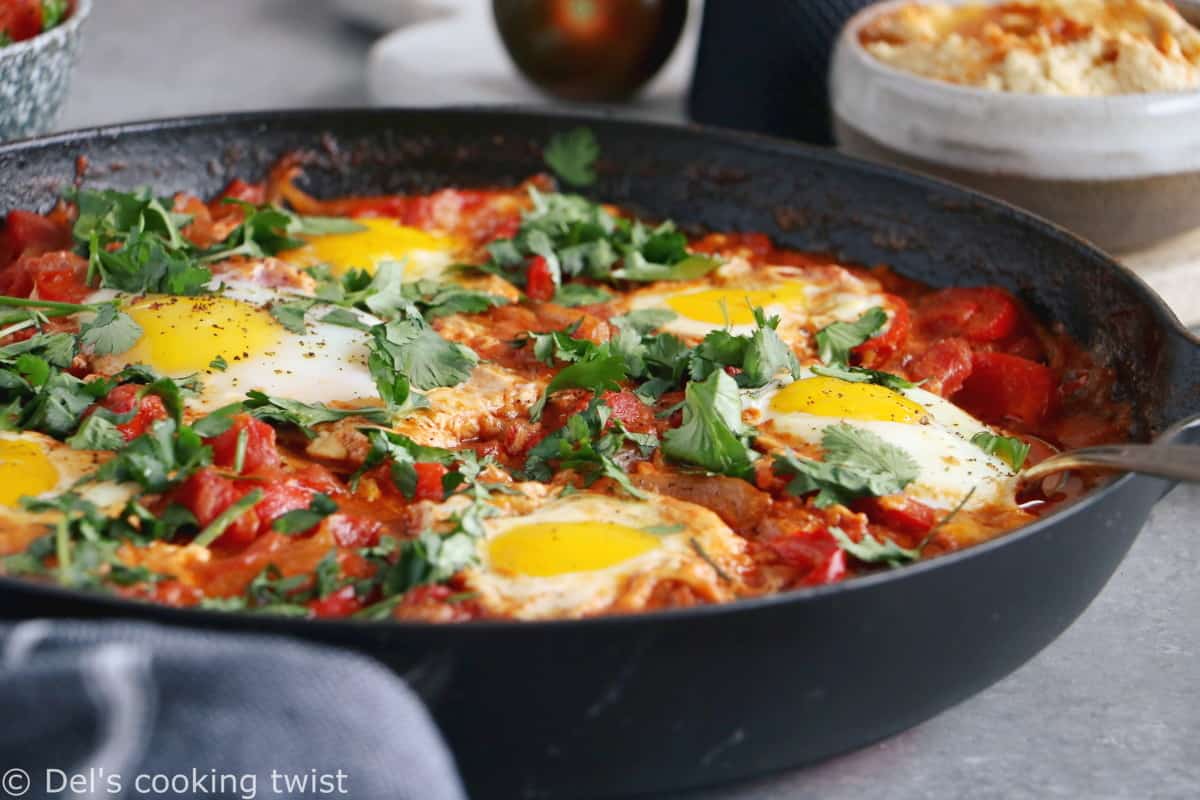 Print
Shakshuka with Feta Cheese
Author:
Prep Time:

10 mins

Cook Time:

30 mins

Total Time:

40 mins

Yield:

4

-

6

servings

1

x
Category:

Savory

Cuisine:

Around the world
Shakshuka with Feta Cheese is a simple dish consisting of poached eggs in a simmering tomato sauce with feta and spices, traditionally served in a cast iron skillet.
3 Tablespoons

extra-virgin olive oil

1

large onion, halved and thinly sliced (or diced)

1

large red bell pepper, seeded and thinly sliced (or diced)

3

garlic cloves, minced

1 teaspoon

ground cumin

1 teaspoon

sweet paprika
A pinch (⅛ teaspoon) cayenne pepper*

1

28-ounces can (

820

ml) whole plum tomatoes with juices, coarsely chopped**
Salt and freshly ground black pepper

1 ¼ cup

(

5 ounces

or

140g

) feta cheese, crumbled

6

large eggs***
Chopped cilantro, for serving
Hot sauce, for serving
Instructions
Heat the oven to 375°F (190°C).
Heat oil in a large skillet over medium-low heat. Add onion and bell pepper, and saute until very soft, about 15 minutes. Add garlic and saute for 1 more minute. Stir in cumin, paprika and cayenne*.
Pour in the canned tomatoes** with the sauce. Season with salt and pepper, and simmer until tomatoes have thickened, about 10 minutes. Stir in crumbled feta.
Gently crack eggs into skillet over tomatoes. Season with salt and pepper.
Transfer skillet to oven and bake until eggs are just set, 7 to 10 minutes. Sprinkle with fresh cilantro and serve with hot sauce.
Notes
* You can also see my article for a spicy version with harissa.
** When in season, feel free to add fresh, ripe, diced tomatoes instead.
*** Feel free to use more or less eggs. Anything between 4 to 6 eggs work just fine.
Cheese
,
Easter
,
Eggs
,
Family-Friendly
,
Gluten-Free
,
Main Dishes
,
Quick & Easy
,
Savory Breakfasts
,
Vegetarian
,
Videos
,
Year Round
Did you make this recipe?
Lastly, if you make this Shakshuka with Feta Cheese, be sure to leave a comment and give this recipe a rating, letting me know how you liked it. And of course, don't forget to tag me on Instagram! Thank you and enjoy!