Easy one pan vegan shakshuka with eggplants and crumbled tofu, ready in 30 minutes only. The perfect weeknight meal for busy days.
Talking about shakshuka (check my own shakshuka recipe here) takes me back to my wonderful trip in Israel in May to celebrate my friends' wedding. This trip was absolutely fabulous and I had an amazing time, better than everything I could have dreamed of. Together with the other wedding guests, we stayed in a camplodge for a few days prior to the wedding, living a rustic life and mostly outside. Although it was early in the season, it was really hot by the Dead Sea already.
I have always loved simple vacations instead of fancy hotels and restaurants. I don't mind the lack of comfort and I always enjoy simple food prepared on a fire pit. Simple ingredients tossed together with the right spices and prepared with love make all the difference, I'm telling you. There, in Neot Hakikar, I had the best shakshuka ever, served for a huge breakfast outside. The wedding guests coming from Israel knew how to make the best out of it and had started early in the kitchen, ready to feed a crowd!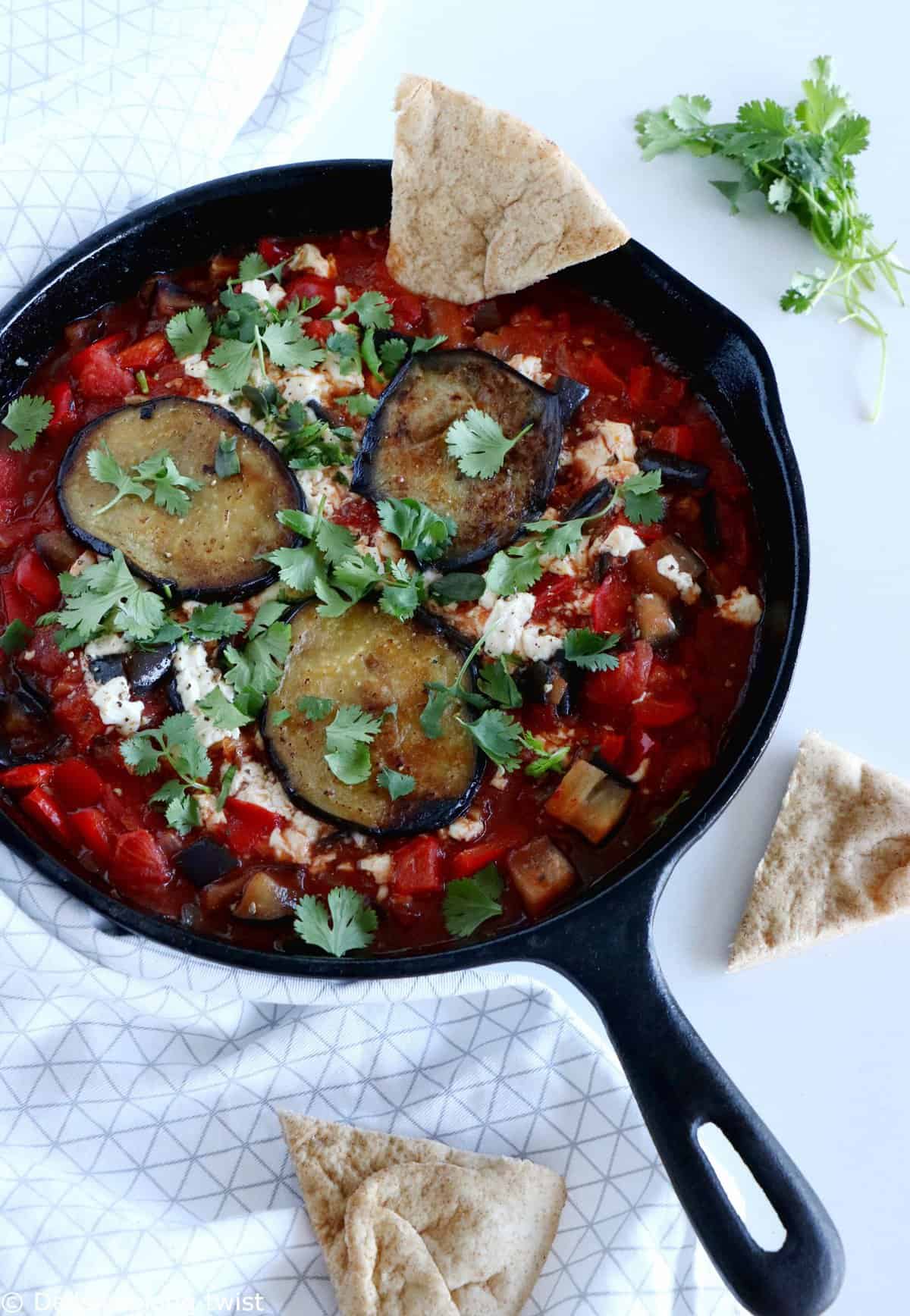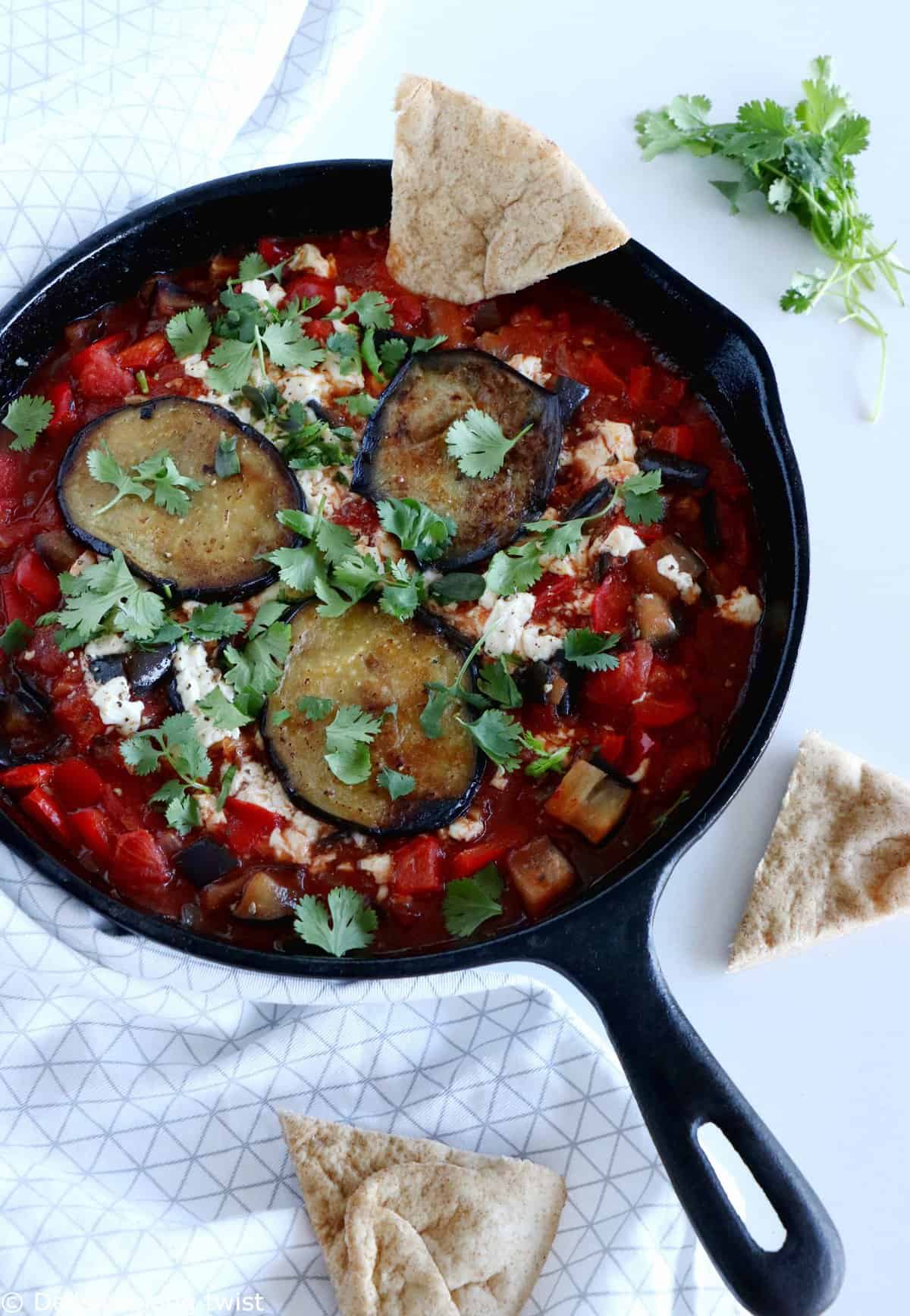 We all sat at the long breakfast table and there, I learned how to eat a shakshuka. I remember that I first grabbed a slice of bread but one of our friends stopped me immediately. It was the wrong way! I absolutely loved discovering how he would serve it, making it very special. Food is and should always remain a social experience in the first place. So here's the right way to eat a shakshuka according to the locals: first, you grab a pita pocket (or make a pocket out of the pita), then you fill it with tahini, shakshuka, and a cucumber-onion-tomato diced salsa, drizzle some additional tahini on top if desired and garnish with fresh cilantro. Easy and delicious!
Shakshuka is kind of the national dish in Israel (if you want to learn more about the origin of shakshuka, check my article here), and I had other shakshukas during my stay here. When you have them at the restaurant, they are served in an individual cast-iron skillet and they look adorable! There is the classic shakshuka of course, made with a tomato sauce, harissa and eggs, and there are other variants, among them a vegan shakshuka (interesting when you know that eggs are one of the main ingredients of a shakshuka).
Of course it made me curious and I tried this vegan shakshuka for breakfast one day in Jerusalem. In this version, they simply skipped the eggs and added some eggplants to the onion and tomatoes. The seasoning made it really tasty and the sautéed eggplants were just delicious. Back in Chicago, I worked on this version and adjusted it to my own taste, trying to replace the eggs with some other vegetable protein that are clearly missing in this vegan version of shakshuka in my opinion.
During my last trip to New York, I have had some tofu scrambled eggs at Chloé (a vegan restaurant in Manhattan that I really recommend). It was new to me and I loved the idea immediately, as the texture is indeed quite similar to eggs. As tofu is a great source of protein, I naturally replaced the eggs in my shakshuka with some silken tofu, that I scrambled a little bit. If you are not vegan, you can add some eggs, or better some feta cheese. Whatever you go for, remember that the most important in a shakshuka is the seasoning, and that's why I usually taste it while cooking to adjust the spices if needed. Garnish with cilantro before serving and enjoy with pita bread and tahini!
Print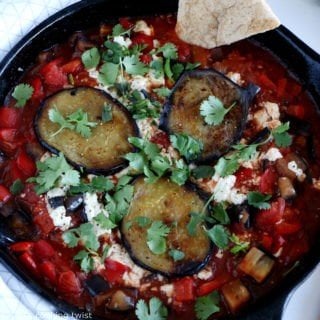 Vegan Eggplant Shakshuka
Author:

Prep Time:

10 mins

Cook Time:

20 mins

Total Time:

30 mins

Yield:

4

servings

1

x

Category:

Savory

Cuisine:

Around the world
---
Description
Easy one pan vegan shakshuka with eggplants and crumbled tofu, ready in 30 minutes only. The perfect weeknight meal for busy days.
---
For the shakshuka:
1

medium-large eggplant, diced
Salt and Ground Black Pepper, to taste

2

–

3

Tablespoons olive oil

1

onion, chopped

½ teaspoon

cumin

½ Tablespoon

paprika

3

cloves garlic, minced

2 Tablespoons

harissa sauce

1

can (28 oz.) roasted diced tomatoes

1 teaspoon

chilli flakes

½

package (16 oz.) of silken tofu
To Serve:
Pita bread
Chopped parsley & cilantro
---
Instructions
Place tofu on a plate lined with a paper towel and set aside to drain some of the excess liquid.
Place diced eggplant in a sieve and sprinkle with salt. Let sit for 10 minutes. Rinse and pat dry.
Heat olive oil in a skillet and sauté the onion until translucent, about 5 minutes.
Stir in the cumin, paprika, and garlic. Stir to cook for 1 minute.
Add another Tablespoon of olive oil and add the eggplant. Cook, stirring for about 10 minutes, until softened.
Add the harissa sauce and tomatoes. Bring to a simmer and cook for 5 about 5-10 minutes, stirring occasionally.
Chop tofu into large chunks and transfer to skillet. Stir gently to distribute through tomato sauce. Cook or 3-5 minutes. Add salt and pepper to taste.
Serve hot with pita bread and garnish with fresh chopped parsley and/or cilantro.
---