This rich and saucy mushroom bourguignon is a wonderful vegetarian stew, loaded with comforting and hearty flavors. The mushrooms have a meaty texture that makes it a wonderful veggie alternative to the classic bourguignon recipe. Enjoy with a side of mashed potatoes!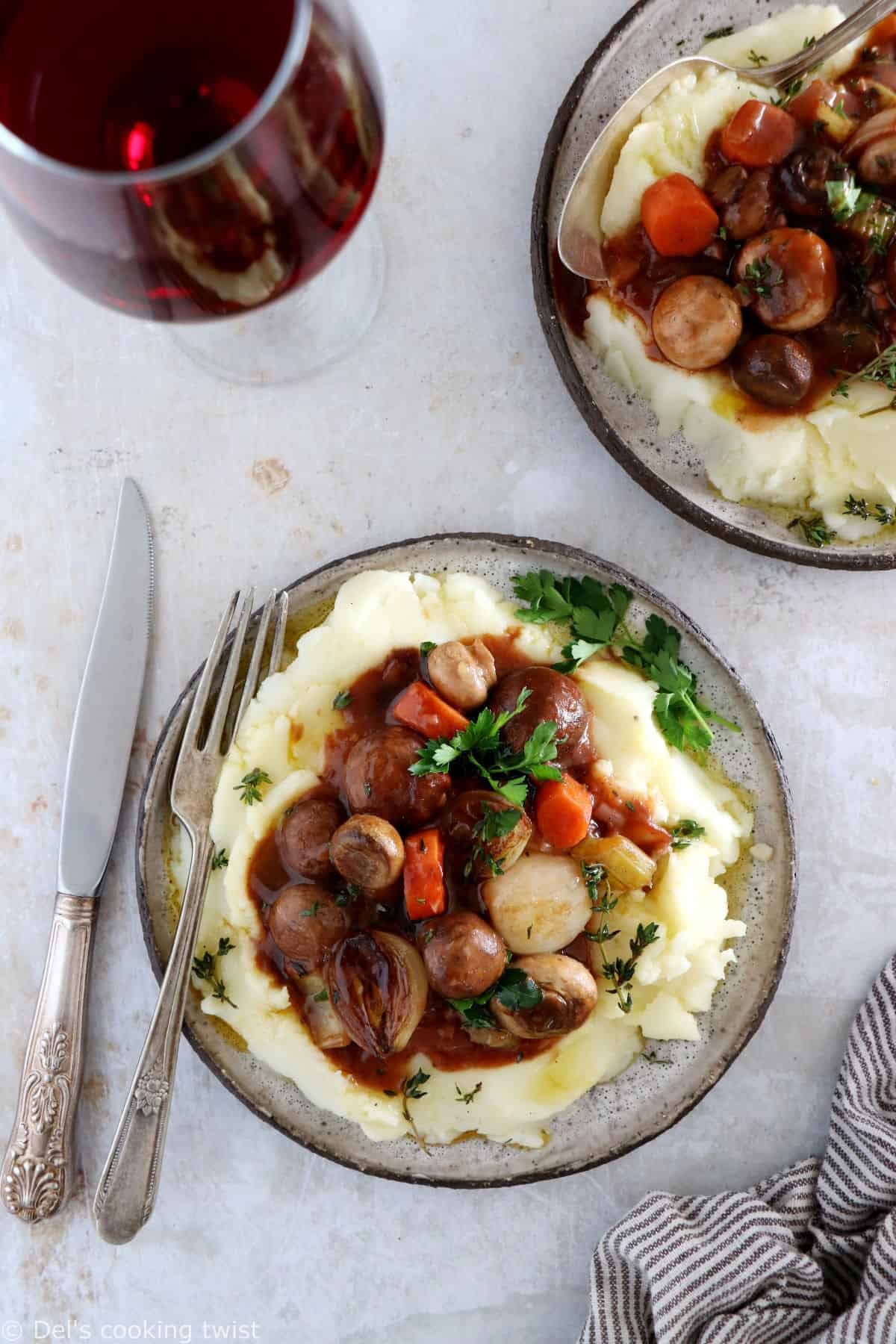 I'm revisiting a French classic today, making a veggie version out of the traditional boeuf bourguignon. With just a handful of veggies, a bottle of wine, and 30 minutes ahead of you, you can create a restaurant-quality bourguignon, with a subtle mushroom meaty texture in each bite.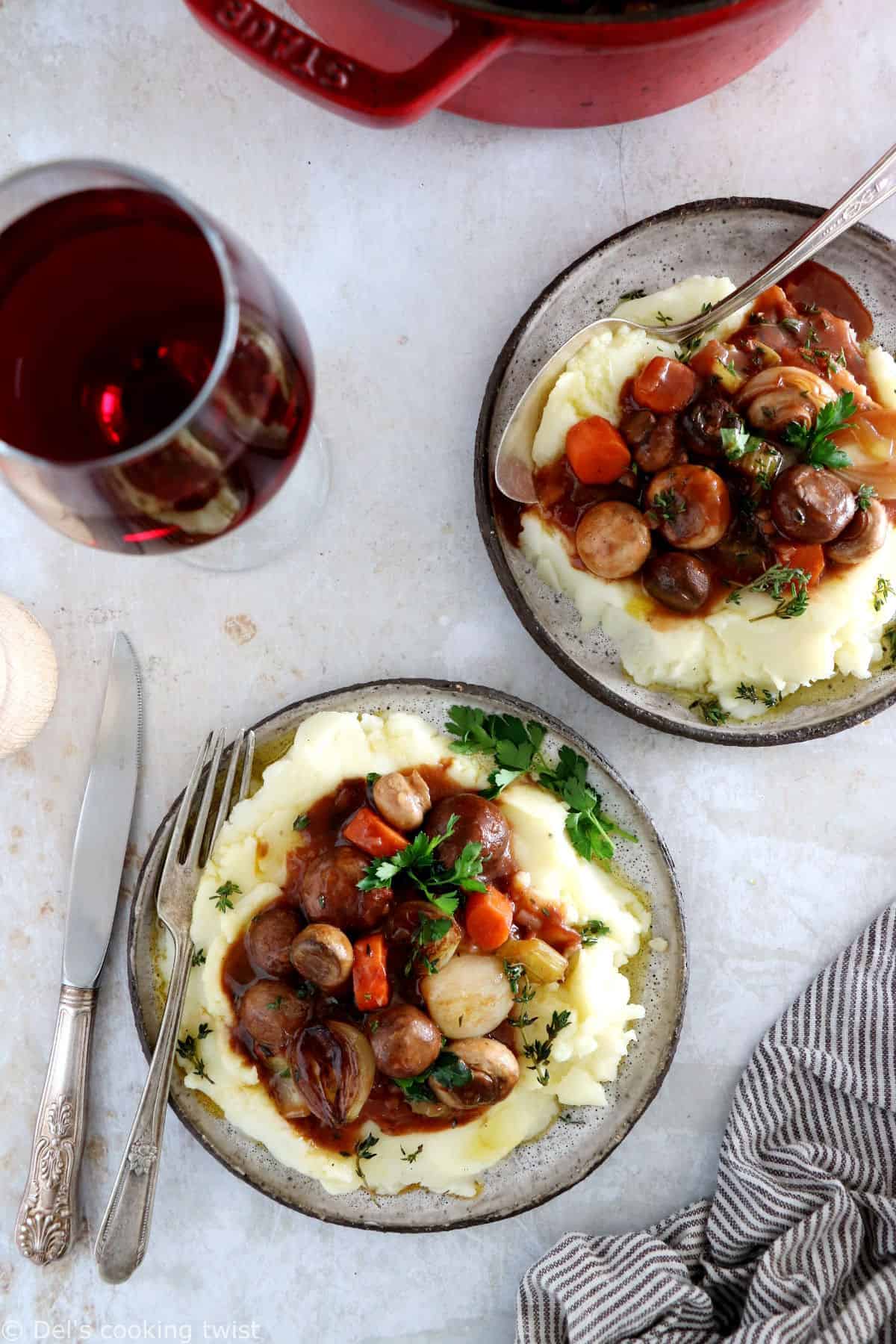 Ridiculously easy to make, this mushroom bourguignon will make a showstopping Sunday lunch, or simply a cozy and comforting weeknight meal with family or friends. Learn how to make it from scratch, and don't forget the side of mashed potatoes and a bottle of red wine to serve with!
Mushroom Bourguignon is:
Vegetarian (everything, but the meat) ✔
Loaded with veggies ✔
Quick and easy to make ✔
Hearty and comforting ✔
Healthy and nutritious ✔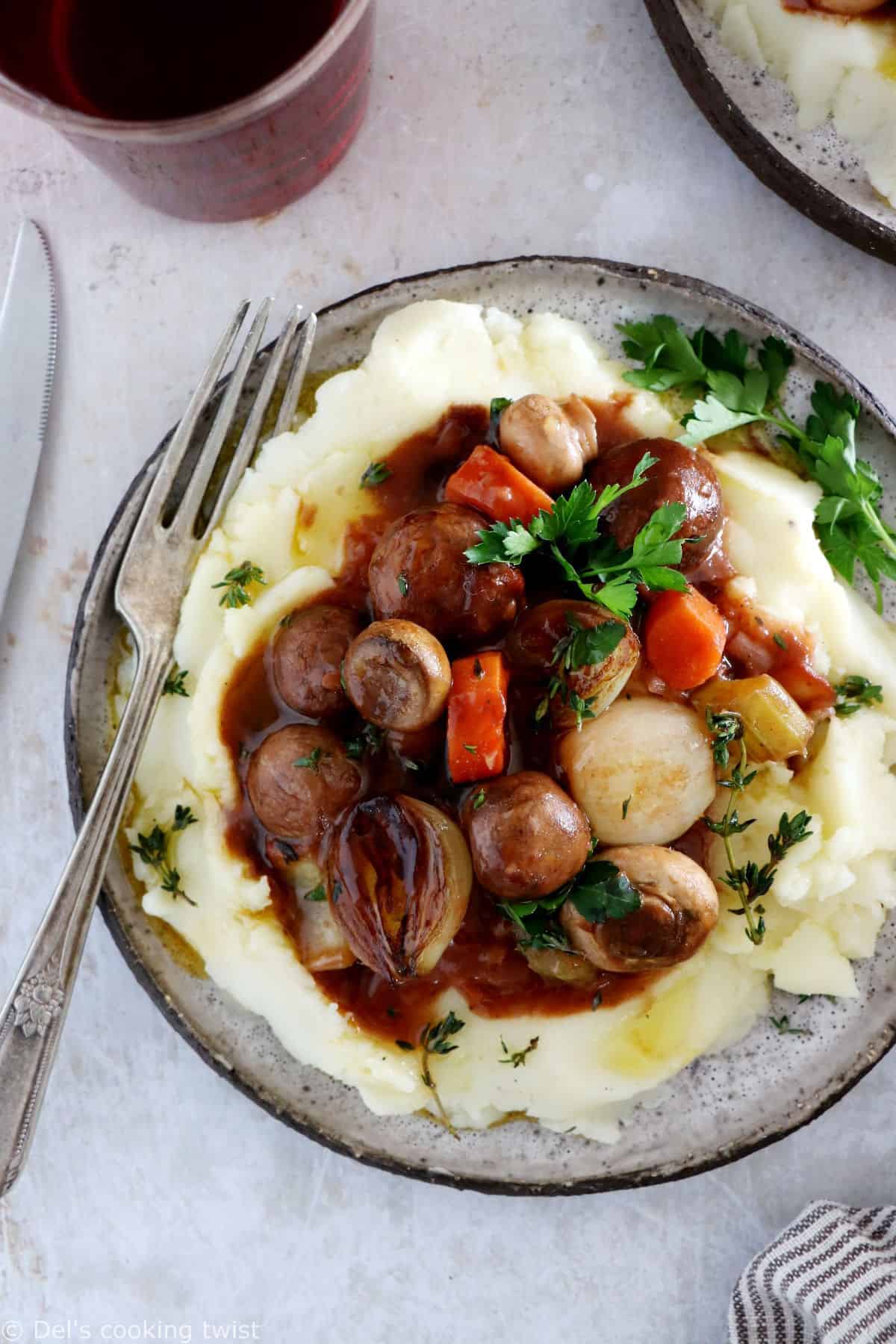 The recipe ingredients
This mushroom bourguignon is a meatless version of your classic bourguignon recipe. This makes it easier and quicker to make, with just a bunch of veggies, herbs, and red wine of course! Find below the ingredients you need with a few possible variations:
Mushrooms. I used a mix of white button and chestnut mushrooms (a strain that grows just a bit browner than the white button mushrooms). Button mushrooms hold their shape when cooked, creating this perfect meaty texture. Feel free to add other mushroom varieties too!
Pearl onions. They are not strictly necessary but absolutely delicious in a bourguignon recipe. Choose them fresh (forget the canned ones!), rather small in size, cutting the larger ones in half. If you are not a fan of pearl onions, skip them in the recipe and replace with half an onion, sliced, sauteed with the shallots below.
Shallots. They add some subtle flavors to the recipe. Add half an onion if you do not use pearl onions (see above).
Carrots + celery. These veggies will had texture to the stew. Make sure the carrots are fork tender with still a bite to it. Celery is optional but recommended.
Tomato paste. It will creates some rich and slightly smoky flavors to the sauce.
Red wine. Ok, now we're talking! A medium-bodied red wine (such as a Bourgogne) will go well with the mushroom bourguignon, both used in the recipe and served with the dish.
Vegetable stock cube. Alternatively, you can go for ready-to-use vegetable stock.
All-purpose flour. It's a key ingredient to thicken the sauce and make it glossy. If the sauce is too thick, you can always thinner it with a splash of water.
Fresh herbs. The herb seasoning will bring all the flavors to the stew, please don't skip them!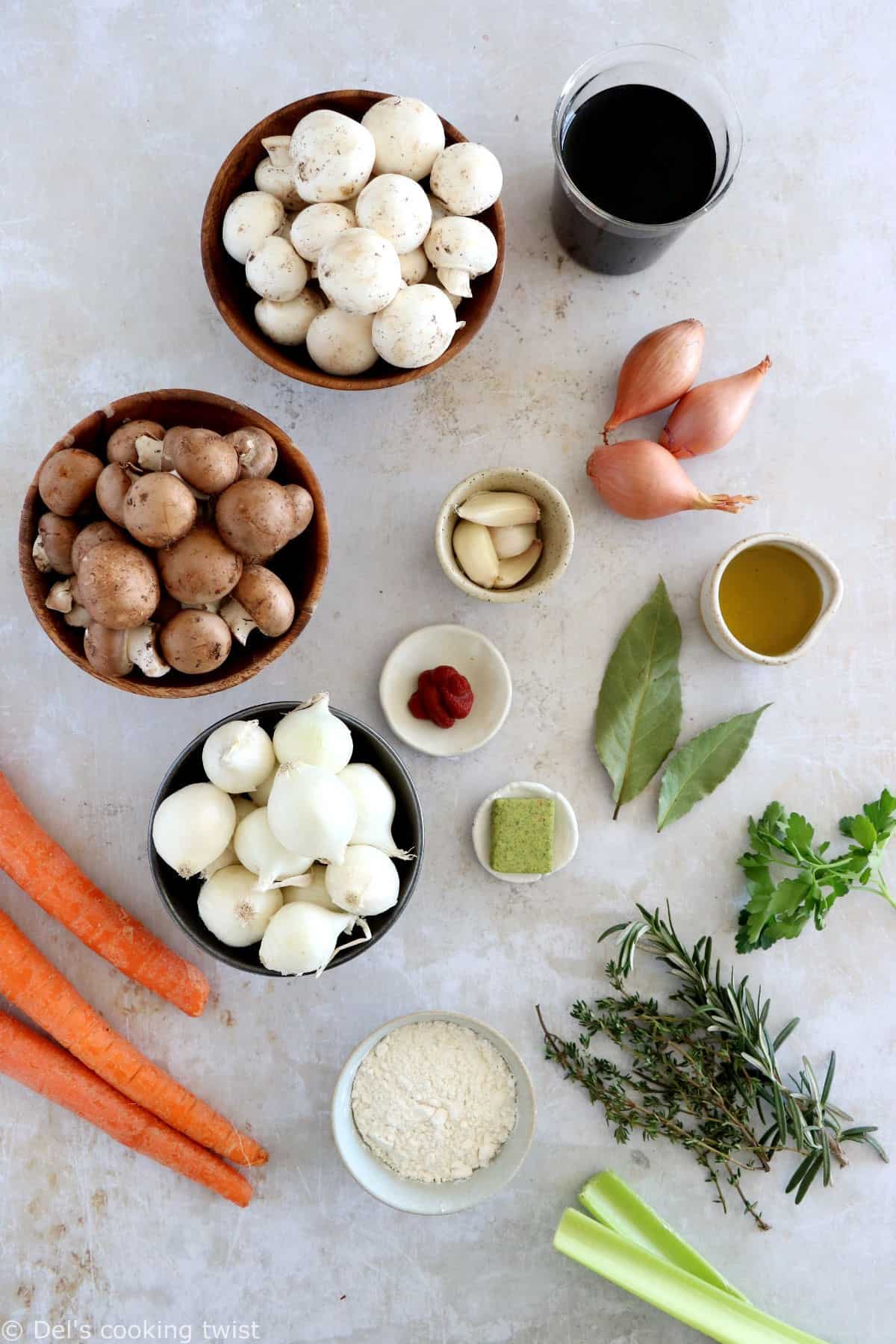 How to make a mushroom bourguignon?
Ok now let's talk about the recipe itself. Note that it's way easier to make mushroom bourguignon that it is to make the traditional recipe with meat, and it's also quicker, and cheaper. A win-win for everyone!
Start with cooking the mushrooms and pearl onions. I recommend cooking them in two or three batches to ensure an even cooking. You could also cook them in a separate skillet if more convenient (I personally like doing it).
Then prepare the bourguignon sauce. This involves the sauteed shallots, carrots, celery and garlic, as well as the tomato paste, flour, vegetable stock, herbs, red wine and water.
Add back mushrooms and pearl onions and bring to a gentle simmer, stirring regularly, for about 30-40 minutes, or until the carrots are fork tender and the sauce has thickened. And voilà, your bourguignon is ready to serve with a side of mashed potatoes!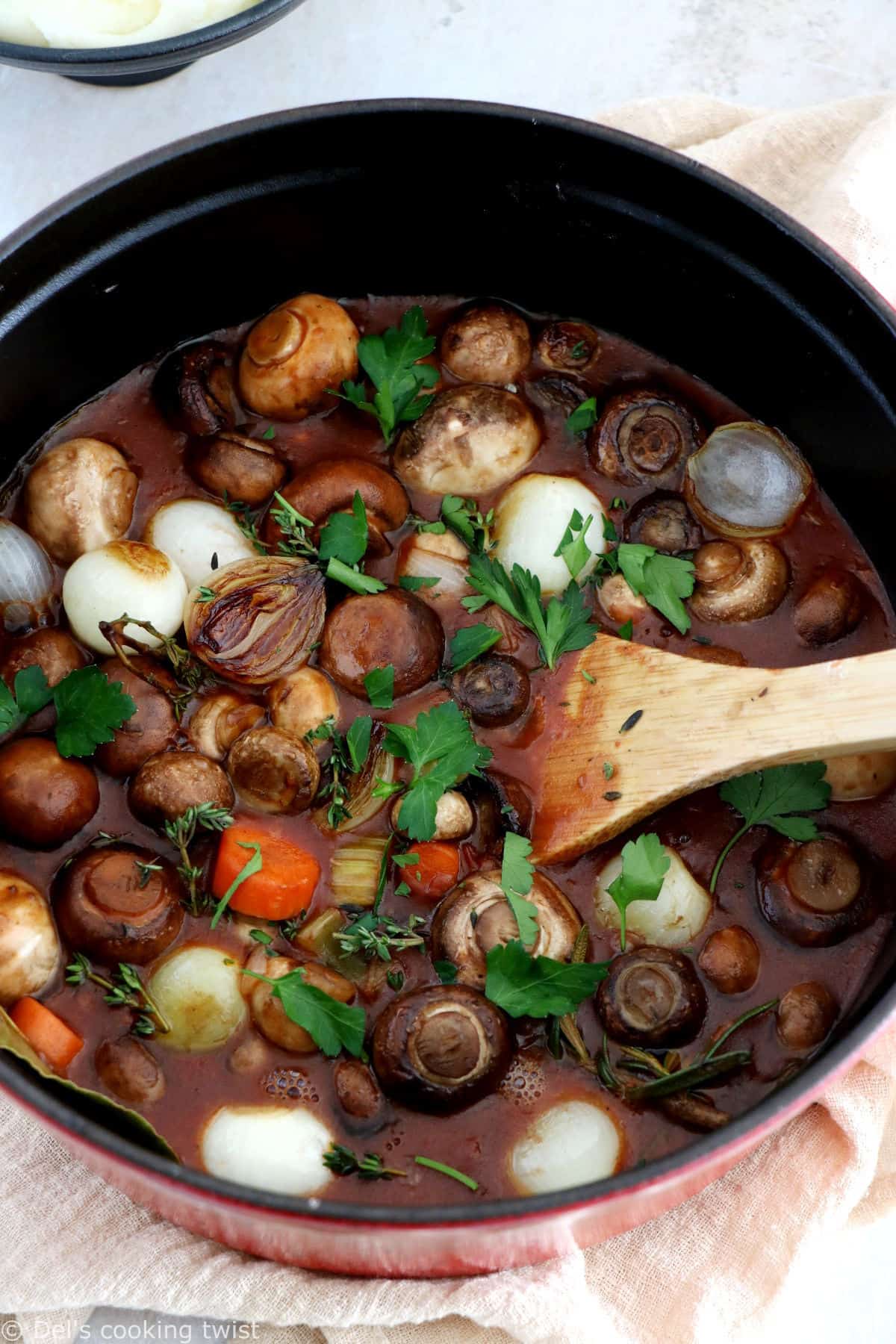 Is this mushroom bourguignon recipe vegetarian or vegan?
Actually it's both vegetarian AND vegan. There is no animal products or derived-animal ingredients (such as dairy products for instance) involved in the recipe. Note however that to make it strictly vegan, you need to make sure the wine you are using is vegan. If you are fine with vegetarian (rather than vegan), you can use a mix of olive oil and butter to saute the veggies. It adds in flavors!
What to serve with a mushroom bourguignon?
Traditionally, you would serve a bourguignon with a simple side of mashed potatoes (think homemade!). But there are other alternatives you can explore. You can for instance serve with gratin dauphinois, or replacing the mashed potatoes with polenta, or again for a slightly different version with basmati rice. Whatever the side you choose, do not forget to enjoy with a glass of red wine!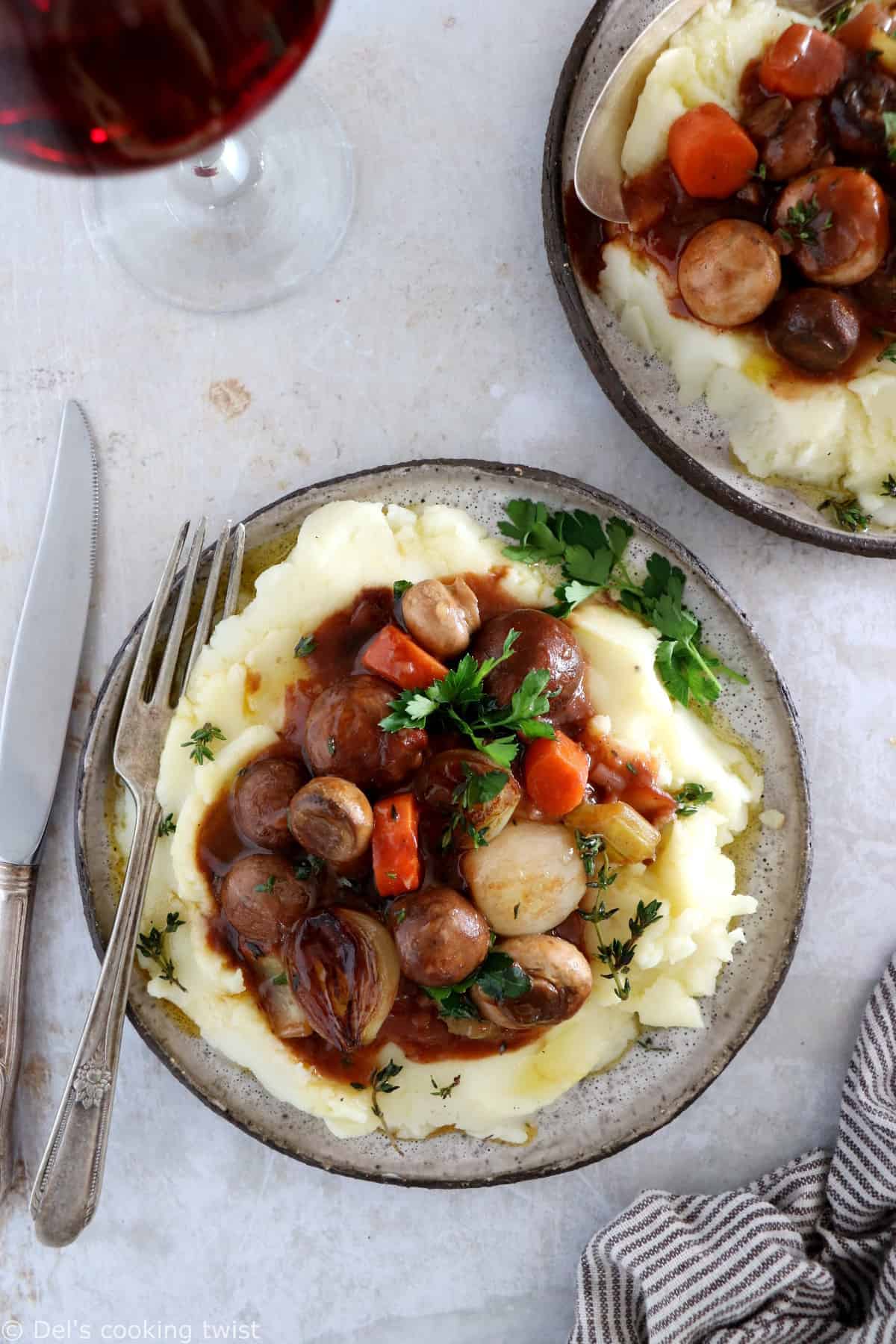 A fun variation (and delicious!) around the recipe
You can use this mushroom bourguignon as a filling of a vegetarian pot pie! Just start with this vegetarian pot pie recipe for the double crust, and replace with the mushroom filling. Make sure the sauce is thick enough, or add a little bit more flour if necessary. Delicious!
Other stews you'll love: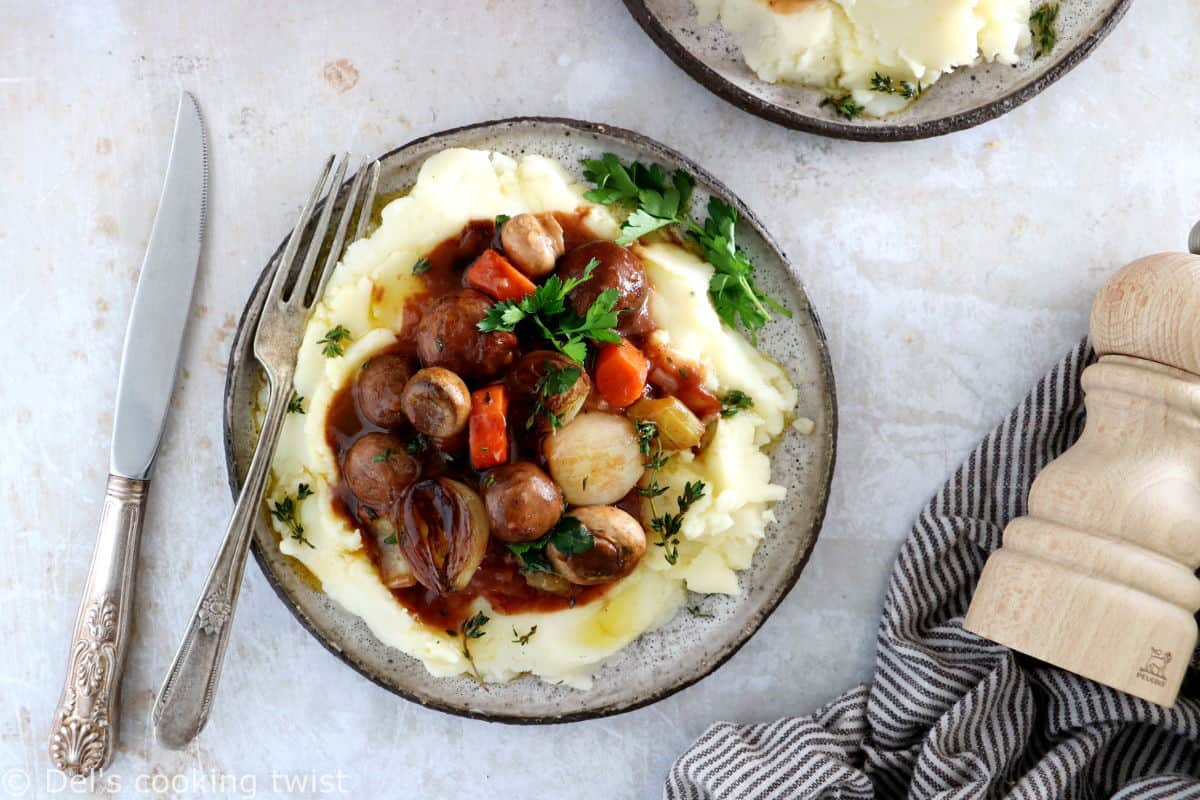 Print
Mushroom Bourguignon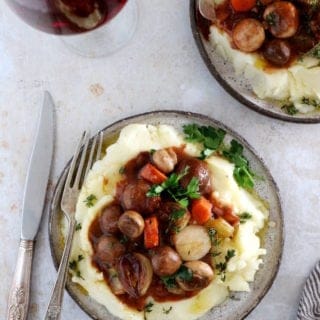 Author:
Prep Time:

30 mins

Cook Time:

45 mins

Total Time:

1 hour 15 minutes

Yield:

4

servings

1

x
Category:

Savory

Cuisine:

World Cuisine

Diet:

Vegan
This rich and saucy mushroom bourguignon is a wonderful vegetarian stew, loaded with comforting and hearty flavors. The mushrooms have a meaty texture that makes it a wonderful veggie alternative to the classic bourguignon recipe. Enjoy with a side of mashed potatoes!
2 cups

(

7 ounces

/

200g

) pearl onions, peeled and larger ones cut in half*

12 ounces

(

350g

) white button mushrooms

12 ounces

(

350g

) chestnut mushrooms
Extra virgin olive oil, as needed**
Salt and freshly ground pepper

2

shallots

3

garlic cloves, minced

3

carrots, peeled and sliced

2

stalks celery, sliced

1 Tablespoon

tomato paste

2 ½ Tablespoons

all-purpose flour

1 ½ cup

(

36

cl) red wine

1

vegetarian stock cube + 1 ½ cup (

36

cl) water***

1

bay leave

3

–

5

sprigs thyme

2

sprigs rosemary
Parsley, for serving, chopped
Instructions
Heat about 2 Tablespoons olive oil in a large pot placed over medium heat. Once hot, stir in half of the mushrooms and half of the pearl onions. Cook, until they are lightly brown on the bottom, then stir and cook on the other side. Season with salt and pepper. Using a slotted spoon, transfer the cooked mushrooms and onions to a shallow dish or plate, while cooking the remaining ones. Transfer the last batch to the same shallow dish, and set aside.
Reduce heat to medium low and add one more Tablespoon of olive oil in the pot. Add shallots, carrots, celery, and saute for about 5 minutes or until soften, stirring often. Add the minced garlic and saute for one more minute. If necessary, add a splash of olive oil, then stir in the tomato paste and the flour. Add the vegetable stock cube, wine, water, as well as the herbs (bay leaf, thyme and rosemary).
Add the reserved cooked mushrooms and pearl onions back to the pot and bring to a simmer. Partly cover the pot and simmer on low heat until carrots and onions are tender and the sauce has thickened, about 30-40 minutes. Add a little bit more water of stock if the sauce is too thick. Taste and adjust seasoning as needed, and remove the herbs from the pot.
Add fresh, chopped parsley over the pot, give a good stir, then serve the mushroom bourguignon with a side of mashed potatoes. Enjoy!
Notes
* If you don't have pearl onions, you can skip them in the recipe. Simply cook the mushrooms separately, and consider adding half an onion along with the shallot-carrot-celery mixture.
** If you are not strictly vegan, you may consider using a mix of butter and olive oil, for a maximum of flavors.
*** Or use 1 ½ cup vegetable stock if easier.
Keywords: Mushroom Bourguignon
Did you make this recipe?
Lastly, if you make this Mushroom Bourguignon, be sure to leave a comment and give this recipe a rating, letting me know how you liked it. And of course, don't forget to tag me on Instagram! Thank you and enjoy!