This simple vegan mango curry with tofu is bursting with fresh, fruity flavors and deep spices. Serve it together with rice and fresh cilantro.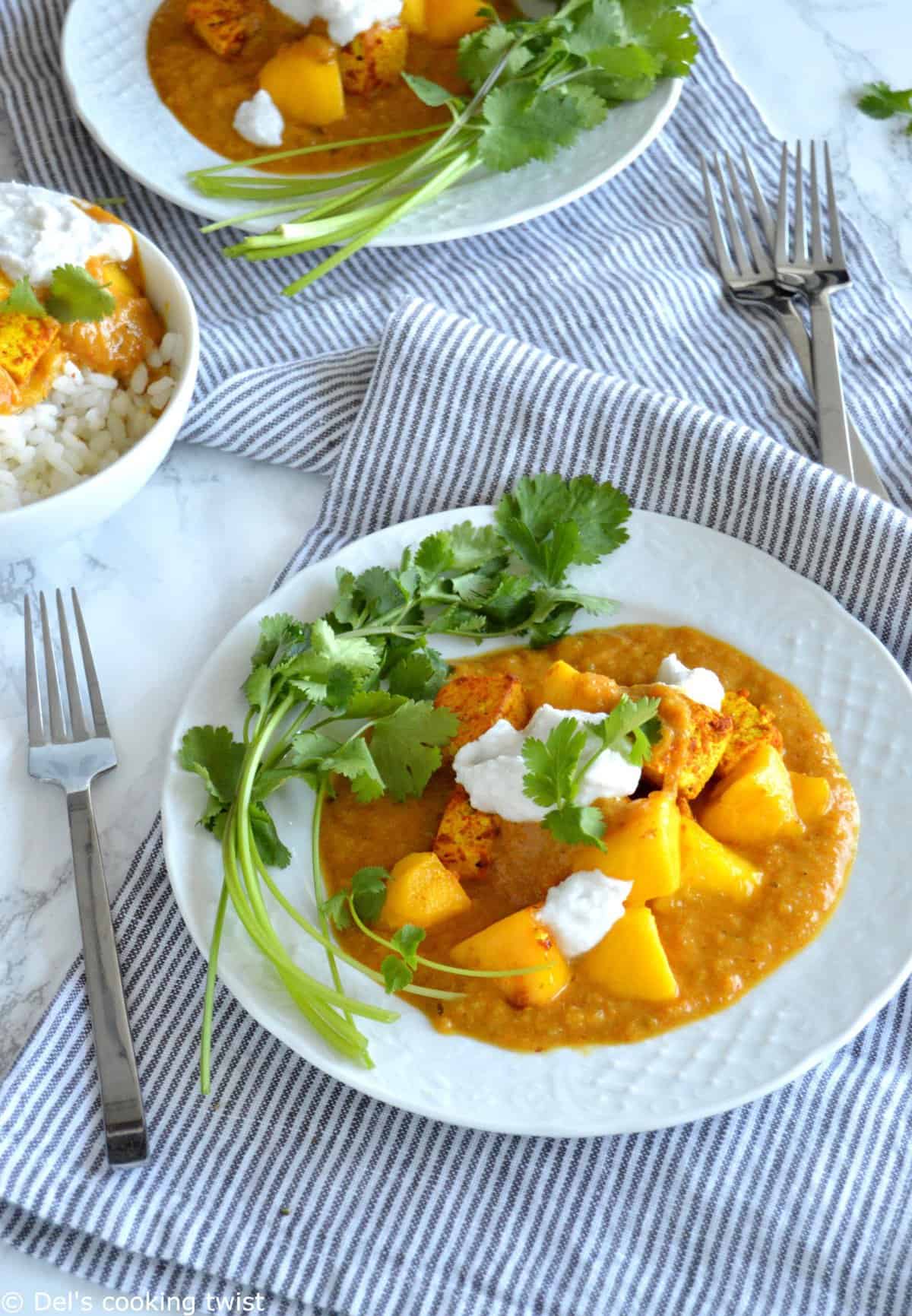 You know that I like plant-based recipes by taste and also because they enable us to reduce our meat intake. Whether you are vegetarian/vegan or not, plant-based recipes should always be part of your diet from time to tome, for both a better environment and health reasons. I crafted this new curry recipe for you here in an entire vegan version, but you can also adapt it and replace tofu with paneer cheese for a vegetarian version, or with chicken if you cannot imagine a dish without meat.
This curry recipe is probably the very first Indian-style recipe on the blog. I have made curries before, such as my vegan chickpea curry with cauliflower rice and my red lentil dahl with roasted pumpkin & hazelnut, but both of them are quite different – yet absolutely worth a try! Indian food is David's favorite food in the world and I love it too, but usually I enjoy it at the restaurant since I am not so familiar with the way to prepare it and it quite scares me a little bit I must admit. But I decided to change it, because I always like to challenge myself!
Being a sweet tooth by nature, I love sweet and savory flavors, and this is something we find often in Indian, Thai or Chinese food for instance. Curries are always a good way to play with flavors as they are also very forgiving. This time, I decided to add mangoes in my curry, as they are among my favorite exotic fruits and also because there are plenty of very ripe ones in the store close to where I live. For more inspiration with mango, go check my Thai salmon tacos with a mango-avocado salsa, my Salmon tartare with avocado and mango (an all time favorite on the blog), my Seared sea scallops with vanilla and mango for a fancy dish, or simply go for a mango smoothie or my favorite Raw coconut mango cheesecake. Well yes, I do love mangoes!
Coming back to this recipe, you will be surprised to know that it is extremely simple to make, and you can even play around with the proportions and spices you use, according to your tastes. This version is quite mild, but you could add some chili paste and even a little minced chili to make it a little bit more spicy if desired. The sauce is made with an onion-ginger-mango puree coated with curry and soak into some creamy coconut milk. It may seem advanced to you but it's not: all you need to do here is to mix all the ingredients in a food processor (first the onion-garlic-ginger, and in a separate bowl the mango). Transfer the onion mixture into a frying pan with oil, add the curry seasoning, the mango puree and the coconut milk, and simmer. For extra taste and texture, I also added one diced mango into the sauce.
On the side, you prepare the tofu, that you choose very firm: dice it into large chunks, season with the dry curry seasoning and then fry them into a heated frying pan until golden-brown on all sides. You can then add them to the sauce, stirring carefully until coated on all sides. If you go for tempeh or chicken instead of tofu, I recommend you proceed exactly the same way, seasoning the pieces with the curry spices before frying them. If however you go for paneer, you can simply add the pieces to the mango curry sauce straight away.
For extra taste, you can add some veggies into your curry, such as spinach or red bell pepper, diced. If so, cook them at the same time you cook the onion mixture, and before adding the spices and the sauce. When ready, garnish with fresh cilantro, and serve your curry with a side of white rice (flavored with cardamom if possible, it's always so tasty!), and some garlic naan on the side.
Print
Mango Curry Tofu (Vegan, Gluten Free)
Author:
Prep Time:

30 mins

Cook Time:

25 mins

Total Time:

55 mins

Yield:

4

servings

1

x
Category:

Savory

Cuisine:

Around the world
This simple mango curry with tofu is bursting with fresh, fruity flavors and deep spices. Serve it together with rice and fresh cilantro.
For the mango curry tofu:
1

block (200g) firm tofu

1 1/2 teaspoon

curry powder

1 teaspoon

paprika powder
Salt and Ground pepper, to taste

2 teaspoons

oil

1

white onion

1

-inch piece of fresh ginger, grated

3

cloves garlic, minced

1 1/2 teaspoon

chilli paste

1 teaspoon

garam masala

1/2 tsp

ground cumin

3/4 cup

(180ml) mango puree*

1

can (400g/14oz) coconut milk

1

fresh mango, diced
Salt, to taste
For serving:
Fresh cilantro
Coconut Yoghurt
Instructions
Chop the tofu into 1-inch cubes. In a bowl, blend the tofu cubes with curry powder, paprika, black pepper and salt.
Heat one teaspoon of oil in a frying pan and fry the tofu for 5-7 minutes, turning the pieces until they are golden brown on all sides. Take off the heat and set aside.
Place the onion, ginger and garlic into a food processor or blender, and blitz until you have a smooth puree.
Heat another large skillet with a teaspoon of oil and fry the puree with the chilli paste, garam masala and ground cumin for 10-15 minutes on a medium/high heat until most of the moisture is gone.
Add the mango puree, coconut milk, salt and stir so everything is combined. Bring to a simmer.
Add the tofu and stir in so it's coated with sauce.
Add the diced mango and simmer for another 5-10 minutes until the sauce is reduced and thick.
Serve with rice, fresh coriander and a drizzle of soy or coconut yoghurt.
Notes
*I blended 1 ripe mango in a food processor, it's very important that the mango is ripe, otherwise the curry will taste bland. If you can't find a ripe mango, you can use canned puree, just make sure that the only ingredient is mango/water (ie. no added sugars).
Did you make this recipe?
Lastly, if you make this Mango Curry Tofu (Vegan, Gluten Free), be sure to leave a comment and give this recipe a rating, letting me know how you liked it. And of course, don't forget to tag me on Instagram! Thank you and enjoy!