Rich, fudgy, with an intense chocolate flavor, these healthy chocolate avocado cookies are the answer to your chocolate cravings. They are prepared with mashed avocado instead of butter, are entirely dairy-free, refined sugar free and also available in a vegan version!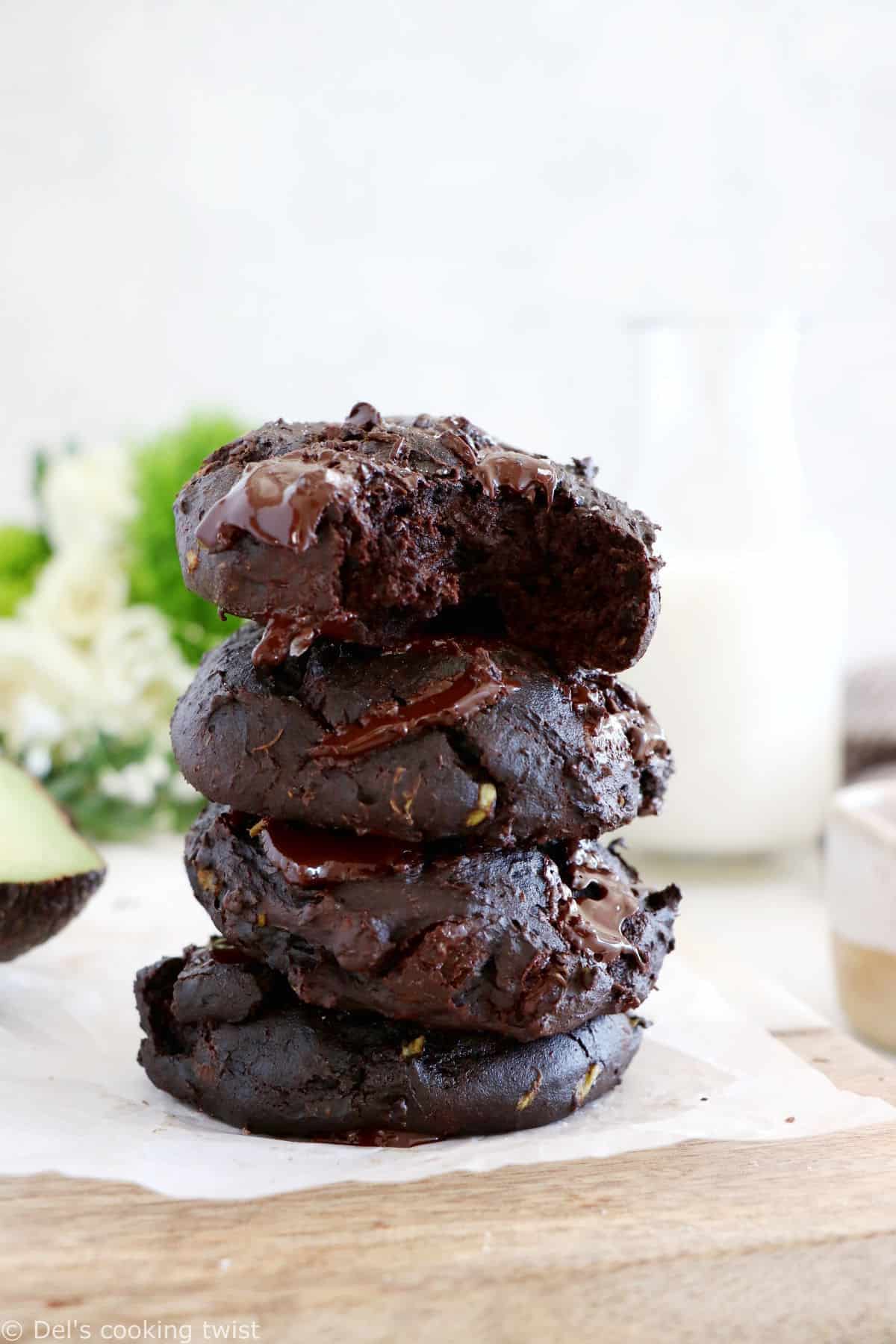 I developed an obsession around these cookies since the first time I made them. This was years ago and I've baked them countless times since then, this 5-star recipe has been tested and approved by many of you, with always the same success. It is a cookie recipe that is on the healthier side but that is guaranteed to never disappoint. Not a fan of adding veggies to your cookies? Be reassured, avocado is neutral in taste and you will never be able to guess the avocado flavor.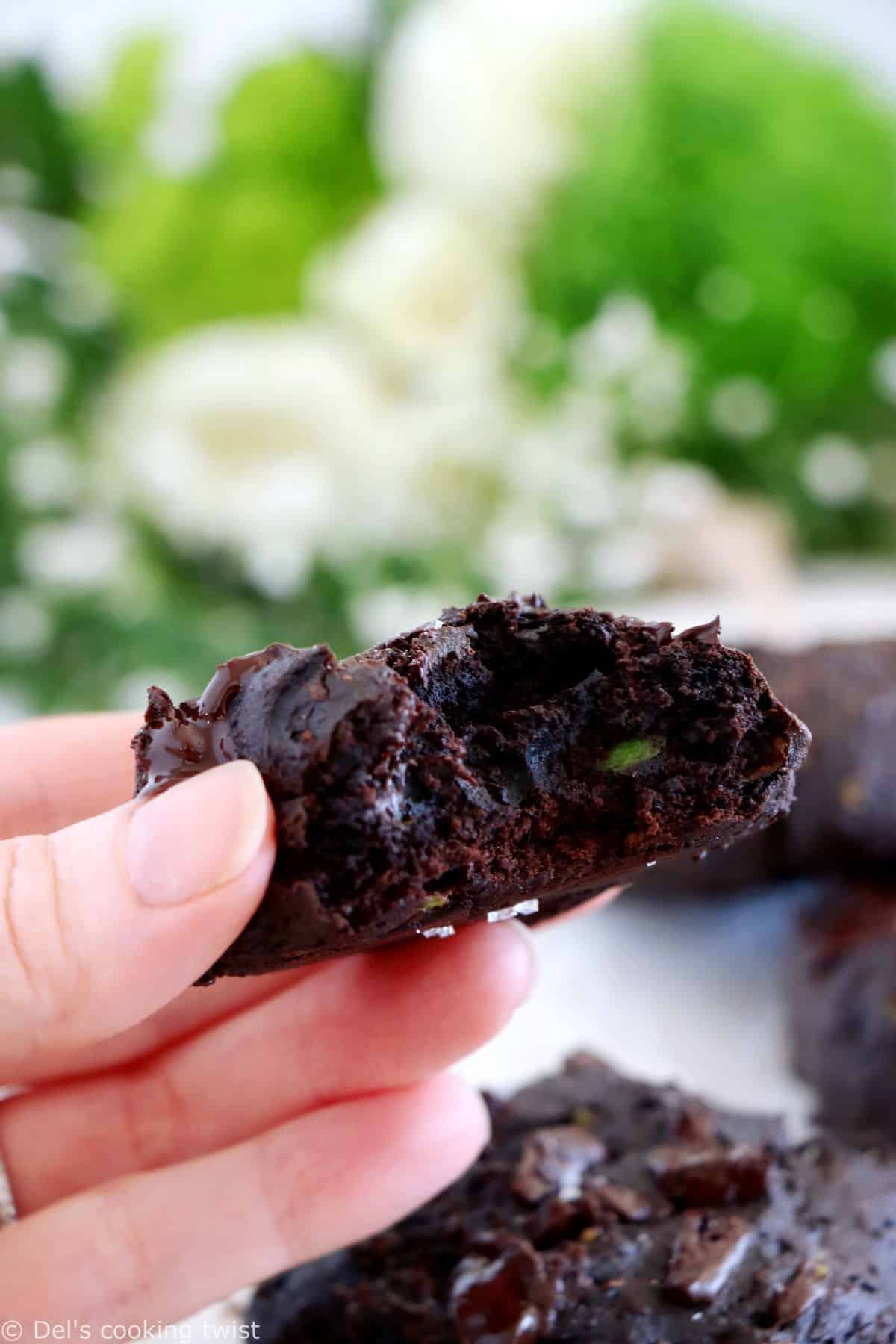 Instead, expect a cookie loaded with chocolate flavors, with a rich, soft and fudgy texture. It comes with a vegan version using a flaxseed egg instead of an egg, and this is actually my favorite option! Put it simply, these chocolate avocado cookies are the perfect guilt-free snack to have at hands when you've got a chocolate craving!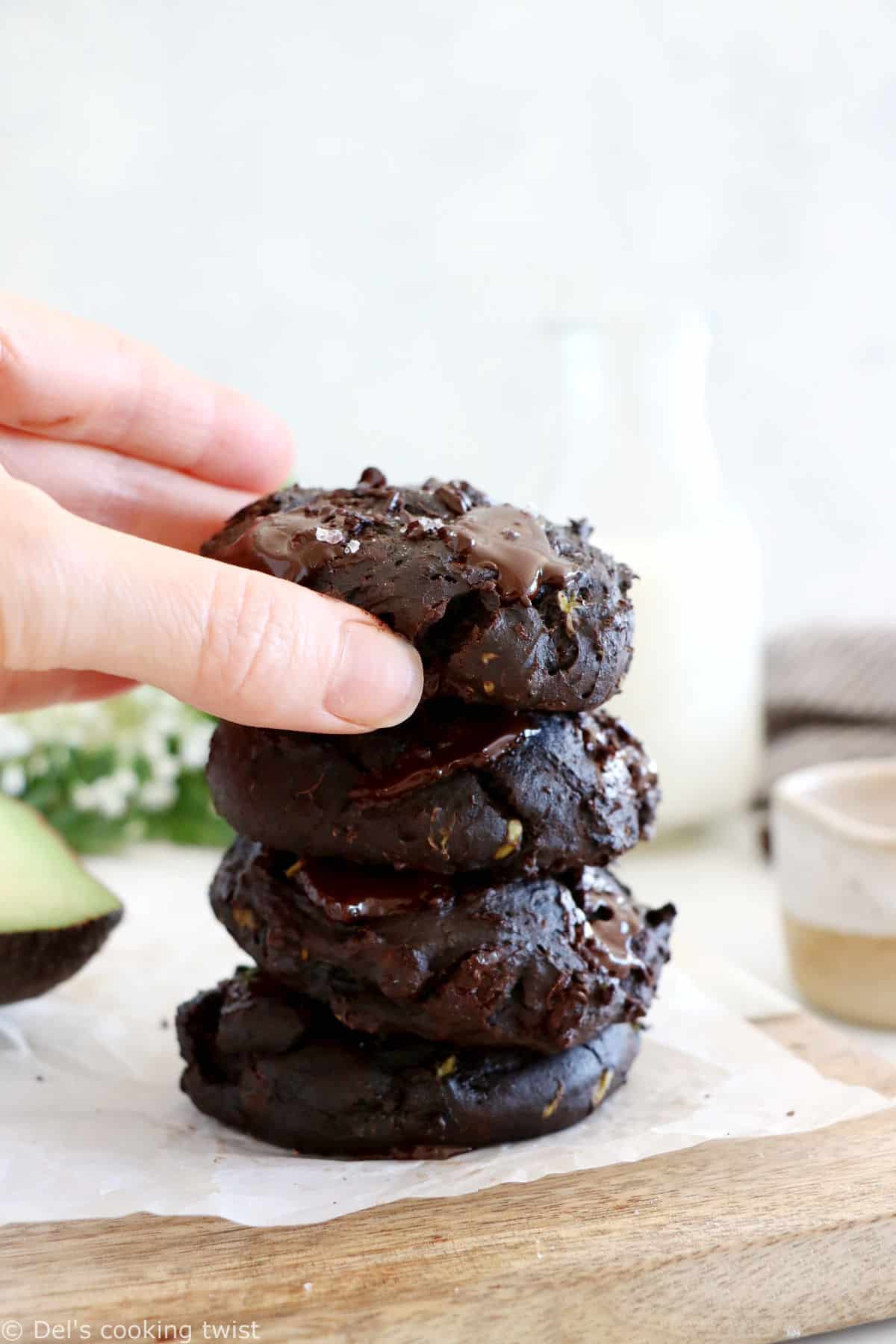 What goes into chocolate avocado cookies?
Avocado. The use of mashed avocado will replace butter or oil and make the cookies moist and tender in the center. You will need one medium avocado to make the cookies, or about 4 ounces (115g) mashed avocado.
Coconut sugar. The chocolate avocado cookies are naturally sweetened by the coconut palm sugar. It makes the cookies refined sugar free (but not sugar-free). It's possible to replace with light brown sugar instead, in a 1:1 ratio.
Egg (or vegan flaxseed egg). See below for more detailed instructions about the vegan version of the cookies.
Vanilla extract. It brings sweet notes to the cookies.
Unsweetened cocoa powder. This is what makes the cookies extra chocolatey! Make sure you use unsweetened cocoa powder (not sweetened).
All-purpose flour. You need a little bit of flour to stabilize the cookies so they do not spread out while baking.
Baking soda. This is the leavening agent used in the cookies, don't skip it and double check the expiration date before using.
Baking chocolate. I use 70% dark baking chocolate and chop it roughly before adding to the cookies. Alternatively, you can go for chocolate chips or chocolate chunks.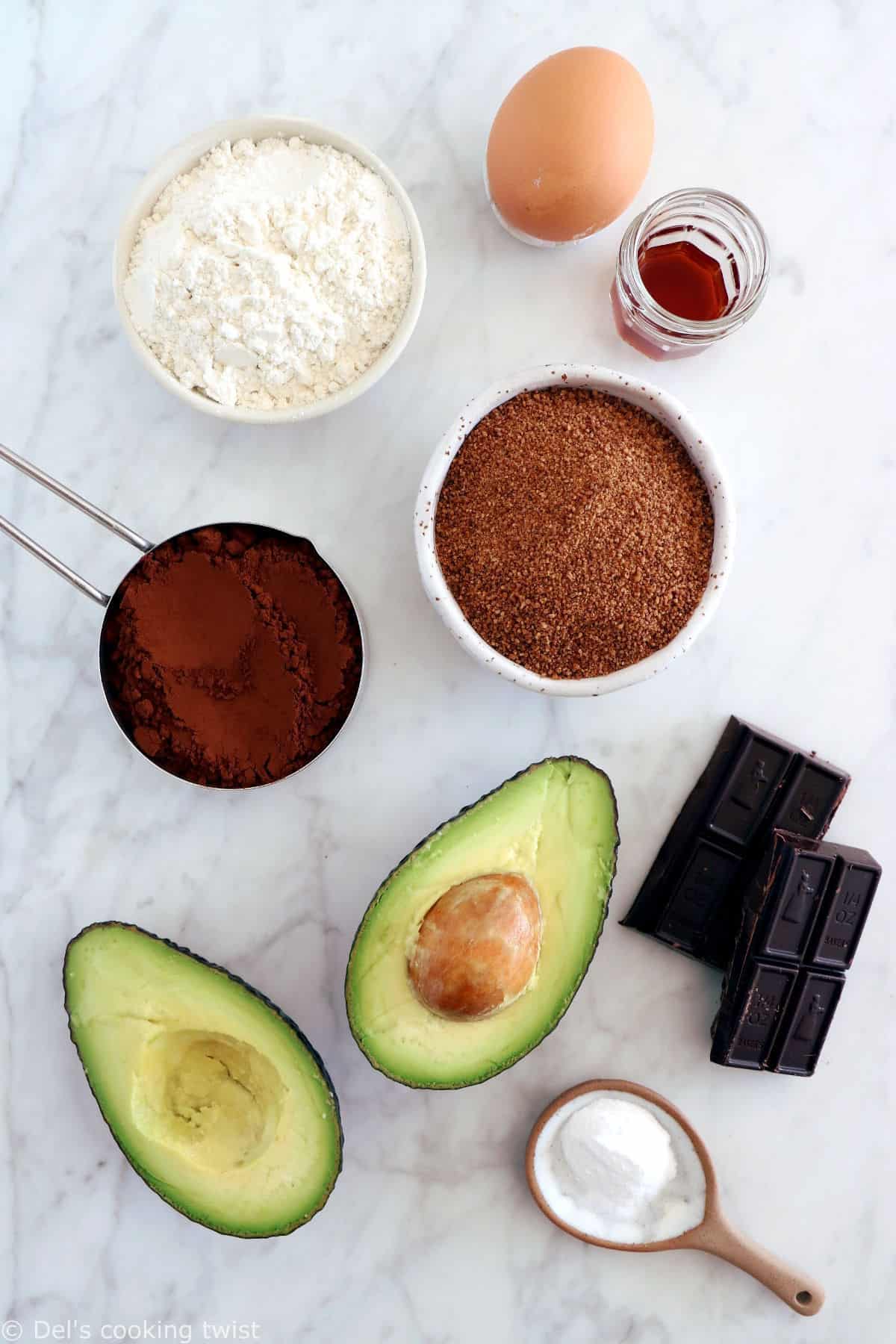 Why and how to use avocado in my cookies?
I'm a firm believer that a good cookie has to be done right. And yet, I do use avocado in my cookies! It may seem very unusual to you, but a single bite of these fudgy chocolate cookies will convince you.
Avocado is indeed a very good replacement to butter or oil, and makes the cookies super soft and fudgy in the center, as well as making them healthier too. Avocado is indeed loaded with monounsaturated fat that helps you lower your cholesterol, avocados also provide some important nutrient benefits, including intake of more potassium, vitamin K, vitamin E, fiber, magnesium.
How to use the avocado? I recommend you choose a ripe avocado, but in no way overripe or brown. You will then need to mash the avocado finely with a fork until no lumps remain (you do not want to have avocado chunks in your chocolate cookies!). Some would recommend the use of a food processor to blend the avocado, but I do not find it strictly necessary.
How much avocado should I use? You need one medium avocado, mashed. This is approximately 4 ounces (115g) avocado, once it's peeled and stoned.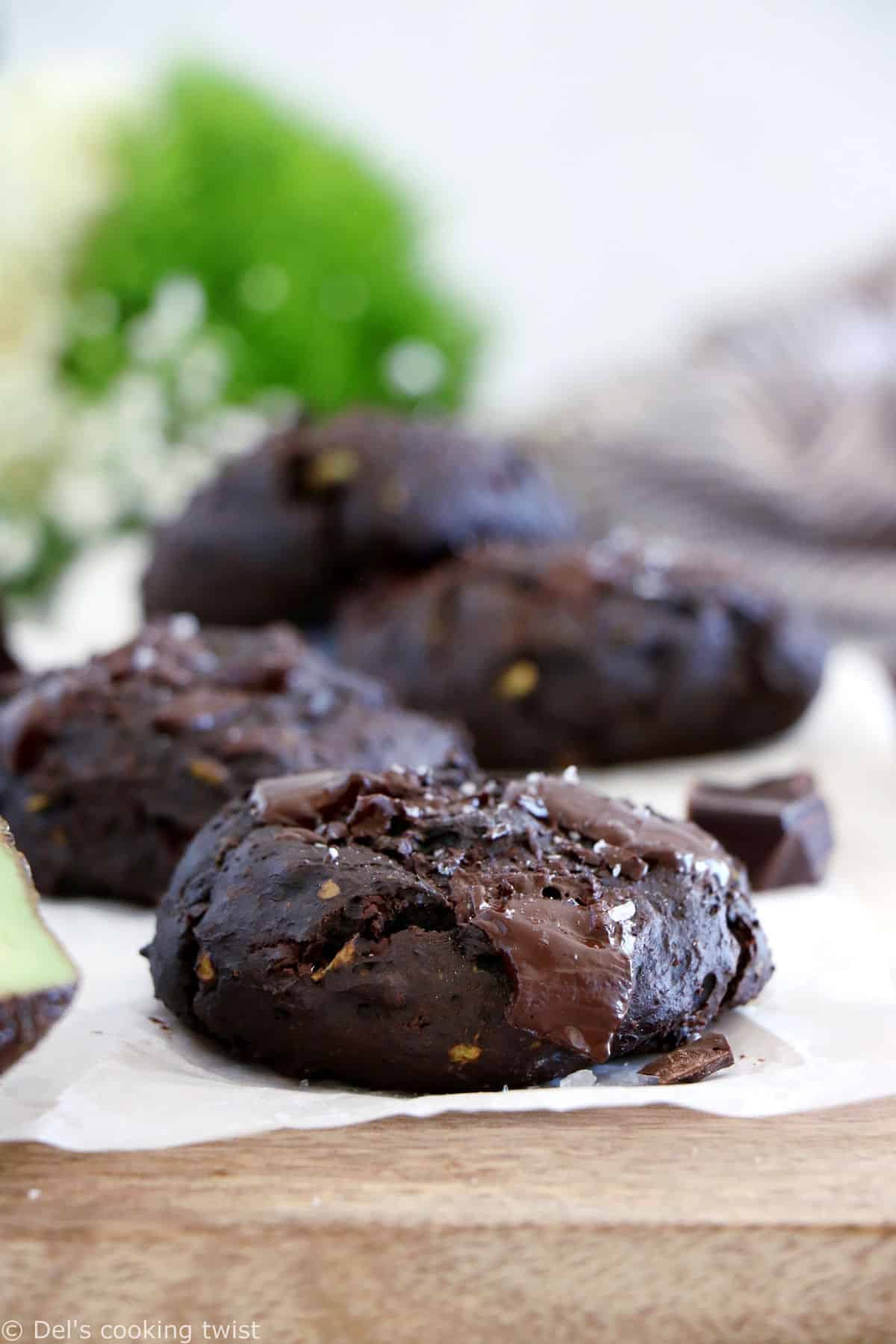 A healthier chocolate cookie
First of all, the use of mashed avocadoes instead of butter or oil makes the cookies loaded with healthy fats (i.e. exempt of saturated fat responsible for the "bad" cholesterol), and naturally dairy-free.
I also skipped refined sugar and went for coconut palm sugar, which is a natural sugary circulating fluid of the coconut plant with a much lower glycemic index in comparison with the regular sugar (GI of 35 against 60 for the regular sugar). It is also full of vitamins, minerals, and amino acids. Note however that the cookies are NOT sugar-free. The choice of unsweetened cocoa powder combined with a very small amount of dark baking chocolate also makes the cookies very low in sugar and loaded with fiber.
Last but not least, you have the option to make the cookies vegan using a flaxseed egg (see below for more details), which will increase the fiber content and make them basically cholesterol-free.
The vegan version explained!
The egg usually acts as a binding agent in a baking recipe and is as such very important in the final texture of your baked goods. For this cookie recipe, I created two versions: one using an egg, and one prepared with a so-called "vegan flaxseed egg". Using flax seeds is my favorite egg replacement in baked goods; it brings moisture and tenderness while still binding the ingredients together nicely.
In these chocolate avocado cookies, both the original version with an egg and the plant-based version with a flaxseed egg work perfectly. The last one tends to be a little softer in texture and remains my personal favorite!
How to create a flaxseed egg?
Simply combine 1 Tablespoon ground flaxseed (I insist, ground, NOT seeds) with 3 Tablespoons water in a small bowl, and let sit for about 5 minutes. When the texture is slightly gooey and resembling the texture of an egg, your flaxseed egg is ready to use!


Tips for success and substitute ingredients
Coconut sugar vs sugar. If you do not mind the use of refined sugar, you can replace coconut sugar with light or dark brown sugar. I prefer light brown sugar as the cookies are already really dark in color. Stay away from granulated sugar though, or you will end up with dry cookies.
Cocoa powder. Make sure the cocoa is smooth and not lumpy when using. If necessary, you can sift it once before using.
Flatten the cookies slightly before baking. I also like to drop extra chocolate chunks with chocolate scraps that comes with it on top of the cookies just before baking. This will creates nice ponds of chocolate.
Do not overbake the cookies. The cookies should be slightly underdone to the touch when removing from the oven. Let them sit on the cookie sheet for additional minutes, then transfer to a cooling rack. This is the best way to have a soft, fudgy and chocolatey texture inside.
A few other healthy sweet treats to snack on:
More healthy chocolate desserts: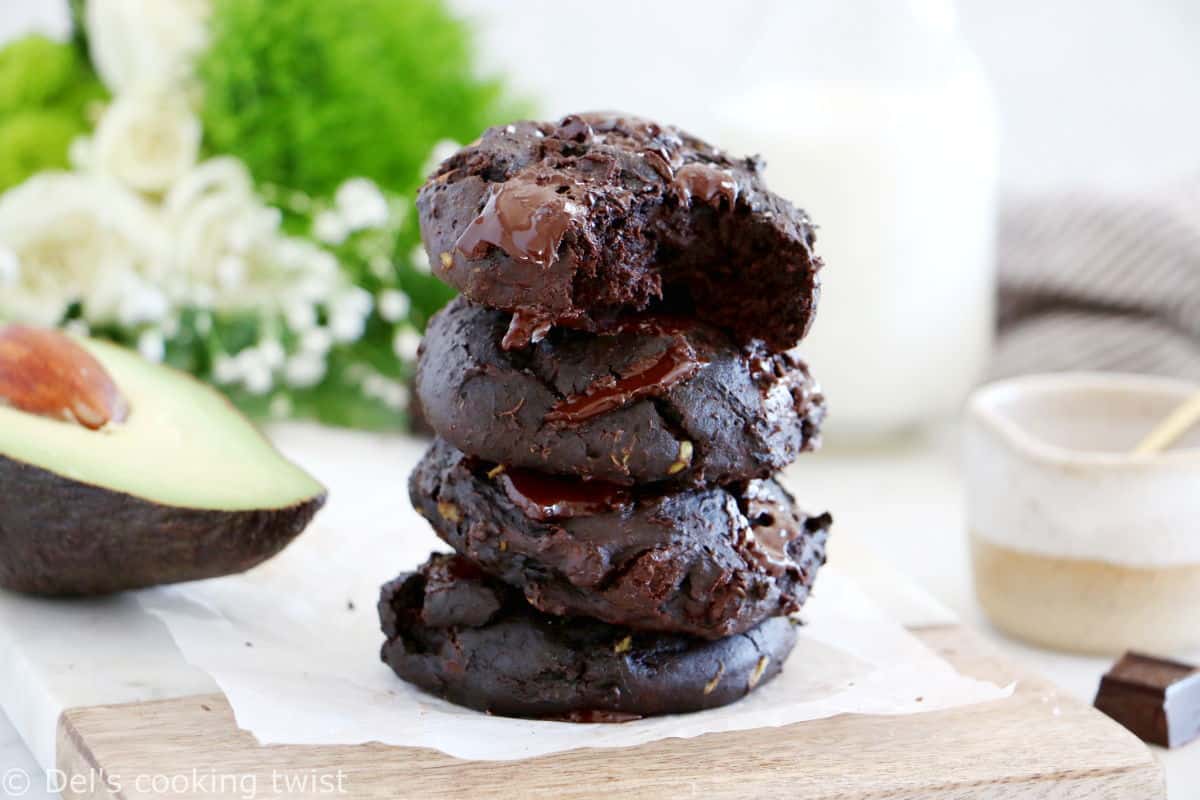 Lastly, if you make these healthy chocolate avocado cookies, be sure to leave a comment and/or give this recipe a rating, letting me know how you liked it. And of course, don't forget to tag me on Instagram! Thank you and enjoy!
Print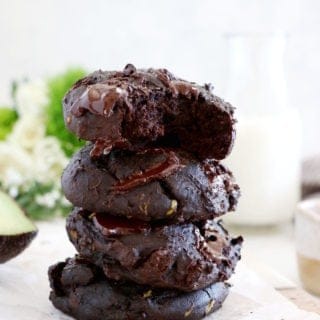 Healthy Double Chocolate Avocado Cookies (sugar and dairy free + a vegan version)
Author:

Prep Time:

15 mins

Cook Time:

8 mins

Total Time:

23 mins

Yield:

8

cookies

1

x

Category:

Cookies and Bars

Diet:

Vegan
---
Description
Whenever you have a chocolate craving, these healthy chocolate avocado cookies are the answer. Sugar and dairy free, they are also available in a vegan version!
---
1

ripe avocado, finely mashed*

½ cup

(

100g

) coconut palm sugar**

1

egg (for the vegan version, see my notes below***)

½ teaspoon

vanilla extract

½ cup

(

50g

) dark cocoa powder, unsweetened

⅓ cup

(

40g

) flour

½ teaspoon

baking soda

2 ounces

(

60 g

) 70% dark chocolate, roughly chopped****
---
Instructions
Preheat the oven to 350°F (150°C) and line a large cookie sheet with parchment paper. Set aside.
Combine the finely mashed avocado, coconut palm sugar, egg (or for vegan version with flaxseed prepared as instructed in notes below***), and vanilla extract in a medium-sized bowl.
In a separate bowl, whisk together the cocoa powder, flour, and baking soda.
Mix together the wet and dry ingredients until just combined, then gently stir in the dark chocolate pieces****.
Using a small ice cream scoop or a spoon, add one heaping Tablespoon of dough onto the prepared baking sheet. Flatten the top a little bit and add a few more chocolate pieces on top if desired.
Bake for 8-10 minutes or until the top has set (don't over-bake!). Remove from the oven, let cool for a few minutes on the baking tray, then transfer to a cooling rack to cool completely. Enjoy!
Notes
* Avocado. You will need 1 medium avocado, or approx. 4 ounces (115g) mashed avocado. Make sure it is mashed very finely with a fork.
** Coconut palm sugar can be replaced by light brown sugar. Do not use granulated sugar in this recipe.
*** VEGAN VERSION. For the vegan version, combine 1 tablespoon of ground flaxseed and mix with 3 tablespoons of water. Mix well and set aside for about 10 minutes to thicken before using it.
**** Dark chocolate. Instead of using 70% dark chocolate, chopped roughly into pieces using a large knife, you can use chocolate chips or chocolate chunks.
Keywords: Chocolate Avocado Cookies