Thick and fluffy, these Greek yogurt blueberry pancakes are bursting with juicy flavors. The ultimate treat to indulge for breakfast in the weekend.
Let's kick off the weekend with some pancakes! A sweet morning breakfast is always my number one motivation to wake up in the weekend, and especially when a comfort treat awaits. It's time to relax, to reconnect with ourselves and take the time to enjoy simple pleasures. A lovely breakfast table with flowers and freshly made treats is my way to.
We are of course all different with our own priorities in life, and some of you will prefer a full workout on a Saturday or Sunday morning, often followed by a healthy smoothie or breakfast. If so, keep the pancakes for later; there is no wrong time for pancakes anyway. I could also have some for lunch, dinner or any other time of the day- maybe it happens to you sometimes?
With summer moving forward and August already halfway through (actually even touching to en end), it's the full season of blueberries right now and the best time to eat them fresh. As explained in a previous post in which I shared my Blueberry Pie, I noticed that the American blueberries are much larger than the ones from Europe, and the taste is also slightly different, the little ones being more juicy. As a result, you might need to adapt the quantities of blueberries in your pancakes depending on the ones you use.
Pancakes with blueberries… Do you have some, from time to time, or do you stick to a basic plain pancake recipe most of the time if not always? With no surprise coming from me, I like to vary recipes based on my mood. The plain pancakes are probably the recipe I do the most often, followed by the blueberry one and right after the quick oatmeal banana blender pancakes. Then come the ones for special occasions, including my savory pancake recipe I really need to share with you some day!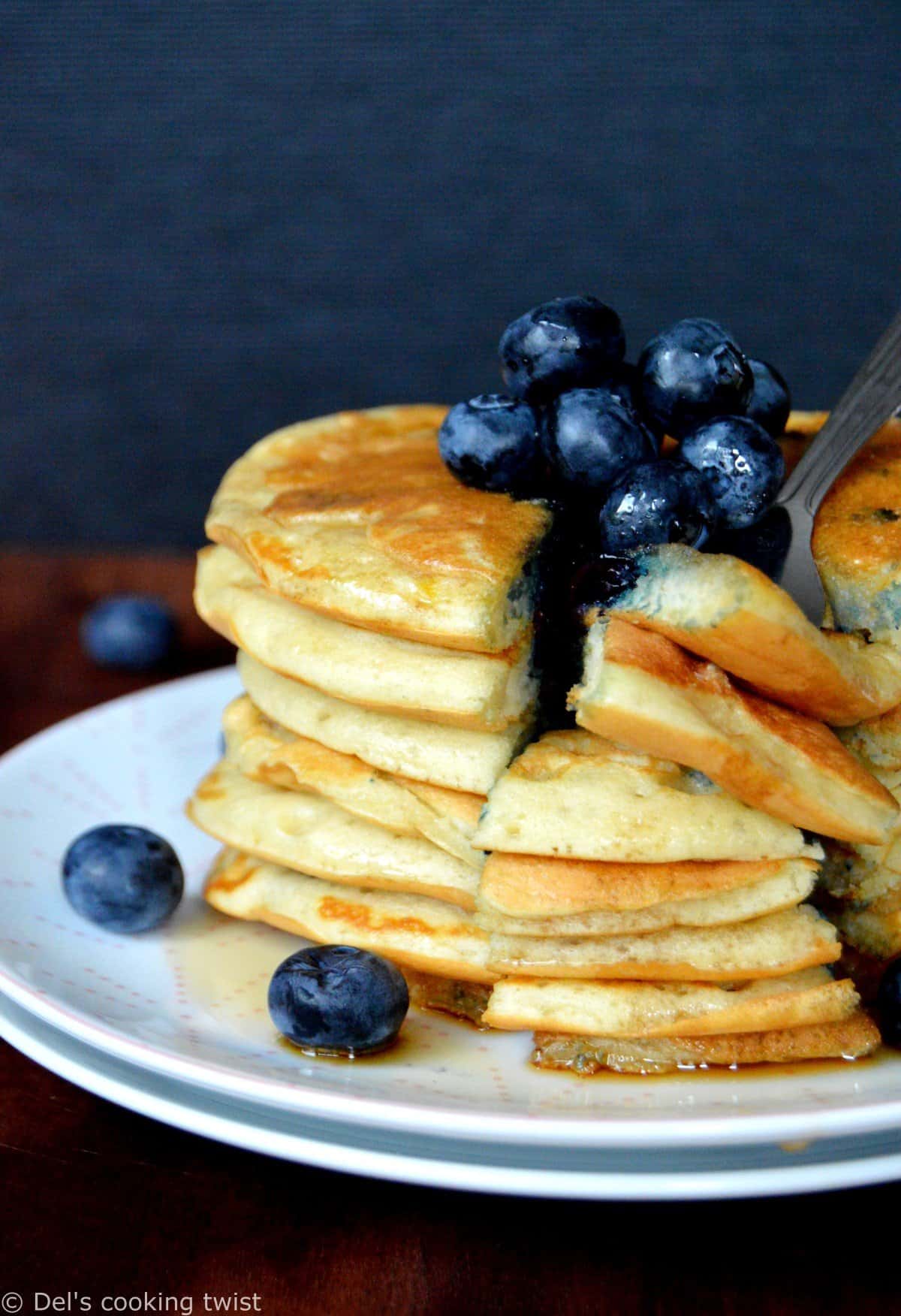 My other pancakes recipes you might also like:
I have 3 ways to make blueberry pancakes. The first one is to simply add some blueberries to my classic plain pancake recipe, the second one is to use my Hermann sourdough starter to make pancakes (I will tell you about this Hermann starter some day, it's incredible!), and the third one is the one you have in front of you today, made with Greek yogurt. I like the addition of Greek yogurt to the pancakes batter as it makes them moist and fluffy as the same time. For better results, try to use a plain natural yogurt, unsweetened and full-fat. If your yogurt is sweetened already, just skip the sugar in the pancakes batter and it should be all fine. Remember in any case that we do not need to much sugar in the recipe anyway since 1/ blueberries are slightly sweetened too; and 2/ you will serve your pancakes with maple syrup.
For the rest, you will notice that there is nothing difficult in this recipe that will only take you a few minutes to prepare. You just need plain and basic ingredients you certainly all have at home on a regular basis anyway, so you don't even need to go shopping to the nearest grocery store to get the ingredients at the last minute. Flour, baking powder and soda, milk, egg, lemon zest if you have… Easy.
When it comes to the blueberries, you can either add them to the batter and stir well to make sure they spread evenly, or add them while cooking. This is usually the way I do, just because I want to make sure I have regular pancakes with lots of blueberries on each of them, and not some with plenty of blueberries and others with almost nothing. I also find it kind of fun, but again, I love cooking and find it recreating, so don't feel obliged to take extra time and effort to do it if you don't feel like it. In any case, be careful not to burst the fresh blueberries in the batter or it will give a blue-greenish color that is not so enticing. Serve your pancakes with slivered almonds if desired and generously drizzle some maple syrup on top. Good morning, beautiful!
Print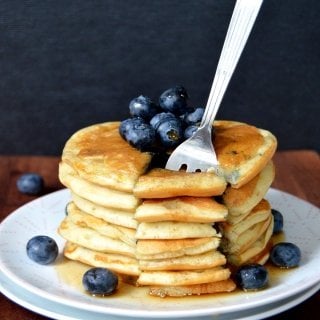 Fluffy Greek Yogurt Blueberry Pancakes
Author:

Prep Time:

10 mins

Cook Time:

15 mins

Total Time:

25 mins

Yield:

8

servings

1

x

Category:

Breakfast

Cuisine:

American recipes
---
Description
Thick and fluffy, these Greek yogurt blueberry pancakes are bursting with juicy flavors. The ultimate treat to indulge for breakfast in the weekend.
---
1 cup

(

120g

) all-purpose flour

½ teaspoon

baking powder

½ teaspoon

baking soda

2 Tablespoon

granulated sugar

1/2

lemon, zest only

¾ cup

(

210g

) Greek yogurt

¼ cup

(

60

ml) milk

1

large egg

1 cup

(

150g

) fresh blueberries
Vegetable oil, for cooking
Maple syrup, to serve
---
Instructions
In a small bowl, combine flour, baking powder, baking soda, sugar and lemon zest. Set aside.
In a large bowl, whisk together yogurt and milk. Add the egg and mix until smooth.
Combine wet and dry ingredients, then gently fold in the blueberries with a rubber spatula.
Heat a frying pan over medium heat and grease with oil or cooking spray. Cook ¼ cup pancake portions for about 2 minutes on the first side, or until the edge is set and the bottom is golden. Flip and cook for 1 minute on the other side. Repeat with the remaining batter. Serve warm with maple syrup.
---