A delicious ice cream ready in 5 minutes and prepared with only two ingredients, this is exactly what we yearn for this Summer!
I never equiped myself with an ice cream maker and i still don't plan to buy one in a near future. Somehow, it appears to me as a useless tool at the moment since we can also make ice cream by hand. So let's focus on exploring all the handmade ice cream possibilities first!
For this one, I have been inspired by Cooking Mumu's recipe, right after I found a stunning picture on Pinterest (beautiful food pictures are mandatory to inspire me). I checked the recipe and immediately loved the idea: only two main ingredients, an electric mixer, and the topping of your choice. How easy can it be, right?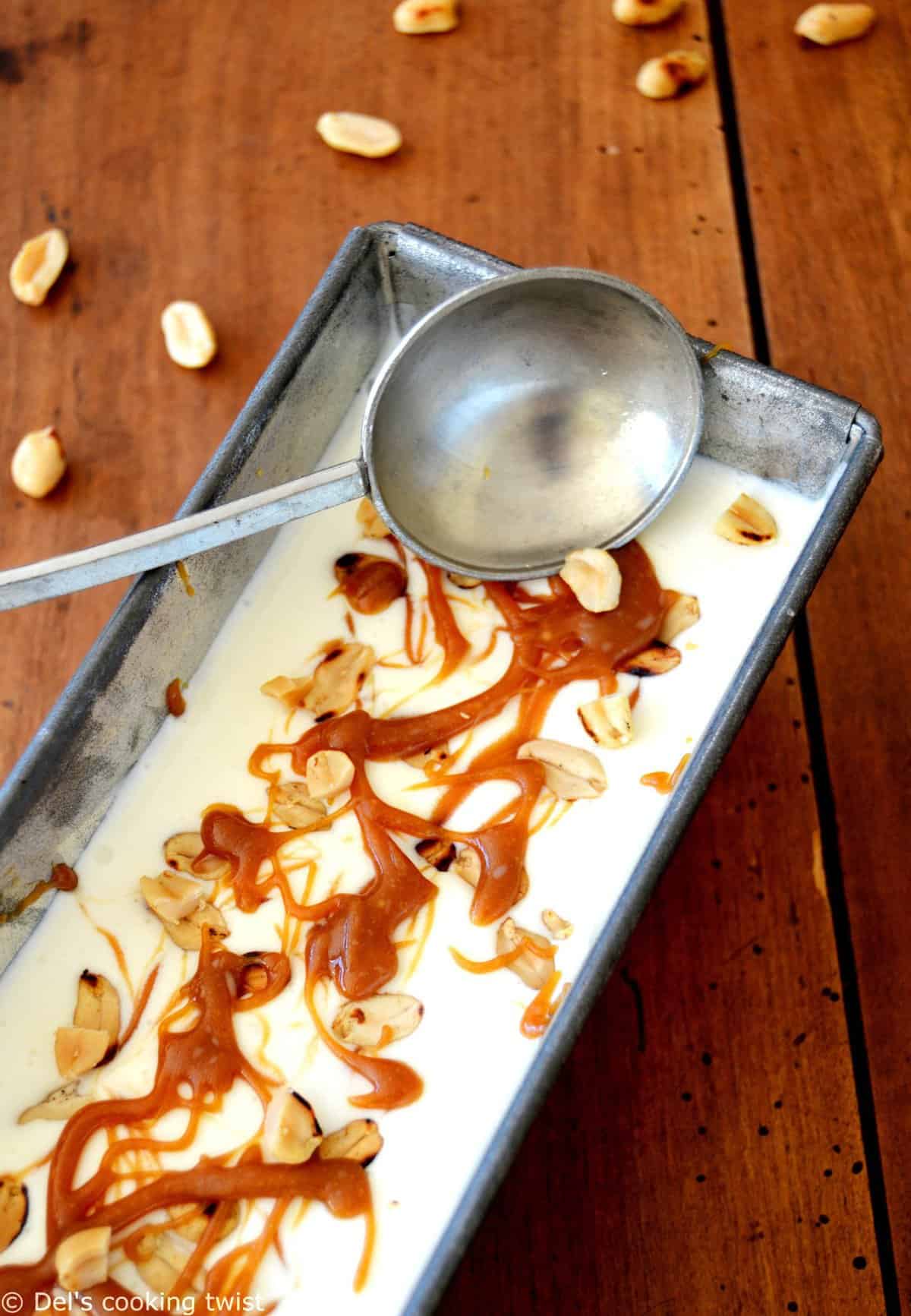 As I was at my family in law's place by the seaside last week, I had at my disposal a quite unequipped kitchen (compare to what I'm used to at home), with the minimum you need and nothing for baking. Quite a challenge for me, but nothing can stop me when it comes to baking!
As my nephews and nieces were there, I had the perfect excuse for all kind of culinary experiments I had in mind. I really love baking with kids, and each time I have the occasion, I try to involve them in my culinary projects (Swedish cinnamon buns "kanelbullar" as you can see on the little video, but also milk and cookie cups, a very fun project). Last week, we made together two giant pizzas with topping of their choice, chocolate chip cookies, and I prepared this delicious ice cream for them.
If you have an urgent craving for ice cream, go for this one. It's a very easy recipe: condensed milk and whipped cream are all you need. In the kitchen I had at my disposal, there was no electric mixer and not even a whisk. I confess here that I bought a whisk to help me whipping the cream (it took extra time and muscles, but I managed)!
Once you whipped the cream and added the condensed milk, you can use the topping of your choice. We could imagine a berry compote for instance, and even some entire berries that you would deep into the ice cream (raspberries or blackberry for instance). Or like me make it "gourmande" as Mumu did, and top with salted caramel and toasted peanuts. To die for!
When I served it for my family, several of the kids told me they didn't want any, arguing they were not fond of caramel. I didn't really mind (No like ice cream? Then it's more for me, ha!). I invited them to taste just a little of the ice cream. Not only they ate it all but they also asked for some more straight away and finished the entire ice cream! Great, since this kind of ice cream melts quite quickly, so it's good not to wait too long before eating it up.
In the recipe I used half sweetened condensed milk and half unsweetened, since I didn't want to have it too sweet, but you can go gor sweetened condensed milk only, depending on your taste. For the topping, I used salted caramel that I had received in my box Les Délices Francais and it worked very well. You can also make your own one if you wish. Also for the peanuts, I chose some unsalted ones, and toasted them for extra taste.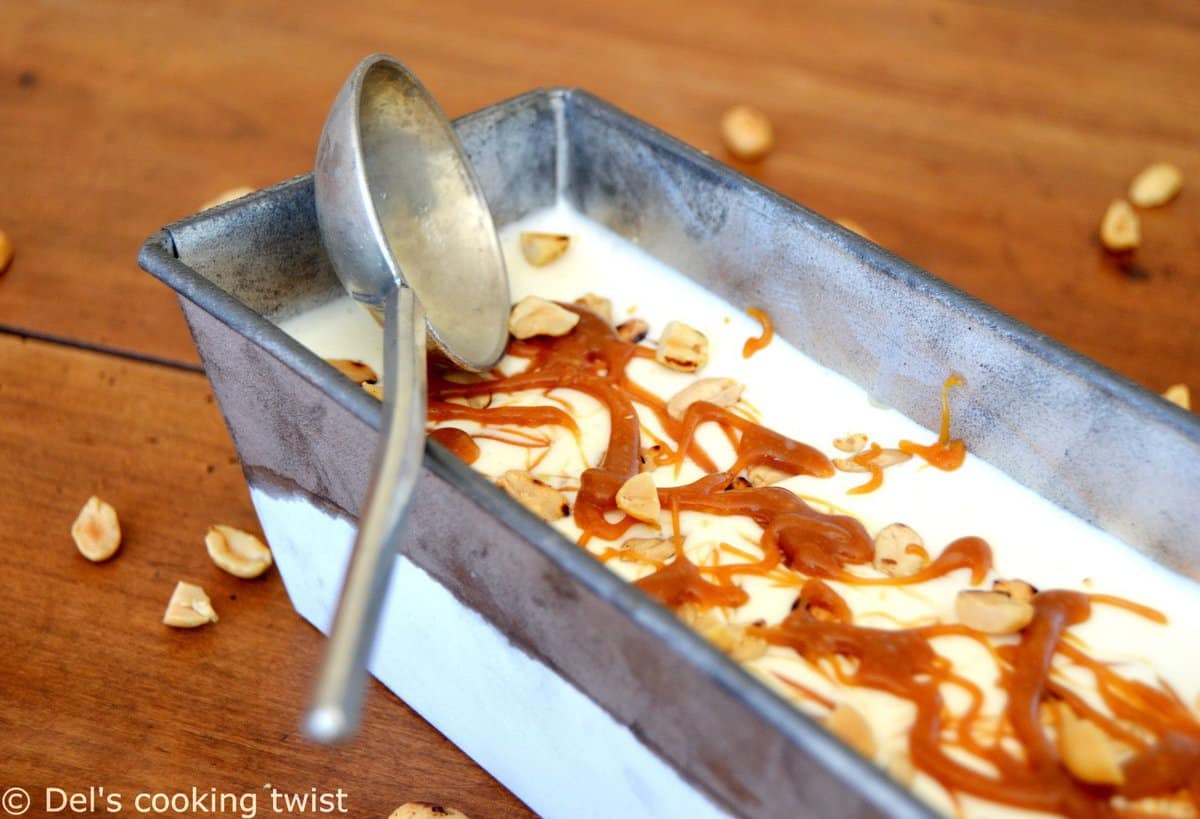 This ice cream is just the perfect decadent dessert for this summer and you will make both kids and adults crazy about it. Give it a try!
Print
Easy Homemade Salted Caramel Ice Cream
Author:

Prep Time:

5 mins

Total Time:

5 mins

Yield:

8

-

10

servings

1

x

Category:

Dessert
---
Description
A delicious ice cream ready in 5 minutes and prepared with only two ingredients, this is exactly what we yearn for this Summer!
---
1 1/2 cup

(

36

cl) full cream milk, liquid

1 1/2 cup

(

36

cl) sweetened condensed milk*
Salted Caramel
Toasted peanuts, unsalted
---
Instructions
Whip the full cream milk (use it very cold) until it turns into whipped cream.
Add in the condensed milk with a rubber spatula and blend gently until entirely incorpored to the cream. Pour into a form of your choice, deep enough.
Dip in the topping of your choice, here salted caramel and peanuts. If you use regular unsalted peanuts, just toast them in the oven on the grill position for about 10-15 minutes, turning them every 2-3 minutes to prevent from burning. Let cool before using.
Store in the freezer for at least 3 hours before serving.
---
Notes
* You can also use half sweetened condensed milk and half unsweetened condensed milk