Wake up to the so-called "pains aux raisins"! These easy raisin brioches filled with vanilla pastry cream are a reminiscence of my childhood in France.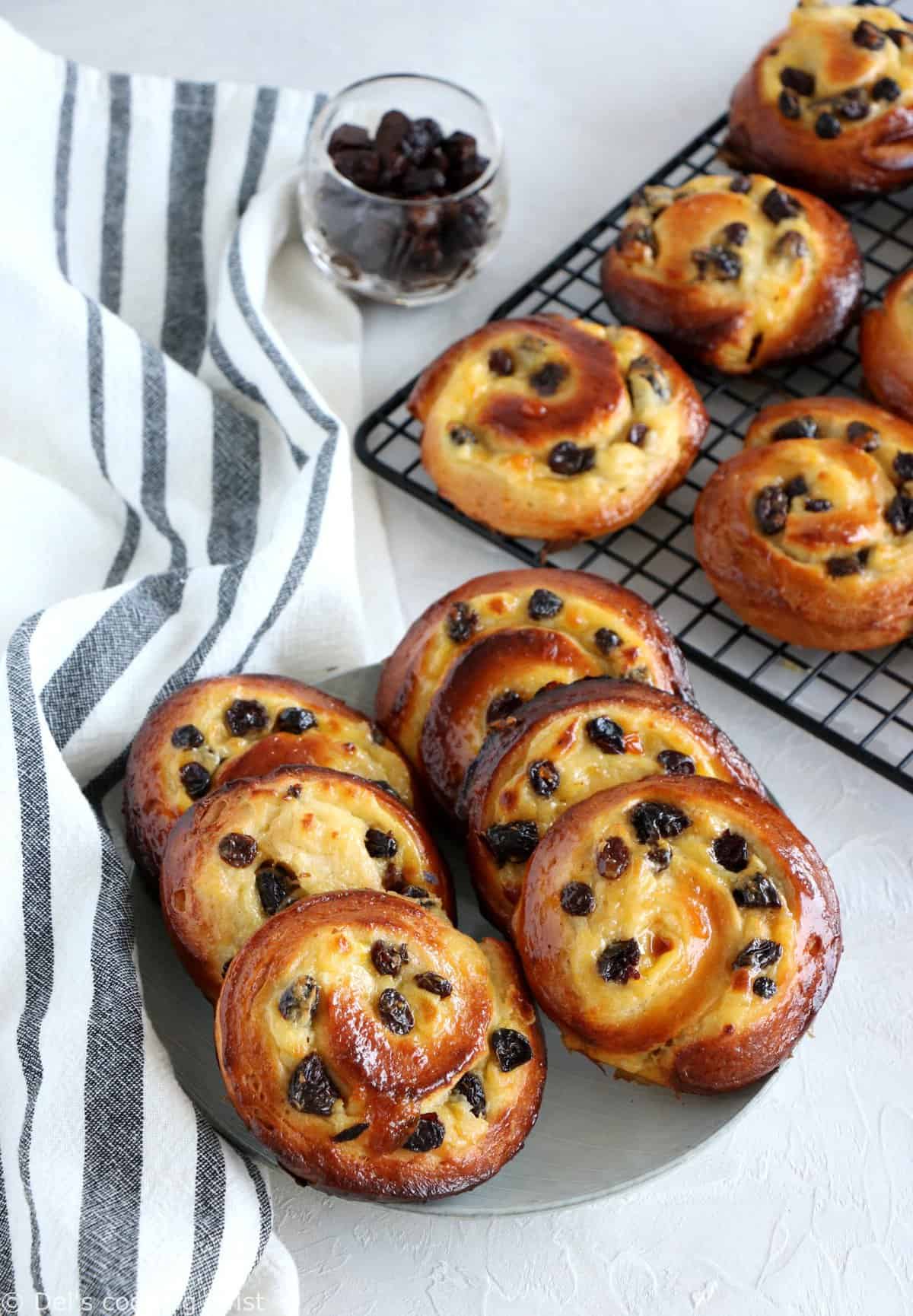 If you ever visited Paris before, pains aux raisins are no secret to you, and you probably have memories of them coming along with croissants and pains au chocolat in the morning bread breakfast that arrives when you order breakfast. I grew up in France, lived in Paris, and also have my part of sweet memories around pains aux raisins and high expectations when it comes to how I like them.
One of my dearest and craziest dear memory around these lovely buns brings me back to more than 10 years ago, when I lived in Quartier Latin in Paris (I was so lucky to live there!). After a long night partying in a prestigious high school gala right outside Paris, I came back early in the morning together with a bunch of friends. As we were all heading to my tiny home under the rising sun (this is where you need to sing "Il est 5 heures, Paris s'éveille !"), all dressed up with our gala dresses and suits for men, we went down the streets and made a stop at my favorite bakery, buying some fresh pains aux raisins, that we later ate at my place. Still today, I can remember their soft and sweet taste.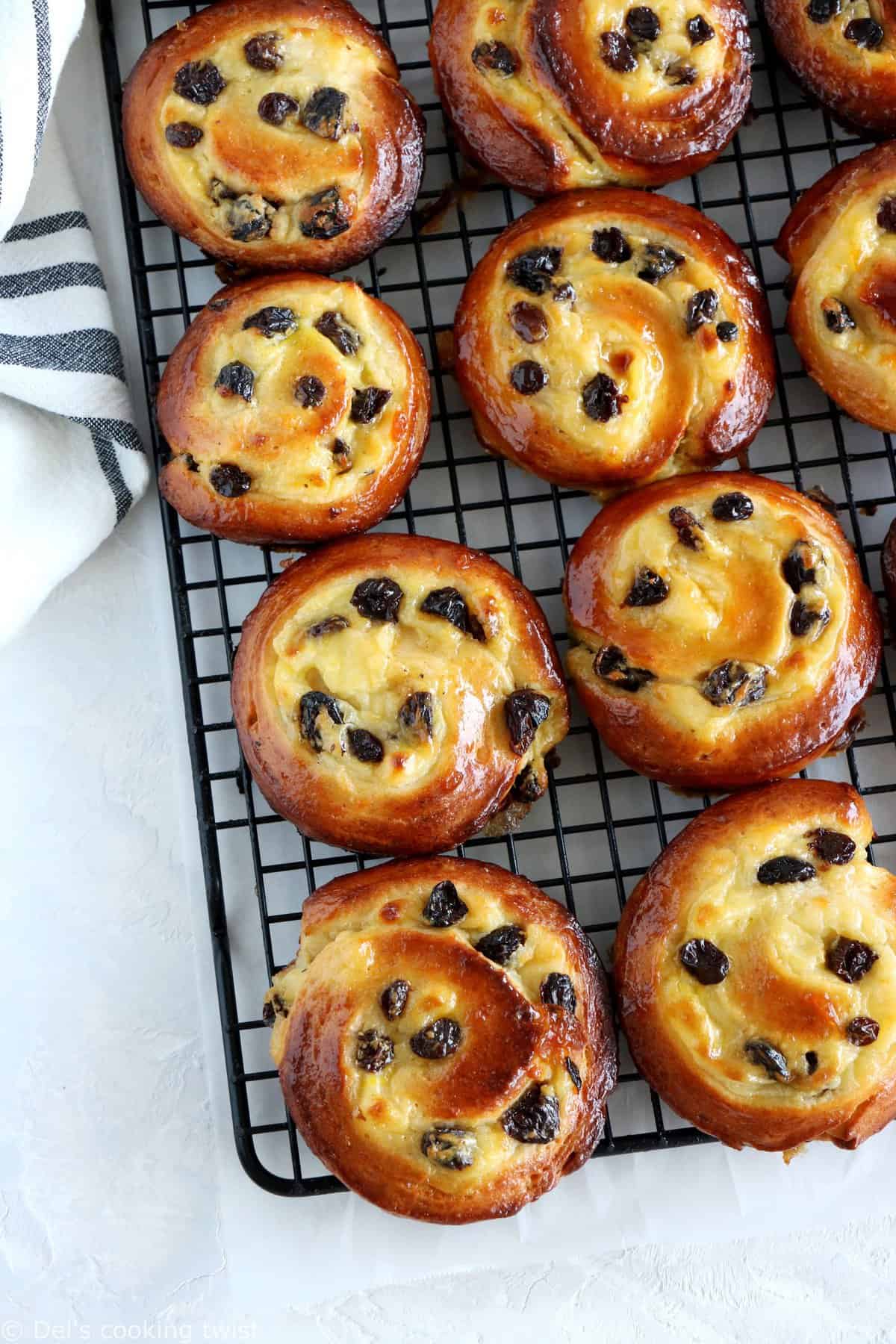 I do not remember the name of this bakery rue Monge (if you live in Paris, I know I'm not helping as there are many bakeries in this street) but I know for sure that they were my all time favorite. This is when starts my quick analyze about pains aux raisins. There are indeed two schools, one using a puff pastry or to be more exact a leavened puff pastry dough, and the second one using a brioche dough, which is of course completely different in terms of results but also in the baking process.
The use of a puff pastry requires a little bit more technique and takes longer too. If you are curious, you can have a look at my detailed step-by-step puff pastry guide that I created earlier this year. Luckily, I have always preferred the other version, which is made with a brioche dough instead. I say luckily because it is a much easier and quicker technique that is approachable by everyone, baking beginners included.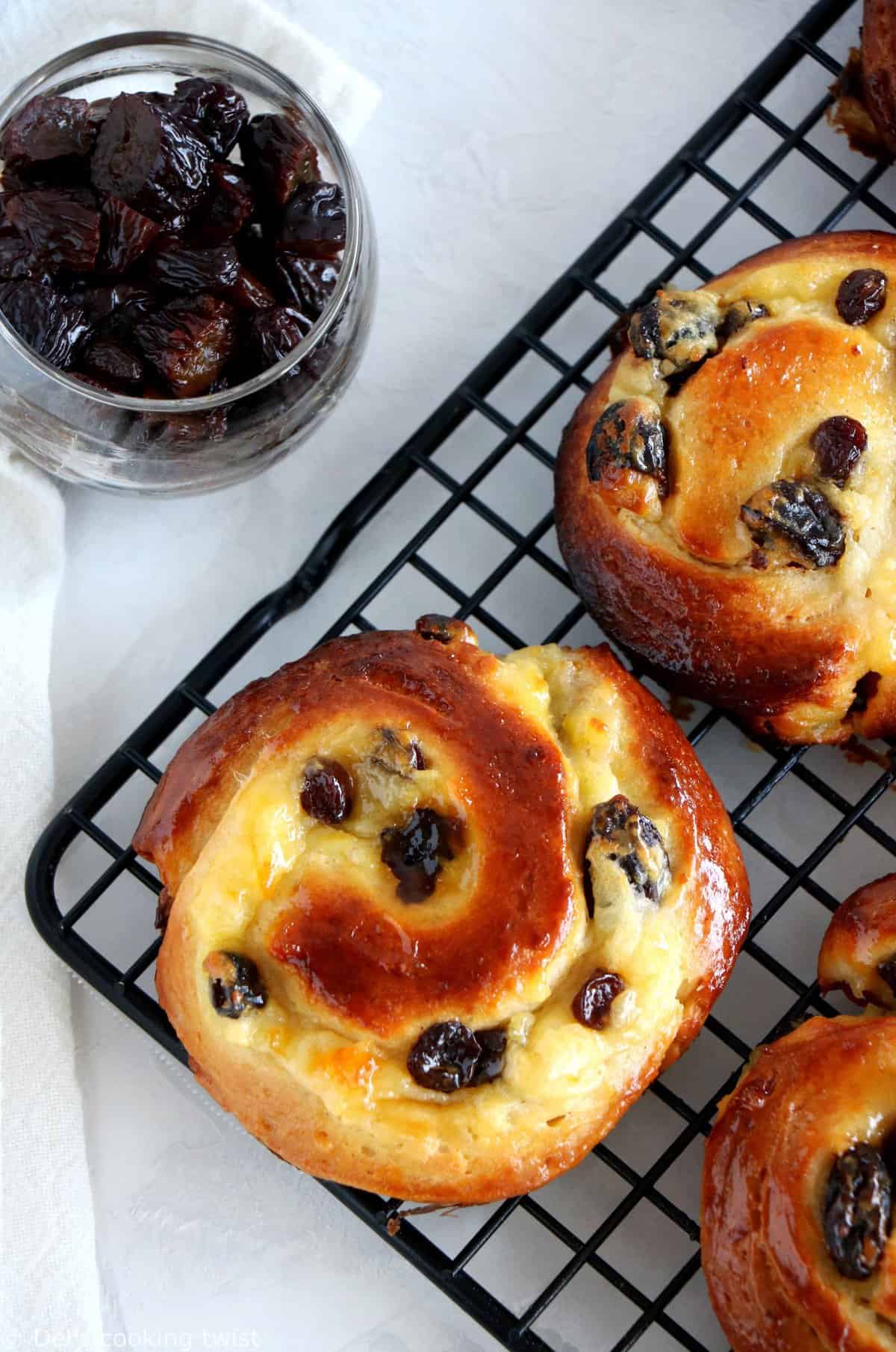 Now the question that probably comes to your mind too: which version is the real one? In France, it depends on the bakery, and you can easily find both versions. I did some research and found that pains aux raisins using a leavened puff pastry were the ones taught in French pastry schools, which probably answers to our question here.
That being said, I still prefer the brioche version, because I like how soft the texture is, together with the rich vanilla pastry curd. So with no surprise, this is the recipe I am sharing with you today – an EASY pains aux raisins recipe, in contrast with the other version using a puff pastry, and also because it doesn't require so much work, especially if you use a stand mixer that will do the kneading part of the job for you. If you don't owe your own stand mixer, it's ok too, and I myself did it by hand several times too. Because you use instant yeast, you do not necessarily need to start preparing too much in advance, but I still advise you to prepare the dough the night before and let it rise overnight.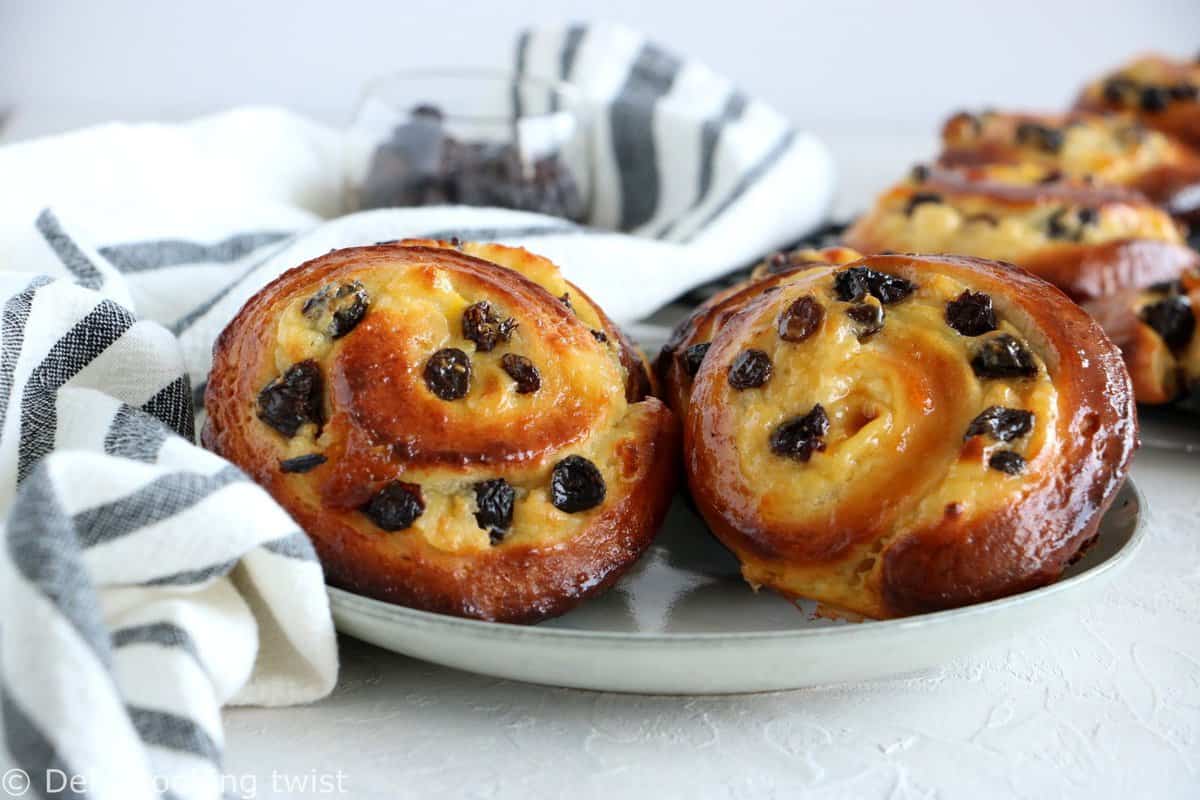 This way, when you wake up in the morning, you just need to roll out the dough in a large rectangle, garnish with the pastry cream (that you can also prepare in advance), roll out and slice it out in individual buns. At this point, let the buns rise onto the prepared baking sheet for another 30 more minutes (while you prepare in the bathroom maybe), and bake them straight after so they arrive fresh on your weekend breakfast table!
Print
Easy French Pains aux Raisins
Author:

Prep Time:

2 hours 30 mins

Cook Time:

25 mins

Total Time:

2 hours 55 mins

Yield:

15

servings

1

x

Category:

Breads & Brioches

Cuisine:

French recipes
---
Description
Wake up to the so-called "pains aux raisins"! These easy raisin brioches filled with vanilla pastry cream are a reminiscence of my childhood in France.
---
For the vanilla pastry cream:
2

large eggs

1/2 cup

(

100g

) sugar

1 teaspoon

vanilla extract

1/4 cup

(

50g

) unsalted butter, melted

2 cups

(

500

ml) milk

2/3 cup

(

80g

) cornstarch
For the dough:
1

stick (100g) unsalted butter, melted

3/4 cup

+ 1 Tablespoon (

200

ml) milk, lukewarm

10g

dry instant yeast

10g

baking powder

2

large eggs

4 cups

(

500g

) all-purpose flour

1 cup

(

100g

) icing sugar

10g

salt
For brushing:
14 oz

(

400g

) dry raisins

2

yolks

2 Tablespoons

milk
Apricot jam
---
Instructions
For the vanilla pastry cream :
In a medium bowl, whisk together eggs, sugar, and vanilla extract.
Melt butter in a medium size saucepan, then add the egg mixture, and whisk vigorously. Pour in the milk and heat on low, stirring constantly, about 5-10 minutes.
Whisk in cornstarch and let simmer until mixture thickens, stirring often. Remove from heat and set aside.
For the dough:
In a medium size mixing bowl, mix together melted butter with lukewarm milk. Add instant yeast, baking powder, and whisk well. Set aside for about 10 minutes. Add in the eggs, stirring after each addition.
In a large mixing bowl, mix flour, sugar and salt. Add the dry ingredients to the wet ones, stirring until the dough comes together. The dough should be slightly sticky.
Knead the dough – either by hand or using a stand mixer – for about 10 minutes. Cover the bowl with cling film and let the dough rise in a warm place until doubled in size, about 1 o 2 hours.
Line a baking tray with parchment paper. Grease with butter and flour, and set aside.
Roll out the dough in a large rectangle, then spread the vanilla pastry cream evenly onto the whole surface. Sprinkle raisins over.*
Roll the dough on the longer side in a long snake, then cut in 15 equal parts. Transfer the rolls onto the baking sheet, cover with a cloth, and let rise for about 30 minutes.
For brushing:
Preheat the oven to 400°F (200°C).
In a small bowl, whisk the yolks with milk. Brush the rolls with this mixture,and bake for about 20 minutes, or until pains aux raisins are golden-brown.
Remove from the oven and transfer to a cooling rack. Once cooled, brush with apricot jam to give a great glaze to pains aux raisins.
---
Notes
* Tip: for extra taste, you can marinate dried raisins in hot water + rum a couple of hours before using.